The lifestyle of working individuals in this time and age is demanding. Among others, it demands a lot of energy, hard work, and patience. As a result, stress, and disease occur. To counter these, de-stressing activities are sought for and preventive measures are pursued in order to avoid diseases.
With the many ways available in the market to do away with stress and prevent diseases, sauna baths have proved to be valuable. According to studies, it improves blood circulation because the heat in sauna baths increases the temperature of the body and causes the blood vessels to expand. It will then lead to body relaxation, easement of body pains, and improvement of cardiovascular health.
Infrared saunas are said to be effective in healing as it infiltrates all the layers of the body, from the tissues, muscles and to the bones.
To enjoy the benefits of infrared sauna baths, Dynamic Sauna offers a variety and the best infrared sauna suitable to your needs. With a goal of helping you choose the best sauna, we've curated a list of Dynamic infrared sauna reviews.
Reviews of the Best Dynamic Infrared Saunas
1.  Dynamic Infrared Barcelona Elite Single Person Indoor FAR Infrared Sauna
This product is designed and manufactured by Dynamic Saunas. Its source of heat is Far-infrared whose effect is just the same as that of the sun. It is a one-person sauna, and it is powered by 120 V a.c. This product has remote control by Bluetooth compatibility.
The Pros of This Dynamic Infrared Sauna:
Good heat retention
Lighter weight
Has remote control
Bluetooth compatible
Low power consumption
It never gets too hot
Cons of The Infrared Sauna:
Assembly on site is required
Takes a longer time to reach its maximum operating temperature
Cannot be installed near damp environments like swimming pools
Verdict:
The design of this product is excellent. It has good heat retention meaning there is no unnecessary heat loss. Its remote-control capability makes it even more convenient.
Who is this Infrared Sauna for?
Do you want to gain all the health benefits of a sauna without ever leaving your house? then Dynamic Infrared Single Person Indoor Bluetooth Compatible FAR Infrared Sauna is for you. It will make a valuable addition to your home because it is the best available quality for its price
Dynamic Infrared Single Person Indoor Bluetooth Compatible FAR Infrared Sauna Key features.
EMF rating of 10. This low EMF rating allows you to enjoy the health benefits of infrared sauna therapy
Thick Hemlock wood construction. This allows for a good heat retention capacity.
1450-Watt energy consumption.
Venting is included for temperature regulation.
Limited to indoor use only.
Resistant to warping for enhanced service life.
Maximum heat capacity of 140 degrees Fahrenheit
Operates at 120 Volts hence can be easily hooked to your mains power supply
Includes control panels both on the exterior and interior for convenient management of the system.
Bluetooth compatible with AUX Mp3 player output
Remove control inclusive
Seats one person
Does not require cleaning chemicals hence easy to take care of the project
Has antimicrobial properties therefore no need to worry about disinfection
Tampered glass door is included
UL and ETL listed for quality assurance and monitoring
5-year warranty included
Adult product assembly is required with the only required tools only being a screwdriver and ladder
Timer included for accurate timing of your therapy sessions
The interior dimensions are 5′ 8" H x 3′ W x 2′ 8" D."
Customer Reviews
"Excellent construction and very easy to assemble. Absolutely on hassles''
"It takes an incredibly short time to warm up. You only need 10-15 minutes before you can get in. I am proud of this purchase.''
"I had to wait for 40 minutes before it reached 130 degrees Fahrenheit which is the temperature I enjoy in saunas. I expected a much shorter heating time''
FAQs and Additional Tips.
What time does it take to reach the maximum temperature? It takes a maximum of 40 minutes to reach its maximum temperature of 140 degrees Fahrenheit.
What are the interior dimensions of the Sauna? The interior dimensions of this infrared sauna are 5′ 8" H x 3′ W x 2′ 8" D."
Is it possible to install my sauna in the bathroom? No. Do not install the sauna in damp areas including the bathroom, near the swimming pool or the basement.
Read more: Dynamic Infrared Single Person Indoor FAR Infrared Sauna Reviews
2.  Dynamic Lugano 3 Person FAR Infrared Sauna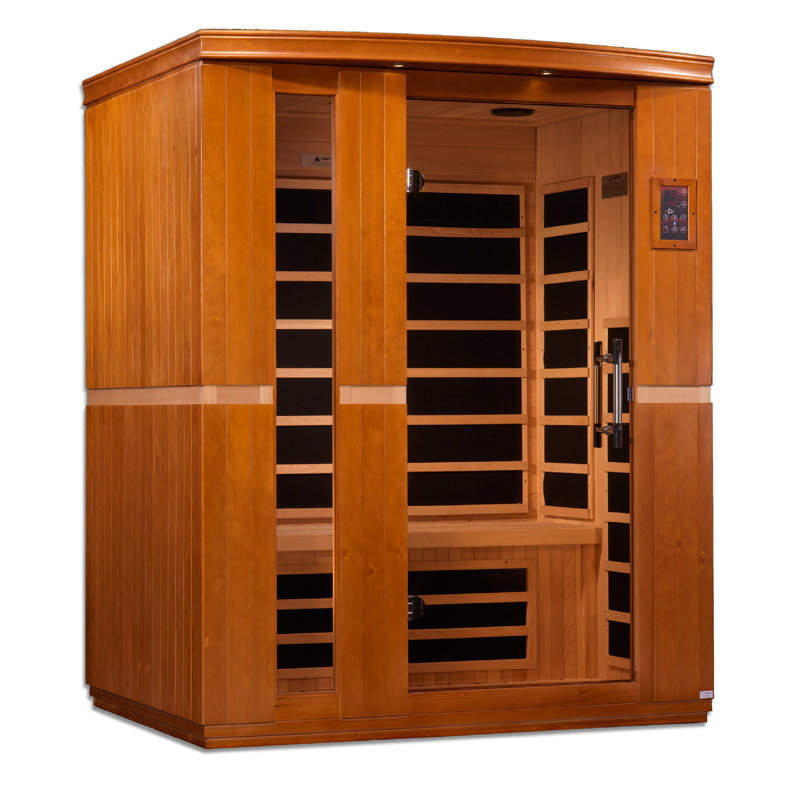 Before you make the final decision of investing in the Dynamic Lugano 3 Person FAR Infrared Sauna, you need to know its features first. 
Made of reforested Canadian hemlock planks, Dynamic's sauna provides energy-efficient infrared rays that provide a softer and even heat ideal to your body. It uses dry heat which is ideal for people who find humid air overwhelming. It can be controlled to your desired heat levels to induce relaxed sweating.
The product is manufactured by Dynamic Saunas Direct who is dedicated to creating high-quality infrared saunas.
The Pros of This Dynamic Lugano 3 Person FAR Infrared Sauna:
Straightforward assembly requiring only two people
Comfortable space
Can reach a perfect heat of 145 degrees Fahrenheit
Its Bluetooth feature makes it more enjoyable
Energy-efficient design
Cons of The Infrared Sauna:
Can take time to heat, usually around 30 minutes
Its infrared panels at the back are too hot
Key Features:
FAR infrared heat
Spacious
Bluetooth compatibility
LED lighting
Verdict
This product offers great features that will make you enjoy your sauna treat. The Bluetooth feature will help you avoid boredom and make you spend enough time inside. Furthermore, it can accommodate up to three people at the same time.
Who is this product for?
This innovation is designed for people who want to enjoy health benefits. Since the infrared rays induce detoxification, blood circulation, and relaxation of muscles, it can effectively replace exercises.
It is also ideal for people who want to upgrade from the traditional saunas. Since traditional saunas have to heat water to provide steam that will necessitate sweating, it will mean more power is used to boil the water.
Key Features and Benefits
FAR infrared heat: The infrared rays used by this sauna penetrate the body and heat it from the inside. The temperature will not be affected, but your body organs will feel the effect of the heat. As a result, you will manage to bear the temperature inside and attain the maximum benefits during your stay inside the sauna. This heat will also work in conserving energy since the sauna can release heat that is enough for the body but not the surrounding air.
Spacious: This sauna measures 5′ 9" H x 4′ 9" W x 3′ 5" D, thus providing enough space for three people. Two people can also share the space for great comfort. Such a space is ideal because the infrared rays will manage to penetrate each part of the body without a struggle.
Bluetooth compatibility: The sauna's Bluetooth feature allows you to stream your audio and listen through its built-in speakers. This innovation is great because you won't be tempted to sleep for the 20 or so minutes that you will spend inside. The feature will make you feel more excited as you listen to your favorite music. 
LED lighting: The LED lights make you feel like you are out in the sun. They stimulate a glowing and happy mood as you observe the changes in your body.
Read more: Dynamic Lugano 3 Person FAR Infrared Sauna: We Review The Home Sauna That Everyone Is Talking About!
3.  Dynamic Infrared Santiago 2 Person Indoor FAR Infrared Sauna
The Dynamic Infrared Santiago sauna has a thick interior that helps it retain heat for a longer time, making it one of the best infrared sauna on the market. The energy loss is minimal, and the carbon energy heating panels are 25% larger than the, thus penetrating the skin 40% more.
The Pros of This Dynamic Infrared Sauna:
It helps clear the skin pores
It helps get rid of wrinkles
It assists in regulating Blood pressure levels.
Cons of The Infrared Sauna:
The use of an infrared sauna is not recommended if you are pregnant
If you have open unhealed wounds, I recommend not using the sauna.
If you have chronic heart disease, spending a long time in the infrared sauna can leave you exhausted and dizzy.
Key Features:
Built-in music system
LED control panel
7 carbon heating elements
It weighs 330 pounds
Interior lighting system
Who is this Product For?
Anyone who loves the feeling of relaxing for 15 minutes and working up a sweat is welcome to try out the product. But if you have any chronic health issues, I recommend that you consult your doctor before proceeding.
The product is ideal for fitness enthusiasts and athletes as it helps them recover quickly from muscle pains.
Benefits of Using the FAR Infrared Sauna
It helps fix your sleep cycle. As the sauna helps you relax, it clears your mind from stress making it easier to sleep at night.
It helps in the detoxification of skin cells. Fifteen minutes in the infrared sauna will help you sweat all the toxins, and so your skin's health improves drastically.
Assists in weight loss. A couple of minutes in the sauna equals getting 15 minutes of mild exercise. Research shows that it assists in weight loss when paired with light to moderate physical activity and a healthy diet.
Reduce Pain. If you are someone with joint pains, then using the FAR infrared sauna will help you relieve the pain.
A session in the Best infrared sauna helps you loosen up your joints, relieving you from joint pains like arthritis.
Customer Reviews
Many users, including myself, tried the products and were satisfied with the results. "I didn't know how truly wonderful this product was until I tried it myself," says AnnDunn.
"I purchased the Infrared sauna a year back, and I can't imagine my daily routine without it. It helps me relax and work up a sweat," says Michael, one of the first customers to buy the product.
Though the product got numerous positive reviews, a few people didn't enjoy it as much. "After a 20-minute session in the sauna, I feel dizzy and dehydrated", says Douglass, who recently ordered the product.
FAQ and Additional Tips 
Drinking water before stepping into the sauna helps you avoid dehydration.
The sauna temperature ranges from 100 to 180 degrees F, so choose the temperature that puts the least pressure on your skin to avoid irritation.
The recommended time is 15minutes, but you can go up to 20 minutes for one session. Longer than that can cause harm.
Does using an infrared sauna benefit your health? Few types of research show the positive aspects of using a FAR infrared sauna, but the research is not concrete.
Who shouldn't use the sauna? If you are pregnant or have chronic heart disease, using an Infrared sauna may cause fatigue, dizziness, dehydration, etc.
Read more: Dynamic Infrared Santiago 2 Person Indoor FAR Infrared Sauna Review: Is it worth it?
4.  Dynamic Infrared Bellevue FAR Infrared Sauna
By integrating current technology and energy-efficient FAR infrared carbon heating panels, the developers at Dynamic Infrared have created a sauna that helps you eliminate body toxins, enhance blood circulation, and reduce discomfort from tight muscles.
To begin, you will notice that the sauna walls are double-paneled with extraordinarily thick oak planks, which translates to excellent heat retention and energy efficiency. Furthermore, because it is made of re-forested Canadian Hemlock wood, this sauna was designed with the environment in mind.
To maximize therapeutic benefits, this sauna employs low EMF FAR infrared that may penetrate skin 40% deeper. One advantage of the heating element is that, unlike ceramic heaters, it will never need to be replaced.
It also seems that Dynamic Infrared's engineers have worked hard to ensure the comfort of its customers. They include a soft-touch control panel inside with an LED display that displays sauna temperature and time settings.
You may also use the lower bench warmer, which provides the same soothing effects on your feet and legs. If you want to listen to music while you're in the sauna, simply hook your phone to the built-in Bluetooth connectivity or connect the MP3 auxiliary adapter.
The Pros of This Dynamic Infrared Sauna:
Can comfortably accommodate three adults
Easy media connectivity
Durable double-panel walls
Decent sound production
Cons of The Infrared Sauna:
Professional installation may be required
The unit is relatively heavy due to the thick walls
Only available in Hemlock
Who is this product for?
This infrared sauna is ideal for three kinds of people: singles who love intimate conversations with their best friends, young families with an only child, and elderly couples who no longer have their children around.
Key features and benefits
Ideal for a home indoor private sauna
Made of tough Canadian Hemlock wood
Installable in any indoor location, including the basement and walk-in closet
It includes a convenient LED control panel
Simple media connectivity via Bluetooth and MP3 aux
A 2-year warranty deal for electronic parts
120 V electricity is required, as well as a dedicated receptacle and breaker
What Do Customers Say About this Product?
Customers have praised how simple it is to set up and how quickly it heats up. Michael, a Texas customer, noted that he just required 20 minutes for the sauna to reach 140 degrees.
Customers don't seem to have many complaints about this sauna. However, Thomas, a Saint Louis customer, claimed that he couldn't find the correct outlet for his unit.
Other Alternatives
Dynamic Infrared isn't the only player in the market that sells 3-person saunas made of Canadian Hemlock wood. Radiant Health has also entered the arena with its Elite infrared sauna lineup's E-3H model.
Radiant Health saunas also use low EMF infrared heating elements. It differs in that it includes a CD/AM/FM player instead of Bluetooth connectivity, which makes the sauna more suitable for elderly users.
FAQ & Additional Tips
What is the return and exchange policy at Dynamic Infrared? All returns with Dynamic Infrared must be processed within 30 days after delivery. More significantly, the products must be returned in their original packing, in returnable condition, and with proof of purchase.
Can you bring it to my home? Dynamic Infrared does not provide white glove delivery. This means that the delivery men are only accountable for delivering to the sidewalk or the front of your gate.
Read more: Brief Guide about the Best Dynamic Infrared Bellevue FAR Infrared Sauna
5.  Dynamic Infrared San Marino 2 Person FAR Infrared Sauna
Dynamic Infrared San Marino 2 Person FAR Infrared Sauna is manufactured by Dynamic Saunas, a company that is a leader in the industry and has been manufacturing saunas for many years. It is designed to provide users with deep relaxation, stress reduction and improved circulation.
The Pros of This Dynamic Infrared Sauna:
The sauna is easy to set up and use.
It's made from quality materials, so you get top-notch durability and safety.
It has a good heating capacity, so it can heat up your body very quickly.
The temperature control is really accurate and consistent.
Cons of The Infrared Sauna:
It can be a little noisy when it's on high, but nothing too bad.
Features:
Fits 2 People: The sauna is designed to be able to fit two people comfortably and smoothly.
40-degree temperature: It features a 40-degree temperature and 120 volts of power. The temperature can be adjusted easily with the touch of a button. Not to mention, the infrared sauna's heating process heats up very quickly, and in just 15 minutes you can enjoy its full benefits. It also has a remote control that allows you to set the timer from anywhere in the room so that you don't have to get up every time you want to use it.
Bluetooth enabled: The sauna comes with a Bluetooth-enabled controller and can be used independently or paired with other devices via Bluetooth. This way you can listen to music or news while being treated with the infrared rays from the sauna.
Solid wood: Its solid wood-hemlock wood construction makes it durable enough for long-term use so you don't need to worry about maintenance or repairs on this product.
Who is this product for?
Dynamic Infrared San Marino 2 Person FAR Infrared Sauna is for anyone who wants to experience the benefits of infrared sauna therapy. It's for people who want to feel relaxed and rejuvenated or those who want to lose weight without dieting.
It's a great alternative to other types of saunas, which require going outside or using a traditional metal tub. That makes this sauna an ideal choice for those who have limited space and can't dedicate too much time to exercising every day.
It's a great option if you want to do something on your own without having to find an expensive gym membership or wait on someone else's schedule.
Key features and benefits of the product
The 2 person FAR Infrared Sauna from U-Lite is a great addition to your home. It features adjustable heat controls and easy-to-use remote control for better control over your sauna experience.
This allows you to keep track of how much time you spend in the sauna and how much heat you are using up so that you can make adjustments accordingly.
It is a freestanding sauna that can be placed anywhere you want, including indoors. The ergonomic design makes it comfortable to use, even for long periods of time. The sauna can also be used by one or two people at the same time thus bringing efficiency and convenience.
Customer Reviews
"My husband and I have been using it every week for the last few months, and we love it! The heat is very relaxing and soothing, and it's so nice to be able to work out your muscles without having to go to the gym."
"The unit is quiet and heats up quickly, as advertised. It's easy to use and set up, although there are some parts that can be a little tricky to assemble on your own if you're not familiar with working with electronics."
FAQ & Additional Tips
Make sure that you're comfortable in your sauna before getting in. It should be as warm as you can tolerate without sweating profusely or having a hard time breathing normally. If not, adjust the temperature accordingly until you reach this point.
Read more: Dynamic Infrared San Marino 2 Person FAR Infrared Sauna Review
6.  Dynamic "Monaco" 6-Person Ulta Low EMF FAR Infrared Sauna
Dynamic Infrared's "Monaco" low EMF infrared sauna is a great option for those who want to reap the benefits of saunas in the comfort of their own homes. Not only does it does a great job of providing its users with the health benefits of saunas, but it also has several features that make the experience more convenient and enjoyable. 
The Pros of This Dynamic "Monaco" 6 Person:
Spacious and wide enough for 6 persons
Comes with several convenient features
Emits only a low level of EMF radiation
Uses the effects of different lights to achieve your desired results
Cons of The Infrared Sauna:
Can be difficult to assemble, especially alone
Who is it for?
This particular sauna model is perfect for larger families who want to enjoy and reap the benefits of a sauna together. Moreover, it's also ideal for those who are concerned about what a high level of EMF radiation could do to one's health.
Verdict
Dynamic Infrared's Monaco 6-Person sauna is overall a great option for those who want to achieve their wellness goals even with their busy schedules. It's large enough so that the entire family can benefit from it, and it has numerous features that make the sauna experience convenient, comfortable, and enjoyable.
However, its assembly can be challenging, especially when done alone, but it's a small price to pay for the benefits you can reap from this sauna.
Key Features
Chromotherapy Lighting: Like many of their other sauna models, the Monaco model uses the company's unique chromotherapy lighting that allows users to achieve their wellness goals such as pain relief and reduction of inflammation while sitting back and relaxing.
Low EMF: One of the most notable features of this model is that it emits a lower EMF radiation which reduces your risk of suffering from various illnesses because of the radiation.
Capacity to Sit 6 Persons: This model's interior dimensions are spacious enough to accommodate up to 6 persons, allowing you and your whole family to enjoy and reap the benefits of your home sauna together.
Additional Convenient Features: Aside from its main features, the Dynamic Monaco 6-Person Ulta Low EMF FAR Infrared Sauna model also comes with several convenient features like 2 seating benches, a remote control, a separate control panel, and an auxiliary input for mp3 players.
These features allow users to enjoy the sauna experience even more, giving them the ultimate comfort and convenience.
Customer Reviews
Check out what the other customers have to say about this sauna model in these Dynamic Infrared sauna reviews.
"The sauna was everything we hoped for and more! My family and I use it almost every day!" 
"Its overall design is well thought of and well-engineered. It's perfect for those conscious of their health like I am."
"It heats up quickly and it's the perfect addition to my home's bathroom."
"It's overall a great sauna. My only complaint is that the manual and instructions could be clearer. The fuzzy print on the manual made the assembly more challenging than it should have been."
FAQs and Additional Tips
Can this sauna model be used outdoors? Unfortunately, this model is strictly for indoor use only. Installing it outdoors can compromise its durability. 
Does it need ventilation? No, there's no need for additional ventilation. 
Would a regular household outlet work with this sauna model? Unlike other models, the Dynamic Monaco model requires two separate 120V circuits that are dedicated solely for its use.
Read more: Dynamic Monaco 6-Person Ulta Low EMF FAR Infrared Sauna Reviews
7.  Dynamic Studio 1-2 Person Low EMF FAR Infrared Sauna

The Dynamic "Studio" 1- 2 Person FAR Infrared Sauna is a small room that can be used by 1-2 -persons to relax in dry heat. You can have your own sauna at the comfort of your home. This was manufactured by Golden Designs, Inc., a company that specialize in creating infrared sauna.
The Pros of This Dynamic "Studio"
Includes MP3 Player Auxiliary Output
Bluetooth compatible
LED lighting
Easy to assemble
Offers numerous health benefits
Cons of The Infrared Sauna
High EMF
Narrow space
Accommodates limited number of people
Key Features
Carbon sauna
Canadian Hemlock wood construction
FAR infrared heat source
Bluetooth compatible
LED lighting
MP3 player auxiliary output
Verdict
Overall, I like the built, functionality and effectiveness of this infrared sauna. It is undoubtedly the best infrared sauna if you want to relax and get the health benefits of infrared sauna.
Who is This Product For?
This product works best for stressed individuals who are after a relaxation session at the comfort of their homes. It is also ideal for people who have various conditions like asthma, psoriasis, cardiovascular disease and arthritis. 
Key Features and Benefits
Some of the key features of the Dynamic Studio Low Infrared Sauna include:
100% Canadian Hemlock Wood- This sauna features Canadian Hemlock construction that helps it retain more heat and renders it energy efficient. The walls are 40% times thicker compared to other sauna brands and has antimicrobial properties.
Chromotherapy Lighting – This feature helps in maintaining balance in the sauna. It also stimulates natural recovery that results in an even more calming and soothing sauna routine.
Reflexology Floor Heaters – The floor heaters enhance the circulation of heat in the sauna while raising the blood flow in the legs and feet.
FM/CD Radio with 3 Connection- This sauna comes with a high-quality audio system with built in speakers. This is great for providing you with entertainment as you relax in the sauna.
Customer Reviews:
To help you make an informed decision, we have compiled dynamic infrared sauna reviews from previous customers.
"This sauna by Dynamic Infrared offers relieve for my pain and stiffness.  I love that it includes two control panels, one outside and one inside. I especially love that it also a Bluetooth and MP3 capability and I can enjoy my audio books as I relax. It also has a remote control for the LED lights. It is simple to put together and fit in my Walk-in closet perfectly." – Leilani
"I absolutely love having this sauna in our home. It was easy to put together and fits perfectly in our small office. Everyone in my family uses it. I highly recommend this." – Jeanna
"I absolutely love it. Heating it up takes about 20 minutes, but it's nice and warm in about 10. So, in just a few minutes, you can enjoy the FAR infrared benefits. I also love the quality of the speakers. I was impressed by the smoke-colored door, which I find outstanding compared to the clear glass."  –Kristen 
"This sauna met and exceeded my expectations. The unit was easier to setup than the instructions implied. It takes 2 people about 15 minutes for the main part to be put in place then an individual person can finish the details. Look for the manual online that has color pictures and more info. It seems well made and includes some extras not mentioned. Nothing I don't like about it! Will be enjoying it several times a week! Pros: Good value. No special tools or electrical work needed. Well designed. Cons: Footbed could be warmer as another reviewer mentioned, but I am using it in a cold basement that probably has some impact." –Greg
Dynamic Studio Low EMF FAR Infrared Sauna FAQ
Is the infrared in saunas safe? The reported benefits associated with an infrared sauna includes improved sleep and relaxation. However, it also has some side effects. Dr. Ashish Sharma, an internal medicine doctor and hospitalist at Yuma Regional Medical Center provided his perception concerning the negative side effects related to sauna. He said that the dry heat produced in an infrared sauna can result you to become overheated if used for a long period. This may also lead to dehydration and even heat exhaustion or heat stroke. To avoid this, it is recommended to stay only for a short period of time and drink about 2 glasses of water before you use sauna.
Are there any preparations in using the low EMF FAR infrared sauna? You can get ideas from Dynamic Studio Low EMF FAR Infrared Sauna reviews. But usually, before you enter the sauna, you need to consume 1 to 2 glasses of water and rinse off inside a shower. Warm yourself in a sauna for about 10 minutes without adding humidity. Then leave and rinse off in a second quick shower. Let your body to continue to cool down by sipping anything refreshing like water. 
Can a sauna burn fat? While the sauna may possibly help you burn some extra calories, it isn't an efficient means for real weight loss.
Read more: Dynamic Studio 1-2 Person Low EMF FAR Infrared Sauna Review
8.  Dynamic Vittoria 2-Person FAR Infrared Sauna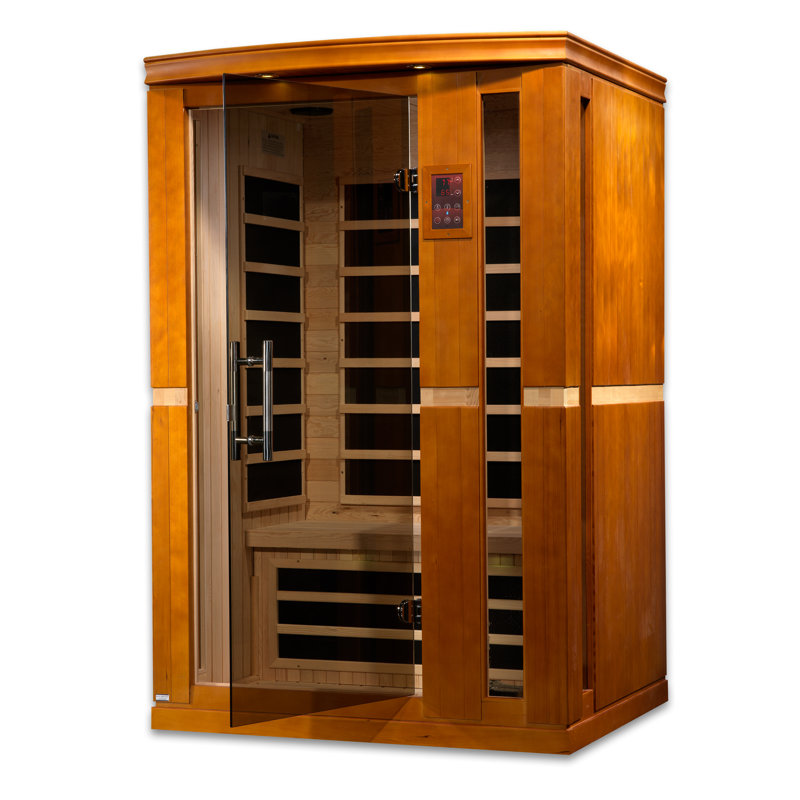 Dynamic saunas provide environmental-friendly energy sufficient FAR at an outstanding value. However, the sauna tends to be more expensive than other models. Nevertheless, the Dynamic Vittoria is constructed using Canadian Hemlock planks, thus providing a high-quality sauna.
In addition, it has six heating panels with interior reading light, a music system with Bluetooth capability, and two Dynamic Speakers.
Features of the Dynamic Vittoria Sauna
Constructed with Canadian Hemlock planks
Comes with six heating panels
Has an interior reading light
Built-in music system with Bluetooth connectivity
Comes with two dynamic speakers
Pros:
Retains heat more efficiently and heats faster while using less energy
Infrared heating panels for 40% more skin penetration and better therapeutic advantages
Highly durable construction
Offers plenty of health benefits like lowering blood pressure, detoxification, alleviating joint pain, burn calories and improve skin tone
Cons:
Only has a two-person capacity.
Requires skilled personnel for the installation
9.  Corner FAR Infrared Sauna 2-Person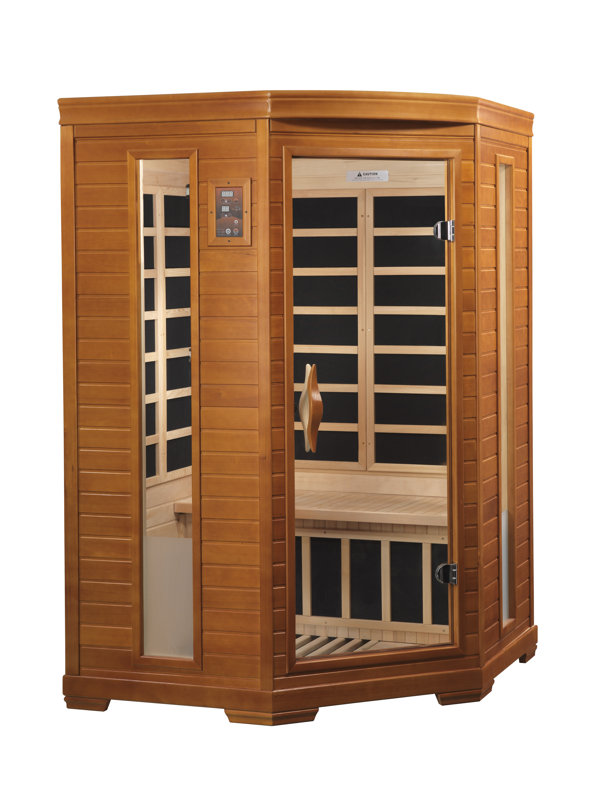 This is the best 2-Person Corner infrared sauna you could ever ask for because it has a 7 carbon heating panels, which are said to be 30% larger and faster to heat than ceramic tubes. Also, the carbon heating panels infiltrate the skin to up 40% more.
What Did the Customers Have to Say
The customers loved the quality of the materials used and the fact that it looks like a high-quality furniture that fits well in a well-groomed house.
Pros:
With the built-in radio, CD, and MP3 auxiliary connection, sauna baths become more relaxing and enjoyable.
This has 2 control panels with a LED display for a more convenient use: one exterior soft touch control panel and the other in the interior part of the sauna.
A lighting system is provided in the interior of the sauna intended to fit your mood.
It's a spacious sauna, which is good for 2 people.
Cons:
There is no beeper to alert if the sauna has reached the preheat temperature.
How To Assemble Your Dynamic Far Infrared Sauna
Conclusion
 As a whole, these saunas manufactured by Dynamic brand emits heat through infrared because of its ability to infiltrate deeper into the body, thereby causing more sweat. Thus, unlike traditional saunas, infrared saunas do not need to provide high temperatures to create more sweat. With this, infrared saunas save more energy without compromising the needed heat for an optimal sauna experience.
These Dynamic infrared sauna reviews apprise you about the best infrared saunas made available for your use and enjoyment. It tells you that more than these infrared saunas' basic function, these are designed and made to match your preference and more importantly,