The lifestyle of working individuals in this time and age is demanding. Among others, it demands a lot of energy, hard work, and patience. As a result, stress, and disease occur. To counter these, de-stressing activities are sought for and preventive measures are pursued in order to avoid diseases.
With the many ways available in the market to do away with stress and prevent diseases, sauna baths have proved to be valuable. According to studies, it improves blood circulation because the heat in sauna baths increases the temperature of the body and causes the blood vessels to expand. It will then lead to body relaxation, easement of body pains, and improvement of cardiovascular health.
Infrared saunas are said to be effective in healing as it infiltrates all the layers of the body, from the tissues, muscles and to the bones.
To enjoy the benefits of infrared sauna baths, Dynamic Sauna offers a variety and the best infrared sauna suitable to your needs. With a goal of helping you choose the best sauna, we've curated a list of Dynamic infrared sauna reviews.
Reviews of the Best Dynamic Infrared Saunas
1.  Dynamic Lugano 3 Person FAR Infrared Sauna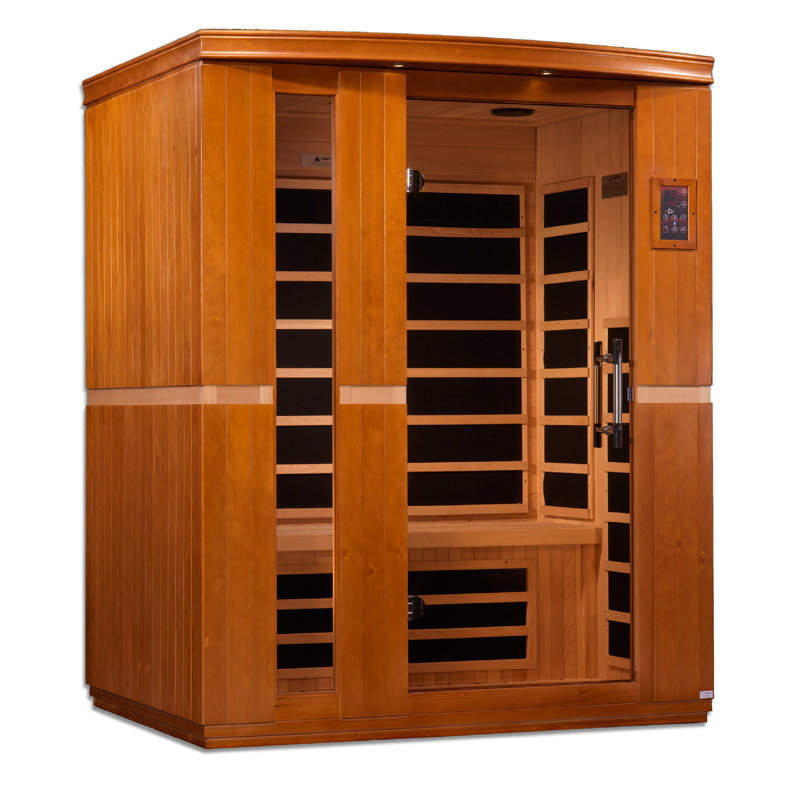 Before you make the final decision of investing in the Dynamic Lugano 3 Person FAR Infrared Sauna, you need to know its features first. 
Made of reforested Canadian hemlock planks, Dynamic's sauna provides energy-efficient infrared rays that provide a softer and even heat ideal to your body. It uses dry heat which is ideal for people who find humid air overwhelming. It can be controlled to your desired heat levels to induce relaxed sweating.
The product is manufactured by Dynamic Saunas Direct who is dedicated to creating high-quality infrared saunas.
The Pros of This Dynamic Lugano 3 Person FAR Infrared Sauna
Straightforward assembly requiring only two people
Comfortable space
Can reach a perfect heat of 145 degrees Fahrenheit
Its Bluetooth feature makes it more enjoyable
Energy-efficient design
Cons of The Infrared Sauna
Can take time to heat, usually around 30 minutes
Its infrared panels at the back are too hot
Key Features:
FAR infrared heat
Spacious
Bluetooth compatibility
LED lighting
Verdict
This product offers great features that will make you enjoy your sauna treat. The Bluetooth feature will help you avoid boredom and make you spend enough time inside. Furthermore, it can accommodate up to three people at the same time.
Who is this product for?
This innovation is designed for people who want to enjoy health benefits. Since the infrared rays induce detoxification, blood circulation, and relaxation of muscles, it can effectively replace exercises.
It is also ideal for people who want to upgrade from the traditional saunas. Since traditional saunas have to heat water to provide steam that will necessitate sweating, it will mean more power is used to boil the water. 
Key Features and Benefits 
The infrared rays used by this sauna penetrate the body and heat it from the inside. The temperature will not be affected, but your body organs will feel the effect of the heat. As a result, you will manage to bear the temperature inside and attain the maximum benefits during your stay inside the sauna. This heat will also work in conserving energy since the sauna can release heat that is enough for the body but not the surrounding air. 
This sauna measures 5′ 9" H x 4′ 9" W x 3′ 5" D, thus providing enough space for three people. Two people can also share the space for great comfort. Such a space is ideal because the infrared rays will manage to penetrate each part of the body without a struggle. 
The sauna's Bluetooth feature allows you to stream your audio and listen through its built-in speakers. This innovation is great because you won't be tempted to sleep for the 20 or so minutes that you will spend inside. The feature will make you feel more excited as you listen to your favorite music. 
The LED lights make you feel like you are out in the sun. They stimulate a glowing and happy mood as you observe the changes in your body.
Read more: Dynamic Lugano 3 Person FAR Infrared Sauna: We Review The Home Sauna That Everyone Is Talking About!
2.  Dynamic Barcelona Elite 1 Person FAR Infrared Sauna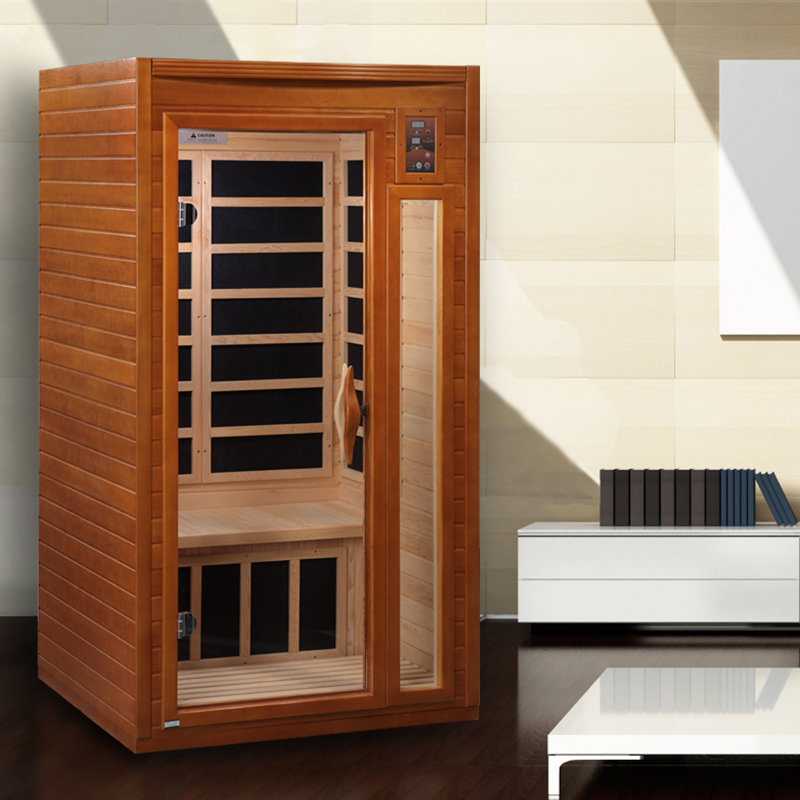 This infrared sauna has a lot of things to be proud of. For one, the wood material of this infrared sauna is a reforested wood, which makes you appreciate the product more.
Made from Canadian Hemlock wood, this infrared sauna maybe made from softwood, but its durability is quite amazing. The panels are in double construction. Moreover, the wood planks used are thicker than the other saunas in the market today.
What Did the Customers Have to Say
People who have used this infrared sauna are loving it so far. The sauna retains heat efficiently, which, for them, is a big thing as it helps them save energy.
Pros:
This is a Far Infrared Sauna which uses a special type of heater, the infrared radiant heater.
The heater produces heat that reaches deep into the body tissues. This means that more toxins are released from your body through sweating.
Made from premium Canadian Hemlock wood, this sauna provides quality construction without breaking the bank.
Produces soft heat, enough to make you sweat but doesn't damage your skin cells
Operates efficiently with the use of heating panels that are 30% larger than other heating tubes.
Cons:
The size only accommodates 1 to 2 people.
This sauna only offers curbside delivery. So, you should arrange someone to help you unload and assemble the product inside your house.
3.  Dynamic Gracia 1-2 Person Low EMF Infrared Sauna
Dynamic Saunas designed the Gracia 1-2-person sauna using advanced technology that utilizes infrared heat energy. This is to directly penetrate body tissues to produce perspiration through the seven low WMF FAR Infrared Heating Panels installed in the sauna.
Features of the Dynamic Gracia
Constructed with natural reforested Canadian Hemlock wood
Has 7 low-EMF FAR infrared heating panels
Comes with a built-in music system with Bluetooth connectivity
Features interior lighting suitable for reading
Pros:
Utilizes environmental-friendly and energy-efficient FAR infrared panels
Can be installed in any indoor location, enabling customers to enjoy the benefits of the sauna in the comfort of their home or office
Can also be installed on the common flooring types such as carpet, concrete, and tile
Provides health benefits similar to the Dynamic Vittoria
Cons:
Can only seat around 1 to 2 persons at most
Only has a 5-year limited lifetime warranty
4.  Dynamic Vittoria 2-Person FAR Infrared Sauna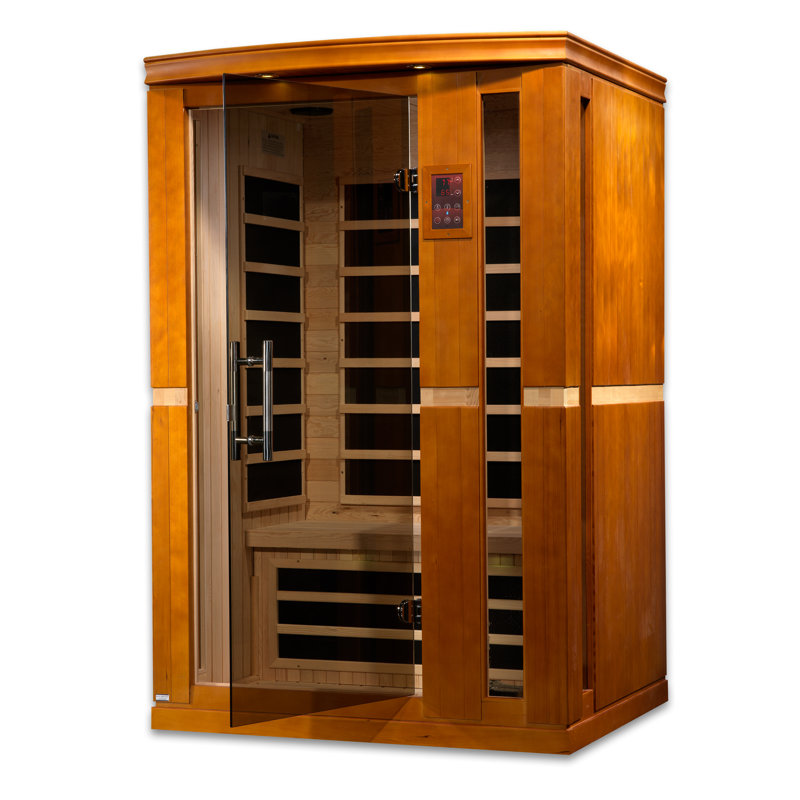 Dynamic saunas provide environmental-friendly energy sufficient FAR at an outstanding value. However, the sauna tends to be more expensive than other models. Nevertheless, the Dynamic Vittoria is constructed using Canadian Hemlock planks, thus providing a high-quality sauna.
In addition, it has six heating panels with interior reading light, a music system with Bluetooth capability, and two Dynamic Speakers.
Features of the Dynamic Vittoria Sauna
Constructed with Canadian Hemlock planks
Comes with six heating panels
Has an interior reading light
Built-in music system with Bluetooth connectivity
Comes with two dynamic speakers
Pros:
Retains heat more efficiently and heats faster while using less energy
Infrared heating panels for 40% more skin penetration and better therapeutic advantages
Highly durable construction
Offers plenty of health benefits like lowering blood pressure, detoxification, alleviating joint pain, burn calories and improve skin tone
Cons:
Only has a two-person capacity.
Requires skilled personnel for the installation
5. Dynamic Venice FAR Infrared Sauna
The Venice sauna model is yet another favorite by many. This low EMF, reforested wood sauna has a far infrared heating system, which produces soft heat that can still make you sweat, thus releasing toxins out of your system.
But what makes this particular sauna a big hit? Well, unlike other Dynamic Saunas, this one can be purchased with "Expert Assembly" option. This means you don't have to worry about assembling and installing the sauna yourself. A Dynamic Saunas expert can come to do all the complicated tasks for you. Sound perfect right?
What Did the Customers Have to Say
Believe it or not, users of this sauna are more than satisfied with the product's efficiency. Some even dare say that this is the best Dynamic Sauna they ever had. A lot of people are complimenting the saunas detox power.
Pros:
Helps your body get rid of toxins; this includes the toxins from radiation.
The nature of the heat that the sauna produces is powerful but not painful. You can feel the heat penetrates within your tissues, causing you to sweat a lot more.
Can help improve your chronic pain and muscle fatigue
The Canadian Hemlock wood material has thicker panels to retain heat even longer.
Cons:
This only seat up to 2 people.
Only curbside delivery is available.
You need a professional electrician to install the sauna.
6.  Dynamic "Monaco" 6-Person Ulta Low EMF FAR Infrared Sauna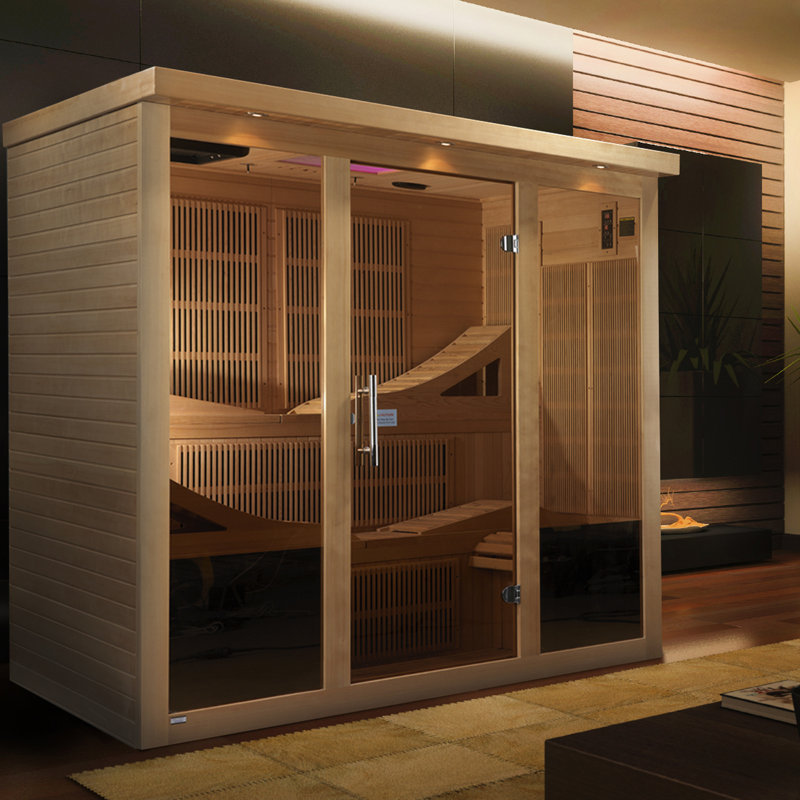 Dynamic Infrared's "Monaco" low EMF infrared sauna is a great option for those who want to reap the benefits of saunas in the comfort of their own homes. Not only does it does a great job of providing its users with the health benefits of saunas, but it also has several features that make the experience more convenient and enjoyable. 
Key Features
Chromotherapy Lighting: Like many of their other sauna models, the Monaco model uses the company's unique chromotherapy lighting that allows users to achieve their wellness goals such as pain relief and reduction of inflammation while sitting back and relaxing.
Low EMF: One of the most notable features of this model is that it emits a lower EMF radiation which reduces your risk of suffering from various illnesses because of the radiation.
Capacity to Sit 6 Persons: This model's interior dimensions are spacious enough to accommodate up to 6 persons, allowing you and your whole family to enjoy and reap the benefits of your home sauna together.
Additional Convenient Features: Aside from its main features, the Dynamic Monaco 6-Person Ulta Low EMF FAR Infrared Sauna model also comes with several convenient features like 2 seating benches, a remote control, a separate control panel, and an auxiliary input for mp3 players.
These features allow users to enjoy the sauna experience even more, giving them the ultimate comfort and convenience.
The Pros of This Dynamic "Monaco" 6 Person
Spacious and wide enough for 6 persons
Comes with several convenient features
Emits only a low level of EMF radiation
Uses the effects of different lights to achieve your desired results
Cons of The Infrared Sauna
Can be difficult to assemble, especially alone
Who is it for?
This particular sauna model is perfect for larger families who want to enjoy and reap the benefits of a sauna together. Moreover, it's also ideal for those who are concerned about what a high level of EMF radiation could do to one's health.
Verdict
Dynamic Infrared's Monaco 6-Person sauna is overall a great option for those who want to achieve their wellness goals even with their busy schedules. It's large enough so that the entire family can benefit from it, and it has numerous features that make the sauna experience convenient, comfortable, and enjoyable.
However, its assembly can be challenging, especially when done alone, but it's a small price to pay for the benefits you can reap from this sauna.
Read more: Dynamic Monaco 6-Person Ulta Low EMF FAR Infrared Sauna Reviews
7. Dynamic Florence FAR Infrared Sauna
The Florence Sauna is the best option for those seeking an infrared sauna that can accommodate three people.
This infrared sauna is also made from reforested Canadian Hemlock softwood. People who like to listen to music while they relax inside the sauna can benefit more from this model. Florence sauna has two speakers ready for you to use.
What Did the Customers Have to Say
You can never go wrong with Florence sauna, as per the statement of people who have been using this sauna since Day 1. They say it's the perfect sauna for small families as it can seat 3 people, even 4 people if users have petite body structures.
Pros:
Has more space than the other sauna models from the same brand
This also retains heat efficiently without wasting energy.
Offers 8 low EMF Carbon Energy efficient heating panels that produce wide yet soft heat
Gives 40% more therapeutic heat, so you can feel ultimate relaxation while using the sauna
Cons:
A bit expensive as compared to other models
Also available in curbside delivery only
Expert electrician is recommended when installing the sauna
Currently unavailable.
Check out: 2021 Model Dynamic Bellagio 3-person Low EMF FAR Infrared Sauna NEW!
8.  Maxxus 3 Canadian Hemlock FAR Infrared Sauna
The Maxxus Dynamic Sauna is the go-to infrared sauna if you fancy a contemporary and luxurious wooden sauna for your home.
This far infrared sauna is also manufactured from reforested Canadian Hemlock wood. It is also equipped with long-lasting and heat efficient wood panels.
What Did the Customers Have to Say
Users of this sauna said that this is worth the investment. It may be a bit expensive, but the quality, efficiency, and luxurious appeal of the sauna have compensated all those extra dollars. They say that this is the real deal if you want a more spacious and luxurious sauna at home.
Pros:
This sauna can be used by up to 3 or 4 people.
Has a bronze tinted tempered glass door with side windows
Equipped with 9 Maxxus low EMF Carbon Heating panels that are strategically placed to give you an ultimate heat therapy sauna session.
Also has 2 built-in speakers that can be used through MP3 auxiliary connection
Cons:
This is not a cheap sauna. This is about 50% more expensive than the other Dynamic sauna models.
Only curbside delivery is available
You need to fire an expert to assemble and install the sauna for you.
9.  Maxxus 4-Person FAR Infrared Sauna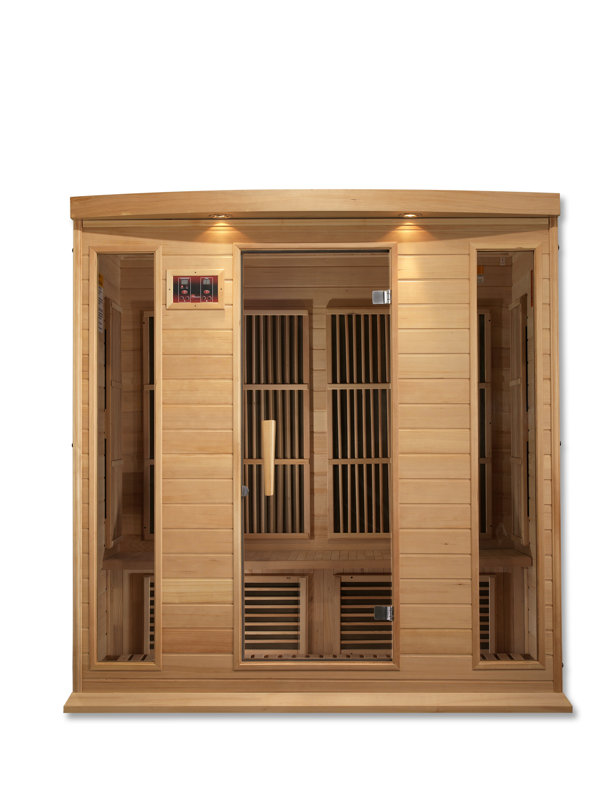 This has side windows and a tinted tempered glass door. Like the other Dynamic saunas, this is made using reforested Canadian Hemlock wood and has the thickest wood planks both in the exterior and interior parts of the sauna.
What Did the Customers Have to Say
The customers liked how it could easily be assembled and that it worked great.
Pros:
This is designed to have a lower bench heater and reduced wattage floor to do away with burning sensation in your legs and feet.
This is equipped with chromotherapy or color therapy lighting system that is provided as an additional benefit by the makers of the best 4-Person FAR Infrared infrared sauna.
It may be installed in a garage so long as the garage is unheated with a temperature of 60 degrees and above.
A LED display control panel is attached both to the exterior and interior parts of the sauna, for your convenience.
Cons:
Still, this sauna cannot be used outdoors.
10.  Infrared 1-Person FAR Infrared Sauna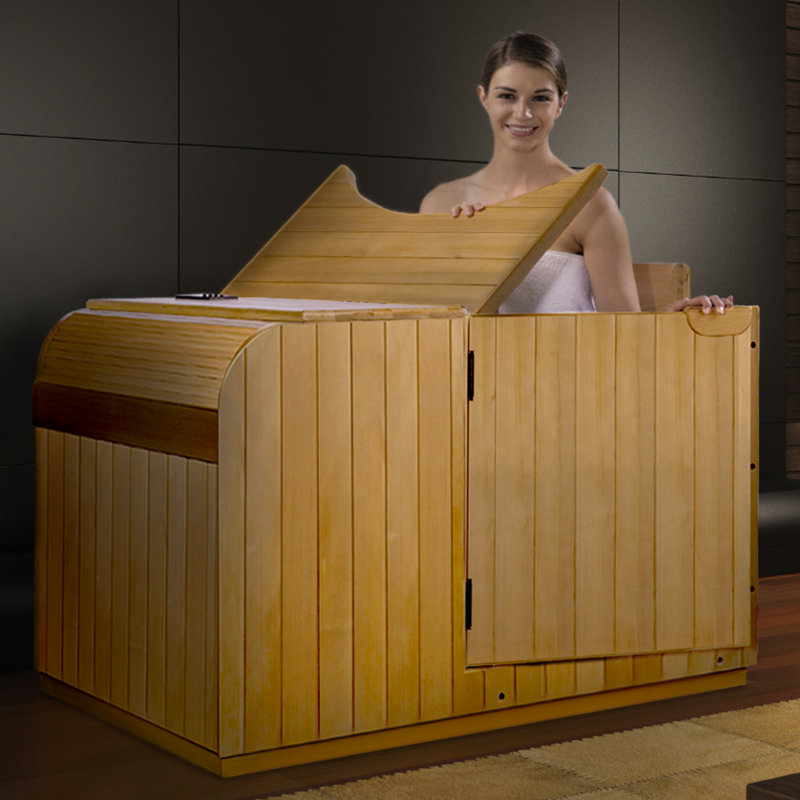 This is a unique Dynamic infrared sauna because this is designed to expose your upper body and focuses the heat on your lower body.
What Did the Customers Have to Say
The users loved the design and the fact that it does not heat the head and the brain.
Pros:
This is suitable for small spaces because this is relatively small and takes only a small space of the area or the room.
Made with Canadian Hemlock planks but are designed to be lightweight, and thus, can be easily moved.
The design does not need you to climb in an enclosed room. Instead, you only sit on a bench and once seated, you just have to cover your lower body and start heating up.
This has a LED control panel that allows you to control the temperature and the time.
A generator may be used to provide power to this kind of sauna.
Cons:
The upper part of the body will not be exposed to the heat and so with the benefits of sauna.
11.  Dynamic Luxury 2-Person IR Carbon FAR Infrared Sauna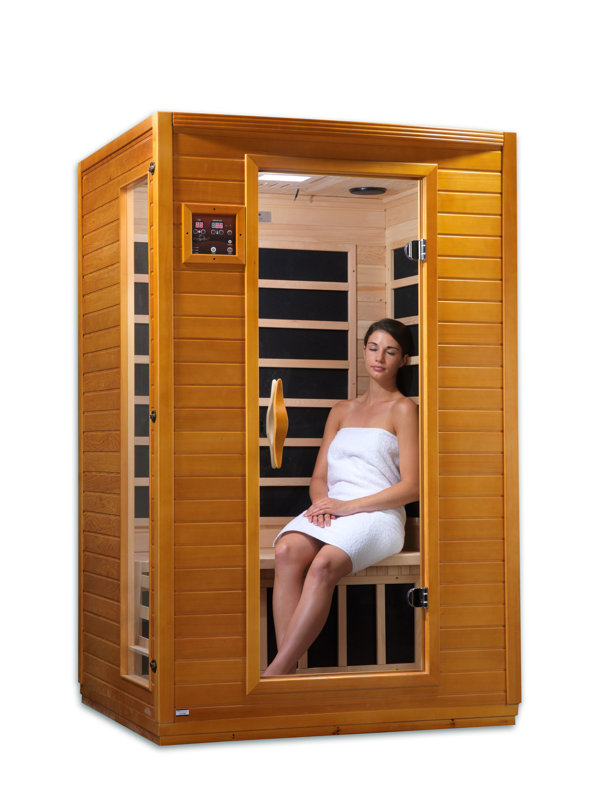 This accommodates a maximum of two people and equipped with reading lights.
What Did the Customers Have to Say
Customers who purchased said that this is very easy to set up and that the speakers are great.
Pros:
This could be one of the best Luxury 2-Person IR Carbon FAR infrared saunas because of its Hemlock wood, which basically helps retain heat and resultantly, saves energy.
There is an MP3 auxiliary connection and speakers for a more relaxing sauna bath with music.
It is easy to move and has a roof vent, which is adjustable to enable the circulation of air.
The temperature ranges from 90 to 140 degrees.
Cons:
Cleaning materials with chemicals can be absorbed by the wood. The chemicals would then be released once the sauna will be used.
This can only be used indoors.
Check out: 2020 Model  Natural brown Dynamic "Luxury" 2 Person Low EMF FAR Infrared Sauna NEW!
12.  Corner FAR Infrared Sauna 2-Person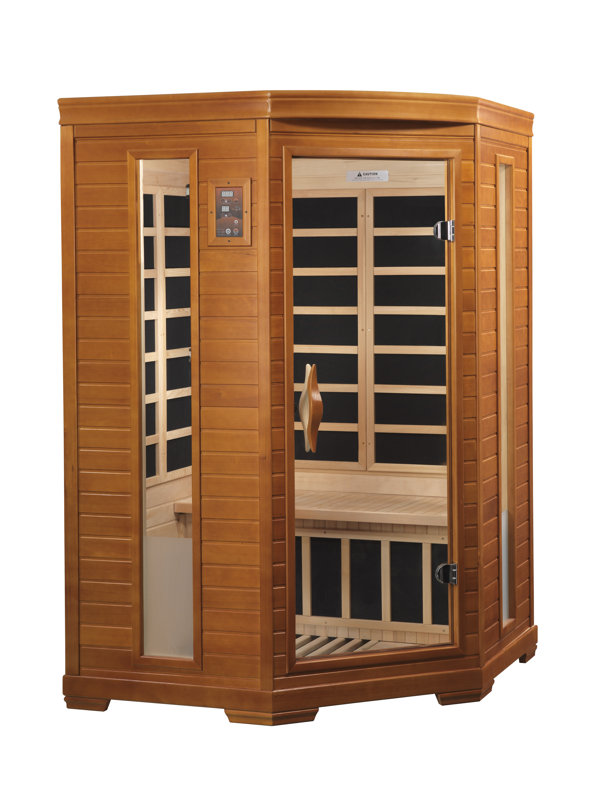 This is the best 2-Person Corner infrared sauna you could ever ask for because it has a 7 carbon heating panels, which are said to be 30% larger and faster to heat than ceramic tubes. Also, the carbon heating panels infiltrate the skin to up 40% more.
What Did the Customers Have to Say
The customers loved the quality of the materials used and the fact that it looks like a high-quality furniture that fits well in a well-groomed house.
Pros:
With the built-in radio, CD, and MP3 auxiliary connection, sauna baths become more relaxing and enjoyable.
This has 2 control panels with a LED display for a more convenient use: one exterior soft touch control panel and the other in the interior part of the sauna.
A lighting system is provided in the interior of the sauna intended to fit your mood.
It's a spacious sauna, which is good for 2 people.
Cons:
There is no beeper to alert if the sauna has reached the preheat temperature.
How To Assemble Your Dynamic Far Infrared Sauna
Conclusion:
 As a whole, these saunas manufactured by Dynamic brand emits heat through infrared because of its ability to infiltrate deeper into the body, thereby causing more sweat. Thus, unlike traditional saunas, infrared saunas do not need to provide high temperatures to create more sweat. With this, infrared saunas save more energy without compromising the needed heat for an optimal sauna experience.
These Dynamic infrared sauna reviews apprise you about the best infrared saunas made available for your use and enjoyment. It tells you that more than these infrared saunas' basic function, these are designed and made to match your preference and more importantly,