The lifestyle of working individuals in this time and age is demanding. Among others, it demands a lot of energy, hard work, and patience. As a result, stress, and disease occur. To counter these, de-stressing activities are sought for and preventive measures are pursued in order to avoid diseases.
With the many ways available in the market to do away with stress and prevent diseases, sauna baths have proved to be valuable. According to studies, it improves blood circulation because the heat in sauna baths increases the temperature of the body and causes the blood vessels to expand. It will then lead to body relaxation, easement of body pains, and improvement of cardiovascular health.
Infrared saunas are said to be effective in healing as it infiltrates all the layers of the body, from the tissues, muscles and to the bones.
To enjoy the benefits of infrared sauna baths, Dynamic Sauna offers a variety and the best infrared sauna suitable to your needs. With a goal of helping you choose the best sauna, we've curated a list of Dynamic infrared sauna reviews.
Reviews of the 9 Best Dynamic Infrared Saunas
1.  Barcelona FAR Infrared Sauna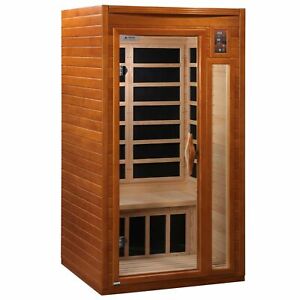 This infrared sauna has a lot of things to be proud of. For one, the wood material of this infrared sauna is a reforested wood, which makes you appreciate the product more.
Made from Canadian Hemlock wood, this infrared sauna maybe made from softwood, but its durability is quite amazing. The panels are in double construction. Moreover, the wood planks used are thicker than the other saunas in the market today.
What Did the Customers Have to Say
People who have used this infrared sauna are loving it so far. The sauna retains heat efficiently, which, for them, is a big thing as it helps them save energy.
This is a Far Infrared Sauna which uses a special type of heater, the infrared radiant heater.
The heater produces heat that reaches deep into the body tissues. This means that more toxins are released from your body through sweating.
Made from premium Canadian Hemlock wood, this sauna provides quality construction without breaking the bank.
Produces soft heat, enough to make you sweat but doesn't damage your skin cells
Operates efficiently with the use of heating panels that are 30% larger than other heating tubes.
The size only accommodates 1 to 2 people.
This sauna only offers curbside delivery. So, you should arrange someone to help you unload and assemble the product inside your house.
Check out: 2020 Model Dynamic 1-2 Person Near Zero EMF FAR Infrared Sauna 6 Heaters NEW!
2. Luxury 2-Person IR Carbon FAR Infrared Sauna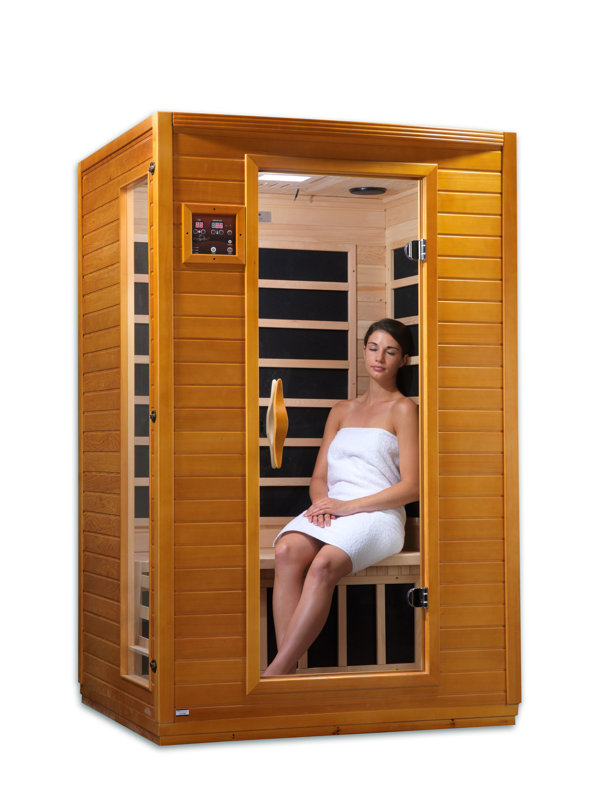 This accommodates a maximum of two people and equipped with reading lights.
What Did the Customers Have to Say
Customers who purchased said that this is very easy to set up and that the speakers are great.
This could be one of the best Luxury 2-Person IR Carbon FAR infrared saunas because of its Hemlock wood, which basically helps retain heat and resultantly, saves energy.
There is an MP3 auxiliary connection and speakers for a more relaxing sauna bath with music.
It is easy to move and has a roof vent, which is adjustable to enable the circulation of air.
The temperature ranges from 90 to 140 degrees.
Cleaning materials with chemicals can be absorbed by the wood. The chemicals would then be released once the sauna will be used.
This can only be used indoors.
Check out: 2020 Model  Natural brown Dynamic "Luxury" 2 Person Low EMF FAR Infrared Sauna NEW!
3.  Venice FAR Infrared Sauna
The Venice sauna model is yet another favorite by many. This low EMF, reforested wood sauna has a far infrared heating system, which produces soft heat that can still make you sweat, thus releasing toxins out of your system.
But what makes this particular sauna a big hit? Well, unlike other Dynamic Saunas, this one can be purchased with "Expert Assembly" option. This means you don't have to worry about assembling and installing the sauna yourself. A Dynamic Saunas expert can come to do all the complicated tasks for you. Sound perfect right?
What Did the Customers Have to Say
Believe it or not, users of this sauna are more than satisfied with the product's efficiency. Some even dare say that this is the best Dynamic Sauna they ever had. A lot of people are complimenting the saunas detox power.
Helps your body get rid of toxins; this includes the toxins from radiation.
The nature of the heat that the sauna produces is powerful but not painful. You can feel the heat penetrates within your tissues, causing you to sweat a lot more.
Can help improve your chronic pain and muscle fatigue
The Canadian Hemlock wood material has thicker panels to retain heat even longer.
This only seat up to 2 people.
Only curbside delivery is available.
You need a professional electrician to install the sauna.
4.  Corner FAR Infrared Sauna 2-Person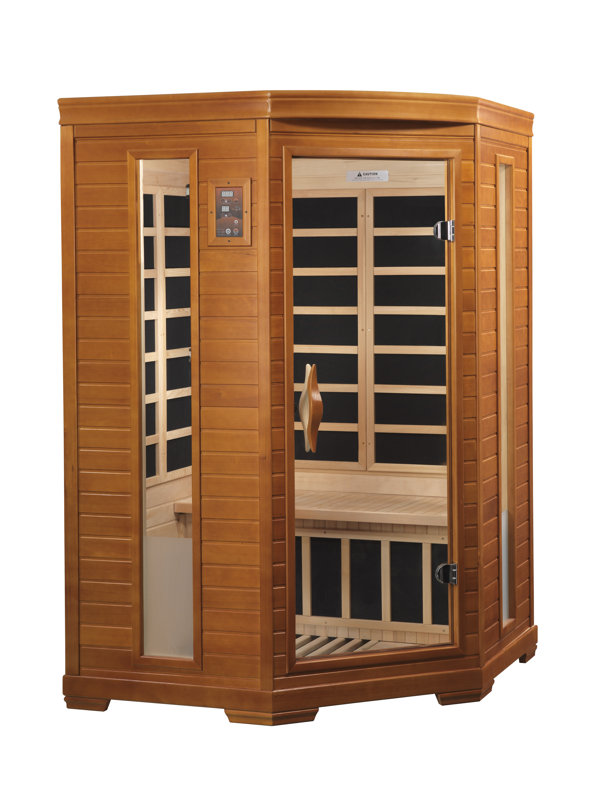 This is the best 2-Person Corner infrared sauna you could ever ask for because it has a 7 carbon heating panels, which are said to be 30% larger and faster to heat than ceramic tubes. Also, the carbon heating panels infiltrate the skin to up 40% more.
What Did the Customers Have to Say
The customers loved the quality of the materials used and the fact that it looks like a high-quality furniture that fits well in a well-groomed house.
With the built-in radio, CD, and MP3 auxiliary connection, sauna baths become more relaxing and enjoyable.
This has 2 control panels with a LED display for a more convenient use: one exterior soft touch control panel and the other in the interior part of the sauna.
A lighting system is provided in the interior of the sauna intended to fit your mood.
It's a spacious sauna, which is good for 2 people.
There is no beeper to alert if the sauna has reached the preheat temperature.
5.  Florence FAR Infrared Sauna
The Florence Sauna is the best option for those seeking an infrared sauna that can accommodate three people.
This infrared sauna is also made from reforested Canadian Hemlock softwood. People who like to listen to music while they relax inside the sauna can benefit more from this model. Florence sauna has two speakers ready for you to use.
What Did the Customers Have to Say
You can never go wrong with Florence sauna, as per the statement of people who have been using this sauna since Day 1. They say it's the perfect sauna for small families as it can seat 3 people, even 4 people if users have petite body structures.
Has more space than the other sauna models from the same brand
This also retains heat efficiently without wasting energy.
Offers 8 low EMF Carbon Energy efficient heating panels that produce wide yet soft heat
Gives 40% more therapeutic heat, so you can feel ultimate relaxation while using the sauna
A bit expensive as compared to other models
Also available in curbside delivery only
Expert electrician is recommended when installing the sauna
Check out: 2020 Model Dynamic Bellagio 3-person Low EMF FAR Infrared Sauna NEW!
6.  Maxxus 3 Canadian Hemlock FAR Infrared Sauna
The Maxxus Dynamic Sauna is the go-to infrared sauna if you fancy a contemporary and luxurious wooden sauna for your home.
This far infrared sauna is also manufactured from reforested Canadian Hemlock wood. It is also equipped with long-lasting and heat efficient wood panels.
What Did the Customers Have to Say
Users of this sauna said that this is worth the investment. It may be a bit expensive, but the quality, efficiency, and luxurious appeal of the sauna have compensated all those extra dollars. They say that this is the real deal if you want a more spacious and luxurious sauna at home.
This sauna can be used by up to 3 or 4 people.
Has a bronze tinted tempered glass door with side windows
Equipped with 9 Maxxus low EMF Carbon Heating panels that are strategically placed to give you an ultimate heat therapy sauna session.
Also has 2 built-in speakers that can be used through MP3 auxiliary connection
This is not a cheap sauna. This is about 50% more expensive than the other Dynamic sauna models.
Only curbside delivery is available
You need to fire an expert to assemble and install the sauna for you.
7. Dynamic 4-Person FAR Infrared Sauna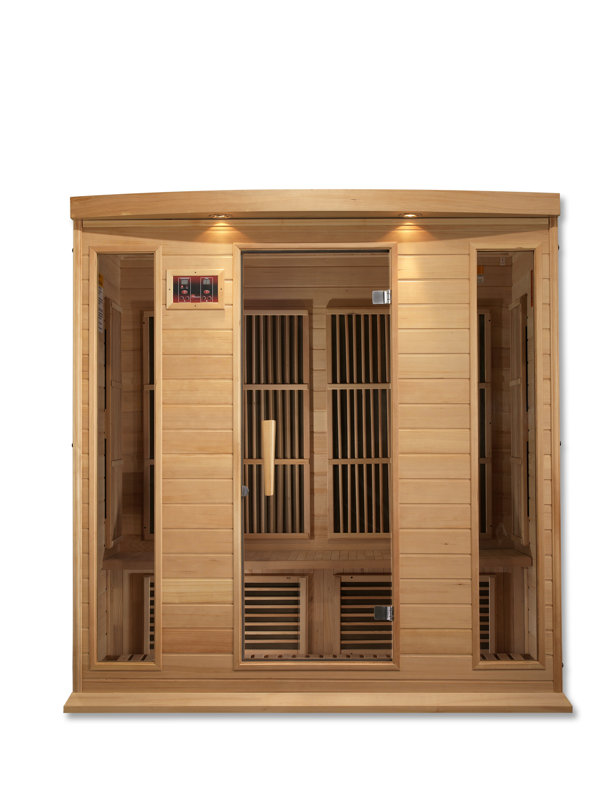 This has side windows and a tinted tempered glass door. Like the other Dynamic saunas, this is made using reforested Canadian Hemlock wood and has the thickest wood planks both in the exterior and interior parts of the sauna.
What Did the Customers Have to Say
The customers liked how it could easily be assembled and that it worked great.
This is designed to have a lower bench heater and reduced wattage floor to do away with burning sensation in your legs and feet.
This is equipped with chromotherapy or color therapy lighting system that is provided as an additional benefit by the makers of the best 4-Person FAR Infrared infrared sauna.
It may be installed in a garage so long as the garage is unheated with a temperature of 60 degrees and above.
A LED display control panel is attached both to the exterior and interior parts of the sauna, for your convenience.
Still, this sauna cannot be used outdoors.
8.  Monaco FAR Infrared Sauna
The Monaco sauna is the ultimate choice for those who want a sauna for big families. This sauna can seat up to 6 people.
The most notable feature of this Canadian Hemlock wood sauna is its Chromotherapy feature, which gives you much better sauna experience.
What Did the Customers Have to Say
Fantastic! Is the word that best describes this infrared sauna. Some people said that they've been using the sauna for more than a year now and it still works as if it's brand new.
Helps alleviate toxins, relieves stress, and improves blood circulation
The light colors from the chromotherapy system have different frequency levels that can boost your energy and mood.
Has 15 low EMF Carbon Heating panels that produce soft yet effective heat in the entire sauna room
The door is made from clear tempered glass and has side windows
It's an expensive investment, considering its size.
Only curbside delivery is available
Expert help is highly suggested during installation
9. Dynamic Infrared 1-Person FAR Infrared Sauna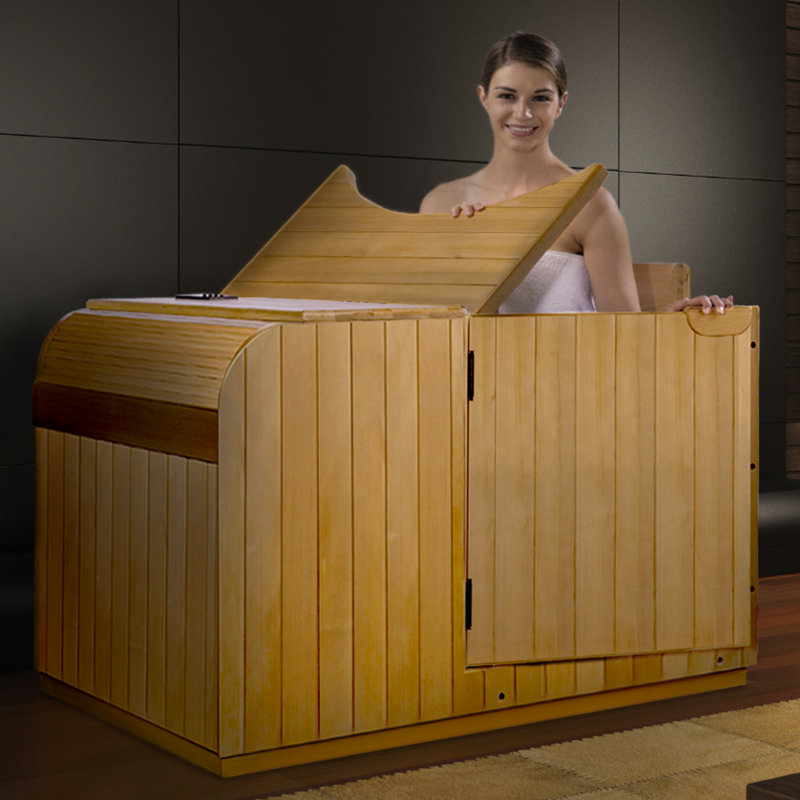 This is a unique Dynamic infrared sauna because this is designed to expose your upper body and focuses the heat on your lower body.
What Did the Customers Have to Say
The users loved the design and the fact that it does not heat the head and the brain.
This is suitable for small spaces because this is relatively small and takes only a small space of the area or the room.
Made with Canadian Hemlock planks but are designed to be lightweight, and thus, can be easily moved.
The design does not need you to climb in an enclosed room. Instead, you only sit on a bench and once seated, you just have to cover your lower body and start heating up.
This has a LED control panel that allows you to control the temperature and the time.
A generator may be used to provide power to this kind of sauna.
The upper part of the body will not be exposed to the heat and so with the benefits of sauna.
How To Assemble Your Dynamic Far Infrared Sauna
Conclusion:
 As a whole, these saunas manufactured by Dynamic brand emits heat through infrared because of its ability to infiltrate deeper into the body, thereby causing more sweat. Thus, unlike traditional saunas, infrared saunas do not need to provide high temperatures to create more sweat. With this, infrared saunas save more energy without compromising the needed heat for an optimal sauna experience.
These Dynamic infrared sauna reviews apprise you about the best infrared saunas made available for your use and enjoyment. It tells you that more than these infrared saunas' basic function, these are designed and made to match your preference and more importantly,