Radiant Health Saunas is a brand well-known in the spa market since the nineties. Radiant has been manufacturing and distributing infrared saunas starting 1997 under the leadership of Randy Gomm, B.Sc. Radiant Saunas are known for providing natural stress relief, detoxification, and relaxation.
All Radiant Saunas are tested for volatile organic compounds to make sure that they have no toxic materials and also for EMF levels to ensure safe infrared exposure. Because of this, Radiant Health Saunas has been one of the top infrared sauna manufacturers and one of the most trusted brands in the market, serving many customers in many different regions.
If you're looking for the best infrared sauna, then Radiant Saunas should be on top of your list. Here are full Radiant Saunas reviews of the top 5 models that they offer:
Top 9 Radiant Saunas Reviews
1.  Radiant Sauna 1 to 2-Person Hemlock Infrared Sauna with 4 Carbon Heaters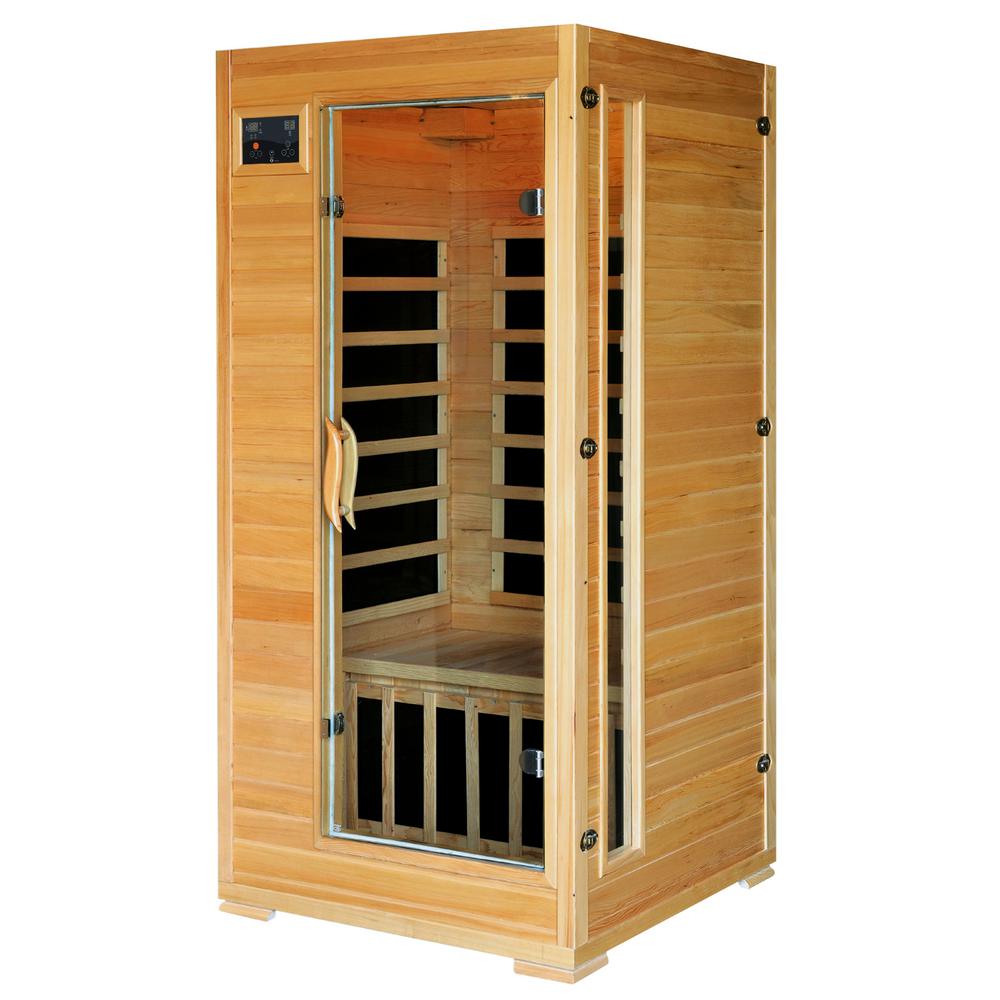 This sauna projects heat up to 1170 Watts with temperatures rising to 141 degrees Fahrenheit through their 'InfraWave Far Heat' technology. With this level of electromagnetic wave, it will be sustained and evenly distributed by the four carbon heaters that are strategically placed.
The sauna is constructed with solid Hemlock wood that guarantees you it is built to last. The bench can hold up to 2 persons and is deep enough that you can even rest your legs. You can feel relaxed while being rejuvenated with the helpful technology installed.
The LED control panels have an EZ-touch dual dial and you can play audio through connecting your device to the auxiliary ports, which output to the 2 installed premium speakers. With all those things, there are certifications from ISO 9001, CETL, CE and RoHS for assurance.
What Did Customers Have To Say:
Majority of the Radiant sauna reviews of this particular product seems positive. They commend on the construction, quality and also the price as well.
Affordable
Equipped with carbon heaters as efficient heat distributors
Usage of infrared technology, which has wavelengths of 5-12 microns, is safe and beneficial for one's health
Installed with ample technology for convenient temperature control and entertainment options
Construction from Hemlock wood together with buckle assembly makes installation easy and durable
Backed by multiple certifications
Perfect for couples or for self-isolation
Auxiliary port for audio may not be convenient for the modern music players such as smartphones
2.  Radiant Sauna 2-Person Hemlock Infrared Sauna with 5 Ceramic Heaters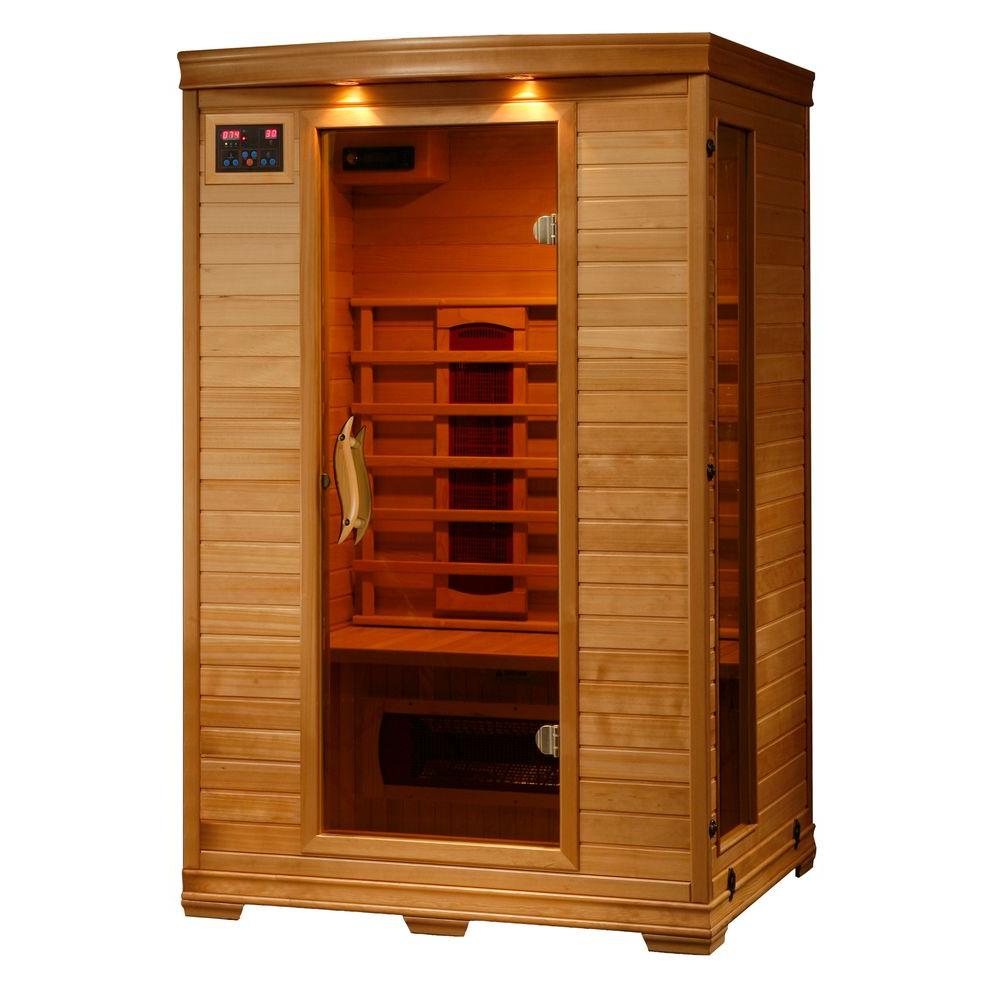 This sauna has similar characteristics with the other 2-person infrared sauna except that the heaters used are from ceramic. These ceramic heaters are strategically place in order to achieve a temperature of 141 degrees Fahrenheit.
The main features are similar: constructed from Hemlock wood, operated using EZ-Touch dual dial and backed up with certifications from ISO 9001, CETL, CE and RoHS. However, it doesn't just stop there. The sauna is still loaded with other amenities.
For a 2-person sauna, the interior is 40-percent more spacious than other similar products. Aside from that, it has racks for towels and magazines. For your entertainment, there is a compact sound system installed and can cater connections for MP3 players.
To keep the air fresh, there is an electronic oxygen ionizer included. In terms of enhancing your sauna experience, a 7-color light therapy system is integrated.
What Did Customers Have To Say:
For the set of Radiant sauna reviews for this particular product, it appears all reviewing customers find it satisfying. Majority of them liked how easy the product was to assemble.
Usage of infrared technology that is safe and beneficial for one's health
Installed with same technology and added more options for audio entertainment
Equipped with 7-color light system which is for therapeutic experience
Installed with electronic oxygen ionizer which does more than just regulating air flow
Easy assembly for the sauna's Hemlock wooden construction
Backed by multiple certifications
Perfect for couples
A little more expensive than similar products due to more features added
Usage of ceramic heaters may seem a bit less appropriate for sauna use in comparison with carbon heaters
3.  Radiant Sauna 3 to 4-Person Cedar Elite Premium Sauna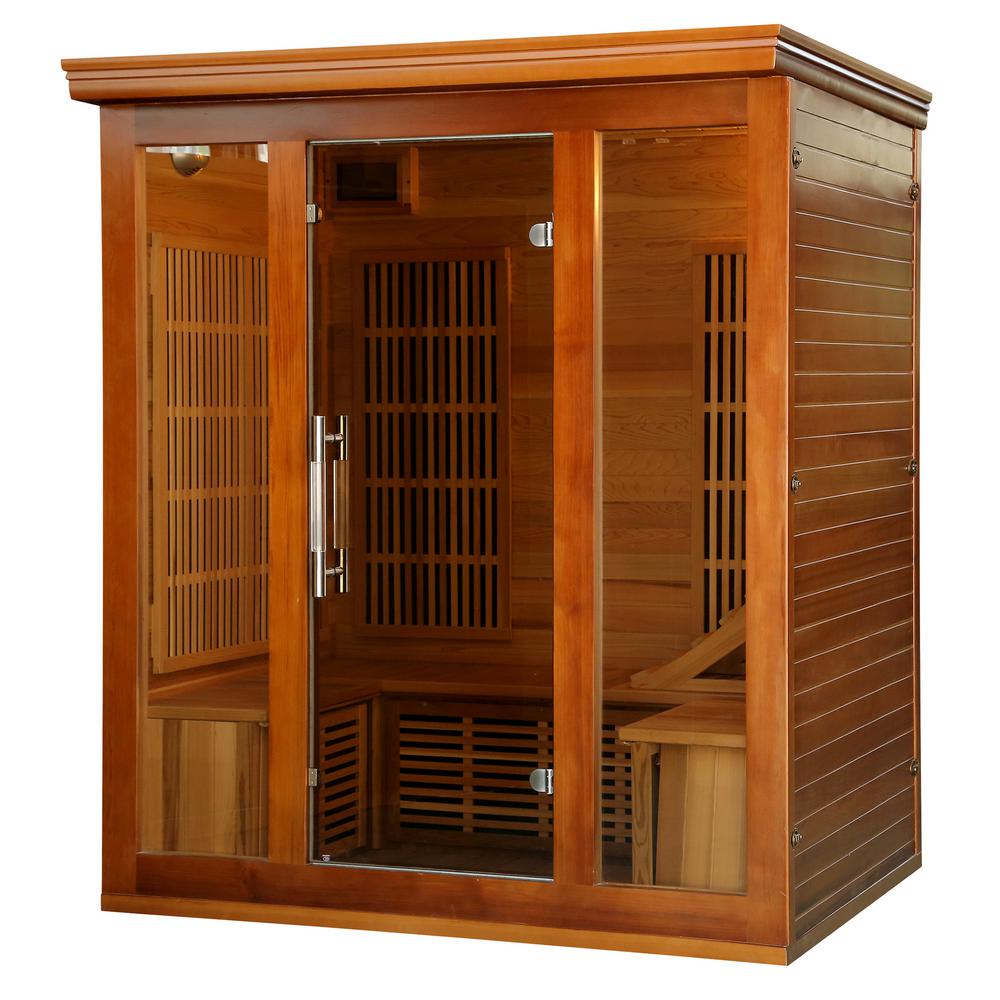 This 4-person sauna is one large, elegant-looking piece of equipment. Constructed from hand-picked Grade-A Western Red Canadian Cedar, this elite sauna is loaded with modern technological features and ergonomic interior.
The heating technology used is still the 'InfraWave' technology, which is capable of delivering a maximum power of 2140 Watts, with the usage of 9 carbon heaters. To prevent the heat from leaking, the thick wall panels have heat-retention capabilities.
You won't be worried about the fragility of the glass since it is tempered and has a thickness of 8 mm. For the interior, you will find oversized bench seats including an ergonomically-designed backrest.  For convenient control, inside it has a LED touch screen pad with Bluetooth capability.
The technological features included are high-quality speakers, adjustable lighting that can establish a mood with its chronotheraphy and ionizer for regulating and purifying the room air.
What Did Customers Have To Say:
Based on the Radiant sauna reviews, this specific product is overall acceptable. Even though the size is large, the customers find the assembly easy.
Equipped with multiple carbon heaters to accommodate equal distribution of heat for 4 persons
Using infrared technology with more power delivery
Has remote control capabilities through Bluetooth
Constructed from very high quality Western Red Canadian Cedar wood
Easy assembly while having a thick tempered glass
Includes ergonomic backrest
Perfect for family and small-circle of friends
Installed with therapeutic lighting system and ionizer
Lacking exterior manual control
Entertainment aspect only has speakers
Compared to similar products, it lacks certifications
4.  Radiant Sauna 4 to 5-Person Cedar Elite Premium Sauna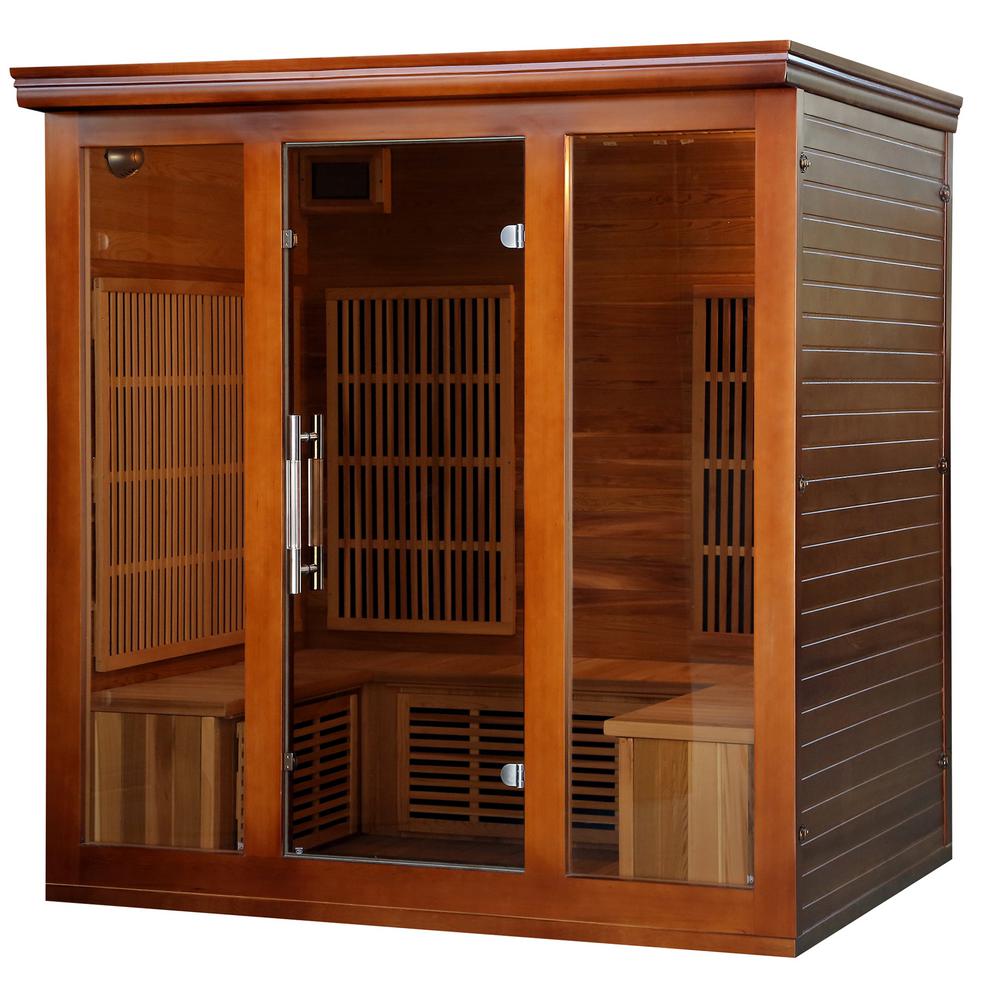 This 5-person sauna has so many similar qualities with its 4-person counterpart. It is also made from a Grade-A Western Red Canadian Cedar and has 8-mm thick tempered glass. Apart form that, the hinges and door handle have chrome-finishes for those shiny looks.
The 'Infrawave' technology seems to be the signature heating technology used along with the help of 9 carbon heaters. This sauna is capable of delivering a power of 2140 Watts and the heat-retention walls make it possible to prevent any leakage.
The interior features remain to be similar, having a Bluetooth-capable control touch pad, chronotherapeutic lighting system, high-quality speakers, air ionizer and the ergonomically-designed backrests.
What Did Customers Have To Say:
Out of the Radiant saunas reviews, this product has the fewest. Regardless of that, the said reviewers appreciated its ease of assembly.
Equipped with 9 carbon heaters to distribute the power from its signature infrared technology to 5 persons
Interior remote control has Bluetooth capability
Constructed from very high quality Western Red Canadian Cedar wood
Easy assembly of the very high quality wood with thick tempered glass and chromed metal parts
Includes therapeutic lighting system, ergonomic backrest and ionizer
Can accommodate larger groups, ideally five persons
A bit expensive considering there are no additional features compared to its 4-person counterpart
No exterior manual control
Limited entertainment aspects
Still lacking certifications compared to other products of same brand
5.  2-Person Hemlock Infrared Sauna with 6 Carbon Heaters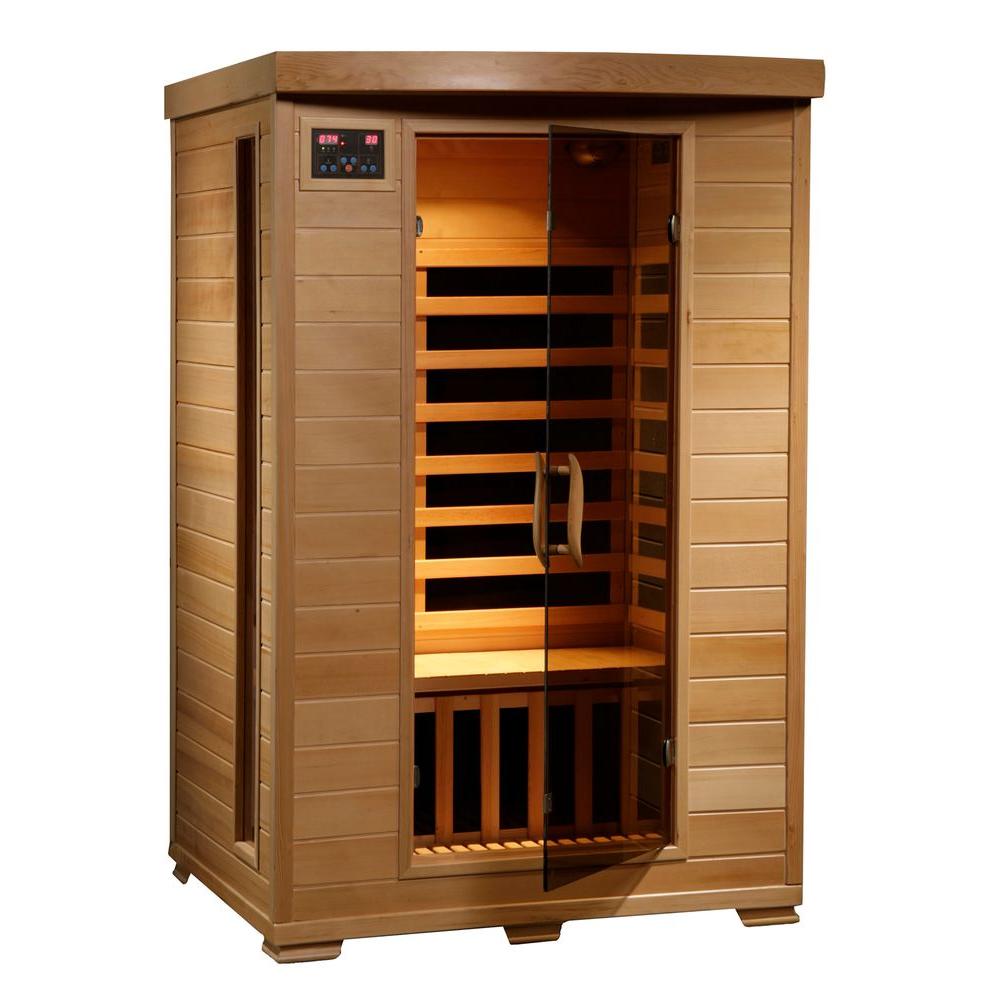 This model is great for those who are tired, stressed, or need a break. This two-person sauna offers a lot of great health benefits like muscle relaxation, as well as detoxification. Since it can fit two people, you can have someone to talk to while you're inside.
What Did Customers Have To Say:
This model has a lot of positive infrared sauna reviews. Customers mentioned that this sauna heats up very fast, which is great for them. Customers also commented that it was very easy to put together, and it was a good value for their money.
It is beautifully designed and gives a very comfortable vibe.
It emits very low levels of infrared, making it safe to use.
It is very affordable.
It comes with a very easy to use LED control panel so that you may control the functions while inside.
It has a complete sound system to add to the music.
The top is not very tight, allowing heat to escape easily.
It is quite small in size.
6. Corner Carbon FAR Infrared Sauna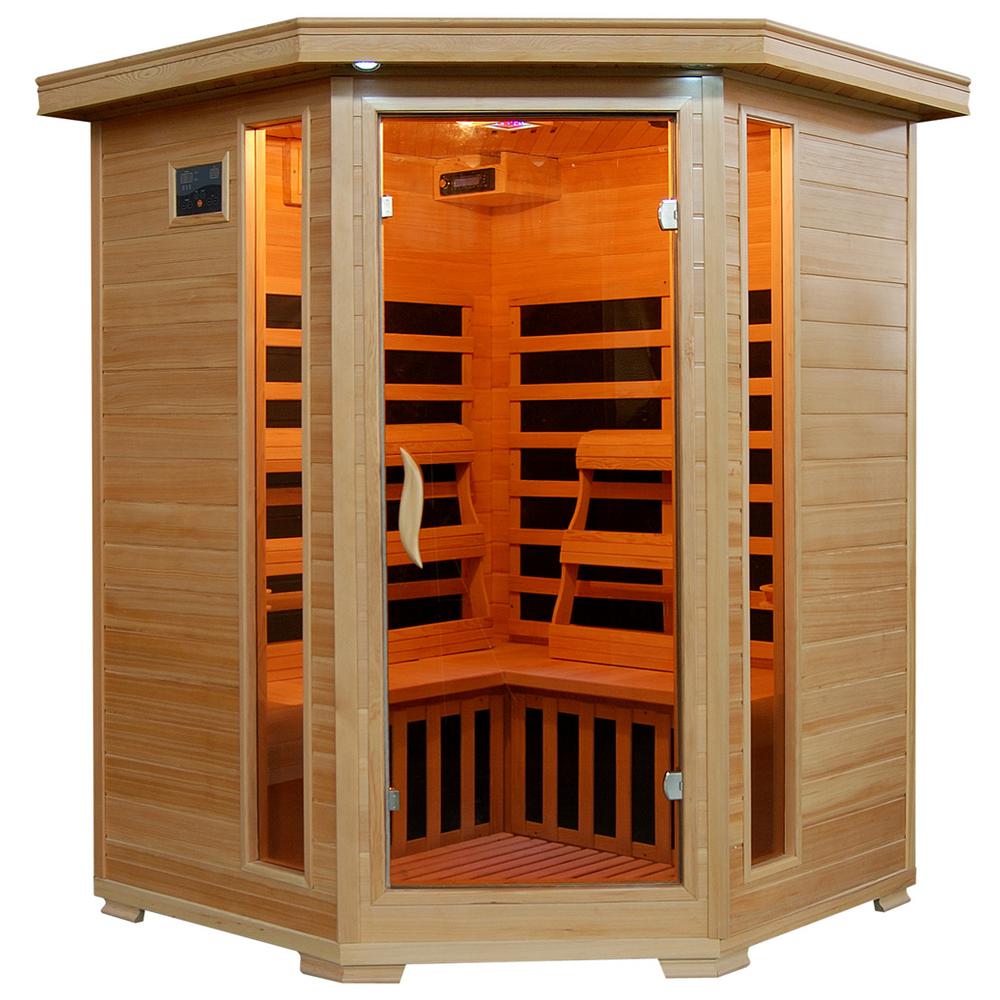 This is made of aromatic raw red cedar, making it not only beautiful but also very durable. The choice of wood material also makes the sauna non-toxic and able to store heat. This way, you'll be able to fully enjoy the health benefits that the sauna offers.
What Did Customers Have To Say:
Most customers loved the fact that it has cedar wood benches because they're very comfortable and sturdy. The sauna also comes with a sound system and radio, giving it extra functions for entertainment. Customers also enjoyed its spaciousness since it gives them a more comfortable experience. It's even spacious enough to fit in other spa equipment like a foot massager or so.
It's made of non-toxic red cedar wood, which is antibacterial and antifungal.
It is good for families and friends.
It has an InfraWave FAR heat technology, making it able to emit very low EMF levels.
It has 7 carbon heaters for stronger heating efficiency.
It comes with a radio for added entertainment.
Its seats are a bit thin and cannot take too much moisture.
It's a bit hard to assemble.
7.  Puretech Low EMF 4 Person FAR Infrared Sauna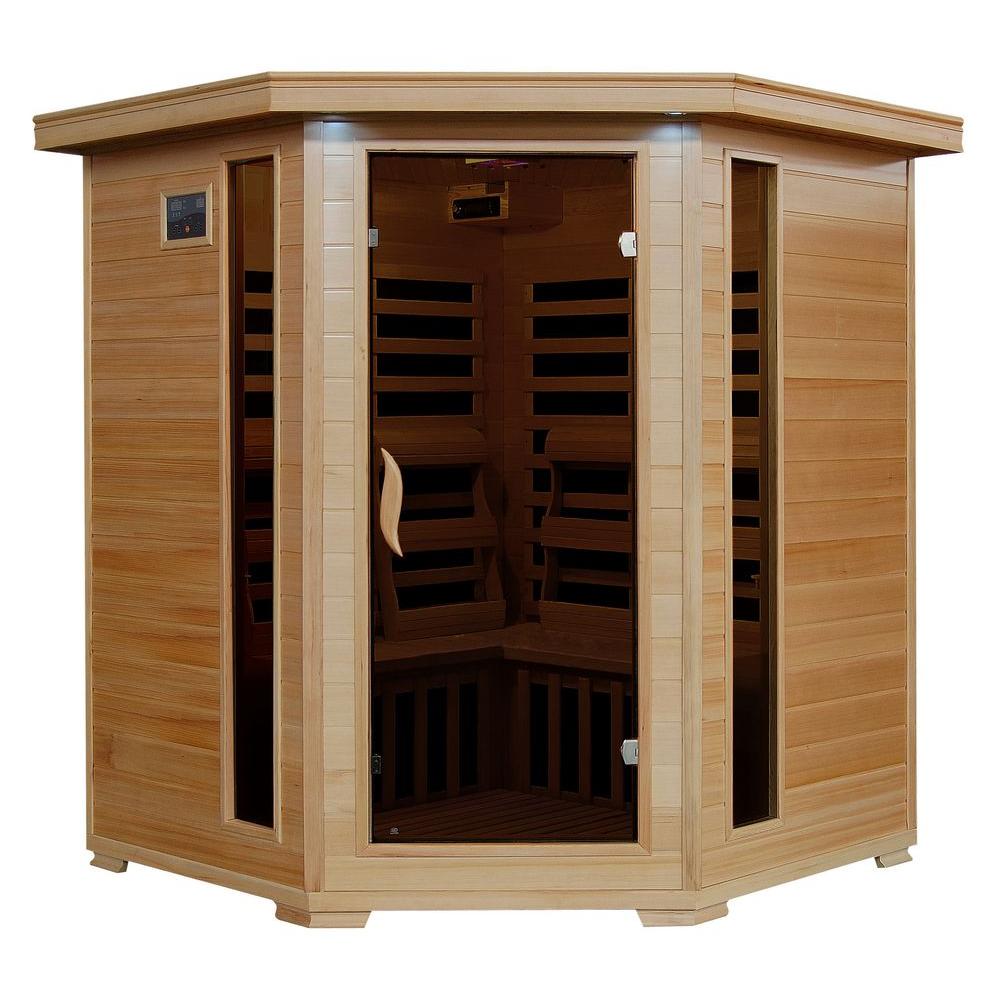 It comes with a special heating technology designed to emit only very low EMF to ensure safety. It also has 10 carbon heaters, making it very powerful and able to operate at 141 degrees Fahrenheit.
What Did Customers Have To Say:
Customers enjoyed the spaciousness of the sauna as their families and friends were able to fit inside. Not only did they comment on the overall effectiveness and quality of the product but also the service. Delivery was very fast and the product came just as it was advertised.
It has an EZ touch dial inside and also an outside LED control panel.
It has a built-in oxygen ionizer for purifying the air.
It comes with an MP3 plug and radio.
It is a little complicated to assemble.
It cannot be used for outdoor because the material is rather sensitive to the outside factors.
8.  Puretech Low EMF 6 Person FAR Infrared Sauna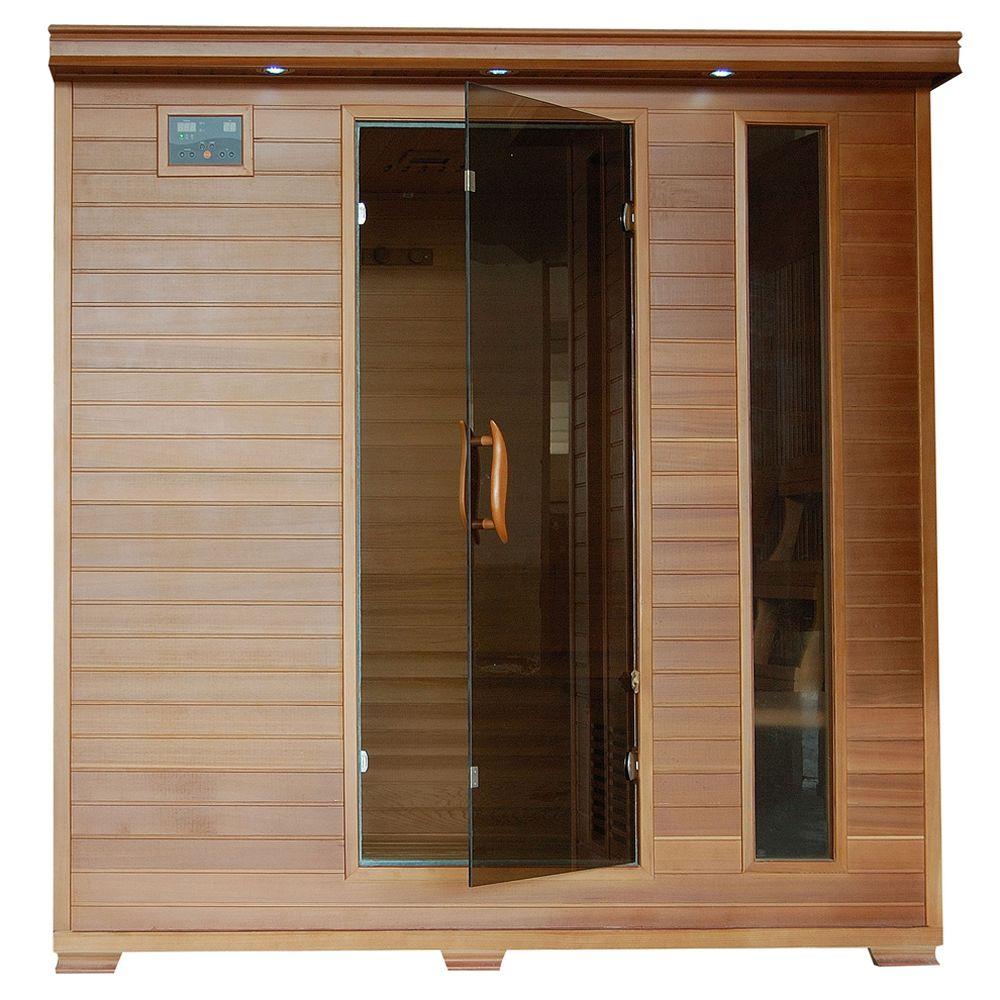 This model has one of the best infrared sauna reviews from customers. It is very spacious, finely finished, and also efficient. It houses two stagecoach style benches, which are long and deep allowing a number of people to fit inside. It is also big enough to place your towels, some clothes, a small towel rack, and even a foot massager.
What Did Customers Have To Say:
Customers who used this sauna had really good things to say about it. They liked that it was able to heat up to 130 degrees Fahrenheit in less than 30 minutes which made them able to use it almost right away. Overall, it is well-loved by its users for its effectiveness and quality.
It is made out of top grade quality red cedar wood.
It has anti-toxic, antifungal, and antibacterial properties.
It is very spacious and could fit 6 or more people.
It has the InfraWave FAR heat technology, which emits extremely low EMF levels.
The finish of the wood makes it very durable.
It has bronze tinted tempered glass on the door.
It comes with an interior and exterior control panel.
The panels are rather heavy, so you might need extra help.
It is quite big, so it might take a while to assemble.
9.  Infracore Premium 1 Person FAR Infrared Sauna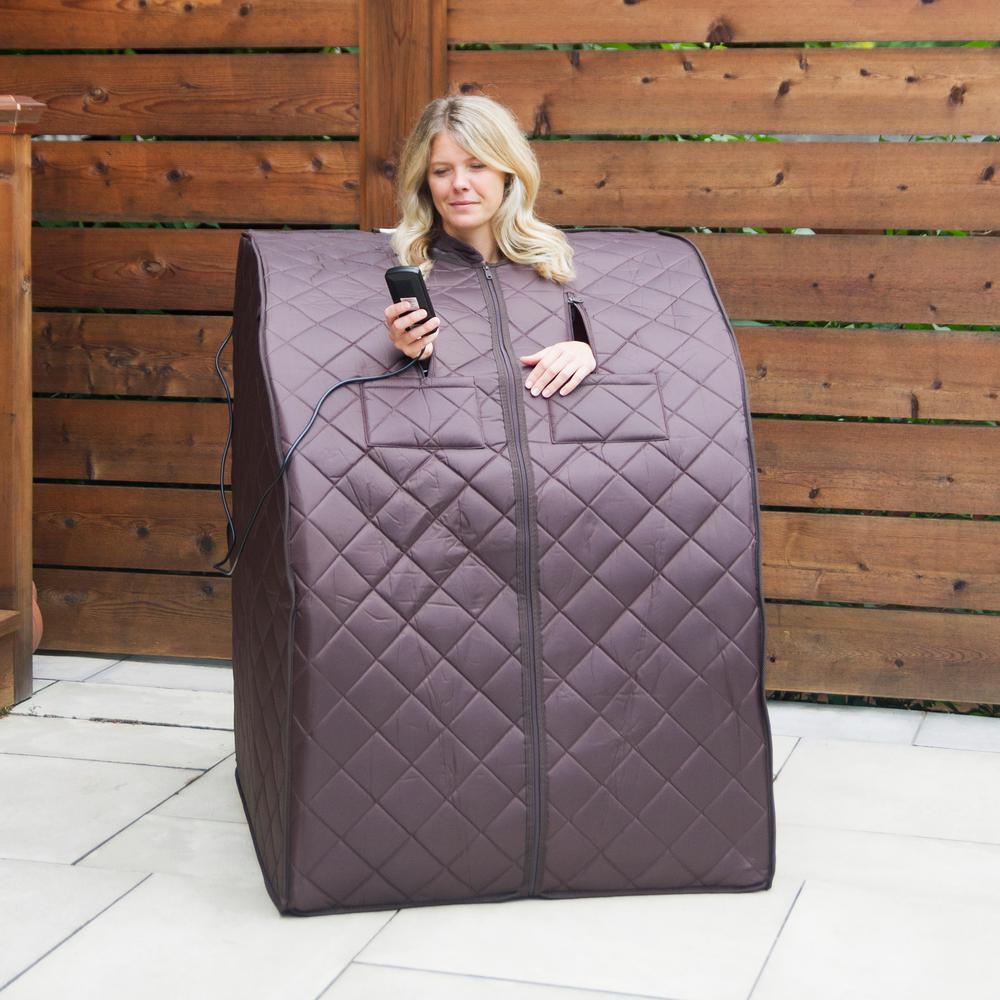 This model is one of the best portable infrared saunas you can find in the market. It's designed to be very easy to carry around and also complete with all features that'll help you relax your body.
What Did Customers Have To Say:
With an impressive rating, this sauna is well-loved by its users. A lot of users loved that it heats up very easily (in just 5 minutes), so you don't have to wait too long before you use it. It also comes with a comfortable chair which adds to your overall experience using it.
Customers also loved that it was very roomy inside the sauna, which is quite uncommon for such an affordable sauna. Customers were quick to say that it was the best portable FAR infrared sauna that they've tried.
It is portable and very easy to set up.
It has very strong heat for a portable sauna.
It is very spacious inside.
It can cater to people with height up to 6 feet tall.
It has a built-in auto shut feature to turn it off once it gets too hot.
The foot pad doesn't heat up as much as a bigger sauna.
The chair is rather flimsy and not adjustable.
Conclusion
If there is an award for the best infrared sauna out of the list, it is definitely the "Radiant Sauna 3 to 4-Person Cedar Elite Premium Sauna". The price is understandable to be that high since it caters to more people than the 2-person infrared saunas, can deliver more power and is made from very high quality of wood.
Though in terms of entertainment aspect it may have something to improve on, the ergonomic interior is more than enough to overcome that. In comparison with the 5-person infrared sauna, only the dimensions are different with an increase in price of more than a hundred dollars. Overall, it is perfect for family and friends.