Radiant Health Saunas is a brand well-known in the spa market since the nineties. Radiant has been manufacturing and distributing infrared saunas starting 1997 under the leadership of Randy Gomm, B.Sc. Radiant Saunas are known for providing natural stress relief, detoxification, and relaxation.
All Radiant Saunas are tested for volatile organic compounds to make sure that they have no toxic materials and also for EMF levels to ensure safe infrared exposure. Because of this, Radiant Health Saunas has been one of the top infrared sauna manufacturers and one of the most trusted brands in the market, serving many customers in many different regions.
If you're looking for the best infrared sauna, then Radiant Saunas should be on top of your list. Here are full Radiant Saunas reviews of the top 5 models that they offer:
Top 10 Radiant Saunas Reviews
1. Radiant Saunas 2 – Person Indoor FAR Infrared Sauna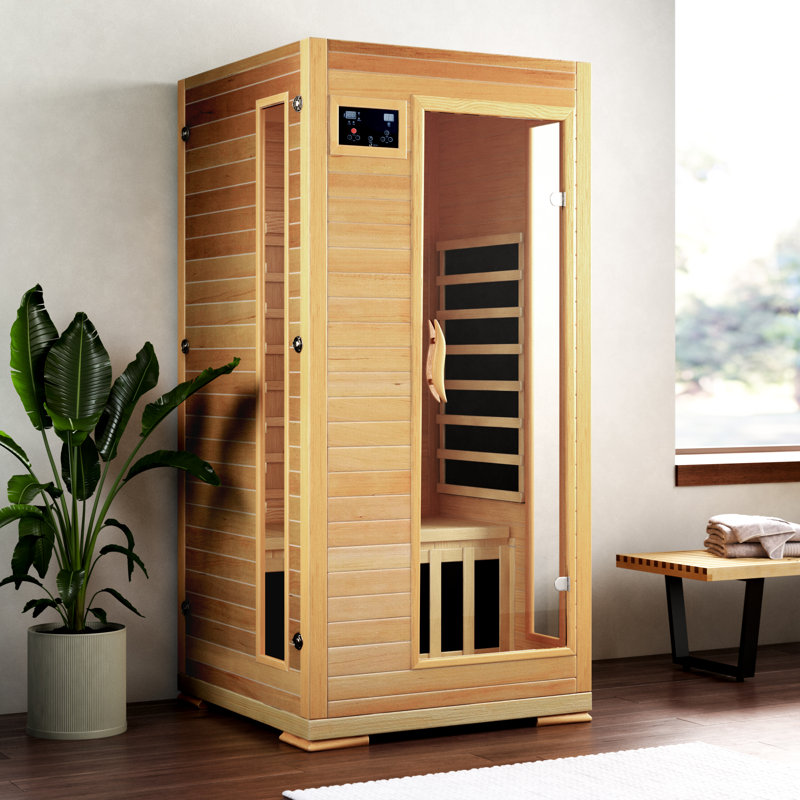 The Radiant Saunas 2 Person Infrared Sauna is a well-built and quick-heating infrared sauna manufactured By Radiant Health Sauna Companies. Their company is one of the more prominent names on the market, having sold thousands of units in Canada and the United States.
Their two-person infrared sauna comfortably fits two persons at once, and it offers you the ultimate relaxation experience, all in the comfort of your own home. Thanks to its solid construction and various features, it's one of the best infrared sauna models out there.
The Pros:
Quickly heats up to 141 degrees
Good exterior and interior layout
Highly durable and long-lasting
Easy to navigate with touch controls
Offers enough ventilation for comfort
The Cons:
Careful assembly is necessary
Can only seat two persons
Verdict
Overall, this infrared sauna is an excellent choice if you're looking for something with a solid structure that can heat up quickly. It also offers the best bang for your buck and comes with enough accessories that allow you to enjoy the product.
Who Is This Product For?
This two-person infrared sauna is best for those who want to relax and unwind in the comfort of their home. It's also an excellent choice if you're a healthcare practitioner who uses saunas for your services.
Key Features and Benefits
Slim Frame and Aesthetic Wooden Design: The Radiant 2 Person Sauna can complement your home well because its design gives it additional character. It also has a nice appearance that blends well with different home interiors. Its slim frame also allows it to fit almost any part of your house.
Plug-and-Play Design and Built-In Speaker: Thanks to this, you can easily connect the unit to an outlet. It also comes with other features that enhance your sauna experience, such as the built-in speaker that you can connect to using an AUX cable.
Solid Wooden Construction: The Canadian Hemlock wood used for this sauna gives it a sturdy construction. It also offers an excellent strength-to-weight ratio, and it attaches firmly to surfaces for better durability.
Other Customers Reviews
"I love the Infrared Sauna, it heats up to 120 degrees Fahrenheit  in about 30 minutes, and then the temperature slowly climbs up to 135 In an hour ."
"I am really satisfied with this sauna. My only concern is that it gives off an EMF reading 30 times higher than the safe level.
"Great deal! Easy to assemble! I assembled mine in less than an hour."
Read more: The Ultimate Radiant Saunas 2 Person Infrared Sauna Reviews
2.  Radiant Saunas 5 – Person Indoor Bluetooth Compatible FAR Infrared Sauna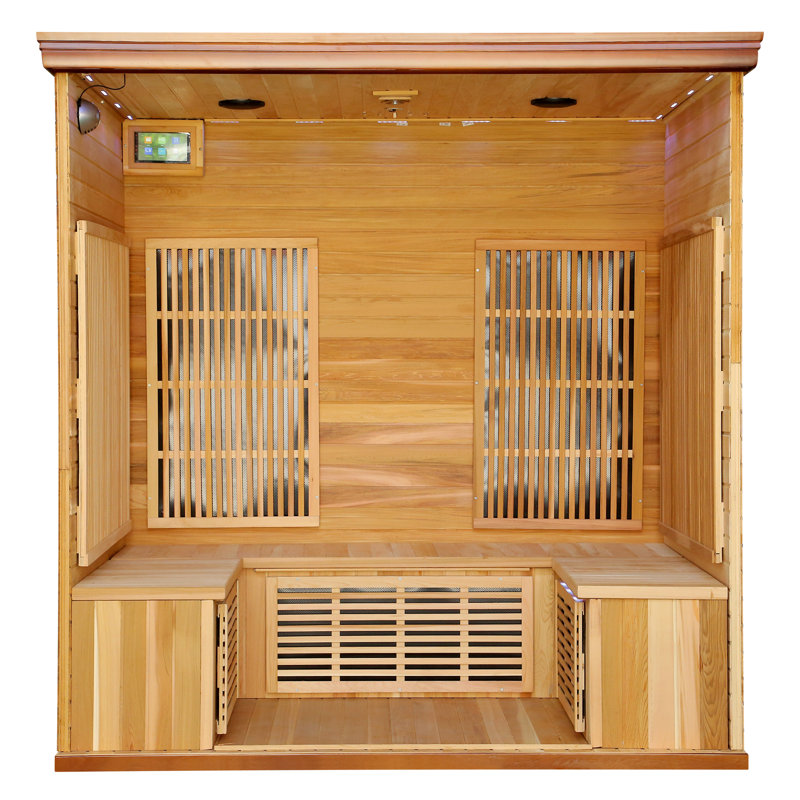 This 5-person sauna is a luxurious and relaxing sanctuary with a Canadian red cedar construction with heat-insulating properties. This infrared sauna is manufactured by Radiant Sauna, which is renowned for its groundbreaking innovation and saunas with contemporary designs.
The Pros:
Lighting system for a calming effect
Impressive healing properties
High-quality construction
Ergonomic backrest for relaxation
Easy installation
Water-resistant
It does not warp
The Cons:
It requires adult assembling
This might not be advisable to you if you have pre-existing health issues
Verdict
This 5-person sauna comes with a plethora of features that offer maximum relaxation. It is designed with innovative heating technologies to give you the ultimate relaxation and health benefits.
Who is This Product For?
This product is for people who want to relax at home with friends and family. This will benefit those who are health-conscious and in the market for a high-quality unit that will offer benefits from pre-existing treatments while providing relaxation.
Key Features and Benefits of the Product
There are several benefits that this infrared sauna offers. They include:
Canadian Red Cedar Construction: This sauna is made from Canadian Red Cedar. This softwood is known to have heat-insulating properties that minimize power usage while giving you the relaxation you need.
Ergonomic Backrest: This infrared sauna comes with an ergonomic backrest that offers additional back support during your session. This added level of comfort can greatly enhance your experience.
Calming Lighting System: The Radiant 5-Person Sauna is intentionally designed with a calm lighting system for maximum therapeutic benefits. Its calming lights give a therapeutic color inside the sauna room. Generally, it can enhance your energy, mood, and cellular activity.
Accommodates Up to 5 Persons: Whether you want to bring your family and friends or a romantic sauna date with your favorite person, this 5-person sauna may be ideal for you. It is an excellent way to enjoy a sauna experience in the comfort of your home or safe space.
Control Panel: This sauna comes with a panel control that lets you tweak and customize your settings easily. It also comes with remote control for easy control.
Seating Benches: This sauna includes three seating benches for ample support and comfort during your session.
Customer Reviews
Still wondering whether this unit is best suited for you? Read on Radiant Saunas 5 Person FAR Infrared Sauna Reviews from previous customers.
"At first, I was hesitant to buy online because there are just so many shops, and who knows which one is trusted. It's a great thing I found this website that sells legit Radiant Sauna Premium Elite 5 Person Indoor Bluetooth Compatible FAR Infrared Sauna. Now, I have my own mini spa at home which I and my family and girlfriends can enjoy."
"With its latest infrared heat technology, this sauna provides ache, tension, and pain relief. Aside from the perspiration that warmly opens your pores and takes the toxins out of your body, this sauna rejuvenates, relaxes, and takes all my worries away."
"I love this sauna. However, it requires professional assembly."
Read more: The Ultimate Radiant Saunas 5 Person FAR Infrared Sauna Reviews
3.  Radiant Saunas Sirona Indoor FAR Infrared Sauna
The Sirona 3-person sauna uses FAR infrared technology. Compared to other saunas on the market, it seems more innovative and unique, and some may say it is the best infrared sauna out there.
It fuses the best of both worlds: technology and style. Aside from that, there are also additional features that keep the user more comfortable.
Pros / Advantages:
It has a sleek contemporary design with engineered wooden exterior panels being laminated to "Grade A" reforested Western Canadian hemlock, which provides optimum inner heat-retention.
It has an elegant touch of rich mahogany on the exterior.
It has great construction: safety glass, an easy-clasp assembly system, and heavy-duty door hinges.
It has commercial-grade heating panels.
Electronics include a touchscreen Bluetooth control pad, interior lighting, high-performance speakers, chromotherapy, and a ceiling accent Star lighting.
Cons / Disadvantages:
With all of the great design and additional electronics, the price can be quite expensive.
The assembly requires at least 2 people with basic technical knowledge.
Verdict:
Overall, based on the available Radiant Saunas Sirona 3 Person Indoor FAR Infrared Sauna reviews, the product is very appealing to anyone who loves saunas. There are tons of features from the construction down to the usage.
It can even contribute to adding elegance to one's home due to its beautiful exterior design.
The Intended Users of The Product
The Radiant Saunas' infrared sauna applies to any homeowner who likes to have a personal sauna. Seeing that it can accommodate 3 people, the space demanded is quite large.
If you own a resort or hotel, this can be a great asset for the business. Not only does it serve its purpose as a sauna for the customers, but it also won't disturb the overall aesthetics.
Key Features And Benefits
Infrawave Technology Heater Panels
The technology used for the heater panels is different from the rest. It uses FAR infrared, which generates heat as light waves.
Compared to traditional saunas, they generate convectional heat by heating rocks. Furthermore, the time to heat the room is much faster than traditional saunas, taking only 10 to 15 minutes.
This infrared sauna doesn't only serve its purpose, but it also makes any room look elegant. The rich mahogany exterior is being made better with the lamination of Western Canadian hemlock.
User-friendly Electronics
Aside from the infrared technology, the controls and lighting are extraordinary. The control pad can be navigated with a touch and is equipped with Bluetooth connectivity.
Furthermore, the lighting utilizes chromotherapy, meaning that the illumination contributes to the improvement of the bodily senses. Also, don't forget about the high-performance speakers in which you can blast any good music while sweating.
Customer Reviews
"This sauna is so relaxing I'm very pleased with it so far! Assembling it was easy thanks to the thorough directions. Although it did take my husband and myself about two and a half hours to assemble. I love how its interior and exterior look. The functions are also really easy to operate (lights, radio, ionizer, sauna). Warming does take some time so we turn it on twenty to thirty minutes prior to using it. It definitely gets you sweating!
"It's really difficult to assemble alone….since I live alone, it became a whole day project for me….."
Frequently Asked Questions / Additional Tips
Is it coming in one piece, or do I have to assemble it? Assembly is required and at least 2 people are needed.
How many amps do this use? 15 or 20? The power rating of the item is 15 amps.
Is this sauna for indoor use only? This sauna is for indoor use only.
Can you install the sauna inside the house? The item can be installed inside the house. You just want to have a dedicated outlet and enough space around the unit for airflow.
Read more: Radiant Saunas Sirona 3 Person Indoor FAR Infrared Sauna Reviews: Read BEFORE Buying
4.  Radiant Sauna 2-Person Hemlock Infrared Sauna with 5 Ceramic Heaters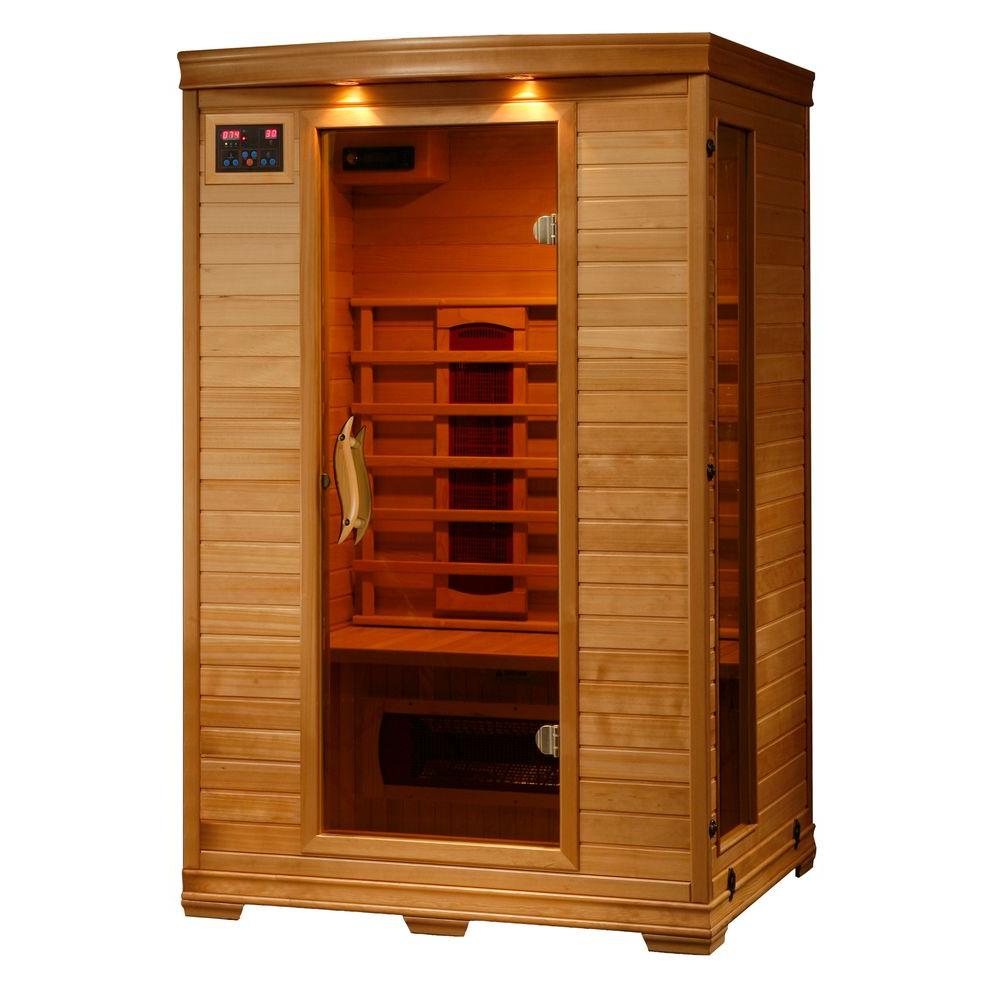 This sauna has similar characteristics with the other 2-person infrared sauna except that the heaters used are from ceramic. These ceramic heaters are strategically place in order to achieve a temperature of 141 degrees Fahrenheit.
The main features are similar: constructed from Hemlock wood, operated using EZ-Touch dual dial and backed up with certifications from ISO 9001, CETL, CE and RoHS. However, it doesn't just stop there. The sauna is still loaded with other amenities.
For a 2-person sauna, the interior is 40-percent more spacious than other similar products. Aside from that, it has racks for towels and magazines. For your entertainment, there is a compact sound system installed and can cater connections for MP3 players.
To keep the air fresh, there is an electronic oxygen ionizer included. In terms of enhancing your sauna experience, a 7-color light therapy system is integrated.
What Did Customers Have To Say:
For the set of Radiant sauna reviews for this particular product, it appears all reviewing customers find it satisfying. Majority of them liked how easy the product was to assemble.
What We Like:
Usage of infrared technology that is safe and beneficial for one's health
Installed with same technology and added more options for audio entertainment
Equipped with 7-color light system which is for therapeutic experience
Installed with electronic oxygen ionizer which does more than just regulating air flow
Easy assembly for the sauna's Hemlock wooden construction
Backed by multiple certifications
Perfect for couples
What We Don't Like:
A little more expensive than similar products due to more features added
Usage of ceramic heaters may seem a bit less appropriate for sauna use in comparison with carbon heaters
5.  Radiant Sauna 4 to 5-Person Cedar Elite Premium Sauna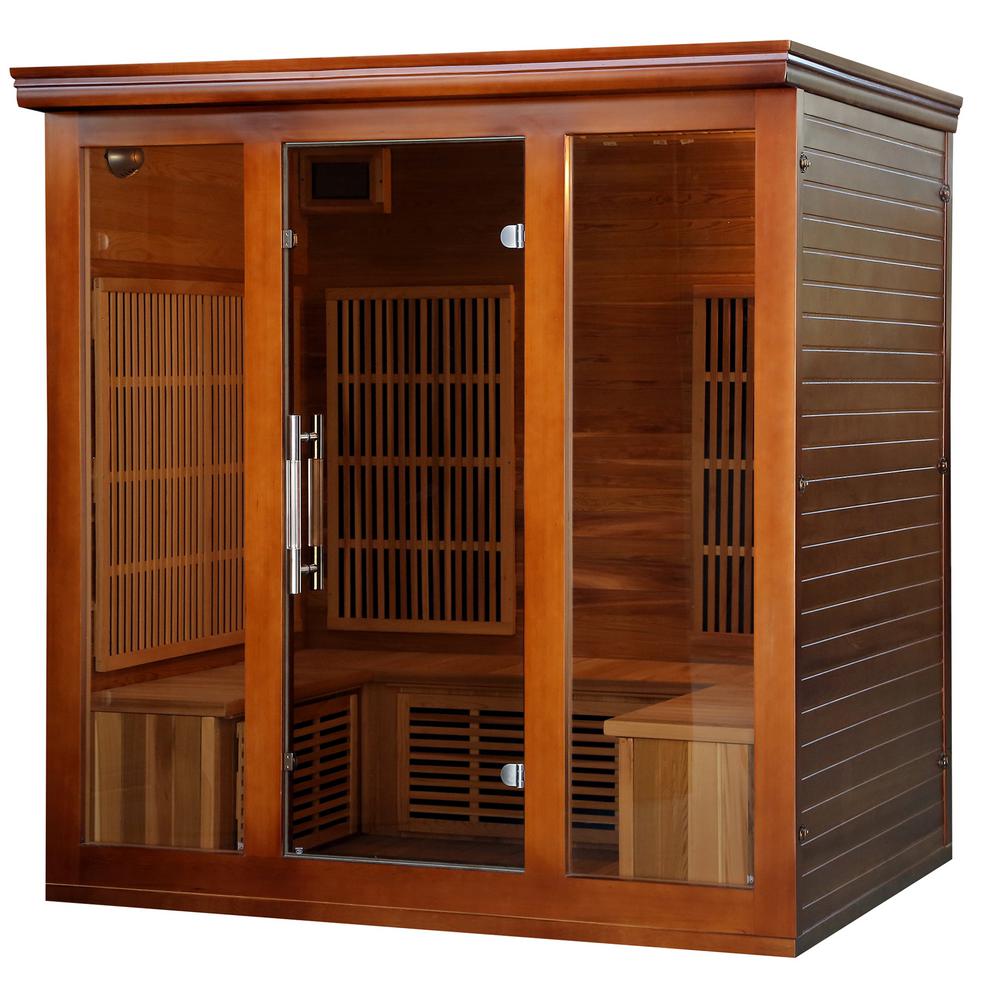 This 5-person sauna has so many similar qualities with its 4-person counterpart. It is also made from a Grade-A Western Red Canadian Cedar and has 8-mm thick tempered glass. Apart form that, the hinges and door handle have chrome-finishes for those shiny looks.
The 'Infrawave' technology seems to be the signature heating technology used along with the help of 9 carbon heaters. This sauna is capable of delivering a power of 2140 Watts and the heat-retention walls make it possible to prevent any leakage.
The interior features remain to be similar, having a Bluetooth-capable control touch pad, chronotherapeutic lighting system, high-quality speakers, air ionizer and the ergonomically-designed backrests.
What Did Customers Have To Say:
Out of the Radiant saunas reviews, this product has the fewest. Regardless of that, the said reviewers appreciated its ease of assembly.
What We Like:
Equipped with 9 carbon heaters to distribute the power from its signature infrared technology to 5 persons
Interior remote control has Bluetooth capability
Constructed from very high quality Western Red Canadian Cedar wood
Easy assembly of the very high quality wood with thick tempered glass and chromed metal parts
Includes therapeutic lighting system, ergonomic backrest and ionizer
Can accommodate larger groups, ideally five persons
What We Don't Like:
A bit expensive considering there are no additional features compared to its 4-person counterpart
No exterior manual control
Limited entertainment aspects
Still lacking certifications compared to other products of same brand
6.  2-Person Hemlock Infrared Sauna with 6 Carbon Heaters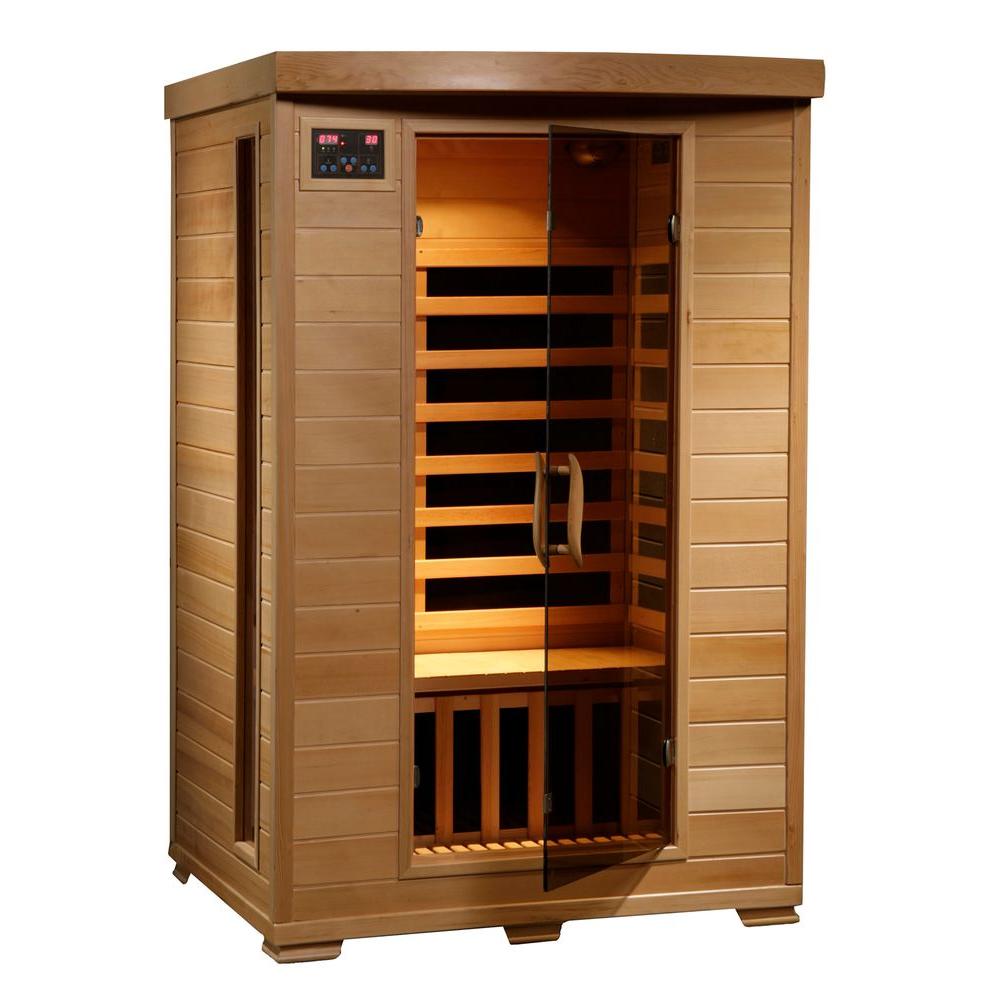 This model is great for those who are tired, stressed, or need a break. This two-person sauna offers a lot of great health benefits like muscle relaxation, as well as detoxification. Since it can fit two people, you can have someone to talk to while you're inside.
What Did Customers Have To Say:
This model has a lot of positive infrared sauna reviews. Customers mentioned that this sauna heats up very fast, which is great for them. Customers also commented that it was very easy to put together, and it was a good value for their money.
What We Like:
It is beautifully designed and gives a very comfortable vibe.
It emits very low levels of infrared, making it safe to use.
It is very affordable.
It comes with a very easy to use LED control panel so that you may control the functions while inside.
It has a complete sound system to add to the music.
What We Don't Like:
The top is not very tight, allowing heat to escape easily.
It is quite small in size.
7. Corner Carbon FAR Infrared Sauna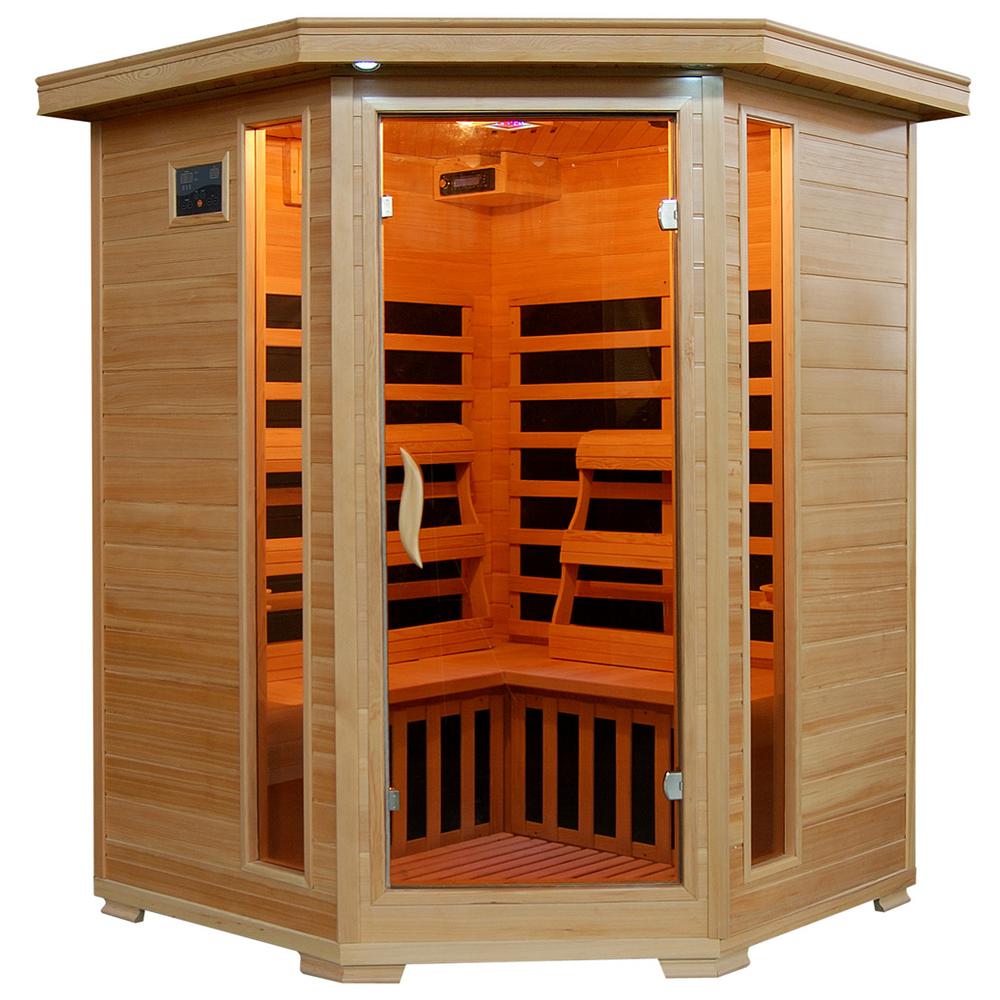 This is made of aromatic raw red cedar, making it not only beautiful but also very durable. The choice of wood material also makes the sauna non-toxic and able to store heat. This way, you'll be able to fully enjoy the health benefits that the sauna offers.
What Did Customers Have To Say:
Most customers loved the fact that it has cedar wood benches because they're very comfortable and sturdy. The sauna also comes with a sound system and radio, giving it extra functions for entertainment. Customers also enjoyed its spaciousness since it gives them a more comfortable experience. It's even spacious enough to fit in other spa equipment like a foot massager or so.
What We Like:
It's made of non-toxic red cedar wood, which is antibacterial and antifungal.
It is good for families and friends.
It has an InfraWave FAR heat technology, making it able to emit very low EMF levels.
It has 7 carbon heaters for stronger heating efficiency.
It comes with a radio for added entertainment.
What We Don't Like:
Its seats are a bit thin and cannot take too much moisture.
It's a bit hard to assemble.
8.  Puretech Low EMF 4 Person FAR Infrared Sauna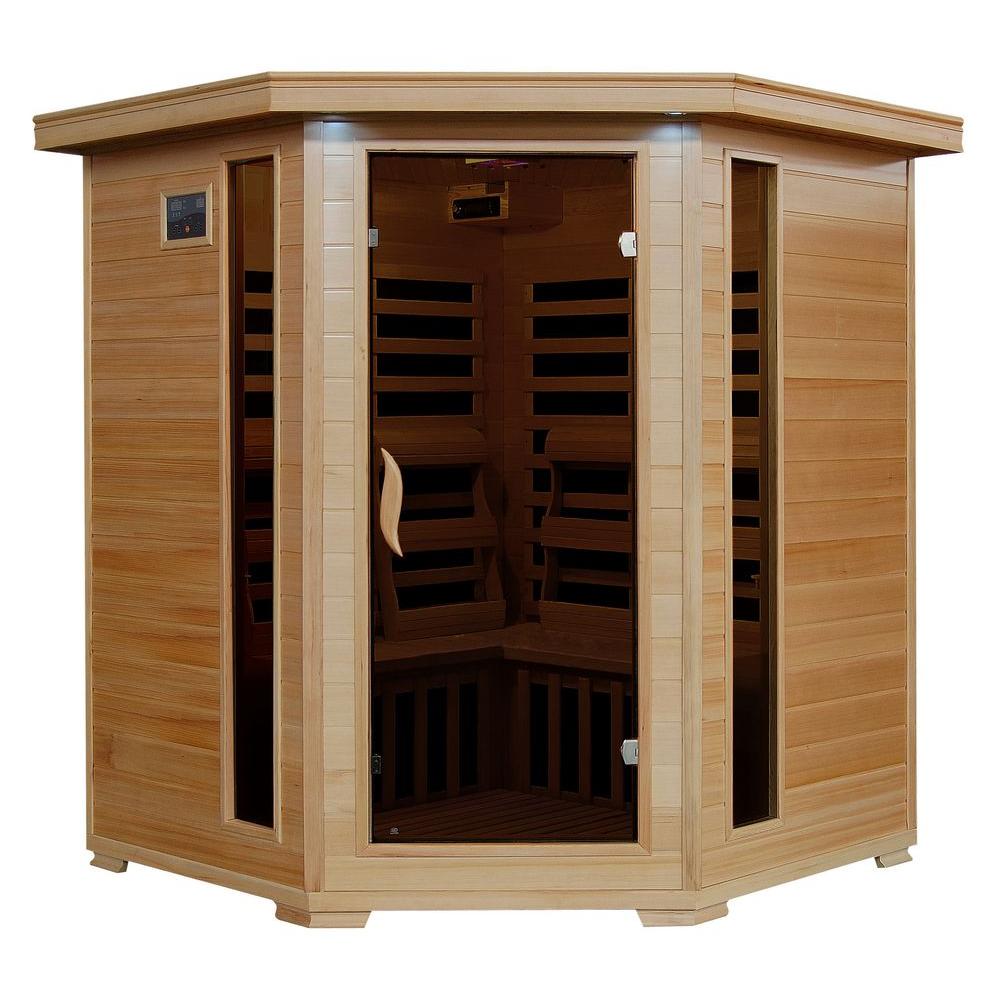 It comes with a special heating technology designed to emit only very low EMF to ensure safety. It also has 10 carbon heaters, making it very powerful and able to operate at 141 degrees Fahrenheit.
What Did Customers Have To Say:
Customers enjoyed the spaciousness of the sauna as their families and friends were able to fit inside. Not only did they comment on the overall effectiveness and quality of the product but also the service. Delivery was very fast and the product came just as it was advertised.
What We Like:
It has an EZ touch dial inside and also an outside LED control panel.
It has a built-in oxygen ionizer for purifying the air.
It comes with an MP3 plug and radio.
What We Don't Like:
It is a little complicated to assemble.
It cannot be used for outdoor because the material is rather sensitive to the outside factors.
9.  Radiant Saunas Harmony Deluxe (1-Person) Portable Sauna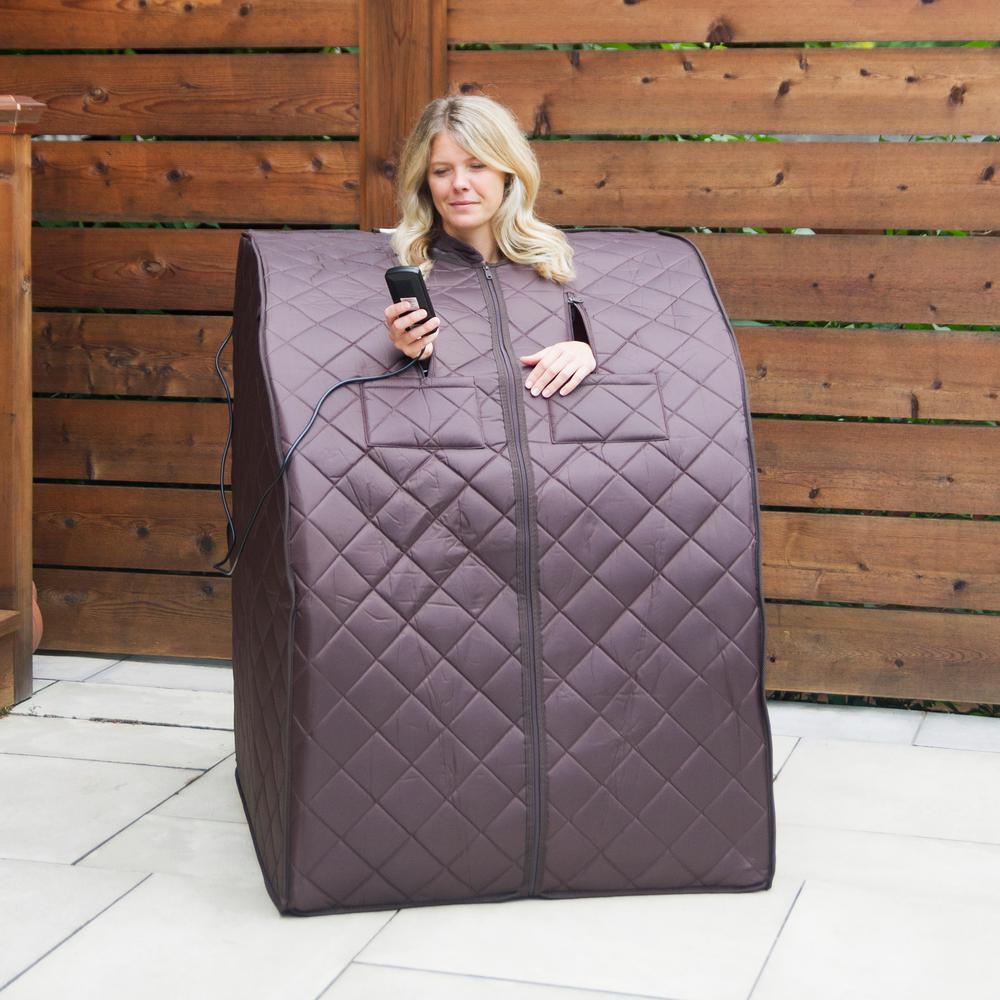 The Radiant Harmony's Harmony Deluxe Portable Infrared Sauna is a handy home equipment that provides the comfort of a sauna wherever you are.  However, it has its advantages and downsides.
The Pros of This Harmony Deluxe Portable Infrared Sauna
Affordable
Quality construction
Produces high heat
Easy to set up
Cons of The Portable Infrared Sauna
High EMF levels
Takes long to heat up
Defective parts
Key Features and Benefits:
Here are the key features and benefits of this sauna:
Easy to Set Up: This portable sauna is easy to set up and requires minimal space. You can enjoy a warm sauna anywhere you go since it folds easily and can be set up in less than 2 minutes. The accompanying chair, footpad, and floormat are easy to set up as well.
Quality Build: The chair has a comfortable armrest and has a metal build that can support up to 220lbs.  This portable sauna is made of fully insulated polyester fabric and has sturdy stitching that can withstand moisture. You can take anywhere weighing only 22 lbs. or 10 kgs.
Affordable: This sauna is a great alternative if you don't have the space or the budget for a cabin sauna. I also like the fact that it consumes low voltage, so it won't affect your power bill that much.
High heat: The Radiant Sauna's Harmony Deluxe Portable Infrared Sauna reviews rated that it heats up hot enough for a satisfying sauna break. This portable sauna has a maximum temperature of 150 Fahrenheit enough to sweat out the toxins. Radiant Harmony's Harmony Deluxe Portable Infrared Sauna is a handy and affordable addition to your home. It lets you enjoy the comfort and practicality of a sauna without paying $20 each visit.  Depends on what you believe, high EMFs can be a concern especially if you will use it often.
Who Can Benefit from This?
This sauna is best suited for:
People who want to detoxify
I heard that sweating can be good for you since you relive your body of toxins and excess sugar and salt.
Patients with Lyme disease and fibromyalgia
Infrared saunas are reportedly good for patients of these diseases. Fibromyalgia is a painful musculoskeletal disorder with fatigue and sleep issues. Lyme disease is an infectious disease caused by Borrelia bacteria which is carried around by ticks. For fibromyalgia, the increased temperature eases the muscle pains while for Lyme disease patients the heat kills off some of the bacteria.
Customer Reviews
Most of Radiant Harmony's Harmony Deluxe portable infrared sauna reviews have a 75% 5-star rating at Amazon. Most reviews often said price and functionality as the top reason.
"In the manual, it says it takes two minutes to unfold, I found it actually takes less than one minute to unfold or store away. It is easy to store in your car if you were going somewhere".
However, the highest-rated review comes from a Lyme disease patient saying that after using it he "I do notice an improvement.  My sores were lessened, and I don't experience as many tingles under my skin. I'm so glad I found this sauna!".
However, most negative ratings are due to the recorded high EMF levels. One user said it was a "human microwave". Another user didn't like the burnt plastic smell when they started using it.
Several complaints about factory issues have been reported like missing foot pads, defective chairs, and error codes controllers. Although the company responds immediately, it can be a hassle for someone who is expecting a pristine product.
One YouTube reviewer noted high EMF levels for Harmony Deluxe Portable Infrared Sauna reaching as high as 60 milligauss. Average EMF for a household appliance is up to 1 milligauss .
FAQS:
What is the warranty for this sauna? The Radiant Harmony's Harmony Deluxe portable infrared sauna has a 1-year warranty included. As we mentioned they do have a good after-sales service which you can count on.
How do I clean my Harmony Deluxe sauna? After using it, use a damp cloth to dry the PE foam inside the sauna box.  Don't pack it up immediately and let it cool down.
How do I adjust the temperature? The footpad, side and back walls are covered with 0.1 mm conductive heating elements coated with heat-activated FIR material. Using the controller, it can adjust easily to your desired temperature and the footpad automatically adjusts as well.
Read more: Harmony Deluxe 1 Person FAR Infrared Sauna Reviews
10.  Radiant Rejuvenator Portable Sauna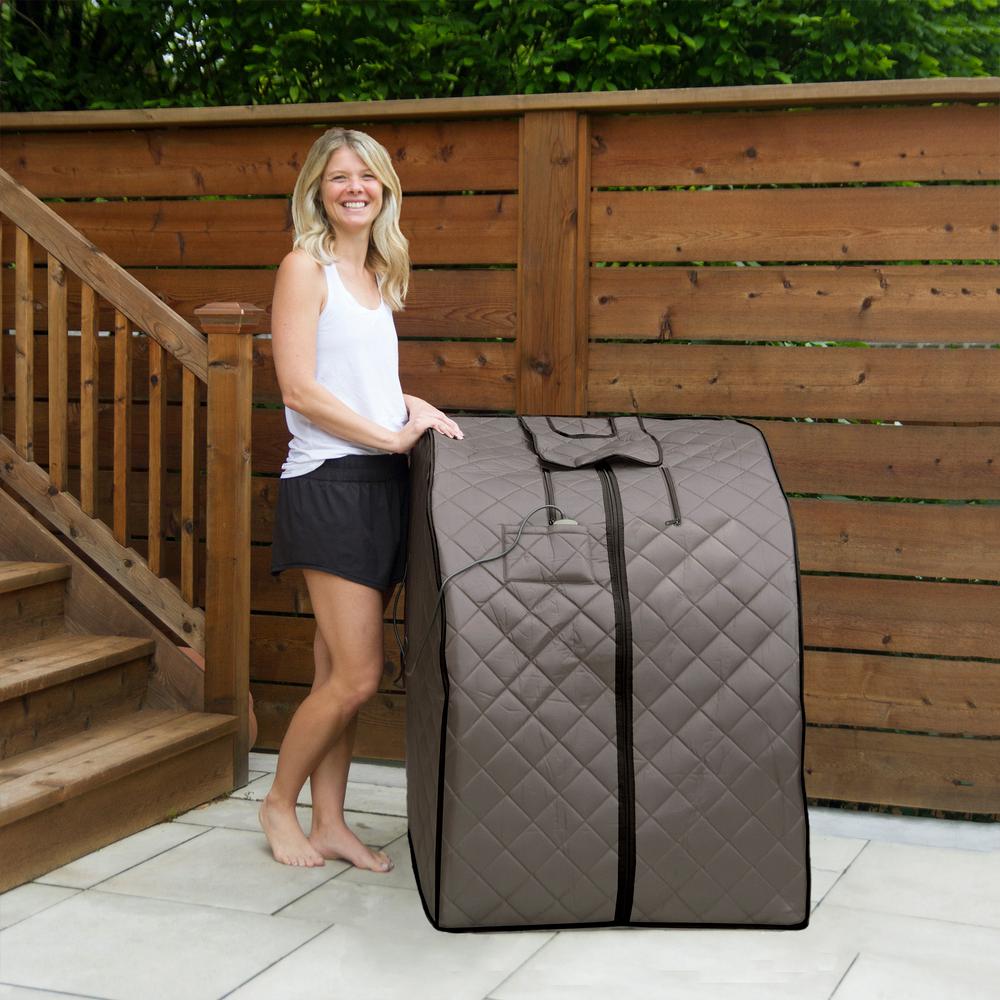 The Rejuvenator Portable Sauna is a cleverly designed sudatory made by Radiant Saunas. To set your expectations, however, this product is manufactured primarily for recreation and relaxation, so it must not be used for medical purposes.
Measuring 28 inches wide, 33.5 inches long, and 38.1 inches tall, this unit has cabin-like dimensions that are enough to accommodate one person.
It includes an insulated and padded sponge floor mat and a foldable chair for quick set-up. While sitting, you even get to adjust the heat using its handy remote for both temperature and timer control.
Made of cotton insulation, a satin polyester exterior with three layers, and a reflective polyester inside material-lock that is sewn together, the panel of this unit ensures sturdiness. It has a padded and double-lined neck collar as well as interior and exterior front compartment zippers to make sure infrared heat does not leak.
This unit has a built-in thermostat and three energy-efficient low EMF carbon fiber heating panels that emit heat at a maximum temperature of 150 degrees Fahrenheit (or 65.56 degrees C). You could select from five options for preset heat temperature levels, too.
The product might be most suitable for indoor use, but do not worry because it features a modern yet transitional aesthetic. Additionally, the gray finish allows it to blend in any spacious area in your home. You may also bring it for outdoor travels if you want.
The Pros of This Rejuvenator Portable Sauna
Energy-efficient carbon fiber infrared heat panels
Material includes sturdy, moisture-resistant satin polyester
Five (5) preset heat temperature levels
Dual interior-exterior zippers on the front compartment
Easy and quick set-up for storage or traveling
Cons of The Portable Infrared Sauna
Can only accommodate one person
Max temperature might not be enough for others
The chair is too small and slightly uncomfortable
The user manual is hard to follow
Not intended for medical purposes
Key Features
An integrated automatic shut-off safety mechanism
Modifiable temperature
Three-layer exterior satin polyester fabric
Verdict
Despite a few minor flaws, including a foldable chair that is a bit small and uncomfortable, the Rejuvenator Portable Sauna might be still worth checking out. The above review might serve as your resource to help you consider owning the product.
Who Is This Product For?
This lightweight infrared might be a good product recommendation for people whose hands are mostly on deck and who are conscious of their health but have little time to pamper themselves. If you want to reduce stress and fatigue or lose weight the easy way, it is a good starting point.
Customer Reviews
Check out what other customers have to say about this portable sauna with these Radiant Saunas Rejuvenator Portable Sauna reviews:
"Initially, I had second thoughts about owning this product because I thought it couldn't get any hotter, being a person who's always cold. But when I decided to buy it and gave it a try, I sweat out a lot. I also appreciated the design because my head doesn't get hot. I tell you, it's definitely worth your time and money."
"Toward the front, there are side panels that don't give off enough heat, which surprised me. Maybe I got a defective unit."
"Such a valuable product! It can be set up quickly and cleaned easily."
"I ordered it in hopes of sweating out without the need for active exercises. It's unexpectedly easy to set up, but does it heat a lot? I don't know. I've tried to let it heat up for about 10 minutes and adjusted the temperature gradually, but still, it doesn't get hot enough. What a letdown! I'll return this product instead."
"Between losing weight and reducing stress, I had no issues with this product. I love it!"
"I was expecting that more heat would come out. Otherwise, it's a great product."
Review: Radiant Saunas BSA6310 Rejuvenator on Youtube
FAQ & Additional Tips
Do I need to add something for it to heat up? This portable infrared sauna is a dry heat unit which means you do not need to add water or anything else just to get it heated up. It is entirely different from a steam sauna.
How hot does this product can get? The portable infrared sauna has a maximum thermostat of 150 degrees Fahrenheit (65.56 degrees C). If you set the temperature to the range of 130 to 150 degrees Fahrenheit, you will sweat in about 15 minutes.
Does this unit have any chemical smell to it? No, it does not have a chemical smell at all.
Can the chair be replaced? The foldable chair is not replaceable since it comes together with the unit upon purchase.
How long should a person spend time in a sauna? The maximum time a person should stay in a sauna is half an hour. Also, take note that this product has a collar, so you should not stay in it for more than 30 minutes.
Read more: Radiant Saunas Rejuvenator Portable Sauna Reviews
Conclusion
If there is an award for the best infrared sauna out of the list, it is definitely the "4-Person Hemlock Corner Infrared Sauna with 10 Carbon Heaters". The price is understandable to be that high since it caters to more people than the 4-person infrared saunas, can deliver more power and is made from very high quality of wood.
Though in terms of entertainment aspect it may have something to improve on, the ergonomic interior is more than enough to overcome that. In comparison with the 5-person infrared sauna, only the dimensions are different with an increase in price of more than a hundred dollars. Overall, it is perfect for family and friends.