Radiant Health Saunas is a brand well-known in the spa market since the nineties. Radiant has been manufacturing and distributing infrared saunas starting 1997 under the leadership of Randy Gomm, B.Sc. Radiant Saunas are known for providing natural stress relief, detoxification, and relaxation.
All Radiant Saunas are tested for volatile organic compounds to make sure that they have no toxic materials and also for EMF levels to ensure safe infrared exposure. Because of this, Radiant Health Saunas has been one of the top infrared sauna manufacturers and one of the most trusted brands in the market, serving many customers in many different regions.
If you're looking for the best infrared sauna, then Radiant Saunas should be on top of your list. Here are full Radiant Saunas reviews of the top 5 models that they offer:
Top 5 Radiant Saunas Reviews
1. Infracore Premium 1 Person FAR Infrared Sauna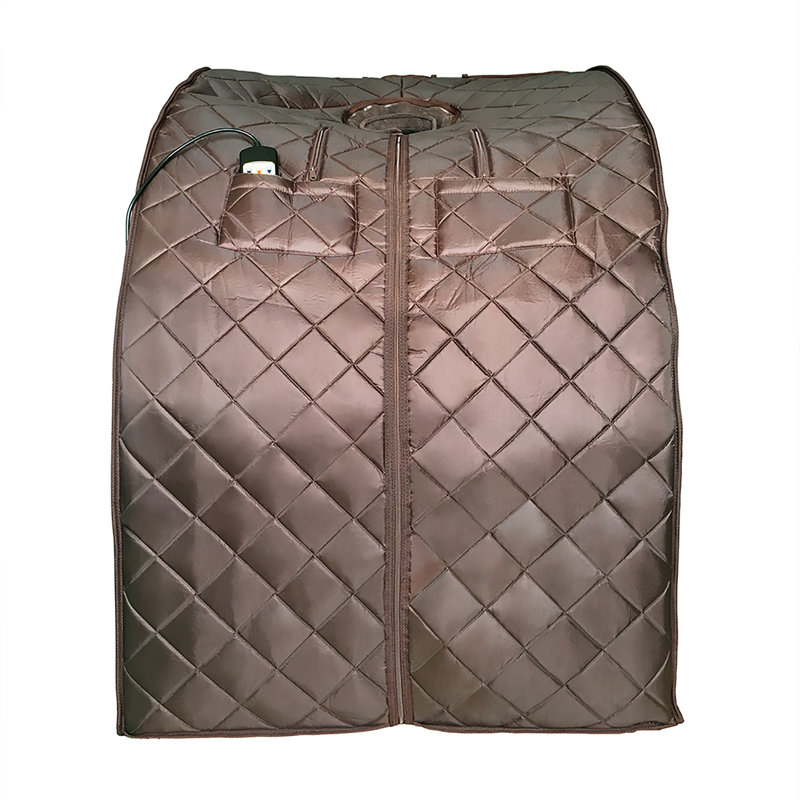 This model is one of the best portable infrared saunas you can find in the market. It's designed to be very easy to carry around and also complete with all features that'll help you relax your body.
What Did Customers Have To Say:
With an impressive rating, this sauna is well-loved by its users. A lot of users loved that it heats up very easily (in just 5 minutes), so you don't have to wait too long before you use it. It also comes with a comfortable chair which adds to your overall experience using it.
Customers also loved that it was very roomy inside the sauna, which is quite uncommon for such an affordable sauna. Customers were quick to say that it was the best portable FAR infrared sauna that they've tried.
It is portable and very easy to set up.
It has very strong heat for a portable sauna.
It is very spacious inside.
It can cater to people with height up to 6 feet tall.
It has a built-in auto shut feature to turn it off once it gets too hot.
The foot pad doesn't heat up as much as a bigger sauna.
The chair is rather flimsy and not adjustable.
2. Madison 2 Person FAR Infrared Sauna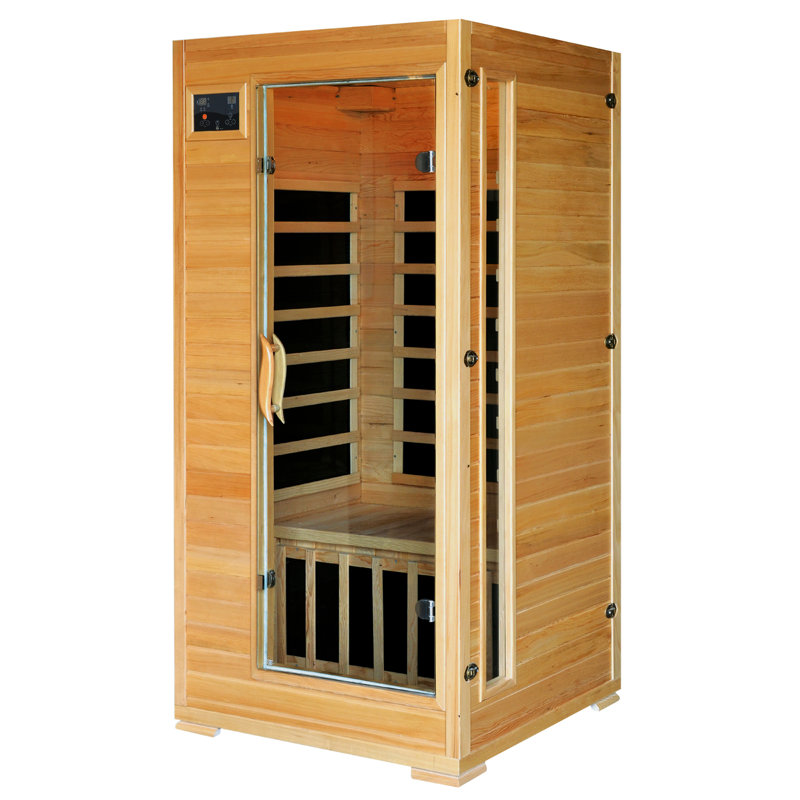 This model is great for those who are tired, stressed, or need a break. This two-person sauna offers a lot of great health benefits like muscle relaxation, as well as detoxification. Since it can fit two people, you can have someone to talk to while you're inside.
What Did Customers Have To Say:
This model has a lot of positive infrared sauna reviews. Customers mentioned that this sauna heats up very fast, which is great for them. Customers also commented that it was very easy to put together, and it was a good value for their money.
It is beautifully designed and gives a very comfortable vibe.
It emits very low levels of infrared, making it safe to use.
It is very affordable.
It comes with a very easy to use LED control panel so that you may control the functions while inside.
It has a complete sound system to add to the music.
The top is not very tight, allowing heat to escape easily.
It is quite small in size.
3. Corner Carbon FAR Infrared Sauna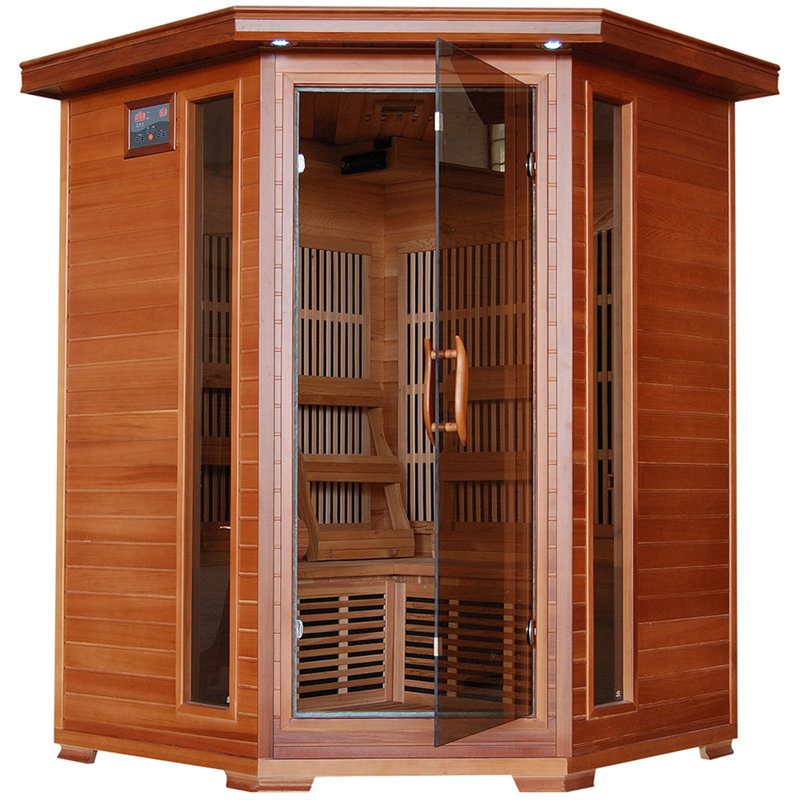 This is made of aromatic raw red cedar, making it not only beautiful but also very durable. The choice of wood material also makes the sauna non-toxic and able to store heat. This way, you'll be able to fully enjoy the health benefits that the sauna offers.
What Did Customers Have To Say:
Most customers loved the fact that it has cedar wood benches because they're very comfortable and sturdy. The sauna also comes with a sound system and radio, giving it extra functions for entertainment. Customers also enjoyed its spaciousness since it gives them a more comfortable experience. It's even spacious enough to fit in other spa equipment like a foot massager or so.
It's made of non-toxic red cedar wood, which is antibacterial and antifungal.
It is good for families and friends.
It has an InfraWave FAR heat technology, making it able to emit very low EMF levels.
It has 7 carbon heaters for stronger heating efficiency.
It comes with a radio for added entertainment.
Its seats are a bit thin and cannot take too much moisture.
It's a bit hard to assemble.
4. Puretech Low EMF 4 Person FAR Infrared Sauna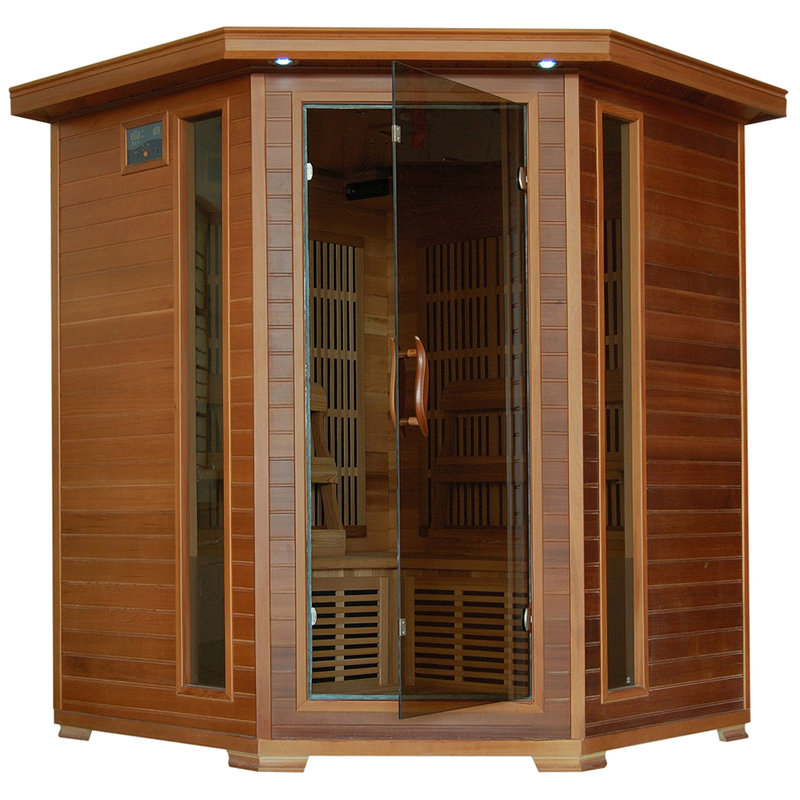 It comes with a special heating technology designed to emit only very low EMF to ensure safety. It also has 10 carbon heaters, making it very powerful and able to operate at 141 degrees Fahrenheit.
What Did Customers Have To Say:
Customers enjoyed the spaciousness of the sauna as their families and friends were able to fit inside. Not only did they comment on the overall effectiveness and quality of the product but also the service. Delivery was very fast and the product came just as it was advertised.
It has an EZ touch dial inside and also an outside LED control panel.
It has a built-in oxygen ionizer for purifying the air.
It comes with an MP3 plug and radio.
It is a little complicated to assemble.
It cannot be used for outdoor because the material is rather sensitive to the outside factors.
5. Puretech Low EMF 6 Person FAR Infrared Sauna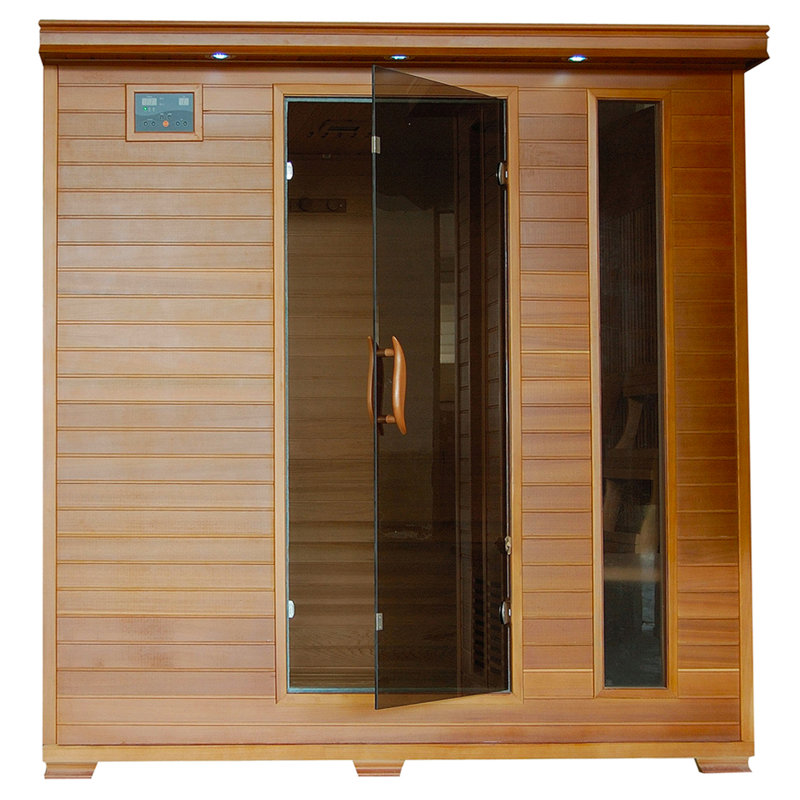 This model has one of the best infrared sauna reviews from customers. It is very spacious, finely finished, and also efficient. It houses two stagecoach style benches, which are long and deep allowing a number of people to fit inside. It is also big enough to place your towels, some clothes, a small towel rack, and even a foot massager.
What Did Customers Have To Say:
Customers who used this sauna had really good things to say about it. They liked that it was able to heat up to 130 degrees Fahrenheit in less than 30 minutes which made them able to use it almost right away. Overall, it is well-loved by its users for its effectiveness and quality.
It is made out of top grade quality red cedar wood.
It has anti-toxic, antifungal, and antibacterial properties.
It is very spacious and could fit 6 or more people.
It has the InfraWave FAR heat technology, which emits extremely low EMF levels.
The finish of the wood makes it very durable.
It has bronze tinted tempered glass on the door.
It comes with an interior and exterior control panel.
The panels are rather heavy, so you might need extra help.
It is quite big, so it might take a while to assemble.
Conclusion
These are some of the best Radiant Sauna models that you can choose from. As you can see from the Radiant Saunas Reviews above, each of the Radiant Saunas has their own pros and cons. Just choose the one that best fits your preference and the number of people that may potentially use it.
Want to know which Radiant Sauna we recommend? It's none other than the Infracore Premium 1 Person FAR Infrared Sauna. This Radiant Sauna model heats up fast (5 minutes after starting, the heat gradually increases). Moreover, it shuts off automatically when the sauna gets too hot, so no worries about overheating. Lastly, we love it because of it accommodates users who are up to 6 feet tall. Amazing, right?
What did you think about our review? Leave us a comment in the comment section below! Thanks for reading! 🙂