Who likes standing and cleaning the pool on a hot summer's day? Definitely not me! I would much rather be IN the pool than clean it! This is why we decided to put together some Dolphin pool cleaner reviews so that anyone thinking of getting the best Dolphin pool cleaner for their needs can make an informed decision.  Besides making pool cleaning a breeze, they are money savers too!
Dolphin Pool Cleaner Reviews
1.  Dolphin Nautilus CC Plus Swimming Pool Inground Robotic Pool Cleaner
Filtration
The Nautilus CC Plus contains a dual-layer, top-load filtration unit. The first layer is for catching big dirt particles like leaves, food packaging, etc. while the other layer concentrates more on catching the finer dirt particles which the first layer has missed.
The CC Plus navigates your pool using the advanced Clever Clean scanning system. It tries to find the best cleaning routes across the walls and floor of your in-ground pool. It also avoids any obstacles along its path while doing the chore.
Design
A compact and powerful machine, this new model from Dolphin has a pleasant-looking, black and blue outer design that blends well with the general aesthetics of the pool. It weighs around twenty pounds, which is lighter than the other cleaners from Dolphin's main competitors.
Power Supply
The power supply system is equipped with a weekly timer. However, other more advanced system programming features are something this cleaning device lacks. You can't set start time delays, nor can you change cycle times.
Setup
This product greatly delivers on the robotics end, truly automatic. It's literally a plug-and-play type of device which you can easily switch on; then, place it in the pool, and afterward, let it go to work. Also, it has 3 different weekly intervals that you can program it to follow.
Performance
Obliterates pool grit and grime. The Nautilus CC Plus can effectively battle almost any kind of debris. It maneuvers well and always achieves optimal cleanliness. All this whilst not requiring so much upkeep.
The Nautilus CC Plus is a new robot cleaner by Dolphin that cleans in-ground swimming pools like you've never seen before. It operates on a standard two-hour cleaning cycle. This model, only be acquired on online stores, has a two-year limited warranty.
This pool cleaner is for those who are looking for something extremely easy to use and comes with a reasonable price tag. It won't give you a fit trying to make these both sides work
Highlighted features:
Ideal for inground pools up to 50 feet
Dolphins are "plug and play" and includes the patented Dolphin Swivel technology that gets rid of tangling and ensures complete pool coverage.
Large Cartridge Filter! The Nautilus CC Plus includes a fine & ultra-fine filter cartridge that is top loading and easy-to-reach and rinse clean after collecting leaves, dirt and debris.
Dual scrubbing brushes attack tough dirt, debris and particulates – providing more friction and better cleaning performance compared to competitors that skim the pool floor.
The Dolphin Nautilus CC Plus consumes an average of 5 cents of energy per hour and is 8 times more energy efficient than suction and pressure cleaners.
Most Reliable. Deepest Clean. Easy-to-Use.
One-button operation
8X more energy efficient than suction and pressure cleaners
Weekly scheduler with 3 settings
180-Watt power supply
2 year limited warranty covering parts and labor. Offering ultimate protection.
Dimensions: 16"W x 10"H x 16"D
Weight: 19 pounds
Pros of This Dolphin Nautilus CC Plus
Cleans your swimming pool very fast
It's aggressive when cleaning
Pocket-friendly
Smart cleaning due to its CleverClean scanning system
Cons of The Robotic Pool Cleaner
Doesn't scrub the waterline
A little on the bulky side
Maytronics Dolphin Nautilus CC Plus Robotic Pool Cleaner Product Overview
F.A.Q And Additional Tips
Is its power supply waterproof? No, it's not. Therefore, don't leave it where it's at risk of falling into the pool or where it'll have to stand on water. It's water-resistant, but that doesn't mean it can be left out in the rain
Does it have the ability to clean pool surfaces that are made of fiberglass? It can clean both vinyl and fiberglass swimming pool surfaces.
Is it an above-ground pool compatible? It's not designed for swimming pools of this nature. That doesn't necessarily mean it can't work; however, this is something you'd have to test out yourself at your own risk.
Does it require you to attach it to the circulation system of the pool? No, it doesn't. This machine cleans pools robotically. It's a completely autonomous device that does all the cleaning work by itself.
What's its power supply voltage? You'll need to plug the power supply into an outdoor 120voltage outlet. Don't use extension cords to connect it to the outlet.
Does it come inclusive with a caddy? No, it does not. This internet-only model doesn't come with its own caddy included in the package. With that said, the caddy really isn't a key component. Why? Because you only need it for transportation of the pool cleaner to and from storage.
Can both filter types be used simultaneously? This action is not something that's recommended. It can interfere with the balance of the robot or reduce the machine's cleaning performance. Get rid of large debris using the rough filters, and for the finer dirt, you can change into the finer filters.
Read more: All You Need to Know About the Dolphin Nautilus CC Plus Pool Cleaner
2.  Dolphin Triton Plus Pool Cleaner
Dolphin Triton PS Plus Automatic Pool Cleaner has Bluetooth and an extra big filter basket which is perfect for swimming pools built into the ground that could reach up to 50 ft.
This product is manufactured by Dolphin with a model name of Triton Plus. It is known as one of the handy pool cleaners that have the technological advances that we all need, either on a weekly timer or Bluetooth navigation.
This can be used in cleaning tiles and walls because of its feature, PowerStream, that allows for pool surface coverage cleaning. Navigation of the device comes easier since it can be controlled using Bluetooth connection with your smartphones. It is also created with smart navigation, so the device can completely clean the entire pool bed.
Furthermore, it has a large capacity of filter basket; plus, it contains fine filters to remove small particles of dirt and debris. The hinged top cover of the product is designed for a bigger filter basket that is easy to clean.
Lastly, they are the best when it comes to warranty. They offer a 2-year limited warranty that covers both parts and labors for the best protection of your device.
Overall, this pool cleaner product is essential for our swimming baths and is needed to ensure our pool's cleaning needs.
Pros of This Dolphin Triton Plus
Convenient and Portable
Has a different type of brush
Has two Cleaning Cycles – 1 hour or 2.5 hours
Self-Timer
Bluetooth Control via Smartphone
2-year warranty from the manufacturer.
Cons of The Robotic Pool Cleaner
A bit heavy
Bluetooth Connection may be weak
Quite Expensive
Tangled Cables
Product Overview
Ideal for In-ground Swimming Pool
Large Filter Basket
Weekly Timer (24 hours, 28 hours or 72 hours)
PowerStream Technology
4 Fine and 4 superfine filter sets
Bluetooth remote control via Smartphone
Suitable for cleaning walls and floors
Cycle Time: 1 or 2 hours
2-years warranty
Physical Features
Brand name:Dolphin
Model:Triton Plus
Type:Robotic
Dimensions:4 x 16.8 x 9 inches
Weight: 5 lbs.
Stress Less, Swim More
"Stress Less, Swim More" is the motto of Dolphin Triton PS Plus. This is the perfect solution that pool owners need to deal with stress in cleaning the whole thing. This device will also be essential in public swimming pools for easier cleaning.
Dolphin Triton PS Robotic Pool Cleaner by Maytronics Overview
Product's Key Features
Fast Cleaning: This feature adds convenience especially if you have no time to clean your pool;this is not a problem with Triton Plus since it comes with two types of settings: a quick houror 2 and a half hours of thorough cleaning. Right after setting it up, it will automatically move, sweep, and clean your pool thoroughly.
PowerStream Technology: The PowerStream Technology features make way to a jet-like propeller that will make it effortlessly climb through the walls in different directions to enhance cleaning. This technology made the device more sensitive in detecting dirt and with smart navigation, it can easily move all around the surface.
Bluetooth Connection Availability: This feature is a unique feature of this model. You can control the cleaner using your smartphone by downloading the 'MyDolphin' application available in the app store of both IOS and android. The range of the Bluetooth device should be with the 30-feet radius for you to control the machine better. Moreover, it has an LED indicator for which the green light shows that you are controlling the device via smartphone or blue light which means that it is cleaning autonomously.
Full Filter Indicator: This feature helps the owner not to get puzzled if the device suddenly stops working. It can easily be determined by troubleshooting the device.
Other Customer Reviews
A user is generally satisfied and had a good impression of the product. He further added it actually did a great job for the past days that he was using it.
They also said that it is a little bit pricey but good for investment that they recognized as the 'Holy Grail' of pool cleaners since they keep on getting frustrated with keeping their pools clean.
Users also commended its ability to run on walls and floors while cleaning. They reported also that it is good on stairs and gives other models or devices a hard time cleaning.
However, one user said that the Triton PS Plus cleaned only half of the pool, and it has the tendency to be stuck on deep-end pool drains which might be linked to design error.
There also some who reported that it is bigger than others, thus, it is not portable and handy anymore since it requires more work for getting it into and out of the pool premise.
Overall, there are still more people who are greatly satisfied and happy with the product since it gives them the optimum cleaning experience for their pool's needs.
FAQ
Where to get the product? It is available in several stores online such as Maytronix, Amazon, Pool Supply Unlimited, and many more. Just search for the product and voila!
How to access the filtration system? The filter basket can be accessed at the top which makes it easier unlike the former that access of filtration comes in the bottom.
What is Active Brushing? Active brushing means the spin time of one brush would be twice of the robot's speed, and the faster the spinning of brush means deeper cleaning in floors and walls.
Read more: Dolphin Triton PS Plus: Its optimum technology and performance
3.  Dolphin Sigma Robotic Pool Cleaner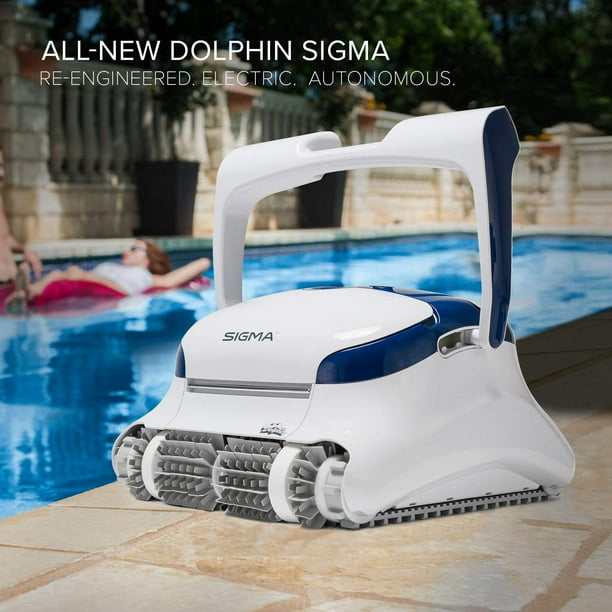 The Dolphin sigma is a robotic pool cleaner which includes state-of-the-art technology to ensure your pool water remains crystal clear. Dolphin sigma is the latest pool cleaning machine ready to sanitize your pool water and keep off nasty microorganisms.
The dolphin sigma is manufactured by Walmart and sold to customers.
Pros of This Dolphin Sigma
Has a smart navigation
Has powerful and dual scrubbing brushes
Has a top-loading cartridge filter
Has a dolphin spot-cleaning app
It is tangle free
Cons of The Robotic Pool Cleaner
It does not come with a storage caddy
The dolphin app can be misleading at times
The pool cleaner can get hung up on the main drain
Features:
Bluetooth connectivity
Fine and ultrafine filtration
Dynamic dual drive
Weekly scheduler
Verdict:
Dolphin sigma is a perfect pool cleaner falling in its price range. Although it may seem expensive, don't forget it comes with 3-year quality assurance.
Ideal customers
The dolphin sigma is ideal for cleaning swimming pools in residential areas whose length is 50 feet.
It can clean swimming pools of all shapes including oval, rectangular, or freeform.
It is perfect if your pool surface is concrete, plaster, tile, ceramic, or glass surface.
Key features and benefits of the best dolphin pool cleaner
Dual filtration options: It has fine and ultrafine filters. The two filters ensure that all the debris gets removed. The fine filter is large and removes rocks and larger objects. The ultrafine filter is for dirt, algae, and sand. With this, you will not have messy dirtbags to clean.
Smart navigation system: With advanced navigation and scanning software, your pool gets cleaned without any obstacles getting in the way. The pool cleaner scanner scans the pool and maps out the perfect route for covering all the pool's areas. It ensures you don't spend time trying to redirect it.
Bluetooth connectivity: The best dolphin pool cleaner allows you to spot-clean your pool with a smartphone. If you find out a certain spot was not well cleaned, you can use your mobile app to spot-clean it. You don't have to do any manual scrubbing anytime your pool needs cleaning.
Powerful and dual scrubbing brushes: The dolphin sigma uses the power of its brushes to scrub thoroughly every part of your pool. The cleaner eradicates all foreign matter such as bacteria and algae. With these attached scrubbers, cleaning your pool becomes effortless and remains cleaned whenever you are.
Weekly scheduler: You can set the dolphin sigma to clean your pool at a date of your choosing. You can program it to clean either weekly or a few times weekly. It allows you to clean your pool anytime and have enough free time.
Customer Reviews
"I am happy with dolphin sigma. It does a perfect job cleaning my swimming pool. The dual filters do a great job of removing bacteria and algae in the pool."
"I don't like the pool cleaner because it forgets the pool. It keeps on scanning and mapping the pool over and over."
"It is amazing how this product has made my pool water crystal clear. I love it."
Dolphin Sigma Robotic Pool Cleaner Setup and Review:
Frequently Asked Questions
What is the warranty of the dolphin sigma? It has a 3-year quality assurance
How does the dolphin sigma clean? Once you place it in the pool, it uses the onboard AI software to map your pool and ascertain which cleaning route to follow. Also, figure out which spots require extra cleaning.
How much does the dolphin sigma cost? It roughly costs $ 1,797.00. However, this price will depend on where you purchase the product, either online, in-app, or in stores.
Read more: Dolphin Sigma Robotic Pool Cleaner Reviews
4.  Dolphin E10 Robotic Automatic Pool Cleaner for Above Ground Pools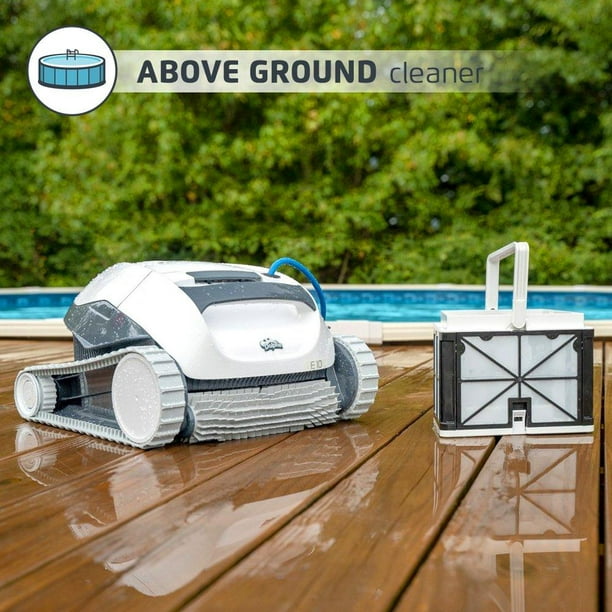 The Dolphin E10 is a self-containing device made by Maytronics US. With a 40-inch cable, a power supply unit, and a top-loading filtration basket, this device is ideal for anyone who wants to turn the tedious task of pool cleaning into a pleasurable experience.
The Pros:
You don't need to connect it to the main pump system.
Has a powerful electronic brain.
Has an instant water release system.
Has top-access filters that allow quick cleaning.
Has a powerful brush allowing you to vacuum and brush off dirt and dust fast.
The Cons:
It cannot climb walls and stairs
It has no smartphone app thus you cannot multitask while using it.
It works best for small pools
Key features:
Lightweight body
Lengthy 40-foot cord
Suitable for above-the-ground pools
Our verdict:
The Dolphin E10 is an excellent choice if you have a small above-ground pool and need a reasonably-priced robot pool cleaner that is dependable, simple to use, and long-lasting.
Who is Dolphin E10 best for?
If you have an above-ground pool that is less than 40 feet long, this robotic pool cleaner is great for you. However, if the pool is larger or in-ground, you may need to look for another option.
Key Features and Benefits of Dolphin E10
A top-accessible filtration system: The top-load filter is accessible for easy maintenance and cleaning of debris. You don't have to flip the device to remove the filter; simply twist the filter canister around, remove any leftover material, and reinsert the canister.
Lightweight and easy to carry: The pool cleaner is tough but only weighs 14 pounds. You can simply carry it around and store it without risking straining your arm.
Instant water release system: The device can automatically release water thanks to the rapid water release technology. This makes things a lot easier for you because you won't have to use all of your strength to pull the robot cleaner out of the pool.
High-efficient tracks: The Dolphin E10 has a strong hold on the pool surface thanks to the cleverly designed tracks. They keep the pool cleaner from sticking to drains, so you won't have to spend as much time keeping it from slipping and getting stuck.
Powerful electronic brain: The smart clean scanning feature assists the pool cleaner in mapping the area with a set of sensors, allowing the device to spend less time wandering around inside the pool. This ensures that all of the pool's areas are cleaned without spending too much of your time.
Customer Reviews
"It is an amazing product that the pool cleaner I previously had. It is perfect for cleaning my above-ground pool. I would highly recommend it."
"Since I bought the dolphin E10 pool cleaner, I have had a good experience cleaning the pool. I love it."
"Although I received it on time, I believe it is a letdown. It suddenly ceased operating after only three hours of use."
Frequently Asked Questions
How much does the E10 best robotic pool cleaner cost? You can get the product for about $ 599.00. However, the price will depend on where you are purchasing from, either from the stores, app, or online.
What is the warranty on this product? The Dolphin E10 comes with a warranty of 2 years.
Where can I get the product? The Dolphin E10 is available on both online and offline platforms. You can get it from electronic stores, online outlets, or from the manufacturer's website.
How do you use the robotic cleaner? Before you place the cleaner in the pool, ensure the power supply is 12 feet from the pool and have the cleaner cable plugged into it. Then you can drop the E10 cleaner in the pool.
Read more: The Ultimate Dolphin E10 Review
5. Premier Robotic In-Ground Pool Cleaner
For the energy conscious, this product uses the latest DC commercial grade motors that may reduce energy consumption by up to an astonishing 87% while the microprocessor-controlled Smart-Nav software ensures highly optimized scanning as well as coverage. This product is highly efficient with a state of the art motor design.
The Pros:
Four types of media are offered to allow you to set your pool's cleaning needs
Boasts dual filter cartridges and an oversized bag
The unique swivel system ensures 360-degree rotation, making for a tangle-free operation
Dual scrubbing brushes scrub your pool surface before debris is sucked up
The multi-media system ensures a great user experience
Uses up to 87% less energy
The Cons:
You have to purchase the caddy and remote separately
Could get stuck on very large pieces of debris (ensure you remove from the pool before using the pool cleaner)
Filter may be a little difficult to access
6.  Oasis Z5 Robotic Pool Cleaner
The Oasis Z5 Robotic Pool Cleaner by Dolphin is said to have a groundbreaking design and excellent level of efficiency with a design that promotes agility, maneuverability, and climbing performance.
The Pros:
Product features a three motor design with one independent pump motor that pumps 4,233 gallons of water per hour
The two drive tracks are powered by twin industrial DC motors which enables great wall climbing and waterline scrubbing ability
The internal Gyro motor together with the cleaner runs in straight lines, even where surfaces are concave
A sixty-foot floating cable with swivel, power supply, remote, and two sets of filters are included with every purchase
The Cons:
May have some difficulty cleaning tighter corners
It might stick on the drain cover in the deeper end of the pool (depending on your drain cover)
Might not be the best option for lined pools
7.  Dolphin HD Commercial Robotic Swimming Pool Cleaner
A product that is designed for commercial pools of up to sixty feet in length, the Dolphin HD Pool Cleaner has a 4-hour cycle, making for a clean pool in a relatively short time. Add to this the cost of running at 5 cents per hour, and it proves relatively energy efficient as well.
The Pros:
Filters down to 4 microns
Cost to run is 5 cents per hour
Scrubs and vacuums the pool's floor, walls, and waterline
Has a digital power supply, caddy cart, reusable filter bag, and 78-foot tangle-proof cable
Operates independently of your pool pump and filter
Maneuverability is enhanced by the powerful drive and pump motors
Robotic scanning enhances suction
The Cons:
Would not recommend using in liner pools
How  to Choose the Best Robotic Pool Cleaner
Choosing the best pool cleaner for your needs depends on a number of factors.
The needs of an above ground pool and an in-ground pool differ. Not all robotic cleaners cater for an above ground pool's needs.
An in-ground pool has a more solid foundation, but here too you need to ensure the product your specific needs. For example, not all robotic pool cleaners are recommended for liner pools.
What is your pool's purpose?
Your needs might differ depending on whether you are looking to buy one for a residential pool versus a commercial pool. The latter may need a longer cleaning time.
How much debris lands in your pool?
A pool standing open in the sun is less likely to get as dirty as one that stands near falling leaves. You need to determine how much debris lands in your pool in order to determine the type of pool cleaner you need. Our Dolphin robotic pool cleaner reviews may help you with this.
How many corners, inclines, steps, and slopes does your pool have? These all factor into the type of robotic pool cleaner you will buy, as some are more maneuverable in these spaces than others.
The Benefits of a Dolphin Robotic Pool Cleaner
These pool cleaners are usually fitted with an onboard computer system that maps your pool. This ensures complete coverage of your pool.
They are fitted with their own filtration system that is independent of your pool pump with their own power settings.
They are energy savers, reducing your running costs.
Running costs are further reduced by the fact it is not connected to your existing pool filtration system.
They are relatively simple to use, they just need an electrical
Conclusion
Today's new-age robotic cleaners give you the added advantage, on the most part, of not having to spend hours hand-scrubbing your pool, while their updated filter systems and suction power tends to leave your pool sparkling clean. Of the different dolphin pool cleaner reviews we undertook, the best dolphin pool cleaner, in our opinion, is the Dolphin Quantum Robotic Inground Pool Cleaner. Why? We like the fact that it has an enormous top-loading cartridge filler, making cleaning something that you do not need to do each and every day (depending on how dirty your pool might get). The PowerJet 3D mobility, low power consumption, and the Hypergrip continuous rubber tracks that make wall climbing a breeze are also some outstanding features that make this one stick out from the crowd!