Who likes standing and cleaning the pool on a hot summer's day? Definitely not me! I would much rather be IN the pool than clean it! This is why we decided to put together some Dolphin pool cleaner reviews so that anyone thinking of getting the best Dolphin pool cleaner for their needs can make an informed decision.  Besides making pool cleaning a breeze, they are money savers too!
Dolphin Pool Cleaner Reviews
1. Dolphin Nautilus Plus Robotic Pool Cleaner
The Dolphin Nautilus Plus with CleverClean offers exceptional performance. The CleverClean Technology allows it to clean the floors, walls, and waterline of any in-ground pool – up to a length of fifty feet. An upgrade of the Nautilus, it offers many of the same features with a number of upgrades that may enhance your pool cleaning experience. What is more, it works independently from your pool pump and pool filter, which may save on energy costs and pool chemicals.
The product can scrub, vacuum, and filter all pools surfaces within two and a half hours
The cartridge filter system is easy to clean and has a spring clean-up option
Tangling is prevented by the patented swivel cable
The product sports a weekly timer for your convenience
The filter is easy to access due to the extra-large top access filter
Not recommended for pools with a vinyl liner
Product does not come with a stand for storage purposes
May not clean as well on pool surfaces that are not completely flat
2. Premier Robotic In-Ground Pool Cleaner
For the energy conscious, this product uses the latest DC commercial grade motors that may reduce energy consumption by up to an astonishing 87% while the microprocessor-controlled Smart-Nav software ensures highly optimized scanning as well as coverage. This product is highly efficient with a state of the art motor design.
Four types of media are offered to allow you to set your pool's cleaning needs
Boasts dual filter cartridges and an oversized bag
The unique swivel system ensures 360-degree rotation, making for a tangle-free operation
Dual scrubbing brushes scrub your pool surface before debris is sucked up
The multi-media system ensures a great user experience
Uses up to 87% less energy
You have to purchase the caddy and remote separately
Could get stuck on very large pieces of debris (ensure you remove from the pool before using the pool cleaner)
Filter may be a little difficult to access
3. Cayman Robotic Inground Pool Cleaner
If you are looking for a pool cleaner that does not break the bank, the Dolphin Cayman Robotic Inground Pool Cleaner may be what you are looking for. It is a lightweight yet powerful pool cleaner driven by 24-DC motors with SmartNav pool mapping technology that enhances your pool cleaning experience.
Has a large top-access filter compartment that makes cleaning easy
Product has great traction, causing less slip when in use as well as enabling it to climb the sides of the pool easier making it a great wall climber
The HyperBrush feature spins twice as fast as normal pool brushes, dislodging stubborn dirt and algae
Sports a lightweight design without giving up on the Dolphin cleaning experience
Product is not sold with a caddy
May not negotiate steps too well
Cord may become tangled at times
4.  Nautilus Robotic Pool Cleaner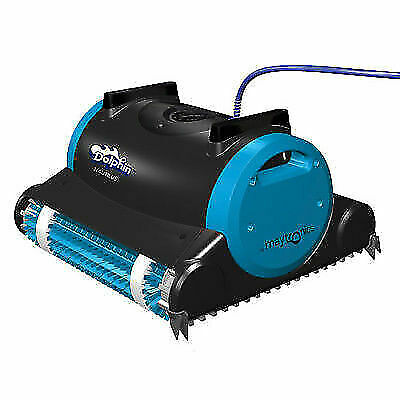 A good option for pools that are up to fifty feet in length, this lightweight Dolphin product does not break the bank, as it is imminently affordable for the job it does.  It is able to clean a 50-foot pool in just over three hours.
Lightweight, easy to use
Recommended for pools up to 50 feet in length
Product can scrub, vacuum, and filter a pool in about three hours' time
Includes a cartridge filter and spring clean-up filter, both of which are relatively easy to use
Swivel cable (patented) prevents tangling
Energy efficient
No installation is needed
Product is self-programmed
Recommended for in-ground pools only
The sponge has to be replaced annually
Need to take off four screws before cleaning the machine
5. Triton Plus Robotic Pool Cleaner
If you are a gamer, the Dolphin Triton Plus may just be the thing for you! Built-in Bluetooth capabilities give you the option of using an on-screen joystick. Besides fueling your gaming addiction, the PowerStream Technology in this pool cleaner ensures for a superior clean when the machine is propelled up the wall by means of water propulsion!
Product sports an extra-large, easy to clean filter basket
Has four fine and four ultra-fine filters for removal of debris (and great filtration to boot)
The PowerStream technology incorporated into the design allows a great cleaning experience when the pool cleaner is moved up the wall by means of water propulsion
The product features active brushing, with the fitted large brushes spinning twice the speed of the robot
You can manually steer the robot by means of an on-screen joystick (download the app to your smartphone and connect via Bluetooth)
There is not much we can say on the negative side, except that although software is installed to control cable movement (it does not come with a 360-degree rotational attachment), tangles do still happen.
6. Quantum Robotic Inground Pool Cleaner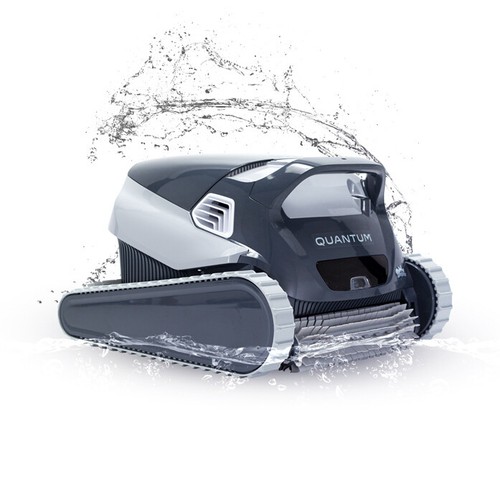 This Pool cleaner can be described as the 'big daddy' of pool cleaners as it sports an enormous 400 square inch top-loading cartridge filler. This is a Big Boy! Add to that the hypergrip continuous rubber tracks that ensure superior wall climbing and the variable micron filtration that traps even the smallest debris and algae, and you have a great pool cleaning experience every time.
Has PowerJet 3D mobility, making it very efficient
Lower power consumption
Sports a unique DC motor
Easy to operate
A huge 400 square inch top-loading cartridge filler
Hypergrip continuous rubber tracks makes for great wall climbing
A storage cart is not included
Leaves and debris moved around by the water propulsion may not be picked up
The cord may get twisted every once in a while
7.  Oasis Z5 Robotic Pool Cleaner
The Oasis Z5 Robotic Pool Cleaner by Dolphin is said to have a groundbreaking design and excellent level of efficiency with a design that promotes agility, maneuverability, and climbing performance.
Product features a three motor design with one independent pump motor that pumps 4,233 gallons of water per hour
The two drive tracks are powered by twin industrial DC motors which enables great wall climbing and waterline scrubbing ability
The internal Gyro motor together with the cleaner runs in straight lines, even where surfaces are concave
A sixty-foot floating cable with swivel, power supply, remote, and two sets of filters are included with every purchase
May have some difficulty cleaning tighter corners
It might stick on the drain cover in the deeper end of the pool (depending on your drain cover)
Might not be the best option for lined pools
New product: DOLPHIN Oasis Z5i
8. Dolphin HD Commercial Robotic Swimming Pool Cleaner
A product that is designed for commercial pools of up to sixty feet in length, the Dolphin HD Pool Cleaner has a 4-hour cycle, making for a clean pool in a relatively short time. Add to this the cost of running at 5 cents per hour, and it proves relatively energy efficient as well.
Filters down to 4 microns
Cost to run is 5 cents per hour
Scrubs and vacuums the pool's floor, walls, and waterline
Has a digital power supply, caddy cart, reusable filter bag, and 78-foot tangle-proof cable
Operates independently of your pool pump and filter
Maneuverability is enhanced by the powerful drive and pump motors
Robotic scanning enhances suction
Would not recommend using in liner pools
 New product: DOLPHIN C4 Commercial Robotic Pool Cleaner
How  to Choose the Best Robotic Pool Cleaner
Choosing the best pool cleaner for your needs depends on a number of factors.
The needs of an above ground pool and an in-ground pool differ. Not all robotic cleaners cater for an above ground pool's needs.
An in-ground pool has a more solid foundation, but here too you need to ensure the product your specific needs. For example, not all robotic pool cleaners are recommended for liner pools.
What is your pool's purpose?
Your needs might differ depending on whether you are looking to buy one for a residential pool versus a commercial pool. The latter may need a longer cleaning time.
How much debris lands in your pool?
A pool standing open in the sun is less likely to get as dirty as one that stands near falling leaves. You need to determine how much debris lands in your pool in order to determine the type of pool cleaner you need. Our Dolphin robotic pool cleaner reviews may help you with this.
How many corners, inclines, steps, and slopes does your pool have? These all factor into the type of robotic pool cleaner you will buy, as some are more maneuverable in these spaces than others.
The Benefits of a Dolphin Robotic Pool Cleaner
These pool cleaners are usually fitted with an onboard computer system that maps your pool. This ensures complete coverage of your pool.
They are fitted with their own filtration system that is independent of your pool pump with their own power settings.
They are energy savers, reducing your running costs.
Running costs are further reduced by the fact it is not connected to your existing pool filtration system.
They are relatively simple to use, they just need an electrical
Conclusion
Today's new-age robotic cleaners give you the added advantage, on the most part, of not having to spend hours hand-scrubbing your pool, while their updated filter systems and suction power tends to leave your pool sparkling clean. Of the different dolphin pool cleaner reviews we undertook, the best dolphin pool cleaner, in our opinion, is the Dolphin Quantum Robotic Inground Pool Cleaner. Why? We like the fact that it has an enormous top-loading cartridge filler, making cleaning something that you do not need to do each and every day (depending on how dirty your pool might get). The PowerJet 3D mobility, low power consumption, and the Hypergrip continuous rubber tracks that make wall climbing a breeze are also some outstanding features that make this one stick out from the crowd!