Sauna is a great way to rejuvenate and relax after a busy week at work. This is why it is only appropriate to use the necessary accessory to make the experience even more relaxing.
One sauna accessory that you should definitely purchase is the best sauna backrest.
Why?
The backrest gives ultimate support to your body for an extended period of time. Thus, even when you doze off inside the sauna, you won't wake up with back pain or muscle fatigue.
3 Things to Consider When Buying a Sauna Backrest
Now, what are the things that you should consider when buying a sauna backrest?
People have different preferences when choosing a product, but when it comes to home sauna backrest, there are three things that you must keep in mind.
Here are the 3 considerations:
Ergonomic Design or Shape
Why, isn't it the purpose of buying a backrest is to feel 100% comfortable while you sauna? So, you have to check if the backrest has an ergonomic S-shape.
If you are buying at a physical store, test the product out. Make sure it fits your back comfortably. However, if you're buying online, make sure you take measurements of your back and compare it to the dimensions of the backrest.
Remember, consider the S-shape!
Almost all sauna backrests are made from wood material. However, some backrests are good for infrared sauna while some are only ideal for the traditional steam sauna. This is why wood material is an important consideration.
You see, you have to make sure that the backrest is made from 100% solid wood. Hardwood material like mahogany, oak, and teak are some of the best examples. They tend to last longer and are naturally resistant to fire and heat.
Therefore, they are the best sauna backrest material for both infrared and steam sauna.
If you're on a tight budget but still want a good quality wood material, then softwood material is a great alternative, such as cedar and hemlock.
Of course, you have to consider your budget. But don't make the budget your priority.
Luckily, there are now affordable backrests available. When we say affordability, you have to also check the value of the product in terms of durability and warranty.
You should weigh your choices carefully and choose the sauna backrest for home that is not too luxurious and expensive but can last long and has an amazing warranty policy.
5 Top-Rated Sauna Backrests in the Market Today!
Here are our top picks:
1.  Dynamic Infrared S-Shape Sauna Backrest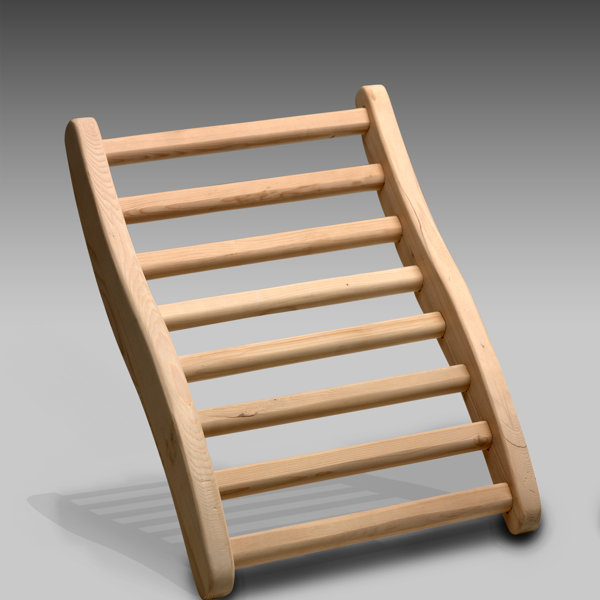 This 100% wood sauna backrest by Dynamic Infrared Sauna is a 2-in-1 package. It's a high-quality backrest with an S-shape and durable construction.
People love this backrest for the comfort it gives. A lot of the users say it helps them relax and take a nap in the sauna easily.
This can be used either as a backrest or a headrest.
Has a natural finish without any stain
The S-shape follows the natural curve of the back, thus giving you comfort all throughout.
It is also easy to clean; just use a gentle, damp cloth and wipe the wood material.
2.  Dynamic Saunas Canadian Hemlock Sauna Backrest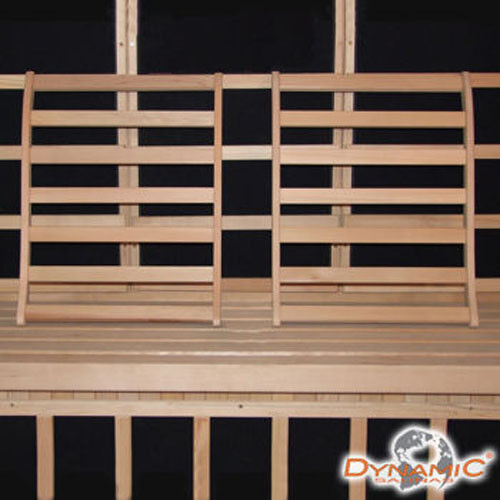 Hemlock is also one of the best softwood materials for sauna backrest. Although we do not recommend it for firewood saunas, this works great in infrared saunas.
It is 100% hemlock wood.
With comfortable S-shape backrest
The hemlock wood has a natural finish without any stain.
It's a very affordable backrest.
It comes already assembled.
Stays in place the whole time
3.  JNH Lifestyles S-Shape Sauna Backrest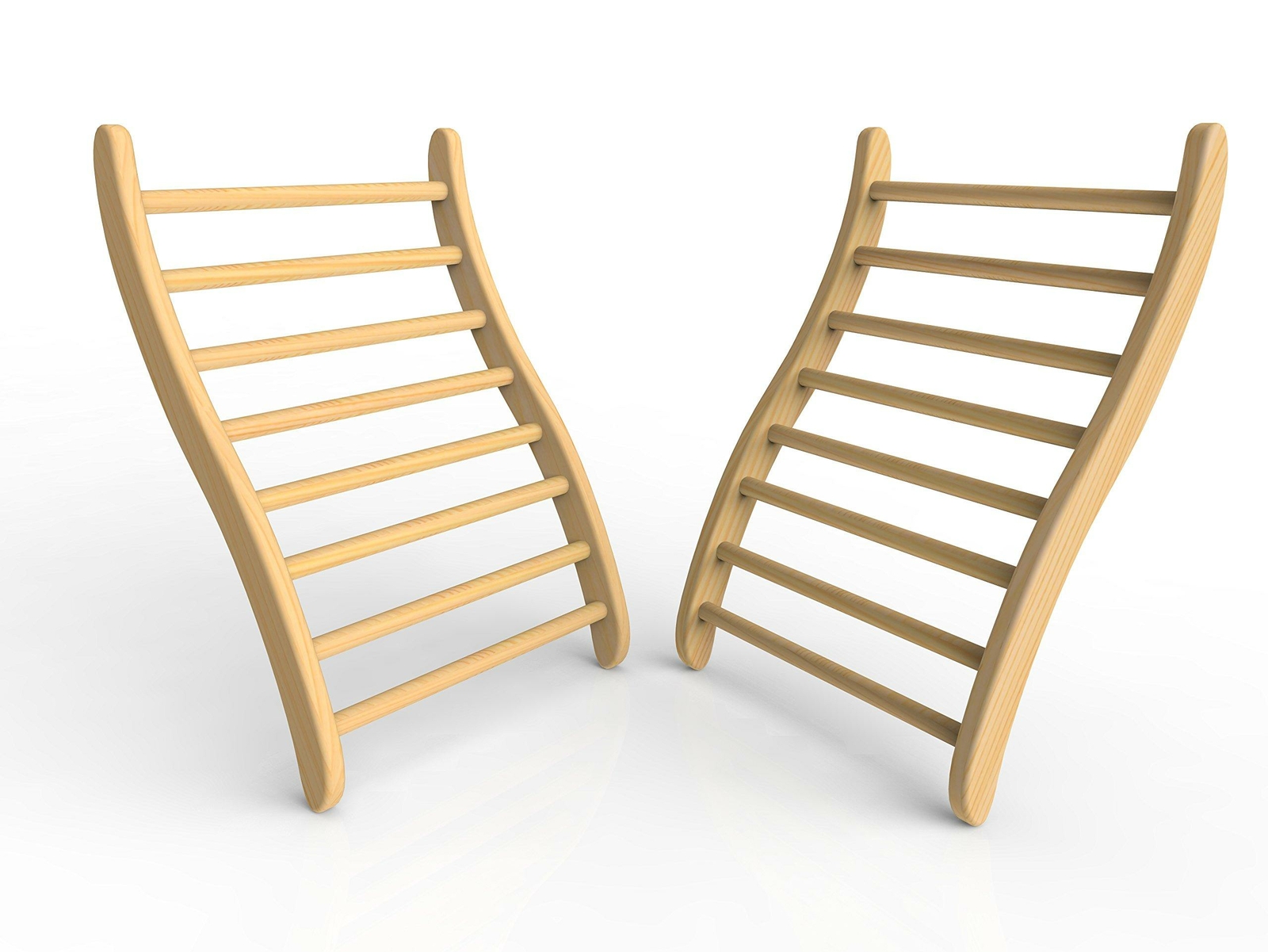 If you are very particular with the material and want a hardwood material backrest, then this JNH Lifestyles Sauna backrest is for you.
You can get this in various packages. You can get two, three, or more backrests in one purchase (the price varies, of course). The backrest is made from premium wood material and has an ergonomic design.
This is made from 100% oak wood material.
You can use this both in infrared sauna and steam sauna.
Really durable and sturdy
The S-shape backrest fits your back comfortably.
Oakwood has a dense constitution, so it is resistant to fungal attack and really strong.
4. Home Sauna Experience Cedar S-Shape Sauna Backrest
Another great product that we recommend is this Cedar S-shape sauna backrest by Home Sauna Experience.
The softwood cedar material has fine workmanship. You can see how smooth every detail of the product. This is a great backrest for infrared home saunas.
People love how comfortable the backrest is. The S-shape follows the natural curve of the back.
Made from 100% natural Canadian red cedar wood
This comes fully assembled and ready to use.
Has a sturdy construction
5.  Almost Heaven Saunas LLC Sauna Backrest and Accessory Kit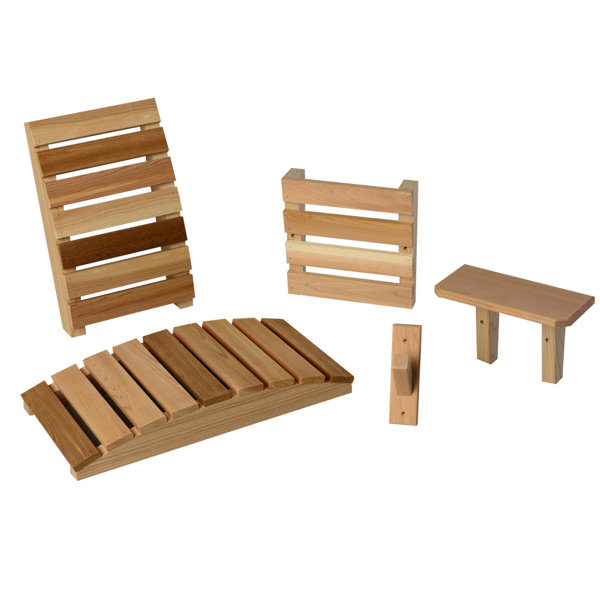 How about getting not just a backrest but the other sauna accessories as well?
This backrest and sauna accessory kit by Almost Heaven Saunas LLC offers everything you would ever need to make the most of your sauna experience.
Find out why it's highly recommended below:
It's a complete sauna accessory kit, which includes a backrest, leg rest, robe hook, drink shelf, and magazine rack.
This is made from 100% Canadian red cedar wood.
Users of this accessory kit love how sturdy and beautiful all the accessories are.
Country of origin is the United States. Thus, you know the quality standard is thoroughly checked.
The backrest helps improve back pain and improve your posture in the long run.
Lots of people attest to the backrest's quality.
Comes fully assembled
The big secret of the infrared sauna bench
Conclusion
We know you want your sauna experience to be 100% relaxing. This is why if there is one item that we recommend from the list, it would be the All-in-one sauna backrest and accessory kit by Almost Heaven Saunas LLC.
All the accessories are made from 100% natural wood. They all have sturdy construction as well. It's definitely the best value sauna backrest on the list.