A thermostatic shower valve allows you to control the water temperature so that you can enjoy a consistent hot water while you shower. With this handy little device, you won't suddenly get scalded because someone else in the house turns on another faucet. That's why you have to make sure that you buy only the best thermostatic shower valve brands to fully enjoy your hot shower. In this review, we've got 10 of the best brands for your satisfaction.
Advantages of Thermostatic Shower Valve
As most people don't really know what a thermostatic shower valve is, they also don't know what benefits it can give. Here are a few advantages to using the best thermostatic shower valves with your luxury shower head.
Convenience
Does the strength of your water change whenever someone flushes the toilet? When this happens, the temperature also changes. Of course, when the water gets too hot, you have to lower the temperature to match the strength of the water flow. With a thermostatic shower valve though, you don't need to do this anymore because the valve automatically controls the temperature of the water to keep it consistent.
Safety
Since it keeps the temperature of the water consistent, you won't get scalded or burned because of a sudden change in the temperature. That way, you need not worry if other people use the faucet or toilet bowls.
Energy Saving
Lastly, you get to save a lot of energy as well. Constantly changing the temperature of your water actually uses up more energy than keeping it as is. This may result in a very costly electricity bill. By keeping the temperature constant, you can cut down on your energy costs.
Thermostatic Shower Valve Reviews
1.  ¾ Inch Pfister Shower Volume and Temperature Control Valve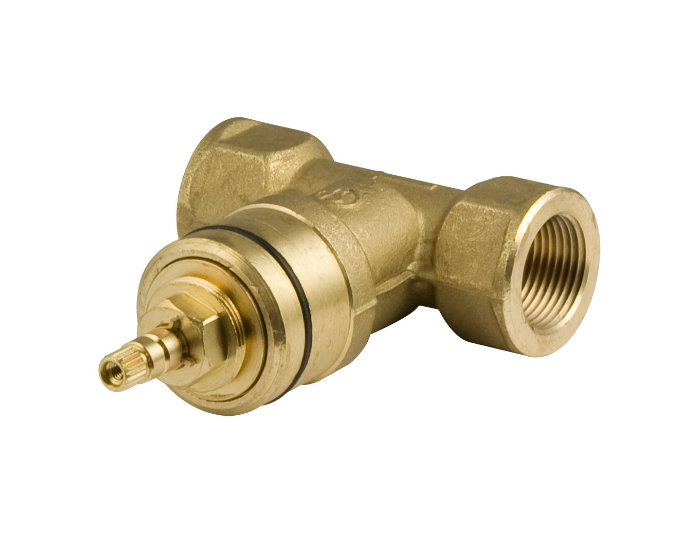 Pfister models are really known for their products because they've been making faucets and other shower appliances for over a hundred years. This is one of their popular models in the Pfister collection because of its durable metal construction and compact size. It's not bulky like most other valves and won't take up too much space in your shower. It's also attachable to both shower heads and bathtubs, so you can use it to control both at the same time.
Key Features:
2.  ½ Inch Pfister Tub Control Valve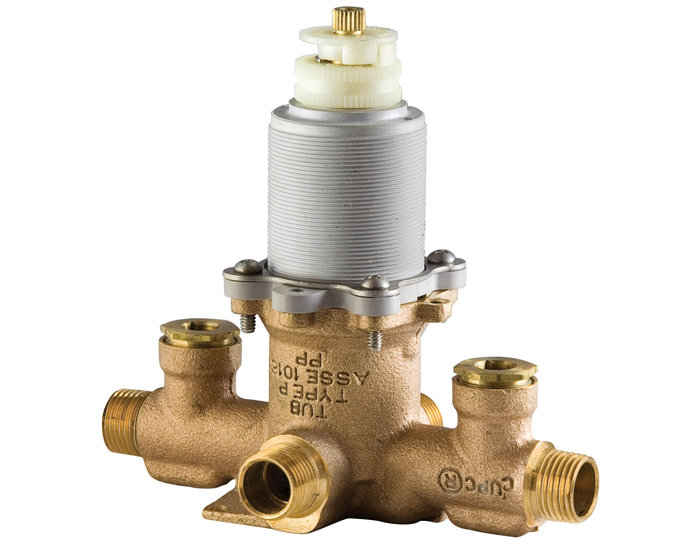 This is the bigger and a bit more different version of the Pfister model we've mentioned above. It's shaped and designed just like the ¾ inch Pfister thermostatic valve except that it uses an advanced ceramic disc valve technology for higher reliability. It also carries the Pforever seal which ensures that the valve will never leak. Other than that, it also carries a pressure of 7 gpm at 60 psi and comes with a lifetime warranty.
Key Features:
Rough-in valve and cartridge feature
Advanced ceramic technology
Pressure of 7 gpm at 60 psi
Has guaranteed leak-proof Pforever seal
Pforever lifetime warranty
3.  Hansgrohe Thermostatic Control Valve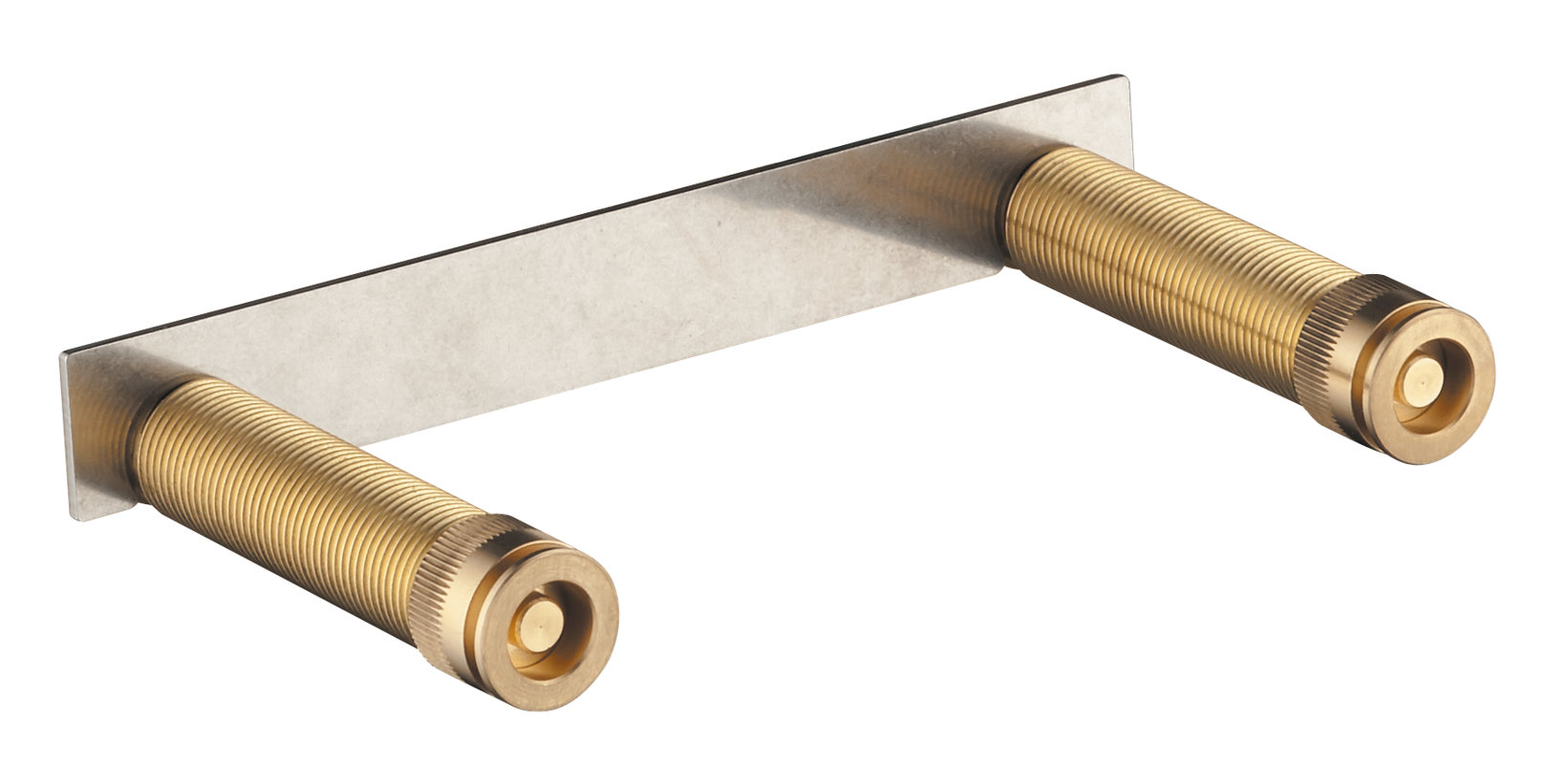 This is one of the most beautifully designed thermostatic control valves on the list, and it goes extremely well with any of the best shower heads for luxury. It's a wall mounted thermostatic control valve that has two dials used for controlling temperature. The two dials are evenly spaced so that they're easy to use.
This control valve also comes in a stunning gold color, making it have the makings of a luxurious shower piece.
Key Features:
Wall mount installation parts
Stainless steel tool with two dials for controlling water temperature
Has protector and plugs
Can control volume and pressure of water
Includes a scald guard
4.  Kohler Mastershower Thermostatic Control Valve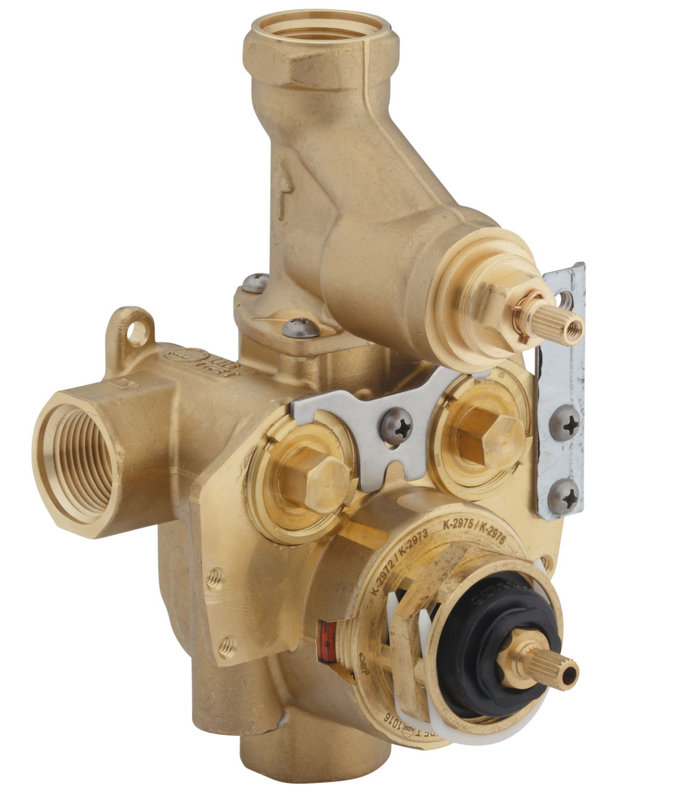 With a gold finish and very modern look, the Kohler Mastershower control valve is a great addition to your shower. One of the most unique features that this control valve has is a high-temperature limit stop, which automatically cools the hot water when the temperature becomes too high.
Other than that, it's got a very high flow rate and efficient temperature control, allowing you to choose the precise temperature of the water.
Key Features:
Temperature limit stop
Beautiful gold finish
104 degrees Fahrenheit comfort setting
High flow rate
Sturdy brass material
5.  Kohler Loure Thermostatic Valve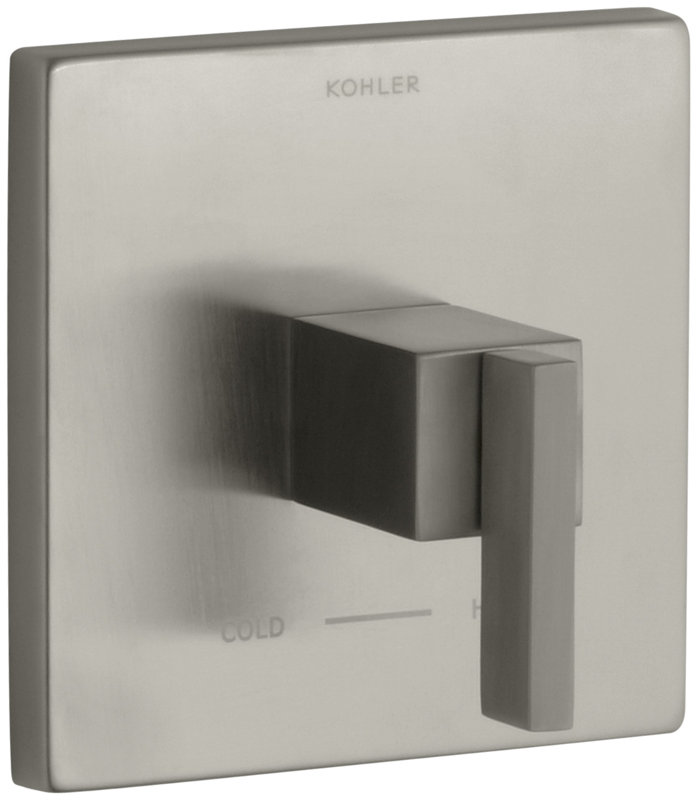 Unlike most thermostatic control valves that use a dial to control temperature, this particular valve sports a sleek modern look and uses a lever handle to adjust the temperature. The lever allows you to set the temperature to the perfect heat that you'd like without complications.
To add to the look, this control valve has a very polished and shiny finish. This design allows it to blend in with most toilet designs, especially the ones that sport a modern type look.
Key Features:
Beautiful modern and sleek design
Lever handle instead of a dial
Has pressure-balancing feature
Wall mounted design
Comes in three different colors/designs for you to choose from
6.  Speakman Pressure Balance Valve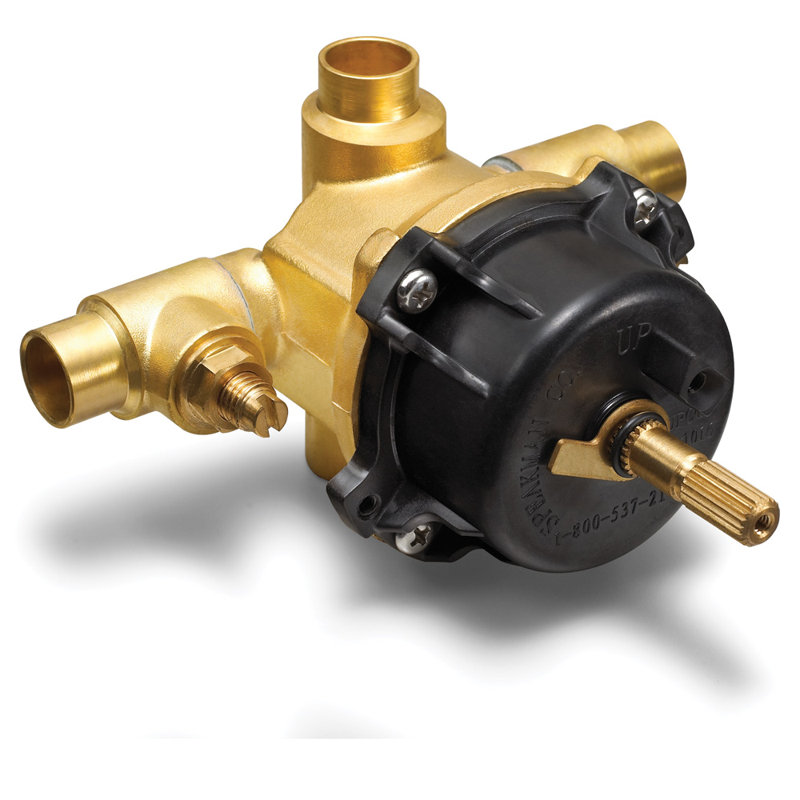 When it comes to pressure balancing valves, this is one of the best that you can invest in. Aside from it being very reliable and long-lasting, this valve has a pressure controlling system that can keep you safe from sudden bursts of pressure that lead to extremely hot water. It also has a temperature limit stop to control the heat. Lastly, it has a great flow rate of 2 gallons per minute.
Key Features:
High flow rate of 2 gallons/minute
Temperature limit stopper
Efficient pressure controller
Comes with an Anti scald feature
Built-in check valve
7.  Speakman SentinelPro Thermostatic Valve
This thermostatic control valve pretty much has everything that you're looking for in a control valve. It is both a pressure balancing valve, as well as an anti-scald valve that has a very reliable temperature limit stop.
This temperature stop limit is placed there so that it can prevent the water from getting too hot. Aside from that, it's also made out of plated brass for extra sturdiness and sports a really nice modern design.
Key Features:
Impact proof chrome plated metal index for high durability
Hand lever for easier handling
Temperature limit stop
Reliable anti-scald feature
Built in pressure controller
8.  Danze Single Handle Shower Control Valve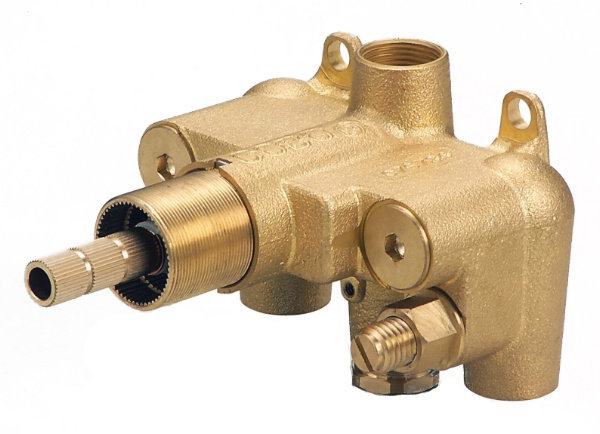 This compact little 0.75-inch handle control valve is a really reliable one that has FPI inlets and outlets attached to it. It's an all-in-one valve that acts as a diverter, pressure balancer, and volume control type. It's also got a scald guard and check valves.
Key Features:
All around versatile function valve
Has FPI inlets and FPI outlets
Has a solid brass metal structure
Includes a scald guard feature
Strong water diverter function
9.  Alfi Brand 4 Way Valve Controller Shower Mixer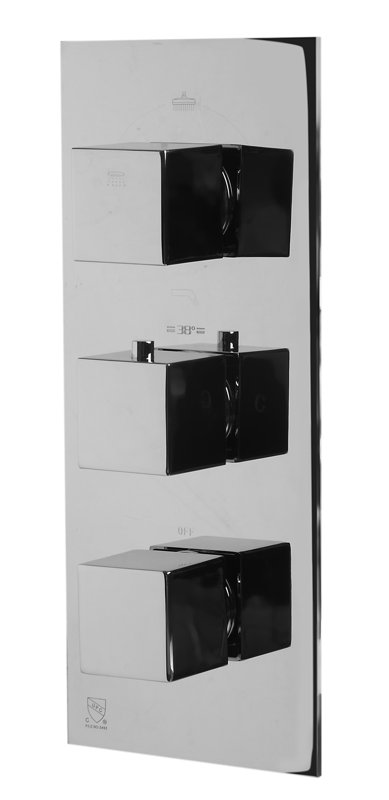 This is one of the most unique shower thermostatic control valves that we have on this list. It comes with a 4-way diverter with 4 different knobs that you can use to control the water. This is connected to your shower wherein you can change the flow of water from the handheld shower to the jets and even to the overhead rain shower head.
Another unique feature is that it allows you to have separate temperature controls for the four shower modes, giving you more freedom to enjoy your bath to the max. Of course, it is a little pricey, but that's something that you'll have to expect from a really good valve controller shower mixer.
Key Features:
Modern and contemporary design and look
Has a 4-way diverter for individually controlling all shower heads
Each knob has its own temperature controller
Very efficient pressure controlling system
Made of durable brass for preventing leaking
Comes in two designs: polished chrome and brushed nickel
Easy plug-in installation
Operating pressure at 44
Conclusion
If we were to choose the best one out of the 10 models we've mentioned, it'll most likely be the Alfi Brand 4 Way Valve Controller Shower Mixer. This recommended product is chosen by carefully pitting its features against the features of the other brands.
Alfi Brand 4 Way Valve Controller Shower Mixer is the ideal one to choose if you're looking forward to a luxury shower as it has a wide range of functions and features. It is durable, has strong operating pressure for a full shower experience, and allows you to save the most energy, owing to the temperature controller that each knob has.
If you're the type who wants to get the best hot shower experience, then the Alfi Brand 4 Way Valve Controller Shower Mixer is the best thermostatic shower valve for you.
Try it now! We know you'll love it!