Not all showers can give you a relaxing and calming experience after a hard day of work. This is why some people choose to get a luxury thermostatic shower to get the most from their shower experience. This type of shower is good for people who frequently experience tense muscles and body pain.
Of course, you shouldn't get just any thermostatic shower— but the best thermostatic shower there is. Check out our thermostatic shower reviews to know our top picks and why we think they are the best value for your money.
Thermostatic Shower vs Pressure Balance Shower
Most people confuse a thermostatic shower with a pressure balance shower because both showers can control the heat and the pressure of the water. While they're pretty similar, they're actually different luxury shower head types that function a bit differently than what most people think.
Here are some of the things to know about these two types of showers:
Pressure Balance Showers
This is the more common type of shower people use because it's the more affordable option. The pressure balance shower makes use of just one handle control for you to control both pressure and temperature. When you lessen the pressure of your shower, you're also lessening the cold water coming from your handheld shower head. This'll prompt a surge of really hot water.
This is also why flushing the toilet also gives off very scalding water. When someone flushes the toilet, the cold water that's supposed to go through the shower line goes to the toilet bowl instead. This is why pressure lessens and cold water lessens, leaving you with only hot water.
Thermostatic Showers
Thermostatic showers work a little bit differently as compared to this. So, what is a thermostatic shower anyway? It is basically a shower that has a thermostatic mixing valve. This special valve can allow you to control both the pressure and the temperature separately. With this kind of shower, you can reduce the pressure without having to worry about reducing the heat.
They work by making use of a special wax inside the valve. Whenever the valve heats too much, the wax expands to block off the hot water. When it's cold, the wax shrinks. This little mechanism allows you to have full control on your shower. So, if ever someone in your house flushes the toilet while you're taking a bath, you won't have to worry about the water becoming too hot even if the pressure lessens.
The Benefits of Thermostatic Showers
In the section above, we've mentioned that thermostatic showers allow you to control the temperature and pressure of the shower. In this section, let's get down to more of the benefits that you can get if you switch your shower to a thermostatic shower.
Allows Total Control Over Heat
One of the best things about this type of shower is that you can control the heat with the dial. The dial has figures there that indicate the temperature in degrees. All you have to do is set the dial to the temperature that you want and you'll get the right amount of heat.
There's usually one dial for cold water and one for hot water. If you mix the usage of these two dials, you can customize the hot water the way you want to.
Gives Convenience
This shower gives you convenience in a way that you won't need to keep on adjusting the shower when you take a bath. With a regular shower, you have to adjust the pressure when someone turns on the sink faucet or when someone flushes the toilet so that you won't get scalded.
With a thermostatic shower, you won't have to keep on adjusting the pressure because the shower can do that for you. This is because of the wax inside the valve that we've mentioned above.
Has a Nice Look
Most of the normal showers are kind of bulky because the valve is on the outside. However, a thermostatic valve is concealed. This means that it doesn't take up much space on your wall since the valve is inside the wall.
Not only will it give you more space when you're inside your shower, but it'll also add to the overall minimalist look of your bathroom.
Has Energy Saving Capacities
Believe it or not, thermostatic showers have really good energy saving capacities. You see, whenever you adjust the heat and temperature, you'll be using a lot of electricity.
So, if your shower is self-adjusting, you won't have to keep on using surges of energy every time you keep on adjusting the temperature.
Products Reviews of the 10 Best Thermostatic Showers
1.  Delta Lahara Thermostatic Shower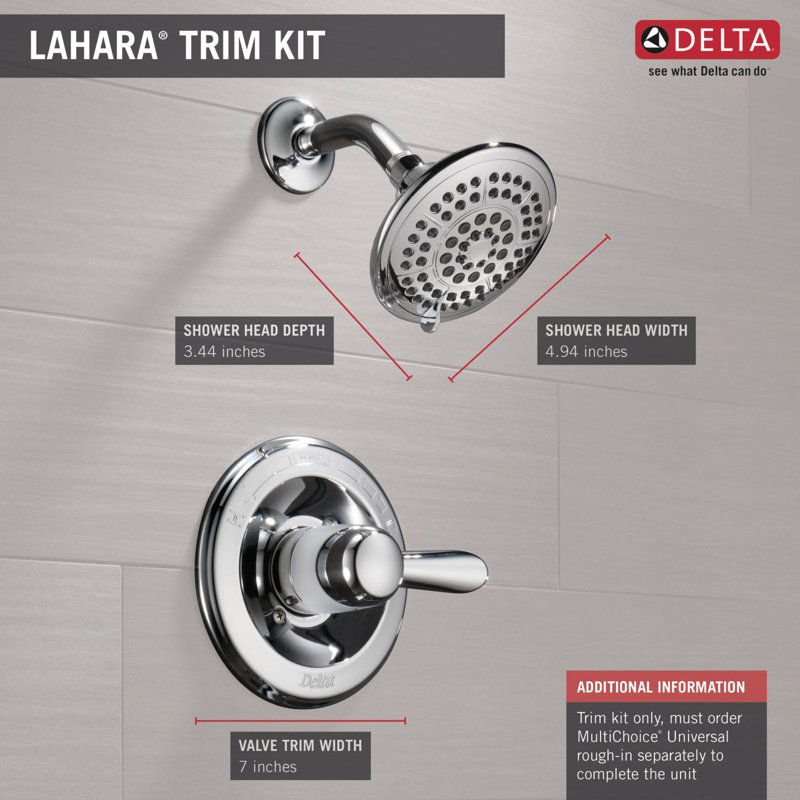 The Delta Lahara Thermostatic Shower is both aesthetically appealing and fully functional. It makes use of a special H2Okinetic Technology that creates waves out of the water. It's just like the water flow of a luxury rain shower head but with a little more definition and style.
Highlighted features:
This makes use of an H2Okinetic Technology that gives the water more body with a unique pattern.
The Diamond Seal Technology makes it more durable.
This also contains rubber spray holes that prevent the build-up of lime and calcium in the shower head.
Lahara shower allows you to control the temperature to a comfortable 16 degree Celsius.
It has a water-saving flow rate of 1.75 gallons per minute.
2.  Speakman Sentinel Mark II Thermostatic Shower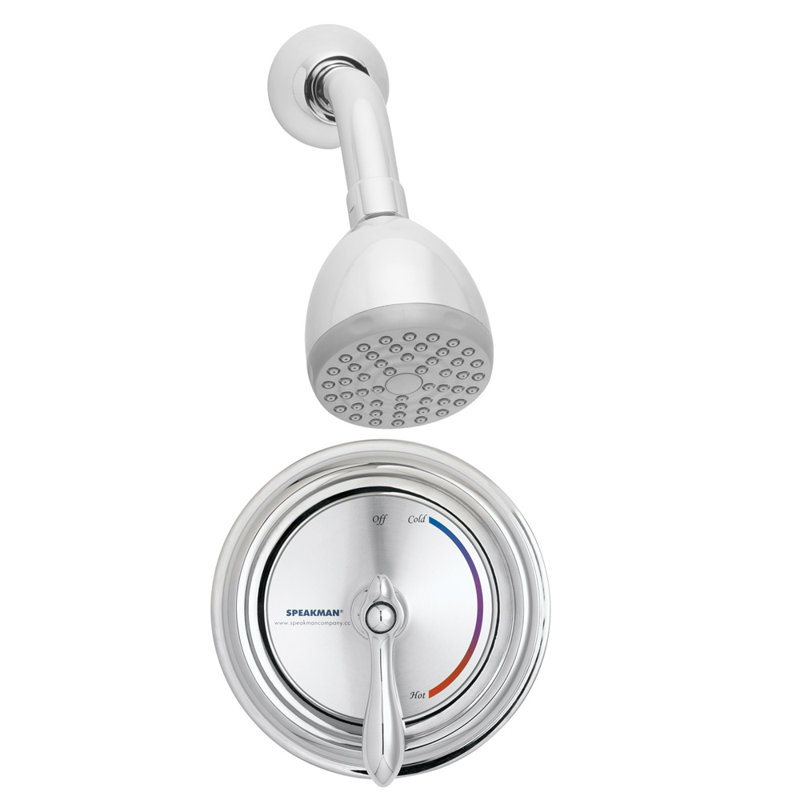 This thermostatic shower is designed to prevent any scalding. It combines the control of a great thermostatic shower and some mechanisms of a pressure balance shower. It also has the ability to reach a pressure of up to 2.0 GPM of power.
Highlighted features:
It has a flow rate of up to 2.0 gallons per minute.
Using this product means you can save up to 20% water as compared to most other standard showers.
This shower head has a limit stop to automatically control temperature if it heats up too much.
This also boasts an easy-to-use temperature control dial that is made of a ceramic temperature controlling device.
It has a brass chrome plated finish for extra durability.
3.  Grohe Grohflex Thermostatic Shower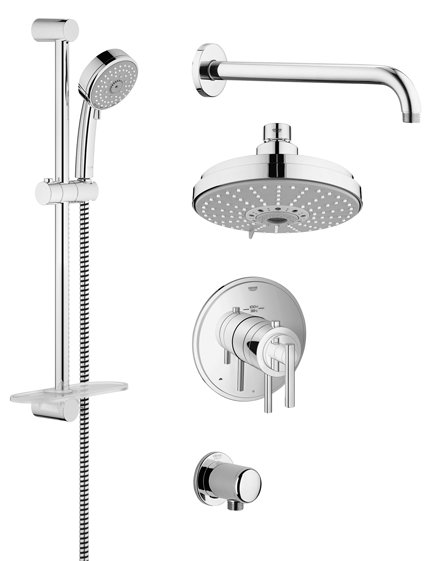 Like all Grohe showers, the Grohflex is also a great high-quality shower. In this set, you have a combined shower faucet and shower head that you can add to a shower and a bathtub.
Highlighted features:
It gives you 4 spray patterns for a great shower experience.
You can choose between the Chrome or the Brushed Nickel finish for a longer shelf life.
It has a long hose length of 69 inches for a long reach.
Users commend the product's nice modern design.
It has a high flow rate of 2.5 gallons per minute.
4.  American Standard Edgemere Thermostatic Shower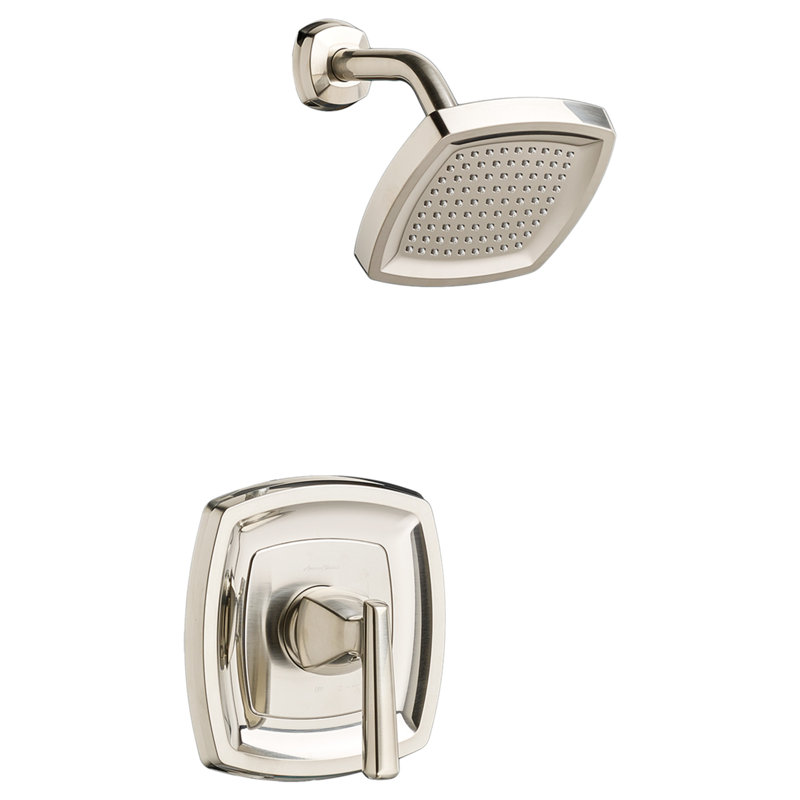 American Standard is known to be one of the most well-known and trusted manufacturers of showers and other home appliances. They certainly don't disappoint with this model. It's a very minimalist thermostatic shower with a trim kit and simple metal lever. It also has a square-shaped shower head for a fuller spray.
Highlighted features:
This is a water-saving shower head with a flow rate of 1.8 gallons per minute.
It's square shaped shower head gives you more coverage.
It has a special heat limit for scald protection.
This thermostatic shower head is energy and water-efficient.
It has an easy-to-install feature.
5.  La Toscana Novello Thermostatic Shower

If you're after something that looks more elegant and stylish, the LaToscana Novello is definitely the shower you're looking for. It has a very sleek and shiny look that adds to your bathroom design. Other than that, it's drip-free and can last a long time.
Highlighted features:
It contains a drip free ceramic disc.
If you want a sophisticated and sleek design for your bathroom, then this is a good pick.
It has a flow rate of 2 gallons per minute.
You can easily customize the water temperature with this shower head.
It also comes with both a handheld shower and wall mounted rain shower.
6.  ANNZI Echo Panel Shower System

The ANNZI Echo Panel shower is probably one of the most amazing showers you'll find. It's a very high tech shower with 5 control knobs, laser precision technology, and a very efficient water diverter control.
Highlighted features:
Enjoy a relaxing and satisfying shower with its 5 shower control knobs.
It also has its own handheld shower head with a 60-inch cord.
This is made out of Rhino Alloy, making it really durable.
It has one of the best water diverter controls on the market.
You can choose from its four powerful jets.
7.  Symmons Duro 2 Handle Thermostatic Shower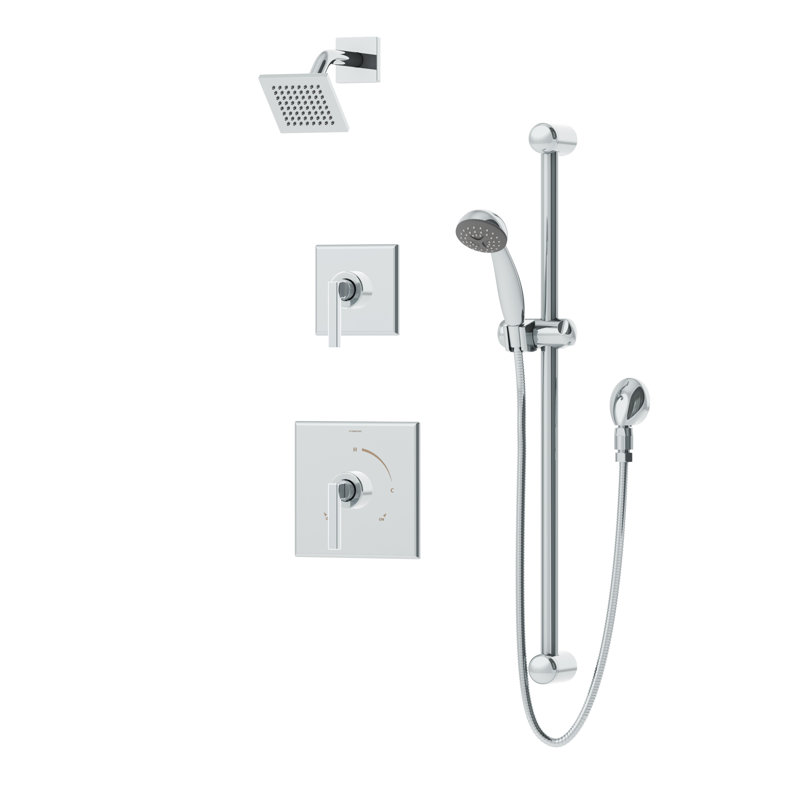 The Symmons Duro Thermostatic shower comes complete with a showerhead, hand shower, rough in valve, diverter, and valve trim. With a 2.5 GPM flow rate, this is one of the strongest showers you'll find on the list. It also has a metal lever handle for easy shower handling.
Highlighted features:
This sports a nice contemporary style ideal for modern homes.
Symmons Duro shower head has an adjustable handle limit.
It has a built-in vacuum breaker.
Users love its dual outlet diverter.
It comes with an auto pressure/temperature balancing valve.
8.  Delta H2O Trinsic Thermostatic Shower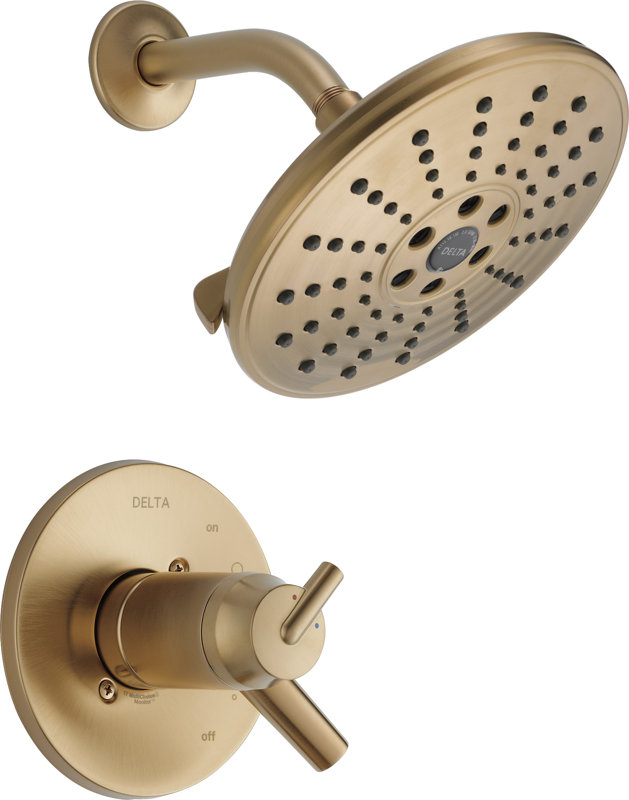 One of the most interesting features about this shower is its TempAssure thermostatic cartridge. This cartridge gives you the ability to measure and adjust the temperature easily. The shower is easily customizable and simple to control.
Highlighted features:
It uses a TempAssure cartridge to adjust water temperature.
This is equipped with an H2OKinetic Technology for fuller water patterns.
You can enjoy 2.0 gallons per minute of pressure at 80 psi.
It has a two-handle lever.
You can conserve water using this shower head, thanks to its pause feature.
9.  Moen Chateau Thermostatic Shower
If you're looking for something that's of pretty good quality but affordable, then this brand is a good bet. It comes with a lever style handle and uses a pressure control valve. It also has a lever style handle for controlling the water.
Highlighted features:
It includes a shower head, flange, and arm.
Want a shower head with a customizable temperature limit, Moen Chateau shower is for you!
It is made out of stainless steel material, making it anti-rust and anti-corrosion.
It has a lever handle.
You can get a max pressure limit of 2.5 gallons per minute.
10.  AKDY Complete Panel Thermostatic Shower

This really cool high tech shower panel comes with 8 body jets and one overhead shower with high coverage. This can give you a water spray from virtually all directions, top, middle, and bottom. The jets also all have a PSI of 72.7 with a flow rate of 2 gallons per minute. It also has 3 control knobs for complete control of the water.
Highlighted features:
It has a very strong pressure system for overall shower strength.
Its overhead shower has a big size for total coverage.
It has a digital display so that you can see the temperature in Celsius or Fahrenheit.
It has 8 jets on the side for spraying from the side.
It comes with a handheld shower at the side.
Conclusion
Out of the 10, the best choice will definitely be the AKDY Complete Panel Thermostatic Shower. It has a very strong set of shower jets and big overhead shower. This gives you complete and full water coverage.
If you want to wash specific parts of your body, you can use the handheld shower. You also have complete control of the temperature because of its thermostatic control valve.
A thermostatic shower is supposed to give you complete relaxation. If you want the best thermostatic shower, it's always good to compare the features to see which one has the best qualities. That's how we arrived at our top choice.