If you are particularly seeking the best soaking tub there is, then we can confidently refer you to the best Wyndham Collection Bathtubs on our list below.
Wyndham is a brand well-known for producing contemporary bathroom amenities, accessories, and vanities. Among its popular collections is the soaking tub collection, which includes tubs with a deep surface for full-body water immersion.
Check out the top 7 Wyndham tubs now!
Wyndham Collection Bathtub Reviews
1.  Mermaid 13-inches Soaking Bathtub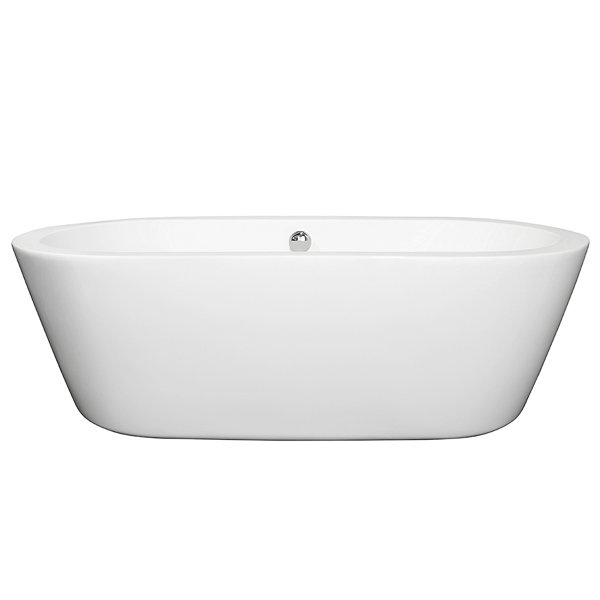 A fine example of simplicity with practical features is this Mermaid soaking bathtub. The tub itself has immaculate cuts with smooth edges that would look great in contemporary bathrooms.
The deep and wide surface allows you to completely soak your body. Another great feature is its easy installation process, owing to its freestanding design. Lastly, it is made from a premium acrylic material that is tested and approved as having seamless yet optimum strength.
A straightforward modern bathtub
Holds up to 63 gallons of water
With a 13-inches soaking depth
UPC and IAPMO certified
Includes overflow drain
This freestanding tub can accommodate 2 average sized adults.
With 2 years limited warranty
2.  Ursula 15-inches Soaking Bathtub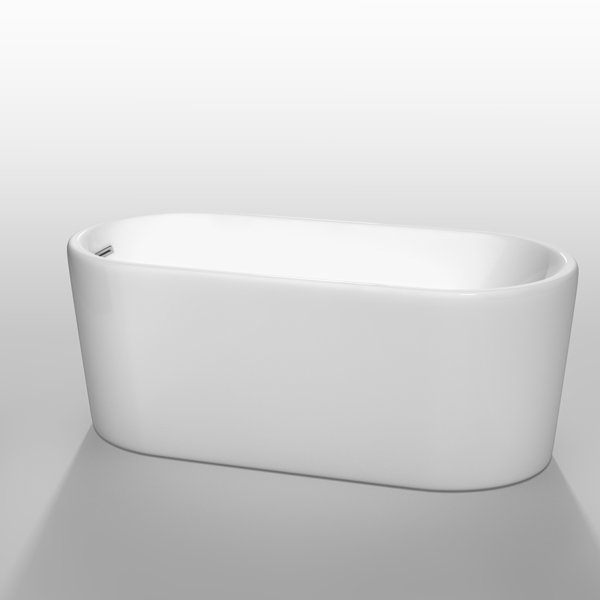 Ever wonder why some bathtubs hold so much water, but the soaking experience is unsatisfying? This could be due to the wide surface of the tub. It is not at all coincidence why tubs only have a certain size range. This is to allow your body to fully immerse in the tub without actually using so much water.
Take this Ursula tub for example. This tub may look like it has a narrow surface, but the size is actually well-thought of, making sure your body is fully immersed into the water and your back is comfortably rested.
Holds 55 gallons of water but provides incredible soaking experience
Includes drain assembly with reversible placement
Has an overflow drain
Soaking depth is 15 inches
With 2 years limited warranty
The ultimate soaking tub for individual use
3.  Hannah 16-inches Soaking Tub
Defy the conventional bathtub shape without compromising style and comfort with the Hanna soaking tub by Wyndham. Hannah is the tub to be for those who have the penchant for asymmetrical shapes while still remaining minimalist.
This tub embodies a modern architecture design that young adults and adults alike will appreciate. To make it even better, the tub has a seamless look and made from durable acrylic material.
If you want the best Wyndham Collection bathtub that has an interesting look and had a deep soaking size, then you can't find a better option than the Hannah tub.
This is a freestanding tub made from high-quality acrylic.
With a soaking depth of 16 inches
Holds up to 74 gallons of water
You are entitled to a 2-year warranty program.
Can instantly revamp the look of your bathroom
With overflow drain
4.  Juno 14-inches Soaking Tub
If you would rather have a bathtub that allows you to freely move inside, then the Juno soaking tub is definitely the one for you. Wyndham Collection presents this 63 x 32 x 23 bathtub that can cover all parts of your body.
When we say full-body immersion, believe us when we say this is exactly what you'll experience with Juno. Juno is a magnificent soaking tub that is perfect for individuals with bigger built or whose body is above the average size.
Is really large and spacious and deep enough for a full-body soak
With a soaking depth of 14 inches
The oval shape allows you to comfortably rest your back while soaking.
Can hold up to 74 gallons of water
With 2-years limited warranty
UPC certified
With seamless and smooth cuts and edges
Has overflow drain with the main drain placement at the center
5.  Sara 16-inches Soaking Bathtub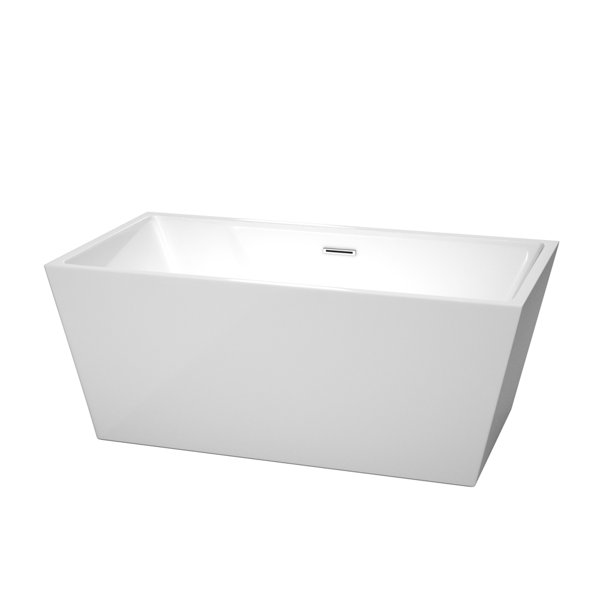 Sara is a tub that can intimate you at first glance. But the longer you look at it and the more you inspect its design, the more you appreciate it just the way it is.
Sara is the tub that embodies elegance, comfort, and style all in one. The sharp and angular shape is softened by its smooth, modern acrylic material and white finish.
So, if you want to take your bathroom interior to another level, then Sara soaking tub is for you!
Large and comfy
Easy to handle and install
With 79 gallons of water capacity
This tub is also warmer to touch and can retain temperature should you want a hot soak.
Offers 2-years of limited warranty
The slanted back allows comfortable soaking position.
With a 16-inches soaking depth
6.  Carissa 15.25-inches Soaking Tub
This non-whirlpool soaking tub is a standard freestanding bathtub that suits well with the existing bathroom interior you currently have. It has a classic oval tub shape and has a stunning white finish with a polished chrome drain and overflow.
With a dimension of 60 x 67 x 71 inches, it hasthe perfect size for a relaxing soak in the tub. Of course, this is made from acrylic, making it last for a long time.
A classic tub with a modern look and features
With 66 gallons water capacity
Has 2 years limited product warranty
This acrylic bathtub has a soaking depth of 15.25 inches.
7.  Wyndham Collection Mary 15-inches Soaking Tub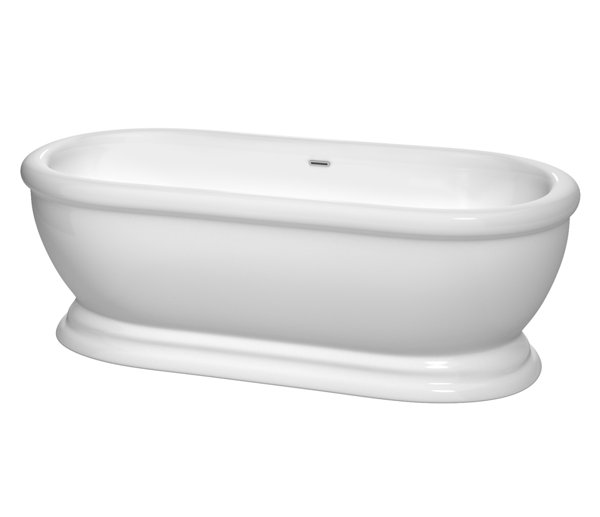 A classic yet luxurious tub is what Mary Soaking Tub is all about. One look and you'll be mesmerized by its modern cuts and curves. The tub has more of a softer look to add contrast to the geometric shape of most bathrooms.
This bathtub is one of the most reviewed best Wyndham Collection Tubs recently. And we can definitely understand the hype. The tub is a fusion of functionality and aesthetics, the perfect combination for contemporary bathtub fit for today's modern society.
Has a soaking depth of 15 inches
Beautifully made with comfortable design
Includes overflow drain
Hold up to 82 gallons of water
With 2-years warranty
Need Help Choosing the Best Tub? Check Out Our Recommendation Below!
You can never go wrong with a modern-looking tub but has a classic feel. Wyndham Collection Mary 15-inches Soaking Tub is our choice for the best value tub on the list.
We love how the tub combines aesthetics and functionality into a seamless, beautiful bathtub. Moreover, the tub holds up to 82 gallons of water but only has 31.11 width, so the water can actually cover your whole body, thus giving you an invigorating and refreshing soaking experience.
Let us know your favorite soaking tub in the comment section below!