Picture going home and being able to dip into a warm and cozy hot tub. Sounds very nice, right? Luckily, this can be possible since there are plenty of hot tub options in the market.
However, having too many choices is not always a good thing, especially when it comes to an item as expensive as a hot tub. This is why you need to research thoroughly to get it right on your first buy. In this case, these Bueno Spa reviews will be helpful to you.
Why Bueno Spa?
Beuno Spa is from a brand with over ten years of experience in manufacturing tubs.
The brand utilizes revolutionary technology. At the same time, they also prioritize environmentally-friendly manufacturing processes.
The brand's headquarter is located in Europe. They have well-stocked inventories. This allows delivery quickly. This means that customers don't have to wait for an extended period for them to get their much-awaited products.
5 Best Bueno Spa Reviews (with Pros and Cons)
Here are thorough Bueno Spa Reviews that you should know about:
1.  Bueno Spa New York Hot Tub with 49 Jets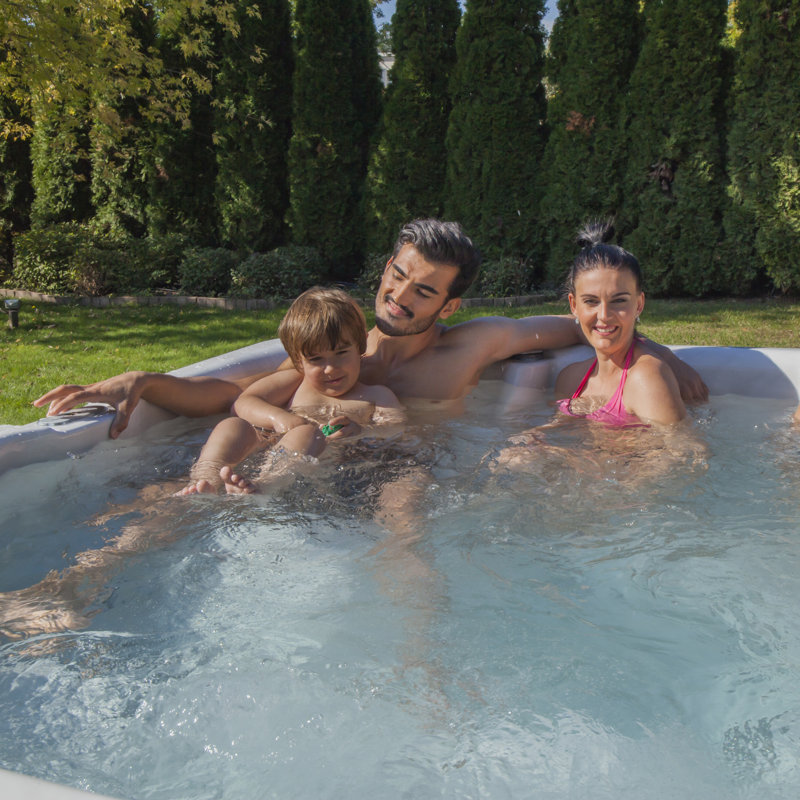 Bueno spa's hot tubs come with an array of designs and open models which provide the massage effects that the clients want. The perfect installation of these hot tubs will help you get amazing results in your day-to-day therapy.
Pros:
Control Panel: The device has multiple control panels to set the hot tub perfectly.
Horizontal Side Cabinet: The side cabinet is laid horizontally to ease maintenance.
Easy-to-use Buttons: The control buttons are easy to use during the day or wee hours.
Compact Multi-function Menu: The hot tub settings are easily seen in a flash for easier settings.
Cons:
Not fit for pregnant mothers
No installation services on arrival
Product Features:
Maximum capacity of 6 persons
Water capacity of 232.5gallons
Made of Acrylic
49 strong jets
A voltage of 240 volts
Compact multi-function menu
Easy-to-use control buttons
The side cabinet is horizontally installed
Color Therapy lighting –Friendly to people with a psychological condition
Verdict 
Bueno hot tubs are the best as they come with color therapy lighting features to impact the psychological condition positively. The additional feature makes the device a favorite for people with psychological conditions.
Who is the Product For?
Bueno hot tubs are tools mostly used for offering pronounced massage therapies. Besides, they are a favorite among people who have undergone more than one surgery and those with psychological conditions.
Major Features and Benefits of Bueno Spas
Here are some of the important features and benefits of Bueno Hot tubs:
Bueno Spa Control Panel: The control panel comes with the correct settings for the hot tub. The panel is easy to use even during wee hours. The settings are well portrayed in a flash for easier accessibility.
Adjustable Easy–to–Use Controls Buttons: The user can make adjustments according to their taste and preferences. With the easy-to-control buttons, people will have less operation know-how can adjust.
Horizontal Side Cabinet: The side cabinet is horizontally laid with wood-effects units and thin vertical cabinets on the corners. This makes it easier to maintain than the traditional timber cabinet. The cabinets come with UV-resistant polymer materials with a similar look to the real wood.
49 Strong Massage jets: The 49 jets play a huge role in ensuring the shoulders and neck get a full massage with MyHip jets to offer massage therapy on the waist and hips.
Customer Reviews
Here are some Bueno Spa 6 Person 49 Hot Tub reviews directly from previous buyers:
"The product comes with amazing, incomparable features; I have had an exceptional massage therapy after installing it." –Lena G.
"I love everything about this hot tub. It's definitely worth every penny. However, I just wish that they have an installation service option as an add on. That would have been more convenient." -James R.
FAQs
Can I use the device in regions that have very cold climates? This product will safeguard itself and the spa once it senses a cold climate. It controls the temperatures every time they get below 50 degrees by turning the pumps on for water circulations. On the other hand, temperatures that don't reach 60 Celsius are regulated by turning the heater on.
Do the Bueno spa hot tubs have a cover lifter that can go entirely down on the side? This item comes with a completed insulated cover for consistent quality and the best thermal insulation results. This is one way to reduce monthly energy costs.
Do you ship the product globally? There are some restrictions when it comes to shipping Bueno hot tubs. Not all manufacturer's warranties may be valid as their service options may still not be available. Confirm whether the product is designed according to your country's standards, labeling requirements, and specifications.
Read more: Bueno Spa 6 Person 49 Hot Tub Reviews: Best Value Hot Tub You Can Buy
2.  Bueno Spa 6-Person Jersey Hot Tub with 46 Jets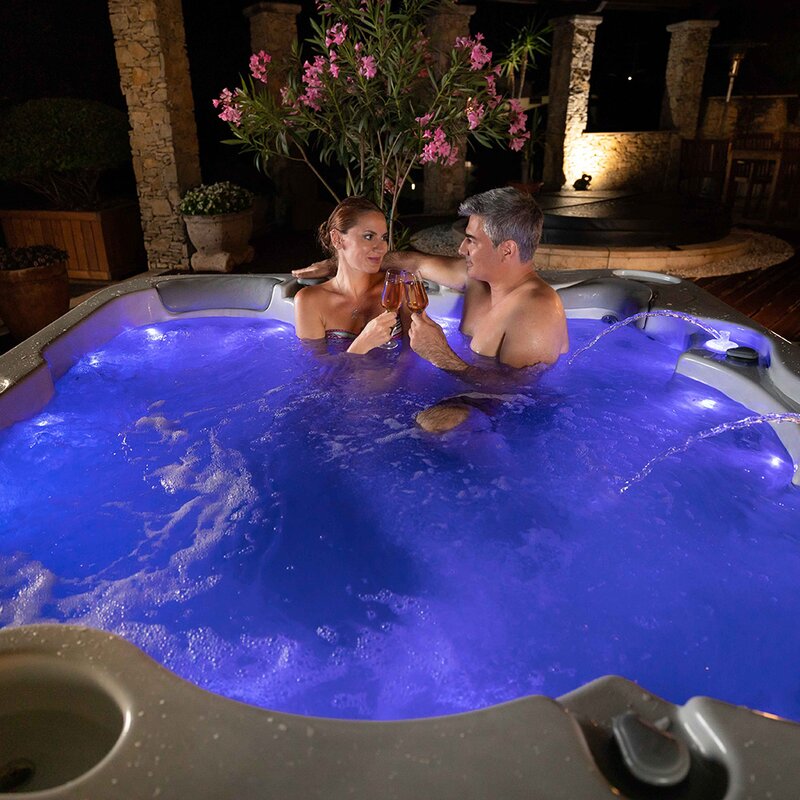 The Bueno 6 Spa is a spacious six-person tub. The hot tub is made with highly durable acrylic material. At the same time, this material makes the tub lightweight and easy to install.
This is an attractive tub because it has plenty of functional features. It has a HorizontSide made with thick lath wood. This feature serves as a UV-resistant polymer unit for added protection against the sun.
Furthermore, this tub also features an ozone generator and superfine filter. These features allow you to experience crystal clear waters when bathing.
On top of that, it has 46 strategically positioned jets. This enables users to experience a cozy and massage-like bathing experience.
Lastly, it also comes with a thermal cover. The cover helps ensure that the hot tub's insulation is consistent and long-lasting.
However, take note that this tub is not recommended for DIY installation. You need the help of professionals for safe installation. This might mean it's an added expense. But, it's a fair trade-off for safety and longevity.
Key Features:
Superfine filter
HorizontSide Cabinet
46 jets
6-person full capacity
Acrylic material
Color therapy lighting
Thermal cover
The Pros:
Packed with relaxing features
Large capacity
Spacious seating area
Carefully positioned jets
The Cons:
3.  Bueno Spa 7 Chicago Hot Tub with 54 Jets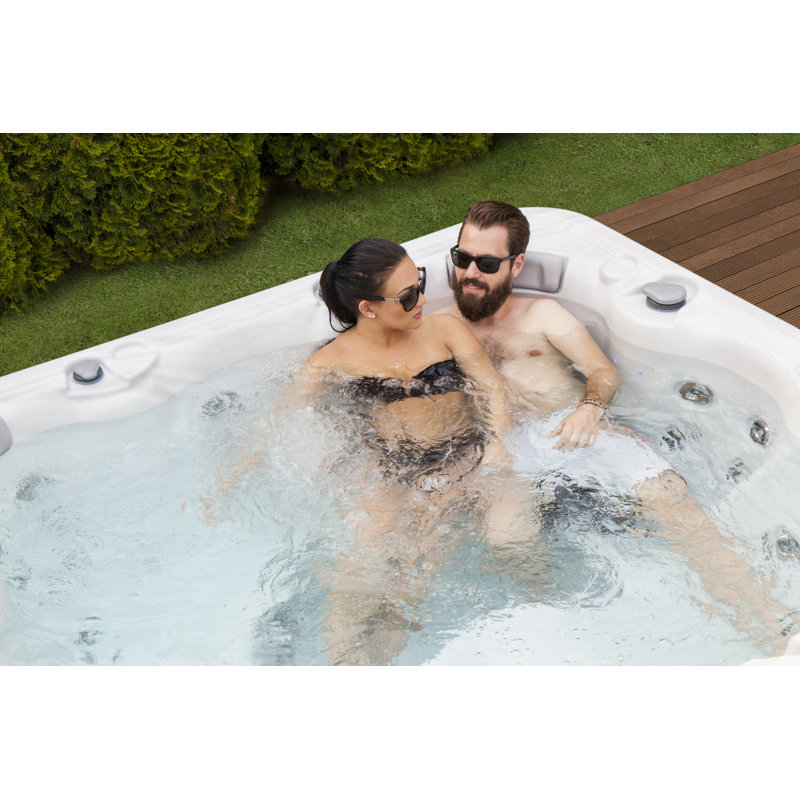 Suppose a 6-person hot tub is not enough for you. In that case, the Chicago hot tub might be what's suitable for your needs. It's a 7 person capacity and is equipped with 54 jets.
Also, the 54 jets are strategically positioned, allowing total relaxation for users. This is especially the case those who require a neck and back massage.
Furthermore, the tub features Bueno Spa's triple insulation feature. This enables the tub to gain thermal benefits from pool engineering. It reflects the cold air out. By doing this, the temperature stays hot for a longer period.
It also has multiple polyurethane foam layers. Each layer is around 0.4 inches thick. This makes the tub energy efficient, allowing you to save money in the long run.
Another notable feature of this tub is its control panel. With this, you can easily control the hot tub setting. It has an easy-to-understand interface. It is also equipped with an LCD display that tells you precisely the settings of the tub.
Aside from its functional features, it is also aesthetically appealing. It has a horizontal side cabinet. These are thick laths that are horizontally laid. It gives the tub a wood effect and a luxurious look.
Key Features:
Sterling white interior
Gray exterior
Polyfoam insulation
LCD control panel
68 degrees Fahrenheit min temperature
104 degrees Fahrenheit max temperature
1 year limited warranty coverage
The Pros:
Cost-effective
7 person capacity
Easy to navigate control panel
Freeze resistant
Warranty include
The Cons:
Requires lots of water
Steps are sold separately
4.  Atlanta 3-Person Capacity with 37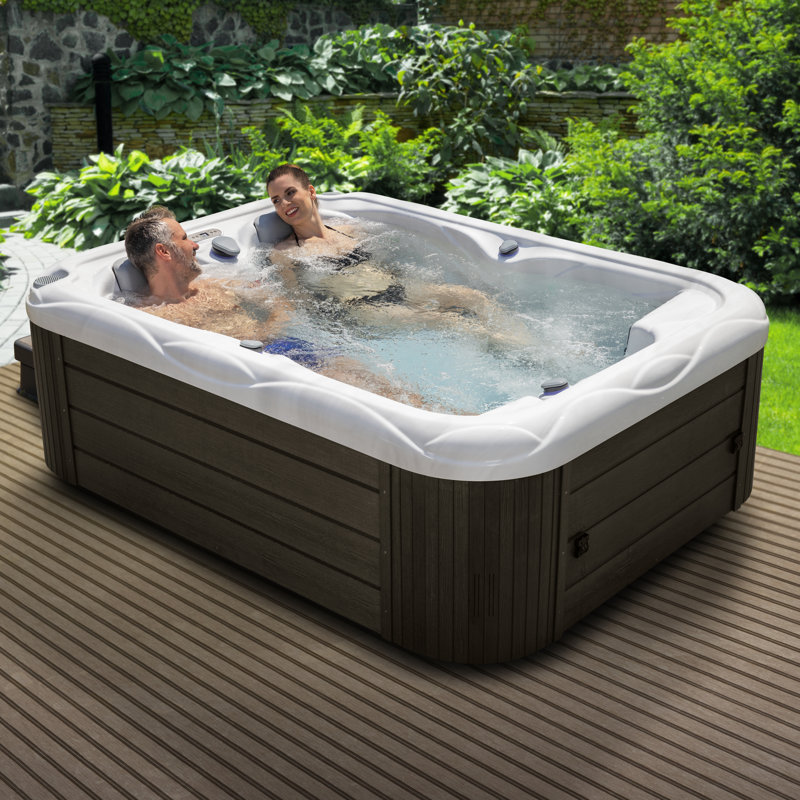 Here's a budget-friendly option from Beuno Spa. The Atlanta hot tub has a full capacity of 3 persons. It is equipped with 37 jets.
Compared with the other Bueno Spa hot tub reviews, this does not have as many jets. However, it still gets the job done since it is positioned strategically. Besides, the fewer water jets allow it to have a more affordable price point. This is a trade-off that is worth considering.
It is still packed with useful features despite not having as many jets as the other model. It comes with two reclining lounges. These are positioned next to each other for couples who want to relax side by side.
Besides that, it has a MySeal design. This removes inconvenience caused by height differences.
Plus, it also comes with Bueno Spa classic hot tub features. It includes color therapy lighting. This can positively impact the psychological condition of the users. It also has a superfine filter and ozone generator. This prevents the water from looking murky while in use.
Given its price, it already comes with a cover and filter. Again, this proves how budget-friendly it is without sacrificing the features that matter.
Key Features:
Polyurethane primary material
3 person max capacity
Gray exterior color
Lounger seat
Insulated cover
Ozonator
2 hp pump
181-gallon capacity
The Pros:
Corrosion-resistant
Freeze resistant
Mildew resistant
UV resistant
The Cons:
Steps are not included in the price
5.  Bueno Spa Boston 5-Person Hot Tub with 42 Jets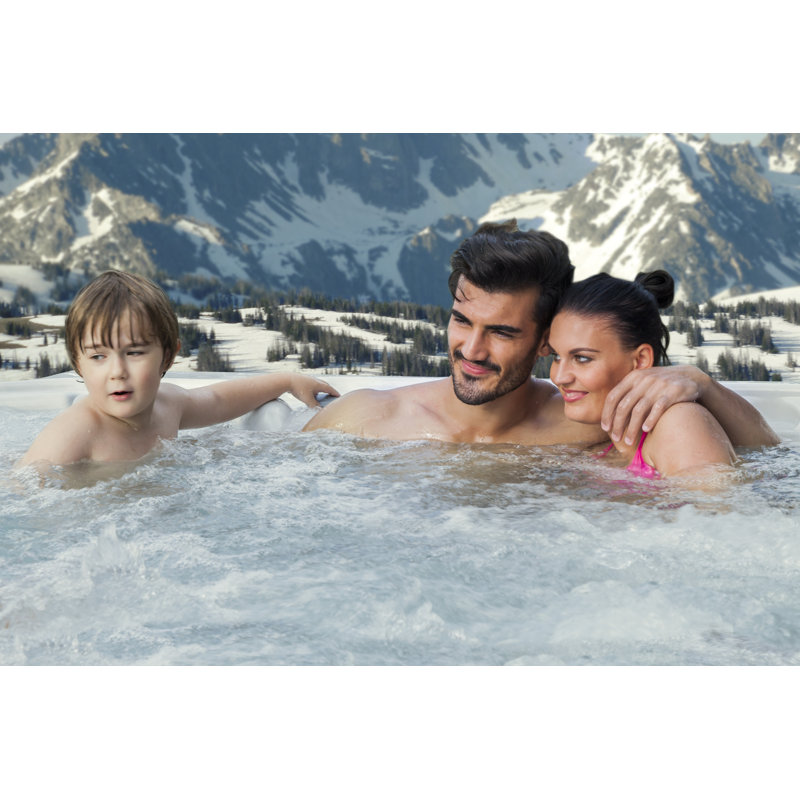 The Boston hot tub from Beuno Spa has a 5-person capacity. It has 42 jets that provide the utmost relaxation. The strategic placement of the jets further maximizes the relaxation and massage benefits of this tub.
In addition, this tub has a top temperature of 104 degrees. This makes it ideal to use outdoors, even in cold weather. Plus, it is also freeze resistant. This means that you don't have to worry much about it while it is left outside.
Furthermore, the tub features a MySeat design. This allows 5 people to fit even in a small area comfortably. It also has a MyJets design. This means that there are jets specifically positioned in the neck and shoulder areas. This helps address the user's pains and aches so that they feel better after soaking.
The Boston tub also features color therapy lighting. It provides a positive effect on the psychological condition of the users.
It also has a superfine filter and ozone generator. This prevents the water from turning murky. This also saves on water consumption because you don't have to change it that much.
Key Features:
5 person capacity
Acrylic primary mater
Gray exterior color
Sterling silver interior
LCD control panel
HorizontSide cabinet
Thermal cover over include
3 HP pump
The Pros:
Easy to operate
Comfortable seating design
Plenty of jets
Strong pump
The Cons:
It does not include the steps
Final Words
As shown in the Bueno Spa Reviews, It is a reputable brand that's worth considering. They have a wide range of products that fit different needs and preferences.
Suppose you want a hot tub packed with plenty of advanced features. In that case, the Bueno Spa 6-Person Jersey Hot Tub with 46 Jets is your best choice. However, if your priority is large space, the Bueno Spa 7 Chicago Hot Tub with 54 Jets might just be what you are looking for. The Bueno Spa Atlanta 6-Person Capacity with 37  is also a good option if you are budget conscious.
By the end of the day, the best hot tub is one that fits your needs and preference perfectly. To make the best decision, you first have to figure out your must-have features and budget. Once you know these details, picking the best model would be a breeze.