If you've been scouring the internet for Dimplex electric fireplace reviews, you're in luck. Your search might just be over. We know how hard it can be to find authentic and reliable information about this famous brand of electric fireplaces, popularly recognized for its unique and realistic flame.
In this article, we're going to highlight for you the top 10 electric fireplaces Dimplex has to offer. By the time you finish reading this article, hopefully, you'll have an idea of what you can get for your space.
Product Reviews
1.  DFI2309 Electric Fireplace Insert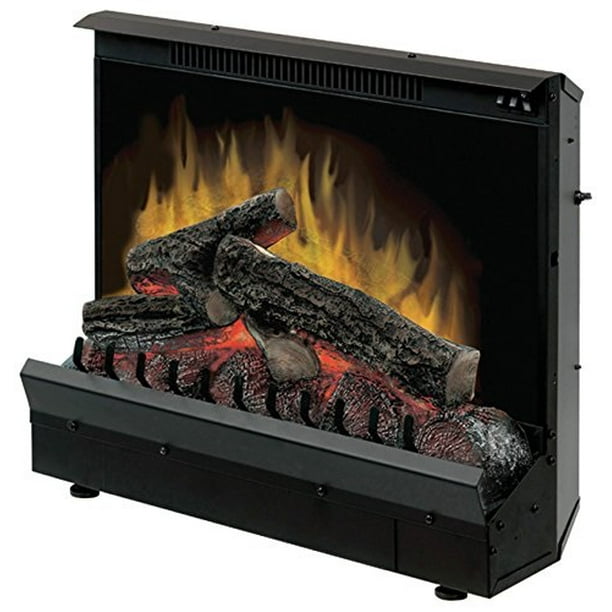 Instantly bring your already existing fireplace to life with this electric fireplace insert. It takes only minutes to install, and it can operate using any standard household outlet. The insert can be turned on and off using a remote control that's included in the package. The in-built heater provides heat both quietly and evenly.
With no flame emission or heat, these fireplace inserts can prove the safest choice for any home. The powerful fan-forced heater it uses is designed to heat up rooms of up to four-hundred square feet.
2.  Dimplex (CS33116A) Compact Electric Stove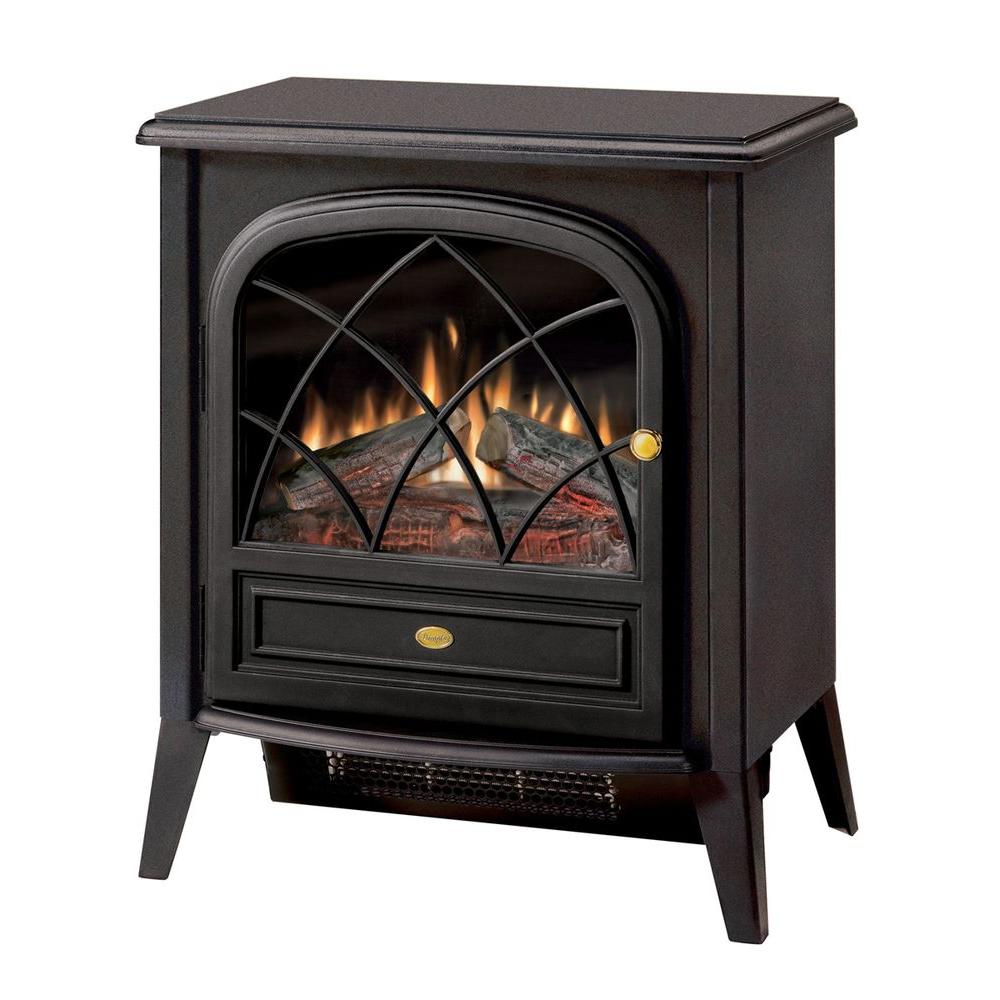 This compact, portable fireplace unit has 3D fire stimulation encased in a chamber to provide you with the illusion of a naturally crackling fire. With this electric stove, now, your living space can experience the soothing and spiritual enhancement a fireplace often brings.
With measurements of 23.5×20.3×13 inches in size, this portable, freestanding fireplace can conveniently be moved around the house with relative ease.
When mixed with economical operation and a realistic flame feature, it's not hard to see why an electric fireplace offers the perfect alternative to your supplementary household heating requirements.
3.  TDS8515TB Celeste Electric Stove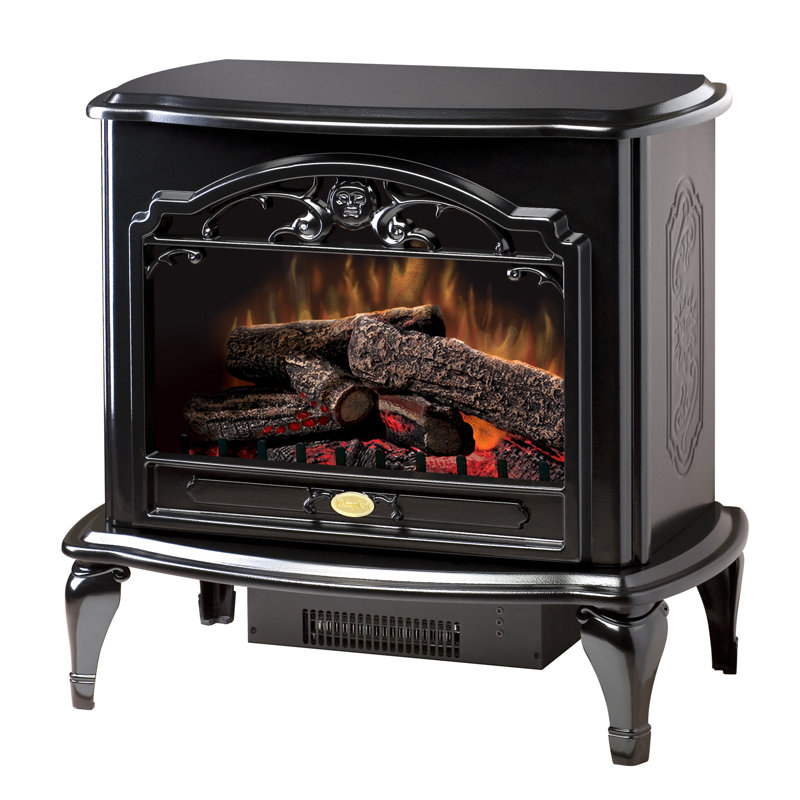 With its old-world craftsmanship style, this elegantly designed gloss-black finish electric stove takes you back to the less complicated times for soothing and finishing touches in a room. Its industrial style and modern, clean lines deliver a pleasing modern aesthetic. You can also breathe easy with its Purefire air treatment unit that filters airborne particles and allergens. Oh, and the flame can operate with or without producing heat as well.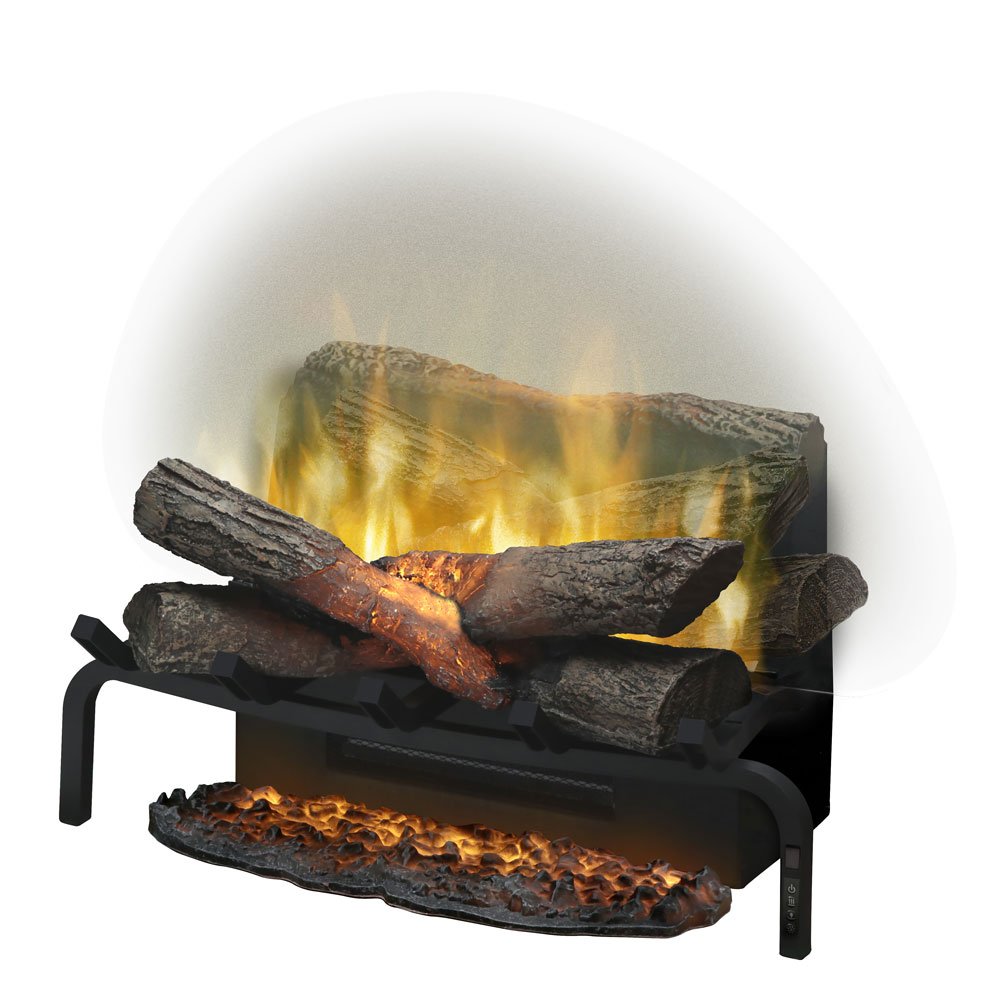 This twenty-five-inch electric log set-based unit has a 360-degree fan-forced ceramic heater that provides hidden comfort for any small space. With this Dimplex product, the flames are much brighter, larger, and more random as compared to the others on this list. Also, these flames appear from within the log set which gives it an authentic and realistic look. The acrylic panel, which is partially frosted, is a lot better than a mirror. It shows no reflection but only the dazzling flames. It has a heating coverage of about four-hundred square feet and is perfect for any small space.
5.  DF3033ST Self-Trimming Fireplace Insert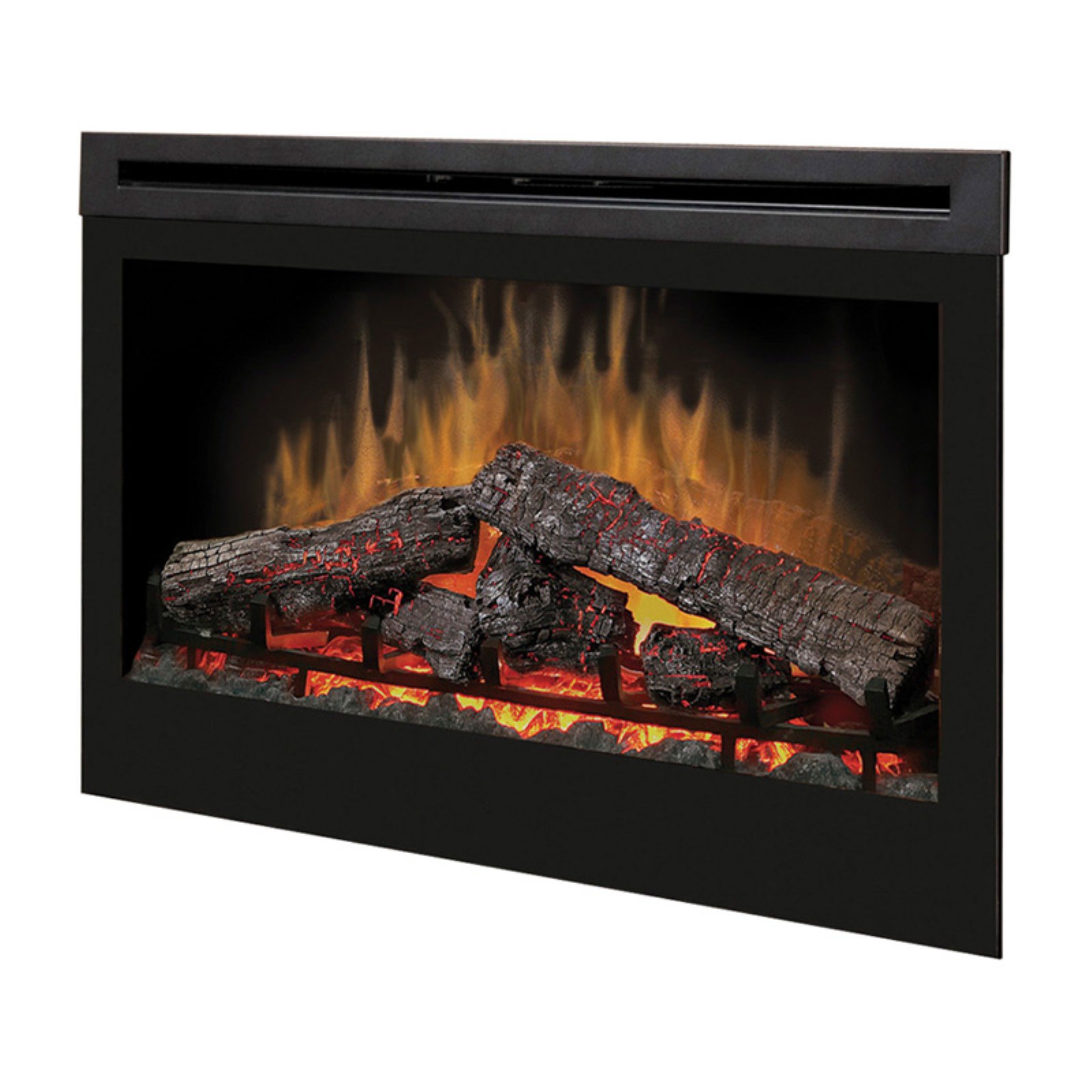 Dimplex offers some of the best electric fireplace products largely because of its top-notch electric flame technology. The pulsating embers, alongside finished log sets molded from real wood, this fireplace, in particular, offers incredible realism.It includes separate controls for the heater, interior brightness, flame speed, as well as on/off flame controls. The log set has an LED inner glow to give the whole set-up that authentic look.
6.  Dimplex Console Electric Fireplace (with soundbar)
The integrated speaker unit alongside a beautiful linear fireplace unit makes this Dimplex a marvel of technology, simple, and plain. This Haley Media Console, with its Rift Grey finish, can be a stunning modern complement to your home electronics. The contemporary and clean lines of this console are elevated by its industrial design and its robust metal feet.
A good blend of craftsmanship, artistry, and technology helps set the tone of realism. Temperature control is literally at your fingertips because of the convenient remote control included in the package.
7.  BLF50 Wall-Mount Electric Fireplace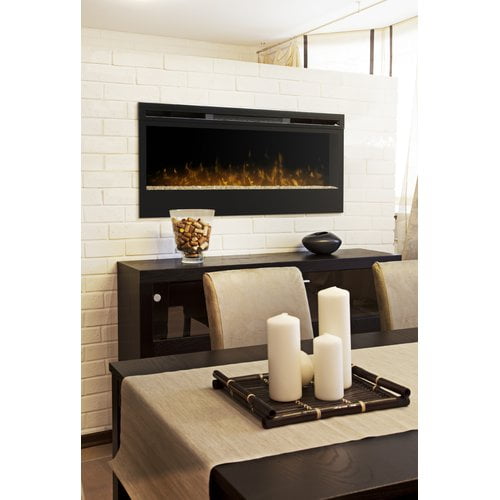 This sleekly designed, wall-mount electric fireplace allows for a snug installation into any wall. Furthermore, it's very economical to operate because of the option it provides to operate the flame with or without any heat. This means that you can enjoy that soothing ambiance a fireplace provides all throughout the year at a cost of less than eight cents an hour. How cool is that?
Also, complete control of the unit is at your fingertips. This Dimplex unit has a 3-stage remote control that allows you to have full control of the flame and heat settings. Its dazzling glass, ember bed offers an alluring contemporary effect as well.
8.  Dimplex IgniteXL In-Built Linear Electric Fireplace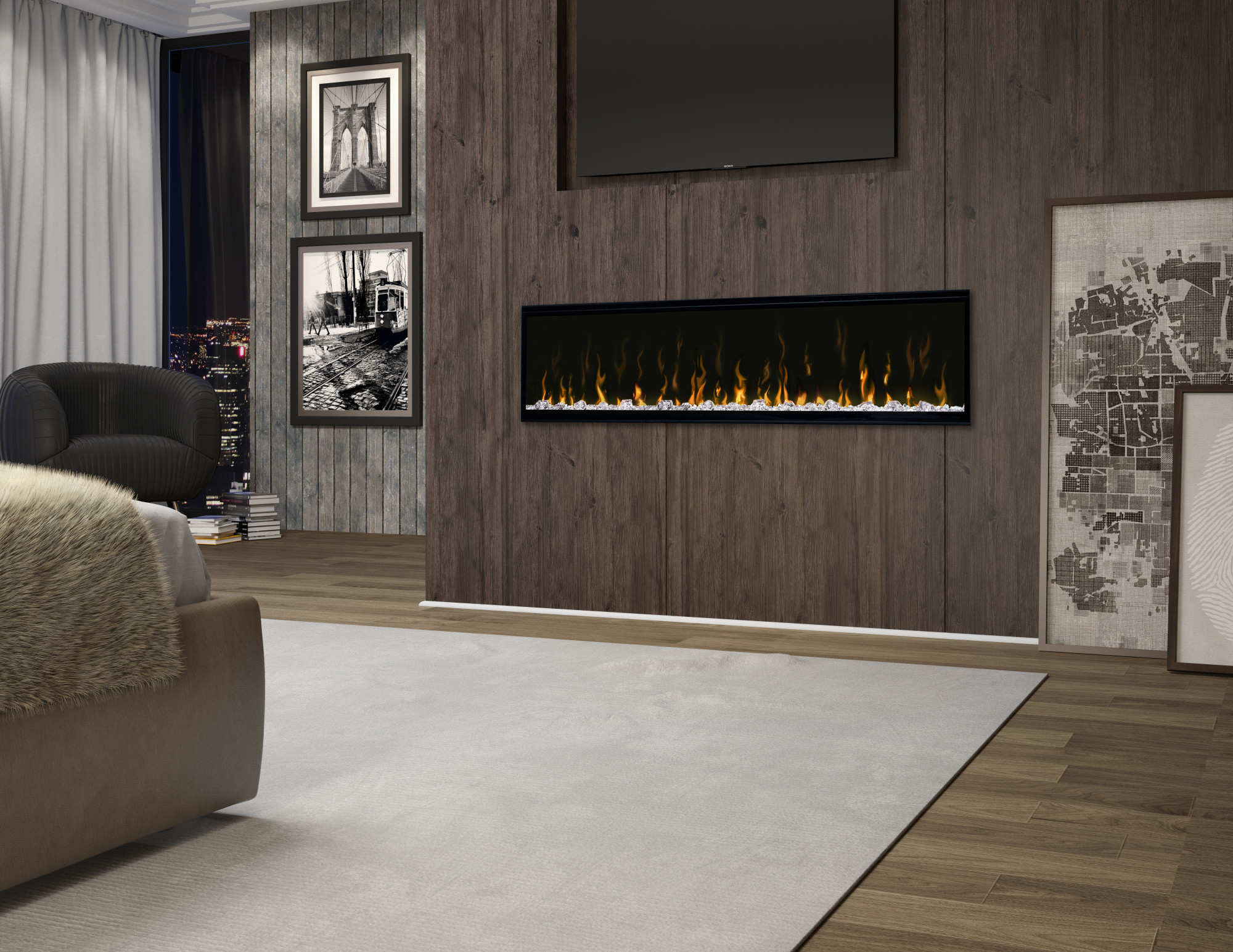 This 74-inch wall-mount electric fireplace is one of the more visually stunning and lifelike on this list. With its newly patented flame technology, this unit captures both the ambiance and charm of a real flame. Edge-to-edge glass provides you with a picture-perfect panoramic view of the crackling fire from all angles. Its ceramic heating system by ComfortSaver adjusts heater wattage and fan speed to match the needs of the room. It also uses about ten-percent less energy than leading quartz infrared heaters.
9.  Dimplex Pine and Stone-Look Electric Fireplace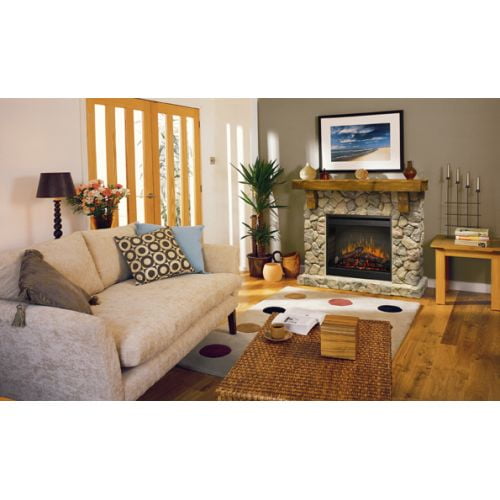 This simple and beautiful mantel provides your space with that rustic charm s woodland retreat has; with the realistic aesthetics of natural stone, hand-hewn pine. and stepped hearth. It includes a twenty-six-inch self-trimming firebox (electric) alongside that very popular patented, life-like flame feature.
10.  Caprice Traditional Electric Fireplace Mantle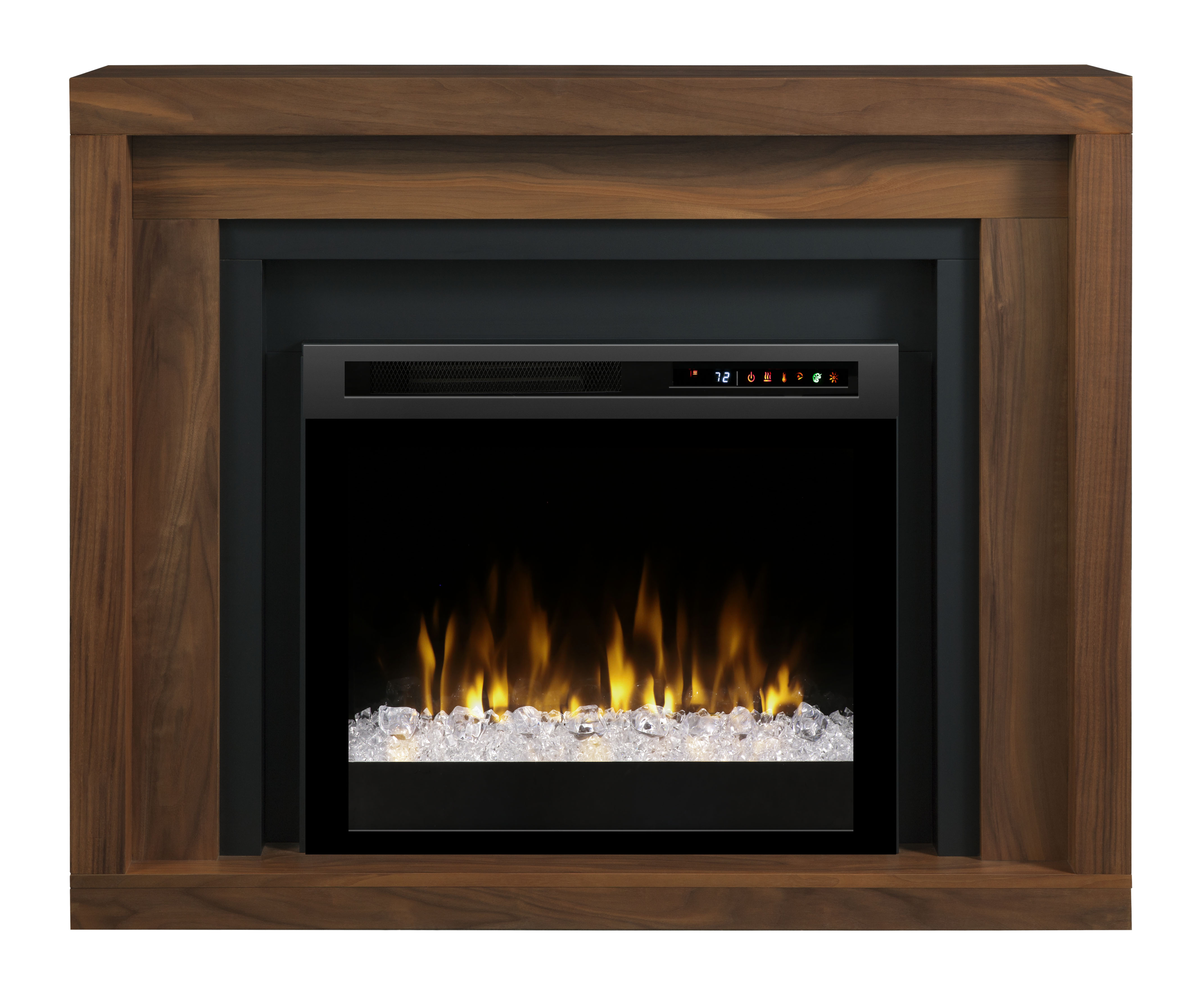 This electric fireplace has that traditional look with an elegant design. It comes in a warm oak finish that's very attractive and will help add some brightness to any living space. It consists of a twenty-three-inch firebox accompanied by a remote control. Also, it's very easy to assemble and install. You can also use it with or without any heat which makes it very economical as well.
Closing
Finding the best Dimplex electric fireplace reviews online isn't that easy. There's a lot out there that isn't really as helpful as you'd want them to be. This is not one of them, though. Hopefully, if you've reached this point you feel the same way as well. Now, you can go get yourself what you feel is the best electric fireplace.