The company was founded in 1901 by innovator Hans Grohe. He had a knack for creating showers and other water appliances which helped him create one of the biggest water equipment companies on a global scale.
Hans Grohe focused heavily on innovation and quality features that would appeal to his customers. Even after he passed on, he left that kind of mindset and values with the next successors.
Today, Hansgrohe has its headquarters in Germany but has expanded its services to many other countries in the world. They are known for their many innovations such as the first very affordable handheld shower head, the Raindance rain shower head, and the wall bar among many others.
Even up until the present, Hansgrohe still embodies the mission of its founder to provide customers with the best shower experience through innovation.
See all Hansgrohe shower heads on Wayfair
Review of the Best Shower Heads from Hansgrohe Brand
 1. Raindance S 150 AIR Multi-Function Handheld Shower Head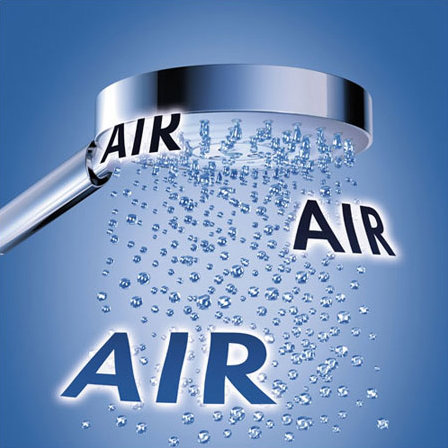 This is the best luxury shower head that you can buy in order to relax after a long day. It comes with three modes, which are the air spray mode, the whirling spray mode, and the balanced mode. It also has an oversized spray and a Rubit cleaning system, which is great for an overall full shower.
What Did Customers Have To Say:
The customers gave an overall rating of 4.8 over 5 for this product. Most claimed that it was very easy to install and very nice to use. They were satisfied by its 3 mode feature and its cool cleaning system. While there are some who claimed that it was a rather expensive luxury shower head, it was still well worth the money and one of the best shower heads that they have bought.
It has three relaxing shower sprayer modes.
It has a very big sized spray face.
It has a very elegant and sleek design.
It comes with jet sprays and relaxing massage sprayers.
It has a powerful flow rate of 2.5.
It has 86 anti-clog nozzles.
It is rather expensive.
It is quite heavy for a shower due to its size.
2. Unica S Wallbar Rain Slide Bar Shower Head
The Unica Wallbar shower head is one of the most popular Hansgrohe shower heads and a favorite in most Hansgrohe shower systems reviews. It is a flexible hand shower that makes use of a durable techniflex hose and comes with an adjustable holder, which makes it easier to move the shower. It the shower also locks the handler in place so that you won't need to hold the shower head all the time.
What Did Customers Have To Say:
Overall, it received a good rating of 4.6 out of 5. The customers loved how easy the shower is to handle and how easy it is to install. It is also very simple to use and has 3 modes of spraying that they enjoy. While it is a bit lightweight and doesn't do much for the design, it is the most practical shower heads out of all the five mentioned here.
It includes a techniflex hose.
It comes with 3 modes of spraying.
It has an adjustable holder for easier usage.
It has a flow rate of 2.5.
It is very lightweight and not that elegant looking.
The material feels like plastic or rubber.
It is a bit flimsy.
3. Raindance S 120 IR 3-Jet Shower Head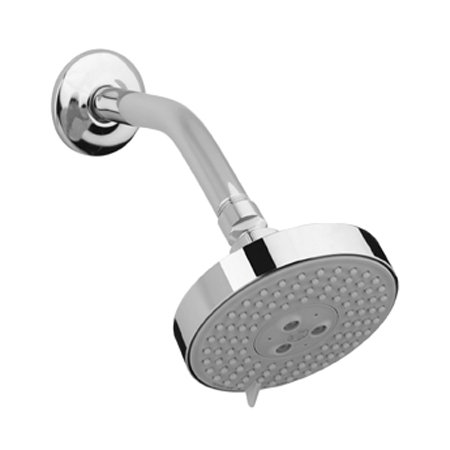 When it comes to innovative and unique features, the Raindance S120 IR 3-Jet model is a favorite in a lot of Hansgrohe shower head reviews. Just like the previously mentioned models, this shower head has three adjustable spraying options. What makes this model special is its AirPower technology which sucks air through a built-in spray disc. This is used for powering up the shower to make it more efficient.
What Did Customers Have To Say:
Customers loved this shower head as it was considered one of the best Hansgrohe shower heads to exist. Customers claimed that it was an amazing luxury shower head that had a lot of power and amazing spray modes.
It has an oversized spray face.
It makes use of an Air injection technology to make water flow more efficiently.
It uses a quick clean system, so it can self-clean well.
It has a flow rate of 2.5.
It has 3 spray modes for a complete shower experience.
It is made of a very durable material, making it have a long shelf life.
It is rather small in size.
It is a fixed shower.
4. Raindance Downpour Air Shower Head
The Raindance Downpour Air Shower Head is the ultimate shower to have if you like to feel like the water is pouring down on you like rain. It also has a strong air injection technology and a very efficient quick clean technology. This shower head also has very large coverage with 180 nozzles to spray out water. It also looks really stylish.
What Did Customers Have To Say:
Customers appreciated the quality and the innovative functions of this particular model. The unit itself is also very beautiful and gives off a type of "dancing in the rain" feeling when you take a shower. This is why the unit was given a rating of 4.8 of 5.
It has 180 anti-clog nozzles.
It has a big sized shower head.
It has an air injection technology.
It has an anti-clog system for the nozzles.
It has a flow rate of 2.5.
5. Rainfall Shower Head
When it comes to luxe features and design, the Rainfall shower head takes the top spot. With its modernistic and elegant design, it will make a fine addition to any bathroom. Other than that, it includes 2 spray modes which are the RainAir and Waterfall modes.
What Did Customers Have To Say:
The customers were amazed by this model which is why it got a 5 over 5 rating. Customers commended its beautiful craftsmanship and its amazing features. They regard it as a five-star type of shower.
It comes with a quattro green 3-way diverter.
It has two amazing spray modes.
It comes with 105 anti-clog nozzles.
It has a flow rate of 2.5.
It is not easy to install.
It has to be connected to two supply lines to work.
Conclusion
Out of the 5 choices given, the best Hansgrohe shower head would be the Raindance S 150 AIR Multi-Function Handheld Shower Head. The choice was based on the fact that it is easy to use, and it comes with features you need for a luxury shower. Since it is handheld, you'll have no problem spraying specific parts of your body that you want to concentrate on washing. Other than that, it has a big spray face and 86 nozzles for wide coverage. Also, it comes with three modes of spraying, which allows you to control how you want your shower to be. Lastly, it has a very sophisticated design, making it a beautiful accessory for your bathroom.
Overall, its combination of ease of use and features makes it the top choice of the five.
What do you think is the best one from our Hansgrohe shower head reviews? Let us know by leaving a comment below!