In search of the best hot tubs on the market? Look no further than our comprehensive Hudson Bay Spas hot tub reviews. As a leading brand in the industry, Hudson Bay Spas offers a combination of luxury, performance, and exceptional customer satisfaction. We'll dive into the features, benefits, and customer experiences that make Hudson Bay Spas stand out among the competition. Get ready to discover why Hudson Bay Spas hot tubs are regarded as some of the best in the market, and how they can elevate your relaxation game to new heights. Join us as we explore the world of Hudson Bay Spas hot tubs and unlock the key to ultimate relaxation.
Best Hudson Bay Spas Reviews
1.  Hudson Bay Spas 3-Person 14-Jet Acrylic Hot Tub Review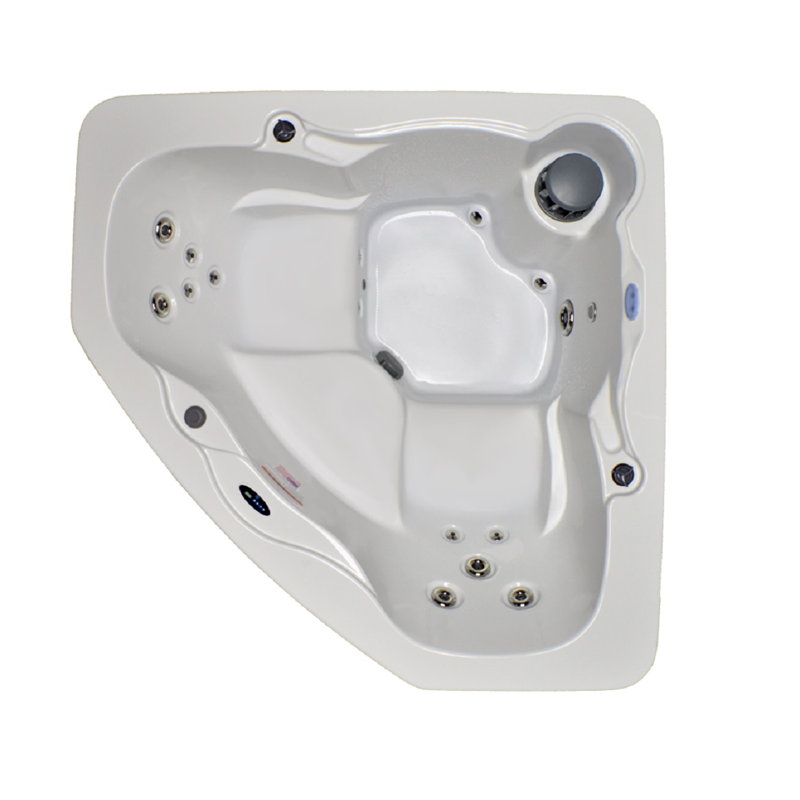 The Hudson Bay Spas 3-Person 14-Jet Acrylic Hot Tub is a fantastic option for those seeking the best 3-person hot tub and the best 110V hot tub. This compact spa offers luxury and comfort with its 14 therapy jets, waterfall feature, and energy-efficient pump. Here's a detailed review:
Pros:
Compact size makes it perfect for small spaces.
Durable and slip-resistant construction.
Energy-efficient pump ensures lower energy consumption.
Waterfall feature adds an elegant touch to the spa experience.
LED lights create a soothing ambiance.
Cons:
Some customers reported issues with water temperature control.
Repair or replacement may require a lengthy wait.
Parts availability may be limited in certain areas.
Verdict:
The Hudson Bay Spas 3-Person 14-Jet Acrylic Hot Tub is an excellent choice for individuals looking for a compact and efficient hot tub. While there may be occasional concerns with temperature control and parts availability, the overall quality, durability, and features of this hot tub make it one of the best options for relaxation and hydrotherapy.
Key features and benefits:
Triangular shape: Allows placement in secluded spots with limited space, perfect for small outdoor areas or corners.
Energy-efficient pump: The high-performance pump operates on 110V, ensuring lower energy consumption while delivering a satisfying hydrotherapy experience.
Lockable cover: Provides safety and security when the hot tub is not in use, preventing unauthorized access.
Waterfall feature: Enhances the visual appeal and adds a soothing element to your spa experience, creating a tranquil ambiance.
LED lights: The customizable LED lights offer seven different colors, allowing you to create the desired atmosphere and mood in your hot tub.
Weight and dimensions:
Overall Dimensions: 2′ 6" H x 6′ W x 6′ D
Interior Tub Dimensions: 2′ 6" D x 4′ x 6′ 2" W
Product Weight When Filled: 2300 lb.
Overall Product Weight: 490 lb.
Questions & Answers:
How is this a 3-person spa? The Home and Garden 3-person, 14-jet therapy spa has seating for up to 3 adults. The smaller, triangular shape allows this tub to be placed in the most secluded of spots with limited space and still provides all the luxury of a Home and Garden Spa.
What is the minimum temperature? The minimum programmable temperature is 80º F.
Does it have an insulated cover? Yes, it has an insulated cover.
Customer Reviews:
Anthony from Ocala, FL: "Water temp doesn't stay at temp."
Katherine from Sonora, CA: "I would appreciate if it worked when it was delivered. I had to wait another 1.5 months to get it repaired."
Annette from Enderby BC: "This item was great until we found out after our warranty was up we could not get parts shipped through Wayfair or from the company that produces/distributes it in the USA."
Linda from Crapaud, PE: "Just a terrific hot tub for 3 people. Fits into a small space easily. I really love the LED lights and especially the waterfall feature."
Janet from Saint John, NB: "Very relaxing and worth the wait!"
Overall, the Hudson Bay Spas 3-Person 14-Jet Acrylic Hot Tub is a highly recommended choice for those seeking a compact and efficient hot tub experience.
2. Hudson Bay Spas 4-Person 14-Jet Acrylic Rectangular Plug And Play Hot Tub Review
The Hudson Bay Spas 4-Person 14-Jet Acrylic Rectangular Plug And Play Hot Tub is a comfortable and convenient spa that can accommodate up to four people. It features a durable and slip-resistant acrylic surface, as well as neck, shoulder, and foot jets for a relaxing experience. With its plug-and-play functionality and low energy consumption, it offers user-friendly operation. This hot tub also comes with a warranty and is freeze-resistant, making it suitable for various climates.
Pros:
Suitable for up to four people, making it ideal for small gatherings or family use.
Features a waterfall, adding a soothing element to your spa experience.
Comes with a warranty, providing peace of mind and ensuring customer satisfaction.
Designed to be freeze-resistant, allowing you to enjoy the hot tub in colder climates.
Operates on 110 volts, making it easy to plug into a standard outlet without the need for additional electrical work.
Cons:
The cord length may be shorter than stated, which could limit the placement options.
Some jets are fixed and not adjustable, limiting customization options.
The included manual may not be specific to this model, causing confusion during setup and maintenance.
Verdict:
Overall, the Hudson Bay Spas 4-Person 14-Jet Acrylic Rectangular Plug And Play Hot Tub is a great choice for those in search of the best 4-person hot tub. It offers a comfortable and relaxing spa experience with its multiple jets and waterfall feature. The plug-and-play functionality and low energy consumption make it convenient and cost-effective to use. However, potential buyers should be aware of the shorter cord length and the possibility of non-specific manuals.
Key features and benefits:
Dedicated 110V/20Amp plug-and-play functionality ensures easy installation and operation.
Durable and slip-resistant Lucite® acrylic surface with multi-layer fiberglass reinforcement provides long-lasting quality.
High-density spray foam insulation ensures efficient heat retention, minimizing energy consumption.
Seven color underwater LED light enhances the ambiance and creates a soothing atmosphere.
The drain plug located below the cabinet allows for easy maintenance and water drainage.
Weight and dimensions:
Overall dimensions: 2′ 6" H x 5′ W x 5′ 10" D
Interior tub dimensions: 2′ 6" D x 4′ 2" W x 4′ 10" W
Power cord length: 10′
Product weight when filled: 2130 lb
Overall product weight: 500 lb
Minimum base dimensions: 60″ W x 70″ L
Customer Reviews:
"This is a great buy for the price. It's smaller, but great for me, my husband, and two kids to sit comfortably. The directions are located on the panel, and the whole side comes off for easy access to the mechanics. The tub has a small waterfall and a choice of colored lights. Very nice. Overall, we do love the hot tub and are happy with our purchase." – Teresa from Belvidere, NJ
"Took a long time to deliver due to the pandemic, but the hot tub fits perfectly. It was a little confusing to maintain the temperature at first, but once you figure it out, it's great!" – Kaitlin from Winthrop, MA
"Great item and just as described. We've been using it about four times a week for over two months now and are very happy with it." – Matthew from WHITTIER, CA
3.  Hudson Bay Spas 6 Person 29 Jet Plug And Play Hot Tub Review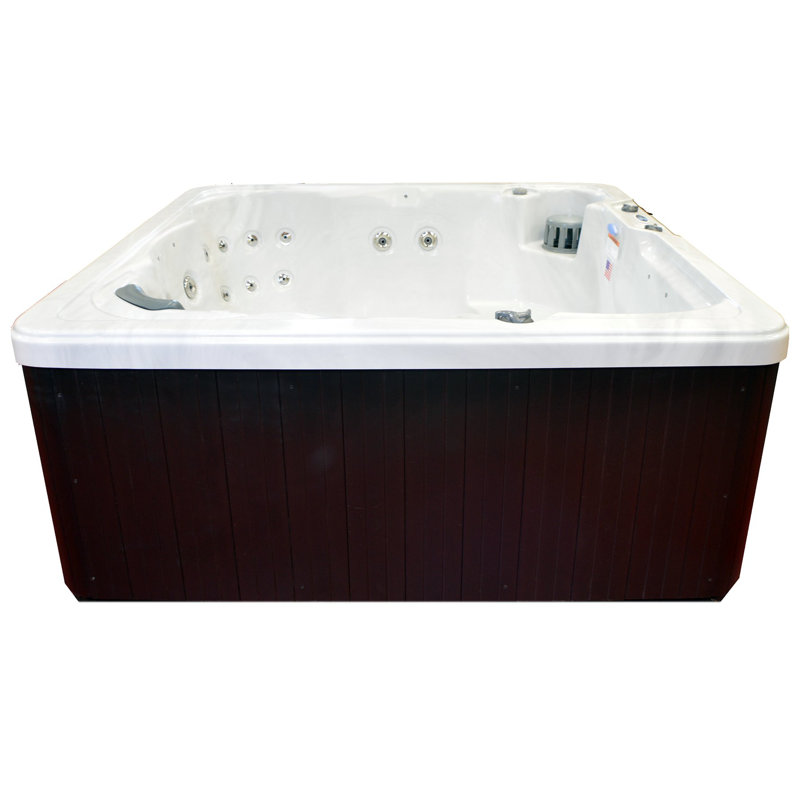 The Hudson Bay Spas 6-Person 29-Jet Acrylic Square Plug and Play Hot Tub is a top choice for those seeking the best 6-person hot tub for outdoor use. With its spacious design, multiple jets, and convenient plug-and-play feature, it offers a luxurious and relaxing spa experience.
Pros:
Spacious capacity for up to 6 people, making it ideal for gatherings and socializing.
Features a soothing waterfall for added ambiance and relaxation.
Comes with a warranty for peace of mind and customer satisfaction.
Freeze-resistant construction ensures the hot tub can withstand colder climates.
Can be converted from 110V to 220V, providing flexibility in power options.
Cons:
Some customers reported issues with the surface lights and control panel screws.
Initial heat-up time may take up to 48 hours depending on water and ambient temperature.
Does not come with an ozonator for enhanced water sanitation.
Verdict:
Overall, the Hudson Bay Spas 6-Person 29-Jet Acrylic Square Plug and Play Hot Tub is a top contender for the best 6 person hot tub and an excellent choice for outdoor use. It offers ample space, soothing features, and the convenience of plug-and-play installation. While there have been some minor concerns reported by customers, the overall satisfaction and enjoyment of this hot tub outweigh the drawbacks.
Key features and benefits:
Plug and Play: The plug-and-play feature allows for easy installation without the need for special electrical wiring, making it suitable for various outdoor settings.
29-Jet System: The hot tub is equipped with 29 adjustable jets, providing targeted hydrotherapy for relaxation and muscle relief.
Spacious Design: With a capacity for up to 6 people, this hot tub is perfect for entertaining guests or enjoying quality time with family and friends.
Freeze-Resistant Construction: The freeze-resistant design ensures durability and functionality even in colder climates, extending the usability of the hot tub.
Warranty Included: The hot tub comes with a 5-year product warranty, providing added protection and peace of mind for the buyer.
Weight and dimensions:
Overall: 2′ 10" H x 6′ 8" W x 6′ 8" D
Interior Tub: 2′ 10" D x 5′ 6" W x 5′ 6" W
Overall Product Weight: 650 lb.
Power Cord Length – End to End: 10′
Water Capacity: 310 gallons
Questions & Answers:
What is the voltage? The hot tub operates on 110 volts, allowing for easy compatibility with standard electrical outlets.
Does the hot tub come with an ozonator? No, the hot tub does not come with an ozonator. However, it can be added separately if desired for improved water sanitation.
Can the temperature be adjusted to make it more like pool temperature? The hot tub allows temperature adjustment up to a maximum of 104°F, providing a warm and relaxing experience.
Customer Reviews:
Colleen from Bethlehem, PA: "So far so good. We haven't had a chance to use it yet, but soon. Can't say enough good things about Wayfair. Go for it!"
Abby from Davidson, NC: "Very easy to set up and get going. The tub is great. The kids love getting in and splashing around, and it's great to relax in."
Dorothy from Hicksville, NY: "Already had a large repair cost on heating element. Followed instructions for water maintenance, but encountered issues."
Heather from TX: "Best purchase ever and perfect for staycations. I chose this one because it was deep and large. The jets are able to run without the heat, which was important to me."
Richard from PA: "Very pleased with the hot tub so far. Will review more once winter arrives and electrical bill arrives."
Read more: Hudson Bay Spas 6 Person 29 Jet Hot Tub Reviews: Read BEFORE Buying
Why Choose Hudson Bay Spas Hot Tub
When it comes to choosing a hot tub, you want something that combines luxury, performance, and convenience without breaking the bank. Look no further than Hudson Bay Spas. These exceptional hot tubs are engineered to provide the power and performance of a 220V spa, the convenience and reduced installation costs of a plug-in spa, and all the amenities you desire, all at an affordable price. Here's why you should choose Hudson Bay Spas for your relaxation and wellness needs:
Luxury On A Budget: Hudson Bay Spas were designed with budget-conscious consumers in mind who refuse to compromise on quality. With a Hudson Bay hot tub, you'll experience the lap of luxury without draining your wallet. These spas offer an abundance of luxuries, including stainless-steel jets, ensuring that every time you step into your Hudson Bay hot tub, you're treated to a truly wonderful and indulgent spa experience.
Performs like a 220 Volt Spa with the Convenience of a Plug-in Spa: One of the standout features of Hudson Bay Spas is their ability to perform like a 220V spa while operating on a standard 110V electrical outlet. This means you get the power and performance you would expect from a higher voltage spa, without the need for expensive electrical modifications. Hudson Bay Spas are all about convenience. They can be easily installed, allowing you to enjoy a relaxing soak on a weeknight, melt away the week's stress with a hot-swirling massage on a Friday, or have a great time with friends on the weekend. These hot tubs adapt to your needs and fit seamlessly into your life. And if you're concerned about affordability, Hudson Bay Spas have even made the list for top hot tubs under $5,000, making them an even more attractive option.
Technology & Features: Hudson Bay Spas are equipped with innovative technology and an array of features that enhance your spa experience. With Turbo Seat technology, you can enjoy the intense jet pressure of a 220V spa in at least two seats, setting a new standard for 110V hot tubs. Whether you choose a size that accommodates 2 or 6 people, you'll have the perfect amount of space for relaxation and enjoyment. The hot tubs also come with features such as anti-fungal tubing, standard foam insulation for improved energy efficiency, and HeatFlow™ Manifolds, a patented system that ensures optimal hot tub temperature. Plus, with numerous upgrade options available, you can customize your spa to suit your preferences and create your own oasis of comfort.
THE JETS: Hudson Bay Spas have redefined the concept of plug-in spas by incorporating comfortable seating and high jet counts found in full-sized acrylic spas typically only available in their 220V counterparts. The strategically engineered seating areas offer a variety of jets that deliver targeted hydrotherapy. Rotary jets create powerful streams of warm water that can be rotated to control the power, directional jets can be adjusted to target specific areas and control the intensity, fixed jets provide intense beams of warm hydrotherapy, and neck and shoulder jets located above the water line deliver invigorating massages without excessive splashing. With Hudson Bay Spas, you'll experience a wide range of hydrotherapeutic benefits tailored to your specific needs.
THE LIGHTS: Enhancing your hot tub experience, Hudson Bay Spas come equipped with beautiful lighting features. From multi-colored LED lights to back-lit waterfalls in smaller models and perimeter lighting in larger models, these spas create a captivating ambiance for relaxation and visual delight.
Hot Tubs Made in the USA: In addition to all the remarkable features and benefits, Hudson Bay Spas take pride in their American craftsmanship. Every spa is manufactured in the USA by trained technicians, ensuring the highest quality and durability. Knowing that your spa is built to last, you can relax and enjoy the countless hours of rejuvenation and tranquility that Hudson Bay Spas provide.
In conclusion, when choosing a hot tub, Hudson Bay Spas offer an unbeatable combination of luxury, performance, convenience, and affordability. With their 220V-like power and performance, easy plug-in installation, advanced technology, customizable features, and stunning design, these hot tubs create the ultimate haven for relaxation and well-being. So why settle for anything less? Choose Hudson Bay Spas and immerse yourself in a world of pure indulgence and rejuvenation.
Conclusion
With the reviews presented above, we can clearly see that Hudson Bay Spas is one of the hot tub brands that offer comfortable, convenient, and easy to operate tubs at an economical price. It is a brand that is created to touch all the areas of the body, providing maximum relaxation at home. These products can also help you save money on your electricity bills as they don't consume a lot of energy and more than anything else, it allows you to enjoy all the benefits that you should be getting from having an efficient and fully functional tub at home.
Personally, I prefer the Hudson Bay Spas with 14-Jet and Waterfall. I like the fact that it has a built-in waterfall and can fit three people inside. Moreover, this hot tub is also child-proof, which means babies are safe to join you in the tub!
Which Hudson bay Spas is your favorite? Let us know by leaving a comment down below! Thanks for reading!