I am the type of person who loves having people over. Whether it's game night or a garden party, I usually invite friends and family over to our house. Lately, I'm enjoying chill hangouts with a few close friends. That's why I am thinking of getting a jet spa that can fit up to 5 people.  After reading a bunch of Lifesmart Spas LS550 reviews, I felt that it is the tub for me.
The Lifesmart Spas LS550 is an energy-efficient jet spa that can fit 5 people. It has 45 adjustable jets strategically placed around the tub hitting the pressure points. Aside from that, it has an ozone water care system that maintains clean water in every dip.
Lifesmart LS550 5-Person 45-Jet Hot Tub: What's Great And What's To Hate
There are mixed reviews for Lifesmart LS550 reviews online. Although most reviews about the product have been positive, I did see some negative reviews related to the tub. See for yourself if these issues affect your home.
The Pros of This Lifesmart LS550
45 Adjustable Jets: This 230v jet spa has graphite jets carefully placed to ensure wrists, calves, and footpoints are covered.  With the help of the air control valve, 3.0 HP dual-speed pump, and digital control panel, the jets' strength can be customized to each person's liking.
Energy Efficient: According to the Lifesmart Spas LS550 reviews, one of the main features is energy efficient tubs. It has full foam insulation and a thermal locking cover that will keep the heat in your tub. That means less reheating when you are using your tub, especially if you're using it regularly. No need to dial down the temperature even when you're not using it.
Ozone Water System: On top of being energy efficient, it has an ozone water care system that makes sure water is safe and clean without using harsh chemicals.
Other Features: The Lifesmart Spas LS550 has fun features that make it a fun tub for intimate get-togethers or even for a party of two. The built-in seating makes for a comfortable spa experience for everyone dipping in. You also have multi-colored underwater led lights to set the party mood. Whether you're drinking booze or not, there are steady cup holders to keep the party going.
Cons of The Lifesmart Spas
Electrical Installation: This has been the common but minor problem I've read from the Lifesmart LS550 5-Person reviews. There had been problems where when the tub was hooked up, it tripped their breaker a couple of times. They even had to get an electrician to sort it out.
Size: Some users noted that it is a little smaller than what you'll expect for a 5-seater tub. The size can be adequate for 2 people over 6ft but can be a little snug for 5 large adults. The interior tub has the dimension of H -2′ 10" x W – 6′ 5" x L- 7′ 3"
The Lifesmart Spas LS550 reviews have been really positive across all sites. On top of the great features, those who bought it felt it was value for money.  Just remember to check the size and see if it's the tub size you are looking for.
Who's It For?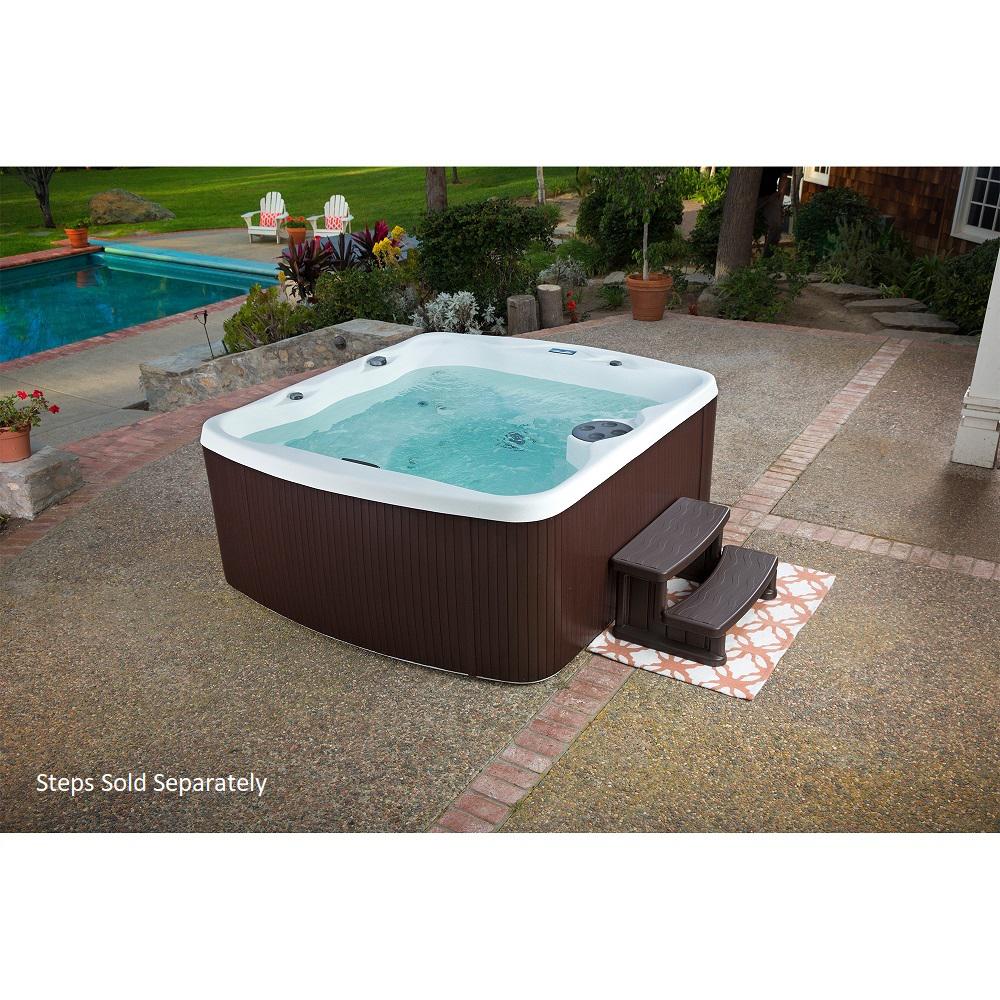 The Lifesmart Spas LS550 has amazing features and can be a great investment depending on your needs. This spa is great for the following:
A small family who want a private spa experience: A family of 5 with kids and 2 adults can fit in the tub for a special bonding time. With its energy-efficient features and party-ready add-ons, this is the tub the family will enjoy.
For someone who likes intimate parties: If you are the type who wants company but do not want a lot of people, then this is the tub for you. It doesn't take a lot of space but can fit several people at an affordable price tag.
What Are The Customers Saying About This?
The Lifesmart LS550 reviews have been mostly positive ranging from affordability, functionality, and practicality.  Look at what I found online about the Lifesmart LS550:
"I love the way the multi-color light changes colors at night. The jets are powerful. The hot tub heats up to 100 degrees in about 2 hours. I also like the way you can turn the jets up or down. You can also adjust the temp ranges from 80 degrees to 104 degrees. The electrician said the hot tub was easy to set up."
Some comments have been about the product's size and how long it took to heat up.
"So the actual tub took a long to time heat up – 24 hours to get it to 104 degrees. The water stays at this temperature even if the lid has been turned off for an hour. The jets are nice, just enough–a nicer tub would have more and that would be nicer, but you get what you pay for. The waterfall is useless but the kids loved it. The tub is smaller than I thought and awkward to sit in it with two other friends since your feet will be in contact."
So, Do You Recommend This?
I think this is one of the best saunas in the market today.  The price, size, and features fit what we are looking for. The energy-efficient features are also important to us since we want to relax without breaking the bank. Overall, this product is a worthy addition to your home.