Have you ever wondered why bathtubs area usually made from acrylic material?
Acrylic is actually the best material for bathtubs, toilets, and even sinks. Aside from its smooth and scratch-resistant surface, acrylic is also praised for its ability to retain heat for longer period and its affordability. Thus, if you want to enjoy a good warm bath, then acrylic bathtub is the perfect match.
But why Ove Decors?
Ove Decors Bathtubs is a brand that specializes acrylic bathtubs reinforced with fiberglass to make the tub even more durable. Their bathtubs are known to be of high-quality, seamless, and sturdy.
Ready to get your own best Ove Decors Tub?
Check out our reviews below:
7 Awesome Ove Decors Bathtubs Reviews 2021
1.  Ove Decors Terra Soaking Bathtub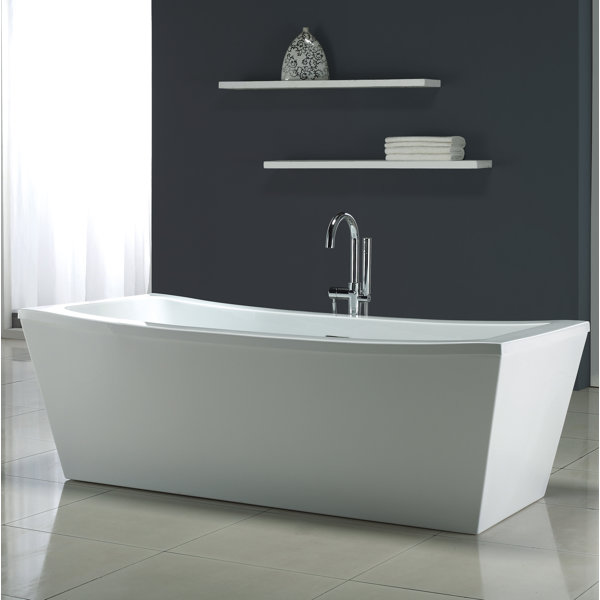 Modern, sleek design, and striking glossy finish— you'll get all of these and more from the Ove Decors Terra Tub.
This is a beautiful and sturdy bathtub that fits any bathroom interior. Owing to its thick bathtub walls, it is best installed is a spacious bathroom or one with a minimalist motif.
Best Features:
This is 100% acrylic but reinforced with fiberglass for better durability.
A soaking tub with 14.19 inches depth
Double slipper, so you can face either side
It's a freestanding tub.
Can hold up to 60 gallons of water
With 5 years of warranty program
2.  Ove Decors Rachel Slipper Bathtub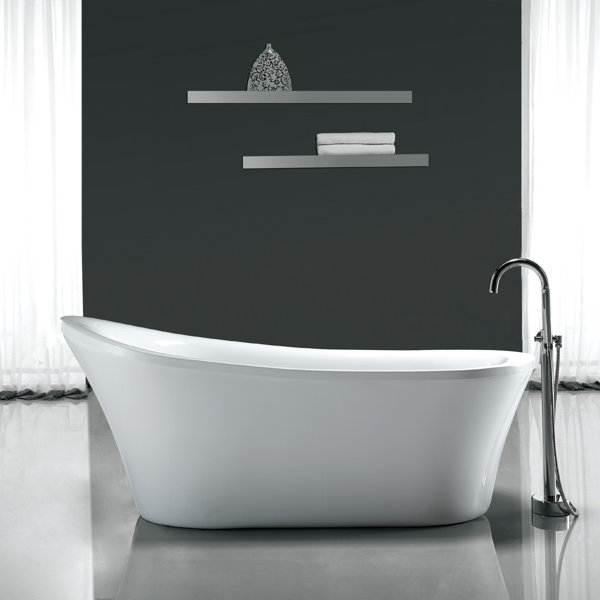 Rachel is Ove Decors' offering to those who have the eye for quirky and unconventional bathtub designs.
This is an asymmetrical tub that only makes the tub even more interesting and dramatic. If you want to take your bath in a comfortable lounging position, then Ove Decors Rachel Tub is a great pick.
Best Features:
Made from premium acrylic with fiberglass reinforcement
Doesn't fade nor stain easily
The slipper design offers a comfortable soaking position with one side slightly slanted following the natural shape of your back.
A soaking bathtub with 15.25 inches depth
It's a freestanding tub that is easy to install.
Holds up to 62 gallons of water
With 10 years warranty on defects
3.  Ove Decors Vita Soaking Bathtub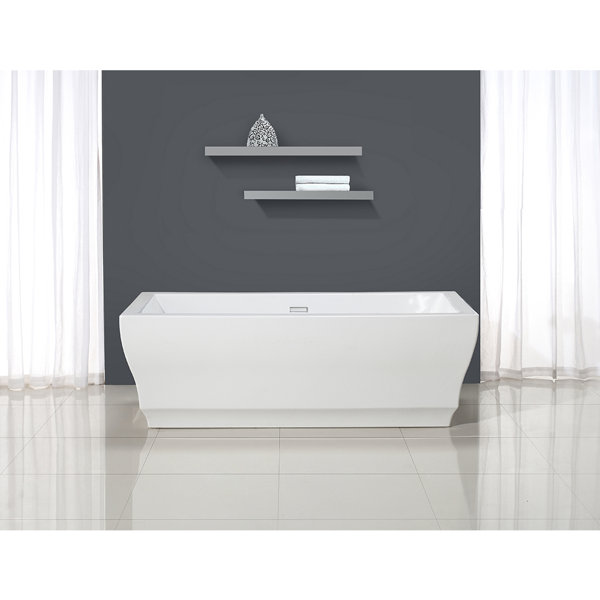 Vita s your ultimate acrylic bathtub if you're looking for a simple yet modern bathtub to add to your bathroom.
It has the classic rectangular shape with a lot of space for soaking. It has a good base that can support the tub, the water, and the user's weight altogether.
Best Features:
A durable acrylic bathtub reinforced with fiberglass
This has a slipper freestanding design.
A total of 71 gallons of water can be added to the tub
This is a self-leveling tub with a sloped backrest for a comfortable lounging position.
Has a 5-year warranty policy
4.  Ove Decors Serenity Soaking Bathtub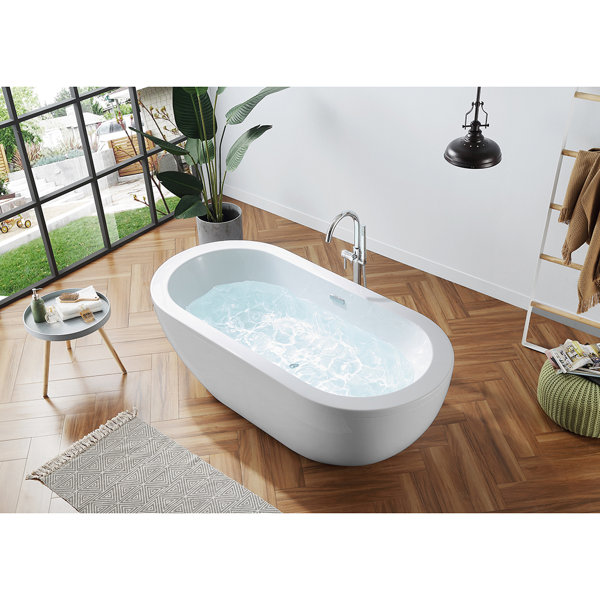 If you fancy an oval soaking bathtub, then Serenity is an excellent tub option. It has a perfect oval shape with smooth round edges.
Serenity has that modern, elegant style that would perfectly suit a woman's bathroom. If you want to add a touch of sassiness and elegance to your bathroom, then Ove Decors Serenity Tub is the right choice.
Best Features:
Scratch and stain-free acrylic material
Durable and very sturdy
This is a freestanding tub that can be easily installed.
Has an overflow drain
Depth is about 14.5 inches
An incredible 10-year warranty
5.  Ove Decors Marilyn Soaking Tub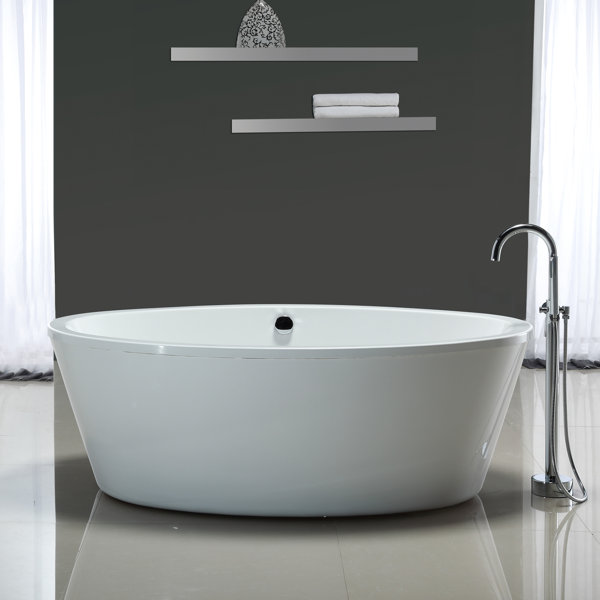 Perhaps you want to have a spacious yet luxurious bathtub experience? The Marilyn bathtub is a huge oval bath that can accommodate up to 2 users.
This is a double ended tub with overflow drain. This might take up a lot of space though but looks absolutely stunning if you have a bigger bathroom.
Best Features:
The acrylic material is reinforced with fiberglass.
It doesn't stain and fade easily.
Has a lot of room for 2 users
Depth is about 14.5 inches
Holds a total of 77 gallons of water
With 5 years warranty
6.  Ove Decors Houston Soaking Tub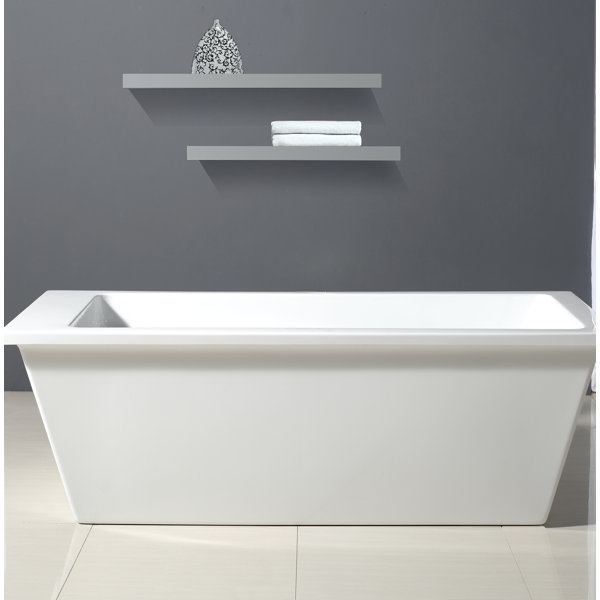 This bathtub is suitable for individuals seeking the best Ove Decors Bathtub. With a reversible drain placement and a freestanding design, Houston is a tub that can be installed in less than an hour.
Get this tub if you want a rectangular tub with a lot of space for armrests.
Best Features:
Has a very sturdy base with impressive manufacture quality
Made from 100% acrylic material reinforced with fiberglass
Has a soaking depthof 18.9 inches, thus giving you a refreshing and fulfilling bath
Holds 58.1 gallons of water but gives a good soaking bath
Offers a 5-year warranty program
7.  Ove Decors Brass Clawfoot Slipper Tub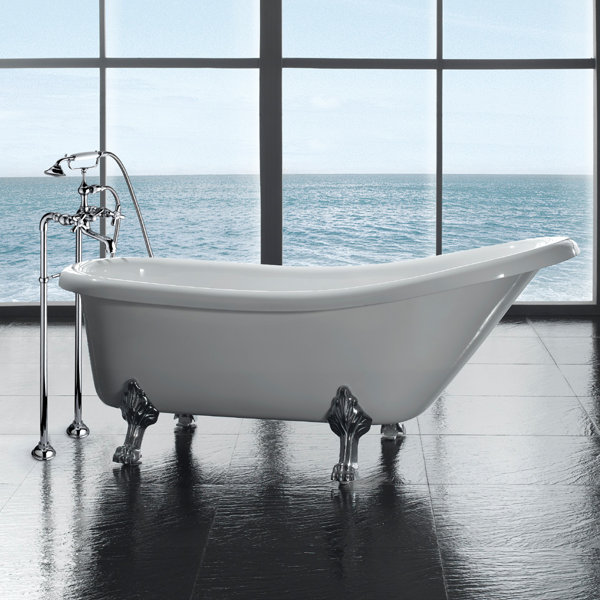 Slipper bathtub is ideal for people who love taking a short nap while in the bathtub. This clawfoot soaking tub has a lot of Ove Decors Bathtub Reviews online.
Well, it isn't at all surprising considering all the good features it offers. It has a white glossy finish with a classic faucet and eye-catching brass claw feet.
Best Features:
Looks stunning with a modern vibe
Constructed using 100% acrylic material
Both the legs and faucet are plated with chrome
Durable yet stylish
Has a soaking depth of 17.7 inches
The oval shape provides a sloped backrest for a comfortable lounging position.
Holds 60 gallons of water
Offers 10 years of product warranty
Conclusion
There are tons of bathtub brands out there but not all offer quality products. Ove Decors has been receiving a lot of praises and good feedback from users because they are able to fulfill their promises of quality, affordability, and top-notch service.
Our favorite among the tubs on the list is the Ove Decors Rachel Slipper Bathtub. It's beautiful, durable, and would look great in any bathroom.
If you are looking for the best bathtub brand specializing 100% acrylic material, then Ove Decors is a fantastic brand to consider.
<strong>Read more:</strong>