A bathroom sink is one of the most frequently used fixtures at home. Thus, it is imperative to employ careful thought over your decision in choosing one. More than the aesthetic appearance, the practicality, and functionality of this fixture should be your leading criteria.
No matter your preference, we'll try to help you come up with the most informed decision. In this article, the features and qualities of the market's best bathroom sinks will be discussed to hopefully influence your choice.
Product Reviews of the Best Bathroom Sinks
The vessel bathroom sink takes on the form of a basin or a vessel- thus the name. It is among the most favored contemporary styles and can come in the form of glass, stone, crystal, or marble.
1.  Kohler Vox Vessel Bathroom Sink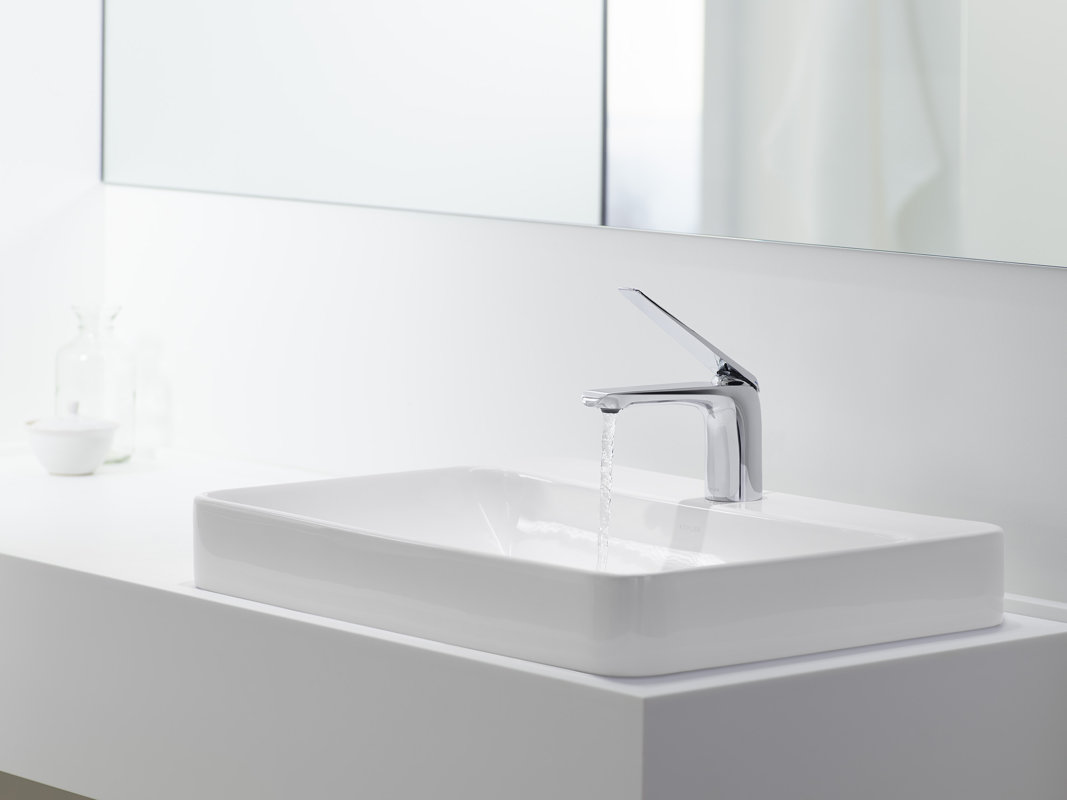 This rectangular vessel style sink from Kohler is best for minimalists. The basin is wide and deep with round edges and is made of Vitreous China and Fireclay materials. It also is installed with an overflow to prevent water from overflowing in the sink.
Highlighted features:
It comes in sleek and contemporary styling perfect for a minimalist bathroom.
The sink stands out as it can sit 3.25" above the countertop.
Vitreous China and Fireclay materials give it a polished and clean look.
This is installed with an overflow to allow easier drainage.
Additional P-trap feature keeps home safe from sewer gases and prevents clogging in the plumbing system.
2.  Kraus Ceramic Vessel Bathroom Sink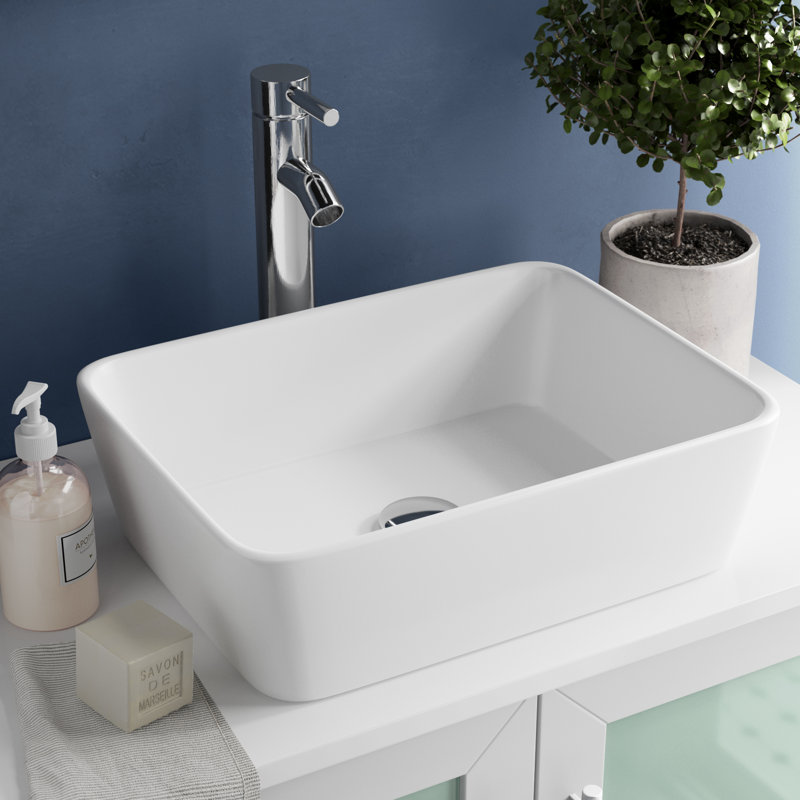 Kraus' Ceramic Vessel Bathroom Sink is of classic versatile style that suits any traditional or modern-styled bathroom. It has a non-porous surface made more durable with baked-on glaze and high-gloss finish.
Highlighted features:
It is a rectangular vessel bathroom sink made of non-porous ceramic brass material.
The sink requires minimal maintenance and mounts above the counter.
The product is fire, scratch, stain, rust, mildew, and fade-resistant.
Suited to any modern or traditional bathroom style
It comes with a lifetime product warranty.
3.  Elite Ceramic Vessel Bathroom Sink

Included in our list of the best bathroom sinks is Elite's Ceramic Vessel Bathroom Sink. It brags a rectangular-shaped sink with rounded corners. It is able to sit on your countertop or be mounted against the wall.
Highlighted features:
It is made of high-temperature Grade A Ceramic material.
Product harnessed new technological features to smoothen cuts and minimize defects in the material's final mold.
Sink can be mounted on your bathroom wall or be sited on your countertop.
It can be used indoors or outdoors with an unfinished back to allow installation.
Elite Sink is faucet, p-trap, drain assembly, and shut-off valve ready.
4.  Fine Fixtures Modern Vessel Bathroom Sink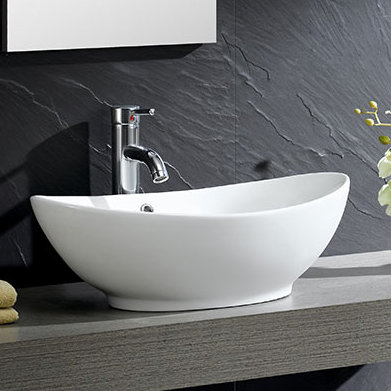 The first oval-shaped vessel bathroom sink on this list comes from Fine Fixtures. The sink is of elegant, durable and stain-resistant make constructed from Vitreous China material. The product is sure to provide a fresh modern look to your bathroom with its sleek and rounded appearance.
Highlighted features:
It is made of durable and stain-resistant Vitreous China material.
The product's extra smooth finish makes it easier to maintain.
This is designed to be installed on countertops.
Installed with an overflow, which is key to preventing water overflow.
Product comes with a 30-day risk-free product refund.
Bathroom sink reviews will be incomplete without mentioning undermount bathroom sinks. This type allows the seamless integration of the countertop and sink from beneath the counter. Undermount bathroom sinks can well provide your needs though they are a bit more expensive.
5.  Native Trails Inc. Nipomo Stone Undermount Bathroom Sink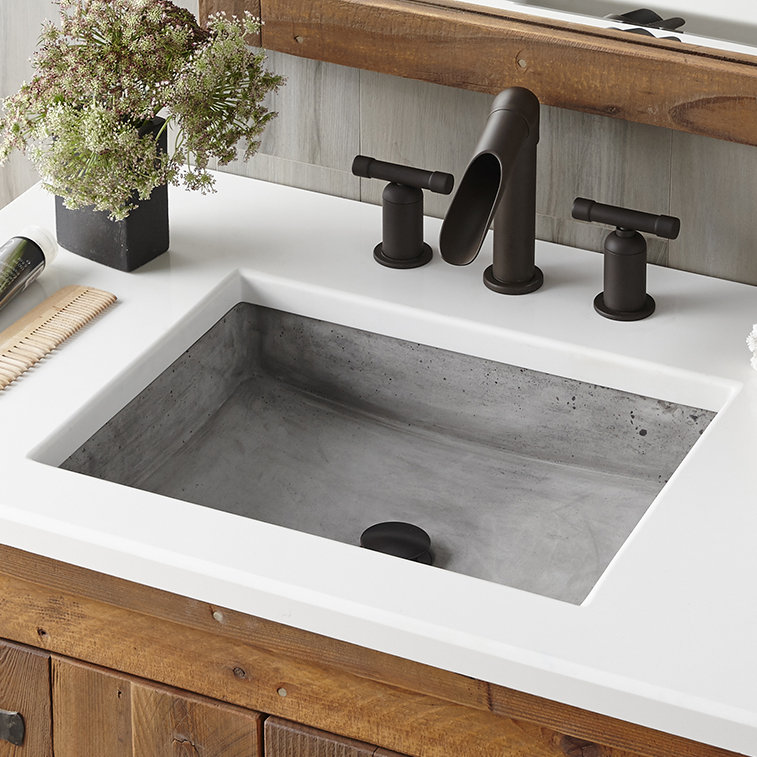 It is not surprising to find a heavy-duty bathroom sink like this one from Native Trails Inc. in the top list. It combines jute fiber and cement materials. Thus, the product gives extraordinary durability and functionality to your bathroom sink.
Highlighted features:
It can be installed as an undermount, vessel, or apron front.
This is heavy-duty but lightweight for your concrete.
The product is made of Nipomo stone that's stronger than traditional concrete.
Native Trails Inc. Sink is guaranteed to be scratch, stain, rust, and fade-resistant.
Product care procedures are simple to follow.
6.  Soleil Glazed Vitreous China Undermount Bathroom Sink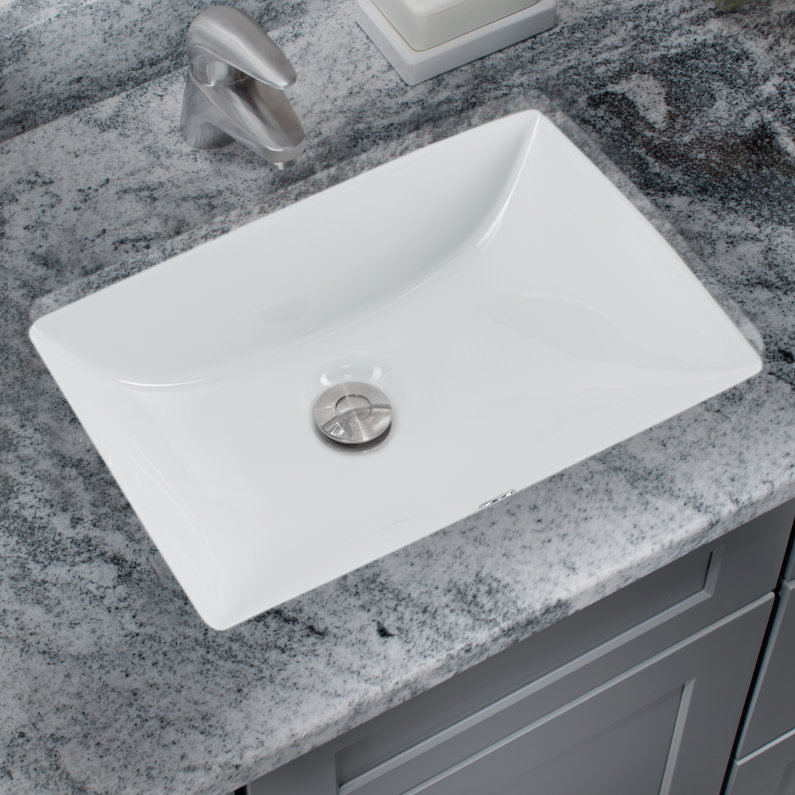 This product combines elegance and affordability which are integral criteria in picking the ideal bathroom sink. It is constructed out of durable porcelain and has a timeless design.
Highlighted features:
Vitreous China material gives it a chip-resistant surface.
Timeless design can complement both modern and traditionally-designed bathroom.
It is able to prevent water from spilling with its front-overflow.
This has a quick-draining feature.
The product is easy to maintain using gentle cleansers (e.g. water, mild soap)
7.  104 Augusta Decorative Ceramic Undermount Bathroom Sink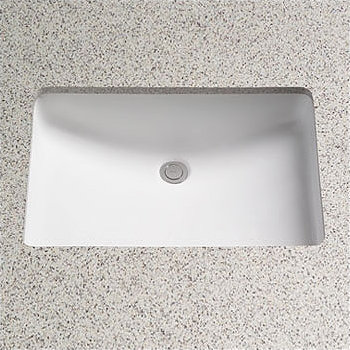 This furniture gives a seamless transition from bathroom mirrors to bathroom sinks. It is created in simplicity but with a large backsplash.
Highlighted features:
Rimless rectangular design retains its simplicity.
It is ideal for narrow countertops.
SanaGloss glazing keeps the lavatory clean and easy to maintain.
Product is installed with a front overflow.
Purchase comes with installation template, sealing compound, and mounting screw.
Best Pedestal Bathroom Sink
Pedestal bathroom sink is a floor-mounted sink that appears like a pedestal. It is one of the most versatile options that come in many different shapes and sizes.
8.  Fine Fixtures Vitreous China Pedestal Bathroom Sink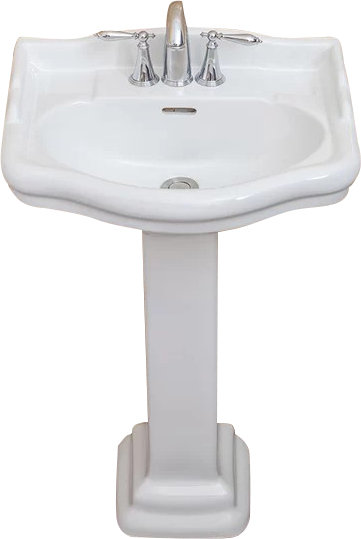 Another great product from Fine Fixtures is this oval-shaped pedestal bathroom sink made of Vitreous China material. It has a center overflow and is ADA compliant.
Highlighted features:
It is made of the durable and easy to maintain Vitreous China material.
Water drains more quickly with its efficient overflow system.
It has three faucet holes.
Sink is residentially and commercially certified.
The product comes with a one-year product warranty.
9.  Kohler Memoirs Ceramic Pedestal Bathroom Sink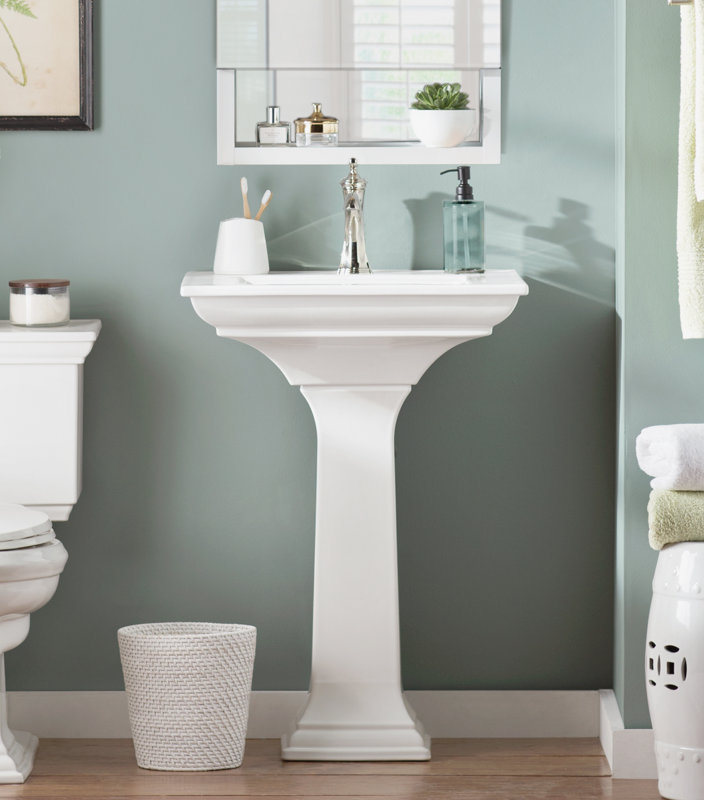 Kohler's Pedestal Bathroom Sink is a fine representation of a stately-designed sink with a durable make. It is sure to last longer than most as it is made from Fireclay Ceramic material.
Highlighted features:
Fireclay ceramic material makes it last longer.
It has an elegant architectural styling.
Is able to accommodate soap dispenser.
Center overflow allows for easy and fast drainage.
It comes with a one-year product warranty.
Best Wall Mount Bathroom Sink
Wall-mount sinks are best to consider if you have a small bathroom. They are commonly found in powder rooms or any bathroom space with limited storage.
10.  Duravit D-Code Ceramic Wall Mount Bathroom Sink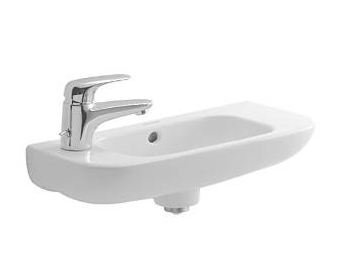 This easy to install bathroom sink from Duravit is ideal for home use with less space. It comes with a tap-platform on the side and has a center overflow for easy drainage.
Highlighted features:
Stylishly designed and is perfectly fitted for small bathroom space.
This sink is easy to install with bathroom sink faucets.
Made of durable ceramic material perfect for daily use.
It comes with tap platform and overflow.
Product comes with mounting hardware.
11.  Scarabeo by Nameeks Teorema Ceramic Wall Mount Bathroom Sink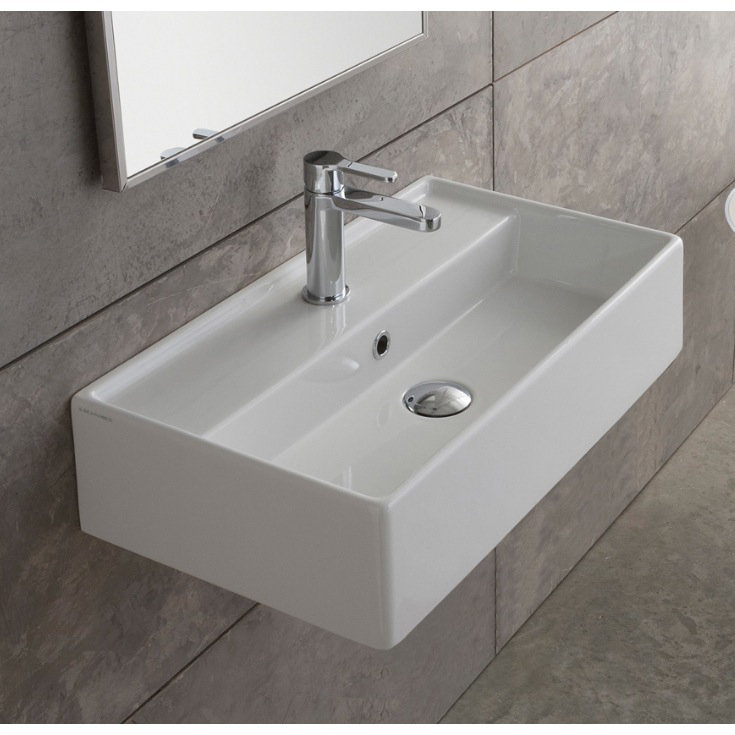 This wall mount bathroom sink can last you a lifetime with proper installation and handling. It is perfect for a small bathroom that can be constructed with bathroom sink cabinets.
Highlighted features:
This is specially designed for long-term small bathroom use.
It has a center overflow feature.
You can guarantee that this is resistant to scratch, stain, rust, mildew, and fade.
Purchase includes a mounting bracket.
Product warranty is up to a year after purchase.
Best Console Bathroom Sink 
A console bathroom sink is one with an unenclosed design ideal for enhancing bathroom space. Both contemporary and traditional styles are now available.
12.  American Standard Retrospect Ceramic Console Bathroom Sink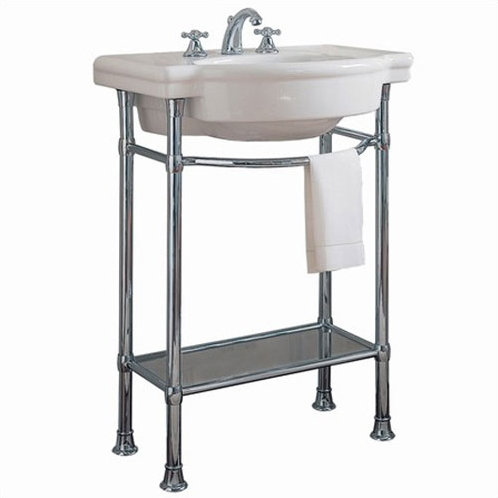 American Standard's console bathroom sink is a great choice if you are ready to splurge out some cash. It's made of durable fireclay and designed ergonomically to complement your bathroom style.
Highlighted features:
This pedestal sink comes with front and side towel bars.
Both table and sink can be installed to a bathroom wall.
Its washerless cartridges ensure a smooth and drip-free performance.
This is made of the highly-durable Fine Fireclay Ceramic.
It comes with a limited lifetime warranty.
Frequently Asked Questions About Bathroom Sinks
This dedicated FAQ section intends to shed light to your concerns in investing in a bathroom sink. Read on!
1.  What are the most important considerations in choosing a bathroom sink?
There is no easy way to pick out any piece of the household feature. While your style matters, considering ideas of space and need should first be considered.
Space
Your bathroom sink should perfectly fit your available bathroom space. You have to make sure it's not too huge that it restricts your access to the area. It shouldn't be too small either that it fails to function as it is intended to.
Storage
Bathroom necessities such as toilet papers and towels need to have their own spaces in bathroom vanities. Be sure to have ample storage space if these are some things you want to accommodate. Experts recommend that an additional 20% of space should be dedicated when constructing one.
Design
There are several ways to style your bathroom sink, and you can pretty much explore according to taste. You have the right to configure and design its colors, handles, finishes, and other features.
Materials
The materials used in your bathroom sink defines the bathroom climate and the cleaning time you have to spend on it. Brass, copper, chrome, and stainless steel, for instance, have their own advantages and disadvantages. Choose materials based on what you want to achieve in your bathroom sink.
Users
One of the most important things your designer should know upon creating your sink is who the users will be. For instance, children may find it challenging to use a 5 ft. tall bathroom sink. Plan for the appropriate height of your bathroom sink based on who will use it.
2.  What is the best way to clean my bathroom sink?
Non-abrasive cleaners such as water and soap are considered the best cleaning materials for your bathroom sink. Lemon oil can also help make the job easier. Harsh chemicals should be kept out of the options.
3.  Should I have the sink installed with the faucet?
It is generally recommended that both faucet and sink be installed at the same time. This is to make sure all necessary alterations can be made before installing any other component.
4.  There are black marks showing up on my bathroom sink. How do I get rid of them?
Black marks may show up when certain types of bathroom sinks are rubbed against aluminum. To rid your sink off of them, simply use non-abrasive cleaners or plastic scouring pads. These methods are safer options and are effective in removing the marks.
5.  Is porcelain best for customizing bathroom sink?
Porcelain gives you the freedom to the pattern or paints your bathroom sink the way you want it. This is indeed a great option when customizing your bathroom sink. Yet, you may also opt for glass bathroom sinks for an ultra-modern look. Both, however, give your bathroom sink the elegance and contemporary styling you've been seeking.
Conclusion
A bathroom sink is an investment to make just like any other household fixture. For purchasers, this entails a careful examination of the options you have.
This article presents 12 of the best bathroom sinks available on the market. Among them, our personal choice is the Kohler Memoirs Ceramic Pedestal Bathroom Sink. This sink boasts durability, elegance, and affordability rolled into one. The one-year product warranty is also a relief for those who will purchase it for the first time.
Have you found our guideline helpful? If you have, kindly like, share, or comment on this post to also help others still struggling for a purchase.