Kingstone Brass is a brand with a huge selection of bathtubs and bathroom accessories. From 100% acrylic tubs to clawfoot bathtub, Kingston is a trusted name in the bathtub manufacturing industry.
Want to know the best Kingston Brass tubs at the moment? Check them out below!
11 Top-Rated Kingston Brass Bathtubs
1.  Kingston Brass Eden 60" x 35" Alcove Soaking Acrylic Bathtub
Sleek, stylish, and versatile, the Eden Alcove Soaking bathtub can be a great addition to any bathroom. This soaking bathtub comes in a rectangular shape and is made with acrylic material. This material is not only durable but also good- looking and easy to repair. Besides, the white finish will suit your bathroom décor.
It has a soaking depth of 14 inches and can hold water up to 57 gallons. This makes it an ideal tub for soaking after a long, stressful day or for relaxing with your family or friends.
The bathtub comes with a left or right-hand drain, making it easy for different people to use the bathtub within a short time. Besides, this makes it possible to use it in any bathroom configuration.
With this bathtub in your bathroom, you won't need any tile coping. This is because it comes included with an apron in the front.
Highlighted Features:
Dimension: 60" L x 35" W x 21.63" H
Capacity: 57 gallons
Soaking depth: 14"
Weight: 63.94 lb
Bath type: Soaking
Material: Acrylic
Finish: White
Tub shape: Rectangular
Included: Apron, left or right-hand drain hole
2.  Kingston Brass White Brushed Nickel Aqua Eden 60" x 30" Soaking Cast Iron Bathtub
If a traditional bathtub is not your cup of tea, then a clawfoot tub may be worth considering. This type of bathtub can make a statement in your bathroom and create a cozy ambiance. Like other clawfoot bathtubs, this bathtub is highly flexible and you can install it anywhere you want.
The bathtub comes with a higher back on one side to offer you extra support for your back. It is equipped with an offset drain placement and integrated adjusters in the feet that come in handy when you want to place the bathtub on an uneven floor.
This bathtub is highly durable since it is constructed with cast iron. Although this material is highly durable, it can be a bit heavy compared to other bathtub materials. Therefore, you need to be careful with your floor. It also features a hand-smoothed painted white exterior that gives it a sleek and stylish look.
The drain placement for this bathtub is reversible. It also comes with faucet holes and beautifully crafted clawfoot tub feet.
Highlighted Features:
Dimension: 60.25" L x 30.31" W x 29. 625" H
Soaking depth: 16.56"
Basin area bottom: 19.13"
Capacity: 40 gallons
Weight: 354.2 gallons
Interior tub slop angles: 64-77 degrees
Bath type: Soaking
Material: Cast iron
Tub shape: Oval
Tub design: Slipper
Drain placement: Reversible
Installation type: Clawfoot
Included: Claw Feet, faucet holes,
3.  Kingston Brass White/Polished Chrome Aqua Eden Clawfoot Soaking Cast Iron Bathtub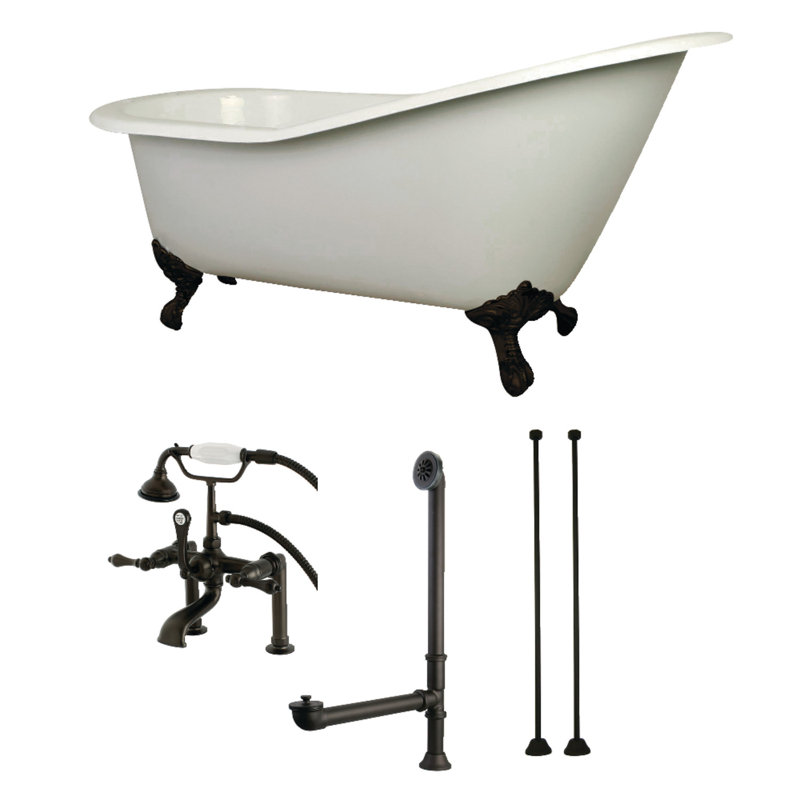 This is yet another clawfoot bathtub from Kingston on our list. This bathtub may be an ideal choice if you are looking for a freestanding bathtub with a generous capacity. Its basin area measures 16.88 inches and has a soaking depth of about 14 inches. This bathtub can accommodate up to 40 gallons, which is adequate to give you a relaxing bath.
It is built with an overflow hole to help reduce spillage and you won't have to worry about spills on your floor that could cause accidents. There is also a reversible drain placement, a valve, and three handles. This unit comes with feet that are fitted with built-in adjusters, making it easy to use the tub on uneven floors.
As for the construction, you can be assured that this bathtub will last for years thanks to its cast iron construction. The exterior features a white finish that is elegantly handcrafted.
Highlighted Features:
Dimension: 61.56" L x 30.5" W x 27.69" L
Material: Cast iron
Capacity: 40 gallon
Weight: 292 lb
Soaking depth: 14"
Bath type: Soaking
Design: Slipper
Shape: Oval
Drain placement: Reversible
Included: Overflow hole, 3 handles, faucet, feet, valve
4.  Kingston Brass Aqua Eden Freestanding Soaking Acrylic Bathtub
Measuring 70" long, this bathtub will ensure that you enjoy a comfortable and relaxing bath even if you are tall. Because of its length, it can accommodate people of different heights. Featuring an acrylic construction and oval shape, this tub is made from durable acrylic and a high gloss white finish.
It has a contemporary yet minimalist design that will undoubtedly make it the focal point in your bathroom. It has a capacity of 52.1 gallons and can allow you to soak up to 16.56 inches. The tub is also lightweight and easy to move from one place to another since it only measures 97.02 lb.
Highlighted Features:
Dimension: 70.06" L x 33.44" W x 31.88" H
Weight: 97.02 lb
Capacity: 52.1 gallons
Soaking depth: 16.56"
Material: Acrylic
Finish: White
Included: overflow drain, drain assembly
5.  Kingston Brass Aqua Eden 13-Inches Soaking Bathtub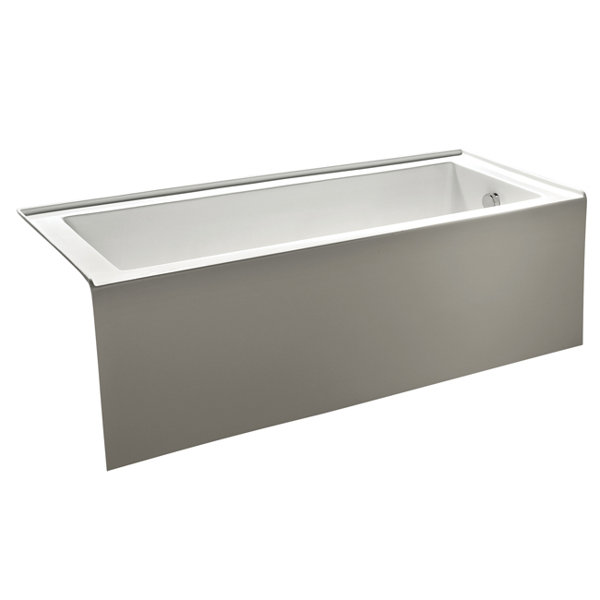 Straightforward yet bold is what this soaking tub is all about. It has the classic rectangular shape with an alcove installation. This measures 60-inches by 31-inches, so there are a lot of space for you to get comfortable while having a relaxing soak.
Highlighted Features:
Made from solid acrylic material that makes it stain resistant and scratch resistant
Reinforced with fiberglass and resin material to make the tub even more durable
Simple yet pleasing to the eye; the simple design will surely complement any bathrooms
Water depth is 13-inches, which is a standard soaking depth for a tub
Perfect for residential use in studio apartments and other houses with smaller spaces
Include 1-year residential product warranty
6.  Kingston Brass Aqua Eden 14-Inches Freestanding Soaking Bathtub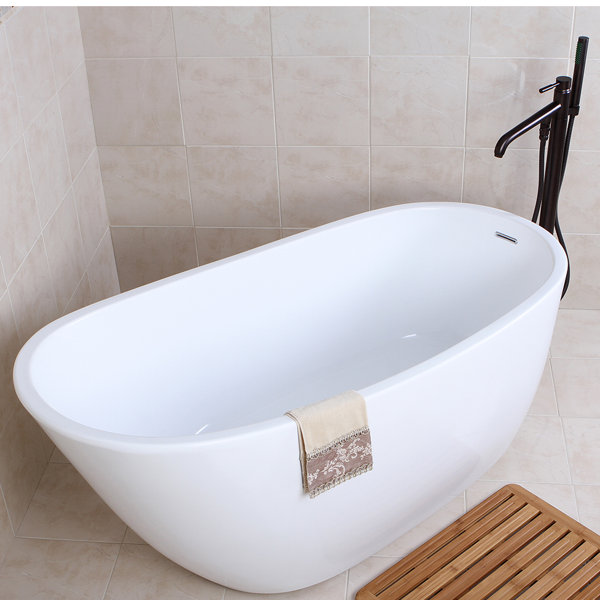 An ergonomic soaking bathtub that will make your bathtub soak even more gratifying. This acrylic tub is one of the best Kingston brass tubs because of its tub shape.
This tub is a single slipper tub that follows the natural curve or shape of your back. Thus, you will feel even more relaxed as you lay on the bathtub.
Highlighted Features:
Constructed from premium from 3 to 5 mm of acrylic
Comes with a tub drain, plus an overflow
Holds up to 52.4gallons of water
Intended for residential use only
Has a very nice shape with smooth edges
7.  Kingston Brass Aqua Eden 16-Inches Soaking Bathtub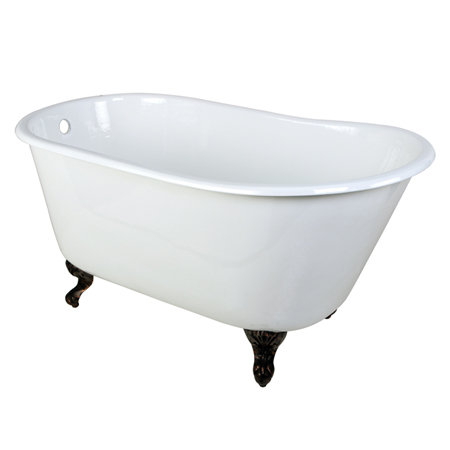 Another magnificent freestanding tub on the list is this 16-inches soaking tub. This is also a single slipper bathtub. What makes this tub different from the others is its materials. Unlike most tubs made from 100% acrylic, this one is a combination of cast iron and porcelain.
Highlighted Features:
With white porcelain enameled-interior
Comes with a beautiful eagle claw and ball tub feet set
The tub feet can be adjusted when the floor is uneven.
Holds as much as 45 gallons of water
You will enjoy a full soak bath with its 16-inches depth.
8.  Aqua Eden 15-Inches Freestanding Soaking Tub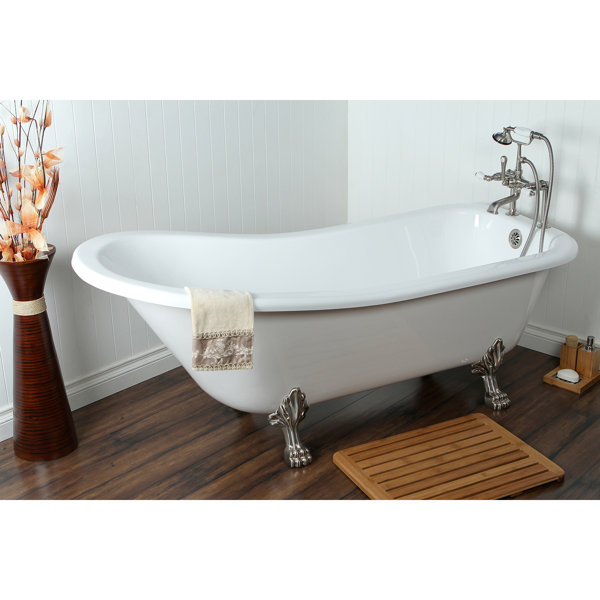 If you fancy that cast iron and acrylic combined look in a tub, then you should definitely check out this stunning oval shaped soaking bathtub. This has a dimension of 67-inches by 28-inches and is 15-inches deep.
This only holds 47.6 gallons of water, but the water is enough so that you can enjoy a great soaking experience, thanks to its elongated and slim body.
Highlighted Features:
Superb plumbing fixtures that will not only add life to your bathroom but also add more years to the tub's lifespan
Drain placement is reversible, making this easy to install
The single slipper design provides a comfortable slope where you can rest your back as you enjoy a good bath in the tub.
Tub feet are powder coated for added durability and sturdiness
9.  Aqua Eden 15-Inches Freestanding Soaking Bathtub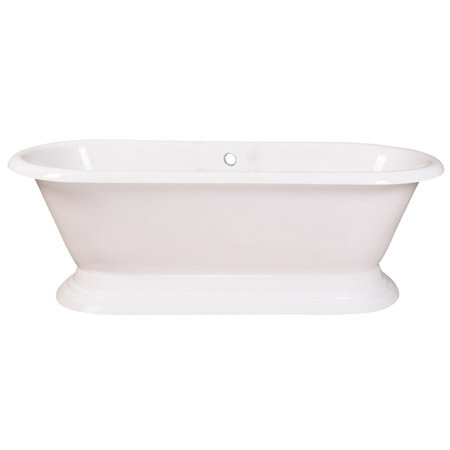 Kingston Brass proudly offers this hand-smoothed soaking bathtub that has smooth edges and seamless design. The bathtub is constructed with cast iron material.
This soaking tub holds approximately 72 gallons of water so that your whole body is all covered by the water. On top of that, the oval shape is an eye candy and allows your body to settle comfortably in the tub.
Please note that this tub is quite heavy, so an extra hand is needed to carry it.
Highlighted Features:
The cast iron materials are highly durable.
Already pre-drilled, so installing the tub is a lot easier
Perfect for residential use
Offers 1-year product warranty
Includes an overflow drain
10.  Aqua Eden Marianne 15-Inches Soaking Bathtub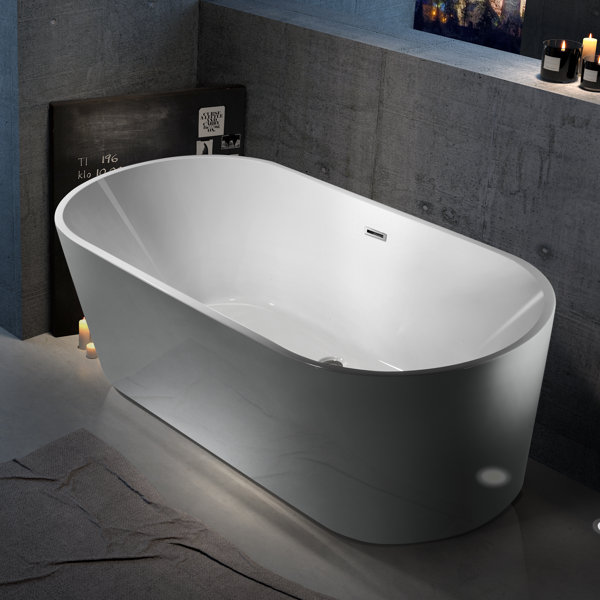 The idea of soaking is to submerge your body into the water as you take your time to unwind and destress. Marianne is a name given to this bathtub model as it is immaculately beautiful and incredible. In terms of depth, this tub boasts 15-inches depth, which allows the bather to enjoy a full soak.
The oval shape is also really convenient, letting you stretch your body a bit as you take a refreshing bath and invigorating soak in this tub.
Highlighted Features:
A beautiful freestanding tub that can instantly revamp the look of your bathroom
Easy to install and can be placed anywhere in the bathroom
A combination of traditional look and contemporary settings and features, Marianne is one of the best-selling tubs from the brand, earning its title as one of the best Kingston Brass bathtubs in the market.
Includes 1-year product warranty
Strong and durable
11.  Aqua Eden 14-Inches- Soaking Tub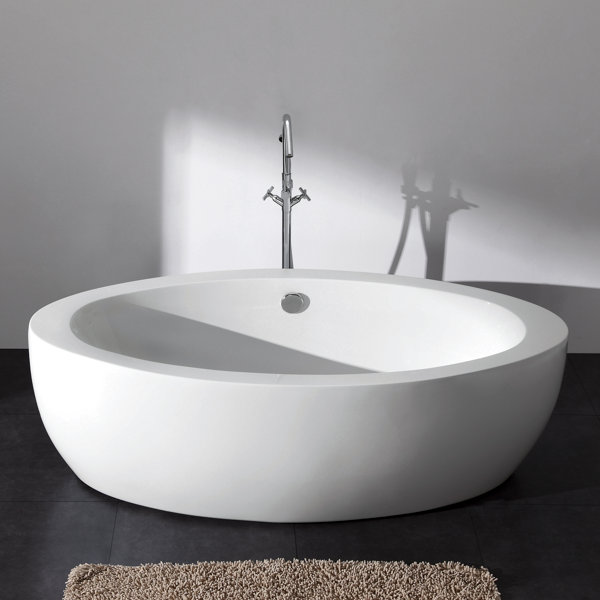 A luxurious and spaces bathtub from Kingston has won the hearts of many families. This huge soaking tub has been constant in many Kingston Brass bathtub reviews.
Why?
This is a pristine-looking tub with white gloss finish. In addition, the interior design is just amazing and all parts and fixtures are well-made and well-constructed. Lastly, this has enough space to fit 2 people inside.
Highlighted Features:
The acrylic construction is durable and very sturdy.
Water capacity is up to 58.2 gallons of water
Ideal for residential use but can also be used in small commercial studios and apartments
Has 1-year limited product warranty
IAPMO and UPC certified
The Best-Value Bathtub!
All 7 bathtubs mentioned are incredible. Although they have their own pros and cons, we still think that Kingston Brass is pretty much a great brand to start your bathtub shopping.
Among the 7 choices, we recommend the Kingston Brass Aqua Eden 16-Inches Soaking Bathtub. It is 16-inches deep, which means your body will be fully covered as you spend time in the tub. Also, we love that it deviates from the conventional acrylic tubs with its cast iron and porcelain material combinations. Lastly, design-wise, this tub is a single slipper that lets you rest your back comfortably while soaking.