Most pool owners only realize the need for pool heaters during colder months. If you want to make the most out of your swimming pool, a pool heater is the only way to make it work.
In contrast, choosing the best pool heater can be confusing for most people. It's a huge investment and it can be hard to figure out which one is right.
That's why we reviewed three of the best pool heaters. We want to help you so so you won't have to scour the internet for comparisons.
Why Rapak Pool Heater
Among the best brands available in the market is the Raypak Pool Heater. Indeed, Raypak is known when it comes to reputation, quality, and price. From heating devices to pumps and gas pool heaters, the brand truly knows what its users love and need.
Furthermore, Raypak offers a variety of pool products. However, they are most known for their efficient pool heaters.  Whether you are looking for an above-ground or in-ground heater, you will never run out of options.
If you want to avail the best among the best of this brand, keep reading for our Raypak pool heater reviews below:
3 Best Raypak Pool Heater Reviews
1. Raypak PR156AEPC 150000 BTU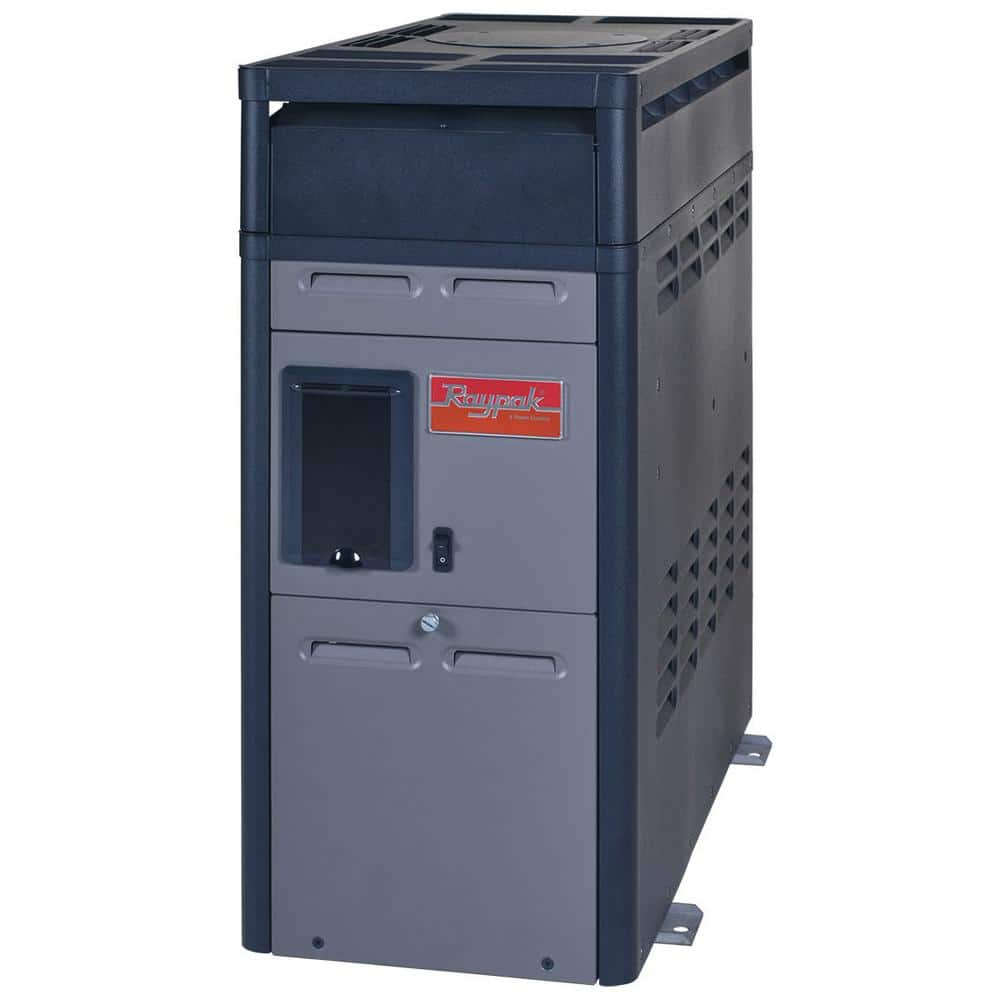 Raising the pool temperature to enjoy a longer time on the pool is possible with this unit. It is an electric ignition heater with 150000 BTU, which is the most convenient for home use. With its BTU capacity, it can accommodate up to 450 sq. Feet area with approximately 13,000 gallons of water.
What's great about this is that the temperature can be tweaked easily. It can even work efficiently in larger pools.
Whether it's an in-ground pool or an above-ground pool, this heater can maintain your pool's heat. It isn't affected either by environmental factors. No need to worry about the weather and sudden temperature changes.
Besides that, most ohana spas reviews recommend this product as a spa heater. If you know anyone at a spa looking for a good heater, we highly recommended this one. It has a fin-tube temperature exchange for powerful performance and is equipped with a digital interface.
This unit is truly a great choice if you are looking for an affordable pool heater for home use. It is perfect for both indoor and outdoor pools.
Highlighted Features:
Electric Ignition
150000 BTU
Up to 450 sq. Feet
Digital Interface
Lightweight
Spa compatibility
Energy-smart system
The Pros:
Electric ignition guarantees easy operation
Great for an indoor or outdoor pool
Energy-efficient
Frequent weather and temperature changes are not a problem
The Cons:
Installation can be a problem
Not good for huge pools
2. Raypak PR406AENC49 399000 BTU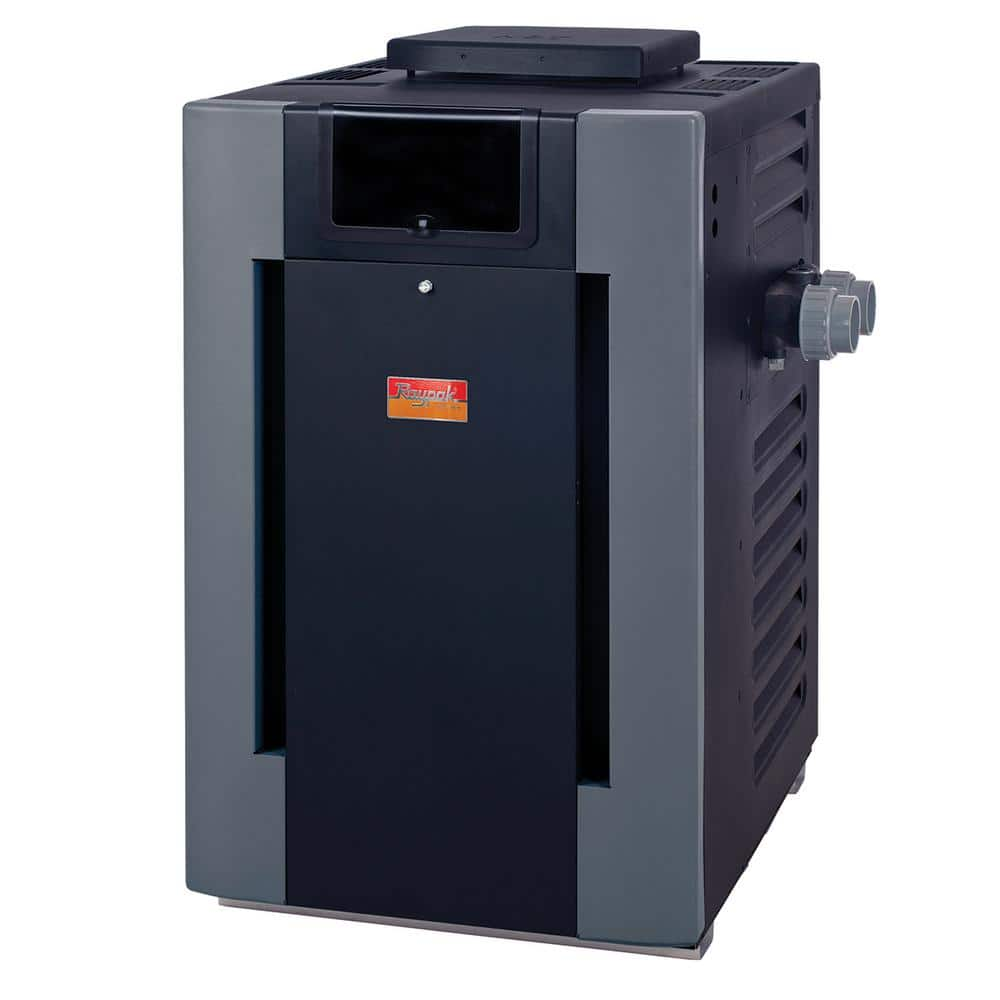 This natural gas heater features a 399000 BTU. Also, it offers more than 80% thermal efficiency. It's great if you need to save up on fuel costs. Despite using less fuel, your pool can still be warm. If you're using it for your outdoor pool, you won't be bothered by the sudden change in weather.
The model features a microprocessor thermostat. You can have just the right temperature when you swim. The heating setting is easy to tweak. You won't end up setting it too high or too low. The materials they used are durable and easy to maintain, thanks to the anti-corrosive build and anti-resistant system.
Don't worry about the installation too. They promise that it's quick and easy. There are even a few manuals and videos to help you.
Furthermore, their plug-and-play setup is easy to figure out. It's also designed to be easy to use.
Overall, this product is the most reliable pool heater. It's the best one out of the three. It can work efficiently with whatever type of pool you have at home. You get the most value out of your money when you choose this heater.
Highlighted Features:
Durable
Natural gas heater
399000 BTU
Easy set-up
Anti-corrosive and anti-resistant system
Microprocessor thermostat
Hard case
The Pros:
Ease of use
Plug-and-play set-up
Natural gas heater
Can withstand the harshest environment and weather condition
Compatible with all types of pool
The Cons:
Does not heat fast
Not that powerful
3. Raypak PR26ALENC26 266000 BTU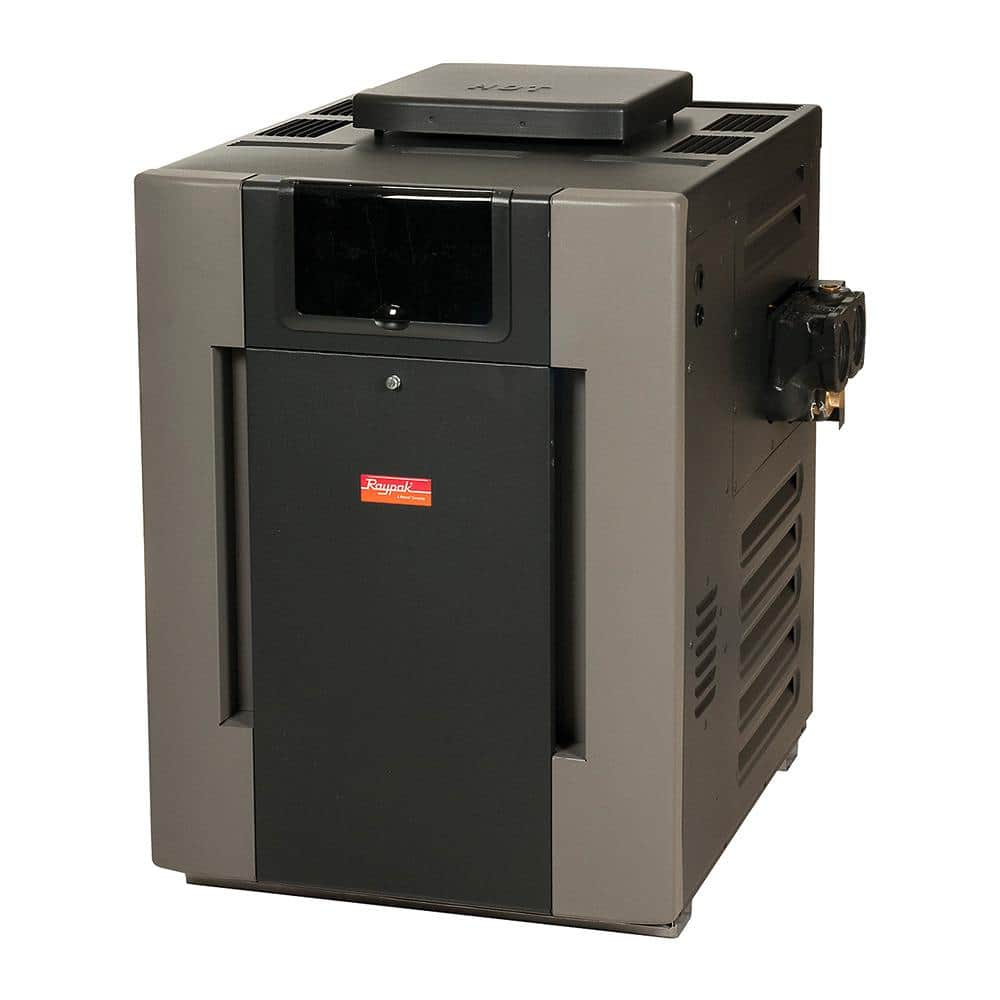 The PR26ALENC26 is among the most popular from Raypak gas pool heater reviews. Featuring 266000 BTU,it is ideal for warming your pool all year round. It can reach up to 400000 BTU, allowing you to have a fast warm-up and steady temperature. That's why no matter the season or the weather, you can enjoy your pool without worry.
This model offers an electric ignition for easy operation. You can enjoy swimming right away too, since it can heat it up faster. Just remember that the heating time will depend on how large your pool is.
The powerful copper heat exchanger gives you the most efficient performance. It is very reliable, durable, and easy to maintain.
Most of all, this unit features an energy-smart system. Using this heater won't increase your electricity bills that much. It has low emission, perfect for anyone wanting to lessen their carbon footprint.
Highlighted Features:
Electric ignition system
266000 BTU
Copper heat exchanger
Durable
Lightweight
Energy-smart system
Low emissions
The Pros:
Powerful electric ignition system
Faster response and better performance
Can be used anytime
Energy-smart feature for better conservation of energy
The Cons:
Pump is workable
Expensive
Final Thoughts
Going for a swim shouldn't be limited to summers. You should be able to use it all year round to make the most out of your investment. That's why heaters are essential. You can enjoy and relax in your pool with a reliable heater. Think of it as an at-home spa treatment.
Fortunately, the market is bombarded with pool heaters to provide you with the best solution. Looking through the different pool heaters can be confusing, that's why we included the 3 best pool heaters from Raypak.
In the end, the best heater for you will be based on your budget. You also need to look at a few factors. Make sure to check your pool size. Good luck and we hope we were able to help you!