We all want to relax in a spacious hot tub in our homes. However, finding the right tub can be stressful and overwhelming. Hot tubs can be a great investment and a lot of consideration should be taken into consideration when purchasing one.
Sometimes one model doesn't have the features we are looking for while some just don't look good for our home. It's time to see the Ohana Spas line if you want a tub the promises relaxation, beauty, and luxury without the high cost. In our ohana spas hot tub reviews, we will highlight 3 of the best Ohama hot tubs on the market.
About Ohana Spas
Ohana Spas is a global leader in the spa industry. This company promotes health and family wellness in its products. They have launched a variety of hot tub collections such as Soothing, Revive, Revitalize, and Restore. Each collection is proudly made in the USA and built with the toughest materials. It also meets the standards set by the CEC (California Energy Commission) which is committed to reducing energy costs.
All Ohana Spas produce true heat with their pre-installed stainless-steel heater. True heat is more efficient in heating your water faster. It also helps in keeping the spa water warm for a longer time. Other hot tubs use friction or thermal methods which take some time to be heated.
Best Ohana Spas Hot Tubs Reviews
Here are our ohana spas hot tub reviews of the best Ohana spas in the market
1.  Ohana Spas Restore LS 6 Person 100 Jet Hot Tub
Ohana spa's hot tubs are available in multiple designs and models to offer an ideal massage that users desire. An effective massage experience is achievable through setting them professionally.
Ohana Company has been well-known for making ideal hot tubs for decades. Their models are worth investing in, especially for users who love having a good massage after a busy day.
Pros:
Includes a stainless True heater
Features inbuilt Ohana Ozone system
Designed with amazing LED-backlit control buttons
Comes with three programmable energy modes
Cons:
Long usage can lead to unconsciousness
Not ideal for expectant mother
Key Features:
Capacity: 6 persons
Number of Jets: 100
Water Capacity: 400 gallons
Material: Acrylic
Maximum Temperature: 104 degrees
240volts
Cascading waterfall
Ohana ozone system
Programmable underwater LED lights
Verdict:
The Ohana model may be the best hot tub for you if a home-like spa experience is exciting to you. This hot tub comes with a unique Ohana Ozone system for purification purposes, helping you minimize maintenance costs.
Who is Ohana Spas 6 Person 100 Jet Hot Tub For?
If you want an ideal massage, you may consider buying an Ohana hot tub. It is designed to deliver deep tissue massage that can help renew your mind, body, and energy. This hot tub may also be a great investment if you want to give your family and friends a spa experience in the comfort of your home.
Major Features and Benefits of Ohana Spas
Below are crucial features of this spa and its benefits;
Ohana Ozone System: Ohana spas come with an Ozone system that greatly reduces the chemicals and eliminates bacteria, viruses, yeast, and algae. This system can also come in handy to help extend the hot tub life and reduce the cost of maintenance.
Cascading Waterfall: The product has amazing LED backlit waterfall enhancements for your relaxation experience. You can set the mood which best suits your mood.
True Heater: Ohana spas have a real stainless heater that heats your spa water. The true heater also helps to maintain the water at the temperatures set.
100 Strong Massage Jets and Integrated ports: The 100 jets and ports are perfectly set up and well-designed to massage the entire body and the muscles. They are also made of stainless steel to enhance your desired quality and beauty.
Digital Control: Digital control with smart-temp. It comes with three programmable energy modes to help save on energy costs.
Customer Reviews
To help you make an informed buying decision, here are reviews from customers who got a chance to buy Ohana Spa's 6-person 100 jets hot tub.
"This device is worth investing in as it has exceptional features; I have had an amazing massage therapy since I fixed it." Another states, "The hot tub is so far the best; we fit in perfectly, no regrets."
"I can finally host my girls in the backyard for a spa experience. No more trips to the massage center."
"My spa failed abruptly; I even thought it was because of the power disconnection, but later discovered that I didn't install perfectly; the company should have on-ground technicians to help clients like me."
"I love the tab, and particularly the therapeutic jets and LED lighting. However, the cover is warping and water-clogged, making it hard to lift."
FAQs
Can I use the device in regions that have over 100°F temperature? Yes. The product has a minimum of 80°F and maximum temperatures of 104°F. Temperatures above the normal range can be controlled by turning the heater on.
What kind of insulation is used on the Ohana spa hot tub? Ohana spa hot tub has perimeter foam insulation with a reflective backing. This feature plays a huge role as far as recycling the heat from the components is conned.
How good of quality are the Ohana hot tubs? Ohana hot is made durable acrylic material. Besides, the entire Ohana jets and ports are made of stainless steel, improving the quality and beauty aspects clients look forward to.
Read more: The Ultimate Ohana Spas Restore LS 6 Person 100 Jet Hot Tub Reviews
2.  Ohana Spas Balance 6 – Person 25 Jet Hot Tub with Ozonator
The Ohana Spas Balance 7-Person Hot Tub is an excellent round tub that you can enjoy. It has a durable open-seating tub made of durable and environmentally friendly plastics. This tub is a plug-and-play tub that easily fits a 120V/15A power source.
Ohana Spas has a wide collection of spas to promote health and happiness. Their hot tubs are designed with jets and other unique features to enhance your spa experience.
The Pros:
Optimum  hydromassage experience
Heats up consistently
Energy Efficient
Light, solid, and safe  tub design
Sophisticated  Granite design
The Cons:
Does not include steps
No Ozonator included
Delivery takes a longer  time
Key Features:
25 optimal water jets
Contoured open seating
Light  but solid built
Ohana Filter System
7 person capacity
Maximum temperature is 104 Celcius
Freeze  resistant
Varied jet ports techniques
Digital Controls
Smart temperature feature
LED underwater light
Comprehensive product  warranty
Verdict
The Ohana Spas Balance 7-Person Hot Tub is one of the best portable hot tubs you can find on the market today. With its excellent features for a very affordable price, you may always see that this can be one of the best purchases you will ever make for portable spas. It has easy-to-set-up units and plug-and-play features; you can easily use this anywhere and anytime.
Who is This Product For?
This is the best hot tub for people eager to take relaxation within their control. This hot tub comes with digital control and a smart temp with three programmable energy modes to enhance energy savings while you choose your utilization. This hot tub is also best for people that want to take time for themselves or spend valuable moments with their family members and friends while relaxing in warm waters.
Key Features and Benefits of the Product
25 Optimal Water Jets: This Ohana Balance Spa has 25 strong water jets combined with excellent water port designs to release the kind of hydromassage your body yearns for. These water jets provide the relaxation you may be looking for after all the busy and tedious work in your job. These water jets are positioned strategically within the spa's interior to distribute immense pressure to body energy points for a superb relaxation of both body and mind. Besides, they eject in various ways and you can choose one that fits your choice of massage.
Ideally Fits Seven People: This roto-molded spa can magnificently contain 7 people sitting comfortably on its contoured open seating surface.
Ohana Real Heaters: Its heating system consists of stainless steel heaters which allow a consistent supply of heat. This is a good feature that lets you enjoy warm water anytime you want to enjoy a relaxing hot bath in your hot tub.
Ohana Ozone System: This hot tub also uses the natural purification system initiated by Ohana factories. This feature allows a more economical way to reduce cleaning costs and time, which also lengthens the unit's life span.
Customers Reviews
Most customers are satisfied with the purchase of the product, but there are a few who shared some concerns too.
"The heat maintains at  101 degrees, which is a plus for me. It is also easy to set it up and the features are impressive."
"The jets are stronger and my whole family loves being in this hot tub. However, I like the one that operates at 220V better."
"This one is very nice. I like that it is deep enough to get my whole body in."
FAQ
How many gallons of water does it take to fill? It takes 270 gallons of water to fill it in.
What are the inclusions when you buy this hot tub? The hot tub comes with an insulated locking cover and a filter.
Read more: The Ultimate Ohana Spas Balance 7 Person Hot Tub reviews
3.  Ohana Spas Revive Symphony 86 – Jet Acrylic Hot Tub
A beautiful and roomy hot tub that has room for up to six people, the Ohana Spas Revive Symphony 86-Jet Acrylic Hot Tub that uses Bluetooth Stereo/Subwoofer, Ozone, and Heater is available from Ohana Spas. It has a stereo system with a subwoofer and Bluetooth connectivity.
It has an ozone cleaning system, as well as 86 strong jets, a Bluetooth stereo system, a subwoofer, and a heater.
This hot tub is ideal for big families or groups of friends who are looking to have a restorative and soothing experience together in a social setting.
Pros
Spacious and accommodating for up to six people.
Features 86 powerful jets for a relaxing and rejuvenating experience.
Includes a Bluetooth stereo system, subwoofer, and heater.
The ozone purification system keeps the water clean and fresh.
Cons
Some users may find the jets to be too powerful.
The hot tub may be too large for some users.
Verdict
This product has been well designed and it is very functional and convenient for having a good time. It provides a great time for winding down with family and friends after a hard day's work.
Who is this 6-person spa for?
The Ohana Spas Revive Symphony LS 6 Person Square Hot Tub that includes Bluetooth Stereo/Subwoofer, Ozone, and Heater is a luxurious and spacious hot tub that is perfect for large families or groups of friends. This hot tub is an excellent choice for those who want a relaxing and rejuvenating experience.
Ohana Spas Revive Symphony Square Hot Tub Key Features
Ozonator for water purification
86 stainless steel jets for a calming effect
Resistant to freezing
Spacious enough to fit six people
240 Volt, 40 Amperes operating power
Acrylic made thus corrosion resistant
2 pumps operating at 6hp
Maximum temperature of 104 °F
Minimum temperature of 80 °F
400 Gallon water capacity
4″ multi-colour LED lights
Bluetooth stereo with subwoofer
Slip-resistant for safety
Includes insulated cover
4 kW stainless steel heater for maintaining an ambient temperature
Digital control for tweaking your preferences
Easy product care
Customer Reviews
''It was really simple to install, the in-ground installation equipment was not included in the package, but I phoned customer care and they sent it straight out. We have not experienced any difficulties with the hot tub.''
''Very delighted with the tub and the service''
''Amazing sauna or hot tub. Excellent qualities. It is simple to assemble. The Bluetooth feature is quite convenient for us.''
''Outstanding spa with a hot tub. Exquisite detail work and colouration throughout. Arrived around three weeks before the anticipated date.''
"It's a lot smaller than expected. Can probably fit only 4 people comfortably."
"Speakers are not great"
FAQs and Additional tips
What are the dimensions of the spa? The dimensions of the tub are as follows: "The specifications are 2′ 10″ in height, 6′ 1″ in width, and 5′ 8″ in length,"
How much power is the heater for this spa rated? The stainless steel heated is rated 4kW
How long is the warranty period? The warranty period lasts for 5 years.
Read more: The Ultimate Ohana Spas Revive Symphony Hot Tub Reviews
4.  Ohana Spas Revitalize LS 6-Person 50-Jet Hot Tub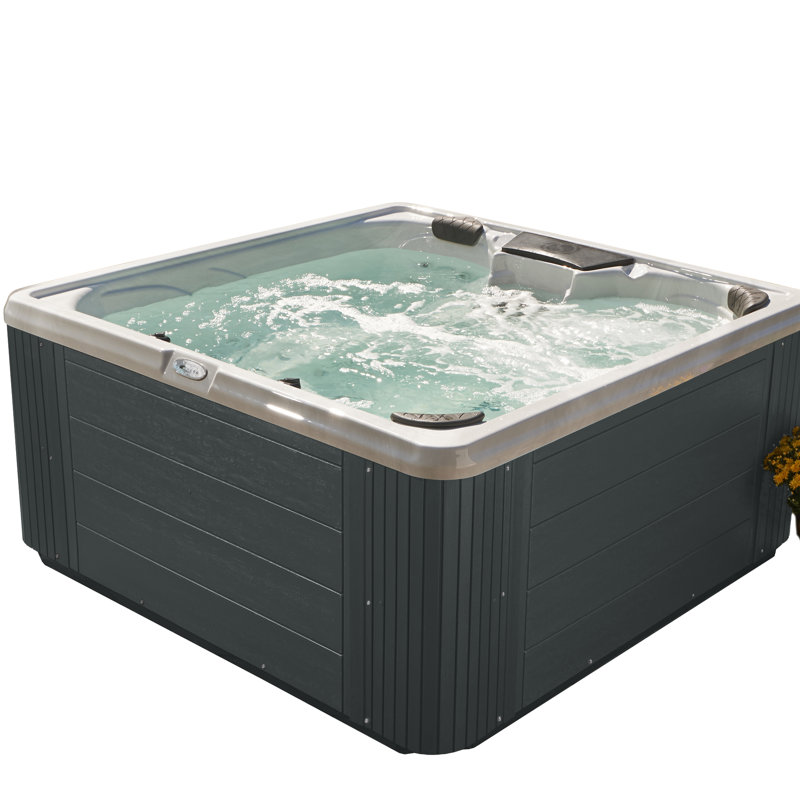 This Ohana spa is designed to fit 6 people thanks to its contoured lounger. Be energized every day with this tough acrylic hot tub that has been designed with an energy-efficient 2-speed pump that delivers deep tissue massage.
This tub has practical and fun features that it an interesting addition to your home. It has an acrylic exterior which is tougher than plastic and can resist freezing during cold months.
The built-in cabinets and Duo-serve lid and tray are perfect for family bonding or entertaining friends. There is also a built-in ice bucket for convenient use with Duo-Serve Lid and Tray
Something else that stands out is the multi-colored LED underwater light that offers an exceptional ambiance. Better yet, this tub is easy to maintain as it features built-in ozone and a CleanLife Filtration system. All in all, choose this tub for a tougher build with the usual practical features.
Highlighted Features
Water capacity: 300 gallons
Dimensions: 74" x 74" x 34"
Material: Acrylic
3 programmable energy modes
Volts: 240/40A
Multi-colored and programmable underwater LED lighting
1 x 6 BHP 2-speed pump
Pros of this Ohana Spas Revitalize Hot Tub
Stylish and durable acrylic exterior
Digital control where you can choose between energy use options
Features comfortable headrests
Made in the USA
Easy to maintain
Cons of the Hot Tub
Omits steps
Electrician needed to install
One exterior color option
5.  Endeavor 6 – Person Hot Tub with Ozonator in Mahogany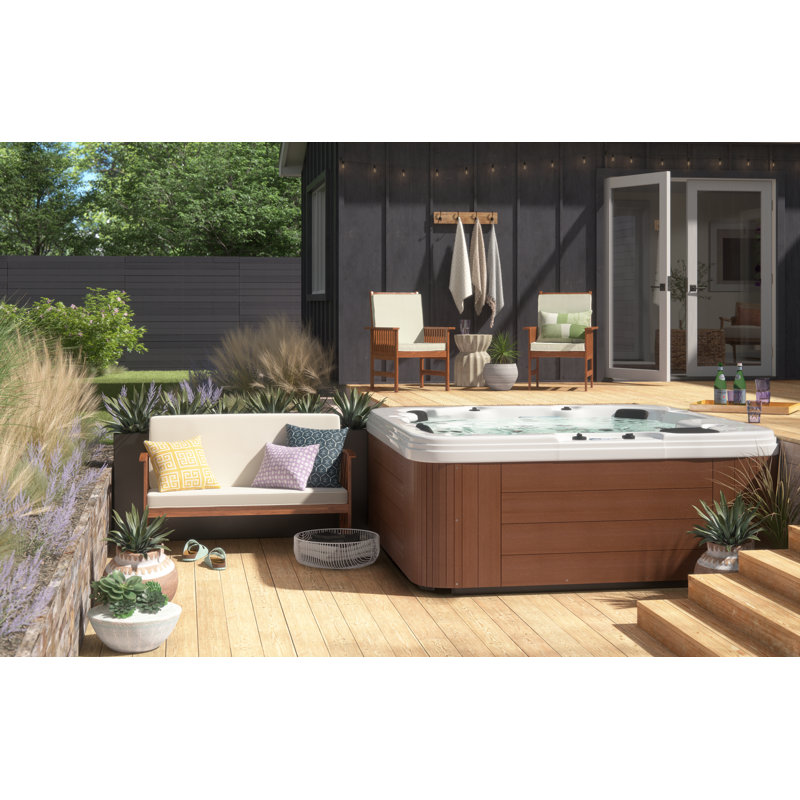 This is a functional hot tub with a luxurious built. It is spacious enough and loaded with amazing features. This is undoubtedly the best hot tub if you're looking for a large tub for your home.
This tub is spacious, durable, and stylish and is designed to accommodate 6 people who are after a great spa experience. A hydrotherapeutic massage experience is also made possible by the 100 streaming jets that are delivered through 50 stainless steel jets.
Because of its large size, this tub has 2 pumps that can deliver a powerful water massage. A 4kW stainless steel heater is also included to help maintain an ideal water temperature.
This unit is stylish and is designed with acrylic material which is extremely durable. Other great features include an Ozonator, waterfall, and UV-resistant cabinets.
Highlighted Features
Water capacity: 400 gallons
Material: Acrylic
Comfortable 6-seater tub with molded seats
100 Streaming jets through 50 stainless steel jets
1 x 6 BHP2-speed pump and1 x 6 BHP single speed pump
Stylish and tough Mahoganyacrylic shell
Ambiance enhancers such as cascading waterfall effect and LED lighting
Pros of this Ohana Spas Endeavor 6 – Person Hot Tub
Stylish but tough for outdoor use
Convenient digital control
2 powerful pumps included
CEC-certified
Cons of the Hot Tub
No steps included
Electrician needed to install
Frame omits leveling feature
Conclusion
Although a bathtub can be a costly investment, there is no denying that it is the most ideal way to unwind after a long day. We hope that our ohana spas hot tub reviews help you make the right buying selection. Each of these Ohana Spas tubs has features that will fit your lifestyle.
One thing is for sure, Ohana Spas' promise of practical features, True Heat, and durability in each design. Whatever your needs and preference are, you can always find an Ohana spa that bests suits you. Just ensure that you keep in mind important factors such as the number of seatings, jets, cover, and special extras like lights, waterfall function, and cup holders.