We all want to relax in a spacious hot tub in our homes. However, finding the right tub can be stressful and overwhelming. Hot tubs can be a great investment and a lot of consideration should be taken into consideration when purchasing one.
Sometimes one model doesn't have the features we are looking for while some just don't look good for our home. It's time to see the Ohana Spas line if you want a tub the promises relaxation, beauty, and luxury without the high cost. In our ohana spas hot tub reviews, we will highlight 3 of the best Ohama hot tubs on the market.
About Ohana Spas
Ohana Spas is a global leader in the spa industry. This company promotes health and family wellness in its products. They have launched a variety of hot tub collections such as Soothing, Revive, Revitalize, and Restore. Each collection is proudly made in the USA and built with the toughest materials. It also meets the standards set by the CEC (California Energy Commission) which is committed to reducing energy costs.
All Ohana Spas produce true heat with their pre-installed stainless-steel heater. True heat is more efficient in heating your water faster. It also helps in keeping the spa water warm for a longer time. Other hot tubs use friction or thermal methods which take some time to be heated.
Best Ohana Spas Hot Tubs Reviews
Here are our ohana spas hot tub reviews of the best Ohana spas in the market
1.  Ohana Spas Balance 6 – Person 25 Jet Hot Tub with Ozonator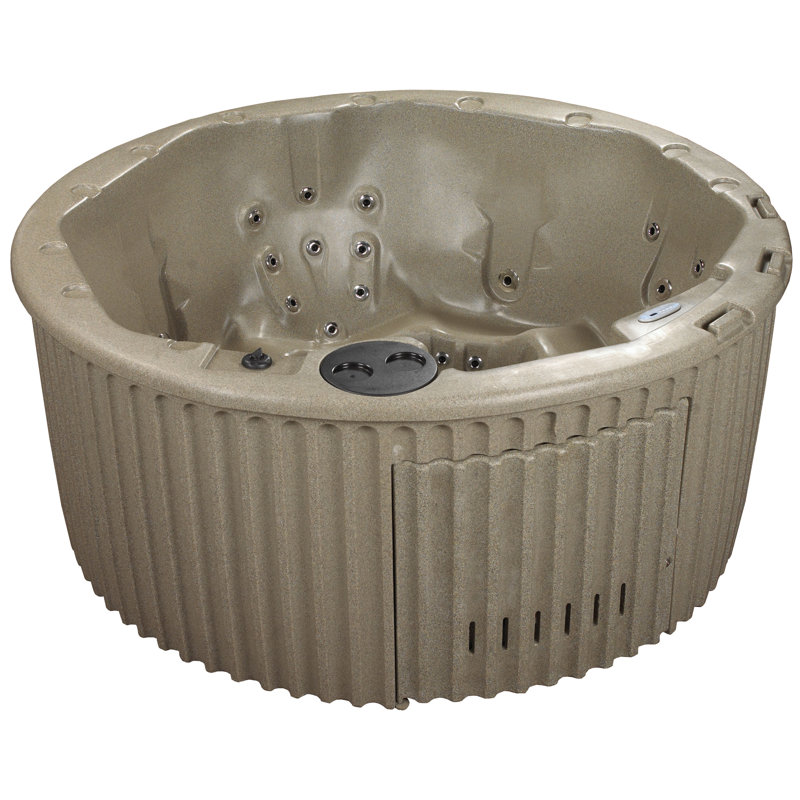 If you want comfort and ease, then this tub is for you. You can purchase this knowing you won't have trouble during installation and maintenance. According to ohana spas reviews, this is the perfect tub for bonding with family and friends.
It is spacious enough and can accommodate up to 7 people and is designed with contoured open seating for more comfort. It also features 25 stainless jets that target muscles and will revitalize your mind, body, and soul. Better yet, it comes with LED underwater lighting for ambiance and safety.
Controlling this unit has been made possible by the digital control that includes smart-temp. It has 3 programmable energy modes; standards, energy, and sleep for better customization. Overall, you should get this if you want an easy-to-install basic tub that has the same features as more expensive tubs at an affordable price.
However, it only has a plastic exterior and 1 pump. Its durability and massage strength will not be the same as the expensive ones.
Highlighted Features
Spacious and contoured seating fit for 7 adults
25 powerful stainless-steel jets
Energy efficient 1 x 2 BHP 2-speed pump
Super Shell exterior is made of durable plastic
Water capacity: 250 gallons
Material: Plastic
3 programmable energy modes
Ozonator
Pros of this Ohana Spas Balance Hot Tub
Easy to install, plug and play hot tub
Convenient digital control
Built-in purification and filtration system
CEC-certified
Freeze resistant
Cons of the Hot Tub
Plastic exterior may not be durable
No steps included
2.  Ohana Spas Revitalize LS 6-Person 50-Jet Hot Tub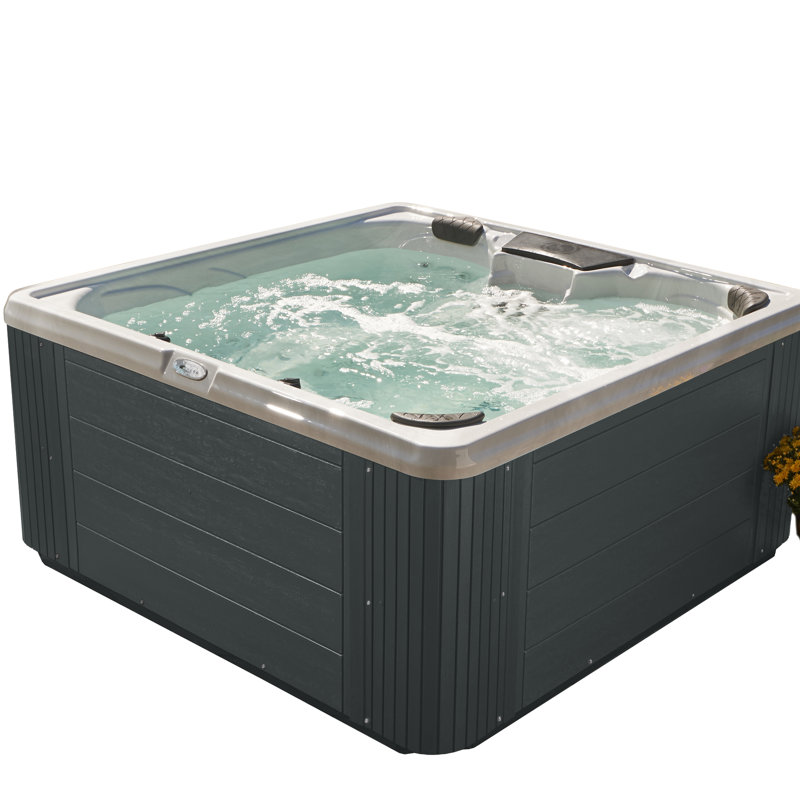 This Ohana spa is designed to fit 6 people thanks to its contoured lounger. Be energized every day with this tough acrylic hot tub that has been designed with an energy-efficient 2-speed pump that delivers deep tissue massage.
This tub has practical and fun features that it an interesting addition to your home. It has an acrylic exterior which is tougher than plastic and can resist freezing during cold months.
The built-in cabinets and Duo-serve lid and tray are perfect for family bonding or entertaining friends. There is also a built-in ice bucket for convenient use with Duo-Serve Lid and Tray
Something else that stands out is the multi-colored LED underwater light that offers an exceptional ambiance. Better yet, this tub is easy to maintain as it features built-in ozone and a CleanLife Filtration system. All in all, choose this tub for a tougher build with the usual practical features.
Highlighted Features
Water capacity: 300 gallons
Dimensions: 74" x 74" x 34"
Material: Acrylic
3 programmable energy modes
Volts: 240/40A
Multi-colored and programmable underwater LED lighting
1 x 6 BHP 2-speed pump
Pros of this Ohana Spas Revitalize Hot Tub
Stylish and durable acrylic exterior
Digital control where you can choose between energy use options
Features comfortable headrests
Made in the USA
Easy to maintain
Cons of the Hot Tub
Omits steps
Electrician needed to install
One exterior color option
3.  Endeavor 6 – Person Hot Tub with Ozonator in Mahogany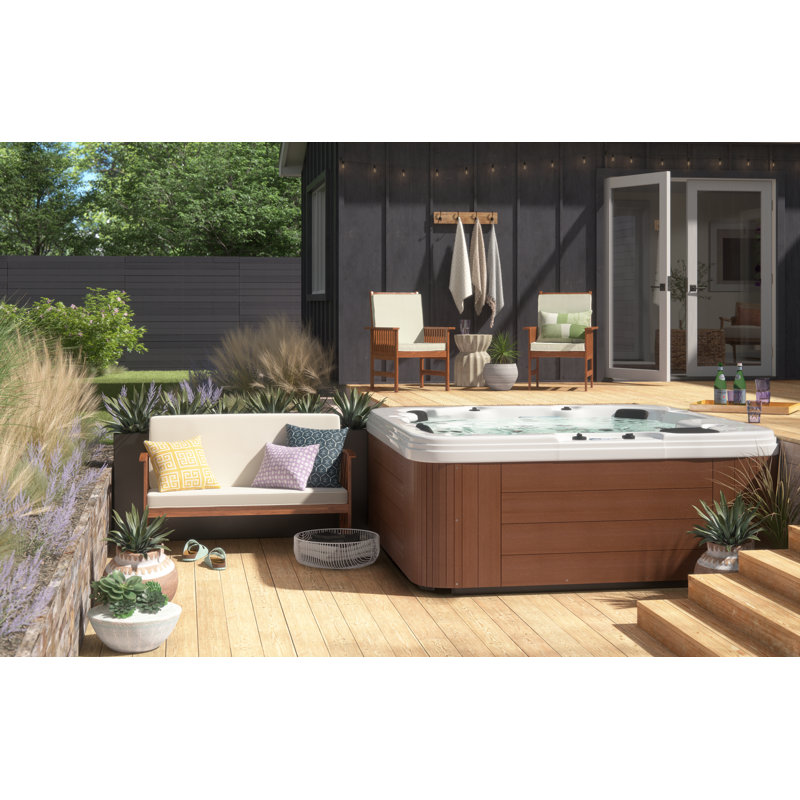 This is a functional hot tub with a luxurious built. It is spacious enough and loaded with amazing features. This is undoubtedly the best hot tub if you're looking for a large tub for your home.
This tub is spacious, durable, and stylish and is designed to accommodate 6 people who are after a great spa experience. A hydrotherapeutic massage experience is also made possible by the 100 streaming jets that are delivered through 50 stainless steel jets.
Because of its large size, this tub has 2 pumps that can deliver a powerful water massage. A 4kW stainless steel heater is also included to help maintain an ideal water temperature.
This unit is stylish and is designed with acrylic material which is extremely durable. Other great features include an Ozonator, waterfall, and UV-resistant cabinets.
Highlighted Features
Water capacity: 400 gallons
Material: Acrylic
Comfortable 6-seater tub with molded seats
100 Streaming jets through 50 stainless steel jets
1 x 6 BHP2-speed pump and1 x 6 BHP single speed pump
Stylish and tough Mahoganyacrylic shell
Ambiance enhancers such as cascading waterfall effect and LED lighting
Pros of this Ohana Spas Endeavor 6 – Person Hot Tub
Stylish but tough for outdoor use
Convenient digital control
2 powerful pumps included
CEC-certified
Cons of the Hot Tub
No steps included
Electrician needed to install
Frame omits leveling feature
Conclusion
Although a bathtub can be a costly investment, there is no denying that it is the most ideal way to unwind after a long day. We hope that our ohana spas hot tub reviews help you make the right buying selection. Each of these Ohana Spas tubs has features that will fit your lifestyle.
One thing is for sure, Ohana Spas' promise of practical features, True Heat, and durability in each design. Whatever your needs and preference are, you can always find an Ohana spa that bests suits you. Just ensure that you keep in mind important factors such as the number of seatings, jets, cover, and special extras like lights, waterfall function, and cup holders.