Everyone should find the time to unwind and relax as an essential part of maintaining sound well-being, especially after a hard day's work.
However, while some people have immediate access to a range of facilities for relaxation such as a sauna, others have trouble finding one that could help revitalize their senses.
So, if instant rejuvenation is what you are looking for, you must focus on getting the best portable infrared sauna as much as possible.
Radiant Rejuvenator Portable Sauna Review
Brief Overview
The Rejuvenator Portable Sauna is a cleverly designed sudatory made by Radiant Saunas. To set your expectations, however, this product is manufactured primarily for recreation and relaxation, so it must not be used for medical purposes.
Measuring 28 inches wide, 33.5 inches long, and 38.1 inches tall, this unit has cabin-like dimensions that are enough to accommodate one person.
It includes an insulated and padded sponge floor mat and a foldable chair for quick set-up. While sitting, you even get to adjust the heat using its handy remote for both temperature and timer control.
Made of cotton insulation, a satin polyester exterior with three layers, and a reflective polyester inside material-lock that is sewn together, the panel of this unit ensures sturdiness. It has a padded and double-lined neck collar as well as interior and exterior front compartment zippers to make sure infrared heat does not leak.
This unit has a built-in thermostat and three energy-efficient low EMF carbon fiber heating panels that emit heat at a maximum temperature of 150 degrees Fahrenheit (or 65.56 degrees C). You could select from five options for preset heat temperature levels, too.
The product might be most suitable for indoor use, but do not worry because it features a modern yet transitional aesthetic. Additionally, the gray finish allows it to blend in any spacious area in your home. You may also bring it for outdoor travels if you want.
The Pros of This Rejuvenator Portable Sauna
Energy-efficient carbon fiber infrared heat panels
Material includes sturdy, moisture-resistant satin polyester
Five (5) preset heat temperature levels
Dual interior-exterior zippers on the front compartment
Easy and quick set-up for storage or traveling
Cons of The Portable Infrared Sauna
Can only accommodate one person
Max temperature might not be enough for others
The chair is too small and slightly uncomfortable
The user manual is hard to follow
Not intended for medical purposes
Key Features
An integrated automatic shut-off safety mechanism
Modifiable temperature
Three-layer exterior satin polyester fabric
Verdict
Despite a few minor flaws, including a foldable chair that is a bit small and uncomfortable, the Rejuvenator Portable Sauna might be still worth checking out. The above review might serve as your resource to help you consider owning the product.
Who Is This Product For?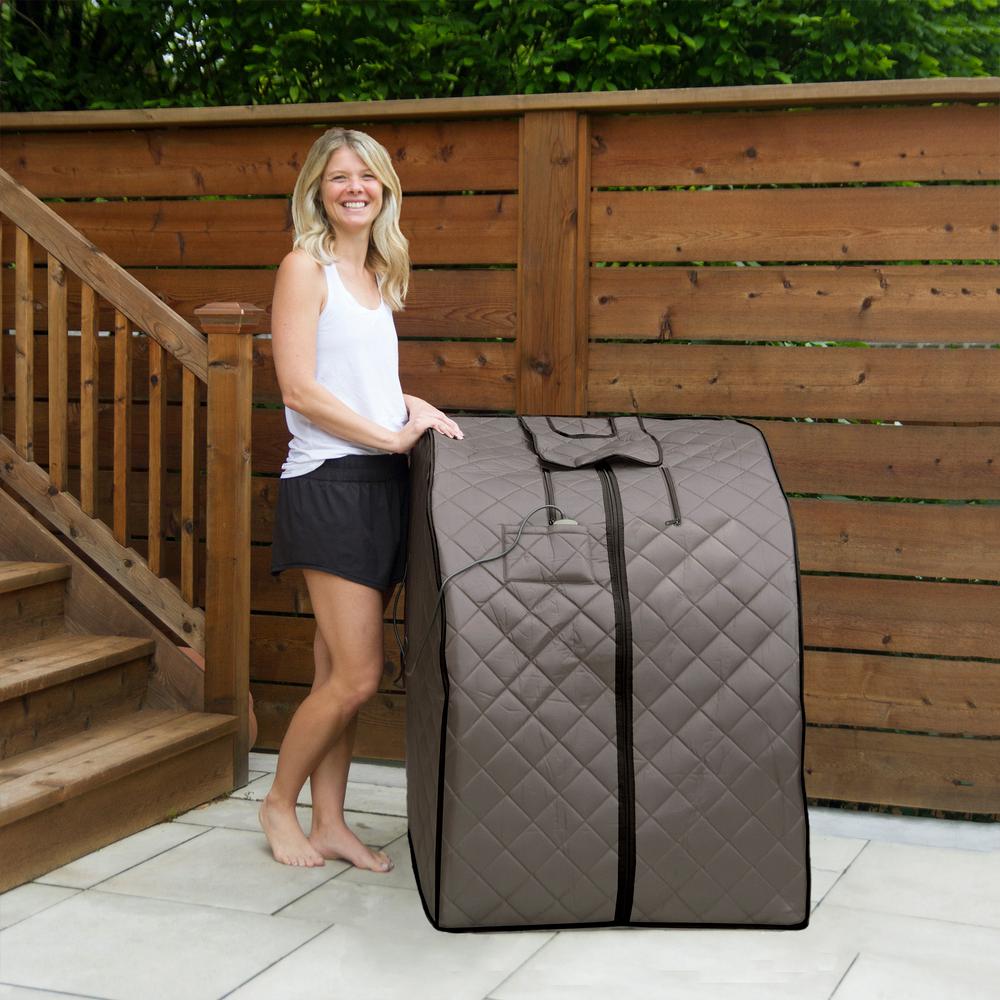 This lightweight infrared might be a good product recommendation for people whose hands are mostly on deck and who are conscious of their health but have little time to pamper themselves. If you want to reduce stress and fatigue or lose weight the easy way, it is a good starting point.
Customer Reviews
Check out what other customers have to say about this portable sauna with these Radiant Saunas Rejuvenator Portable Sauna reviews:
"Initially, I had second thoughts about owning this product because I thought it couldn't get any hotter, being a person who's always cold. But when I decided to buy it and gave it a try, I sweat out a lot. I also appreciated the design because my head doesn't get hot. I tell you, it's definitely worth your time and money."
"Toward the front, there are side panels that don't give off enough heat, which surprised me. Maybe I got a defective unit."
"Such a valuable product! It can be set up quickly and cleaned easily."
"I ordered it in hopes of sweating out without the need for active exercises. It's unexpectedly easy to set up, but does it heat a lot? I don't know. I've tried to let it heat up for about 10 minutes and adjusted the temperature gradually, but still, it doesn't get hot enough. What a letdown! I'll return this product instead."
"Between losing weight and reducing stress, I had no issues with this product. I love it!"
"I was expecting that more heat would come out. Otherwise, it's a great product."
Review: Radiant Saunas BSA6310 Rejuvenator on Youtube
FAQ & Additional Tips
Do I need to add something for it to heat up?
This portable infrared sauna is a dry heat unit which means you do not need to add water or anything else just to get it heated up. It is entirely different from a steam sauna.
How hot does this product can get?
The portable infrared sauna has a maximum thermostat of 150 degrees Fahrenheit (65.56 degrees C). If you set the temperature to the range of 130 to 150 degrees Fahrenheit, you will sweat in about 15 minutes.
Does this unit have any chemical smell to it?
No, it does not have a chemical smell at all.
Can the chair be replaced?
The foldable chair is not replaceable since it comes together with the unit upon purchase.
How long should a person spend time in a sauna?
The maximum time a person should stay in a sauna is half an hour. Also, take note that this product has a collar, so you should not stay in it for more than 30 minutes.
Final Verdict
After making a few key points on the Radiant Saunas Rejuvenator Portable Sauna reviews, I would recommend this product.
Easy to set up or store, warms up fast, and surprisingly lightweight, these positive elements are the key factors that make such a product worth your time and money.