Talks that frequent sauna visits improve cardiovascular and mental health are backed by research. New studies said that sauna bathing directly affects blood pressure and heart rate. It lowers chances of dementia, too. That's why owning a home sauna is a popular move.
But the newer talk of the town is leaving the portable steam sauna; it's closing in around infrared types. An Infrared sauna uses infrared light commonly used by sports therapists and doctors. The light seeps into your body and brings therapeutic benefits. People are scrambling for it, but it pays to know what makes one the best portable infrared sauna.
Portable Infrared Sauna vs. Traditional Infrared Sauna
Far infrared or FIR saunas do not use steam. They rely fully on the heat coming from infrared heaters. Thus, they do not create a humid experience that steam saunas do. Plus, they require lesser overall power to run than those that use large amounts of heated steam.
Besides lower wattage, the more valuable reason, perhaps, for buying an FIR sauna is related to well-being. Their benefits are not only in sweating out toxins. The infrared light helps rebuild injured tissue, boosts the immune system, and kill pathogens— the unwanted organisms in your body. Studies find that infrared light, in fact, kills Lyme disease-causing bacteria.
Yes, there is the traditional steam sauna and the infrared sauna. Your choices, however, don't stop there. Infrared saunas come in two types. You can opt for a traditional wood sauna or a portable type. We'll discuss, in different perspectives, which one is the best infrared sauna.
Heat. The difference between a traditional and portable sauna in terms of heat is almost trivial. People have reported that they sweat as much in a portable sauna as they do in a traditional one.
Size and flexibility. Heat benefits in mind, the choice you make is just a matter of a vote for your lifestyle. For instance, peripatetics may prefer a portable sauna because it is convenient. It is easy to setup— just unfold it and then plug it. If you are an outgoing person, a portable sauna would be perfect. You can take it with you and use it anywhere. However, because it is portable, a lot of people have complained about its size. The space inside seems a little cramped for some. Also, you are not likely to get a full-body benefit from its heat. Unlike the traditional type, the portable design makes you stick your head out of the sauna.
Look. If you do not mind being seen "bathing" like a sausage in a toaster that much, the portable sauna is fine. But if you tend to sway towards a calming rustic look, the wooden-type sauna would be a good choice.
Durability. Traditional wooden infrared saunas cost higher than the portable type. It is, however, long-lasting. Wood makes a durable sauna if treated properly. The traditional infrared sauna is a more economical option if you are looking long-term.
Top 5 Portable Infrared Sauna Reviews
In choosing the best portable infrared sauna, think safety. Saunas are investments for your health. You sure don't want to compromise it with EMF radiation. The risks in infrared saunas depend on the level of electromagnetic field (EMF) radiation.
Science suggests that your body naturally contain EMF. These bioelectrical signals help regulate bodily tasks. However, strong artificial EMF radiation can get in the way of your immune system and sleep cycles. Do not forfeit the purpose of the infrared sauna; look for the unit with EMF lower than 3 milliGauss.
For most people, one becomes the sauna of choice owing to these criteria: safety, comfort, efficiency, the economy of use, ease of maintenance, and durability.
Here's a review of 5 portable infrared saunas:
1.  Radiant Saunas Harmony Deluxe (1-Person) Portable Sauna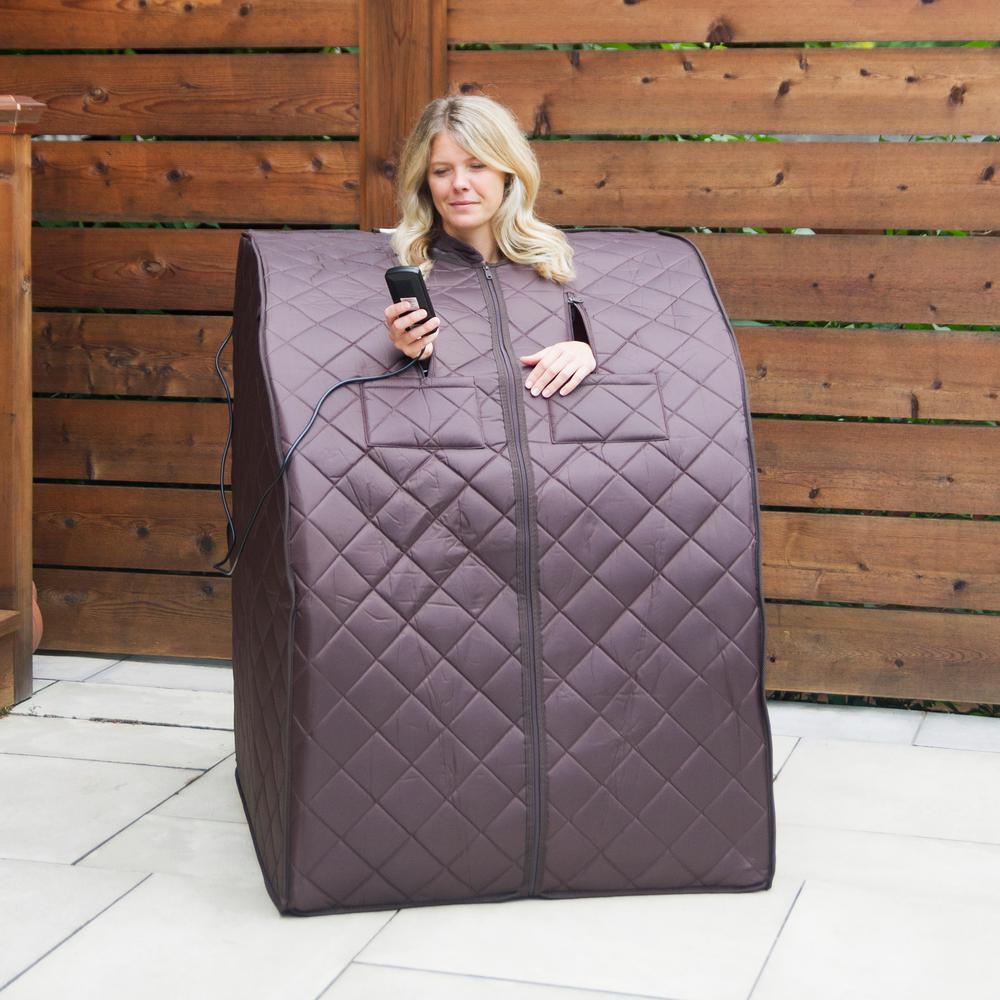 The Radiant Harmony's Harmony Deluxe Portable Infrared Sauna is a handy home equipment that provides the comfort of a sauna wherever you are.  However, it has its advantages and downsides.
The Pros of This Harmony Deluxe Portable Infrared Sauna
Affordable
Quality construction
Produces high heat
Easy to set up
Cons of The Portable Infrared Sauna
High EMF levels
Takes long to heat up
Defective parts
Key Features and Benefits:
Here are the key features and benefits of this sauna:
Easy to Set Up: This portable sauna is easy to set up and requires minimal space. You can enjoy a warm sauna anywhere you go since it folds easily and can be set up in less than 2 minutes. The accompanying chair, footpad, and floormat are easy to set up as well.
Quality Build: The chair has a comfortable armrest and has a metal build that can support up to 220lbs.  This portable sauna is made of fully insulated polyester fabric and has sturdy stitching that can withstand moisture. You can take anywhere weighing only 22 lbs. or 10 kgs.
Affordable: This sauna is a great alternative if you don't have the space or the budget for a cabin sauna. I also like the fact that it consumes low voltage, so it won't affect your power bill that much.
High heat: The Radiant Sauna's Harmony Deluxe Portable Infrared Sauna reviews rated that it heats up hot enough for a satisfying sauna break. This portable sauna has a maximum temperature of 150 Fahrenheit enough to sweat out the toxins. Radiant Harmony's Harmony Deluxe Portable Infrared Sauna is a handy and affordable addition to your home. It lets you enjoy the comfort and practicality of a sauna without paying $20 each visit.  Depends on what you believe, high EMFs can be a concern especially if you will use it often.
Who Can Benefit from This?
This sauna is best suited for:
People who want to detoxify
I heard that sweating can be good for you since you relive your body of toxins and excess sugar and salt.
Patients with Lyme disease and fibromyalgia
Infrared saunas are reportedly good for patients of these diseases. Fibromyalgia is a painful musculoskeletal disorder with fatigue and sleep issues. Lyme disease is an infectious disease caused by Borrelia bacteria which is carried around by ticks. For fibromyalgia, the increased temperature eases the muscle pains while for Lyme disease patients the heat kills off some of the bacteria.
Customer Reviews
Most of Radiant Harmony's Harmony Deluxe portable infrared sauna reviews have a 75% 5-star rating at Amazon. Most reviews often said price and functionality as the top reason.
"In the manual, it says it takes two minutes to unfold, I found it actually takes less than one minute to unfold or store away. It is easy to store in your car if you were going somewhere".
However, the highest-rated review comes from a Lyme disease patient saying that after using it he "I do notice an improvement.  My sores were lessened, and I don't experience as many tingles under my skin. I'm so glad I found this sauna!".
However, most negative ratings are due to the recorded high EMF levels. One user said it was a "human microwave". Another user didn't like the burnt plastic smell when they started using it.
Several complaints about factory issues have been reported like missing foot pads, defective chairs, and error codes controllers. Although the company responds immediately, it can be a hassle for someone who is expecting a pristine product.
One YouTube reviewer noted high EMF levels for Harmony Deluxe Portable Infrared Sauna reaching as high as 60 milligauss. Average EMF for a household appliance is up to 1 milligauss .
FAQS:
What is the warranty for this sauna? The Radiant Harmony's Harmony Deluxe portable infrared sauna has a 1-year warranty included. As we mentioned they do have a good after-sales service which you can count on.
How do I clean my Harmony Deluxe sauna? After using it, use a damp cloth to dry the PE foam inside the sauna box.  Don't pack it up immediately and let it cool down.
How do I adjust the temperature? The footpad, side and back walls are covered with 0.1 mm conductive heating elements coated with heat-activated FIR material. Using the controller, it can adjust easily to your desired temperature and the footpad automatically adjusts as well.
Read more: Harmony Deluxe 1 Person FAR Infrared Sauna Reviews
2.  Radiant Rejuvenator Portable Sauna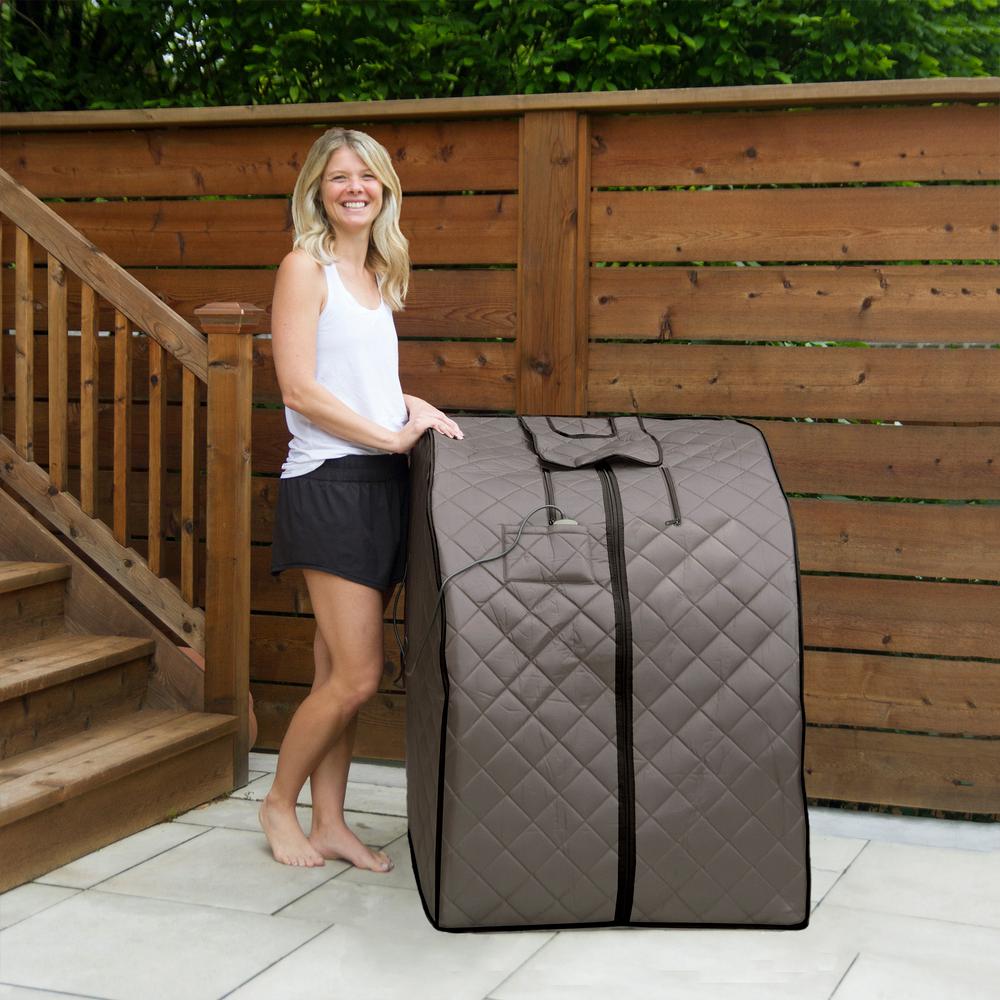 The Rejuvenator Portable Sauna is a cleverly designed sudatory made by Radiant Saunas. To set your expectations, however, this product is manufactured primarily for recreation and relaxation, so it must not be used for medical purposes.
Measuring 28 inches wide, 33.5 inches long, and 38.1 inches tall, this unit has cabin-like dimensions that are enough to accommodate one person.
It includes an insulated and padded sponge floor mat and a foldable chair for quick set-up. While sitting, you even get to adjust the heat using its handy remote for both temperature and timer control.
Made of cotton insulation, a satin polyester exterior with three layers, and a reflective polyester inside material-lock that is sewn together, the panel of this unit ensures sturdiness. It has a padded and double-lined neck collar as well as interior and exterior front compartment zippers to make sure infrared heat does not leak.
This unit has a built-in thermostat and three energy-efficient low EMF carbon fiber heating panels that emit heat at a maximum temperature of 150 degrees Fahrenheit (or 65.56 degrees C). You could select from five options for preset heat temperature levels, too.
The product might be most suitable for indoor use, but do not worry because it features a modern yet transitional aesthetic. Additionally, the gray finish allows it to blend in any spacious area in your home. You may also bring it for outdoor travels if you want.
The Pros of This Rejuvenator Portable Sauna
Energy-efficient carbon fiber infrared heat panels
Material includes sturdy, moisture-resistant satin polyester
Five (5) preset heat temperature levels
Dual interior-exterior zippers on the front compartment
Easy and quick set-up for storage or traveling
Cons of The Portable Infrared Sauna
Can only accommodate one person
Max temperature might not be enough for others
The chair is too small and slightly uncomfortable
The user manual is hard to follow
Not intended for medical purposes
Key Features
An integrated automatic shut-off safety mechanism
Modifiable temperature
Three-layer exterior satin polyester fabric
Verdict
Despite a few minor flaws, including a foldable chair that is a bit small and uncomfortable, the Rejuvenator Portable Sauna might be still worth checking out. The above review might serve as your resource to help you consider owning the product.
Who Is This Product For?
This lightweight infrared might be a good product recommendation for people whose hands are mostly on deck and who are conscious of their health but have little time to pamper themselves. If you want to reduce stress and fatigue or lose weight the easy way, it is a good starting point.
Customer Reviews
Check out what other customers have to say about this portable sauna with these Radiant Saunas Rejuvenator Portable Sauna reviews:
"Initially, I had second thoughts about owning this product because I thought it couldn't get any hotter, being a person who's always cold. But when I decided to buy it and gave it a try, I sweat out a lot. I also appreciated the design because my head doesn't get hot. I tell you, it's definitely worth your time and money."
"Toward the front, there are side panels that don't give off enough heat, which surprised me. Maybe I got a defective unit."
"Such a valuable product! It can be set up quickly and cleaned easily."
"I ordered it in hopes of sweating out without the need for active exercises. It's unexpectedly easy to set up, but does it heat a lot? I don't know. I've tried to let it heat up for about 10 minutes and adjusted the temperature gradually, but still, it doesn't get hot enough. What a letdown! I'll return this product instead."
"Between losing weight and reducing stress, I had no issues with this product. I love it!"
"I was expecting that more heat would come out. Otherwise, it's a great product."
Review: Radiant Saunas BSA6310 Rejuvenator on Youtube
FAQ & Additional Tips
Do I need to add something for it to heat up? This portable infrared sauna is a dry heat unit which means you do not need to add water or anything else just to get it heated up. It is entirely different from a steam sauna.
How hot does this product can get? The portable infrared sauna has a maximum thermostat of 150 degrees Fahrenheit (65.56 degrees C). If you set the temperature to the range of 130 to 150 degrees Fahrenheit, you will sweat in about 15 minutes.
Does this unit have any chemical smell to it? No, it does not have a chemical smell at all.
Can the chair be replaced? The foldable chair is not replaceable since it comes together with the unit upon purchase.
How long should a person spend time in a sauna? The maximum time a person should stay in a sauna is half an hour. Also, take note that this product has a collar, so you should not stay in it for more than 30 minutes.
Read more: Radiant Saunas Rejuvenator Portable Sauna Reviews
3. Copper-colored Durherm Portable Infrared Sauna
The large Durherm infrared sauna is equipped with ultra-thin super conductive Tourmaline heater panels that are made in Japan. A semi-precious stone, Tourmaline is often used to detoxify your body through negative ions and infrared waves.
The Durherm design allows you to easily move your heads and hands while inside the sauna. You can read, watch films, or listen to music while "bathing". It also has accessible side pockets for the remote control.
Best Features:
Sauna is almost EMF-free
Generates more heat with less power.
Zip-on/off collars are washable
Temperature and timing can be remotely controlled
4. SereneLife Detoxifying 1-Person Portable Infrared Sauna
This 25-lbs portable sauna is easily foldable and lightweight. Follow your detox regimen using time settings that can be programmed up to 60 minutes. The temperature can be set up to 140 degrees Fahrenheit.
Supported by energy-efficient low-EMF heating panels, your safety is guaranteed. To enhance your quick sauna session, a small remote is provided for you. The zip closure makes access to the sauna a real breeze.
Best Features:
Has a programmable system to fit your detox needs
Equipped with a foldable sauna chair for comfort
Remote control is provided for switching time and temperature settings
Sauna sessions can go up to an hour
5. Giantex Personal Home Far Infrared Sauna
Take a relaxing time at home in this coffee-colored portable sauna. This far infrared sauna is built with a Tourmaline heating panel. Tourmaline has been used for a long time in massages and therapies. The addition of tourmaline gives this sauna box an edge. You can adjust the heat from 60 – 140 degrees Fahn.
For your best experience, the heating foot pad can be set in 3 levels. Enjoy up to 60 minutes of cleansing. The sauna comes with a folding chair and a foot massager that aids in sweating out toxins.
Best Features:
Heating panels have tourmaline elements
Sauna has foot massager for added comfort and sweating
Heat can be set up to 140 degrees Fahrenheit
Foot pad's heat can be tweaked in 3 levels
Relax FIR Ray Sauna
The Relax far infrared sauna has a unique silver-colored rounded exterior.  It is built with heating panels that give 100% far infrared light. It does not require much to power up this sauna box. A 700 wattage is enough to jumpstart your quick sauna session.
The FIR technology in this portable sauna makes you sweat quickly in less time. You are safe from excessive EMF radiation with the Relax Sauna.
Best Features:
EMF radiation mid-sauna clocks less than 3 milliGauss
Has efficient FIR technology
Large sauna dimensions ensure comfort and mobility
Sauna takes little time to heat up
Currently unavailable.
Conclusion
Far infrared saunas give a calm, relaxing experience. The heat waves, which are gentler as compared to the conventional saunas, help sweat out toxins efficiently.
Portable saunas have become popular because they're convenient and can be transported. With lesser cost and set-up time, one can enjoy the full benefits of sauna bathing.
However, there are risks to using infrared light. The amount of EMF radiation can totally forfeit the purpose of FIR saunas. Thus, EMF levels should be the first criterion to look at when choosing the best portable infrared sauna. Comfort comes second to safety. Sauna accessories and design should ultimately bring ease.
This makes the Copper-colored Durherm Portable Infrared Sauna the winner in the line-up. It has the largest space and the lowest EMF radiation. It has washable parts, too. Plus, the tourmaline panels give it an extra added value.
Infrared saunas are a worthy investment. Put simply, it is a buck for your health.