With tons of design choices available, finding a beautiful bathtub that fits your taste is no longer that difficult. In addition, because of online retail shops and social media, it is now easier to compare prices and choose the best-value product.
However, more and more people are now seeking more than just style and design. A lot of bathtub buyers nowadays are interested in the comfort and relaxation aspects of bathtubs. The sad truth is that it is easy to get confused and trust the wrong product. And that is exactly why we wanted to introduce an amazing bathtub brand— the best Alfi tub.
The Best Alfi Brand Bathtub Reviews
1.  Alfi Brand AB8839 Acrylic Oval Soak Bathtub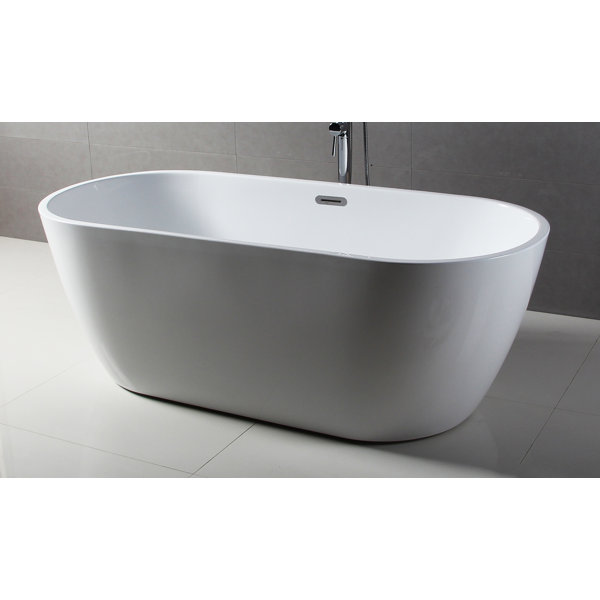 This classic looking bathtub has a pristine look that would look really great in any bathroom. It stands at 67 inches by 30 inches which fits an average user comfortably.
If you are going for a minimalist bathroom or one that expands the area, then you need this tub. It has a sleek design that doesn't consume much space but still able to give you a satisfying soaking experience.
Please note that installation is required for the AB8839 bathtub.
Best Features:
This is a freestanding tub.
Can hold up to 55 gallons of water
Its soaking depth is 15.37 inches
Made from premium acrylic
Has an oval shape with smooth edges
It also has an overflow drain and the tub drain at center.
With a one-year product warranty service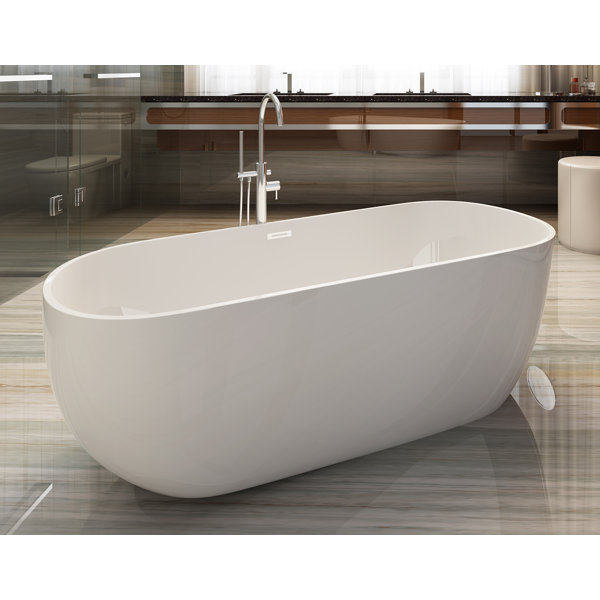 The Alfi AB8838 Bathtub is yet another classic tub from the line. It has a more structured look and is slightly smaller in size as compared to the AB8839 model.
Still, this freestanding tub is an amazing addition to your bathroom, especially if you want versatility in your bathtub.
Best Features:
It is sized at 59 inches by 28 inches.
Combines really great aesthetics and functionality to suit a modern bathroom.
With a pedestal tub design, which gives incredible base support to the tub.
Holds approximately 48 gallons of water
Soaking depth is 15.37 inches
This also has an overflow drain to control water properly.
You can enjoy a one-year product warranty on this one.
3.  Alfi Brand AB9941 Solid Resin Oval Soaking Bathtub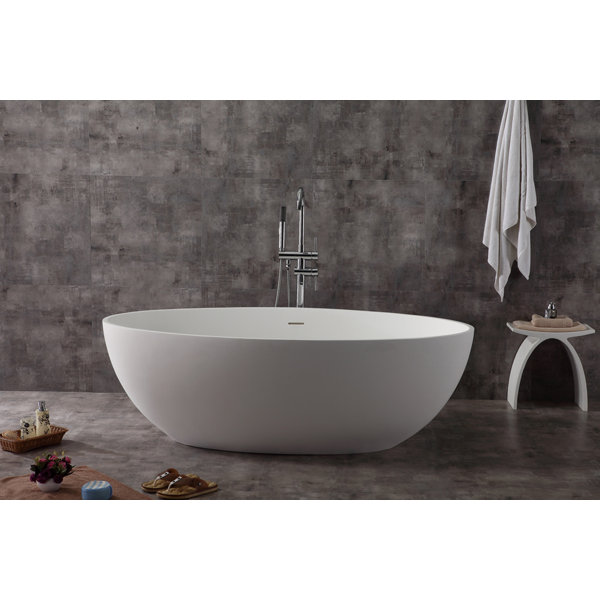 If you want a smooth yet robust bathtub, then a solid resign tub works well for you. The AlfiAB9941 is a special bathtub that is made from smooth resin material. This tub has a solid but a smooth surface that would make your body automatically glides to a resting position.
It also has a bigger size than the first two tubs mentioned on this list (AB8839 and AB8838). If you want a tub that can resist either warm or cold temperature and one that has a bigger size, then we are confident that this is the best Alfi Brand Bathtub for you.
Please note that it doesn't have an overflow drain.
Best Features:
This tub has a depth of 15.75 inches, which is slightly deeper than the AB88 series.
A freestanding tub with a solid and smooth surface
It also boasts a pedestal design that allows the tub to hold much weight.
Has a matte finish despite being made from resin
Holds up to 74 gallons of water
The resin material makes it resilient to stains and even scratches.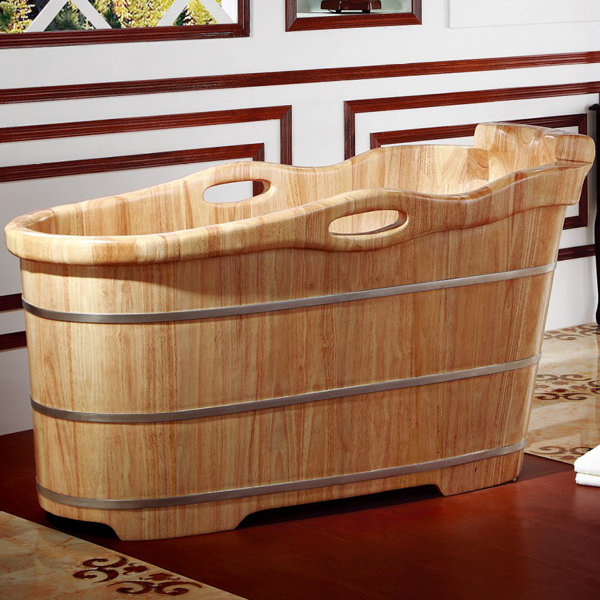 Maybe you have more of wooden fixtures in your home and would love to incorporate the same style in your bathroom? Well, the Alfi Bathtub AB1187 is a great option. This freestanding tub has beautiful wooden appearance that is matched with its premium quality and durability.
This stands at 57 inches by 26 inches, which may not be ideal for bulky people but very comfortable for average and petite users.
Best Features:
The tub is made from rubber wood which is highly known for its durability.
This can hold warm and heat longer so that you can enjoy a heated soak whenever you want one.
Best Alfi tub for deep soaking as it has a total depth of 21.7 inches.
Made from Natural rubber wood
Has a slipper design that allows you to comfortably lay back and recline in your bath
Includes a seat inside the tub
5.  Alfi Brand AB1139 Cedar Wood Soaking Tub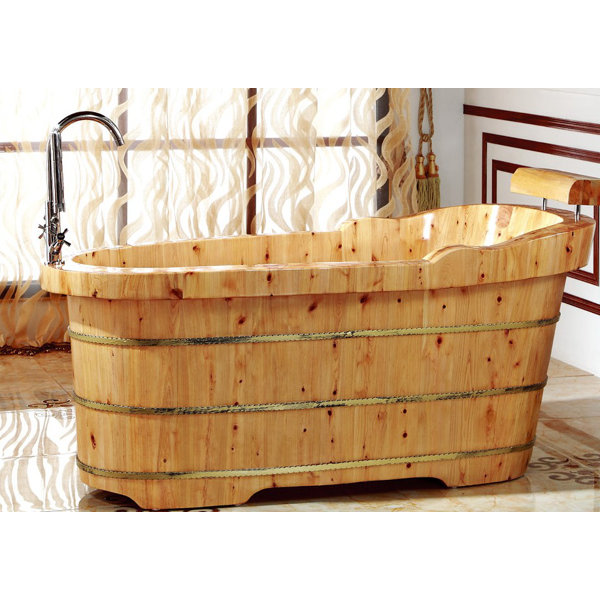 Another magnificent wooden tub from Alfi Brand is this cedar wood bathtub. This is a freestanding tub that looks amazing in semi-modern home or one with a vintage style to it.
The natural stain on the wooden materials gives it a sophisticated look without being too overbearing. If you are looking for ways to add personality to your bathroom, then a wooden tub is one way to do that.
Best Features:
Has a soaking depth of 19.3 inches
Can take up 77 gallons of water inside
Made from high-quality cedar wood
This is a slipper bathtub which is best for lounging positions.
The oval shape fits well with medium to big bathrooms.
There is a seat inside the tub.
It may not have an overflow drain but it has a chrome pop-up drain on the left.
You don't have to worry about the wood getting damaged easily as the wood is polished well.
1-year warranty
6.  Alfi Brand AB1148 Oak Wood Soaking Bathtub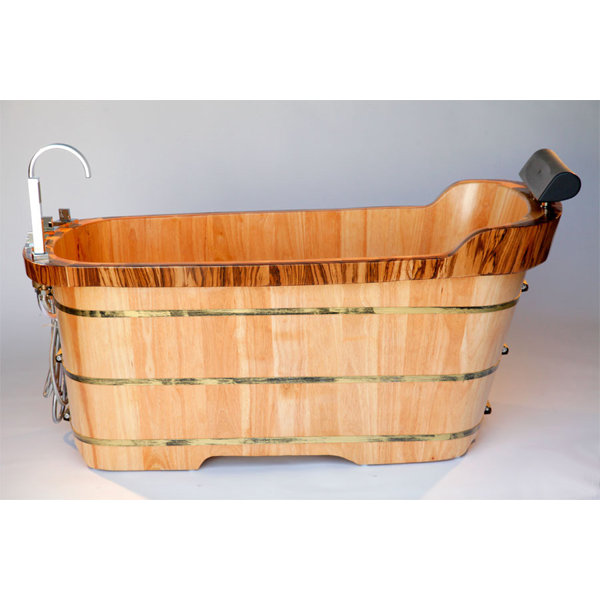 Last but definitely not the least on our list is this beautiful wooden bathtub. This unique yet appealing bath therapy type of soaking tub has a brown color. It is great for rustic and vintage interior, thanks to its black and gold details.
If you are really serious in getting a wooden tub, then this oak wood tub is an excellent option.
Best Features:
Made from oak wood, which is known for its ability to resist ageing and strength.
Holds 78 gallons of water
This freestanding tub has a depth of 19.5 inches
It is also slip-resistant to minimize accident in the tub
The slipper design supports the back well so that you can lounge comfortably
Offers 10-product warranty
Conclusion
Out of the 6 Alfi Brand Bathtub on the list, we think that the Alfi Brand AB8839 Acrylic Oval Soak Bathtub is the best-value choice. It has a classic look with an acrylic material, which is perfect for the environment and condition of most bathrooms. Also, acrylic tub suits well with modern bathrooms.
But what makes this tub even more amazing is that it provides a full soaking experience without using that much water. Isn't it great?
How about you which Alfi Brand Bathtub is your favorite?