There are many different types of bathtubs made from a variety of materials. The most common ones are made from acrylic, steel, fiberglass polyester, or cast iron, but wooden bathtubs are also starting to become more and more popular.
This does not come as a surprise since wooden tubs can provide you with a more elegant and comfortable feeling that other materials cannot provide. Manufacturers of the best wooden bathtub have a special way of processing wood, resulting in a strong material that has higher resistance to any effects from the water.
Pros and Cons of Wooden Bathtubs
When it comes to design, wooden tubs are a versatile choice that can suit different types of interior. But just like other bathtubs, they do have its own pros and cons.
Pros:
Natural and Environmental-friendly
Many people opt for wooden tubs because they are made from materials of natural origin, making them safe for the environment and for humans as well.
Long-lasting
The materials used in manufacturing wooden baths are highly resistant to moisture. Most types of wood used are oak, cedar, wenge, or larch. The wood is also specially treated, polished, and varnished to help protect the bathtub from moisture that could cause deformation. However, if you do plan on leaving the tub unused for a long time, you need to pour a little water in it to prevent it from drying up.
Health Benefits
A wooden tub brings more health benefits as compared to an acrylic, steel, or copper bathtub. The wooden material is a good stress reliever and helps in reducing irritations and insomnia. The kinds of wood used to make the tub also release interesting flavors into the air once it is being used — making your bathing experience more relaxing and special.
Design
If you want your bathroom to look like it has the best luxury bathtub, then getting a wooden tub is the best option for you. Wooden baths have a unique and stylish design, giving your bathroom interior a completely different and classy look.
Cons:
More Expensive
Wooden bathtubs are more on the pricey side as compared to acrylic, cast-iron, and other common types of bathtubs. This is because most wooden tubs are often handmade and not mass produced in a factory.
Maintenance Requirements
Even the top wooden bathtub requires a lot of maintenance. Wooden tubs can only last for years if it is cared for properly. If you plan on owning one, you must strictly follow the maintenance instructions provided by its manufacturer. A wooden bathtub must only be used for bathing, and not for soaking your clothes or washing your pets. Proper cleaning must also be observed, such as using special tub cleaners designed specifically for wood.
Re-Treatments
To prevent your wooden bathtub from losing its shine and to keep it waterproof, you might need to re-coat it with its protective treatment. Avoid using any harsh chemicals when cleaning to avoid scratching the sealer and exposing the wood — requiring you to do re-treatments more often.
What to Look for in a Wooden Bathtub
Having a wooden tub in your bathroom is definitely unique and stylish — luxurious, even. Buying one can be the best decision you've ever made if you know what to look for when choosing the best wooden bathtub.
Aside from the design, you must also know what type of wood was used to make the bathtub. The best types are those that are made from oak, cedar, wenge, or larch. The wood also needs to have an excellent surface sealer that prevents it from deteriorating easily. If you have your eye on a tub that is made from pieced together slabs of wood, be sure to check if those pieces are tightly joined together and sealed well to avoid any leaking.
It can be very tempting to buy a wooden tub based only on its look, but you must also remember that wood is more difficult to maintain. Make sure to consider the bathtub's long-term durability, such as how it can stand hard water staining. You must also check how long it can maintain its leak-proof features.
Product Reviews of the Best Wooden Bathtubs on the Market
Wooden bathtubs differ from one another depending on how much time was spent manufacturing and coating the product. Here are our top picks and reviews of the best wooden bathtubs on the market.
1.  ALFI 63-inch Freestanding Solid Cedar Wood Bathtub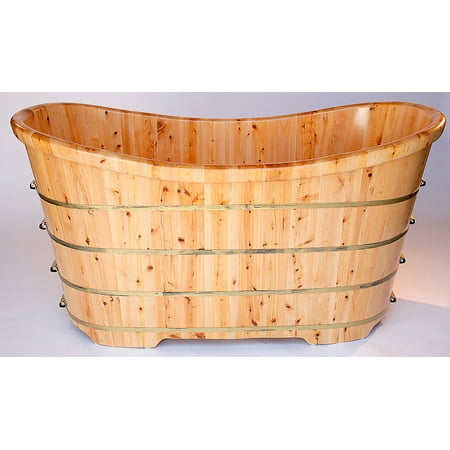 Our first wooden bathtub review is on this 63-inch bathtub made of solid cedar wood. When filled with hot water, this high-end tub can make you feel relaxed in no time. It is a simple, freestanding, oval-shaped bathtub that would make the perfect addition to your winter home.
It already includes a pop-up chrome plated drain.
The wooden seats at the bottom of the tub are removable for more convenience.
The product is easy to install with no instructions required. Since the tub is freestanding, you can simply set it up in your desired area and connect the drain.
It has three electroplated iron wraps as reinforcements to ensure durability.
It provides a classic, rustic look with its black and gold-painted iron wraps.
There were reports of some cracks on the top portion of the wooden tub.
2.  ALFI 59-inch Oak Wood Flat Bottom Bathtub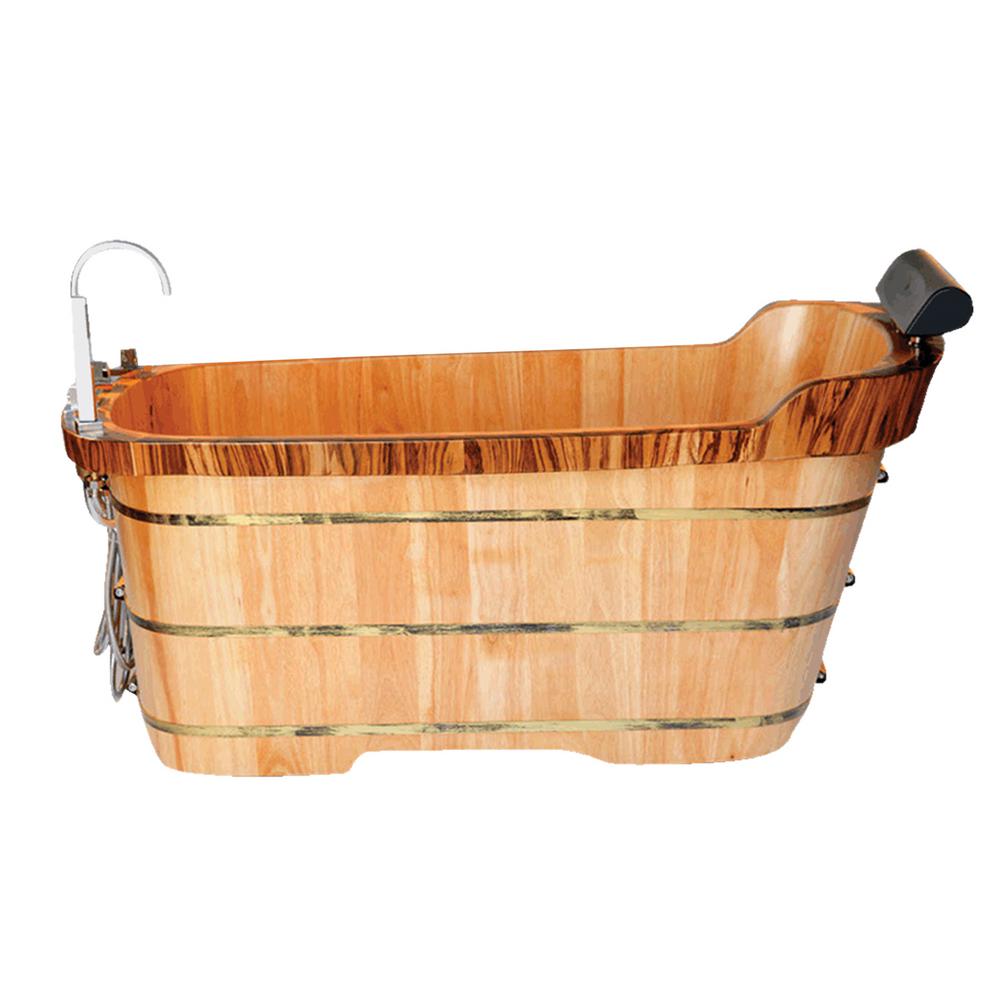 If you want a wooden bathtub that does not require too much cleaning, then this tub is for you. This 59-inch freestanding, flat bottom bathtub made of oak wood was designed to be used regularly. It does not need any special cleaning products to maintain its quality, but do note that you must not apply any harsh chemicals on the wood.
It can be used with bath soaps and salts as long as it is rinsed thoroughly out of the tub after use.
The product comes with a chrome tub filler on one end.
The bathtub also includes a hand held shower.
It includes a padded headrest and removable wooden seats at the bottom.
It ensures durability through its three iron wraps.
It has only one wooden seat at the bottom of the tub.
The bathtub is designed for indoor use only.
3.  ALFI 61-inch Natural Wood Cedar Flat Bottom Bathtub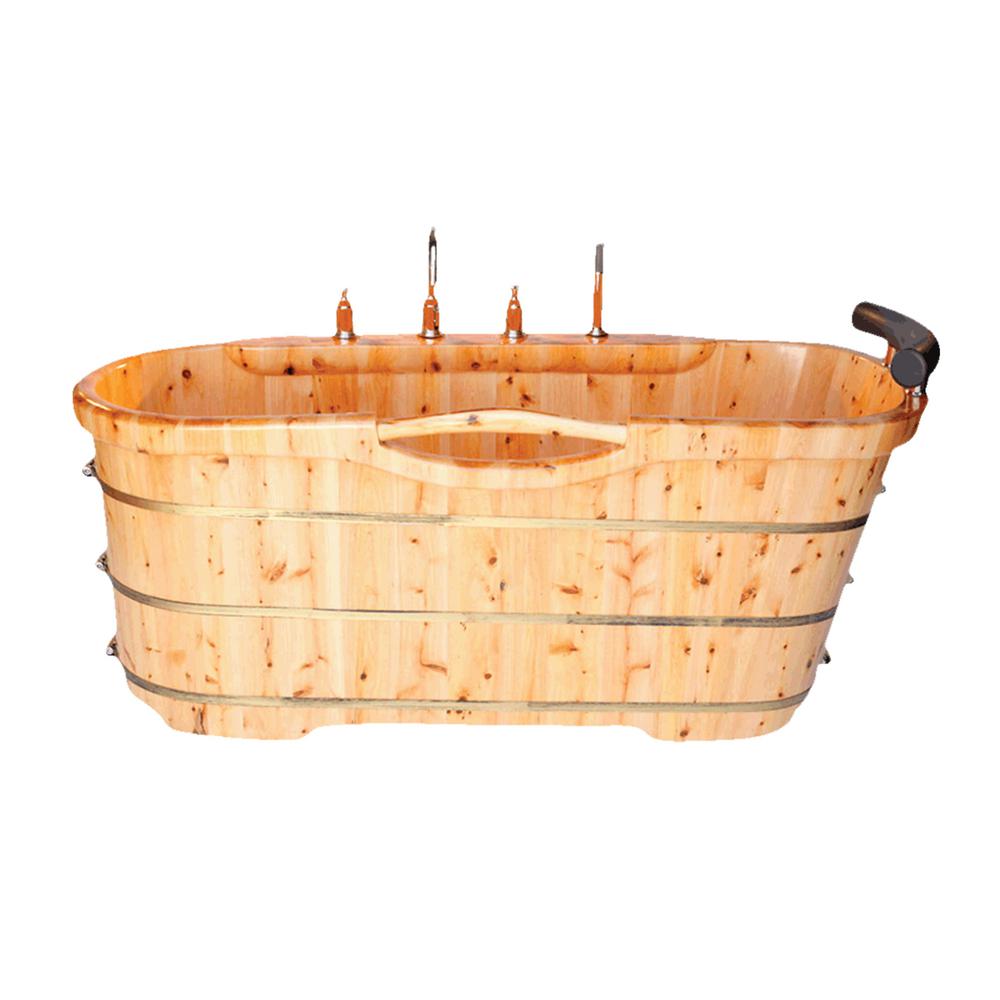 Looking for a big enough tub to keep you comfortable without having to scooch yourself to fit perfectly inside? This 61-inch wooden bathtub is the perfect one for you. It is specially made from cedar wood and is designed to complete your rustic, cabin-styled interiors. The bathtub comes with a free hanging basket — also made of wood — so that you can easily store and grab your bathing necessities.
It comes with an easily-reachable handheld shower head at the side of the tub.
The product includes a polished chrome pop-up drain and tub filler.
The bathtub has a comfortable cushioned headrest with chrome accents on one end.
It can be easily installed. All you have to do is place it in your desired spot and connect the drain and waterline.
The bathtub has one removable seat and one handle on one side.
The product cannot be used under direct sunlight or near a fireplace.
Conclusion
This list of the best wooden bathtub has presented you with good options to choose from. Each product had their unique features which can interest different people — depending on their needs.
Our personal winner is the ALFI 61-inch Natural Wood Cedar Flat Bottom Bathtub. It is just the perfect size, it is not too big, and not too small. This bathtub also has everything that you need, including a handle, a seat, a handheld shower head, a tub filler, a headrest, and many other features that can provide you with a relaxing bath.