If you're looking for a way to level up your relaxation time at home, then you might want to consider investing in a quality hot tub. A good hot tub can soothe your nerves and cause your mind to relax as well.
The AquaLife Spa Collection offers a wide variety of hot tubs to choose from to suit every customers' preferences. However, there is no denying that it can be quite a challenge to choose the best hot tub that is suited for your needs. Of course, you wouldn't want to spend your hard-earned money on mediocre products.
To help you weigh down your options, we will take you through a compilation of AquaLife Hot Tubs reviews.
Why AquaLife Hot Tubs?
AquaLife Hot Tubs are manufactured by Aquavia Spa, which is known as one of the top hydromassage and hot tub manufacturers in Europe. Their products are globally recognized in over 40 countries in Europe, Asia, and Africa. They have the best hot tubs that are designed with innovation and outstanding quality.
One of their top spa collections is the AquaLife Spa Collection, which is known for its outstanding quality at an average-ranged price. The collection includes the best AquaLife tubs that are designed for families that are looking for new ways to relax and bond.
These tubs are portable, functional, and durable with a combination of high-quality material, stable structure, and dependable electrical and mechanical components.
Aqualife Hot Tub Reviews: Best Value Hot Tub You Can Buy
1.  Aqualife Niagara LS 6 Person 120 Stainless Jet Lounger Hot Tub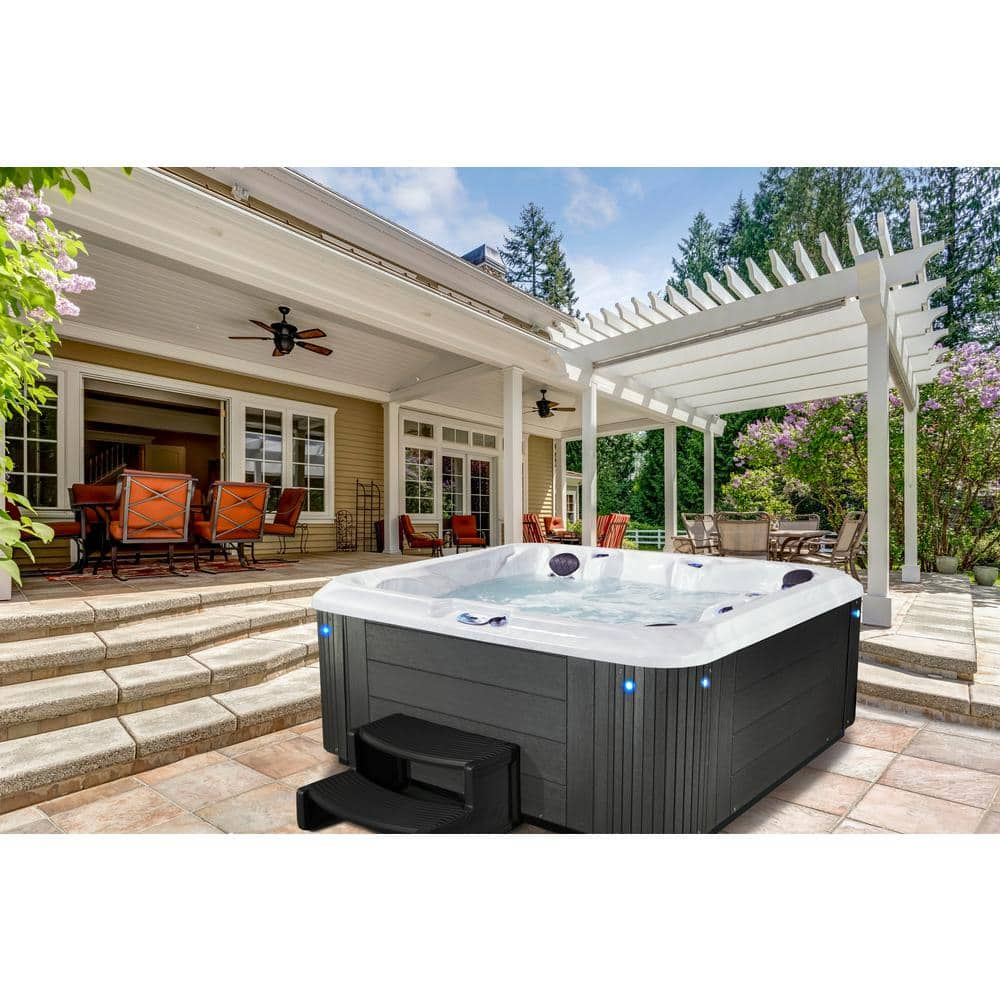 The Aqualife Niagara Hot Tub not only provides a relaxing hot tub but is also an effective therapeutic method that promotes health, wellness, and beauty benefits. This best hot tub provides a complete therapeutic massage with its 120 streaming jets through 81 powerful stainless steel jets.
The Pros:
Very spacious
Relaxing hydromassage
Digitally controlled temperature
Multiple modes
Energy-saving
The Cons:
Electrical panel design is complicated
The installation instruction is difficult to follow
Customer support could be better
Verdict
It's a good option if you are looking for a spacious hot tub with convenient controls and features.
Who is this Product For?
Everyone enjoys a refreshing hot tub, especially after a long tiring day. People who are prone to fatigue, anxiety, or asthma, among others, can benefit from this product. This well-equipped spa is meant to provide you with the greatest hydro massage experience possible.
Key Features and Benefits
Level up ozone water purification system that cleans water of impurities and maintains pristine water.
3 pumps: 1- 6 BHP/2 speed pump, 16 BHP/1 speed pump, and 1 HP blower pump that adds additional effervescence through every jet.
The illumination lighting system provides magnificent programmable multi-color interior spa lighting with backlight waterfall, main light, diverter valves, and outside lighting for enhanced ambiance and safety.
Complies with CEC California Energy Commission guidelines
Customer Reviews
Here are the Niagara LS 6 Person 120 Stainless Jet Lounger Hot Tub reviews to help you decide:
"A fantastic product; incredible jet power lovely, design. This tub is a lovely addition to any backyard spa. The Jets are powerful, and there are numerous settings you can make to tell her what you need. 
The motors are extremely quiet and cannot be heard while running. The lighting and waterfall are also nice accents. The supplied Ozonator is an absolute essential. In addition, the lounge gives an amazing full-body massage. I love it and highly recommend this unit, made by Strong Spas."
"I had to wait 6 months for my Strong Spa 2020 from an independent vendor. They promised me it would just take two months and continued breaking promises. They are excellent spas, but obtaining them may take longer than anticipated."
"This hot tub is ideal, with 120 flowing jets and seating for six adults. Enjoy underwater, multi-color lights for a lively evening at home, ideal for a date night or a fun night with friends. It has powerful jets that will give you a terrific back, leg, and foot massage. And, while this large hot tub requires some space and power, it is energy efficient, so you don't have to worry about turning the heat down when you're not using it."
Alternatives and Comparison
Most Niagara Hot Tub reviews compared the product with the Intex 28481 Simple spa. They both have the same size but have an excellent set of modern features.
However, the Niagara Hot Tub is a bit better in terms of bubble jets, allowing it to give a stronger hydromassage. But, if you are looking for a portable bathtub, the  Intex 28481 is better because it's inflatable.
Frequently Asked Questions
How much water can it contain? It can contain 400 gallons of water.
What is its electricity requirement? It is compatible with 240-Volt or 50A.
What is the size of the tub? The tub measurement  is 85 inches x 85 inches x 36 inches.
Is the bottom of the cabinet insulated? Yes, the base or the bottom of the cabinet has insulation that helps trap heat.
2.  AquaLife 8-Person Lagoon Spa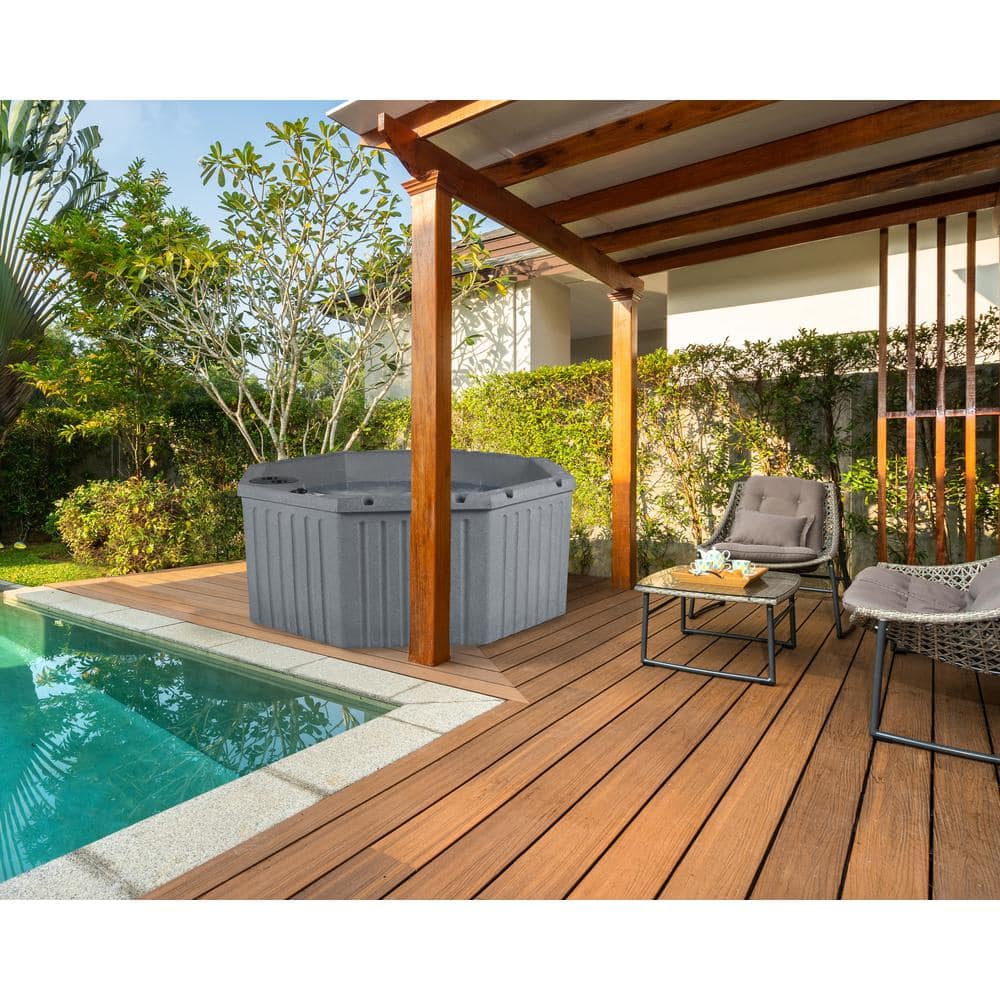 First on the list is the AquaLife's Lagoon Spa from AquaLife Spas' H2O Collection. It is designed to have open seating and can fit up to 8 people at most. This AquaLife hot tub is also prepped with LED underwater lights for nighttime use.
Impressively, it has a hydromassage feature with its 2-speed pumps and is easy to operate with its Plug and Play feature. It is digitally controlled and has an ATSM certified cover.
Highlighted Features:
20 Stainless Steel Jets for hydromassage therapy
Improved Ozone water purification feature to keep water clear and safe
Smart-Temp keeps water at your preferred temperature
Has 3 energy modes to balance your energy usage and save energy
Comes with headrests and cupholders for convenience
Plug-and-Play feature for easy operation
Pros of this AquaLife 8-Person Lagoon Spa:
Energy Efficient
Lightweight and Durable
Easy to operate
Powerful jets for full body massage and added relaxation
Constructed with eco-friendly and durable material
Cons of the Hot Tub:
Spa steps sol separately
Can only fit 3 to 4 people comfortably
3.  AquaLife 7-Person Oceania Spa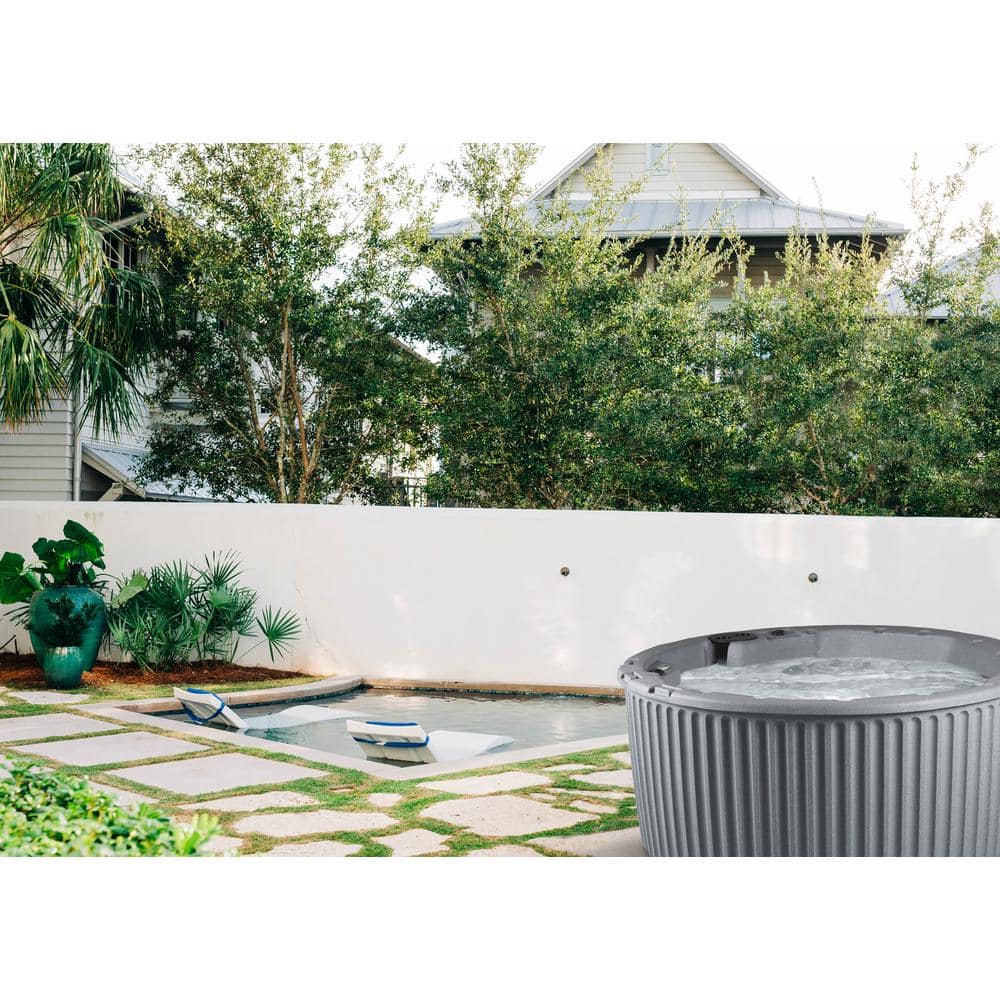 The Oceania Spa of the H2O Collection is designed with 40 stainless steel jets for a full-body massage. This spa is advertised to accommodate 7 people at most, making it ideal for a large family.
Like the Lagoon Spa, it has open seating and LED lights for a better nighttime ambiance. It also comes with an insulated and locking cover that keeps your spa clean, safe, and free from debris.
Highlighted Features:
40 Stainless Steel Jets for hydromassage therapy
PureLife Filtration System
Smart Temp keeps water at a preferred temperature
3 energy modes to match energy-saving needs
Includes cupholders and headrests
ATSM certified spa cover
Pros of this AquaLife 7-Person Oceania Spa:
Energy Efficient
Lightweight and Durable
Mold and weather resistant
40 powerful jets for full body massage and added relaxation
Easy to maintain
Cons of the Hot Tub:
Spa steps are sold separately
4.  AquaLife 6-Person Osprey LS Spa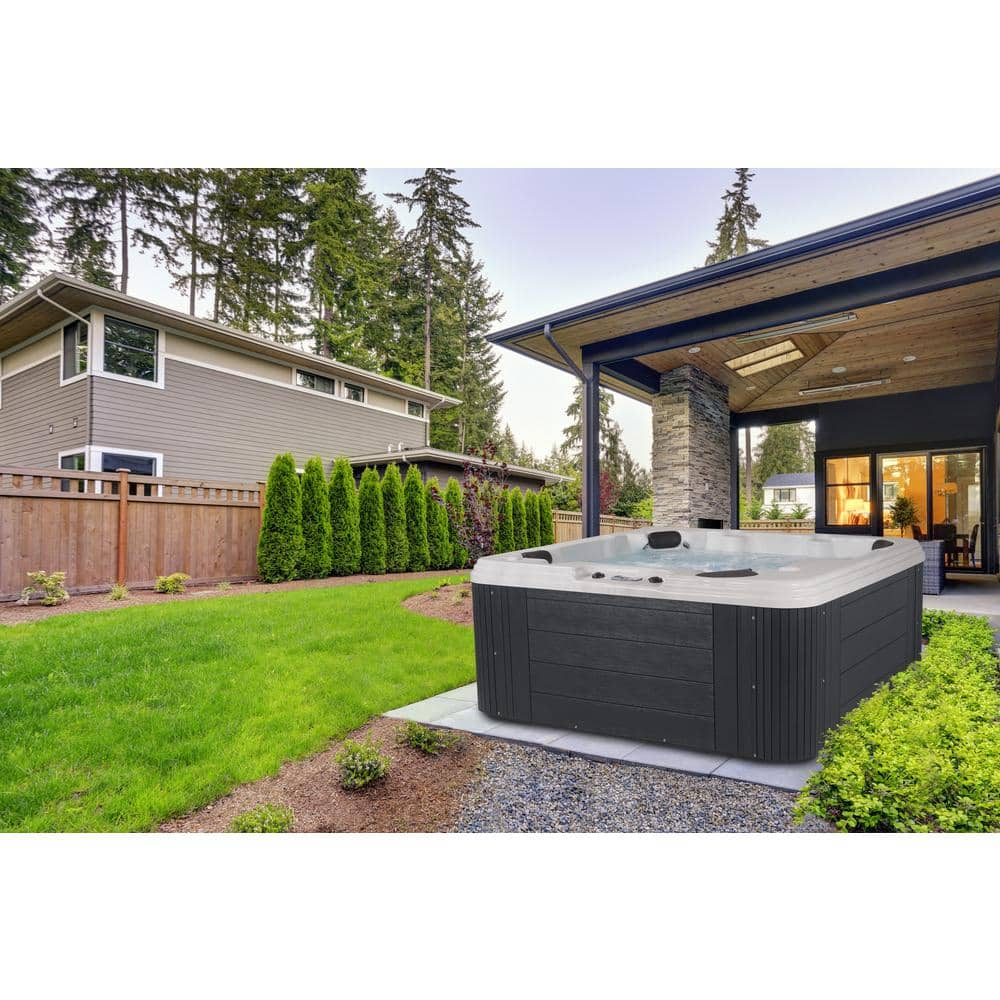 In AquaLife's Cascading Collection, we have the Osprey LS Spa which has 86 hydrotherapy water jets and 50 stainless steel jets for an upgraded full body massage. It can hold up to 6 people at most.
Unlike the previous tubs, this unit has a contoured structure similar to a cradle. It also has a stylish touch to it with its acrylic shell color and matching colored cabinets.
Highlighted Features:
86streamingjets and 50 stainless steel jets for a better hydromassage experience
PureLife filtration system to minimize spa chemicals and keep the water clean
Smart-Temp keeps water at your preferred temperature
Has 3 energy modes to balance your energy usage and save energy
Comes with headrests and cupholders for convenience and LED lights for better ambiance
UV-resistant, maintenance-free, and eco-friendly Solid Shell and Cabinet
Pros of this AquaLife 6-Person Osprey LS Spa:
Energy Efficient
Cradle-like structure for comfort
Easy to operate and low maintenance
Powerful jets for full body massage
ATSM certified spa cover
Cons of the Hot Tub:
Smaller than advertised and can only fit 3-4 people
Spa steps sold separately
5.  Aqualife Retreat Cobblestone 5 People Plug and Play Hot Tub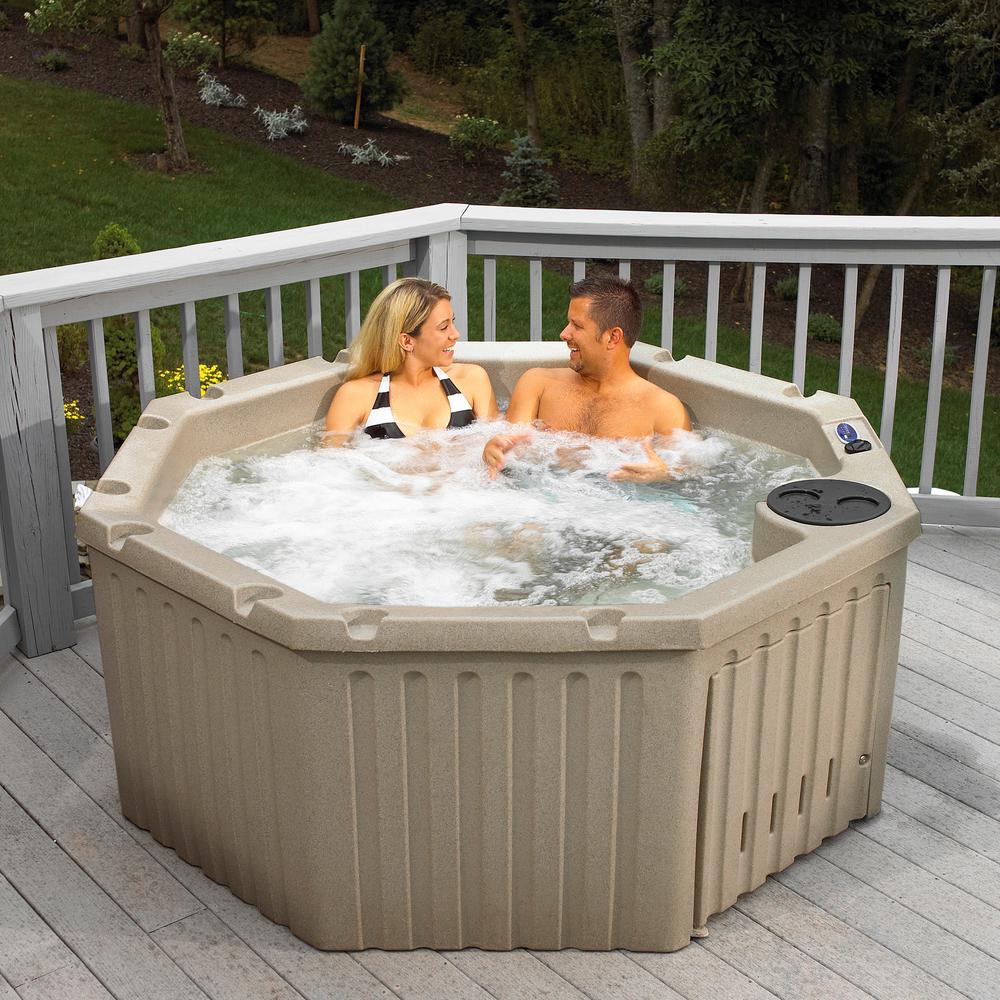 If you're looking for something that's rather low maintenance and has a long shelf life, then consider getting the Aqualife Retreat. It is a 6-person hot tub that is very durable because of its hard exterior that is very resistant to impact. It is actually made out of granite resin making it very hard.
The interior is also very durable as well being made of stainless steel that is well insulated. Other than durability, it's got other great features as well like a digital back light, 11 jets, and hydrotherapy massage settings.
Best Features:
2-speed pump
Massage hydrotherapy settings
Durable granite exterior
Long-lasting stainless-steel exterior
Optimal insulated interior
Plug and play feature
6.  Aqualife Harbour 6 Person Cobblestone with Lounger Plug and Play Hot Tub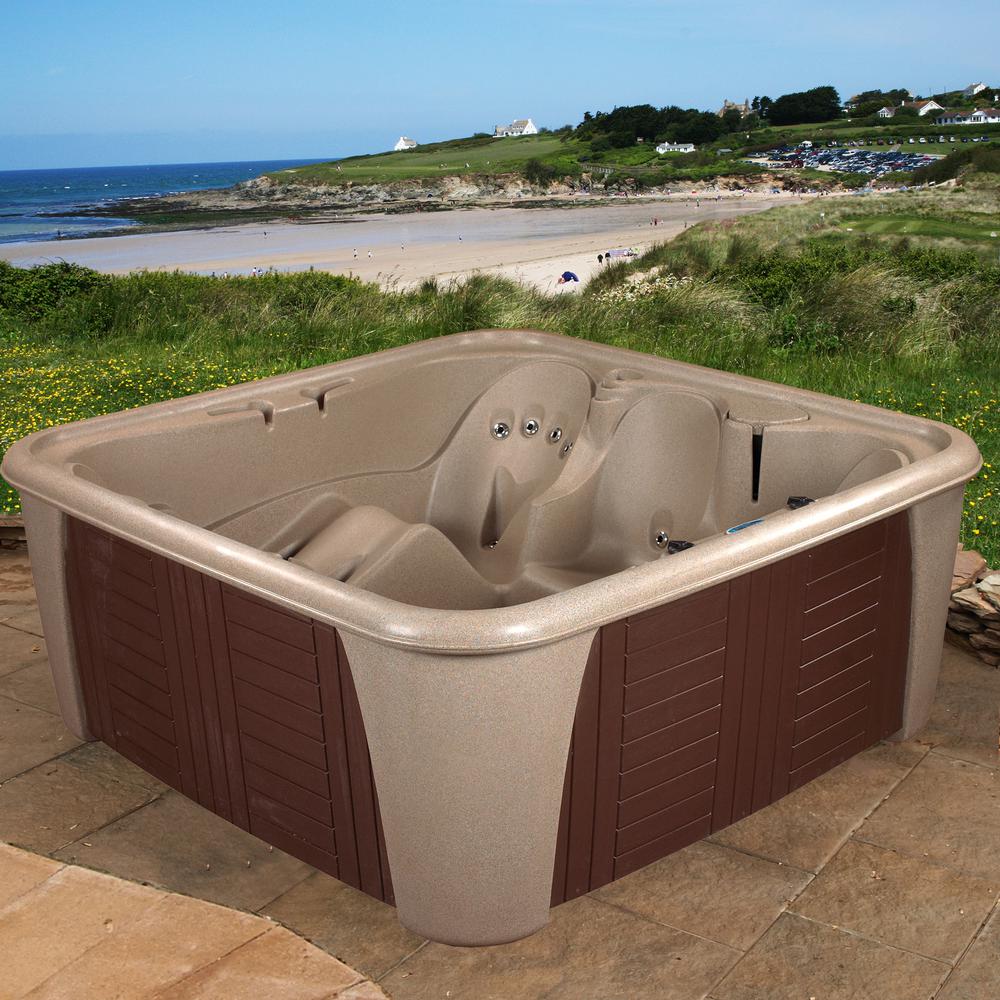 The Aqualife Harbor is similar to the Aqualife except for two main things— its shape and its number of jets. This one sports a square shape and has 24 jets. The advantage of having more jets is that you can really feel the power pulsating out of the machine. The more the jets, the better the massage since the stronger the water pressure.
If you always have aches and body pains, this model is the one that's highly recommended for you. It also comes with a lounge seat, allowing you to invite 5 more people inside the tub with you.
Best Features:
24 powerful massage jets
Inclusive of lounge seat inside
Optimal heat retention
240-volt power
6-person capacity
7.  Aqualife Haven 6 Person Granite Plug and Play Hot Tub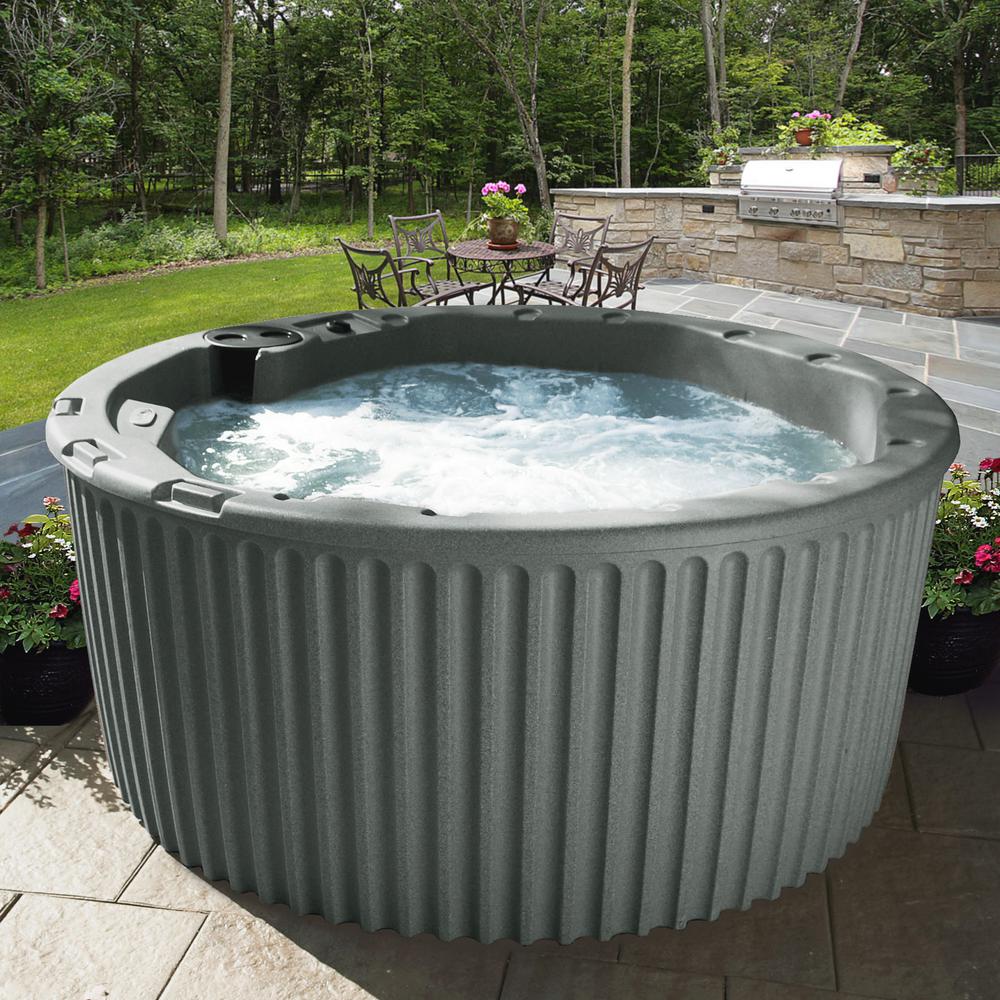 While not having as many jets as the Aqualife Harbor, the Aqualife Haven is definitely much nicer to look at. It has a rather unique design that looks great in outdoors. It is made out of beautiful stone granite and has a very intricate design that looks good anywhere you put it.
Even though its design is more suited for the outdoors, it can also look good indoors as well. Other than its looks, it also has some great features as well like 20 massage jets and a highly insulated interior. It is also plug and play plus it has a capacity of up to 6 people.
Best Features:
Beautiful and detailed gray granite resin design
Versatile design for both indoor and outdoor use
20 hydrotherapy jets
5 to 6-person capacity
Plug and play feature
8.  Aqualife Adulation 6 Person Hot Tub with Lounger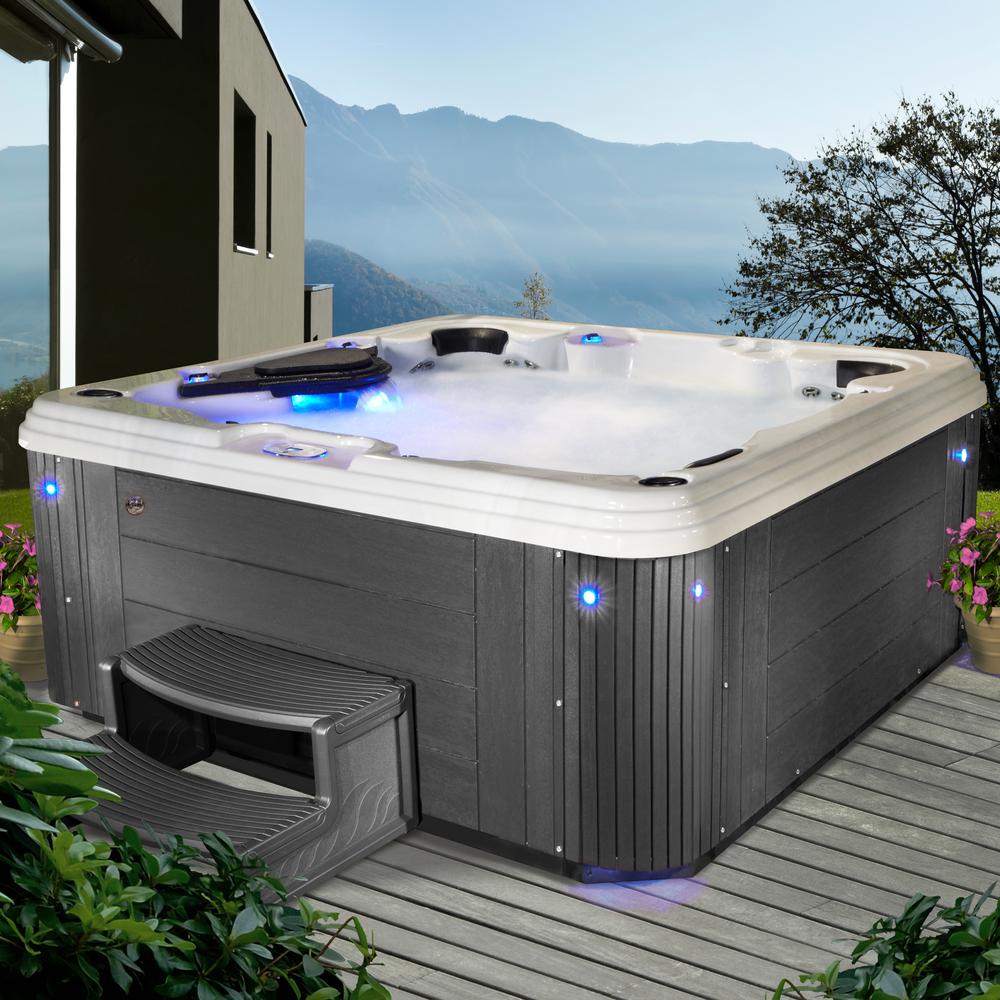 The Aqualife Adulation model happens to be the most high-tech of the 4 choices because of its range of really cool features. First, it has a total of 67 jets that you can enjoy. 51 of these jets are 2 tone jets while the other 2 are stainless steel jets. Captain chairs are also attached to the tub enhancing the overall comfort.
You'll also notice that there is a Bluetooth connected speaker complete with 2 speakers and a subwoofer. To control the heat and other settings, there is a digital backlight display control. To top it all off, there is an underwater LED light to contribute to the overall soothing experience.
Best Features:
Bluetooth speaker system
Futuristic wood looking exterior
2 captain chairs inclusive
4kW Balboa heater
Full body hydrotherapy with 67 jets
LED lights underwater
Frequently Asked Questions About Aqualife Hot tubs
Now that we've gone through the Aqualife Hot Tub Reviews, you still probably have a lot of questions about Aqualife hot tubs somewhere on the top of your head. Don't worry about that though, because we'll be answering 5 of the most common questions about Aqualife hot tubs that most beginners ask.
Check them out below:
Q: Do I need a permit to buy and install a hot tub?
A: Generally, you don't need to get one if you're going to install a hot tub for personal use. However, there may be some local municipalities that require quality control. Double check with your seller just to be sure. 
Q: Is installation of the hot tub difficult?
A: Since our chosen Aqualife hot tubs are all plug and play, you won't have a hard time with installation. Just take note of the voltage and plug your tub into the right outlet.
Q: How long does it usually take for a hot tub to heat up?
A: This depends on how many kilowatts the heater is. Usually, most hot tubs have heaters that are 2 or 3kW. With this kind of power, you can expect the tub to heat up after 12 hours. For our chosen hot tubs though, they make use of a 4kW Balboa heater, so it'll take less than 12 hours to heat up.
Q: How often do I need to empty my hot tub and fill it with fresh water?
A: Most experts recommend that you empty it every 3 months via filtration.
Q: How do I clean and maintain the water in my Aqualife hot tub?
A: The standard chemical to use is chlorine, but we recommend you use bromine if you want to safely keep your pH levels intact.
Final Verdict
That concludes the AquaLife Hot Tubs reviews for the best Aqualife hot tubs available today. Overall, all hot tubs mentioned above are promising and convincing with little to no bad reviews. The only issues are the significant differences on the advertised size of certain tubs and the separately sold spa steps.
Nonetheless, these hot tubs are still equipped with impressive features that may fit your family's needs and preferences. They are a worthwhile leisure investment if you are after a spa-like experience in the comfort of your home.