If you're looking for the best hot tub to buy, the most recommended brand to buy is none other than Aqualife. Aqualife is known to manufacture some of the best hot tub products with extremely luxurious features.
If this somehow tickles your fancy, then we've got a list for you. We have a list of AquaLife Hot Tub reviews wherein you can choose among the best Aqualife hot tub models in the market.
Check them out below:
4 Best Aqualife Hot Tub Reviews
1.  Aqualife Retreat Cobblestone 5 People Plug and Play Hot Tub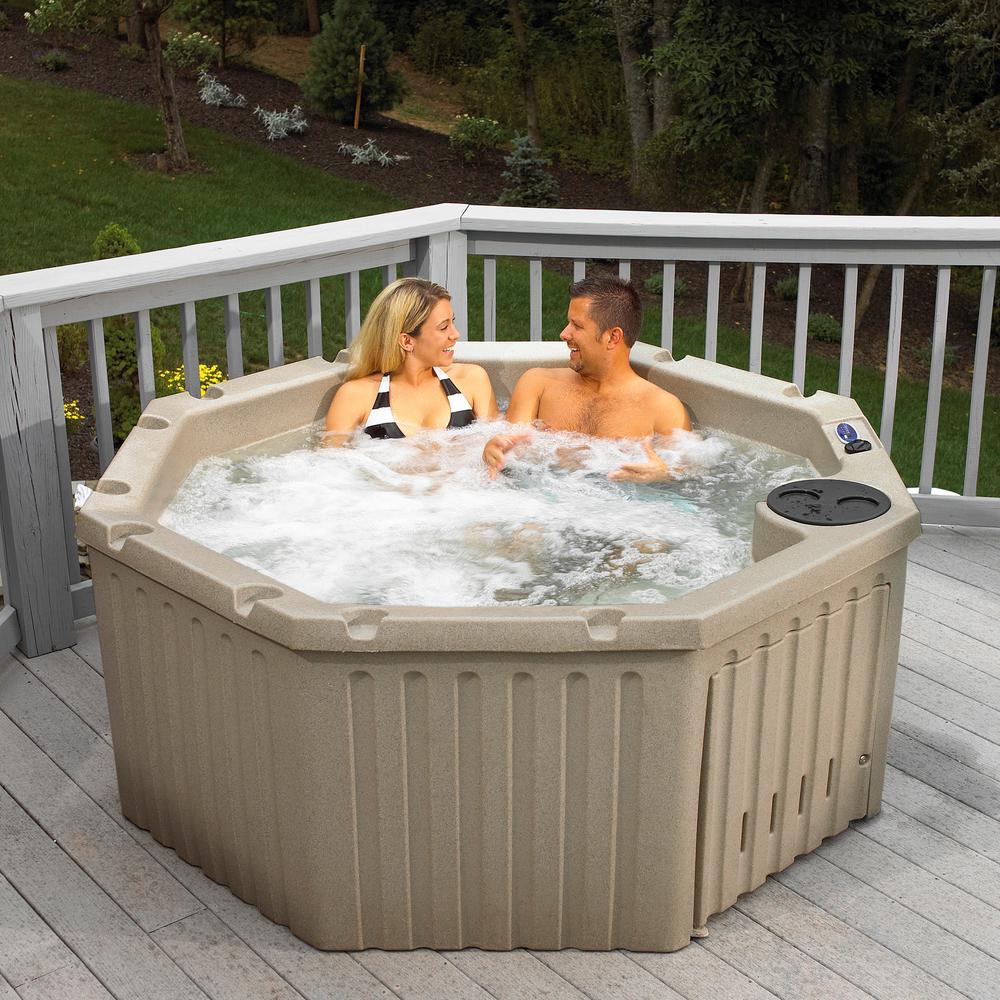 If you're looking for something that's rather low maintenance and has a long shelf life, then consider getting the Aqualife Retreat. It is a 6-person hot tub that is very durable because of its hard exterior that is very resistant to impact. It is actually made out of granite resin making it very hard.
The interior is also very durable as well being made of stainless steel that is well insulated. Other than durability, it's got other great features as well like a digital back light, 11 jets, and hydrotherapy massage settings.
Best Features:
2-speed pump
Massage hydrotherapy settings
Durable granite exterior
Long-lasting stainless-steel exterior
Optimal insulated interior
Plug and play feature
2.  AqualifeHarbour 6 Person Cobblestone with Lounger Plug and Play Hot Tub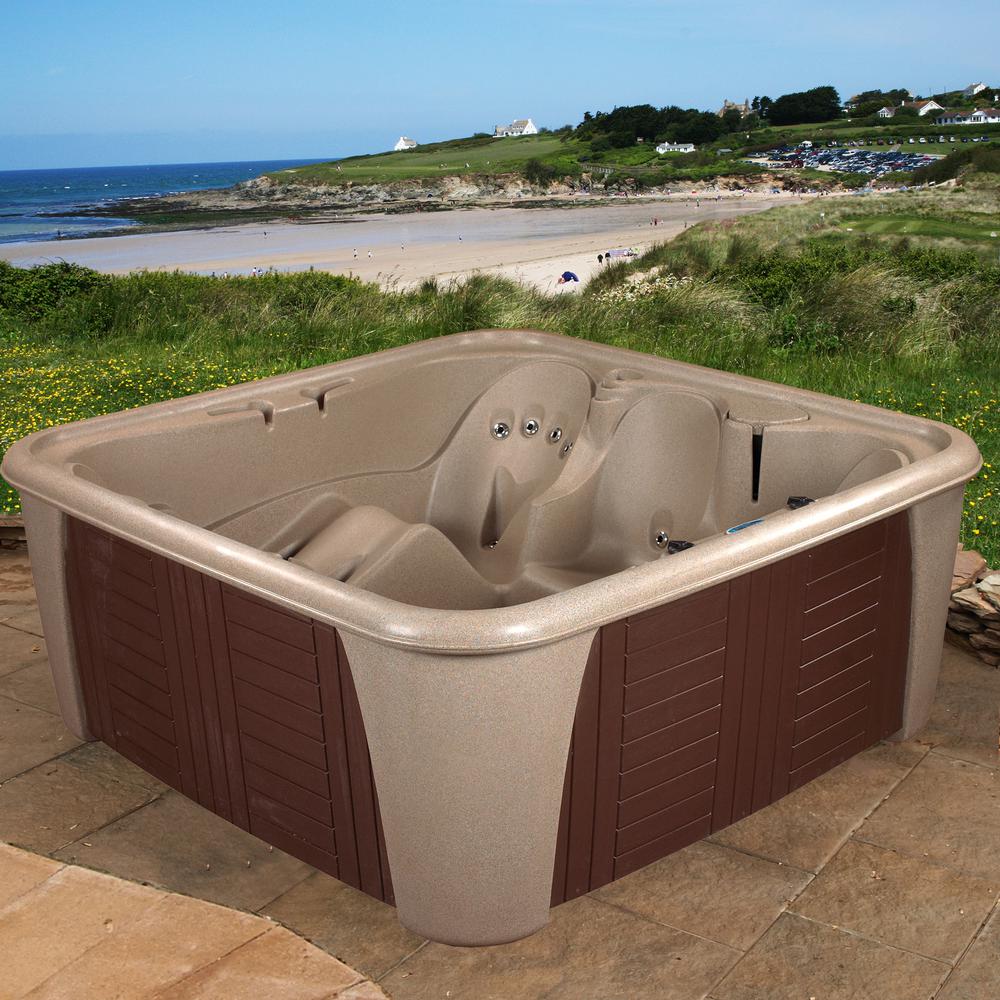 The Aqualife Harbor is similar to the Aqualife except for two main things— its shape and its number of jets. This one sports a square shape and has 24 jets. The advantage of having more jets is that you can really feel the power pulsating out of the machine. The more the jets, the better the massage since the stronger the water pressure.
If you always have aches and body pains, this model is the one that's highly recommended for you. It also comes with a lounge seat, allowing you to invite 5 more people inside the tub with you.
Best Features:
24 powerful massage jets
Inclusive of lounge seat inside
Optimal heat retention
240-volt power
6-person capacity
3.  Aqualife Haven 6 Person Granite Plug and Play Hot Tub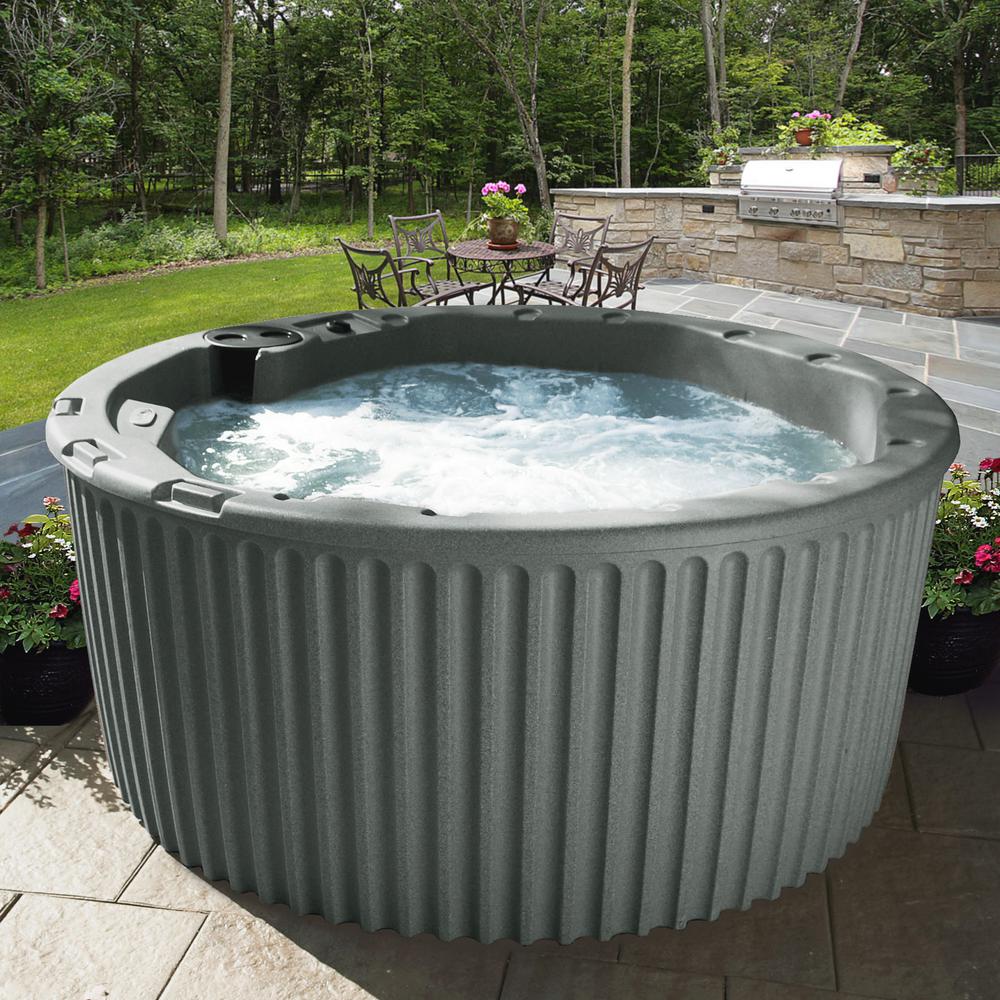 While not having as many jets as the Aqualife Harbor, the Aqualife Haven is definitely much nicer to look at. It has a rather unique design that looks great in outdoors. It is made out of beautiful stone granite and has a very intricate design that looks good anywhere you put it.
Even though its design is more suited for the outdoors, it can also look good indoors as well. Other than its looks, it also has some great features as well like 20 massage jets and a highly insulated interior. It is also plug and play plus it has a capacity of up to 6 people.
Best Features:
Beautiful and detailed gray granite resin design
Versatile design for both indoor and outdoor use
20 hydrotherapy jets
5 to 6-person capacity
Plug and play feature
4.  Aqualife Adulation 6 Person Hot Tub with Lounger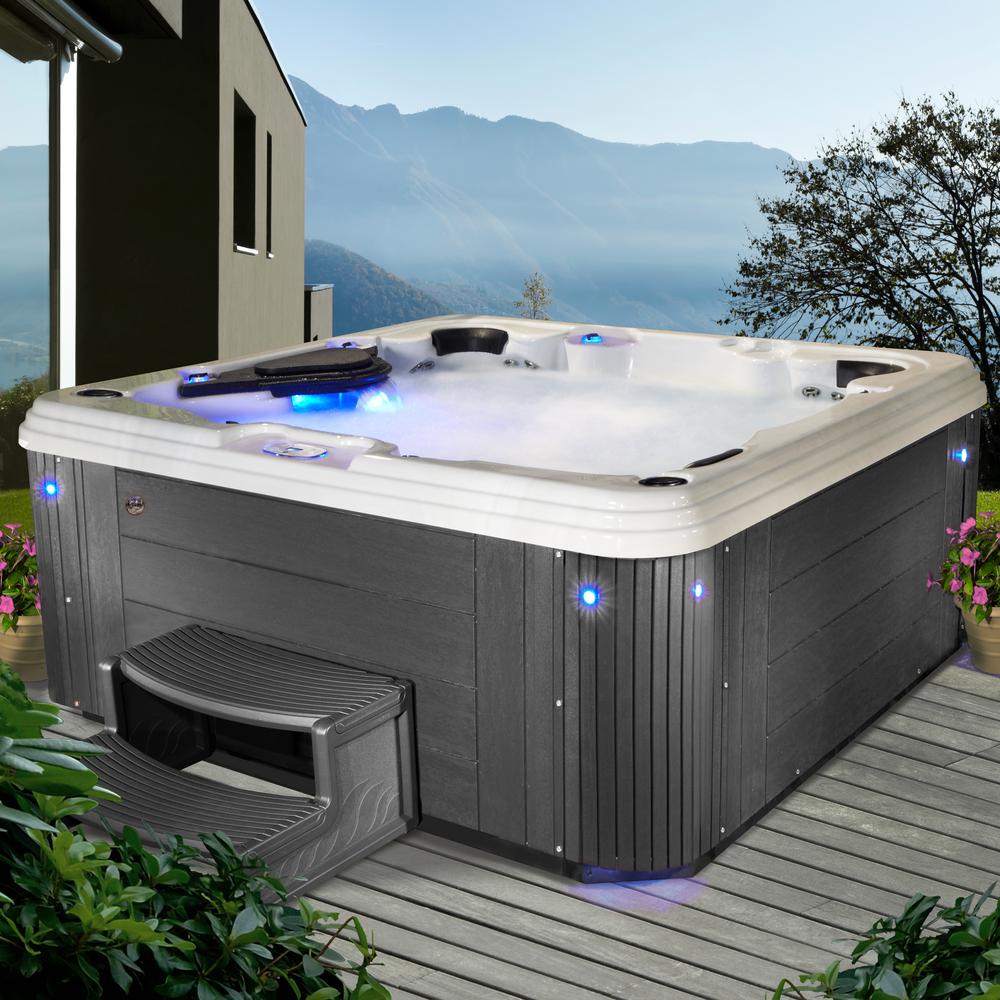 The Aqualife Adulation model happens to be the most high-tech of the 4 choices because of its range of really cool features. First, it has a total of 67 jets that you can enjoy. 51 of these jets are 2 tone jets while the other 2 are stainless steel jets. Captain chairs are also attached to the tub enhancing the overall comfort.
You'll also notice that there is a Bluetooth connected speaker complete with 2 speakers and a subwoofer. To control the heat and other settings, there is a digital backlight display control. To top it all off, there is an underwater LED light to contribute to the overall soothing experience.
Best Features:
Bluetooth speaker system
Futuristic wood looking exterior
2 captain chairs inclusive
4kW Balboa heater
Full body hydrotherapy with 67 jets
LED lights underwater
Frequently Asked Questions About Aqualife Hot tubs
Now that we've gone through the Aqualife Hot Tub Reviews, you still probably have a lot of questions about Aqualife hot tubs somewhere on the top of your head. Don't worry about that though, because we'll be answering 5 of the most common questions about Aqualife hot tubs that most beginners ask.
Check them out below:
Q: Do I need a permit to buy and install a hot tub?
A: Generally, you don't need to get one if you're going to install a hot tub for personal use. However, there may be some local municipalities that require quality control. Double check with your seller just to be sure. 
Q: Is installation of the hot tub difficult?
A: Since our chosen Aqualife hot tubs are all plug and play, you won't have a hard time with installation. Just take note of the voltage and plug your tub into the right outlet.
Q: How long does it usually take for a hot tub to heat up?
A: This depends on how many kilowatts the heater is. Usually, most hot tubs have heaters that are 2 or 3kW. With this kind of power, you can expect the tub to heat up after 12 hours. For our chosen hot tubs though, they make use of a 4kW Balboa heater, so it'll take less than 12 hours to heat up.
Q: How often do I need to empty my hot tub and fill it with fresh water?
A: Most experts recommend that you empty it every 3 months via filtration.
Q: How do I clean and maintain the water in my Aqualife hot tub?
A: The standard chemical to use is chlorine, but we recommend you use bromine if you want to safely keep your pH levels intact.
Conclusion
Now that you have a list of the Best Aqualife Hot tub products and a few facts in your arsenal, you can buy one. If you were to ask us which one of the four we recommend though, we will tell you to get the Aqualife Adulation 6 Person Hot Tub with Lounger.
This is the ultimate hot tub if you're after total relaxation because of its powerful hydrotherapy system, captain chairs, and music system. It may be a little expensive, but it's surely worth it.