I believe home spas are a great investment that lets me take a resort vacation in my home. Right now, I am considering one that's perfect for lounging or having friends over. I did my research and asked friends already for the right home spa. I read several Aquarest Spas Elite 500 reviews and think this is the best one for me.  I like that it's comfortable and has enough features that make it a great addition to my home. 
Aquarest Spas Elite 500 5-Person 29-Jet Hot Tub: The Good and the Bad
The Aquarest Spas Elite 500 has amazing features that fit my lifestyle. AquaRest Spas is one of the most recognized brands when you talk about roto-molded and polyethylene hot tubs and spas. They pioneered the use of rotationally molded spas in 1997. Because of this, AquaRest Spas has been known to produce the toughest spas at the best prices.
The Aquarest Spas Elite 500 reviews point out lots of pros and cons about this product. I'll try to break it down for you so you can make the best decision for your home spa needs. 
Pros of this Aquarest Spas Elite 500
Easy to set up with a standard 120V outlet included
A portable spa that can be used indoors and outdoors
Durable polyethylene build
Energy-efficient with full foam insulation and safety cover
Fun features like LED backlights, cascading waterfalls, and pre-installed cup holders on the spa.
Cons of The Aquarest Spa Hot Tub
A little cramped for 5 adults and can only comfortably fit 4 persons
It takes about 24 hours for the water to really heat up and ready for use
Who is This Product For?
If you want a basic and tough spa for your home, this will be great for you and your home. The Aquarest Spas Elite 500 is great for small families who want a relaxing time.
Key Features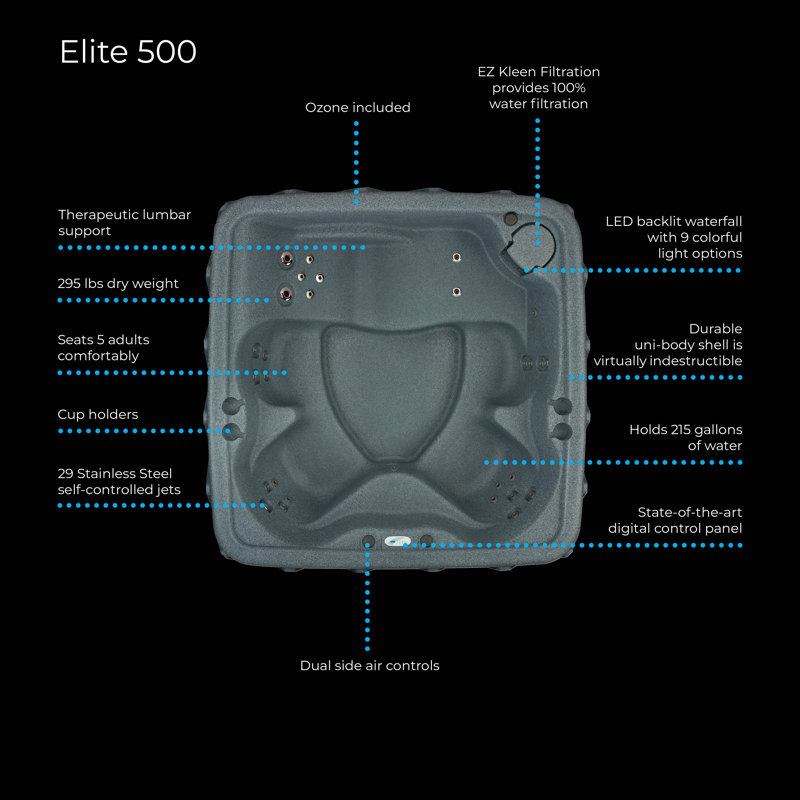 29 Hydrotherapy Jets – These 29 stainless steel hydrotherapy jets have dual side controls that let you be in full control of the nozzle direction. You can strategically place the nozzle in any part of your body to relieve the stress. Aquarest Spas ensures that they use actual water therapy jets instead of air injectors in all their spas.
Safe and Clean Water – It has an EZ Kleen Filtration System that helps filter out the dirt that comes into your spa and has an easy to change the filter as needed. The Ozone Purification System, on the other hand, produces ozone gas in your spa water that kills bacteria. This means less chemical use for your home spa.
If you want a dependable starter spa that is easy to plug in without the tricky wiring installations, the Aquarest Spas Elite 500 is for you. However, the long warming time might not be best if you're the type who wants a soak on a whim. For me, the water retention feature kind of makes up for it so I think it is worth the wait. 
Customer Reviews
The Aquarest Spas Elite 500 reviews are mostly positive, citing its affordability and practicality as its greatest asset.  Here are the positive reviews I saw online:
One user named Jane said "This is an amazing hot tub. Easy to clean and looks great. We are very happy about buying this."
Irene also said "I think you have to remember what you are getting and set your expectations accordingly. We wanted to check if it was something we enjoyed before investing in more luxurious and expensive models."
FAQs
What's the highest temperature can the Aquarest Spas Elite 500 get?
The Aquarest Spas Elite 500 can heat up to 104° F (38°-40°C). The water in your spa must NOT be warmer than 104° F to avoid health issues.
What colors is the Aquarest Spas Elite 500 available?
It is available in Graystone, Brownstone, and Keystone.
What is its weight and dimension?
The Aquarest Spas Elite 500 weighs 295 lbs. It measures      79" (L) × 79" (W) × 32" (H). 
Additional Tips
Avoid soaking longer than prescribed to avoid hypothermia.
The Aquarest Spas Elite 500 is intended for residential use only is not suitable for commercial use.
Setting Up your AquaRest Spa
Final Verdict
After reading countless reviews, I will stick with Aquarest Spas Elite 500 because it's affordable, has great aesthetic features, durable, and easy to install. The setbacks I found about it is something I can adjust to and is not a great turn off. Here's hoping you found this review helpful in making your home spa purchase.