Not only does a corner tub look great in your bathroom, but it saves up a lot of space as well. Corner tubs are either attached wall tubs or freestanding tubs that can take up the shape of a corner.
Is this the kind of bathtub that you want for your bathroom? If it is, then you need to get the best corner bathtub that you can find. We have created a list of the 5 best corner tub brands that we're sure you'll love.
Best Corner Tub Reviews
1.  Kohler Proflex Corner Tub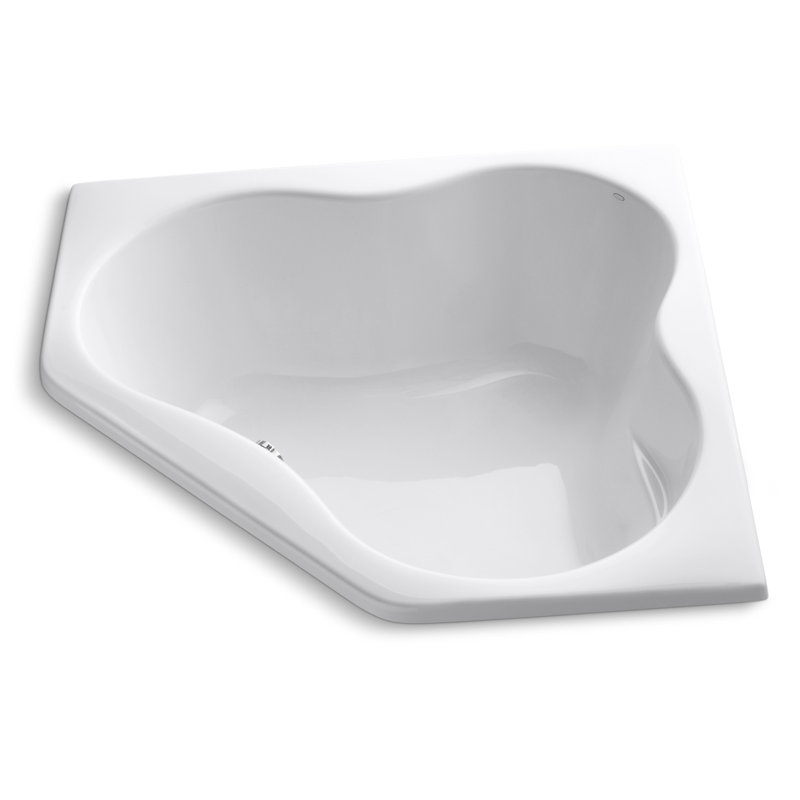 This is the bathtub that you're looking for if you want something with a little more leg room. Unlike most corner tubs, this one is built for fitting more than one person comfortably. The edges are round instead of sharp so that you'll feel comfortable leaning on the edge of the tub.
It is actually designed for fitting two people comfortably so that both can have a lot of room to stretch and relax. It's actually a great bathtub for couples who want to get intimate at night. It's also a special acrylic bathtub which is made of Exocrylic material, making it very durable and slick.
Key Features:
Made of a slick Exocrylic material
Built for fitting two people
Circular edges for total comfort
Center drain placement
Compact build to save space
Very easy to install
2.  Ariel Bath AM168 Whirlpool Tub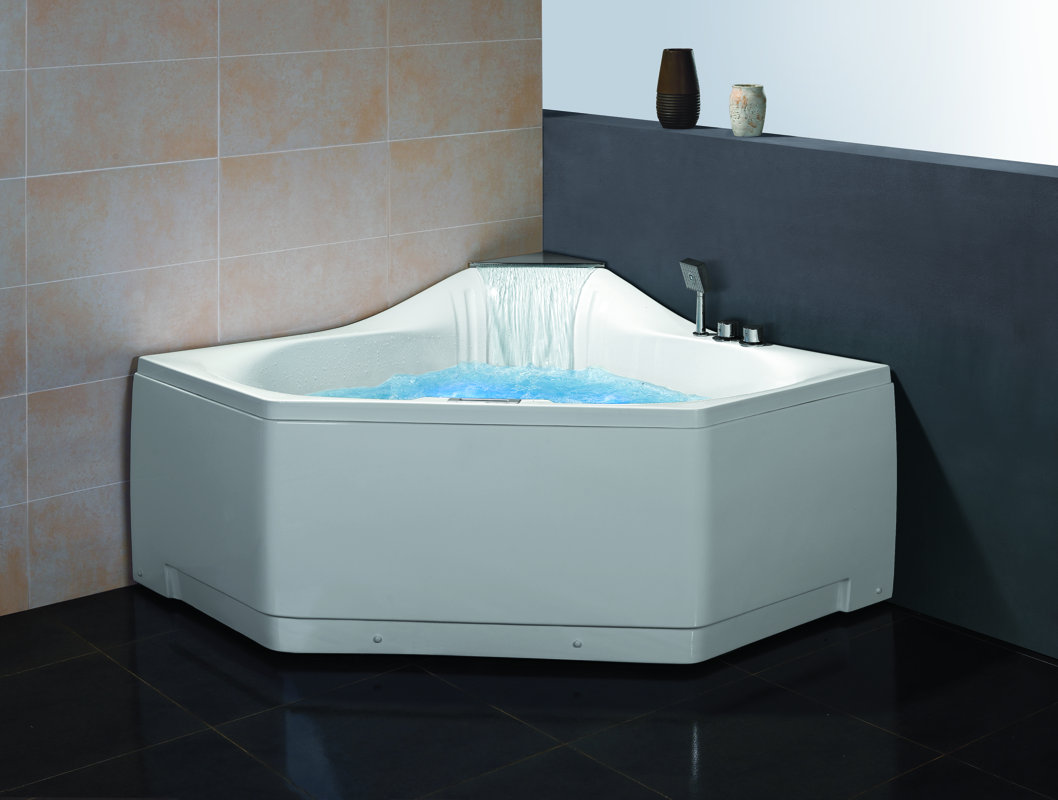 This whirlpool tub is like a jacuzzi or hot tub but has a lot of other smart functions. First, there are settings that you can control using an LCD touch screen control panel. The control panel will be able to control six massage Modesto allow you to enjoy various water therapy types. There are also 4 intensities that you can choose from too. Aside from that, there's a waterfall inlet and a handheld showerhead that comes with it.
Key Features:
Comes with a strong pump and faucet
Comes with hydromassage system and chromatherapy
Includes six massage types and 4 intensity types
Waterfall faucet
Has a heat pump
Inclusive three cushion pillows
Comes with ozone cleaning system
Auto pipe cleaning
Strong whirlpool massage jets
Comes with a touch control panel
Features an FM radio so you can listen to music
3.  Simba USA Hydrotherapy Corner Whirlpool Tub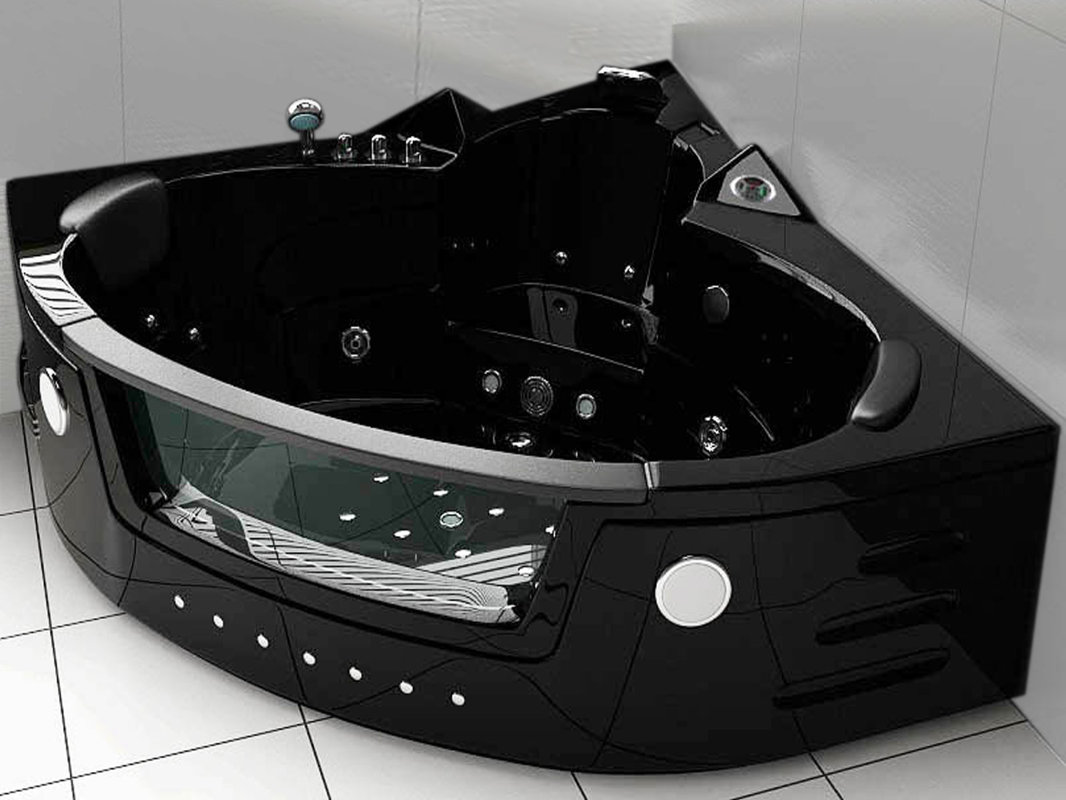 This whirlpool tub is quite similar to the one that we've mentioned above except that this is one much bigger and more robust. Due to its size, it can fit in two people who want to share the tub. It also comes complete with an FM radio so you can add some music to enhance the ambiance. Also, you'll love its design. It has a jet black color and looks very futuristic.
Key Features:
Comes with tub waste kit
Comes with a strong pump and overflow drain
Has 4 adjustable massage modes
Has 12 whirlpool jets
Has a 250W air pump
Has 12 whirlpool jets
Comes with FM radio and 2 loudspeakers
Has 3 LED lights underwater
Comes with 2 headsets
Has an automatic circuit breaker
Has cold and hot faucets
4.  EAGO Waterfall Corner Whirlpool Tub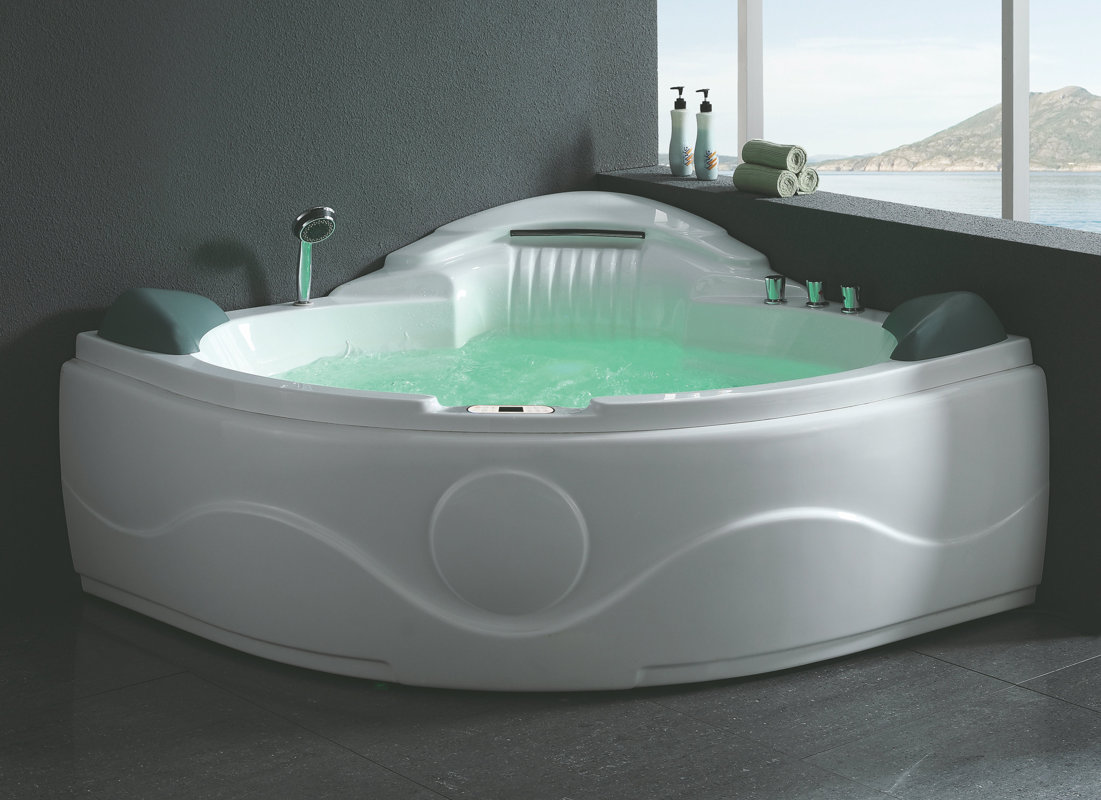 This is definitely one of the most beautiful corner tubs that you'll come across. It has a very futuristic look that's almost robotic. Other than its look, it's also very durable because it's built of both fiberglass and acrylic.
What most people love about this product is that the acrylic is a special stainless steel reinforced MaxLoad high gloss acrylic which makes it more durable than ordinary acrylic. Of course, it also comes with the usual whirlpool tub features like a waterfall inlet, set of massage jets, inline heaters, and more.
Key Features:
Very smooth and slick glossy material
Made of fiberglass and special stainless steel
Has a waterfall inlet
Glossy surface makes it easier to clean
Has an inline heater
Has a built-in thermostat
Has a backflow feature for the shower head to dispel bacteria
4 levels of pressure and jet intensity
Auto pump shutdown feature
5.  SDS California 2 Person White Whirlpool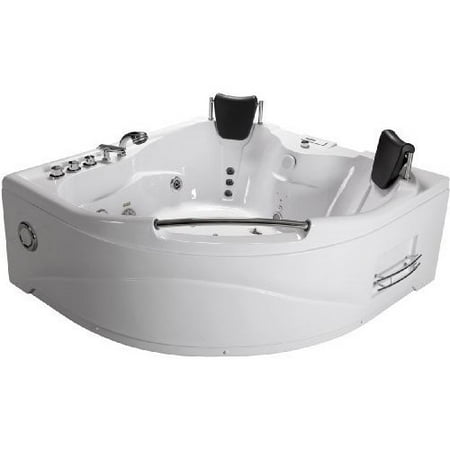 While most of the other whirlpool tubs have an LCD monitor to control settings, this one has an actual remote control. It's really made for total relaxation because it allows you to control it without standing up. It also allows two people to fit so you and your significant other can enjoy the tub at the same time.
Key Features:
Size is built for two people
Computerized jet whirlpool
Has a set of 30 amp massage jets and air jets
Comes with a heat pump
Includes dream pillows and an FM radio
Has a handheld shower wand and faucet
Controllable through LCD screen or remote control
American Acrylic Tub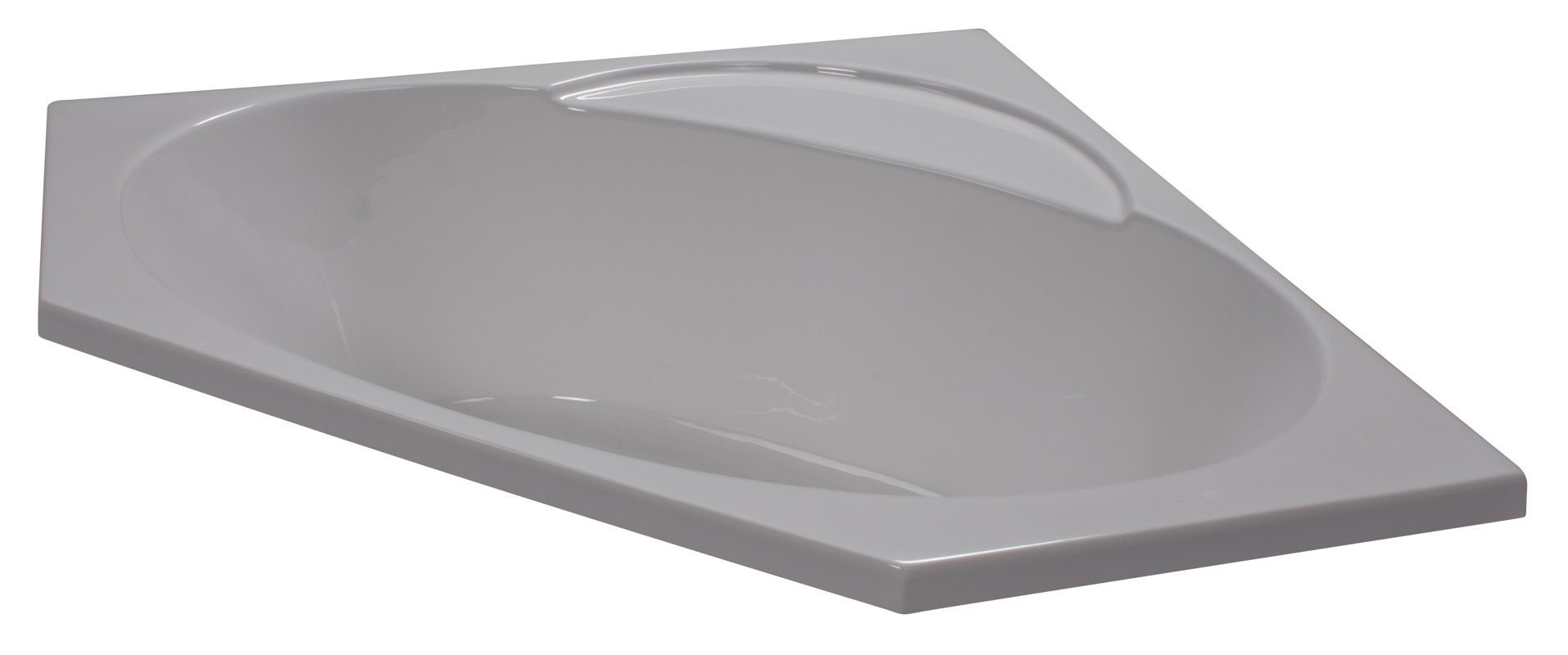 This is an amazing drop in bathtub that has a compact build and looks like a hot tub. What you'll love about this corner tub is that it doesn't take up space at all but still gives off a modern, luxury look for your bathroom.
Also, it's made of a very high-grade acrylic that is very durable and has a long shelf life. In fact, it's so durable that it is scratch, rust, fire, and chip proof. It also includes an overflow drain and has a total water capacity of 70 gallons.
Key Features:
Antimicrobial acrylic material to prevent the buildup of germs and bacteria
Easy to clean because of low maintenance material
Very durable high-grade material
Non-toxic and lead-free tub for overall safety
Compatible with glass walls
Center drain placement
Classy light gray color
Beautiful gloss
Aquatica Olivia WHT Corner Tub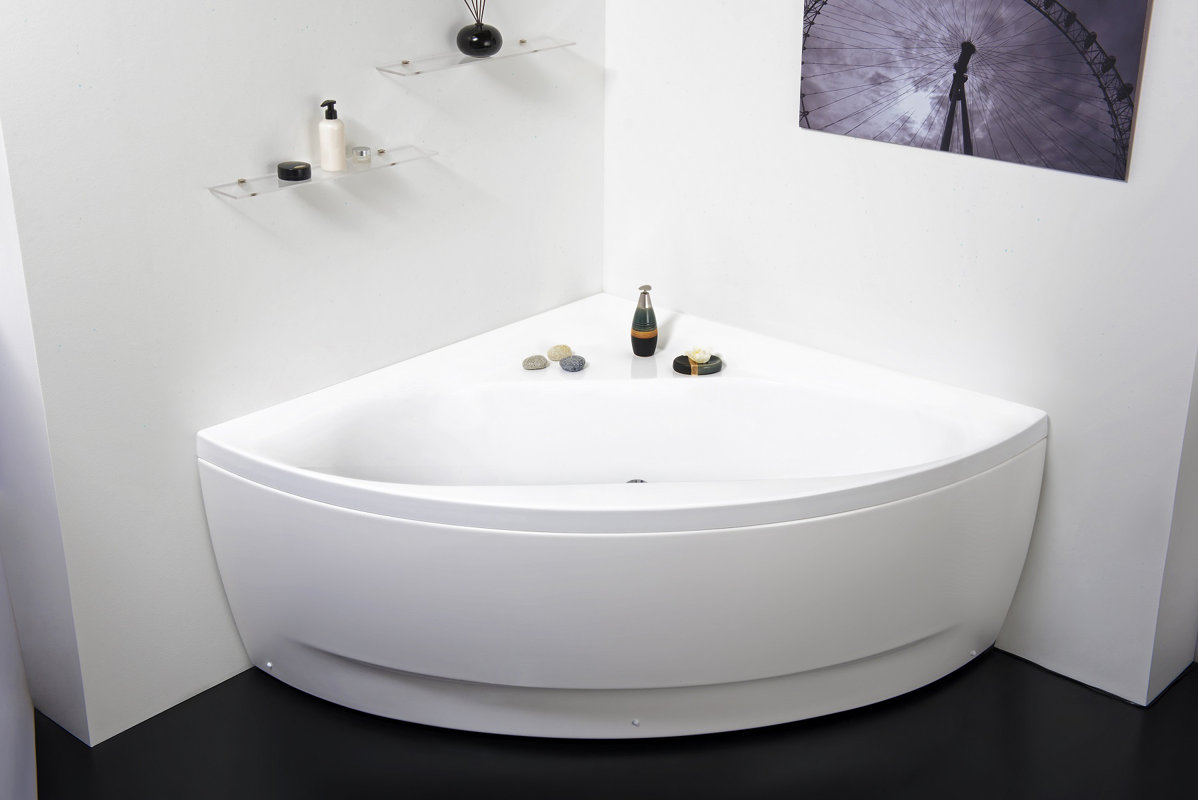 If you prefer a freestanding tub instead of a drop in tub, then you'll definitely like this brand. Since this is a freestanding tub, it has extra depth as compared to the usual drop in tub. It's possible for you to soak your whole body inside to the point that even your head can be covered if you want.
Due to its robust size, it can fit in two people very comfortably. The design and shape are also built to cater to your body shape so that it feels very nice. It's like a spa type of tub that's round and relaxing.
Key Features:
Modern and luxury design
Extra depth and size
Design that supports body shape and size
Spacious build for corner placement
Comes with overflow drain
Comes with overflow and waste kit
Comes with drain assembly
High-grade gloss
Features a built-in metal base frame
Adjustable legs
Easy to clean design
Fade-proof color
Durable acrylic material
Conclusion
In order to choose the best corner tub, all you have to do is compare the features of each product and see which one is the best for you. All of these 7 corner hot tubs have been picked based on a comparison of their features with the features of other products.
Through a thorough screening of the features, we have shortlisted our list of the best products to just these seven. So if you're after the best corner tubs, then these should definitely be in your checklist.