Vinnova is undoubtedly one of the more popular brands of bathtubs in the market because of its quality tubs. This is why there are so many models for you to choose from. However, having such a wide range of models can be a bit overwhelming as choosing the best Vinnova Bathtub.
For that very reason, we decided to make things easier by providing Vinnova Bathtub reviews on models that many consider the best Vinnova tubs.This will help you in choosing the most suitable one.
7 Best Vinnova Bathtubs Reviews
1.  Vinnova Shop Divinity 67.5 x 31.5 Inch Bathtub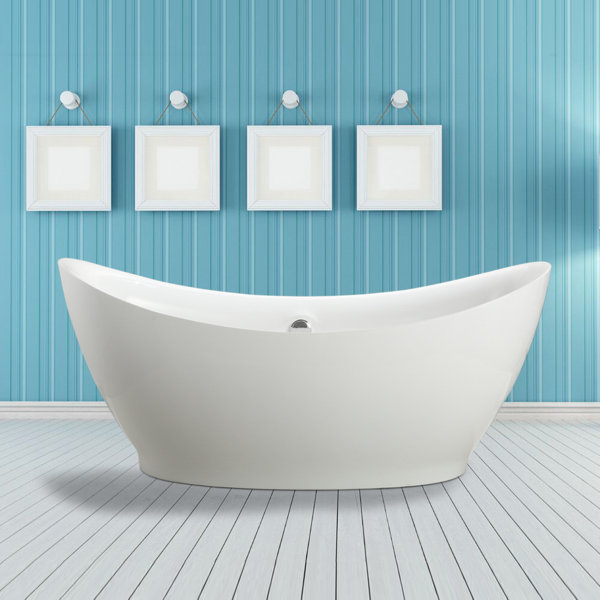 A classy design from this tub really does suit its name. The Divinity bathtub has a very defined but sophisticated shape, making it ideal for bathtubs that have luxurious interior designs.
It also has a really beautiful glossy finish that has a lot of gleam to it. Other than its elegant design, you'll also notice that it is pretty compact allowing it to fit in most small bathrooms.
If you happen to have a bathroom that has little space for a built-in bathroom, this is the best one for you to have.
Best Features:
Beautiful white, glossy finish
Compact structure
Comes with overflow drain
Elegant shape
2.  Everlie 71 x 35 inch Freestanding Soaking Bathtub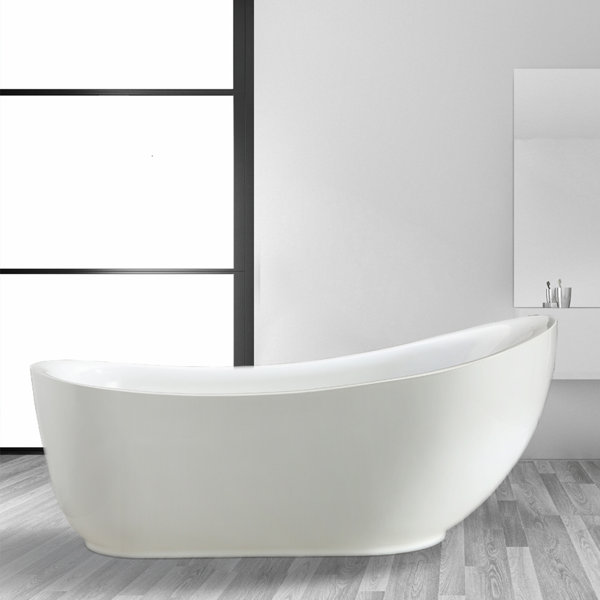 The Everlie model is simple and succinct– something that goes pretty well with more contemporary interior designs. Because it's not too swanky, it's great for people who like minimalistic designs.
Aside from that, you'll notice that one end of the tub is much longer than the other. This is great for lying your head down for a very relaxing bath. You'll also notice that the freestanding bathtub is pretty long, making it ideal for taller people to bathe in. It also gives you the chance to stretch your legs far.
Best Features:
Lengthy shape
Contemporary, simple design
One end longer for lying down
Snow white finish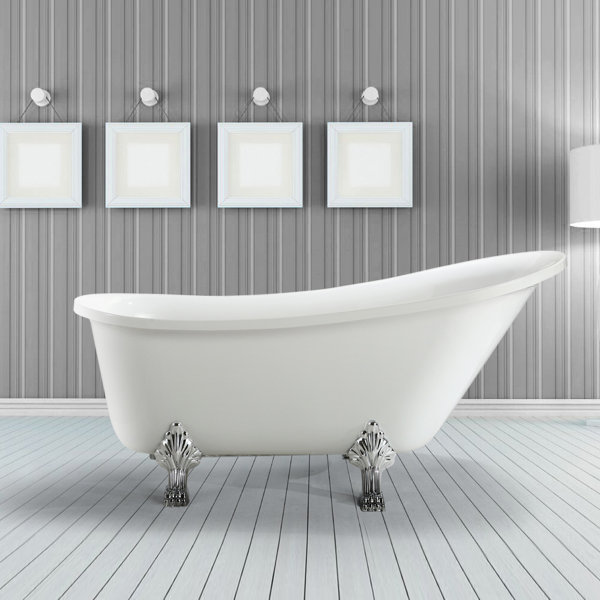 From afar, this bathtub looks like most of the other Vinnova bathtub models that you can find in the market.
At a closer look though, you'll notice that the feet that holds the bathtub are silver claw feet. The silver claw feet add an extra sense of elegance to the tub, giving it a cooler look. While the claw feet show quite a contrast to the feminine shape and features of the tub, the mix does go pretty well to form the overall luxury tub design.
Best Features:
Elegant silver claw feet
Lily white acrylic finish
One long end slope
Durable decorative feet
Comes with drain assembly
4.  Allegra 66.5 x 31.5 Inch Soaking Bathtub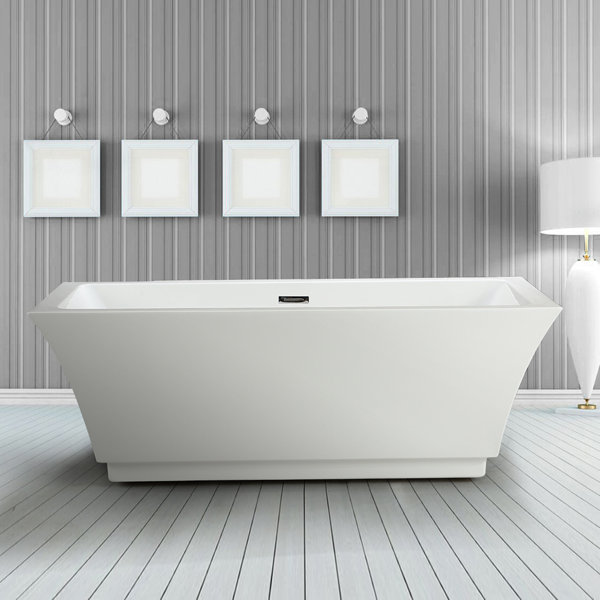 This bathtub is probably the best one for modern designed bathrooms. Its rectangle shape is somewhat of a breath of fresh fair as compared to the traditional oval shaped bathtub.
The shape in itself gives off a pretty luxurious vibe but for more modern interior designs. However, the sharp angles don't make the tub any less comfy because the slides slope pretty gently making it great for relaxing.
You'll also notice that there is a somewhat metal finish to it which further adds to its overall modern design.
Best Features:
Metallic finish
Durable legs
Works with any faucet
Rectangle shape
Modern or contemporary style design
5.  Lumina 59 x 29.5 Inch Soaking Bathtub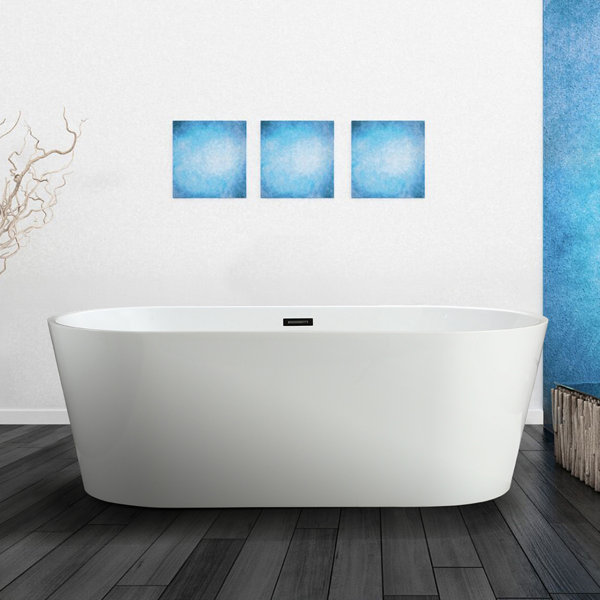 While the dimensions of this tub are somewhat smaller than the ones that were mentioned above, this tub tends to be a bit more spacious because of the unorthodox design.
While most tubs have a shape that starts small on the bottom and gets wider at the top, this one has a shape that maximizes the width of the bathroom allowing you more space to move around while you're inside.
Of course, this type of non-traditional shape also contributes to a rather unique design.
Best Features:
Very roomy bathtub
Compact tub for small spaces
Lightweight and easy to install
Attractive design
Comes with an overflow drain
6.  Vinnova Shop Metera 59 x 31Inch Bathtub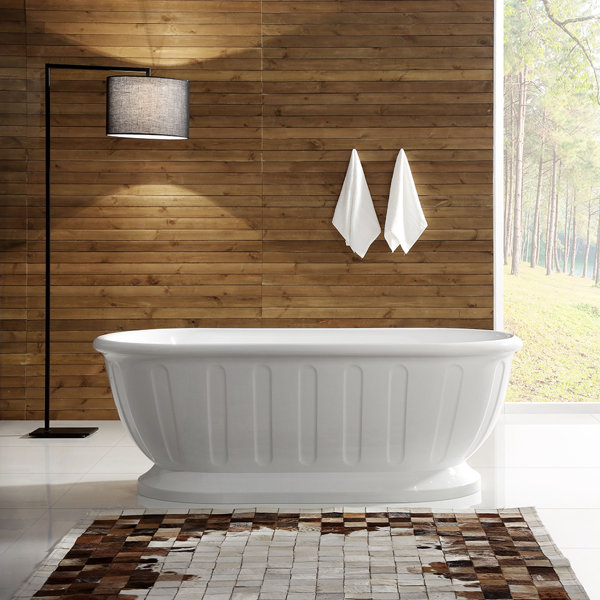 This is definitely the most uniquely designed bathtub that can be found on this list. It has a striped design that has a pedestal for a base so that it can stand with ease. In fact, it is similar to vintage Greco-Roman style bathtubs of the past. Other than that, it's also really sturdy and durable. Finally, it's extremely spacious, allowing you to move around and stretch a bit while you're inside the soaking tub.
Best Features:
Extremely beautiful vintage design
Sturdy pedestal base
Comes with an overflow drain
Waste kit inclusive
Has two different sizes for you to choose from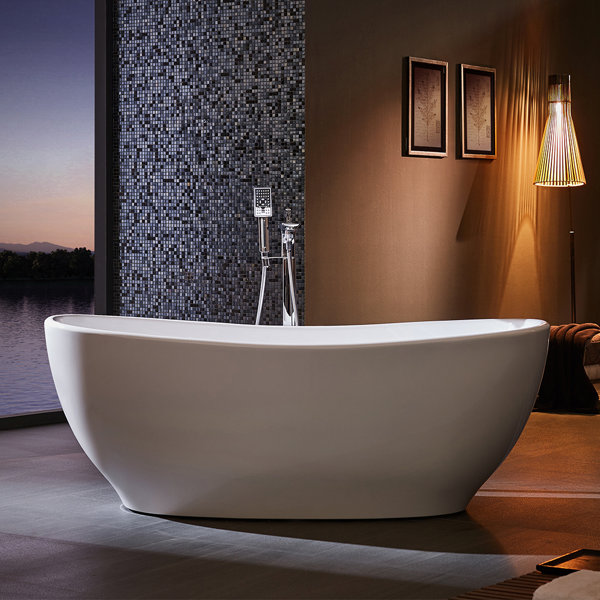 While the shape of the Melfi model resembles most regular bathtubs, it does have some features that others do not. First of all, it comes with a chrome finished overflow, making the overflow drain very durable and resistant to corrosion.
At the same time, the brass pop drain is also chrome plated, again making it corrosion and rust proof. Aside from that, it also has metal legs which you can adjust to your preference.
Best Features:
Chrome plated anti-rust and anti-corrosion drains
Adjustable legs
Durable steel support
Simple, contemporary design
Conclusion
Now that you know the best Vinnova tubs offered, we'd like to give our two cents on what we think is the best Vinnova Bathtub out of the 7 choices. The winner of our pick is the VinnovaShop Everlie 71 x 35 inch Bathtub. Though it has a simple design, it has long and wide dimensions, making it very spacious for people to move around and stretch. It also has a long end that lets you relax your upper body or neck in while you bathe.
We'd say that this is the most luxurious tub because it has all the features needed to help you relax and just enjoy. For us, this bathtub serves the whole purpose of giving a luxury experience to homeowners after a long day of work.
<strong>Read more:</strong>