A vessel sink is one of the best statement pieces that you can integrate into your bathroom to give its interior a different look. In fact, a lot of interior designers love to play with different bathroom vessel sink designs and styles to revamp boring and small bathroom spaces.
If you want to give your bathroom a makeover, then the best vessel sink is one detail that you shouldn't skip on your to-do list.
Read on below to know how to choose the best bathroom vessel sink. The top 9 best vessel sink options are also listed to help narrow down your list.
Top 9 Best Vessel Sink Reviews
1.  VIGO Round Glass Bathroom Vessel Sink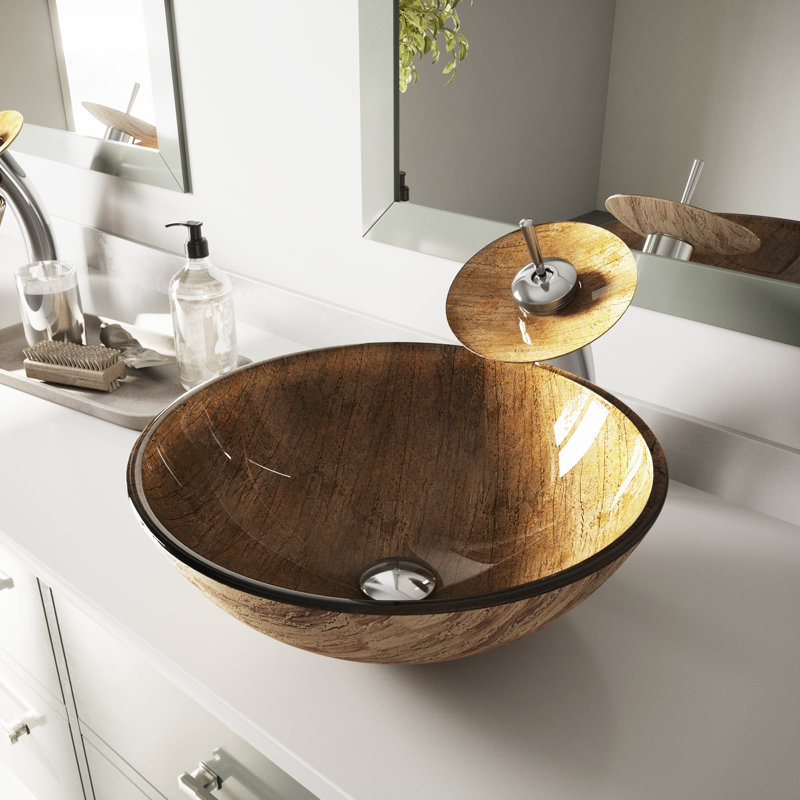 A stunning, elegant addition to your bathroom interior would be this glass bathroom vessel sink by VIGO. It's a handmade circular tempered glass sink with an amber sunset finish that can be a statement piece in your bathroom. It also has a wood-grain pattern that enhances the sink's appeal.
This wall mount looks good on any color motif but would be the perfect contrast against white or ivory colored sink. This also looks pretty stunning when placed against bathroom mirrors. Give your bathroom an elegant yet refreshing makeover by ditching traditional bathroom sink for this VIGO Round Glass Bathroom Sink.
Beautiful and very contemporary design that easily attracts the eyes
Handmade to ensure the highest quality
Solid and durable
Quite easy to install; just follow the manual carefully
Comes with a faucet
The rich brown color is pleasing to eyes and complements well with any bathroom interior.
Reasonable price
Easy to clean; dirt and stains just easily glide
No drain assembly is included
Doesn't come with a P-trap and shut-off valve
2.  Elite Rectangular Ceramic Bathroom Sink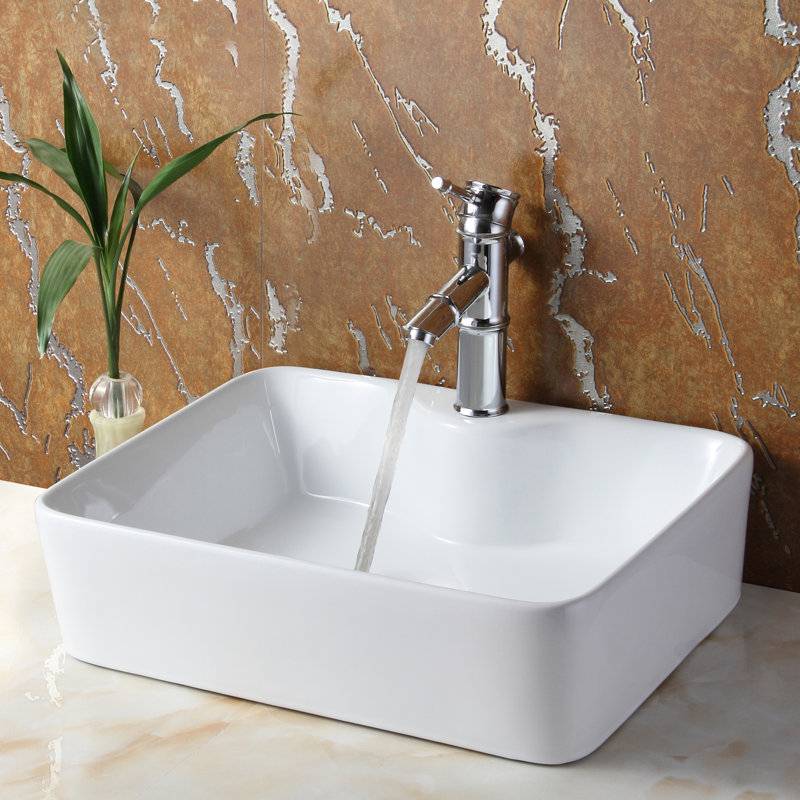 There is a reason why most homeowners opt for a ceramic material for their bathroom vessel sink. Ceramic is known to be durable, heat resistant, chemical resistant, and affordable.
If you want a ceramic bathroom vessel sink, then give this sink by Elite a try. This is a rectangular vessel sink but with rounded corners. It also complements well with any bathroom interior, though making it as a statement piece need a bit more work. Its plain white color is perfect for either a man or a woman's minimalist bathroom.
Made of ceramic, which is a durable material
Can be used both indoor and outdoor
Works well on countertops or as a wall mount sink
Simple yet bold design, giving you more creativity in designing your bathroom
Has 1-year full warranty
Fairly priced
With a standard-size faucet hole
Can be used for a short style vessel faucet
Bathroom sink faucets are not included in the purchase
No P-trap and shut-off valve
Water supply holes have to be drained to connect to the sink
3.  Kohler Rectangular Ceramic Vessel Sink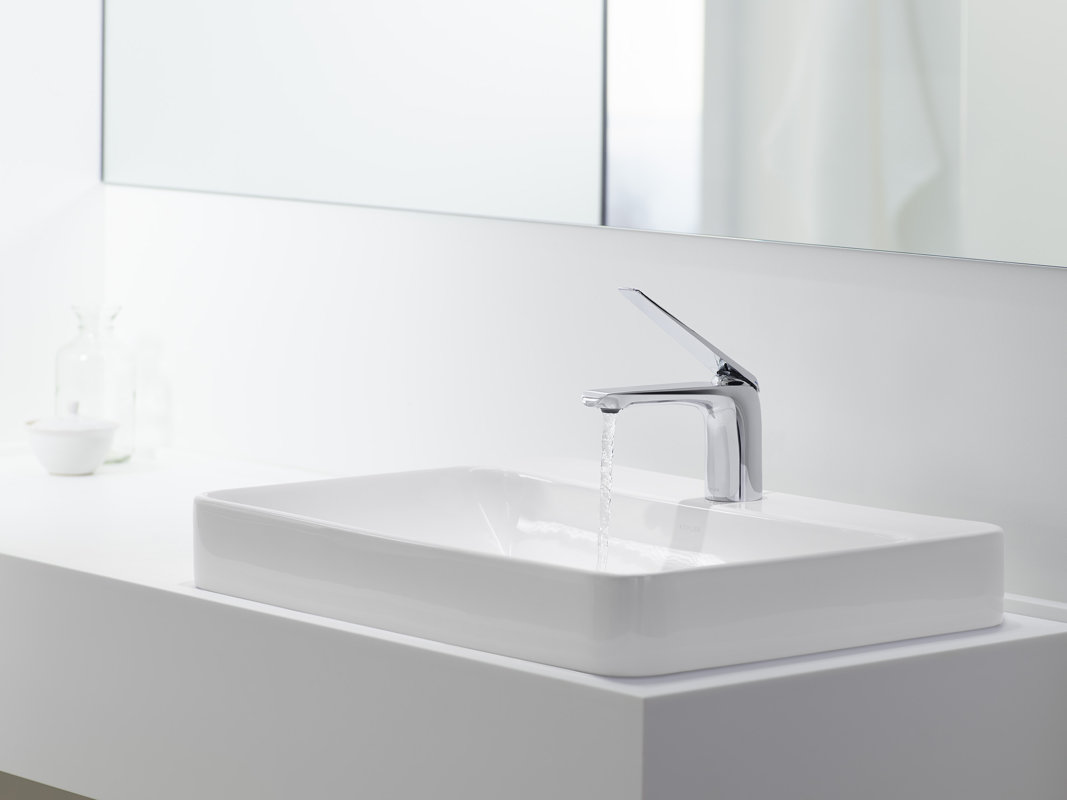 If you would rather opt for the best bathroom sinks from a well-known brand, then Kohler is a brand that should be on top of your list. In fact, this Kohler Rectangular Ceramic Bathroom Sink is well-loved by many because of its beautiful and modern look.
It is bigger than the average vessel sink in the market today, but still has the classic rectangular shape of a traditional sink.
Made of premium material
Very durable
Wide and spacious
Has a minimalist look, perfect for bathrooms with small spaces
Has one year warranty
Can be used indoor and outdoor
Expensive; its price is actually twice the price of the other vessel sinks on the list
If you'd rather make your vessel sink a focal point in your bathroom, then you'd do better having a uniquely designed sink from other brands.
Faucet should be bought separately
No P-trap and shut-off valve included
4.  Fine Fixtures Oval Ceramic Bathroom Sink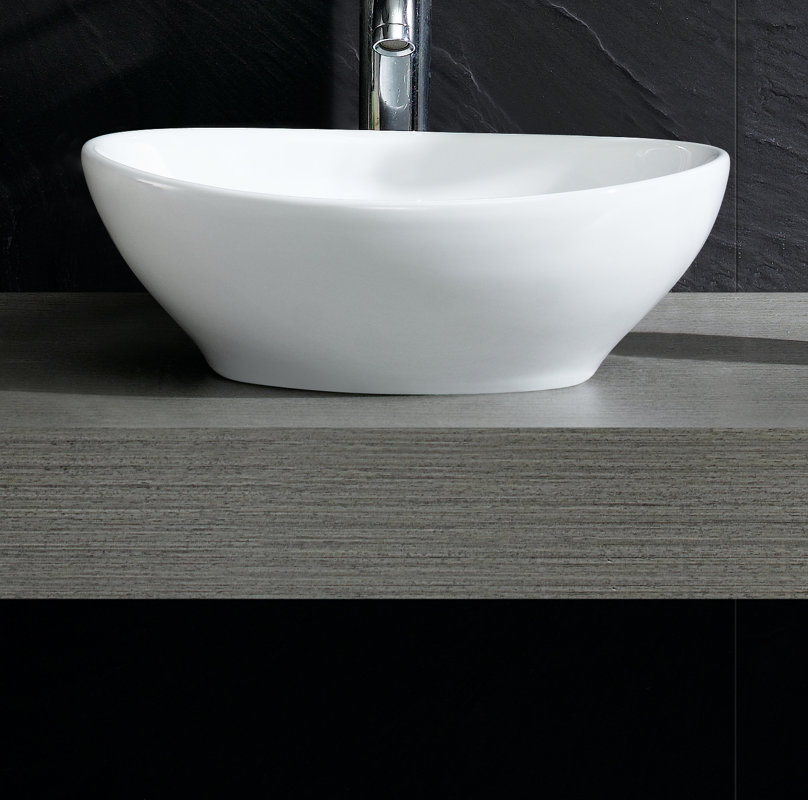 Some people would rather stick to the conventional rectangular shape, but if you want an extra attention for your sink, then an oval bathroom vessel sink is the way to go. This Fine Fixtures Oval Ceramic Bathroom Sink is the perfect fixture to bring back the elegance and style in your bathroom space.
Made of ceramic, this vessel sink will last a long time when properly cared for. It has a sleek and smooth finish to make cleaning and maintenance a lot easier.
Compatible with vessel sink and wall mount sink faucet installation
Compact and durable design
Stain resistant
Suitable for modern bathrooms
Very attractive when placed against black or other dark-colored walls and countertops
Easy to clean
Can be put on top of bathroom vanities
Great price, not to mention that this is usually on sale
No overflow feature
A bit heavy
5.  Kraus Rectangular Ceramic Vessel Sink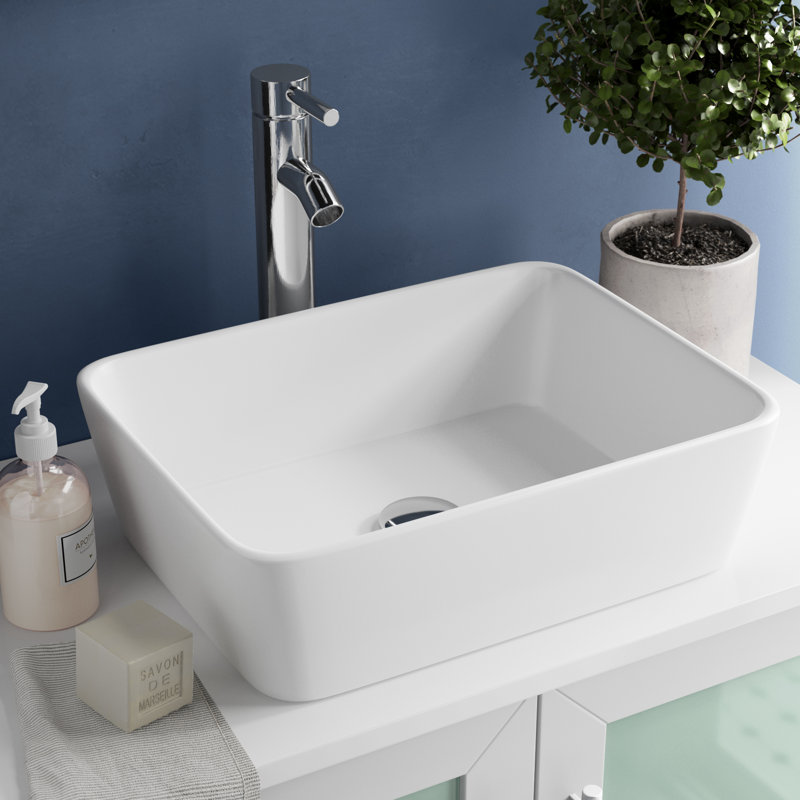 Yet another great brand to watch out for, Kraus is a brand that manufactures kitchen and bathroom faucets, sinks, and other accessories. This Rectangular Bathroom Sink is Kraus' take on a fresh yet classic vessel sink that can be installed in homes, offices, and even in other commercial spaces.
This is an above-the-counter sink with brass detailing but is mostly made of ceramic. The drain placement is at the center, thus draining the water is fast.
Available in three drain finishes, namely chrome, oil rubbed bronze, and satin nickel
Features a high gloss finish
Stain-resistant and easy to clean
Suitable for any bathroom design you want
Superior quality
It has no overflow.
Faucet, P-trap, and shut-off valve have to be purchased separately
This is only compatible with the PU-10 drain assembly.
6.  DECOLAV Rectangular Ceramic Bathroom Sink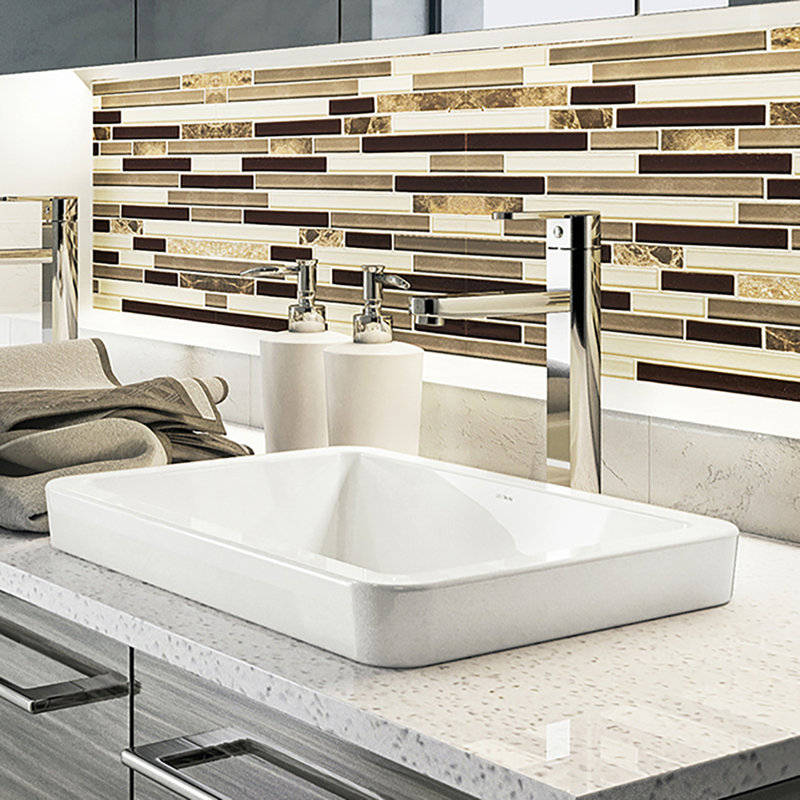 This is a classic rectangular bathroom vessel sink in a white finish. DECOLAV Rectangular Ceramic Bathroom Sink is a very functional sink that is double fired so that it will last for a very long time.
With a bold, contemporary design, this bathroom vessel sink is a gentleman's vessel sink of choice.
Made of high-quality material and is proven to be very durable
Contemporary look and design, perfect for a minimalist bathroom
Has a glazed surface
Stain-resistant
With a deep basin style
No overflow
Faucet and drain are also not included
7.  Luxier Rectangular Porcelain Bathroom Sink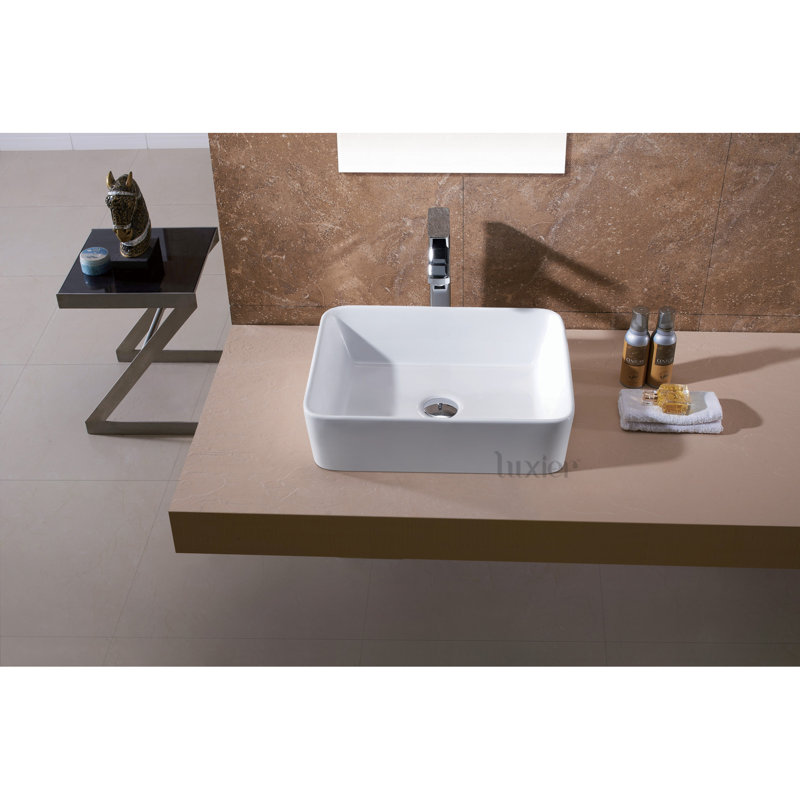 Another rectangular bathroom sink that makes it on our list is this one from Luxier. It's a porcelain vessel sink ideal for modern bathrooms. Unlike some other sinks with straight cut edges, this one features curved corners that soften its look.
It's actually a vessel sink that is patterned from a European contemporary design.
You can use this vessel sink both indoor and outdoor
Ideal for both residential and commercial bathroom spaces
Porcelain material is harder and more durable than ceramic
Great for DIY projects
Has great quality
The sink has no overflow feature.
No shut-off valve, P-trap, and drain assembly
A bit expensive when not on sale
8.  American Standard Rectangular Ceramic Bathroom Sink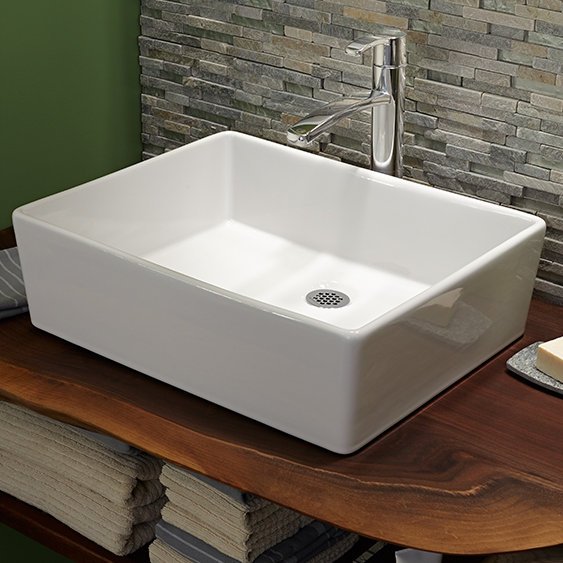 If you are specifically shopping for the best bathroom vessel sink for commercial purposes, then the American Standard Rectangular Ceramic Bathroom Vessel Sink is one of the best options.
This is a rectangular sink made from the durable ceramic material. Its deep basin style makes up for not having an overflow. Moreover, this uses fireclay as a material detailing, so you know you'll have a great product that can last for many years.
Very durable; can last more than the other ceramic vessel sinks in the market today
ADA compliant
Has a CSA or Canadian Standards Association certification
Offers 1-year limited warranty service
Perfect for commercial spaces like restaurants and offices
Also suitable for residential uses
No overflow, but the sink is deep enough. Thus, overflowing of water is not that of an issue
Expensive
9.  Alfi Brand Rectangular Fireclay Bathroom Sink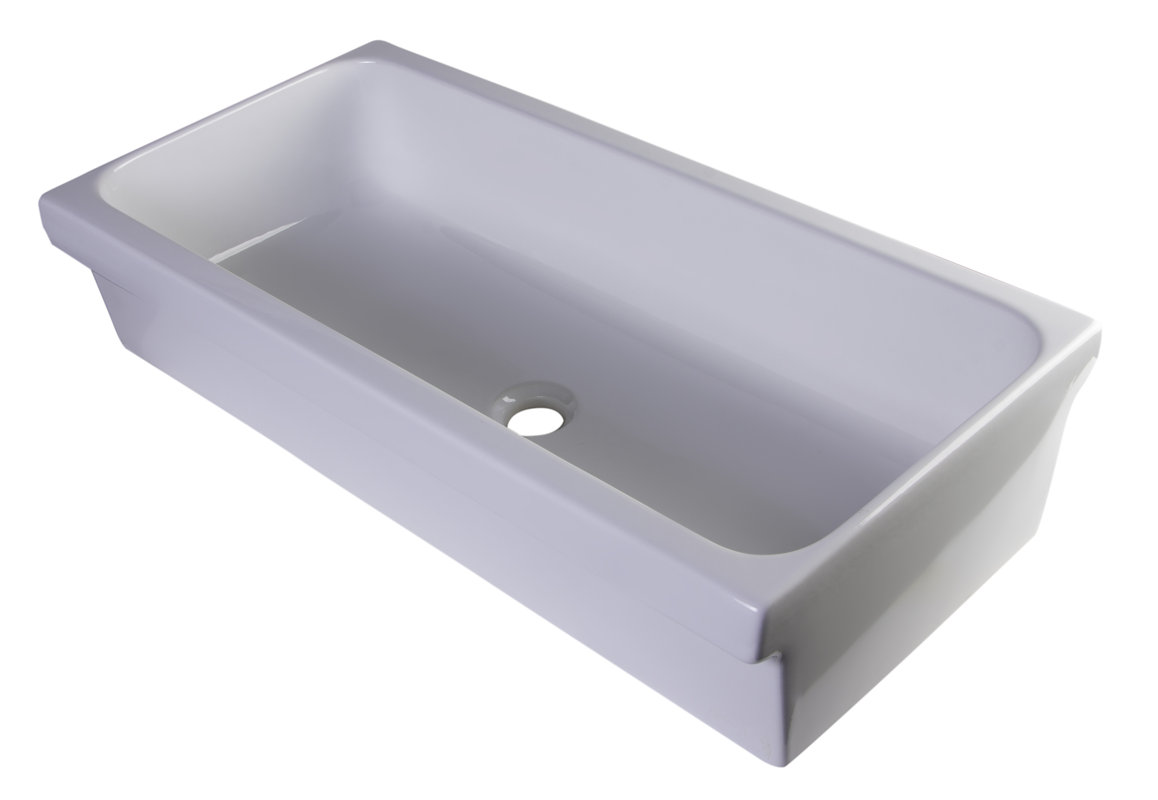 This Alfi Brand Bathroom Sink is the most durable vessel sink on the list. Why? Well, unlike the other sinks, this one is made of fireclay. If you haven't known yet, fireclay is a non-porous and heat-resistant material that is considered more durable than ceramic.
This has the conventional rectangular shape but is sized a bit longer with 35.5"L x 17.75"W x 7.88"H as its overall dimension.
Made of fireclay, which consists of glaze and clay fuse together that is fired at a high temperature
Bigger size
Fire resistant and rust resistant
Mildew resistant
Doesn't absorb stains
Glaze doesn't fade easily
Drain placement is at the center
Very expensive; priced almost four times the average vessel sinks
No P-trap, faucet, and drain assembly included
How to Choose the Best Vessel Sink
Below are four things to consider before buying your new vessel sink.
1.  Compatibility to the existing bathroom fixtures.
Consider your existing bathroom interior and match your vessel sink. This is especially important if you are just changing your sink area and not doing a total bathroom revamp.
You also need to consider the style of the vessel sink and how much do you need to adjust to accommodate the sink. If you have overhead bathroom sink cabinets and low ceiling, opt for a deep basin style.
2.  Research on material options.
It's always a wise move to research the sink material before even shopping. You have different material options with ceramic being the most popular. However, if your budget allows, go for a bit expensive material like fireclay. This one is the most durable and can last up to 10 years or more.
Tempered glass vessel sinks are also great options for those who want a chic and elegant bathroom interior.
3.  Figure out the installation.
Check the installation steps of the sink and consult with your plumber. You need to make sure that the lines and pipes are compatible with what you already have. Doing so will save you time and money.
Also, it's always a plus point to get a sink with an overflow hole. Unfortunately, most vessel sinks in the market don't have an overflow. Overflow is the hole on the inner side of the sink so as to drain water if the main drainage is clogged up.
4.  Check the inclusions.
Some vessel sinks come with a P-trap, shut-off valve, and faucet while others don't. If you want a complete bathroom revamp, make sure to get a sink that has all these inclusions. Otherwise, you need to purchase them separately and have to ensure they all fit your vessel sink of choice.
Conclusion
We all have our own preferences when choosing the best rated vessel sink for our bathroom. As for me, I always choose durability and quality. Thus, the best vessel sink for me is none other than the only fireclay vessel sink on the list, the Alfi Brand Rectangular Fireclay Bathroom Vessel Sink.
It may be expensive, but considering the number of years this sink can last, I think it's all worth it.
How about you? What's your favorite bathroom vessel sink brand? Share it to let others know!