Most people take the shower faucet for granted because it's something that you use without really looking at it. However, if the right one is not chosen, you might end up with a fixture that does not complement the whole theme of the bathroom.
With all the choices available, it may be hard to determine which is the best shower faucet for your bathroom. Luckily, we've prepared this comprehensive guide with shower faucet reviews.
Things to Look for in a Shower Faucet
It's important that you know what to look for in a bathroom faucet so that you won't have a hard time choosing the best bathroom faucets for your rain shower head. When you're choosing bathroom faucets, here are a few things to consider:
Type
There are generally two types of shower faucets that you can buy–  the traditional two tap mixers and the single tap mixers. The two tap mixers have two levers with one indicating cold water with a blue circle and hot water with a red circle. It is an old type that controls temperature and flow rate.
The other type is the single tap mixer. This one has just one lever and can control both flow rate and temperature at the same time. It's more convenient as you don't need to deal with two levers for this one.
Has a Thermostatic Mixing Valve
Now, shower faucets either have a thermostatic mixing valve or don't have one. Usually, the older showers are the ones without the thermostatic mixing valves while the newer ones already have. The advantage to having a shower with one is that you can automatically control the temperature of the water without having to manually adjust it.
Color and Finish
While this isn't such a big factor, it does help if your shower faucet matches the color or design of your modern or luxury shower head. You can get a shower faucet that is matte or brass coated, depending on your own preference. You can even buy your shower head and shower faucet in a set so that they will have matching designs.
Price and Brand
The thing about shower faucets is that you'll only appreciate it when it's not working well. Of course, you won't want to reach that stage. That's why you have to buy a good brand right away. You also won't want to overspend too, which is why you have to know what to look for in a shower faucet.
Fortunately, all of the brands in our list are of top quality and have very reasonable prices. So anyway, let's get to the products.
Products Review of our Top 10 Shower Faucets
1.  Delta Ashlyn Pressure Balance Shower Faucet

Known for its sleek look and trademarked Ashlyn In2ition 1 Handle 5 Spray Tub and Shower Faucet set, it's definitely a great luxury item for most homeowners. The set contains a handheld shower head that operates separately from the luxury shower head that is part of the kit.
This allows you to have two streams of water with two different pressures and temperatures at the same time. It is also pressure balanced and has a good flow rate of 1.75 gallons/minute.
Modern and shiny silver finish
In2ition 2 way stream shower faucet feature
Very easy to install
Includes a handheld shower
Doesn't include a required body valve in the package
2.  Moen Brantford Tub and Water Faucet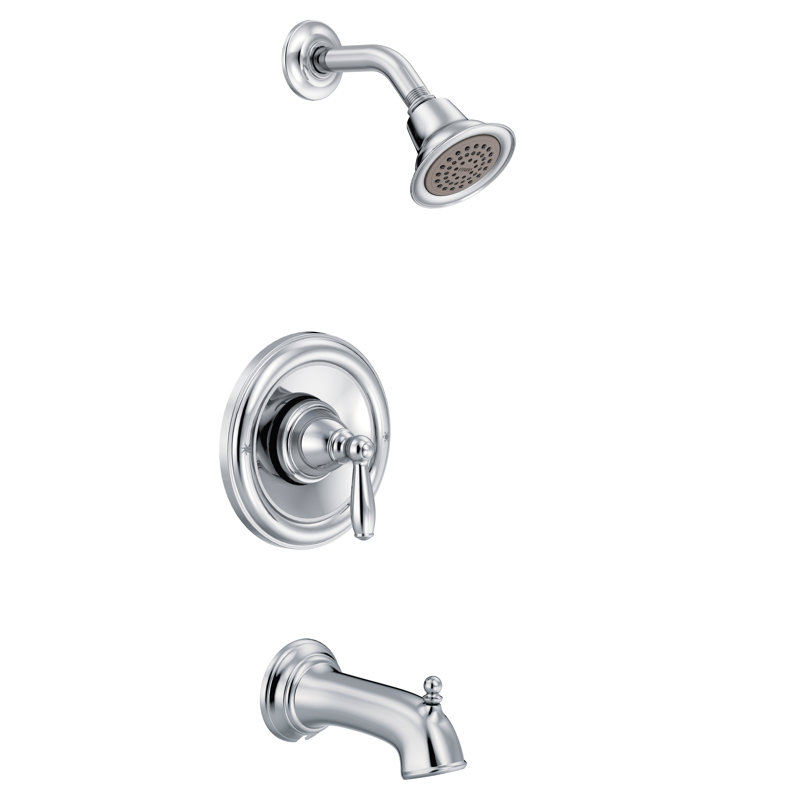 Moen provides some of the most worthwhile shower faucets that you'll be able to find. The Moen Brantford Tub and Water Faucet, in particular, is one of the most durable shower faucets that you can find anywhere because of its Chrome Plated finish. Other than its durability, it is also lightweight and simple in design. This makes it very easy to install and also easy to use at the same time.
Pressure balanced valve
Included faucet handle
Overall weight of only 4.3 lbs
Sturdy and drip free mechanism
Small shower head has low coverage
Valve is sold separately
3.  Pfister Saxton Single Handle Shower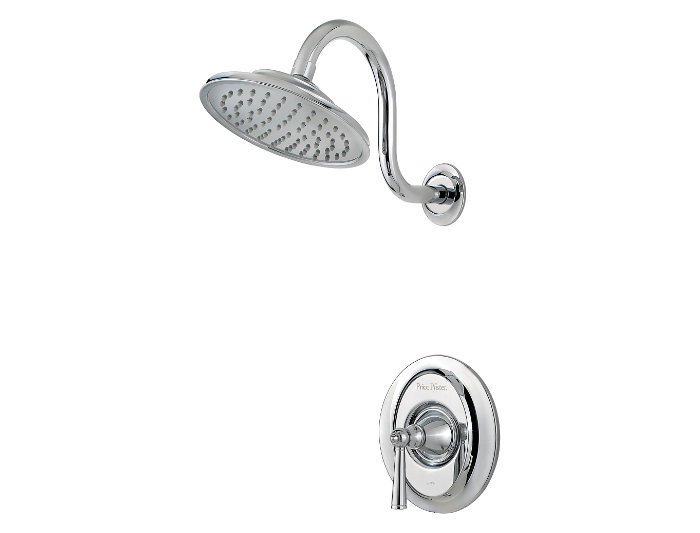 This Pfister model has a lot of cool features that make it one of the best shower faucet and shower head set that you'll be able to find. First of all, it makes use of an advanced ceramic disc valve technology that ensures prevention of leaks. This is also actually one of the best luxury shower heads if you're looking for soft rain spray. The rain shower head provides probably the most relaxing shower rain you can experience.
Uses ceramic disc technology for anti drip
EZ Clean feature allows for easier cleaning
Soft rain shower head
EPA WaterSense allows you to save water by 20%
Has flow rate of 2.0
No valve included in the package
4.  Luxier Shower Faucet and Valve Trim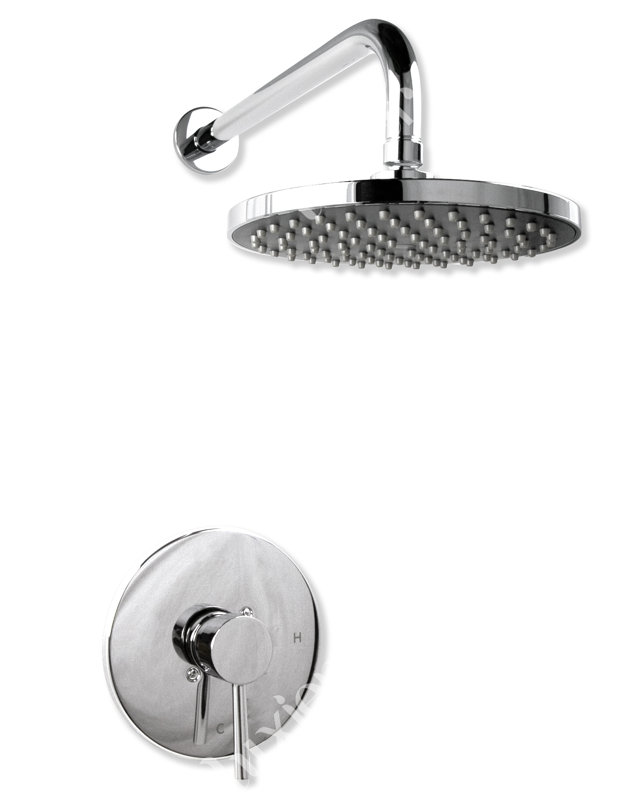 One of the primary things that you'll notice from this shower kit would be its big head. The reason why it has such as big head is to give more coverage. In fact, it has a total of 90 shower sprouts allowing you to experience a full and relaxing shower from this luxury rain shower head. Couple this with its powerful flow rate of 1.5 gallons per minute and you'll definitely have a great shower experience.
High coverage shower with 90 shower sprouts
Comes with a valve in the set
Pressure balanced valve type
Inclusive of faucet handle
Has an adjustable spray feature
Has lead
Showerhead is made out of mere plastic
5.  Kohler Purist Pressure Balancing Shower Faucet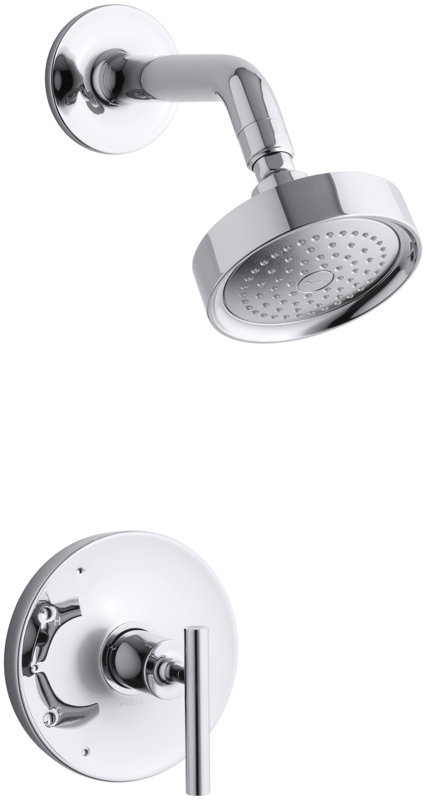 While it's a bit plain looking and doesn't have a high coverage, it makes up with its compact design and functionality. Out of all the shower heads in the list, this is definitely one of the most powerful ones. Its compact sculpture contributes to it having a flow rate of 2.5 gallons per minute, making it very strong and able to blast a lot of water in a short given time.
Very powerful flow rate
Compact and lightweight structure
Very easy to install
Sleek and minimalist design
Very sturdy and durable
No valve included
Low coverage
6.  Kingston Brass Magellan Tub and Shower Faucet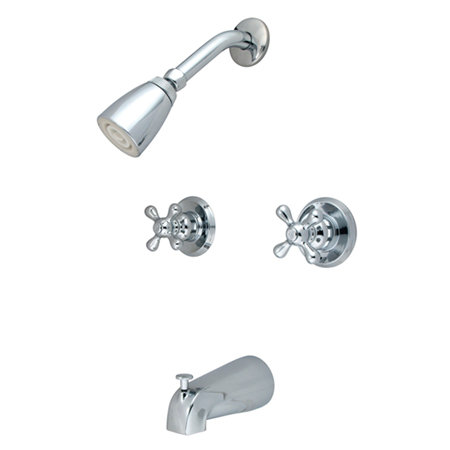 If you're looking for something that has a more traditional and classic design, this is it. Although it is built to look like classic shower faucet kits, it's still very sturdy being made out of top grade brass. You'll also notice that the artistry of the metalwork is very fine and detailed. This design gives you a really stylish and elegance shower piece and decorative accessory for your bathroom.
Very sturdy and durable being made of high quality brass
Corrosion and rust proof
Very detailed metalwork
Comes with a mounting hardware
Very easy to install
Not very versatile with the plumbing of all houses
Has a low water capacity
7.  Olympia Faucets Triple Lever Handle Shower Faucet with Tub Faucet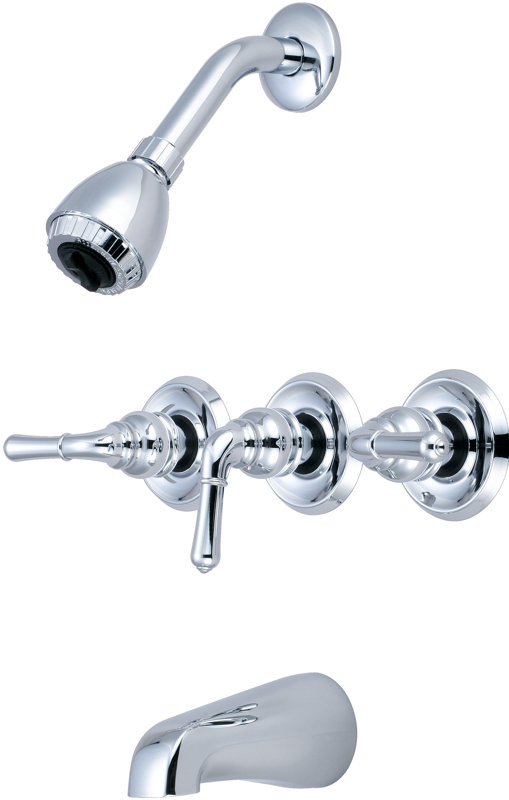 The Olympia Faucets Triple Lever Handle has three levers that give you more control over your shower. With the triple lever feature, you can easily control the volume of water, pressure, and temperature all at the same time by using the three levers. It comes with a compact shower head that is very powerful with a flow rate of 2.5 gallons per minute. It also comes right with a tub faucet in case you have a bathtub.
Compact but powerful showerhead
Comes with a tub faucet
Has a triple lever feature for better control of shower
Chrome plated finishing
Low coverage of the showerhead
Has only one shower mode
8.  American Standard Berwick Volume Shower Faucet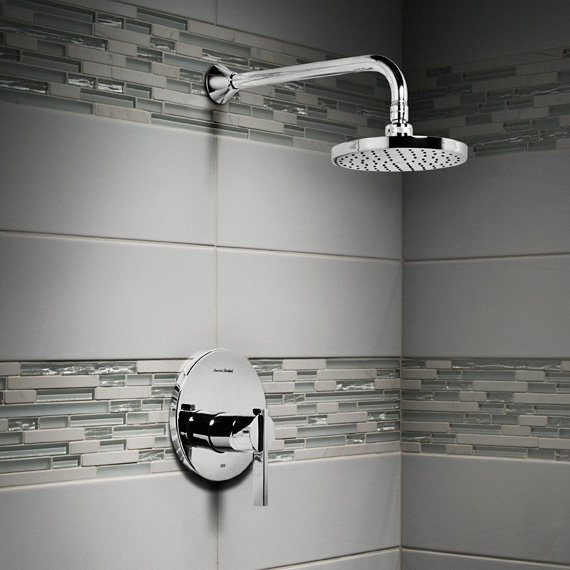 If you're looking for a shower faucet that gives you a lot of power but saves you a lot of money at the same time, then this is the one you'll want. It makes use of FloWise technology that utilizes an exclusive turbine technology to give off a very strong shower but with water saving properties. It also has a very wide coverage, giving you a very full shower covering your body.
Can save up to 8,000 gallons of water annually
Has a heat limit adjuster for more safety measures
Has a wall mount
Rotating shower head
Does not come with a vale
9.  Design House Oakmont Shower Faucet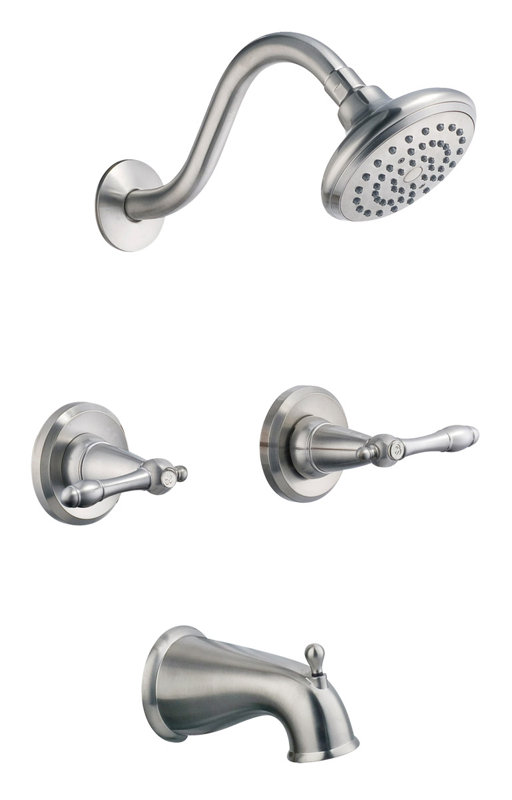 What makes this stand out the most would probably be its finish and its design. It has a unique metal look that has a different shine as compared to most other showers. Its shine is a little bit dull but also a little bit vintage. This is because of the material used to make the shower kit– Satin nickel. Couple this with the curve shape of the showerhead's neck, and you'll have a really different vintage shower in your bathroom.
Vintage look from satin nickel material
PVD finish is rust and corrosion proof
Has a 2.0 gallon per minute flow rate
EPA WaterSense certification certifies that it uses less than 20% water than usual shower faucets
Hard to use the tub faucet
10.  AKDY Diverter Shower Faucet with Handle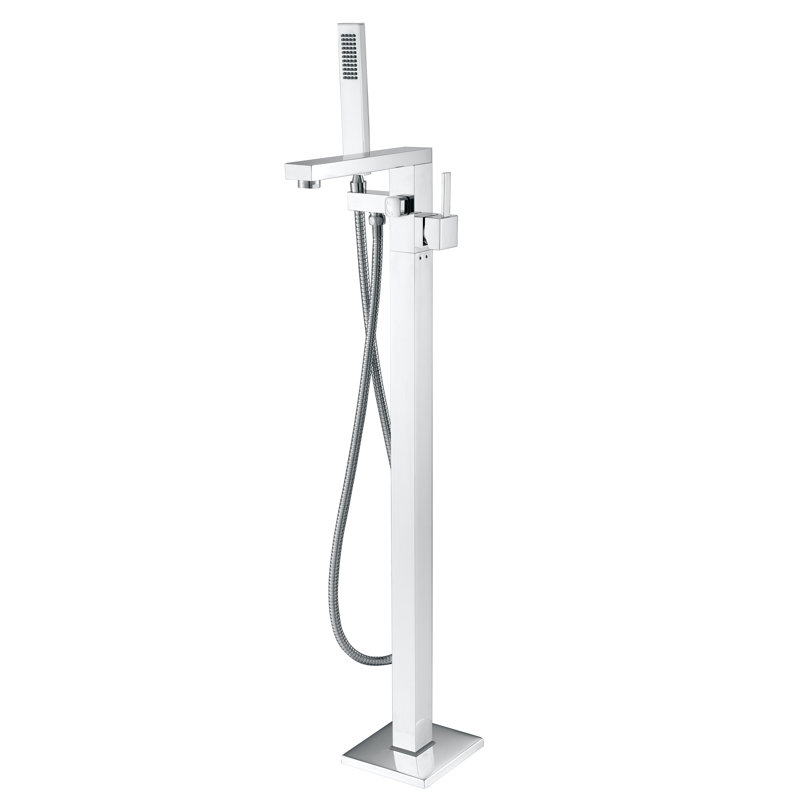 What's unique about this shower faucet is its architecture. Not only does it have a beautiful design, but it's design is also a hose type design, making it a handheld shower. It has a very modern look and a shiny chrome. It also comes with a stand where you can leave the shower head.
Modern and sleek design
Powerful shower with 6 gallon per minute flow rate
Comes with a faucet handle
Has extremely low coverage
Shower type not adjustable
Conclusion
In our personal opinion, the clear winner of the round up would be the American Standard Berwick Volume Shower Faucet. This is because this model provides you with all the features you'll need. It has a single lever that can control pressure, temperature, and volume all at the same time. It also comes with a heat limit mechanism and also a water saver feature.
By comparing it with the other brands, we can see that the features go well with what we've mentioned in our buying guide. First, this model has a modern thermostatic mixing valve for easier temperature control. It also has a very nice finish and design plus it has a reasonable price.
This comparison allowed us to see which of the ten is the best shower faucet that one can possibly have. Our comparison lead us to this choice.