Replacing your tub or doing a bath remodeling can be a great investment. Hence, a lot of things should be put into consideration when making your decision. Cast iron bathtubs are a perfect choice since they are smartly designed. In them, you can have a relaxing and exceptional bathing experience.
Nonetheless, this can be daunting since there are different models of cast iron bathtubs to choose from. Worry not! Below is a review of the best cast iron bathtub options for your money.
Bathtub Material: Fiberglass vs. Cast Iron
Selecting the best bathtub material can be daunting and overwhelming. Hence, when it comes to choosing the right bathtub material, several factors should be put into consideration. If you are torn between the two, here is a guide that will help you make an informed decision.
Are you looking for a tub with special features and shapes other than the traditional oval and round shapes? Then fiberglass material is the best choice for you. Fiberglass is modern and more moldable.
Compared to cast iron, fiberglass tubs are available in an array of features and shapes including molded seats, cradling shape, headrest, armrest, and drink holders.
Another unique style of fiberglass tubs is that they come with matching wall panels or even tub-shower combo. Still, there are models of cast iron tubs that come with special features like handles and jet. However, this can be expensive.
Both fiberglass and cast iron differ in their construction, and this will determine their quality. Fiberglass bathtubs have a molded fiberglass base that is coated with a layer of acrylic (gel coat). The gel coat forms the color and protective finish to the acrylic bathtub. The fiberglass material is lightweight with a thickness of ¼ inch.
Cast iron bathtubs start as a molded cast iron base, which is coated with three layers of enamel on the interior and layers of primer on the exterior. With a thickness of about 3/8 inches, cast iron tub material is heavy than its counterpart, fiberglass.
One spec we love about this material is that it is resource-efficient. This is because it contains 80 percent recycled material to give a good finish.
The other key consideration when choosing between the two bathtubs is the floor structure under the tub. Basically, concrete surface offers the best support for cast iron tubs that are quite heavy. However, you should choose the type of bathtub material depending on your type of floor structure.
In order to calculate the actual weight of the cast iron, add the dry weight of the tub, weight of water when the tub is full and the body weight of the occupant. If you are uncertain of the right tub for your floor, be sure to consult with an engineer or experienced builder.
When it comes to cost, fiberglass bathtubs are less expensive than the cast iron tubs. However, they can be quite expensive to maintain since they require resealing regularly. They are also less sturdy than their cast iron equivalents.
Cast iron tubs, especially classic clawfoot tub, can be quite expensive. Installation can also be difficult and costly. Yet, due to this, these tubs are long lasting and can withstand ordinary wear and tear. If you love copper bathtub, as it is durable, then you'll love cast iron bathtubs even more as they are made to last longer and even get better with age.
If you want a solid with a great thud factor, your choice of material is definitely cast iron. Cast iron is more solid than fiberglass, which is made with plastic and resin. A good example of a cast iron with good thud factor is a cast-iron skillet.
Product Reviews on the Best Cast Iron Bathtubs
1.  Bellwether Raphael Cast Iron Bathtub
This Bellwether model is constructed from enameled cast iron and comes in a contemporary design and industry standard size of 60" * 30". Its design provides a clean look to match most bathrooms. It comes with a low step-over threshold for easy entry and exit while its wide ledges provide adequate storage. Besides, we love this bath because it is resource-efficient as it is crafted from 80 percent recycled material.
Wide ledges for functional storage of towels and toiletries
Slip-resistant surface to prevent slipping of the bathtub
14-inch step-over threshold for comfortable entry and exit
Integral apron that allows for easy installation into the alcove
Clean lines for an exceptional bathing experience
Guaranteed not to crack, chip, or flex
See more: Cast Iron Tubs Kohler Bathtubs on Wayfair
2.  Kohler Iron Works Historic Freestanding Oval Bath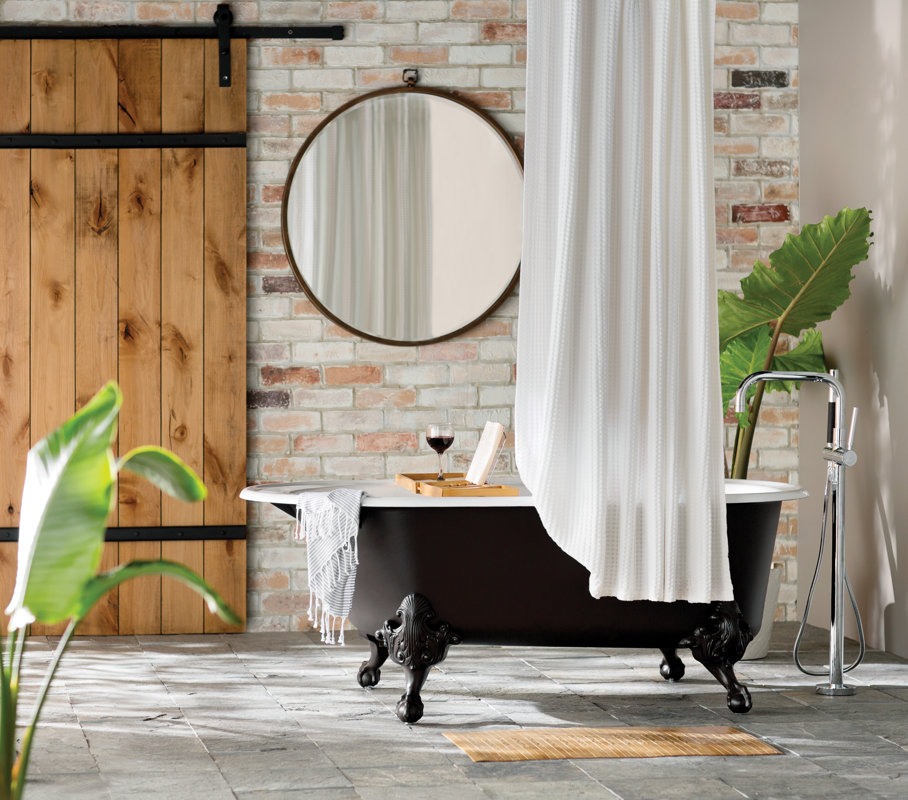 Measuring 66 inches long and 36 inches wide, this Iron Works bath is great for both traditional and Victorian-style bathing. It's enhanced with ornate ball-and-claw feet to give it an antique look. With built-in-support and a spacious 36-inch width, this freestanding tub is designed to provide a comfortable bathing experience. It also features a Safeguard slip-resistant surface.
Features a traditional design that brings a classic touch to your bathroom
Crafted from Kohler enameled cast iron that ensures a lasting experience
Features an extra 36 inch width for a comfortable soaking experience
Available in a variety of colors so that you can create a look that matches your style
Molded lumbar support for extra bathing comfort
Safeguard slip-resistant surface
3.  Kingston Brass Aqua Eden Soaking Bathtub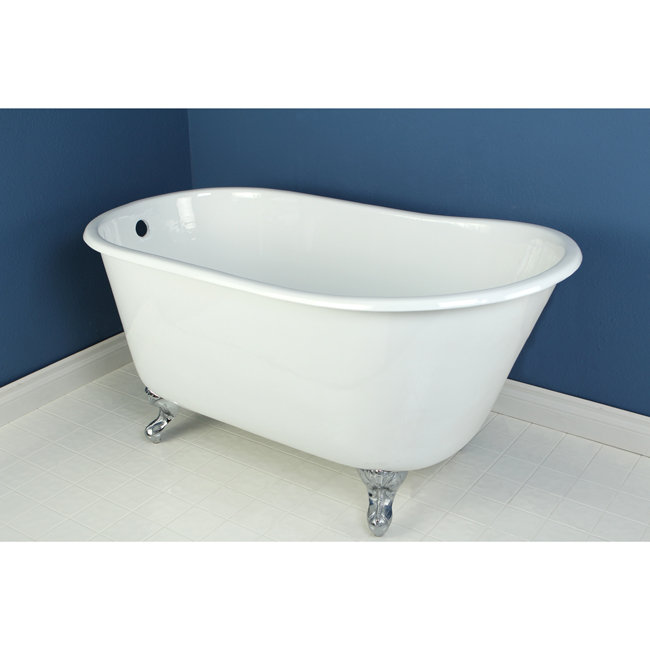 Soak in all the luxury in this cast iron bathtub that adds a vintage touch to your bathroom. This bathtub also requires a small amount of space. Its cast iron construction ensures durability. It also offers a lot of comfort with its sloped back design.
Cast iron construction that ensures durability
Requires free-standing or wall-mounted faucet for it to be filled with water
Features a clawfoot feet
Great interior colors for a comfortable bathing experience
Does not take up a lot of space
See more: Cast Iron Tubs Kingston Brass Bathtubs on Wayfair
4.  Cambridge Plumbing Clawfoot Bathtub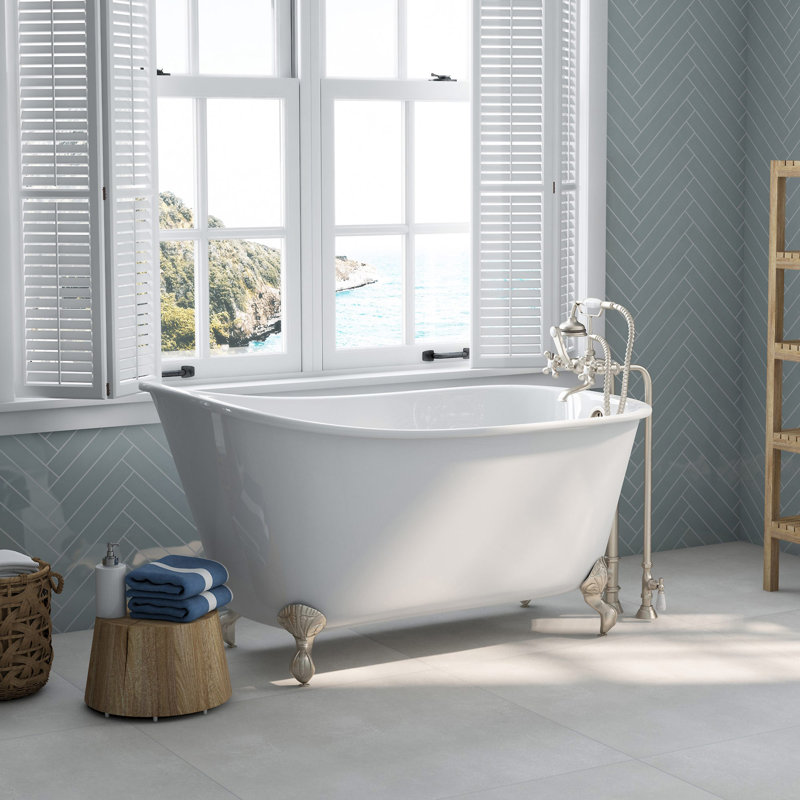 Do you want to add a touch of both luxury and comfort to your bathroom? This clawfoot tub comes with an amazing Swedish soaking design that will give your bathroom a stylish look and offer utmost comfort.
It also comes with cast iron claw foot that offers elegance and warmth as you enjoy your bath. With a water capacity of 52 gallons, this soaker tub will offer the ideal soaking experience that only the best cast iron tub can bring.
Durable cast iron construction
Available in Pristine white color
Water capacity: 52 gallons
Clawfoot included
Slipper tub design
5-year warranty
See more: Cast Iron Tubs Cambridge Plumbing Bathtubs on Wayfair
5.  Toto Enameled Soaking Bath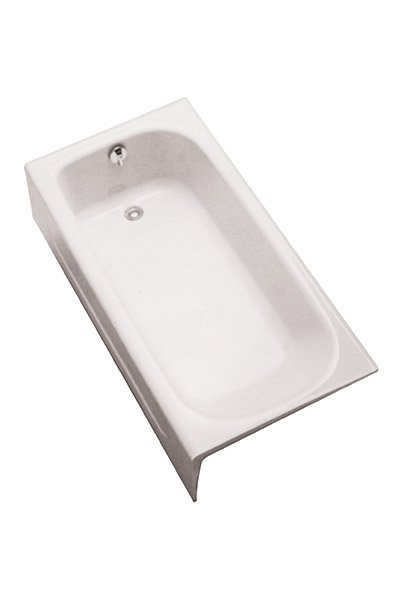 This 60" * 30" Toto soaking bath has an enameled cast iron construction that offers ultimate strength and durability. Its slip-resistance surface enhances safety while making the entry and exit easy.
Slip-resistant surface
Enameled cast iron construction, which renders it extremely durable
Drop-in styling for elegant baths
Apron front that enables it to match most bathroom decors effortlessly
Right-hand drain
See more: Cast Iron Tubs Toto Bathtubs on Wayfair
6.  MaykkeRosa Clawfoot Soaking Bathtub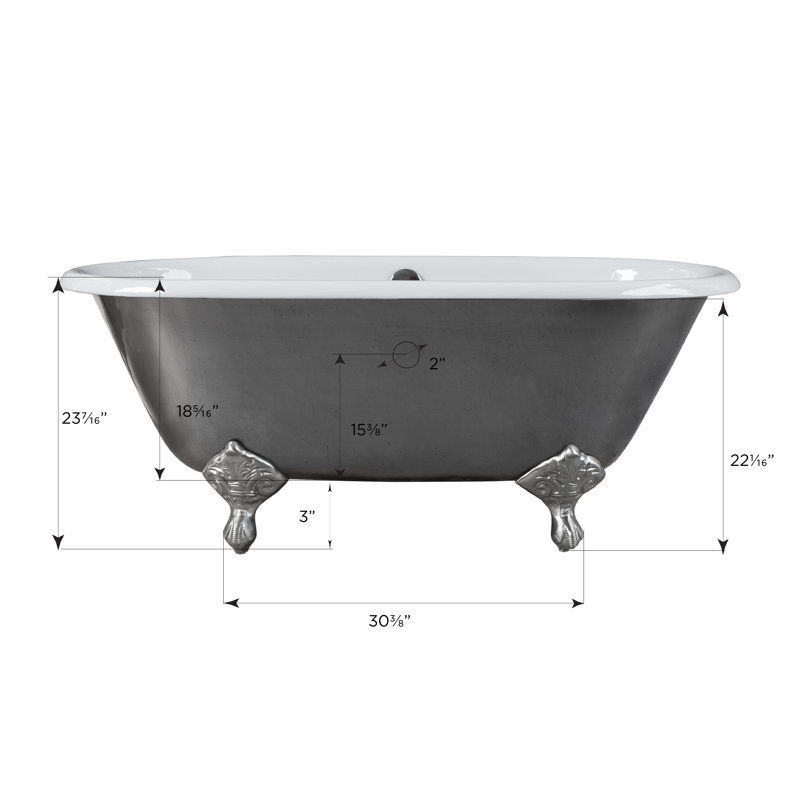 This Rosa clawfoot soaking bathtub features an elegant vintage design that complements any bathroom style. In addition to a polished cast iron construction, it also comes with a drain and overflow assembly to prevent spillage and flooding. It also comes with ball and claw foot detailing, giving it an elegant and unique design.
Distinguished traditional and vintage tub design that adds luxury to the bathroom
Includes overflow and drainage protection for peace of mind
Polished cast iron construction with ball and claw feet chrome detailing
Metallic exterior to create a striking visual counterpoint
Adjustable foot length helps to keep the tub level, especially on uneven floors
See more: Cast Iron Tubs Maykke Bathtubs on Wayfair
7.  Cheviot Soaking Bathtub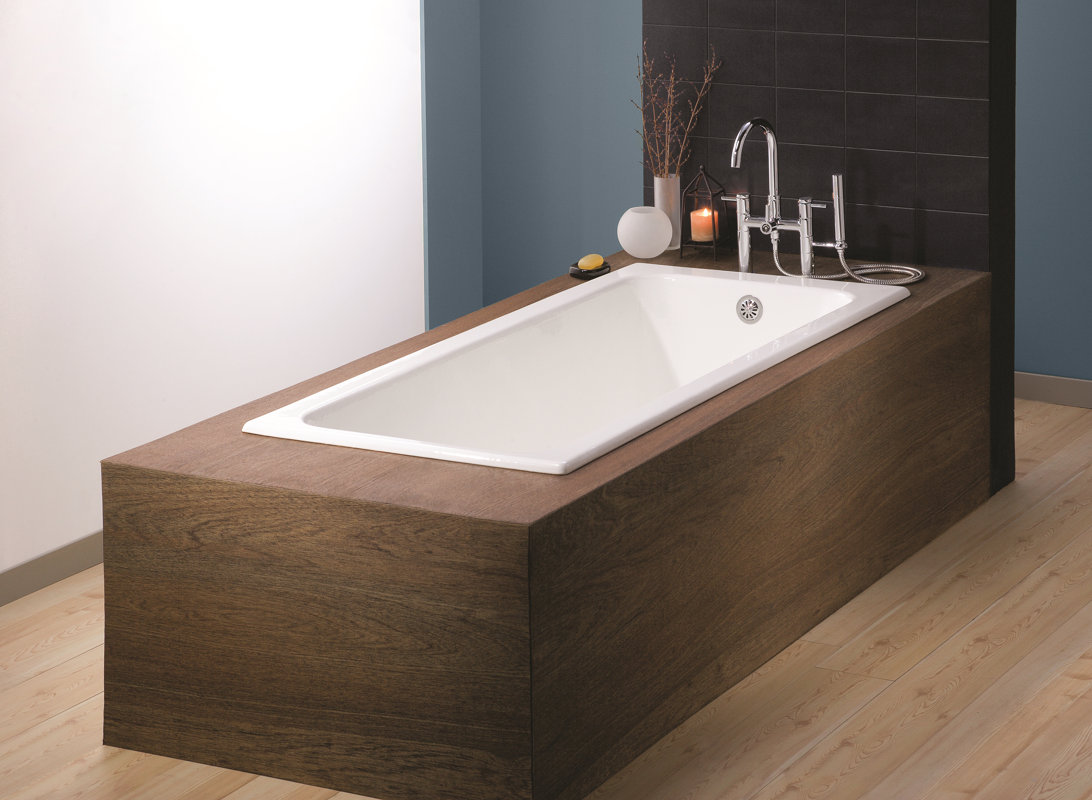 The Cheviot Products soaking bathtub is one of the best drop in bathtub. It adds class and elegance to any bathroom with its grade AA titanium material. It features more stain resistant finishes that will last you for many years to come.
Constructed with the highest grade of AA titanium that renders it more durable
Adjustable feet
Flat rim
Hard and less porous material
See more: Cast Iron Tubs Cheviot Products Bathtubs on Wayfair
8.  Barclay Products 4-5 ft Cast Iron Ball and Claw Feet Roll Top Tub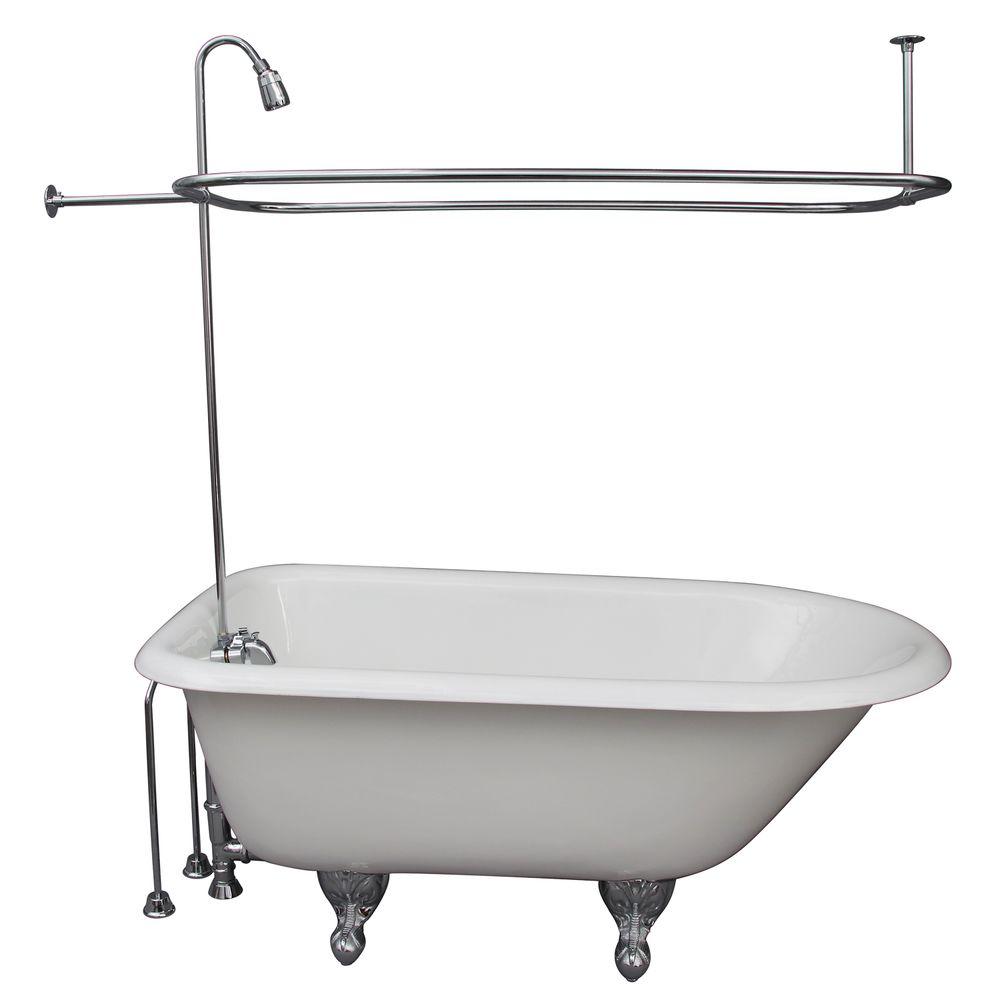 The Barclay bathtub has an attractive sleek design. The cast iron ball and claw feet design gives it a vintage appearance. Additionally, it is white in color with polished chrome accessories.
Attractive polished chrome accessories
Designed with ball and claw feet for a vintage look
Crafted from durable cast iron
9.  Aqua Eden 6 feet Cast Iron Double Ended Pedestal Bathtub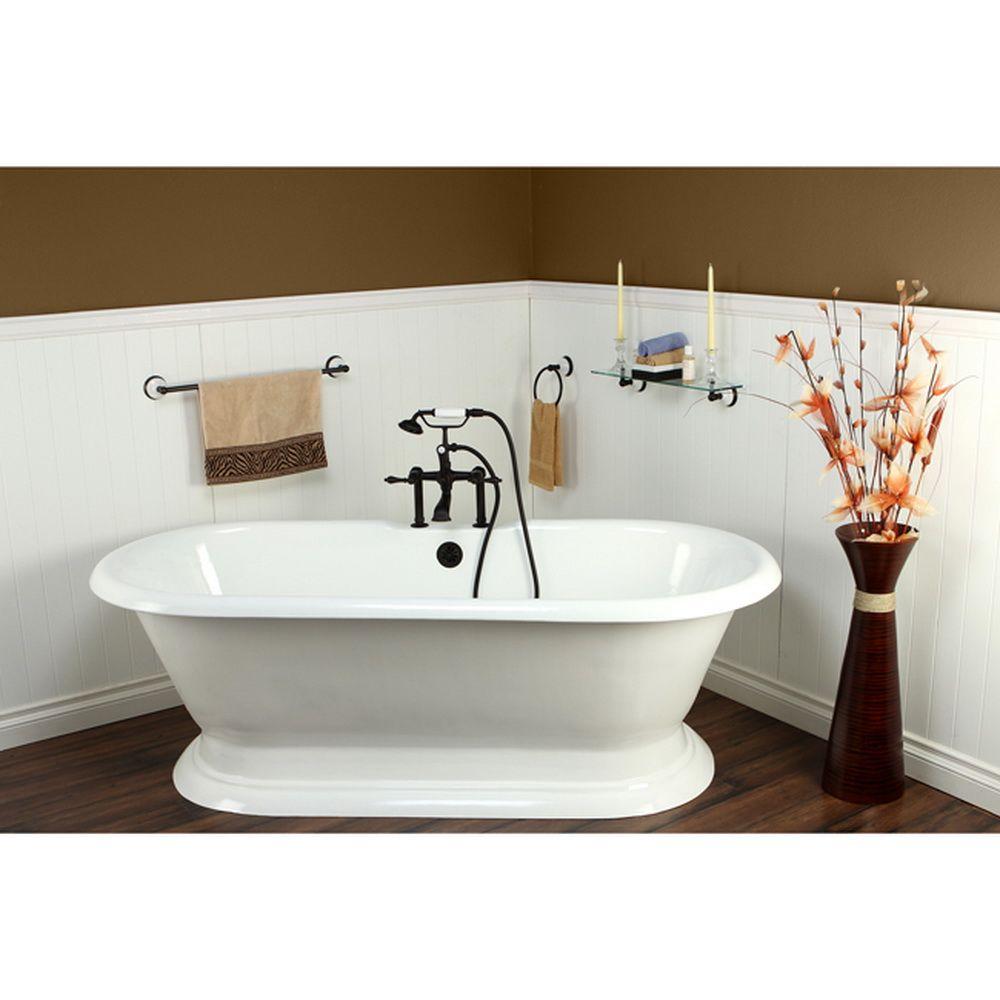 With modern and vintage designs, this double ended pedestal bathtub is perfect for relaxing after an exhausting day. Crafted from cast iron material, you are bound to enjoy warmth and durability from this bathtub. We love the fact that it comes with painted white exterior and can be repainted to match your room decor.
Measuring 72 inches long and 31.5 in. wide, this bathtub can accommodate two people
Stable and durable and can offer functionality for years to come
Comes with 7 in. faucet on the tub rim, making it possible for the tub filler to be mounted directly to the tub
Double ended design that allows you to use either end of the bathtub
The interior has a white porcelain enamel finish for easy cleaning
Conclusion
As seen above, all the nine cast iron bathtubs are amazing and a great way to unwind after a long day. However, the Kohler K-837-0 Bellwether Cast Iron Bathtub is the best cast iron bathtub and tops them all. Measuring 60" * 30", this tub features an integral apron and low threshold for easy entry and exit. Unlike other designs, it comes with extra wide ledges to offer adequate storage space.
Its simple yet contemporary look fits most bathroom decors. It is also a great option that won't break the bank like most cast iron tubs.
Cast iron tubs come in varying designs, shapes, and prices. Hence, you should find one that is comfortable and easily fits your style and bathroom décor. That is how we arrived at our decision for the top cast iron bathtub.