As there are so many brands of fixed shower heads in the market, it is pretty hard to choose the right one for you. In order to help you choose, we've come up with a list of fixed shower head reviews so that you can see which products are the best in the market.
To further help you, we also included a comprehensive buying guide, which will aid you in choosing the best fixed shower head for your own individual needs.
What is a fixed shower head?
Before we move on to the list of the 10 best fixed shower heads in the market, it's best to understand a little bit more about the product that you want to buy. We will start with what a fixed shower head is and how it differs from other types.
The fixed shower head is a type of shower head is a mounted shower that is permanently attached to the wall.
Compared to a handheld shower, this type cannot be moved. That is why it is usually the choice for rain showers.  These shower heads also usually have a bigger face than the handheld types so that it can have a more complete coverage.
Fixed Shower Head Buying Guide
Now that you know what a fixed shower head is, the next thing that you have to know is how to buy one. It's not recommended that you go into the store and just buy the one that looks the best.
You need to look at the individual features of each product by using some logical criteria in mind. With these criteria, you can make an intelligent choice that allows you to get the product that's most suited for you.
For this purpose, we took the liberty of creating a list of criteria that you can use to make your choice:
Wall or Ceiling Mounted
The first thing that you need to decide is whether you will mount your fixed shower head on the wall or on the ceiling. Where you decide to put it will depend on your own preference. If you have a wide coverage type of shower and you'd like to install a full rain shower head to feel the experience of having rain drops on your head, then you'd most likely want to put it on the ceiling.
Of course, you also have the choice to stick with the standard way of just mounting your shower head on the wall, so it will hit you at an angle. This is the better choice for smaller shower heads with less coverage.
Spray Pattern
The next thing that you'll want to take note of is the number of spray patterns available. In order to really give you the full experience of a luxury shower, you'll probably want patterns such as jet, rain, pulse, and massage. These are the four most common spray patterns that you can find in most shower heads. Thus, if you have at least these 4, then your shower is already a pretty good choice.
Of course, if you can find a shower with more spray patterns, then that's even better. There are some shower heads that have up to 8 or 10 spray patterns to choose from. In a nutshell, the more the merrier. At the very least, you must have 4 spray patterns though.
Coverage
The coverage refers to how wide the face of the shower is and how much of the body the water will cover. This is measured in diameter inches. When discussing coverage, you must also take into account your body size and how much the shower head can cover you. However, do take note that the standard diameter of shower heads is 6 to 10 inches so that you can use that figure as your standard.
Water Flow Rate
Lastly, you need to take into consideration the water flow rate. The water flow rate refers to the strength of the shower and how much water is sprayed out of the shower head at a given time. The standard water flow rate for most shower head ranges from around 2.0 GPM to 2.5 GPM. Of course, this also depends on your own preference. Some people do not like strong showers, so they opt to have showers with lower GPM like 1.8 or so.
These are some of the more important things that you need to consider when you're looking for the best fixed shower head for your bathroom. Now that you know all the important things to consider when looking for a shower head, we can now proceed with the 10 best shower heads.
10 Best Fixed Shower Head Reviews
1.  Delta Faucet 5260-PK Shower Head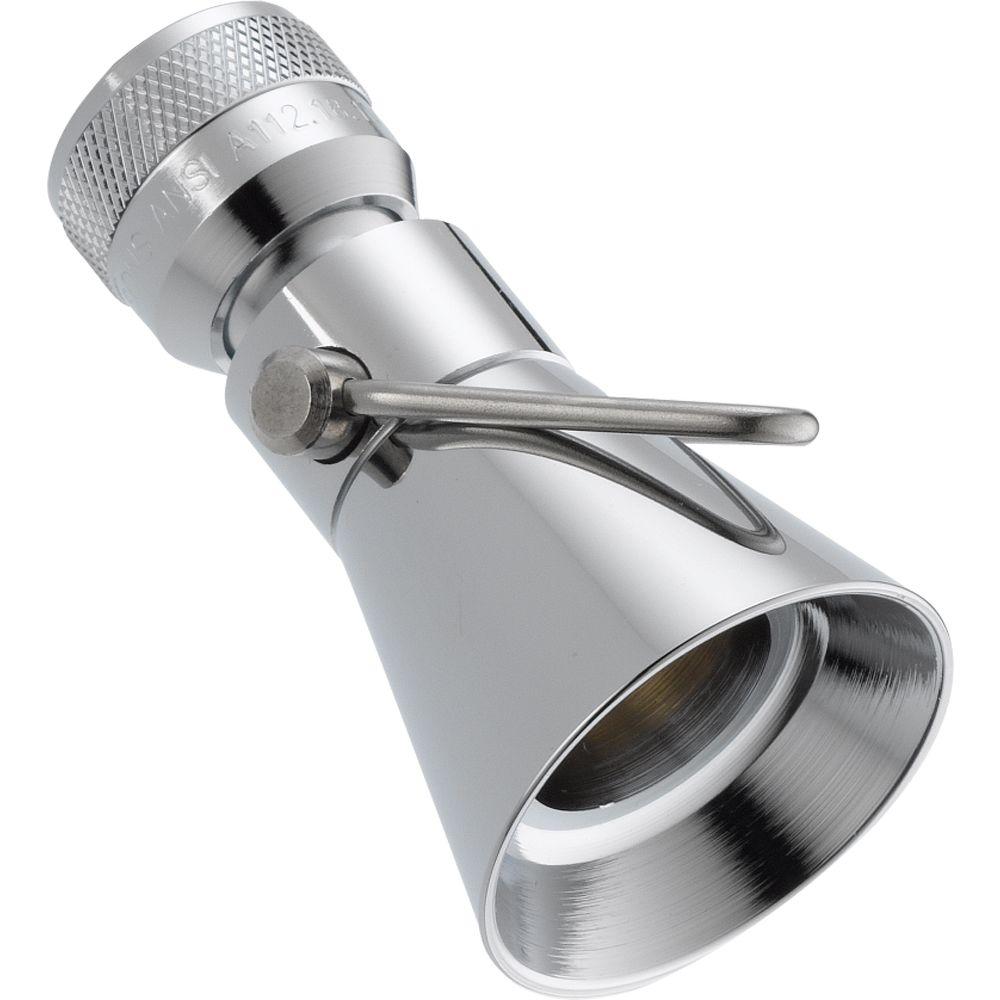 This fixed shower head may be small, but it's extremely powerful. It has a very strong water flow of 2.5 GPM, allowing you continuous flow of water. Being a smaller sized shower head, its stream of water is very concentrated, giving you a very full shower that can thoroughly wash your body.
Take note that it does not have many spray options (only 2), but its default option, which is the full body spray option, already serves its purpose as a strong shower.
Highlighted Features:
Easy installation process
5 GPM water flow
2 spray options
Very strong and concentrated spray
Durable brass material and chrome finish
2.  Aqua Elegante High Pressure Shower Head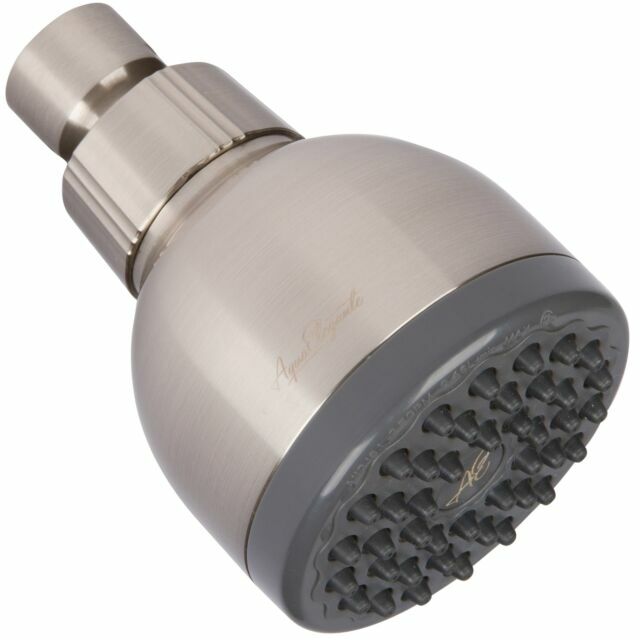 This is yet another very strong shower head that you can choose if you're after power. While the water stream is not concentrated like the previously mentioned shower head, this one has more nozzles that can blast out multiple streams of water.
To be exact, it has 42 nozzles– each of which spray at a very high pressure. Specifically, the flow rate of the shower head is 2.5 GPM. Aside from power, another feature that you'll like about it is that it has nozzles that can clean themselves. That way, your shower can avoid bacteria and calcium accumulation.
Highlighted Features:
42 high pressure nozzles
5 GPM
Very easy to install
ABS plastic material engineering
Brass exterior
Self cleaning nozzles
3.  Wantba 6 Inch High Pressure Shower Head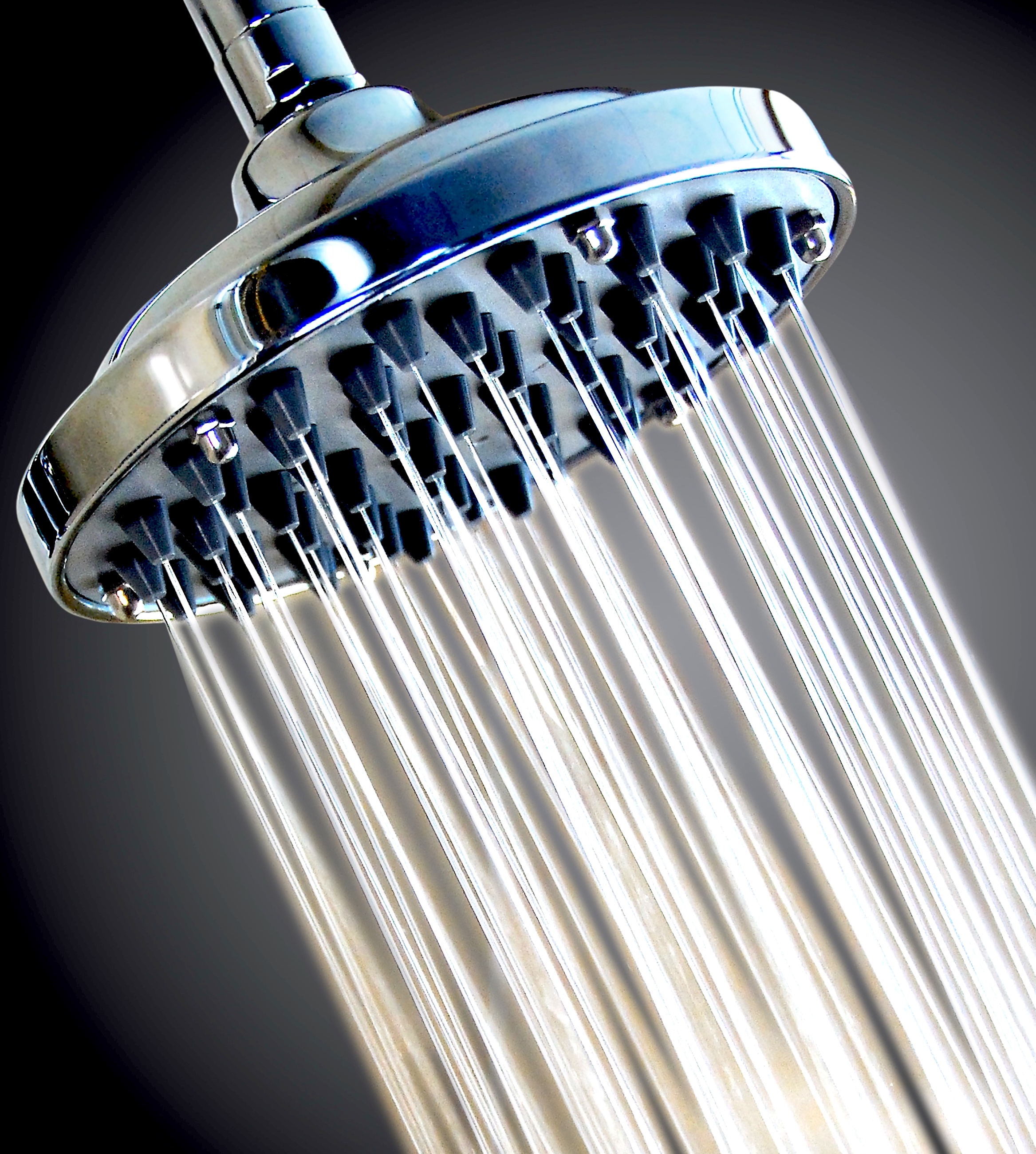 This luxury shower offers a rain fall effect for those who like soft rain drops hitting their skin when they take a bath. Just to give you an idea, it uses the same type of jets that hotel showers use– all of which can spray very soft but concentrated streams of water.
There are 57 jets in this shower allowing it to fully douse you with water. While it does have a pretty high GPM, it still is very controlled, so the water pressure isn't too strong.
Highlighted Features:
Default rainfall massage option
Flow regulator included
Easy cleaning of nozzles
Adjustable angle
Very easy to install
4.  Kohler K-965-AK-CP Purist Shower Head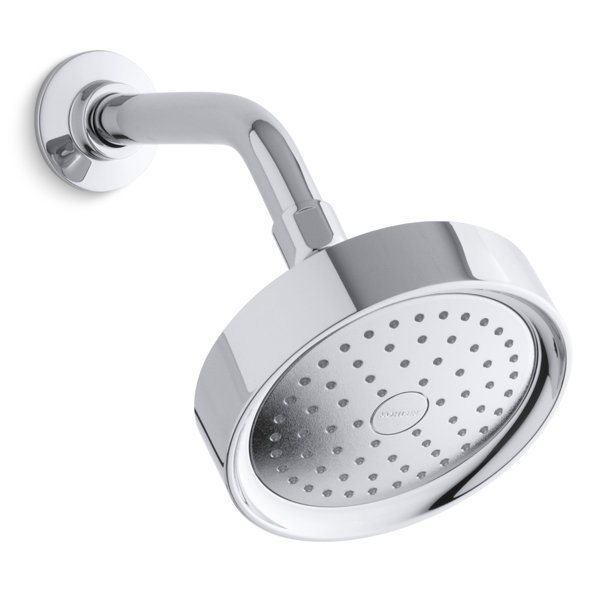 What makes this shower head unique is its Katalysttechnology. Through this special type of technology, your shower will have a more intense stream of water to make your shower fuller and stronger.
Another unique feature of this shower is its innovative nozzle pattern, which enables the shower head to not waste any drop. Other cool features include an air induction feature and an internal waterway. It is definitely one of the best fixed shower heads that you can find in the market.
Highlighted Features:
Fuller drops of water
Katalysttechnology
Intensified water flow
5 GPM flow power
Racetrack waterway for better consistency
5.  Delta Shop 52664-BL Pivotal Fixed Shower Head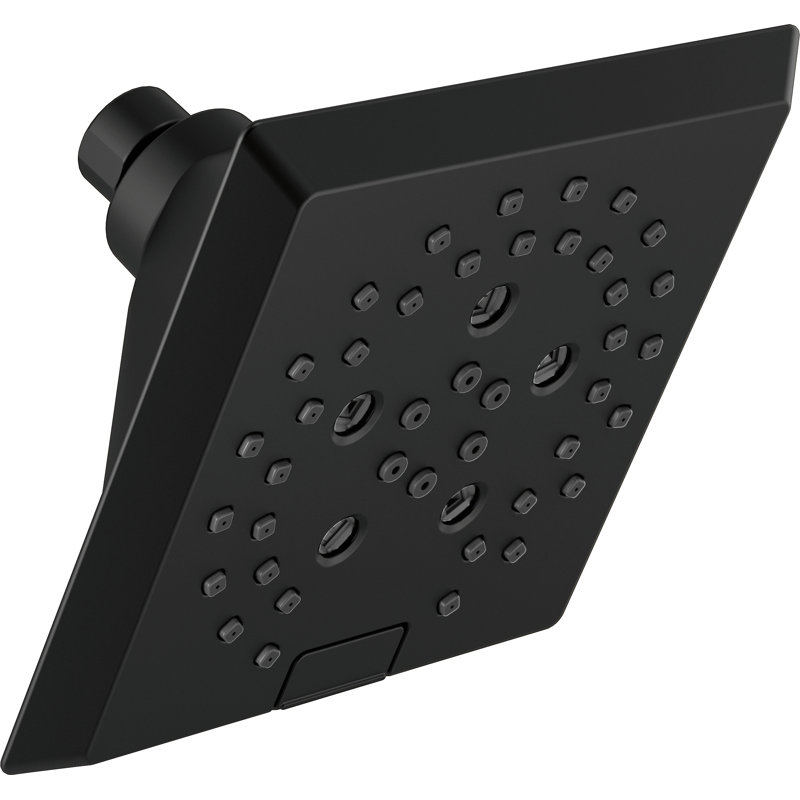 If there's one thing that you can really appreciate about this shower, it is how efficient the self-cleaning feature is. The self-cleaning feature comes from specially made Delta rubber Touch Clean nozzles. Unlike regular nozzles, these ones totally prevent build-up of any kind of undesirable material by blocking it off allowing it to fall away. If any do get stuck, all you have to do is use a cloth to wipe them away.
Another great thing about this shower head is its water efficiency. With the Delta WaterSense label, this shower head can use 20% less water than most products in the market.
Highlighted Features:
5 shower settings
20-minute installation
Delta Soft Rubber Touch Clean spray nozzles
Delta WaterSense
75 GPM flow rate
6.  American Standard Studio S Fixed Shower Head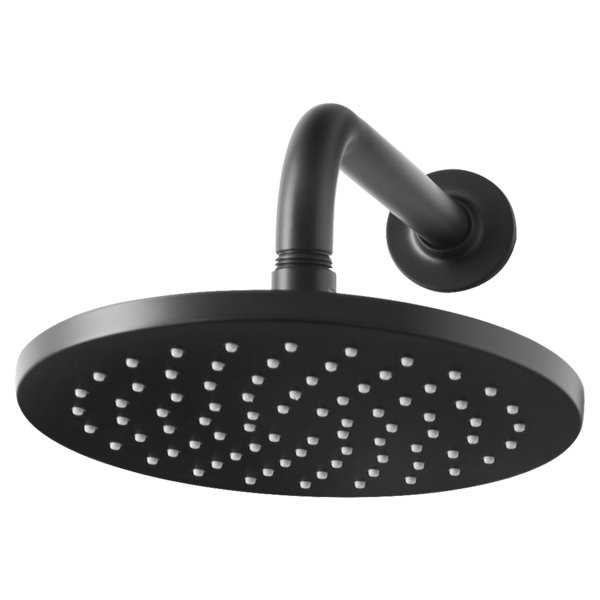 If you're into sleek and contemporary designs, then this is a good shower head for you to buy. It goes extremely well with bathrooms that have modern interior design. It's rather minimalist, so it won't look like an eyesore in your bathroom.
Aside from design, you'll also most likely like its durable brass construction. With the material used to make it and its mount, it is a very sturdy shower head.
Highlighted Features:
Beautiful contemporary design
Flow rate of up to 2.5 GPM
Minimalist shape
Complete flow control unit
Durable brass structure
7.  Kingston Brass Trimscape Shower Head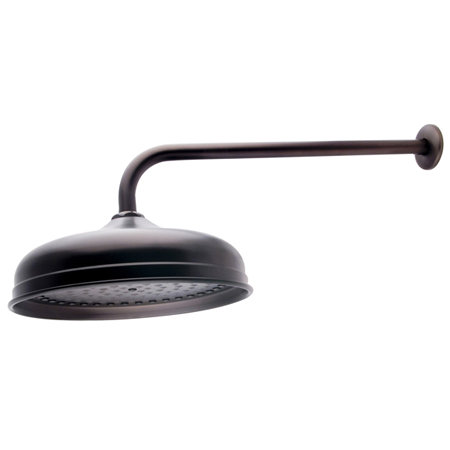 This shower head is a part of the Victorian Collection simply because it is known for its rather "Victorian" type of design. While the American Standard Shower Head is more suited for modern designs, this one is more suited for more old-world interior. It has a rather classy air to it giving your bathroom an aura of sophistication and luxury– something that a lot of people can appreciate.
In a nutshell, it's a pretty timeless piece of bathroom appliance.
Highlighted Features:
Beautiful Victorian design
Durable brass material
8 GPM flow rate
Rain shower head
17 inch shower arm included
8.  Speakman Shop Hotel Multi Function Fixed Shower Head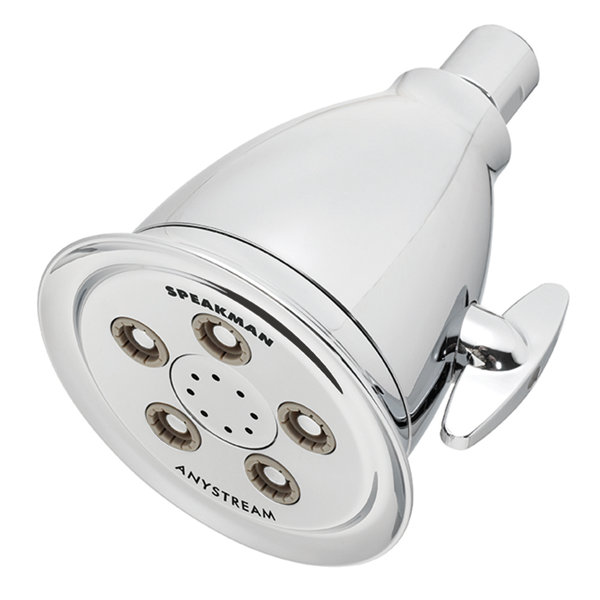 The Speakman Shop Hotel Multi-Function Fixed Shower Head is pretty known in the hospitality world for its 8 strong massage jets. This feature was carefully manufactured in order to produce the best massage sprays that you can find.
Aside from just the massage mode though, there's also the intense mode wherein you can get a very strong shower. You may also combine the two in the third and last setting if you want something in the middle. You'll also love its 50 sprays because it allows for complete and full coverage of your body.
Highlighted Features:
Luxury massage jets
3 spray options
50 sprays for full coverage
2 GPM flow rate
9.  Moen 90 Degree Moentrol Fixed Shower Head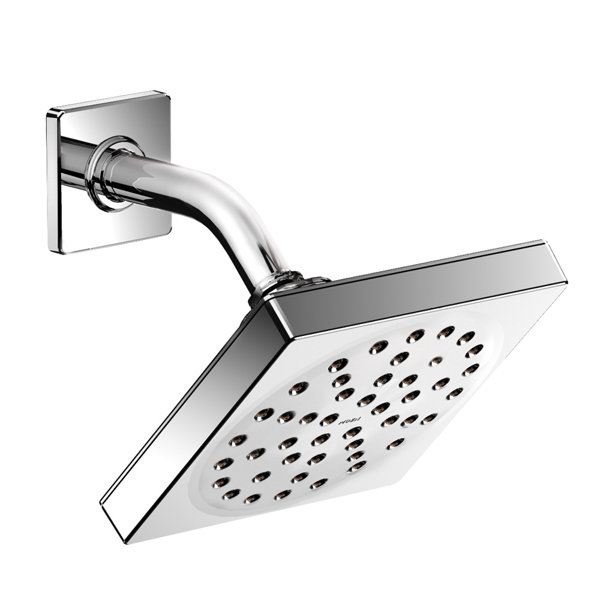 The most unique feature of this shower head is definitely its self-pressurizing immersion rain shower technology. This handy little piece of innovative technology allows the shower to fully optimize every drop of water coming out of the shower. That way, you can really feel the fullness of the water hitting your skin when you turn on the shower.
Other than that, it is also very durable and made to last. That's because it is made out of a premium grade metal that is anti-rust and corrosion proof.
Highlighted Features:
Life Shine finish
Adjustable water volume
Moentrol pressure control unit
6-inch diameter
Trademark Moen immersion tech
10.  Grohe Starlight Power&Soul Shower Head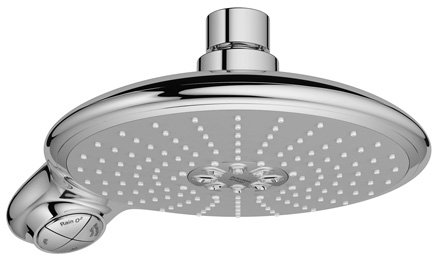 Grohe is pretty known for producing some of the best shower heads in the market. That said, the Starlight Power&Soul definitely does not disappoint. The main spray pattern of this shower is its soft rain spray pattern which gives the exact feeling of being under the rain. It actually has a massage jet that comes along with it further giving you the feeling of relaxation as you shower.
If you happen to be looking for a luxury type of shower that's similar to the ones that you'd see in resorts or spas, this one is probably the best choice for you.
Highlighted Features:
Rain shower effect
5 GPM flow rate
Efficient water volume control
One click power button
Push button spray pattern change
Conclusion
Those 10 are definitely the best fixed shower head products that you can choose. Now, if we were to select one winner out of the 10, our personal choice is definitely Kohler K-965-AK-CP Purist Shower Head.
The various features offered by this shower head gives a complete showering experience. First, it has a high GPM of 2.5 making it a strong shower. While other showers have a wider diameter than this one, the Katalyst technology allows it to give a coverage that can rival these showers. The only thing that it doesn't have is multiple spray patterns. However, the feeling of the strong but soft water coming from the shower head does make up for that.
Looking for the most suitable fixed shower head for your bathroom? Buy our top choice now or take your pick from any of our 10 choices.