Whether it's to store away some gardening tools or to keep away stuff you just can't seem to throw out, a resin shed or plastic shed might be your best bet. Making sure you get yourself the best resin shed is important so that you can all the functionality but without the unnecessary costs that could come along with it.
Read on as we explain what resin sheds are actually for, and the different features they come with. 
Use and Application of Resin Sheds
What are Resin Sheds?
If you've ever had trouble finding a place to put away your lawnmower, your gardening tools, or your patio cushions, I'm sure you might have thought about finding a box or shed to keep them in.
Simply put, Resin sheds, or plastic sheds, are portable storage sheds anyone can easily assemble and disassemble in their yards with little to no professional help.
These are sheds where you can stow away all of the things you don't use all the time that are taking up space and ruining the look of your yard.
You can think of them as an alternative for your typical wooden garden sheds built at the corner of your yard to keep your gardening tools and equipment out of sight and away from the elements.
Resin sheds vs. Wooden Sheds
Your typical wooden sheds, however, are prone to environmental damage like rotting wood, termite infestations, mold, and many more. Rainy days and stifling summer days can raise the humidity level inside the shed, making metal parts on the shed and even your tools rust and deteriorate.
In fact, rainy days run the risk of leakage inside the shed. Unlike wooden sheds, resin sheds are not prone to damage caused by environmental changes like heat, rain, wind, and snow fall. This is because they are made out of durable plastic components and are typically reinforced on the inside with metal structures.
Aside from that, all crevices are tightly sealed post-assembly by design, making sure everything you keep inside the shed remains nice and dry—protected from the elements.
Aside from functionality differences of the two shed types, the resin sheds are typically cheaper than manufacturing a wooden shed for your yard. This is usually because resin sheds are manufactured at factories and come in pre-designed assembly parts that already have either someone to help you assemble it along with the purchase, or simple directions for you yourself to follow with relative ease.
Wooden sheds, however, need more handiwork and carpentry knowledge, not to mention the need for setting down a proper foundation to prevent the whole shed from collapsing. Another benefit of owning a resin shed that you won't get if you were to have a wooden shed is that you can easily transport your resin shed wherever you want.
This means that you can bring it with you if you are to move away, or simply readjust its position on your yard according to how you want it. In contrast to wooden sheds, resin sheds offer you more reliability, functionality, and portability, for less money.
Read more: Resin Shed vs. Plastic Shed (The Comparison)
What can I do with Resin Sheds?
Typically used for yard storage, you can also use your resin shed as a hobby nook or craft room if you are into sculpting, carpentry, painting, and whatnot.
If you live an active lifestyle, you can use your shed as a mini garage for your bike to keep it away from the rain or excessive sunlight. If you have pets in the house or have wildlife in the vicinity of the neighborhood, you can store away your large plastic garbage bins inside these sheds and latch the hatch closed to prevent them from digging through your trash.
You can utilize your resin shed in any way you want depending on your needs and wants. This is possible because resin sheds come in a wide range of sizes that can fit into any household. So, there really is no limit when it comes to what you can do with your resin shed or what you can put in it as long as you don't plan on using it as an extra guest bedroom of pet house.
Despite how seemingly foolproof these shelves seem to be, they aren't meant for people or animals to be living in, hence the lack of any electrical fixtures, lighting availability, heating measures, and insulation.
7 Best Resin Shed Reviews
Before you decide on which resin shed to get, it is important for you to first think about how many items you want to keep stored away, or what kind of items you want to store for safe-keeping. This is how you weight the necessity of owning a resin shed in the first place.
Afterwards, think about how much space you have available in your yard to place the resin shed in. If the space of the yard itself was what made storing away items difficult in the first place, it may prove to be tricky to figure out which space you can keep an actual shed in.
Once you finish thinking about these two things, you can now generally picture the type of shed that you will want to have.
But before you go out and pick one shed out, it's always best to see the top availabilities or popular choices in the market first. By doing this, you can have a general grasp of which sheds are more marketable and are more widely purchased by other people. You do this so that you know what kind of features you should look out for, especially when purchasing a shed for the first time.
To save you the trouble of going around to warehouses or spending time searching the web item by item, here in the list below are seven (7) of the best resin sheds in the market that we've come up with, based on the best resin shed reviews we've read through and picked out for you.
1.  Suncast Sutton® 7.5 ft. W x 4 ft. D Resin Storage Shed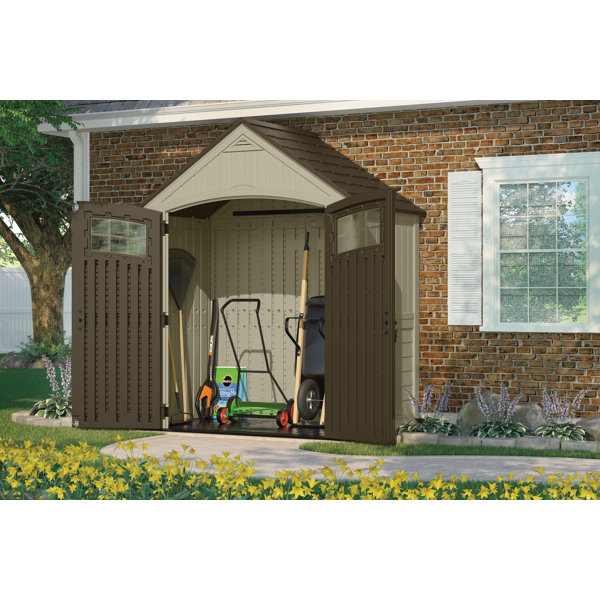 A Neutral and polished appearance is what you can get from the Sutton Resin Shed by Suncast. This resin shed may require some foundation work before assembly, but as long as you already have a flat lawn space, putting up this shed will be a piece of cake.
The model's paneling design adds dimension to the shed and gives more personality to your lawn, serving as both a storage area and a decorative piece.
Best Features:
Double door feature with windows on each door.
A storage capacity of 171 cubic feet it is weather, rot, and rust resistant, and can be used all year round.
The model requires a level foundation for it to be assembled on to avoid leakage and for structural integrity.
Can withstand wind up to 65 mph.
2.  Suncast 4 ft. x 3 ft. Resin Horizontal Storage Shed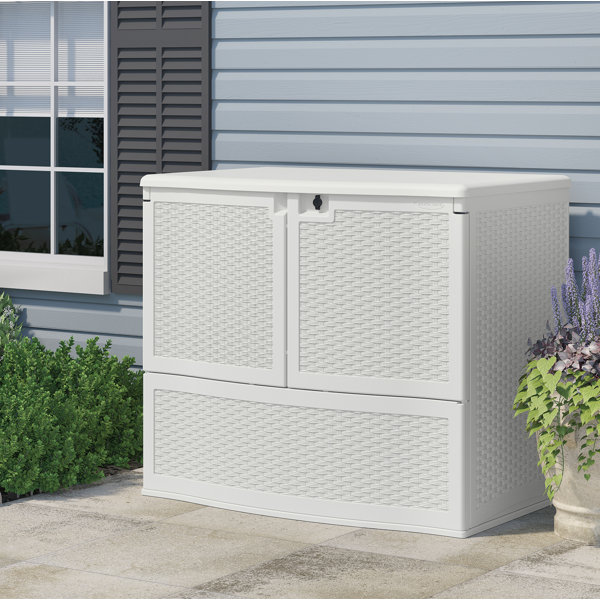 If you're looking for a smaller model that can blend into space, this model is your best bet. Providing a sleek, almost wicker basket-like finish with paneling that is chic and discreet, this resin shed is perfect for hiding away patio accessories, grilling equipment, and even your trash bins, the Suncast Horizontal Storage Shed is your no-mess, easy clean fix to a scattered patio.
Best Features:
This is a cheaper and smaller model with a storage capacity of 26 cubic feet.
Comes with a double door with an inside latch option
It is weather, water, rot, rust, mildew and UV resistant.
Comes with a 10 year limited shop warranty.
3.  Suncast BMS2500 EMW7321904 Horizontal Outdoor Storage Shed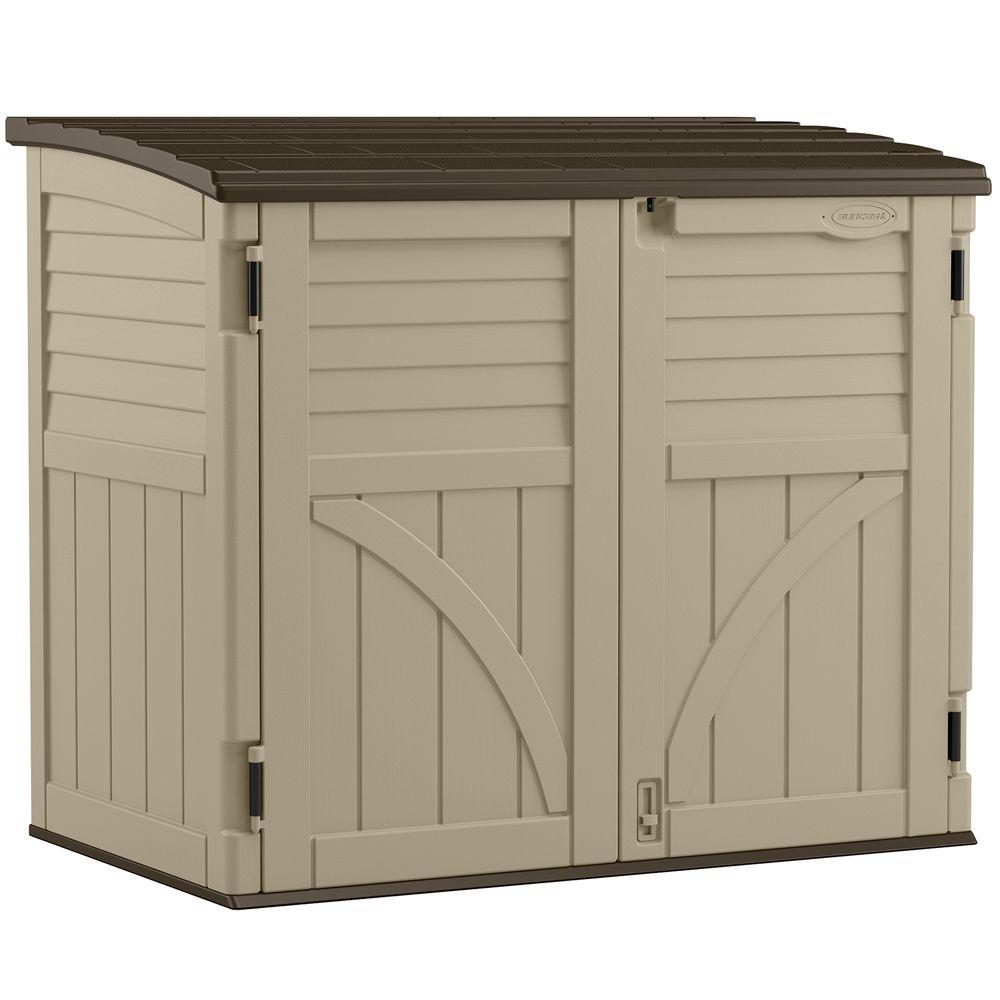 Another smaller model from Suncast, the BMS2500 is the perfect addition to the back or side wall of any family house. Resembling a cellar door or basement entrance with its slightly slanted roofing, this model has several panel design options and texture choices so that you can choose the one that blends seamlessly with your house.
With an easy double door and top hatch option, you can easily remove and add items into the shed and also effectively keep small kids and animals from getting to them by using the 3-door latch available.
Best Features:
53 x 45.5 x 32.25 inches, it is perfect for storing away trash bins to prevent animals and the rain from getting to it.
It has double doors and a top hatch lid for easy access.
Reinforced flooring for heavier items.
4.  Suncast 8′ x 10′ Tremont Storage Shed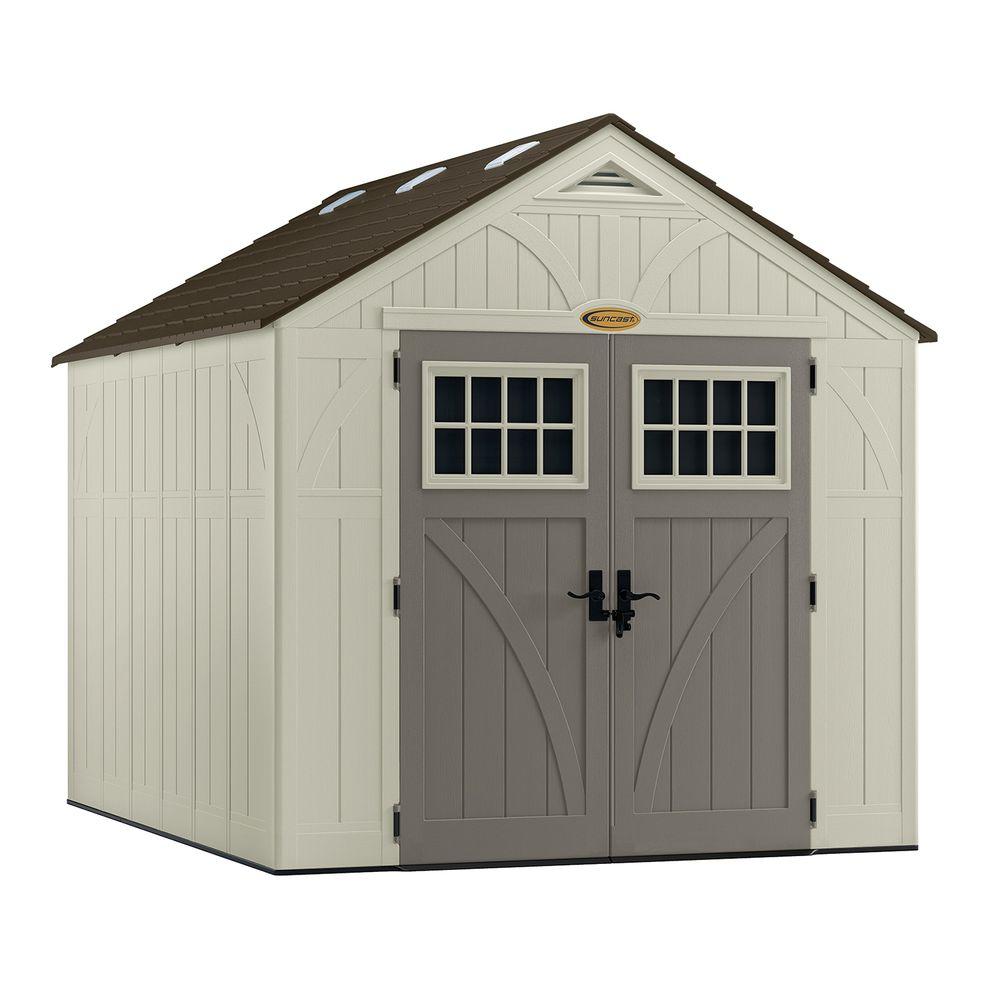 One of the larger models when it comes to resin shed, Suncast has come out with its Tremont Shed, offering almost double the storage capacity for only half the price on the market. Much like an adult-sized dollhouse, this model can hold longer items like ladders, and lawnmowers, with more than enough space for an adult man to walk around freely inside it.
It has the highest capacity to be used for multiple storage purposes and also for non-storage more activity-focused crafting and hobby nook type uses too, allowing to its spaciousness.
Best Features:
This is one of the larger models with a storage capacity of 546.5 cubic feet.
It comes with built-in shelves for more storage
Has a shingle-style roof reinforced with metal trusses
Has a series of six (6)skylights to let in natural light.
5.  Keter Manor Large 4 x 6 ft. Resin Shed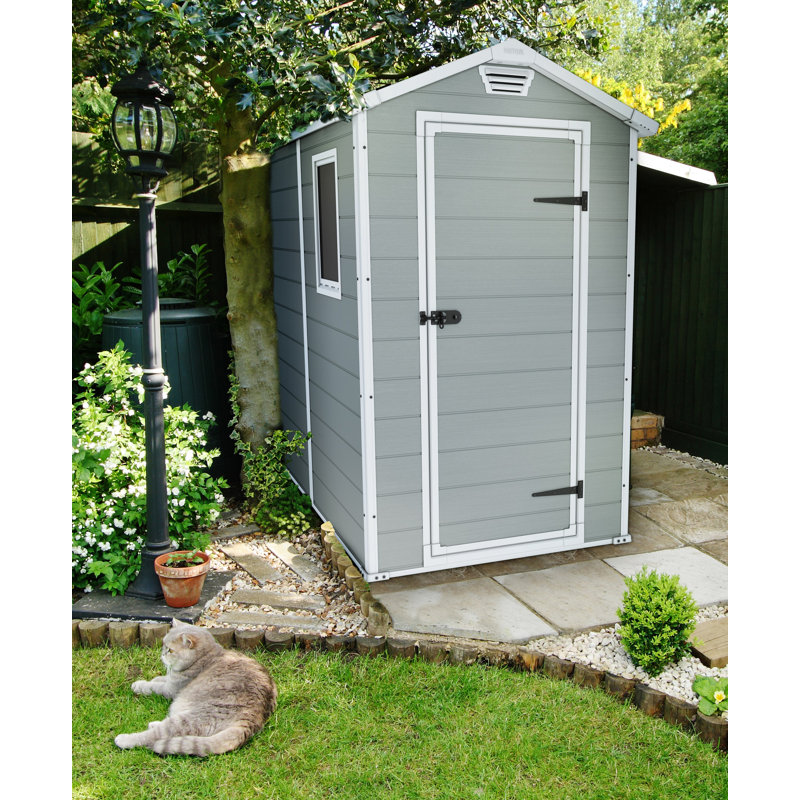 The Keter Manor is a sleek model that can be kept away to look as discreet as possible whilst also being tall enough to allow a grown man to walk inside of it. It is a compact model with a muted color palette to further increase its "fade into the background" appeal. The Keter Manor is perfect for keeping your lawn looking clean, sleek, and clutter-free.
Best Features:
This is a cheaper model for a moderate storage capacity of 131.8 cubic feet.
A faux wood finish and steel reinforcement promises durability and dependability of the product.
Has a ventilation vent and built in window for lighting and air circulation
UV, rust, rot, and weather resistant.
6.  Keter Store-It-Out MIDI 4.3 x 2.5 Outdoor Resin Shed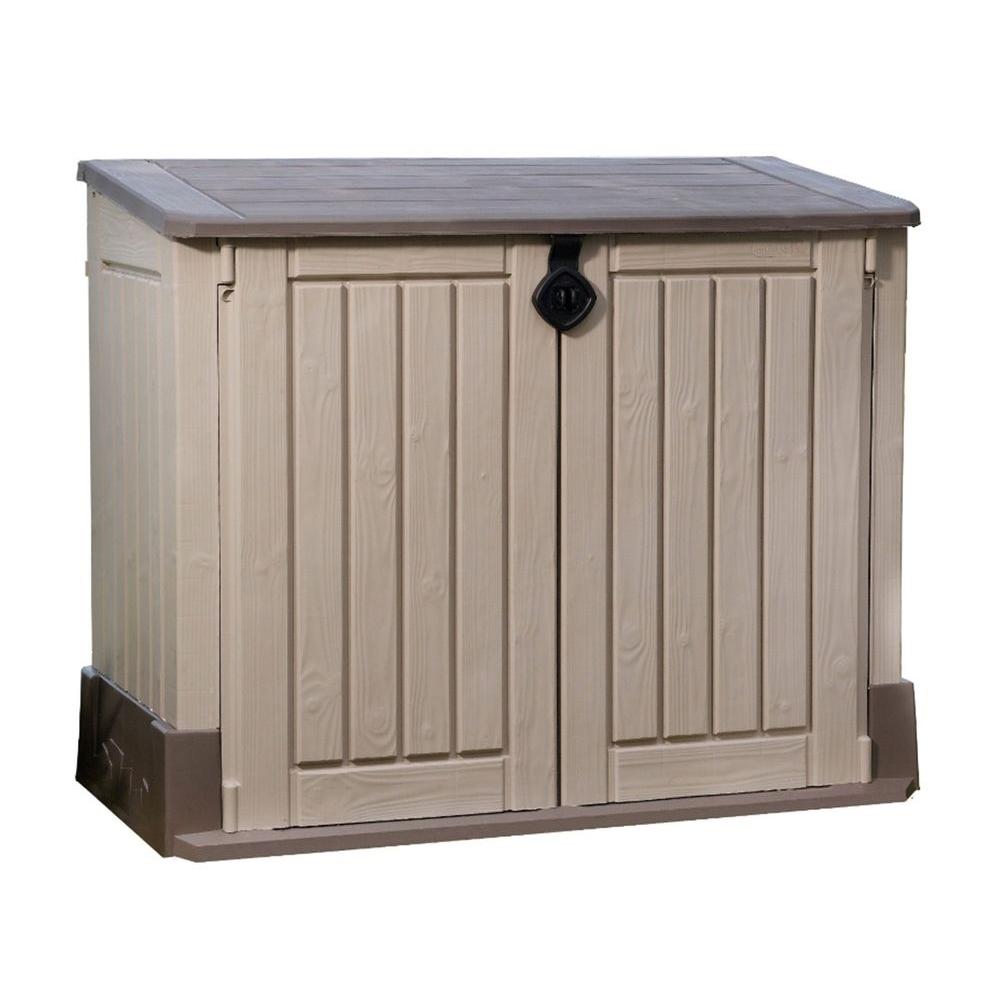 One of the smallest storage shed models available in the market, Keter has come up with its Store-It-Out MIDI model that albeit being more compact in size to its other units, is still large enough to contain two (2) thirty-two (32) gallon trash cans.
Looking almost like a treasure chest with its double door and top latch function allowing maximum utilization, this unit does not fall short of its bigger competitors.
Best Features:
The cheapest model on the list at $170.27, it is also the smallest, with a storage capacity of only 27.4 cubic feet.
It has shelf supports but with no shelves included in the package.
3-door function with double doors and top hatch
Can add optional metal hinges for top lid
7.  Keter Factor Large 8 x 6 ft. Resin Shed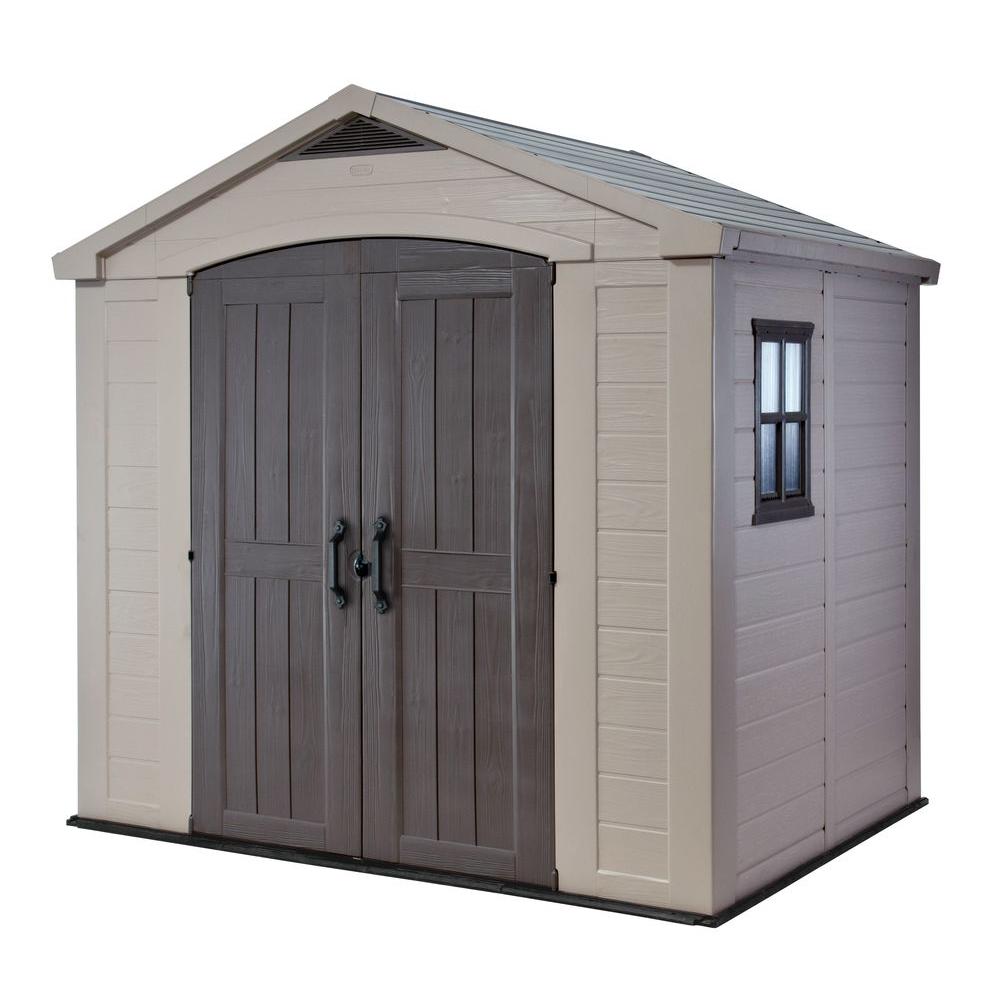 Slightly smaller than the Suncast's Tremont Shed, the Keter Factor Large Shed is a big unit with an equally sleek, no-nonsense design that can provide you with all the space you could ever need for storing away anything you want.
It is well-known for its ease of assembly and sturdiness, despite the daunting size. With Keter being known for its excellent delivery service, you have no reason to worry about the trouble this model will bring you. Not only is it easy to put up, it is also virtually maintenance free.
Best Features:
This model is also one for the larger models with 285 cubic feet of storage capacity.
It has a skylight, a fixed window, and 2 shelves with brackets included.
Entire structure is reinforced with steel.
Includes a durable, hard-wearing floor panel.
Friendly Reminders
The models generally promise the same thing when it comes to how durable they are and how they do not require a lot of maintenance on your part. The key differences lie in color availabilities, type of finishing on the exterior, interior, roof, and floor paneling, storage capacity and measurements, and the availability of certain other features like windows, skylights, ventilation, and shelving.
You have to remember that not every family will go for the same type of shed, and no one shed can fit all families. Each model with come with minor to major differences in several factors which may make choosing one among them more difficult, but it also means that you will definitely find a shed that will meet everything you need from it.
After reading through the seven (7) models we've listed in this article, you can deduce that there is a generally direct relationship between shed size and how much it costs. This means that smaller sheds tend to or seem to be cheaper than the larger sheds, although some sheds that are pricier can give you almost double the storage capacity that a similar but cheaper model would provide.
You have to keep an eye on this if you are considering or looking for a shed that is not only bigger but also relatively cheaper than anything else on the market.
Most models already promise you durability, and reliability so if you really want something different, you have to look out for those special features like extra storage capacity, shelving features, skylights, and any other facet that works for you and your needs. 
Conclusion
At the end of the day, choosing the best resin shed for you and your needs really depends on YOU– your lifestyle, what you want to store away, and how much you are willing to pay for extra storage.
If you are looking to store a lot of things inside your shed, the Suncast 8′ x 10′ Tremont shedis the best option for you, although this will cost you more. If you just want a small space to keep your garbage bins out of sight, the Keter Store-It-Out MIDI is not only your best bet, it's also the cheapest.