Going off on a camping trip into the wide blue yonder may seem an idyllic break from the humdrum of everyday life! Wide open spaces or beautiful forests may be your idea of the perfect getaway, but you do tend to give up on some of life's luxuries, like a fully-equipped bathroom! But getting clean is not an impossible task! You can take a basin and a wet rag to do the job, or opt for a portable hot water shower. You can even opt to add a shower tent if the idea of the local wildlife taking a peek at your naked body does not appeal to you!
So, without much ado, let's take a look at a few of the best portable shower's around, their pros and their cons, and a few other details that you need to keep in mind about them.
Best Portable Shower Reviews
1. Ivation Portable Outdoor Shower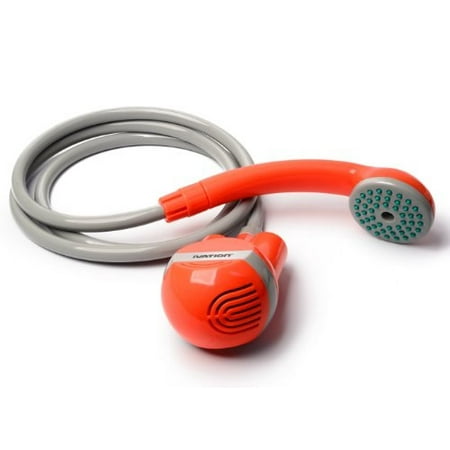 This is a neat, versatile, little shower that can serve a number of purposes. You can use it as a shower, to water your flowers, or even to get water out of your bath if you have plumbing problems! Added to this that it is battery operated, you are sure to have a warm (or cold) water shower anytime you need one.
A suction cup allows you to stick the shower head to just about any surface, giving you the ease of hands-free showering
It is battery powered – just plug it into your laptop or car via a USB port to recharge your batteries for up an hour's continuous use
The shower is small, compact, and discreet, and easy to pack in amongst your luggage
It is great for use on pets outside
It can draw water from any kind of receptacle, e.g. a bucket, the sink, the bath
The built-in filtration system cleans water as it flows out the shower head
The shower head only has one flow rate
The on/off switch is situated on the pump which is the water, not on the shower head
See more on Youtube:
2. Anglink Upgraded Portable Camping Shower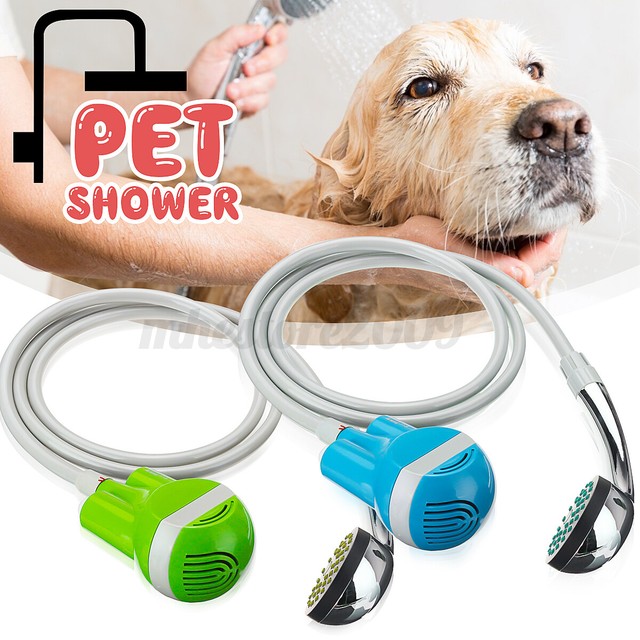 With a waterproof battery system that is not in your water receptacle, this product with its built-in water filter system allows you to even get clean with lake water if you don't want to heat your water and are brave enough for the cold.
Rechargeable, waterproof battery that is separated from the pump, preventing possible water leakage into the battery and thus extending battery life
Rechargeable battery allowing for up to one hour of continuous use with full charge
Water flow is up to 2.5 liters a minute
Removable battery makes for convenient recharging with laptop or car adapter
Pump with built in filter is placed into a bucket or other water receptacle, turned on, and is ready for use
Showerhead has no on and off valve
3. AcetekPortable Camping Shower Upgraded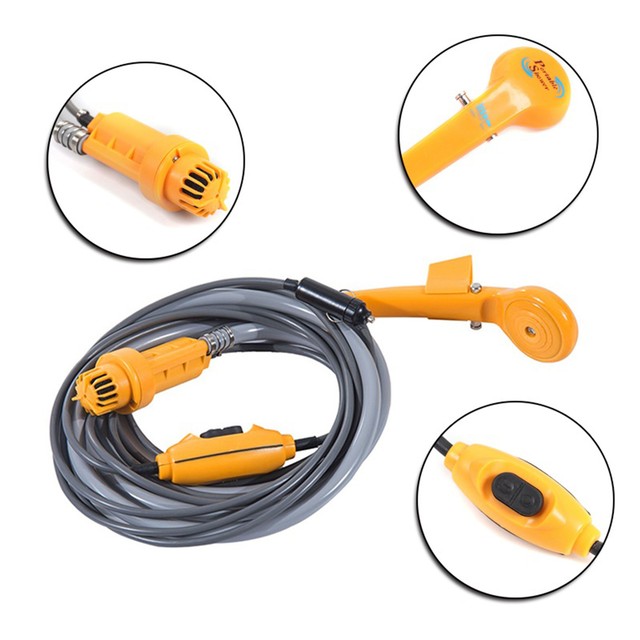 Portable and convenient, you can use this shower wherever there is water! This makes it a great option for any and all outdoor activities.
Simple to assemble
Use either the included hook or suction cup to hang your shower
USB rechargeable, sporting a detachable lithium battery for ease of use (recharge via any USB port, e.g. a phone charger, power bank, or laptop)
Water filter situated in the pump provides clean water and prevents blockages
Takes between 2 – 5 hours to charge
Gives up to sixty minutes of shower time
Shower head has no independent pause switch
Shower hook tends to swing the shower around, so beware when using indoors
4. Produtrend Portable Handheld Rechargeable Shower
Easy to use for any lover of the great outdoors, or to use at home for when the plumbing gives up on you. This portable outdoor shower can even be used indoors – consider using it to rinse off your little one while he is in his baby bath tub!
This portable outdoor shower is very lightweight
Its compactness makes for easy storage and transport
The rechargeable battery (using any USB port) provides for up to 60 minutes worth of showering experience
The easy grip handle makes it user-friendly
It includes a USB charger
Includes a suction cup, holder, and hook attachment
The hook attachment may make the shower head unstable, so be careful when you use it indoors
The shower head does not have a pause switch whereby you can stop the water while washing or conditioning your hair, for example
5. Coleman 5-Gallon Camping trips  Bag Solar Energy Hot Water Shower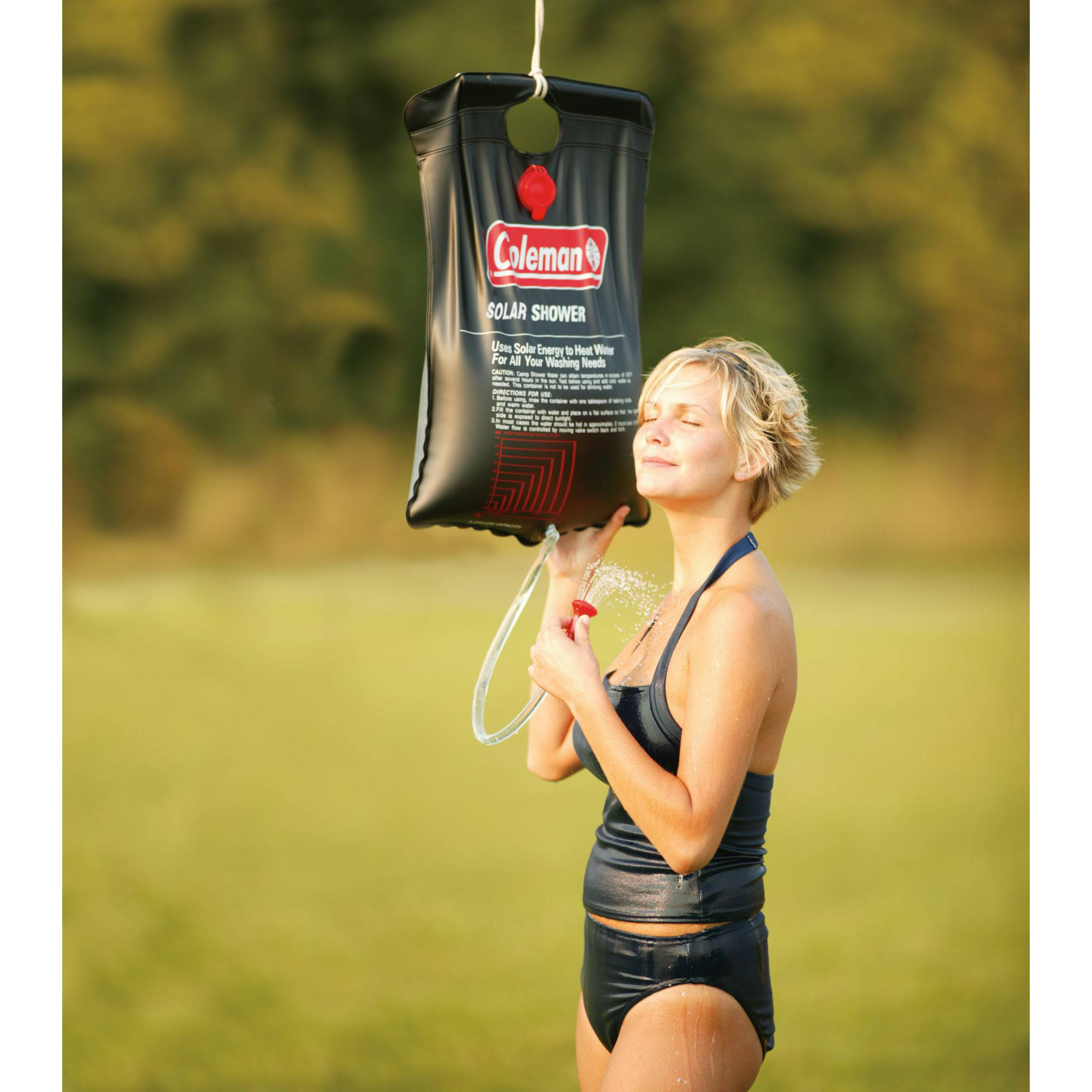 This 5-gallon solar shower is a great accompaniment when camping or for those times when the geyser decides to break! All you need to get hot water is some sunshine!
The bag (water reservoir) holds up to five gallons of water which is more than enough for multiple showers
You use free, solar energy for heating
The reservoir has a strong handle for carrying and hanging
The reservoir is made of heat-locking material that warms the water when it is in the sun
Works even on cold days, just so long as there is sunlight available
Can be used with a shower tent if the tent's frame is sturdy enough for the weight of the water reservoir
You need to hang the water reservoir relatively high in order to let gravity do its work with the water flow
Does not have hooks for hanging
6. Advanced Elements 5 Gallon Summer Shower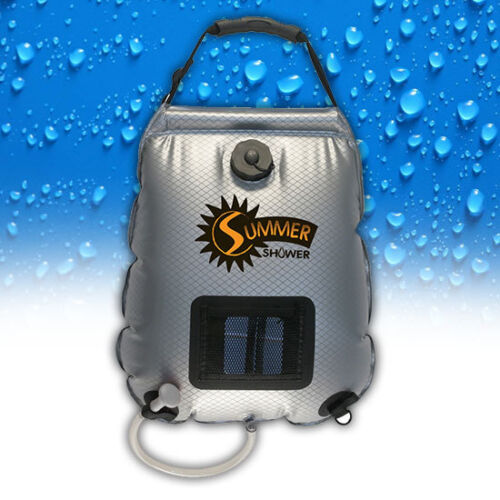 The Summer Shower is a great choice when you are looking at some of the best solar showers around. This solar powered shower's construction ensures optimum heating – fast – while the on/off shower head switch allows for water saving. The little extras added in the design make this a great option!
Has a five-gallon water reservoir
Powered by solar technology
The extra-large filling valve make filling the reservoir with water a breeze while the twist off cap is easy to use
The reservoir is a 4-ply construction including a reflector panel as well as an insulator panel
There are additional side pockets for holding your soap and shampoo
A water temperature gauge is included, ensuring your shower is not too hot or too cold
There is an additional Velcro strap for your washcloth as well as a reflective mirror
It is lightweight in design, coming in only at one pound and four ounces
The product rolls up into a compact roll for easy storage
The only con is that you would have to buy a separate shower enclosure as one is not included
7. Nemo Equipment Helio Pressure Shower
Made of high-quality materials, the Nemo Helio Pressure Shower folds up compactly, is light, and relatively easy to use. While great for showering, it is equally great for use when washing dishes while camping.
The unit has an eleven-liter tank, hose, spray nozzle, pump, and nifty carrying case
A safety strap prevents the tank from opening accidentally
The foot pump is not able to over-inflate and provides constant water pressure
Filling the unit with water is a messy affair due to the small mouth opening
You need to pump quite frequently to ensure you get good water pressure
The bag cannot be hung
The hose kinks very easily
8. ZODI Outback Gear Extreme SC Hot Shower
A great system that includes an 11-liter tank and all the trimmings, you are ensured constant water pressure due to a foot pump while the handy thermometer ensures you r water is exactly the right temperature every time. This innovative, quality product is great for use in rugged areas where showering facilities are at a minimum. The included tripod and stove are a convenient addition as it could be used for outdoor cooking.
Unit includes an 11-liter stainless steel tank, a hose with a spray nozzle, a pump, and a carrying case
A safety strap prevents accidental opening during use
An easy to use foot pump ensures constant water pressure
Product is stored in a hardy carrying case for easy transport and storage
Includes a tripod and gas stove
The foot pump ensures a constant stream of water
Water heats up within ten minutes
Includes a shower pole holder
System is easily collapsible for transport
A slightly bulky system, especially when space is a factor
Gas and gas canister is not included – need to buy these separately
Does not include a shower enclosure
9. RinseKit Pressurized Portable Shower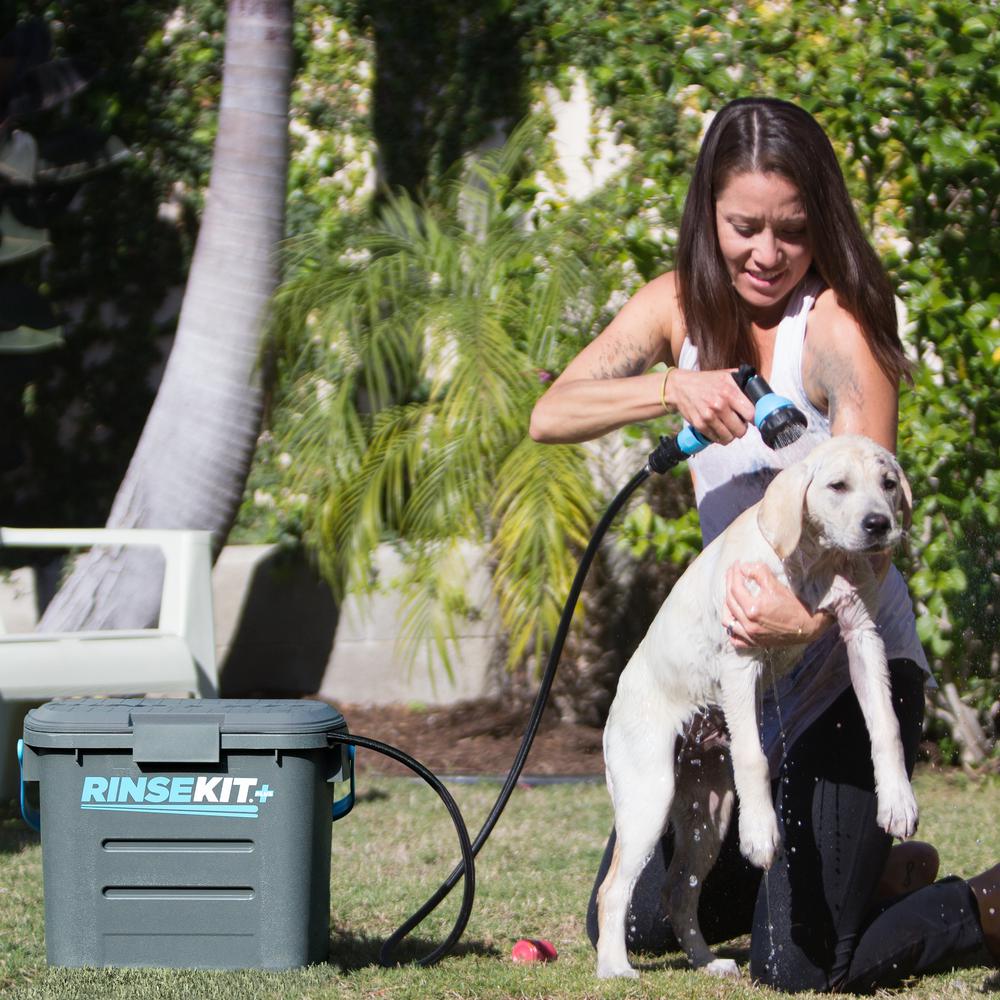 If you are a fisherman or surfing enthusiast, this pressurized portable shower may be right up your alley. Small, compact, and easy to use, it allows you to rinse your hands or rinse off that beach sand quickly and effectively. Of course, it has other, regular uses too, such as rinsing your car, taking a quick shower, washing your dishes…
The system features an 11-liter tank, hose, camping shower head in the form of a spray nozzle, pump, and nifty carrying case
Tank is fillable with hot or cold water
Lid is easy to remove
Has an on/off valve on nozzle
Spray nozzle has seven different settings
There is a built in ruler to measure fish
Does not need a pump or batteries to operate
Does not independently heat water
Only has a three minute pressurized spray function
How to choose
Before buying a camping shower, know your needs!
What type of camping do you do? Do you go hiking, or camp in a tent, for
Is weight a factor?
Is size a factor and how much space does it take up in your vehicle?
Are you going to have easy access to water, or do you need to take water with you on your trip?
Do you want to take something along to heat your water?
Benefits
Most of the best portable showers actually add a lot of benefits to any camping trip. Not only do they keep you clean (I know I feel great after taking a shower and getting rid of the dirt, grime, and sweat), but can be used when cleaning dishes or other outdoor equipment. Besides that, you can use it around the home to clean your pet, your car, etc. An outdoor shower also means you are not limited to where you go camping – you can go off into the wilderness where there are no ablution blocks and other such 'tame' facilities while enjoying the luxury of a warm shower at the end of the day.
What do you need to look out for?
There are a number of questions you need to consider here as well.
If using a battery operated portable camping shower that needs a USB connection, how sure are you that your power source will be readily available?
If going for a solar shower, what time of year is it? Are you sure there will be sufficient sunlight to heat your water?
If opting for a shower that needs an external heat source, how viable is lugging such heavy equipment around?Or are you going to be camped in one spot only for an extended period?
Best way to use your portable shower
So you have decided on which is the best portable camping shower for your specific needs. Great! So what are the best practices to follow when using it?
Firstly, most portable solar outdoor showers need the water reservoirs situated quite high off the ground as they make use of gravity for the water to flow out. So make sure you set it up in a spot where the water reservoir can easily be hung.
Portable showers that have a water pump are easily operated out of any kind of holder, whether it is a bucket, a sink, or even a lake! Most also tend to heat the water. Do ensure, however, that the pump is taken out of the water when not in use.
Portable showers with a water reservoir of stainless steel commonly need gas to heat up. Do make sure your gas bottle is tightly closed when not in use and stored somewhere safe. A leaking gas bottle is a fire hazard.
Conclusion
There is no denying that having a warm shower at the end of a (outdoors camping) day is relaxing, and there is nothing as great as climbing into bed feeling clean. To choose the best portable shower, i.e. one that stands out from the rest, was a daunting experience, as each of those reviewed had their own specific pros that made it stand out. But, for the sake of luxury and ease of use, the Advanced Elements 5 Gallon Summer Shower takes the lead. With the extras included, i.e. special soap, shampoo, and washcloth holder, this one is the way to any camping girl's heart!