We firmly believe that all homes, especially homes in four seasons countries, have a fire pit. Why? Simply because fire pits can help warm you if ever you decide to stay out in your yard during the chilly weather. Winter can be a nice time to relax outside if you have a way to neutralize the bitter cold. Dear readers, the best propane fire pit can do that for you.
Things to Consider When Buying Propane Fire Pit
In order to start our little guide, we'd like to start with tips on how to look for the best propane fire pit. We decided to start with the buying guide because we believe that without the knowledge on how to choose the best propane fire pit outdoors, you won't be able to make your mind on the 12 choices that we've listed in the propane fire pit reviews.
In any case, here are some of the factors that you need to consider when choosing propane fire pits:
Style
Since appearance gives the first impression, we'll start with that. You'll want to get a propane fire pit that looks nice in your backyard. That said, you have a pretty wide array of choices for styles. You can pick a bowl style, a tabletop style, a column style, and fire ring types.
This factor is rather subjective since the decision which style you choose will depend on your own personal taste preference and the design of your backyard. So, take those factors into account when choosing the style of the best gas fire pit for heat.
Heat Capacity
Heat capacity is a really important factor to take note of because heat capacity determines how much distance the heat covers. The heat capacity of a fire pit is determined by measuring the BTU or British Thermal Unit. This unit of measurement represents the strength of the heat emitted. The higher the BTU, then further the heat and the stronger it feels.
The one you choose is determined by how big your backyard is. The bigger the backyard, the higher the BTU you should get. For small backyards, around 30,000 BTU or 40,000 BTU will do. However, the bigger backyards should have around 50,000 to 60,000 BTU if you really want to feel the heat. There are fire pits that can reach up to 70,000 BTU or higher, but those are for the really big areas during winter seasons.
Material
The next thing you'll want to take into consideration is the material used. This is very important to note because the material determines the durability, ease of cleaning, heating speed, and safety. The four most common materials used for making the best portable propane fire pit include copper, iron, steel, and stone/concrete.
Copper is a metal that can contain heat very well, allowing you to stay warm. Also, copper fire pits have a really nice and rustic feel to it, making it a great addition to your backyard. The cons of this material are that you need to clean and maintain it quite often.
On the other hand, you may want iron which is also great at containing and spreading heat. It is also very sturdy and gives the same rustic feel that copper gives. However, it is also pretty hard to maintain and it is very heavy.
You may also consider steel fire pits. These fire pits are resistant to rust and corrosion. They also have a longer shelf life than most other materials. They are also pretty lightweight, so they're easy to move around.
Lastly, we've got the stone/concrete fire pits. These are the Zen types that look good in Zen gardens or relaxing backyards. They're really beautiful and they're easy to clean. They also don't rust or corrode over time. Of course, they're pretty heavy and their design isn't that versatile.
Diameter
The next thing you need to consider is diameter. The diameter is determined by the size of your backyard. Most fire pits that are in the market are between 20 to 40 square inches. So, all you have to do is measure the place you'll install your fire pit. From there, you'll know how to determine the size of your fire pit.
Other Features
You may also want to take into consideration other features that the pits have to offer. There are some fire pits that come with grills that you can use for cooking meat. If you like a multi-purpose fire pit like that, you may want to consider getting one with grills. Others come with screens that prevent the ashes to go out of the grill. You may also want to try out the fire pits that allow the use of natural gas if you prefer that. This is perfect for those who want to keep their backyards totally clean. This factor is also rather subjective and is determined by your usage habits.
Price and Brand
Finally, you need to look at the price and brand of the pit you're getting. As a general rule, we never recommend that you buy cheap propane pits. Why? Because with cheap propane pits that come from unknown brands, you're not guaranteed safety.
Take note that you're dealing with propane and fire. If not handled properly, you may experience fire hazards. Because of that, we prefer to recommend products that are in the mid-level price range and from well-known brands.
The Best Propane Fire Pit (12 Amazing Products)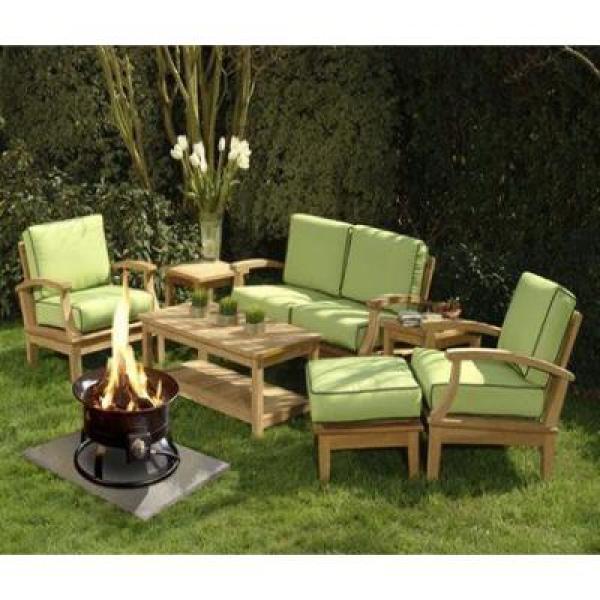 The Heininger portable fire pit is a ring type fire pit that looks absolutely stunning in the outdoors. Not only does it look great in backyards but also in other outdoor areas as well like fields, patios, and also beaches.
Aside from having a great design, it also has strength. It has a whopping 58,000 BTU enabling you to cover a pretty big area. In fact, that's why it can be used in parks or beaches. It can even be used for camping in the woods.
Best Features:
Decorative rocks inclusive
Very lightweight and easy to carry
58,000 BTU heat capacity
Versatile design
2.  Aurora Steel Propane Fire Pit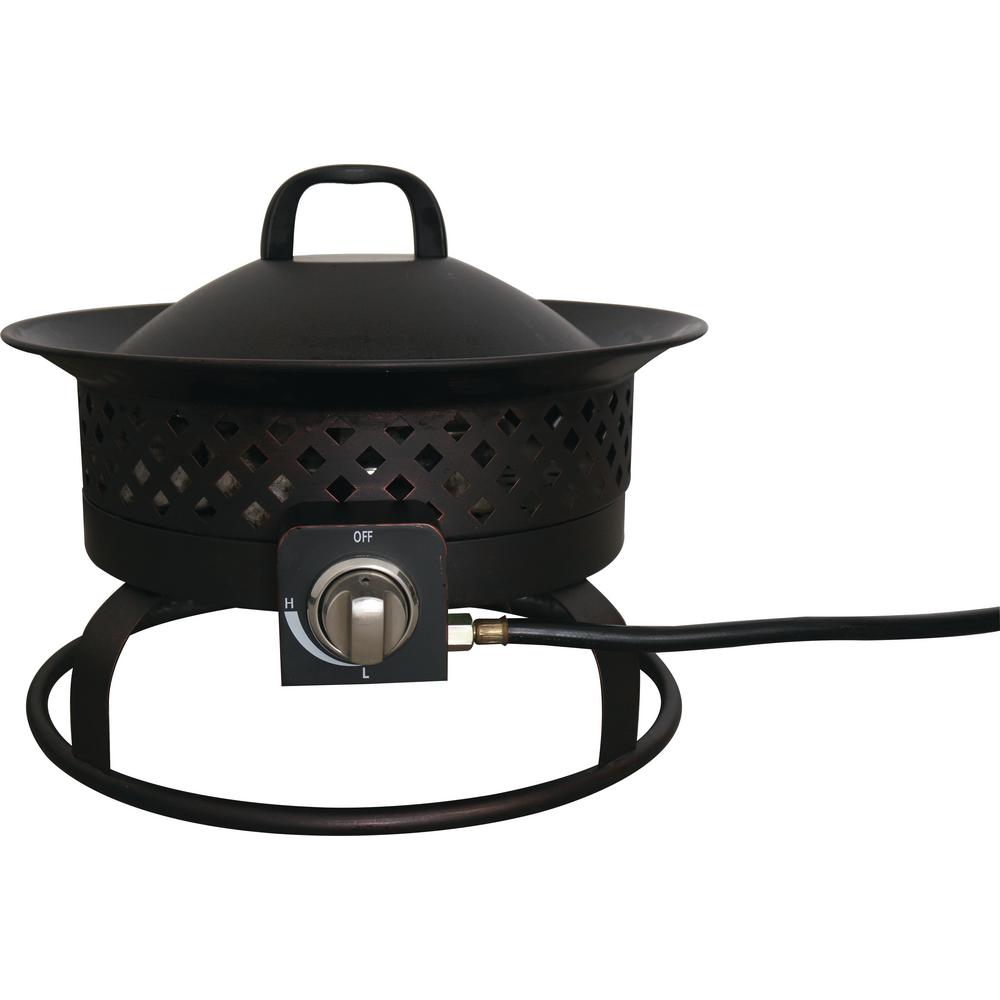 This is another ring type propane fire pit but with a cover. The purpose of the cover is to contain the heat inside so that the pit can accumulate more heat and emit more concentrated waves. For safety purposes, the lid also comes with a lock.
That way, your child won't be able to open it and hurt him or herself. Since the pit is made out of steel, it is lightweight, rust proof and corrosion proof, making it easy to carry around and durable.
Best Features:
Inclusive of a lid
54,000 BTU of power
Made of durable steel metal
Portable size
3.  Fire Sense Steel Propane Fire Pit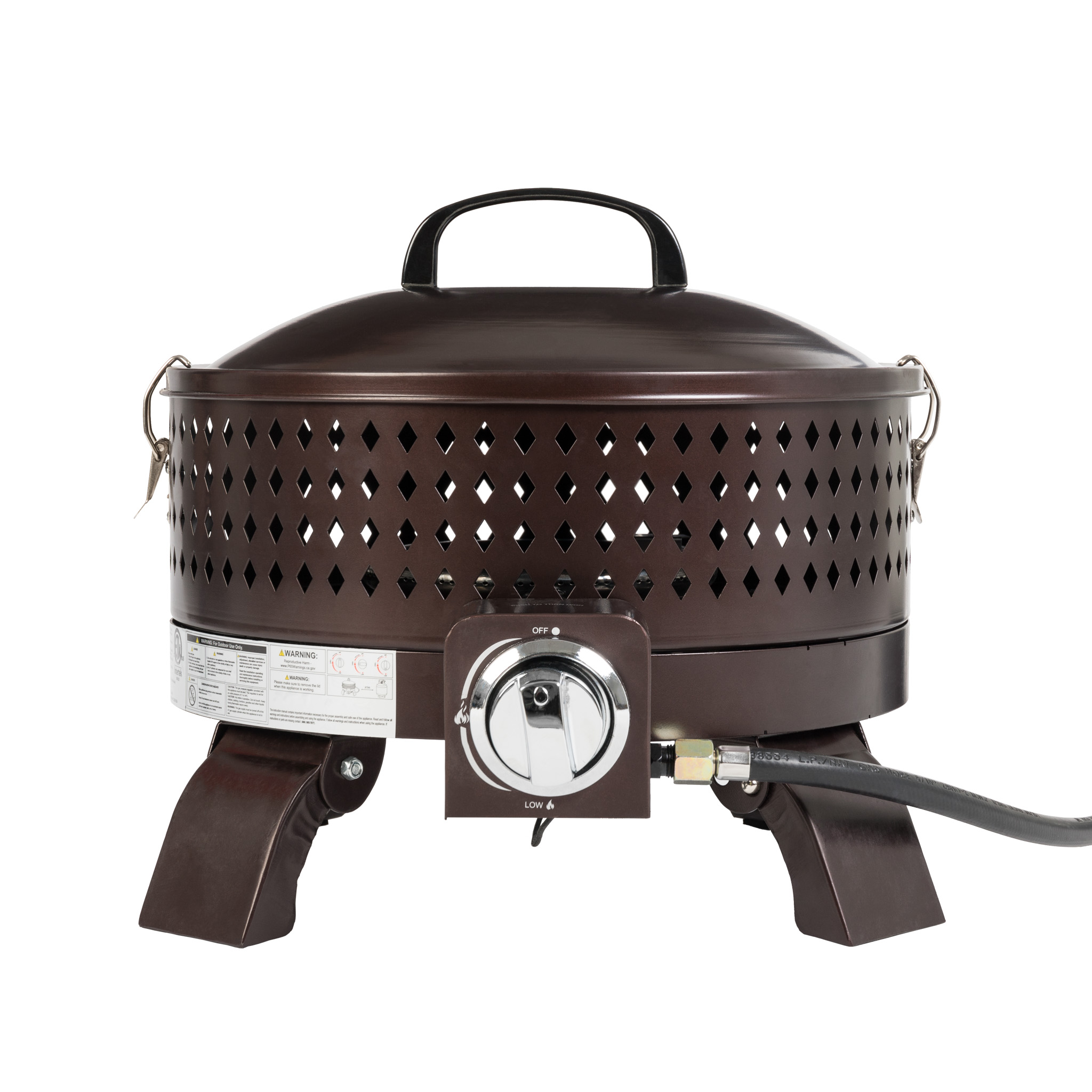 If you're looking for something that can brace the weather, this one is it. This one is very long lasting and can take even the strongest weather without wearing out. You can leave it outdoors even during rain storms or snow storms. Aside from weather resistance, it has a raw power of 60,000 BTU, making it have great coverage. Also, it has a 15-inch diameter depth, making it able to hold a lot of lava rocks.
Best Features:
Portable size and weight
Weather resistant steel material
15-inch depth
60,000 BTU heat capacity
Comes with lid
4.  Peaktop Polyresin Propane Gas Fire Pit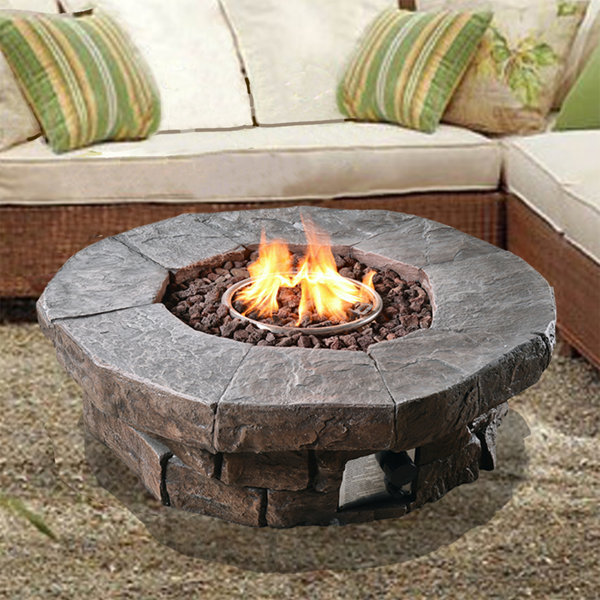 This fire pit is ideal for you if you're a fan of those medieval-fantasy games or movies. This fire pit looks like it came from one of those worlds with wizards, knights and elves. It's built to look like the material that olden castles use.
The material that was used for construction of this fire pit is polyresin, which is a pretty durable material. It is surely one of the best designed fire pits that you can find in the market.
Best Features:
Made of polyresin material
Medieval inspired design
40,000 BTU heat capacity
5.  Rosecliff Heights Maxwell Concrete Fire Pit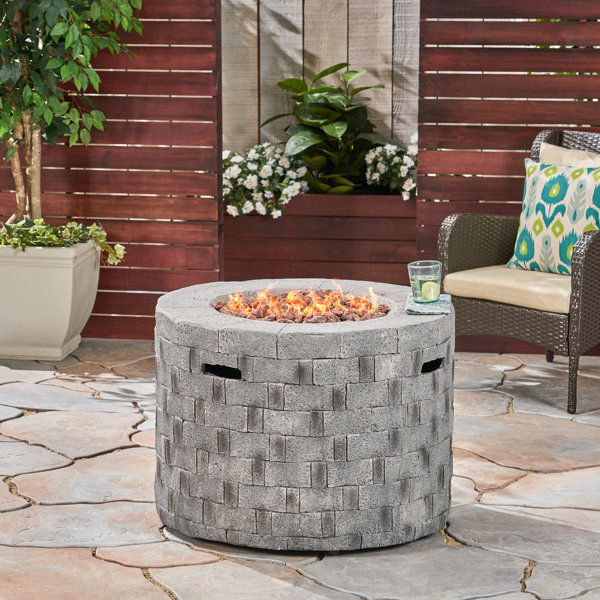 This is a great fire pit that you can put in the middle of your patio. You'll surely enjoy chilling with your friends around the fire pit. When it comes to overall sturdiness, this is one of the best choices to have since it has a durable steel frame and a hard-concrete exterior.
Because of the combination, you won't be able to knock this fire pit down so easily. In fact, you can even leave it outside on windy days.
Best Features:
Sturdy structure
Beautiful concrete design
50,000 BTU of heat capacity
Polyester cover included
Made of lightweight concrete
6.  Red Barrel Studio Poojari Concrete Fire Pit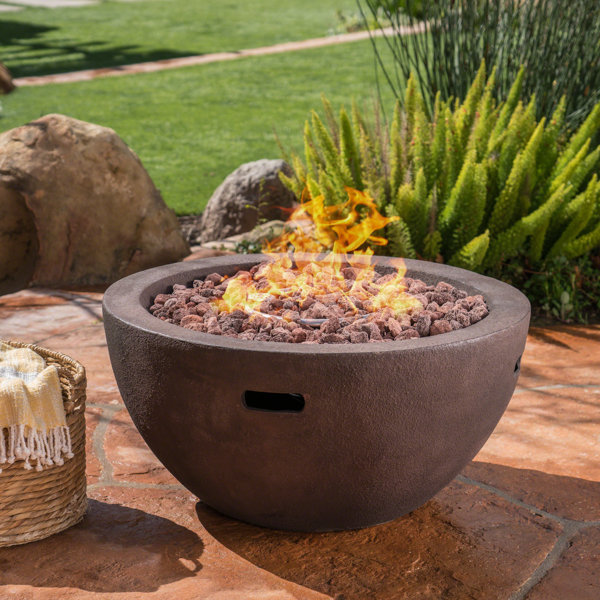 When it comes to Zen or native inspired designs, the Red Barrel Studio Poojari Fire Pit is a great candidate. It's one of those really hip and cool looking fire pits that go well with relaxation- inspired backyard or patio designs.
It can also be safely placed on top of wooden decks since the bowl is concrete and fireproof.
Best Features:
Beautiful color and design
40,000 BTU heat capacity
Comes with stainless steel burning area
Can be cleaned with a dry cloth
7.  Real Flame Lanesboro Gas Fire Pit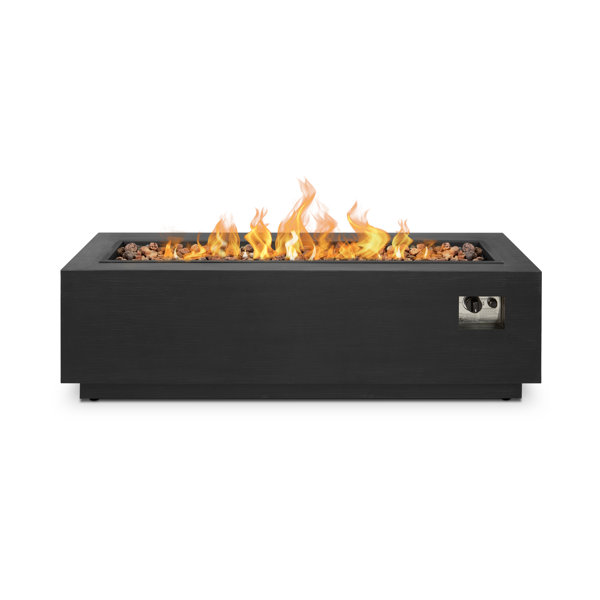 We can say that this is one of the best propane fire pit tables on this list with regard to strength alone. With a 65,000 BTU heat capacity, this is great for bigger backyards. It allows you to relax with a couple of friends in the outdoors even during the winter times.
It also makes use of a modern, contemporary design, allowing it to match with almost all backyard exterior.
Best Features:
Very versatile contemporary design
65,000 BTU of heat power
Durable steel material used
Weather proof
Can make use of both propane and natural gas
8.  Sunbeam Pioneer Fire Table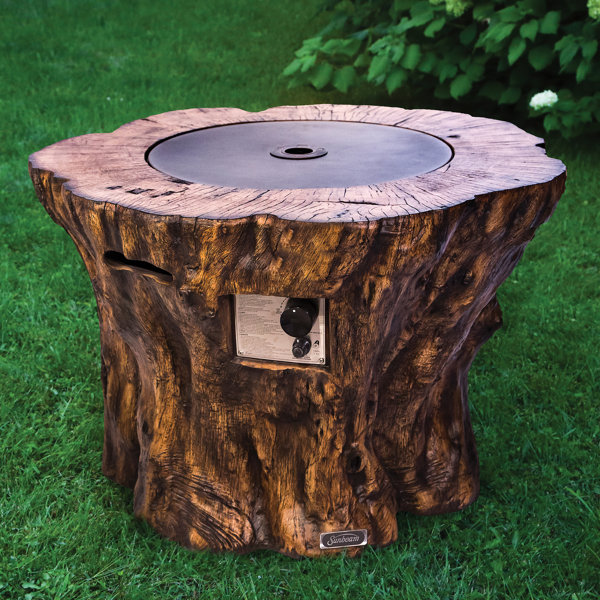 The first thing that you'll notice about this fire table is its design. It is designed in the shape of a stump. The look gives it a very nature-ish vibe. If your backyard has a decent number of trees or plants, then this fire table will go extremely well with the environment.
Of course, it's not made out of wood. It's made out of very durable concrete composite. It also comes with a flame adjuster, giving you complete control of how much heat you want to emit.
Best Features:
Very durable
Has 50,000 BTU heat capacity
Adjustable height
Can adjust the heat
9.  Outdoor GreatRoom Company Gas Fire Pit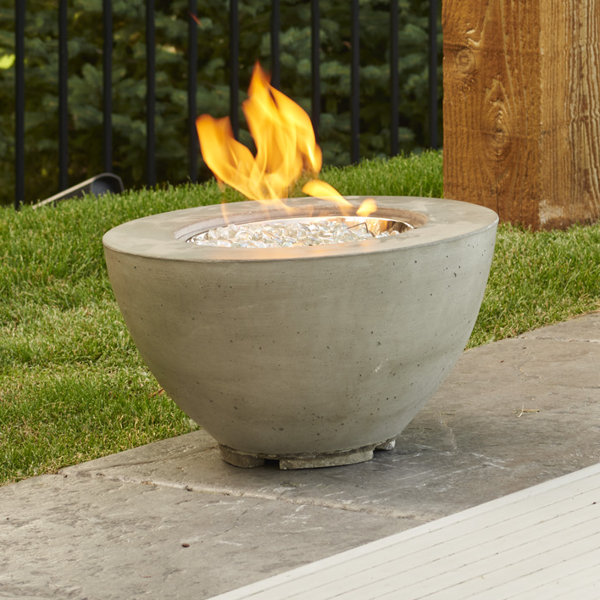 If you're not very comfortable with using propane gas, then this is a good choice to have. This gas fire pit gives you the option to use either propane gas as fuel or natural gas. Just for those who don't know, natural gas is composed of methane and other hydrocarbons. The advantage of methane over propane is that methane provides a much cleaner burn. So, if natural gas is more of your style, get this fire pit.
Best Features:
Makes use of a trademarked crystal fire burner
Allows use of natural gas
Glass beads included
Big size allows a max heat capacity of 60,000 BTU
Very versatile design
Sturdy
10.  Endless Summer GAD15258SP Fire Table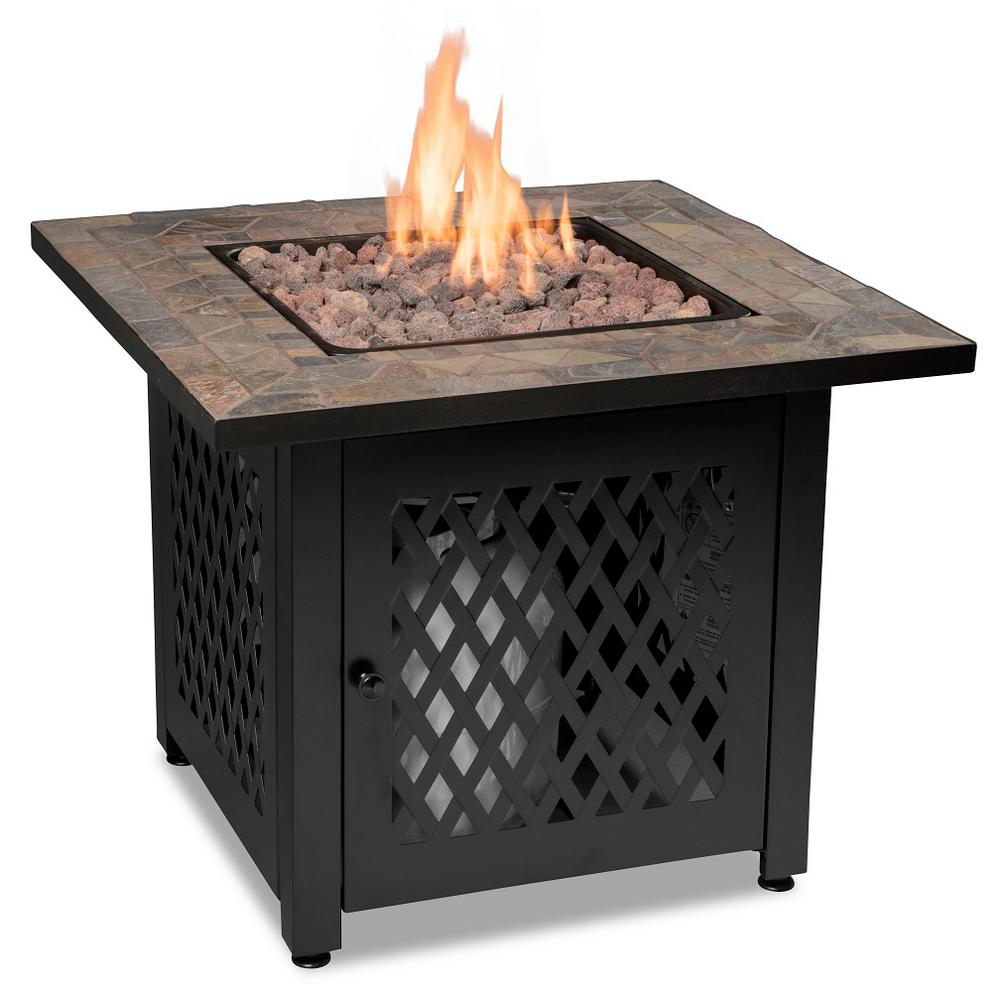 This fire pit table goes so well with any type of wooden patio furniture. If you place some chairs or wooden sofas on your deck or backyard, then this can be your centerpiece. It also comes in two designs for its side panels– leaf design and weave design. The design depends on your own taste preference.
Aside from design, it does have significant heat strength. This fire table has a BTU of 50,000.
Best Features:
Very versatile design
Comes in two designs side panels
50,000 BTU
Stainless steel material
Comes with protective cover
11.  Blue Rhino Propane Gas Fire Pit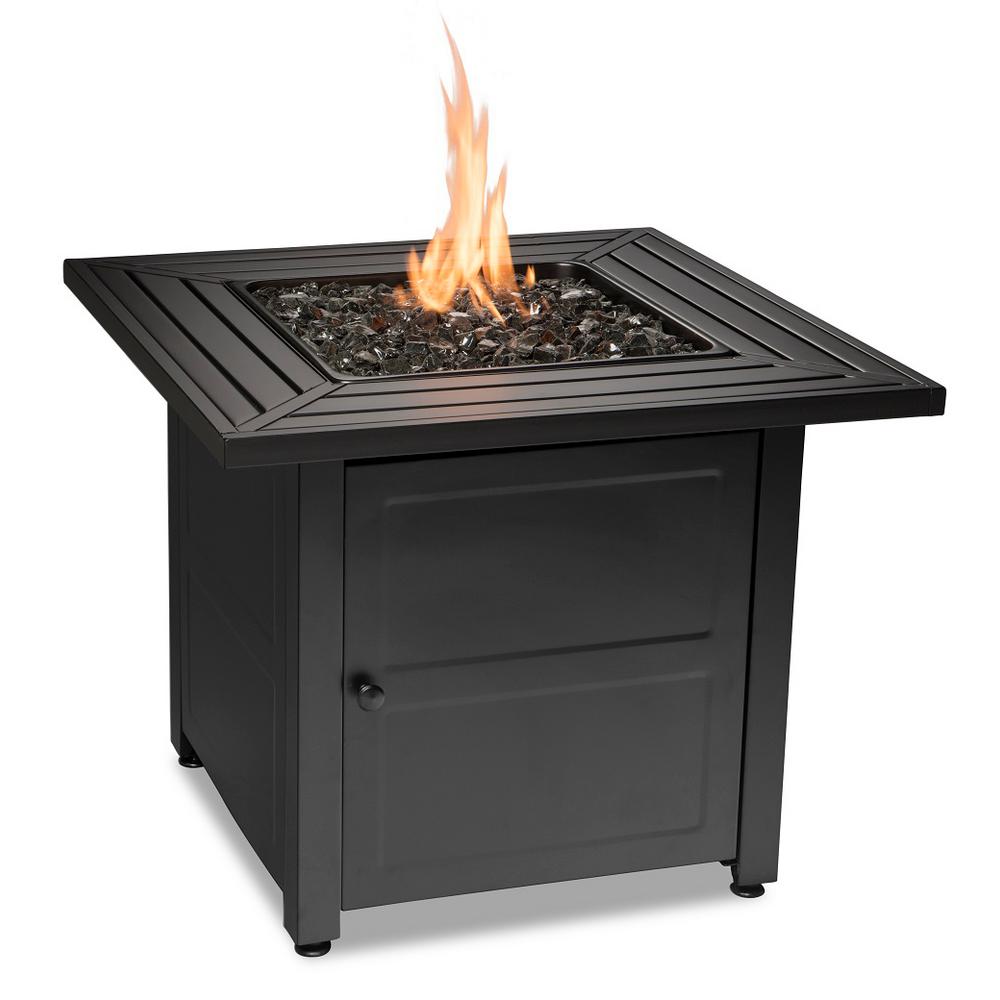 The Blue Rhino Gas Fire Pit is designed for the smaller backyards with its 30,000 BTU heat capacity. In a small backyard, you can feel the heat that a real campfire can emit. You can even control the heat with a control panel that's hidden somewhere in the side panel. It's pretty easy to use if you study the buttons of the control panel.
Best Features:
Very easy to use
30,000 BTU heat capacity
Very sleek design
Has hidden control panel
12.  Outland Living Series 401 Propane Gas Fire Pit
One of the best things about this fire pit is its design. In fact, it received an international design award with regard to its overall structure and style. Aside from design, it's also very durable and sturdy. To make it even more durable, it is weather proof due to its ultraviolet light high-density polyethylene material.
Best Features:
UVHDPE material
Beautiful design
35,000 BTU heat capacity
Smoke free operations
Frequently Asked Questions About Propane Fire Pits
Are propane fire pits safe?
Generally, propane fire pits are safe as they act like stoves. You can control the fire using a device that's built into the fire pit. However, this doesn't mean that there are no harms involved. Just like a stove, you have to be careful with fire pits. First, you need to make sure that there are no leaks. Also, you need to make sure that your propane pit is about 10 feet away from any other object in your backyard.
Can I use a propane fire pit indoors?
While you can actually use propane fire pits indoors, we don't recommend it. Stoves are an exception since the gas bottles are usually found outdoors. For propane fire pits, you need to bring in the whole thing which can be dangerous since fire and carbon monoxide can mix. Also, size can be a problem since big sized fire pits can't fit in smaller sized living rooms. 
How long does propane fire pit last?
Propane tanks are pretty small, so you can expect your propane pit to last around 4 or 5 hours depending on your usage. This time frame is for those who continuously use their fire pits. If you turn it off in between, your propane fire pit can last longer.
Do propane fire pits smell?
If you're concerned about whether propane fire pits leave a burning smell or not, then don't worry because they don't. However, you may have to contend with the smell of gas from time to time. However, this is pretty normal for products that make use of propane gas tanks. 
Conclusion
While we provided you with 12 of the best propane fire pit products we know of, we'd like to give you our opinion on what we think is the best of all the choices. For that, we pick the Outdoor GreatRoom Company Gas Fire Pit. It has a pretty high heat capacity (60,000 BTU), is extremely sturdy because of its concrete built, has an efficient crystal fire burner, and has a versatile style.
But most importantly, it can also make use of natural gas as fuel. This gives you more room to choose how clean you want your burn. If you don't like propane, at least you have the alternative to use methane.
<strong>Read more:</strong>