The word 'sauna belt' immediately makes your think of sweating. Well, incidentally, this is what a sauna belt does. It makes you sweat around your stomach area. But sauna belt reviews are normally written in order to get you to buy a specific product. Many of these reviews focus on weight loss. A sauna belt is much more than just a means of weight loss. It may actually have other health benefits too.
A sauna belt is not only for weight loss
Most people, more especially women, tend to wear a sauna belt in an effort to get rid of unwanted tummy fat. Although it does aid with weight loss, it has other benefits, which we will take a look at. Unfortunately, many people say that their sauna belt does not work for them. This is because, more often than not, they are not using it correctly. There are a variety of products to choose from, and a number of reasons people should consider using a sauna belt. We are going to look at, and address, these issues.
For more on weight loss and other associated issues, please have a look at 'The Best Infrared Saunas and Their Many Benefits', 'Reliable Sauna Suit Reviews for Amazing Weight Loss' and "The best portable sauna information you will find". We look at the benefits of each and give our opinion on a few of the best available products on the market.
What is a sauna belt?
A sauna belt is a material wrapped around the body in order to make you sweat. It is usually used around the tummy area and thighs but can be used on all the parts that need slimming down.They can, therefore, also be usedon the thighs and hips. They are mostly made of soft, flexible neoprene.
Some sauna belts, however, have electric heating pads and work with electricity. Do be careful when wearing one of these, as sitting or laying in certain positions can cause the product to work incorrectly or cause the electrical coils to touch. You could suffer a serious injury if this happens.
What are the benefits of a sauna belt?
Aids with fat loss
Although correct eating habits and exercise are the only real ways of losing weight and keeping it off, a sauna belt, by releasing a heat stimulus, encourages blood flow to the targeted area. This encourages the release of fatty acids. When exercising, with the added benefit of the stimulus of the heat released by the sauna belt, more of these fatty acids are released. Your body, during exercise, uses the fatty acids for fuel, burning them. In this way, fat is lost.
Helps with correct posture
A sauna belt is made of lightweight material that is sturdy. When worn around the waist, it may help improve your posture by keeping your back in position. Bad posture is the result of too much time spent at a desk, for example. Wearing it under your work clothes thus keeps you sitting straight, resulting in less back strain.
Has an instant slimming effect
Because, in most instances, one size fits all, you could, by tightening your sauna belt, immediately have a flatter tummy, giving you a more svelte appearance under your normal clothing.
Helps with back and muscle pain
Heat therapy has long been used to treat all kinds of muscle pain. Cramps and sore muscles due to exertion are something everyone deals with. The sauna belt, due to its ease of use, is great for localized pain in the back and even legs as it is adjustable. It is great for cramps associated with period pains too.
Of course, a sauna belt is only effective if used correctly. This leads to the question: "How to use a sauna belt?"
Best Sauna Belt Reviews for You
Our team has reviewed seven of what,  we believe, are the best sauna belts around. We have taken a look at the pros and cons of each, and what they do for you.
1. Yosoo Waist Trimmer Belt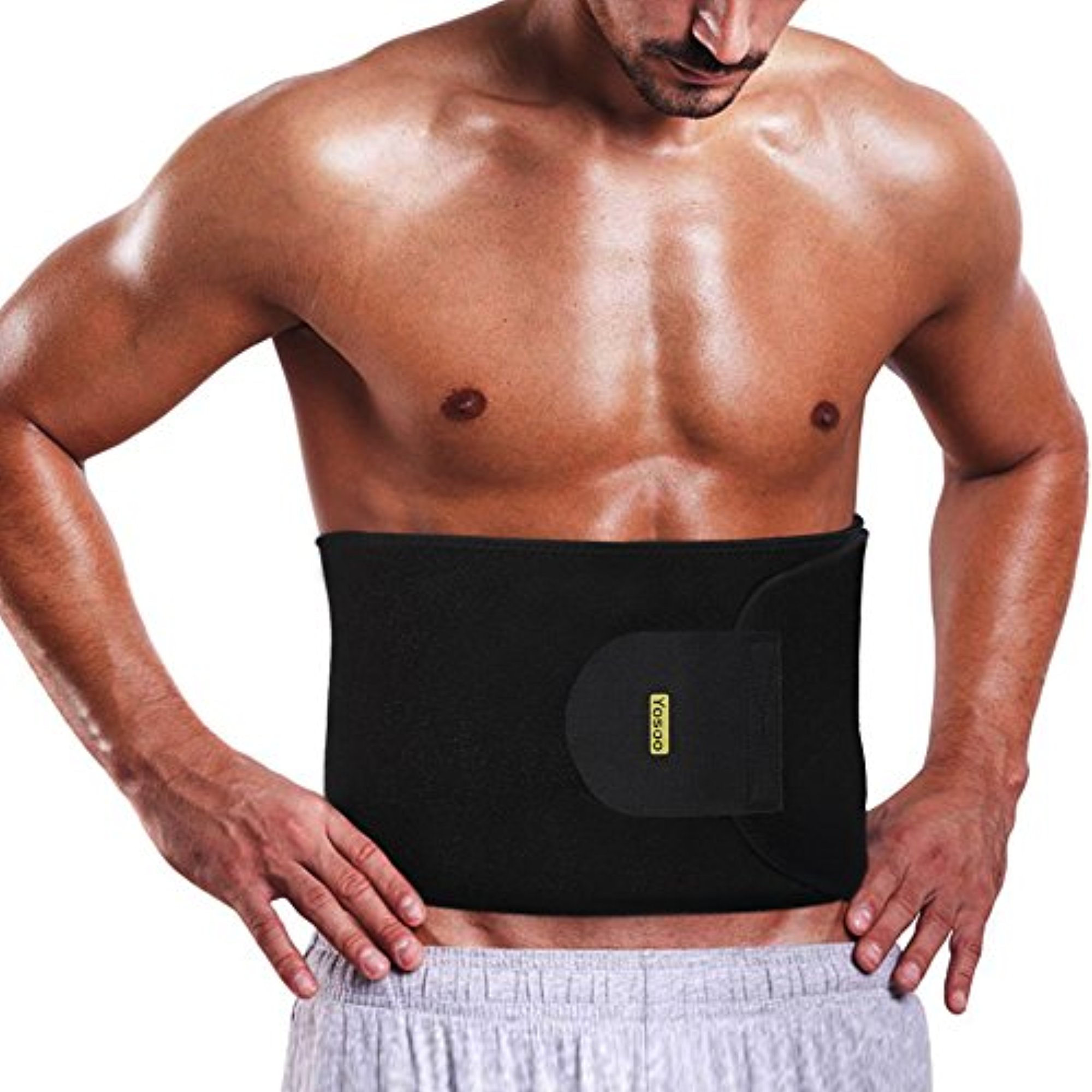 The Yosoo Waist Trimmer Belt is great for those who work out, maximizing body heat and removing excess water weight.
Made of durable latex-free neoprene
Sweat bands on the inner lining repels moisture absorption and limits slipping or bunching up of the material around your waist area
Helps with posture and back support
Product has a sixty-day warranty
Cold water machine washable
Provides support for those who have operations in their abdominal area
Targets the ab area of the abdomen
The size range is limited
Cannot be dried in a conventional dryer – only suitable for air drying
Some people indicate a negative reaction to neoprene
Product is not unisex but comes in a male and a female version
See more review on Youtube:
2. AZSport Waist Trimmer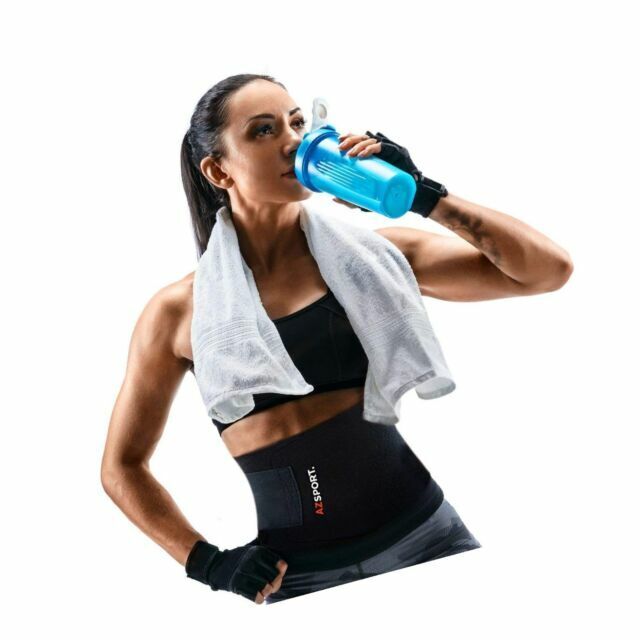 The AZSport helps weight loss by preserving body heat and removing excess body water, especially around the waist. The product is great at improving circulation and does not hamper breathing at all due to the stretchiness of the material.
The strong core helps stabilize your body and help with balance and posture
Provides great back support to the lower back
Acting like a compression binder around your waist, it helps with posture during a post-operation healing process
It is a lightweight product
Made of a stretchy, adjustable material
Can be worn under your clothes
Fits up to a 50-inch waistline
Come with a money back guarantee (no questions asked)
You can only hand wash the AZSport Waist Trimmer
It cannot be tumble dried
The Velcro fastener is very secure that makes removal difficult
You may not get the tight enough fit you want
It has a strong rubber odor
Review on Youtube:
3. iDofit Premium Adjustable Waist Trimmer Belt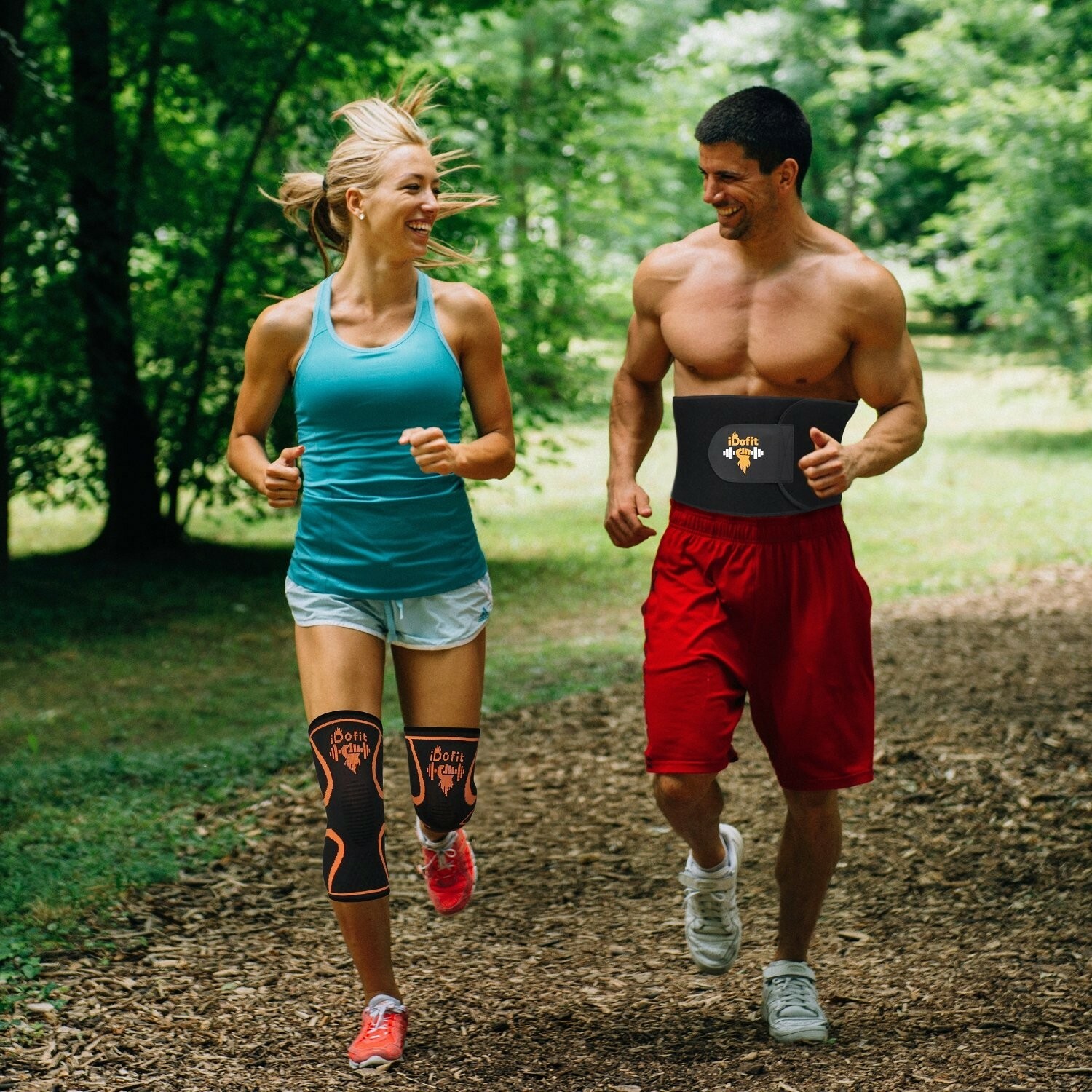 The iDofit Premium Adjustable Waist Trimmer Belt comes in three sizes and has an outer, anti-fuzz fabric. The inner, neoprene layer ensures heat insulation and an improved blood circulation to the belly area.
an inner 3mm CR Neoprene layer with a non-slip surface
Anti-fuzzing fabric layer on the outside
Improved back support and posture
Uniform compression for abdominal muscle support
A light-weight product
Continuous comfort
Available in three sizes to ensure a perfect fit
A rubber smell (which goes away after being washed)
The largest size only fits up to a 55-inch waist
The belt my scrunch up after a while if you are a larger person
It tends to buckle around your waist as you lose weight
4.  Premium Waist Trimmer For Men & Women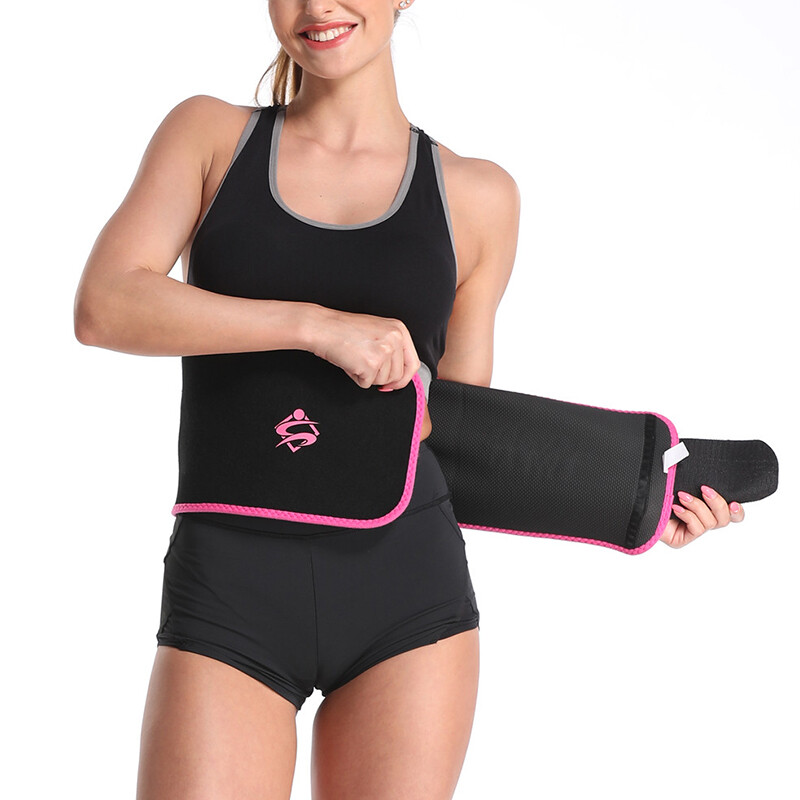 The belt of the Just Fitter Premium Waist Trainer and Trimmer Belt can be customized to fit any body shape.
A nifty carry bag in which to keep your waist trimmer
Made by using the latest non-slip grid technology
Helps improve posture
Provides additional back support
Promotes your internal temperature to help burn more calories while exercising
Available in four different sizes
Enhances cardio performance
Supports a quicker recovery after a workout session
Has a rubber smell and it is suggested you hand wash in cold before use
Product is not machine washable
The belt should only be used on your skin, not over a T-shirt
Not suitable for those with a neoprene sensitivity
Products seems not as durable as others in its class
See more review on Youtube:
5. TNT Pro Series Waist Trimmer Weight Loss Ab Belt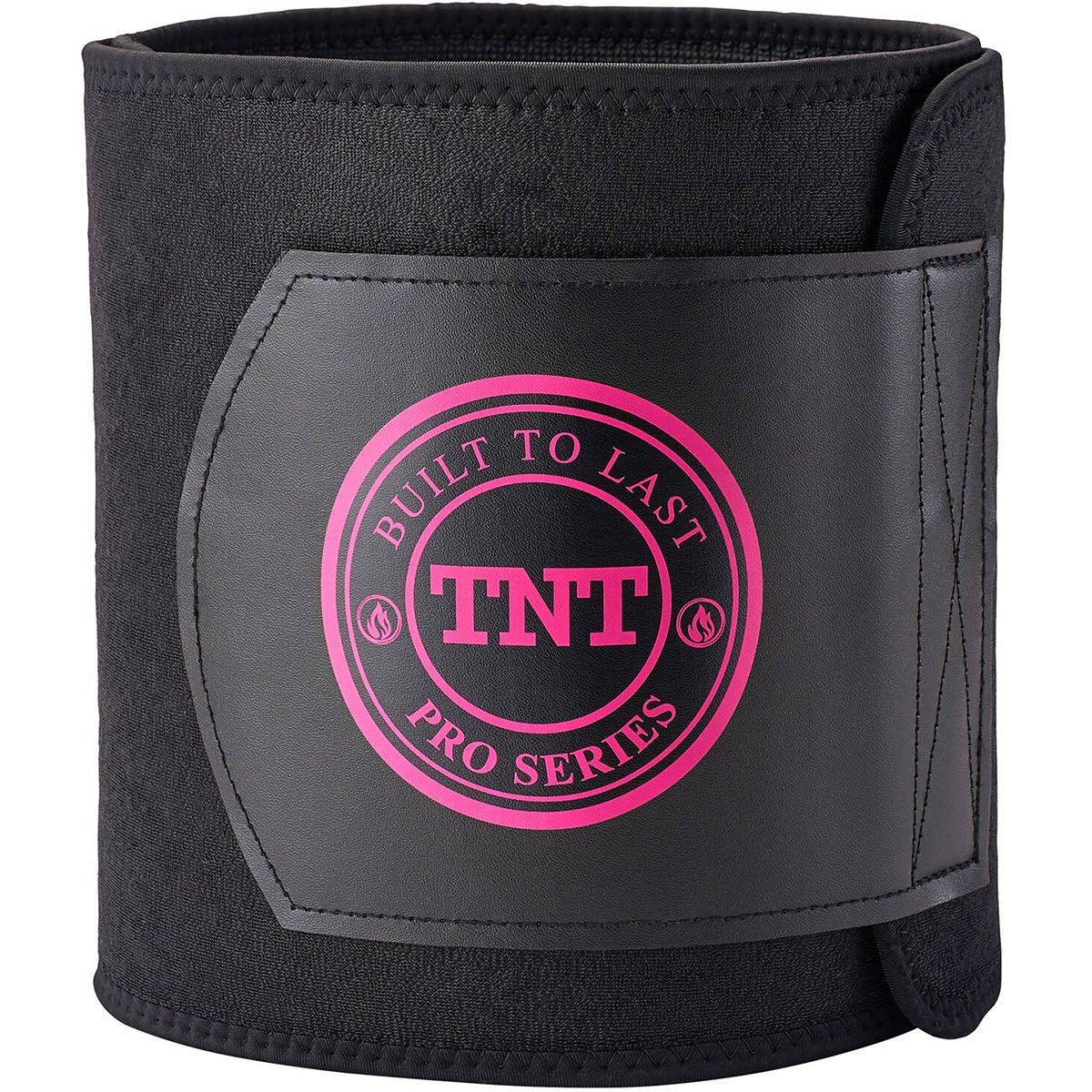 This product is available in black with either pink or yellow trimmings and comes in six sizes to ensure the perfect fit for your body type.
The non-slip interior prevents any type of movement of the waist trimmer, e.g. bunching up or slipping
Customized for you shape due to there being six different sizes to choose from
Has a fully adjustable closure that customizes fit
The reinforced stitching ensures long-term performance
The wideness of the belt ensures the full area is covered
The interior's design prevents the belt absorbing sweat and bacteria
The odor, before the first wash, is a little off-putting
Hand washable in cold water only
The Velcro attachment wears off in time
The belt exterior gets fuzzy with frequent, constant use, making the Velcro difficult to attach
See more on Youtube:
6. Slabstone Waist Trimmer
The 3 mm thick Neoprene material that makes up the Slabstone Waist Trimmer allows for easy movement during exercise.
Comfortable and lightweight, making training easier
Provides back support
Tightens and protects core muscles
Improves posture
Product is very durable
Anti-slip grid technology means the product does not slip while wearing
The Velcro ensures a tight fit
Keeps muscles warm while exercising
Comes in different sizes
The product is only hand washable in cold water
It has a rubbery smell, although this fades with time and washes
Only designed to wear for short periods
The belt is a bit rigid and does not fold when you sit
The belt tends to start tearing after a few weeks of use
The product is Currently unavailable.
7.  Beats The Shred Belt Xtreme Extreme Thermogenic Waist Trimmer Ironbull Strength
The patented integrated thermogenic action technology of The Shred Belt claims to increase abdominal heat and circulation in the stomach area by up to fifteen times.
Start working the moment you put it on
Totally adjustable, making wearing a comfortable experience
Has a double Velcro closure allows ease of putting on and taking off
Comes in three sizes, although measuring before ordering is recommended
Increases fat burning ability up to 300 times
The belt can only be hand washed with hand soap and air dried
The heat may be too high for most people
The belt only focusses on the front abs
The belt is not very wide and does not cover a wide area
The correct use of a sauna belt
There are a few things to keep in mind when using a sauna belt.
Make sure that the sauna belt fits snugly. It should not be too tight. A snug fit allows you to pull it away from your skin to see whether your skin is reddening. If your skin reddens and you get too warm, do not hesitate to take it off.
Put it on while standing up or laying on your back to ensure it fits correctly.
Do not switch the sauna belt on (if you have one that works with electricity) while sitting or laying on your stomach as it may interfere with the electric current.
If you are someone with very sensitive skin, it is best to wear a T-shirt under your sauna belt.
Always make sure you follow the manufacturer's instructions.
As with all things, and before choosing the correct best sauna belt for you, you need to consider the pros and the cons.
The pros and cons of sauna belts
First, let us look at the pros
Relatively cheap
Easy to use
Reuseable
Is not seen through clothes and can be worn and used at any time
Reduces the appearance of cellulite
It is a unisex product used by both men and women
The cons associated with sauna belts
You stand the possibility of developing heat rash, while it tends to chafe if not put on correctly
Heat-related illnesses have been reported
You stand the risk of dehydration if you do not drink enough water
It does not provide long-term results if not used correctly
An electrolyte imbalance is possible which may lead to cramps
Remember to hydrate constantly, especially when wearing your belt. Excessive sweating may cause dehydration and other heat-related problems. Also, do not use the product for longer than the manufacturer's recommended time.
Conclusion
There is no denying that using a sauna belt while exercising and on a proper diet most certainly is effective when it comes to weight loss. The added heat helps the body break down and use stored fat for energy. But, as with all things, this only happens when you do things right.
For us, the clear winner when it comes to our sauna belt reviews has to be the Yosoo Waist Trimmer Belt. It is a product that does what it was designed for, with the added benefit of promoting back support and helping with posture. The fact that it is wide enough to provide support for those who have had abdominal operations is an added bonus. The fact it is machine washable also takes care of the washing day blues, although it would have been nice to have been able to pop it into a tumble dryer.