Sauna suits are a controversial topic at the moment, and with all the sauna suite reviews out there, people find it quite difficult to decide whether to take the plunge and invest in one or not. This is quite natural, yet also quite sad, in a sense, as a sauna suit benefits your health in so many ways.
Whether you are pro-sauna suit, or against a sauna suit, nobody can deny that the benefits outweigh the negatives, that is if you use your sauna suit correctly and take the necessary precautions. These precautions are easy and basic.
But before we look at any individual sauna suits, let's first take a look at the value they add to your life. Once this is determined, feel free to browse through what we consider the best sweat suits for optimal weight loss.
What Value Does a Sauna Suit Offer You?
Many who are against sauna suits state that you lose water, not weight. Although it is true that you lose a lot of water weight, a sauna suit does, indeed, have a number of added benefits, and fat loss just so happens to be one of them.
Benefits associated with a sauna suit
Elevated metabolism
Because a sauna suit causes your body temperature rise, there is a corresponding rise in metabolic rate. This means that, as your core temperature rises, your body needs to work harder at bringing it down. At the same time, other bodily functions increase, burning up fat in order to get the energy needed to do so.
A great way to detox
Research suggests that sweating is a great way of detoxifying and that certain toxins actually escape the body better by means of sweat than the usual detoxification channel, i.e. the liver and kidneys.
This would imply that use of a sauna suit benefits you with your body's detoxification process by causing you to sweat more than normal when you wear it.
Boosts your immune system
Sweating is healthy for you. Wearing a sauna suit most definitely causes you to sweat – a lot. But here is why it is so great: sweat contains certain antimicrobial peptides. These antimicrobial peptides actively fight against bacteria, fungus, and viruses, breaking them down and making them harmless.
Helps with water retention
Many people carry around excess water. This is known as water retention and usually sees people with the problem feeling bloated and with swollen feet and fingers. The sweating due to your sauna suit helps with this problem.
Many people say a sauna suit is a fad and does not work for weight loss
While many people state that a sauna suit did not help them lose weight, the simple truth is that they do not state whether they used it for the purpose it is intended. Sauna suits do indeed help with weight loss where an exercise regime is started and maintained due to the fact it stimulates your metabolism, increases blood flow, and forces your body to burn fat for energy. Just wearing a sauna suit while doing nothing is not going to be of much benefit in the long run.
For more on weight loss and other associated issues, please have a look at 'The Best Infrared Saunas and Their Many Benefits', 'The Best Infrared Sauna Blankets In The Market', and 'Get rid of stubborn weight with this simple tool'. We look at the benefits of each and give our opinion on a few of the best available products on the market.
Sauna Suit workout
Top 11 Best Sauna Suit Reviews
There are many sauna suits available on the market. In order to help you make an informed decision before purchasing a sauna suit, we have reviewed, in our opinion, five of the best sweat suits for weight loss. Each has its pros and cons attached, so take a gander and decided on the best sweat suit for you. Remember, it has to fit your specific needs.
1. Kutting Neoprene Weight Loss Sauna Suit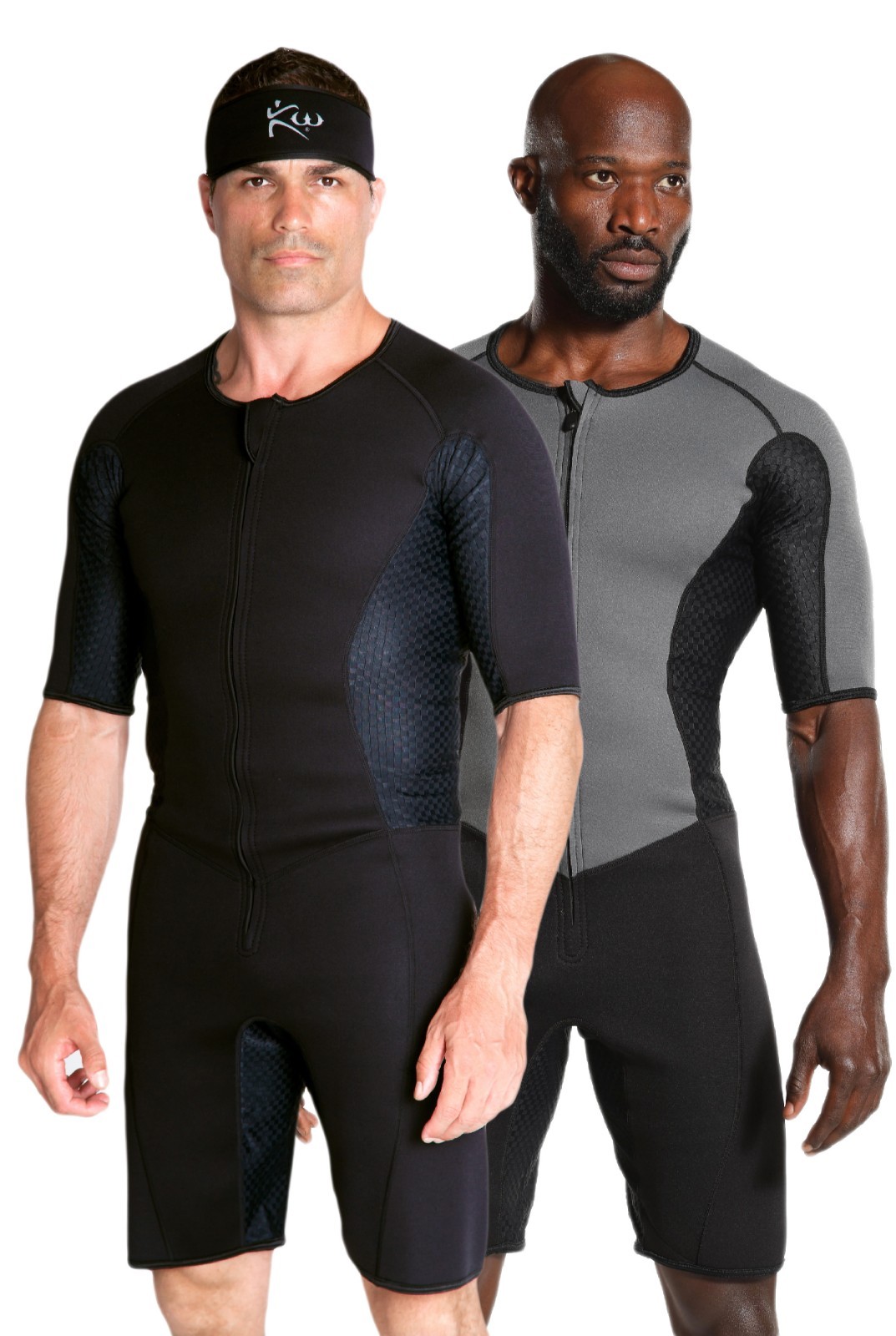 The Kutting Neoprene Weight Loss Sauna Suit has an innovative design that may enhance your core weight loss areas. The company claims a significantly increased metabolism that facilitates greater weight loss
Made of 2.5mm Sweat Tech Neoprene, the suit offers a soft texture and great fit
The suit is finished with a smooth lycra layer
Mesh ventilation zones in the underarm and inner leg sections allow for comfort and breathability without the loss of body heat
A front, triple reinforced zipper ensures durability and ease of use
The thinner neoprene material of which the suit is made gives more flexibility to the user
The suits are unisex
Sizing may be a problem so rather take your measurements before ordering
You should not machine wash this suit
It is not recommended you use a dryer with this suit
You may need to wash this suit by hand using laundry detergent recommended for wetsuits
The yellow stitching may discolor over time with washing
As the suits are suitable for both men and women, women may find difficulty with sizing due to the longer body length of men as well as in the crotch area
See more review on Youtube:
2.  Heavy Duty Sweat Suit Sauna Exercise Gym Suit Fitness Weight Loss Anti-Rip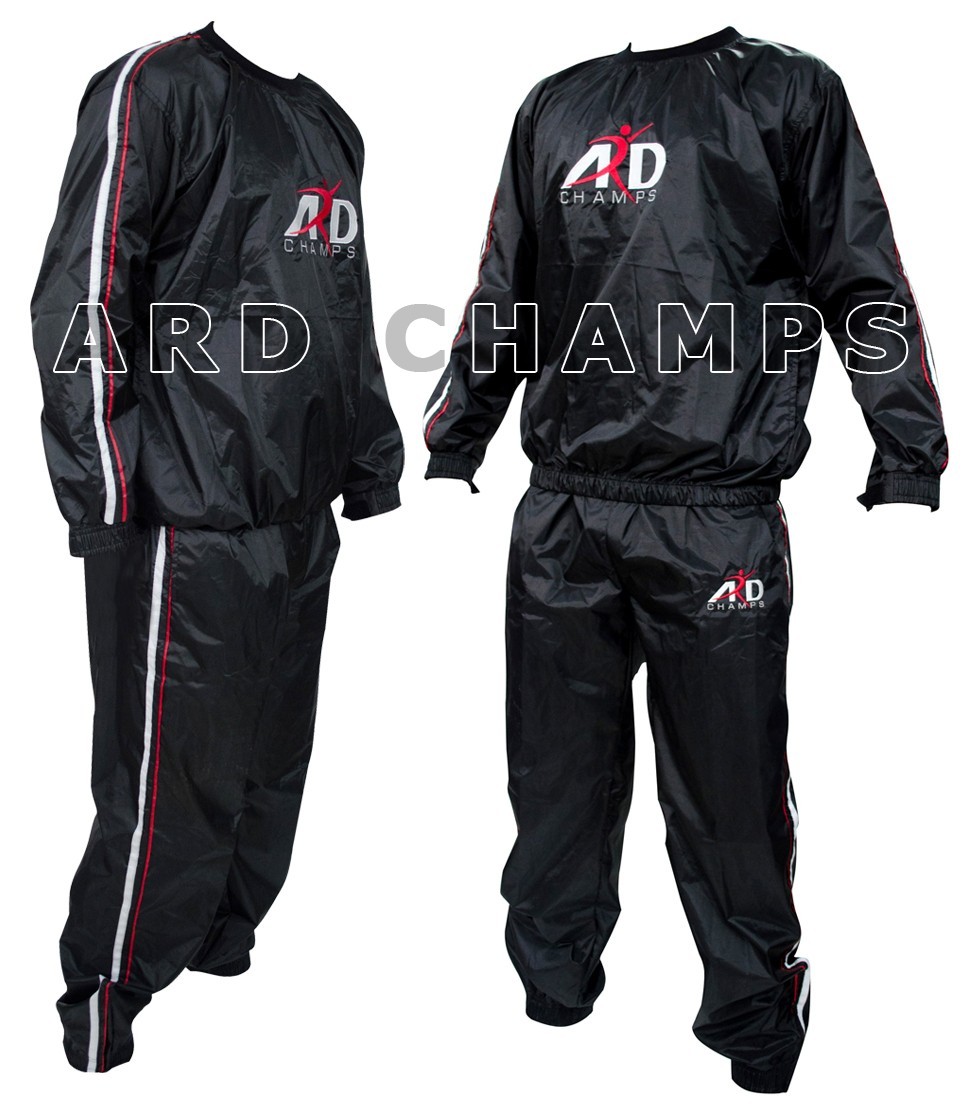 The Heavy Duty RAD is reputedly designed for maximum durability and performance, making use of Nylon and PVC coated fabric.
Elasticized cuffs that keep in heat
Resistant to tears
Resistant to rips
The PVC coated nylon fabric is durable and promises a high sweat output
The suit is machine washable making it easy to clean
Suit can be wiped down inside and out with a cloth between washes
Hardy enough to withstand a boxing workout session
The pants do not have elastic around the ankles
Sizing is a problem so you need to order one to two sizes larger – use the fitting chart to determine your size
The sweat suit should not be dried in the dryer
Drying needs to be in the shade, turning the suit inside out to get both sides dried off
See more review on Youtube:
3.  Heavy Duty DEFY Sauna Sweat Suit Exercise Gym Suit Fitness Weight Loss Anti-Rip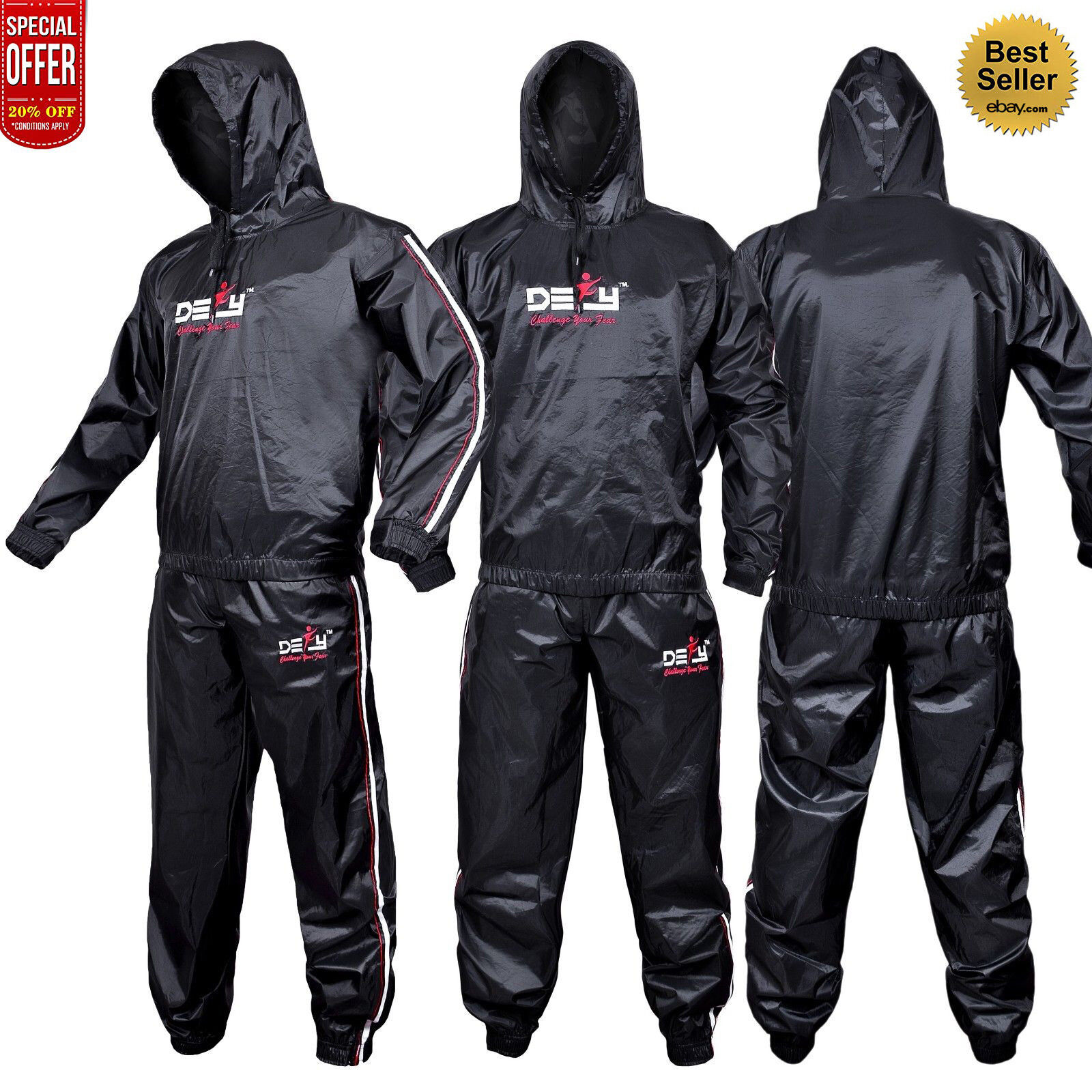 The 4Fit Neoprene Sweat Shirt causes sweat by keeping in heat, which is great for muscles when exercising.
Constructed of 3mm extreme Flex DS Neoprene that keeps a comfortable level of warmth
A front zip that makes it easy to take off
A close fit that allows you to move uninhibitedly while training
An anatomical cut that allows for freedom of movement
Flat lock seams that ensure no tearing takes place
The crotch and arms are reinforced
The crotch and arm areas have sewn in reinforced mesh allowing breathability in those areas
The suit is unisex
Due to the body-forming fit, you may need to get a larger or smaller size, depending on your build
The product is hand-washable only
Because there are no cuffs at the legs or arms, sweat tends to pour out of the suit after a while
Because it is a unisex suit, women may encounter problems in the fit of the crotch area
4.  Neoprene Sauna Sweat Workout Men Women Hot Suit Long Pants Weight Loss Slimming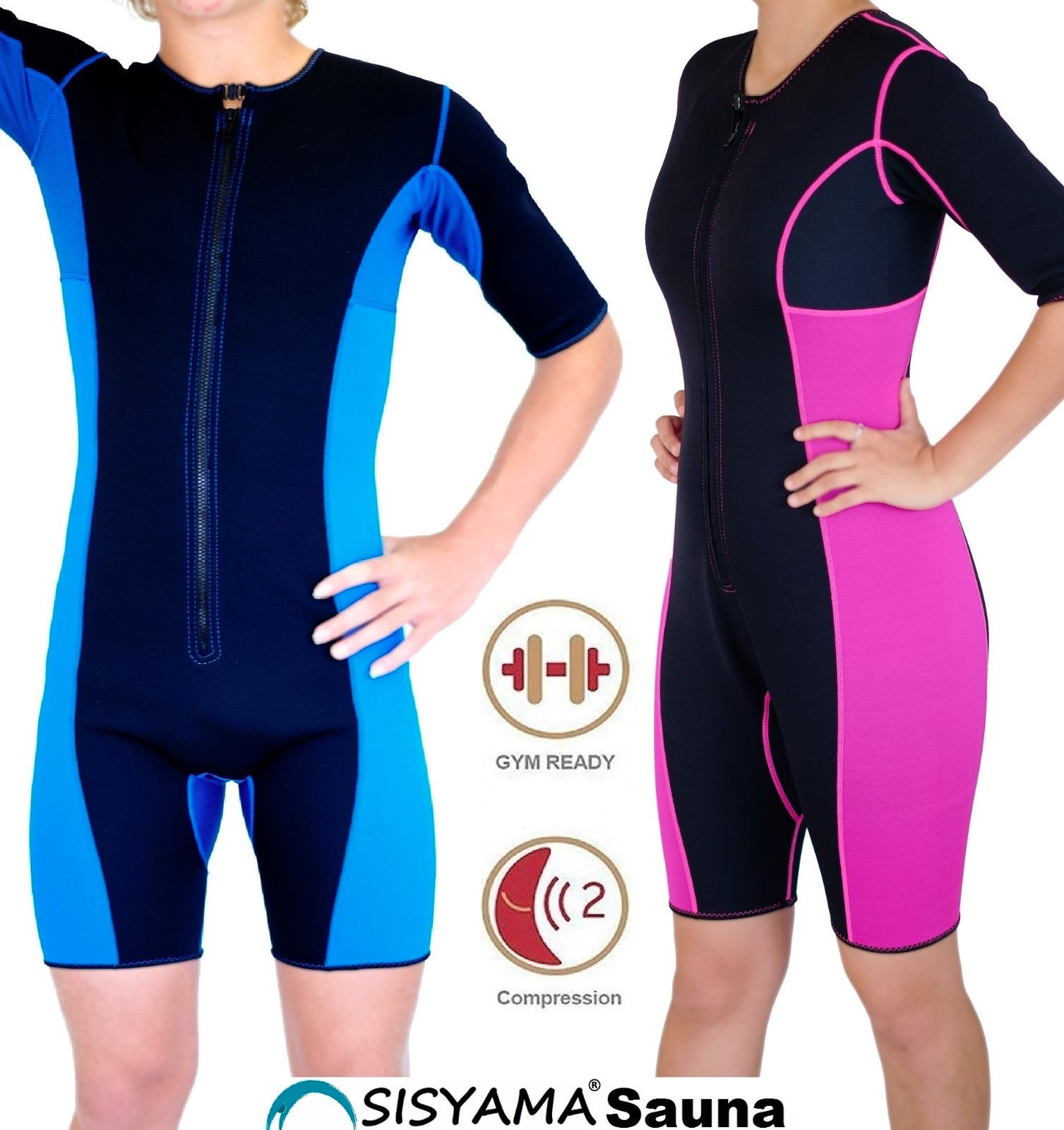 The SISYAMA Neoprene Sauna suit comes in either a natural fit or a slim fit, making for a better fit that suits different body types.
Made of neoprene, ensuring a snug fit
The suit has breathable mesh material in the groin area and under the arms, providing ventilation where it is needed most
A front-zip closure ensures the suit is easy to take off
Superb craftsmanship
Material is very stretchy
It is only hand washable and should not be washed or dried in a machine
You may need to order a larger size
You may find the legs are a little tight
The smell of the suit may put some people off
The clip at the top of the zipper may be slightly uncomfortable
Shorter people might experience some discomfort in the crotch area
5.  Heavy Duty 2Fit Sweat Suit Sauna Exercise Gym Suit Fitness Weight Loss Anti Rip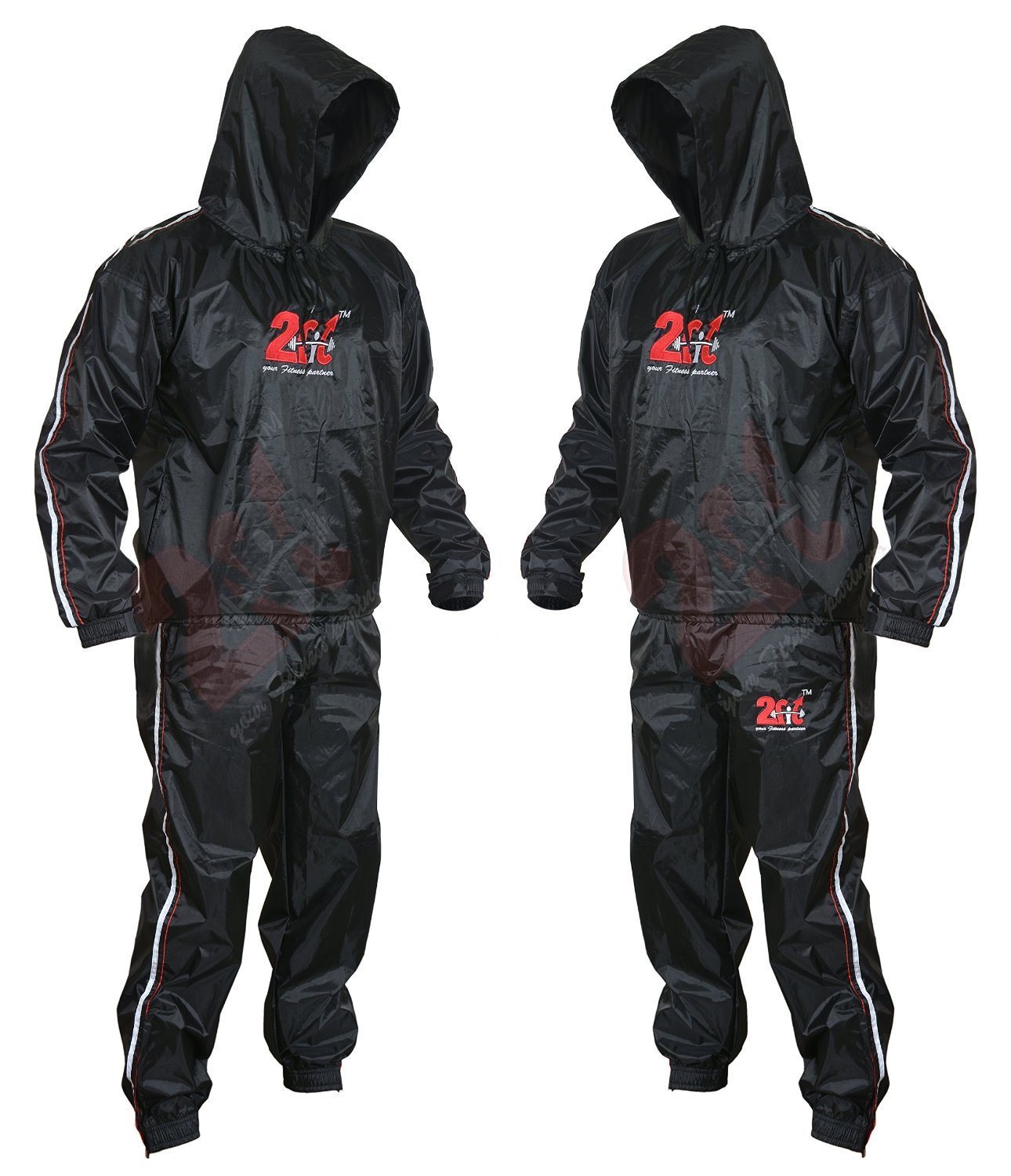 This heavy-duty sweat suit is durable, and double coated (nylon and PVC fabric).
Has a rubberized inner lining that sees minimum heat loss
The material is anti-rip and tear resistant
The elasticized cuffs ensure minimum heat escapes while no sweat is lost
The added hood and cut of the suit makes it great to wear even while not exercising
The suit is machine washable
The suit can be cleaned with a cloth between uses
It cannot be dried in the dryer
You may need to buy a larger size as they tend to be shorter and narrower than other suits of their type
Does not have mesh in the groin and armpits for airing
6. FeelinGirl Tank Top Neoprene Sauna Suit Vest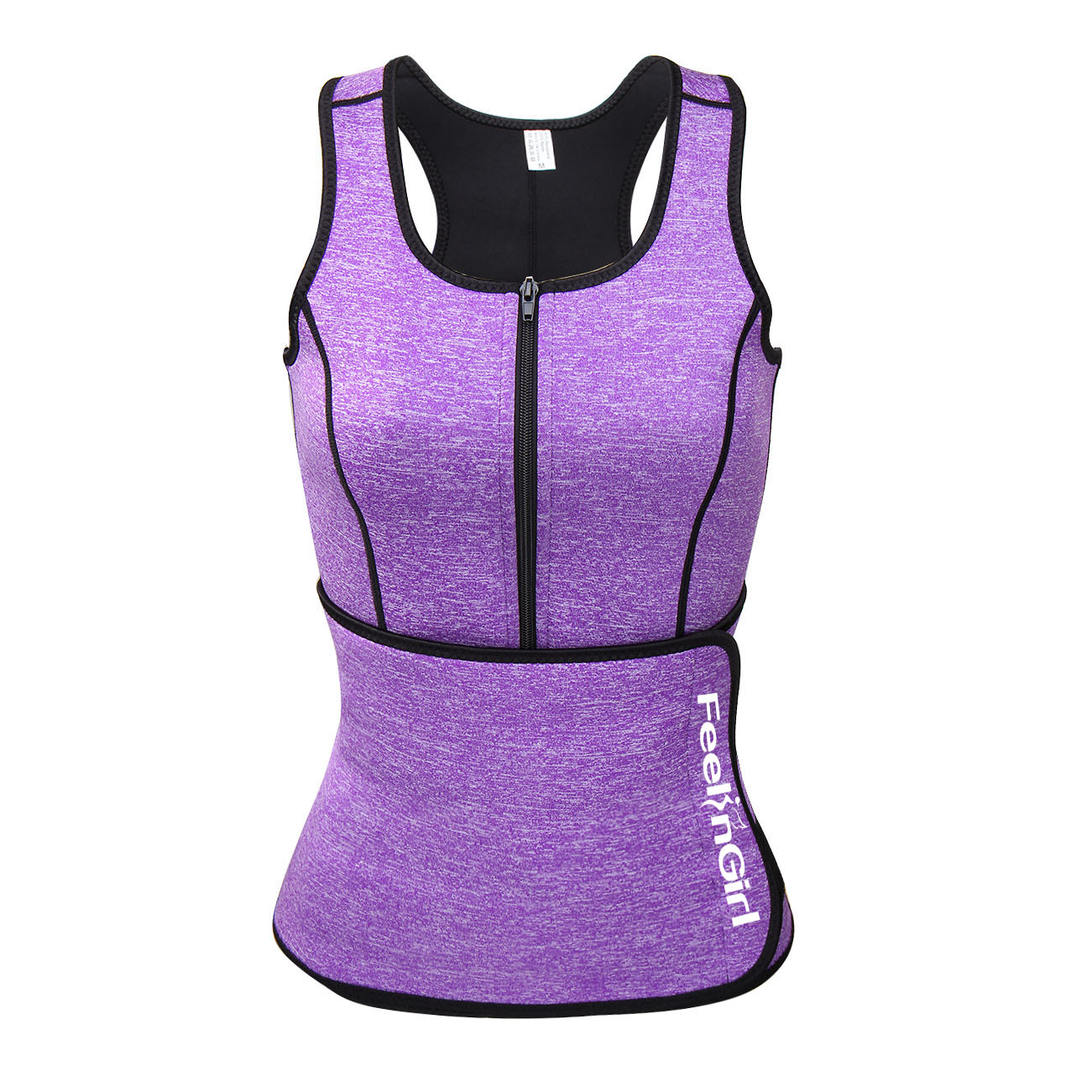 The FeelinGirl Neoprene Sauna Suit comes in a stylish design with a tank top vest, which is ideal for all fashionable girls out there. It is engineered with a very durable neoprene material that is built to last. This modish sauna suit also comes with an adjustable waist trimmer belt that boosts the body's thermal activity and trims inches off the waist, making this suit one of the best sauna suit available on the market.
It is designed as a 3-in-1 sauna suit: sports bra + waist trainer + waist trimmer. This design enhances weight loss and hastens body toning.
The 2-mm single-layer neoprene material makes moving around during workouts a breeze because it is lightweight, flexible, and durable.
No need to worry about an uncomfortable fit because this suit is engineered for a better fit that is perfect for any body size and shape.
This suit gives high compression and firm control of the body, making it sweat a lot, thus a great detoxifying gear.
It is conveniently designed with an interior pocket ideal for storing small things such as mp3 player, earphone, keys, and money.
The company also guarantees a 100% Satisfactory Customer Service. Any questions or concerns regarding the product will surely be answered within 24 hours.
The neoprene material has a rubbery smell that might not be quite pleasing to the nose.
Some customers might have a hard time choosing their right fit, so it is best to measure out your body using the products size chart.
7. Neoprene Sweat Sauna Rash Suit by RDX MMA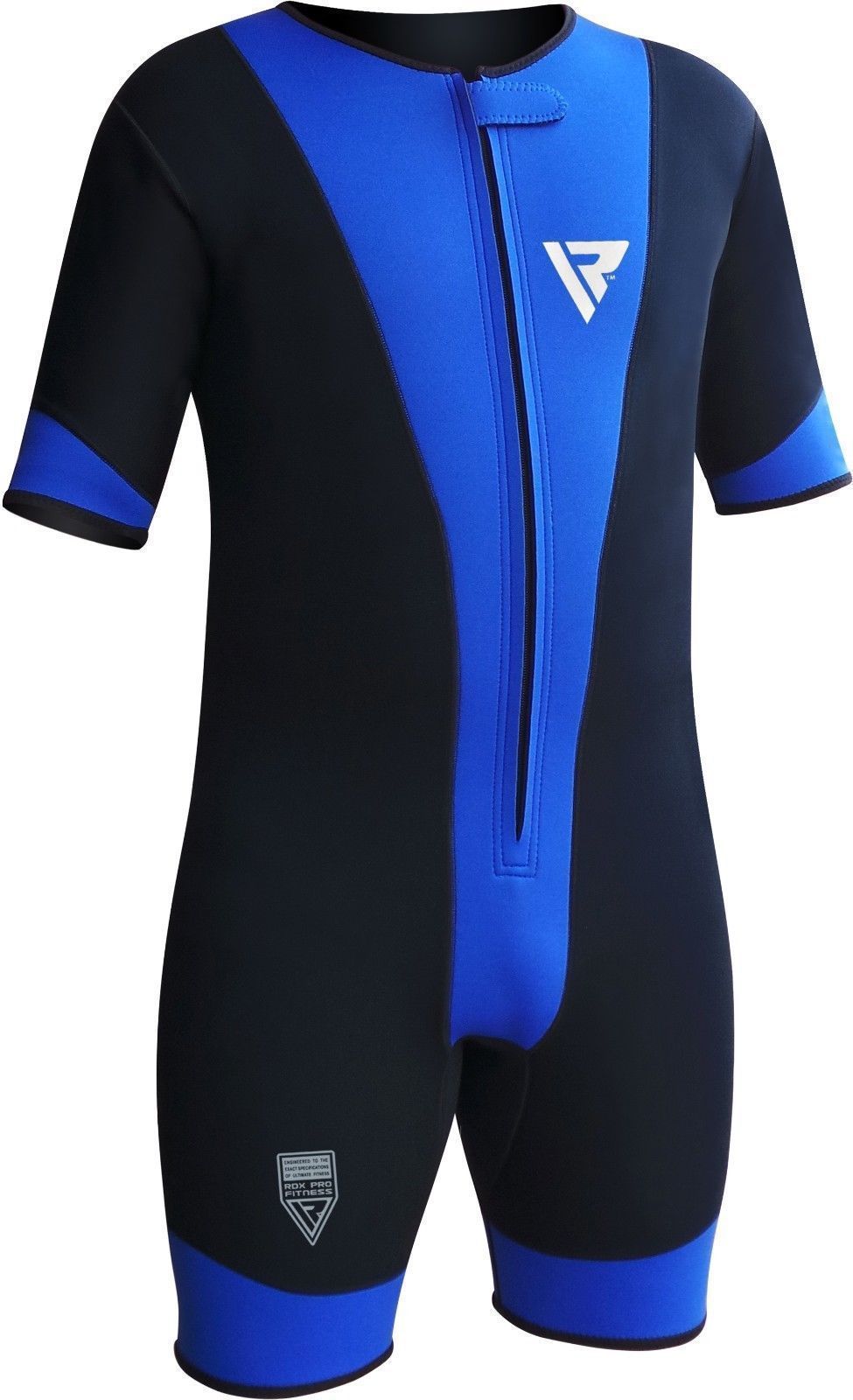 Made from 3mm Ultra Flex DS Neoprene material that promotes excessive sweating, this rash short rash type suit is definitely one of the best sauna suits to lose weight. Its body fitting design allows unlimited movement, which is perfect for workout junkies.
Designed as a short rash type that allows free movements during training and workouts.
The Ultra Flex 3MM DS neoprene material is lightweight and durable, making it ideal for rigorous training and exercise movements.
This suit offers a perfect snug that allows the body to comfortably sweat out those excess pounds.
It is made for both men and women that aims to lose weight effectively.
Since this is made of neoprene material, a rubbery smell is to be expected.
The rubber-like material makes it a little bit harder to clean since sweat and dead skin might seep through and stuck on the suit.
There are some size issues, so it is best to measure out using the products size chart.
8. Full Body Shapewear Sweat Suit For Women by BRABIC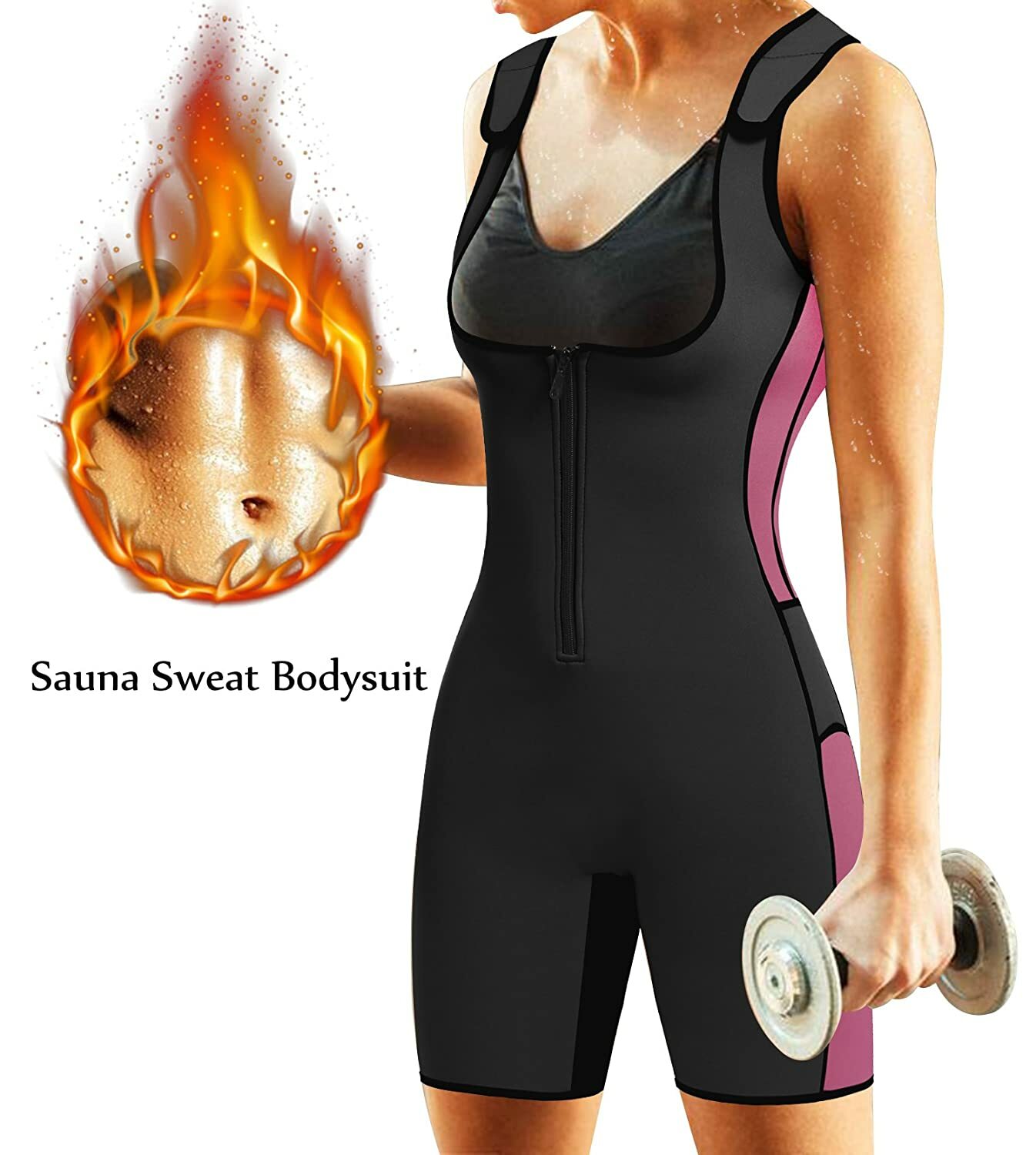 This product is committed to giving you your desired body shape with minimum efforts. Exercising can quite be a task, this full body gear lets you sweat out all the undesirable fats and consequently, helps you achieve that ideal slim physique.
This suit is engineered with an adjustable strap that makes putting it on or off a breeze. Also, it is ideal for movement trainings.
The neoprene material used is strong, elastic, and breathable, which makes you sweat effectively and aids in burning out excess fats.
Designed with a snug fit for any body size and shape and comfortably hugs the body for that unrestricted movements during workouts and sports.
BRABIC comes with a 100% Lifetime Guarantee.
There is a noticeable rubber neoprene smell that might be too much for others to take.
Sizing may vary so it is best to take measurements before purchasing.
This suit should not be machine washed and should not be dried in the dryer.
9. Body Spa Full Body Light Neoprene Sauna Suit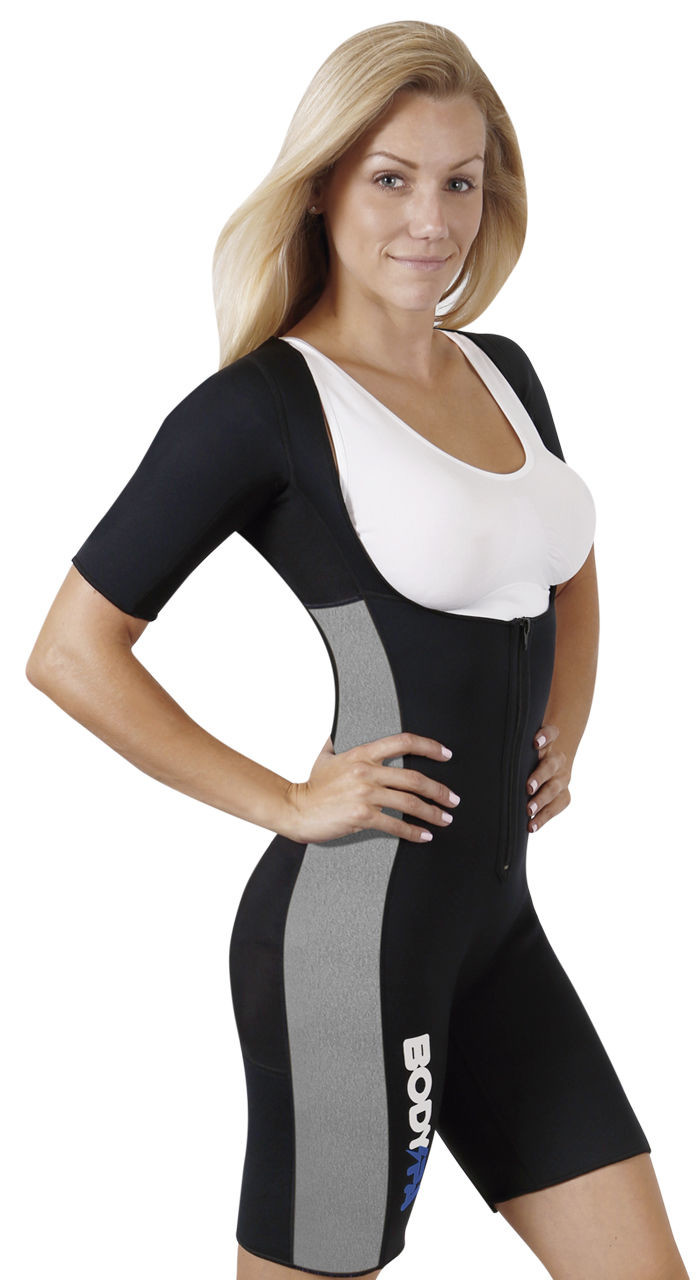 This product is built with the comfort that it can be worn underneath your clothes or as an upgrade to your regular activewear. Its sauna-like properties stimulate better perspiration resulting in more calories burned. This gear is your perfect partner for nightly workouts just before hitting the couch with your favorite foot massager to relax.
This gear has a very comfortable neoprene material that is perfect for any kind of stretching workouts. It also fits like a glove, allowing smooth movements without a fuss.
It increases body heat and metabolism that helps you sweat more than usual. This is a great upgrade to your workout for a more effective calorie-burning session.
The product is made with the most expensive grade of neoprene material on the market. It is denser allowing better heat retention, thus resulting in profuse sweating. Durability is also guaranteed with this product.
This is designed with 4 ventilation zones that make it breathable and comfortable to wear.
There are sizing issues so it is advised to measure out the body before buying.
This product is unisex only and is not made for men.
The Body Spa Full Body Light Sauna Suit doesn't come with adjustable straps, which may result in misfits to some areas in the body.
When soaked in sweat, the suit tends to tightly fit to the body, making it hard to take off.
Washing the product is quite a hassle since it shouldn't be machine washed.
10. ARD CHAMPS Heavy-Duty Men and Women Sauna Shirt & Pants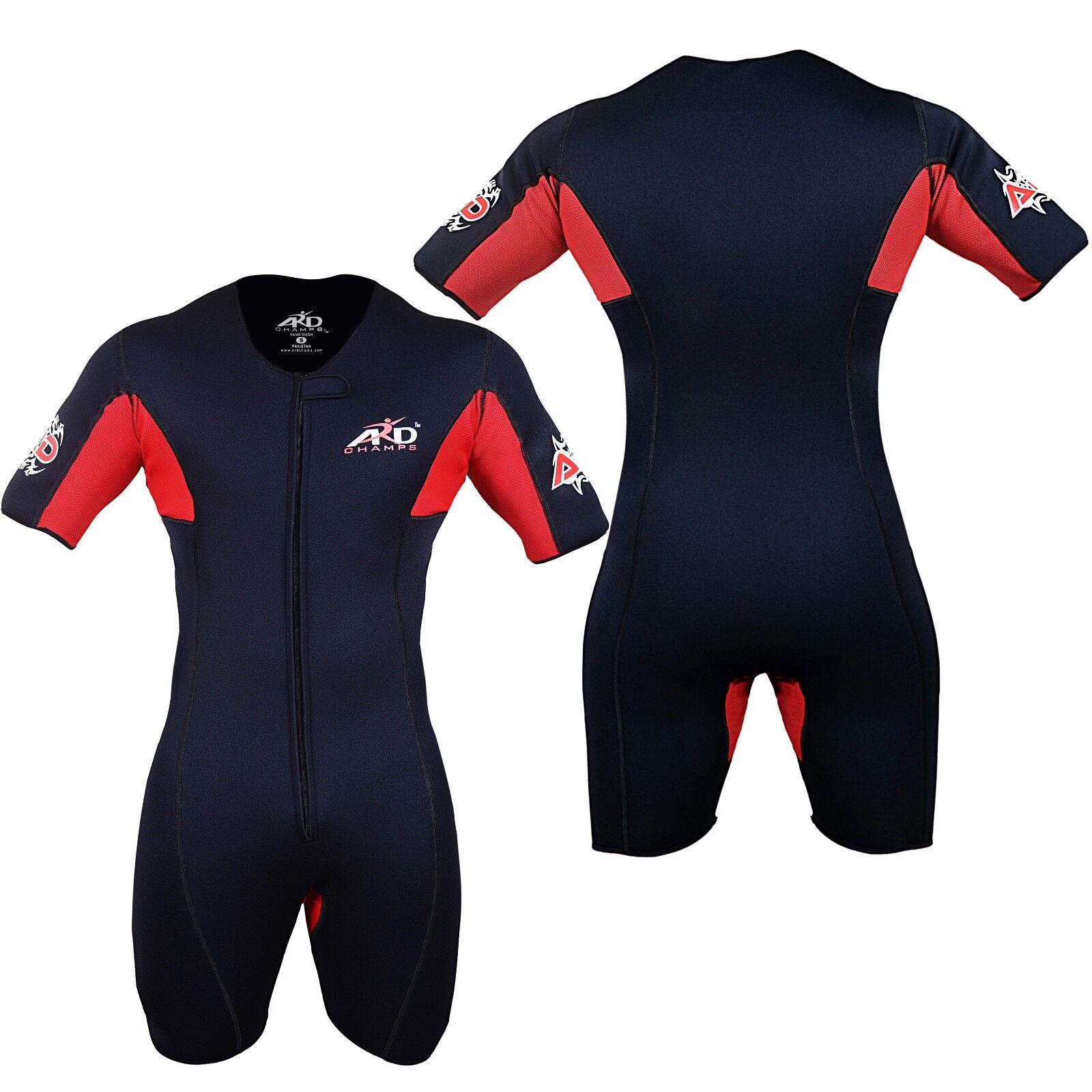 This shirt and pants sauna pair has a custom fit property, making it one of the best sauna suit for both men and women. The extreme flex DS neoprene material stretches and conforms to body movements, allowing comfortable additional sweat loss.
This gear is made a 2MM extreme elastic neoprene material, making body movements during training easy and comfortable.
It comes with an overall sauna suit of a rash guard and trouser that is more economical than other sauna suits.
It is anti-rip and tear-resistant, providing users with maximum durability and performance.
This may have some sizing issues so measure out body size with the product size chart to ensure an appropriate fit.
Since it is a unisex suit, women may encounter fitting problems.
It may have a noticeable plastic smell.
What you need to know when buying a sauna suit
When deciding on a sauna suit, do not think that all are the same. They are made from different materials, come in different sizes, and have different purposes. It is best to study up on the different options available and choose the best sauna suit for you.
But what do you need to consider when choosing a sauna suit? There are a few things to take into consideration:
Do not opt for a cheap plastic sauna suit
These sauna suits are not made to last. They are manufactured from cheap plastic that, over time, tends to perish and break. Rather opt for something a little more expensive but that is durable.
Size matters
This applies to close-fitting as well as looser-style sweat suits. Where the sauna suit is too small, it hampers blood circulation. One that is too large will cause chafing while you exercise.
Wear appropriate underwear
Wear sports underwear even while wearing your sauna suit, i.e. a sports bra and briefs. Also wear an absorbent t-shirt underneath.
Check the manufacturer's washing guidelines
Not all sauna suits can be safely washed in a washing machine or dried in your dryer. Many need hand washing in warm, soapy water and air-drying. If you are a machine-wash and drier person, you may end up with a sauna suit that is damaged.
The best way to use your sauna suit
Although many people may think all they need to do when buying a sauna suit is to wear it and they will lose weight. Although they may lose water weight due to sweating and a little fat due to their metabolism rising, they will not necessarily lose much fat. The only way to lose fat is by eating correctly and exercise. A sauna suit is a great addition to your exercise routine as it ups your metabolism, burning more calories than you would with regular exercise while not wearing your sauna suit.
Do remember, however, when exercising, that you need to take it easy when wearing a sauna suit. Do not think you can complete your whole exercise routine and feel fine afterward. Because of the sweating due to your metabolism working faster, you could dehydrate or your body could overheat. You thus need to take breaks, allow your body to cool off a little, and drink plenty of water.
Conclusion
Although all the suits reviewed are of higher quality than most others generally found out there, one definitely stands out from the rest. In our opinion, the winner as to the best sauna suit reviewed is the 4Fit Neoprene Sweat Shirt Rash Guard Sauna Suit. It ticks almost all the boxes.
What we liked about the suit is the front zip that makes for easier taking off after a workout session and the close, body-forming fit that allows free movement while training. Another plus factor is the reinforced arm and crotch areas with their reinforced mesh. This allows for breathability in these areas, reducing your chances of developing a rash while exercising.
Although this suit does have its negatives, such as being hand-washable only and no cuffs at the arms or legs, the thin, 3mmm extreme Flex DS Neoprene that the suit is made of does its job well.