Woodbridge is the brand to be if you are looking for high-end bathroom furnishings and accessories. Since its start in 2003, the brand has been a constant choice by many homeowners.
Looking into Woodbridge's catalog, you can instantly tell that the brand has a distinct taste for modern bathtub designs while still being classic & timeless.
Do we highly recommend Woodbridge? Absolutely!
But do we recommend all their products? Well, not really, but we do have favorites.
We're sure you're thinking the same thing, so we did a little research to find out the best-selling and best Woodbridge bathtubs this year.
See all: Woodbridge Bathtubs on Wayfair
6 Amazing Woodbridge Tubs You Can Buy
1.  Woodbridge B-0003 Soaking Bathtub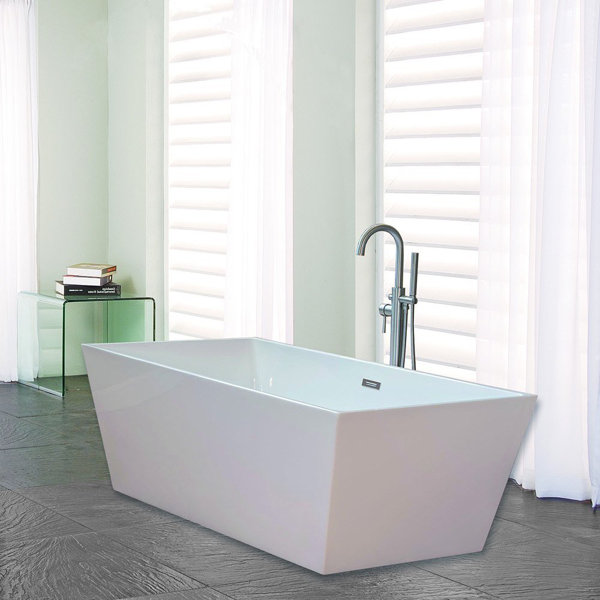 This classic rectangular soaking tub is a freestanding bathtub with an acrylic surface. With a dimension of 67-inches by 32-inches, this tub can fit one user comfortably. Since this is a freestanding tub, you can place the tub anywhere you want.
If you want to stick to the conventional bathtub look and style but still want that modern appeal, then there is no doubt that B-0003 soaking tub is for you.
Has an overflow drain and drain assembly
The acrylic surface is also enhanced by fiberglass.
This can hold up to 60 gallons of water.
Certified by CSA and ASME; two trusted standard testing organizations
Suitable for both commercial and residential uses
2.  Woodbridge BTA1514 Soaking Bathtub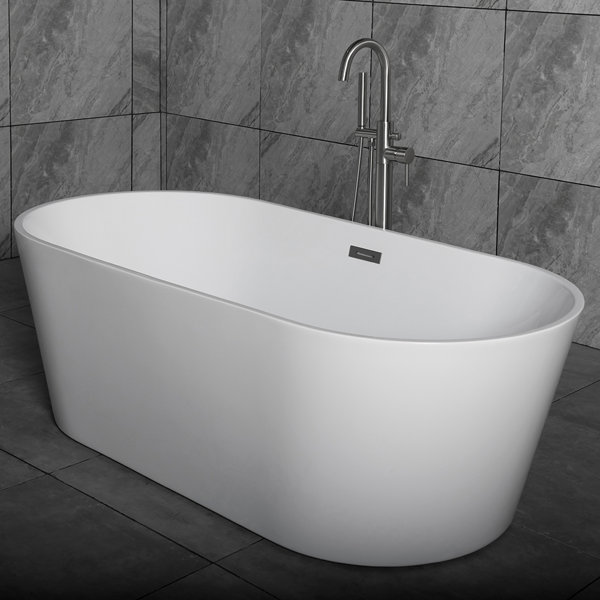 A bit cheaper but still has superb quality. This is why the BTA1514 is a top choice when shopping for bathtubs. This one, too, is a soaking tub with freestanding design.
This measures 59-inches by 29.5-inches, a bit smaller than the B-0003 model but has all the qualities that you'd need in a functional bathtub.
Made from high-quality acrylic reinforced by fiberglass
Has an oval shape, which is a favorite by a lot of people
With overflow drain, drain assembly, and tub waste kit
You can add up to 55 gallons of water to this tub.
1-year product warranty
Has CSA and UPC certifications
3.  Woodbridge B-0006 Soaking Bathtub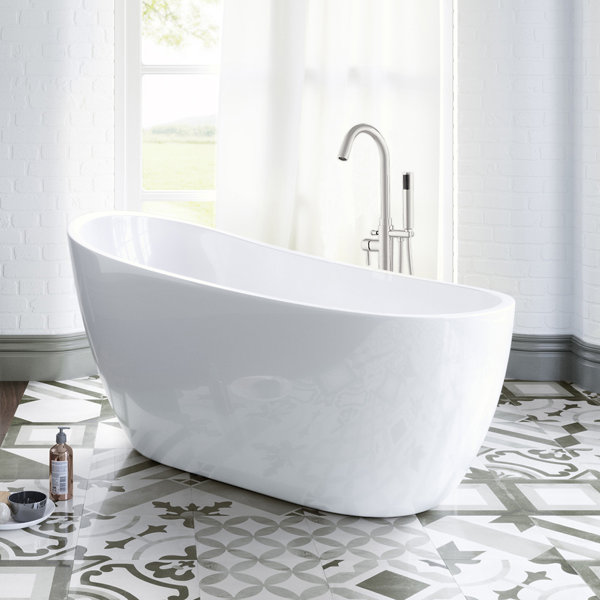 Soaking in a luxury bathtub is indeed a rewarding experience, so much more if you can ultimate relax your back comfortably.
Woodbridge B-0006 Soaking Bathtub is both a slipper and back-to-wall tub compatible with freestanding installation. This one is 54-inches by 29-inches and has really smooth curved sides and edges.
This tub may look a bit smaller than the other Woodbridge soaking tubs, but it has enough space even for 5'10 tall user. Many consider this as one of the best Woodbridge tubs for women.
Made from fiberglass reinforced acrylic material with brushed nickel detailing
The oval shape is a classic yet refreshing sight; it also gives off a more feminine vibe than the conventional rectangular shape.
Equipped with an overflow drain
Holds up to 55 gallons of water
Has 1-year product warranty
The slipper design serves as a backrest so that you can sit in the tub
4.  Woodbridge B-0006+F0001 Soaking Bathtub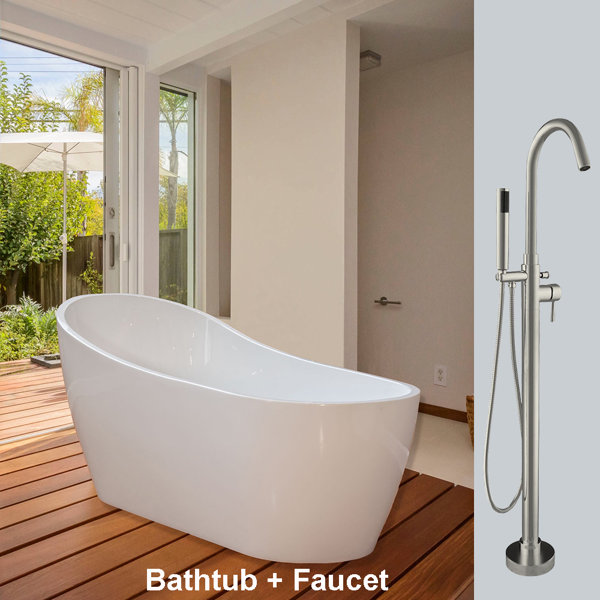 If you have a penchant for a simple yet spacious bathtub, then the Woodbridge B-0006+F0001 Soaking Tub is an excellent choice.
This is an oval bathtub with smooth curves. It's a spacious tub that allows you to move around while soaking, but this one's got a narrow base so it doesn't take a lot of space.
And since it's a freestanding tub, you can place it at the center of the bathroom and accentuate with other bathroom accessories. You can instantly revamp the look of your bathroom with this stunning tub.
This bathtub is made from 100% acrylic material that is scratch resistant.
The drain placement is reversible.
Complete with overflow drain, drain assembly, tub waste kit, and faucet
You can have a full-body bath as this can hold up to 60 gallons of water.
With 1-year product warranty
Certified by CSA and is ASME compliant
Can be used for commercial and residential purposes
5.  Woodbridge BTS1606 Combination Bathtub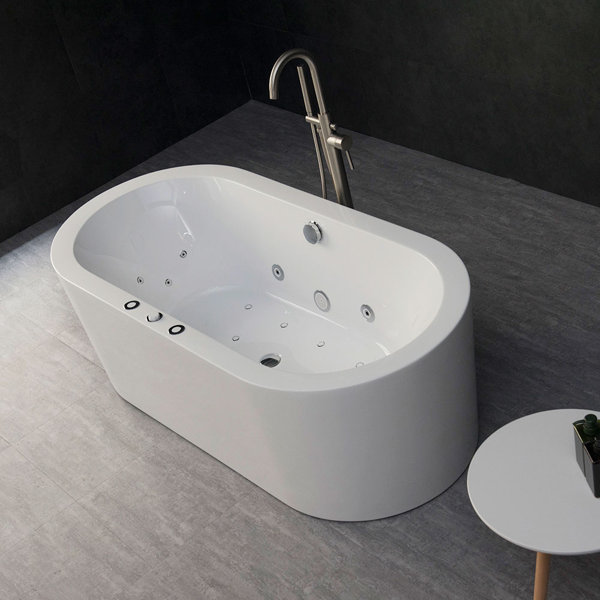 Woodbridge is a brand that continuously make innovative products, hence giving birth to thie combination bathtub.
What's new with this combination tub?
The BTS1606 is not just an average soaking tub, but this one also functions as jet tub like a jacuzzi. It has water jets scattered inside that gently massages your body as you enjoy your well deserve soak.
An innovative bathtub that functions as a soaking tub and a jacuzzi
Has an overflow drain, as well as drain assembly and tub waste kit
This is made from acrylic material, which is known for being stain and scratch resistant.
With 10 water jets that are strategically placed in the tub
Can hold up to 55 gallons of water
This tub is also slip-resistant, a perfect tub for the elderly and the clumsy
1-year warranty
6.  Woodbridge BTS1608 Soaking Therapy Bathtub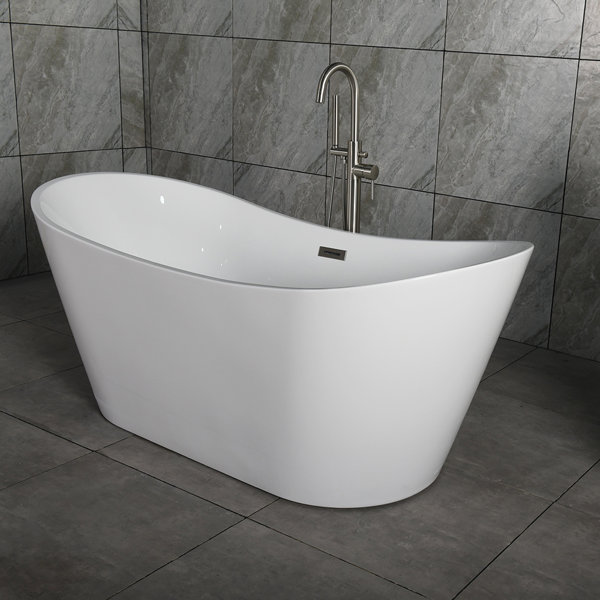 This awesome bathtub is one of Woodbridge's best-selling tub with a pedestal design. It has an oval shape and has enough space for a full-body soak.
It has a total dimension of 67-inches by 32-inches, big enough for people with bigger body built. With a freestanding installation type, this tub is easy to integrate in your existing bathroom interior and plumbing.
Has 1-year product warranty
Made from quality acrylic material; it's also reinforced with fiberglass to make it more durable
Has an overflow drain, drain assembly, and tub waste kit
You can comfortably rest inside the tub as it has a molded curve that fits the human body.
The Best Woodbridge Bathtub
People surely have different preferences, and this includes in our shopping choices. However, one buying tip that applies to all is that the product should match your needs, and this product should offer more while still being reasonably priced.
Among all the six Woodbridge tubs on the list, we highly recommend the Woodbridge BTS1606 Combination Bathtub. It's a modern tub with advanced features, giving you both the benefit of a jacuzzi and a soaking tub. This luxurious tub is the perfect accessory to experience hydrotherapy without leaving the comfort of home.