Buying a hot tub may seem a trivial purchase to make since you do not use it as often as the other house appliances. However, the wonders a hot tub can do is undeniably helpful. It is important that you pick out the one that suits all your bathing and relaxation needs. Continue reading to know how wonderful hot tubs are and the different Canadian Spa Co Hot Tubs reviews.
Read more: Best Inflatable Hot Tub Reviews and Buying Guide
Product Reviews of Best Canadian Spa Hot Tubs
1. Swift Current Plug and Play Spa with 5 seats and 125 jets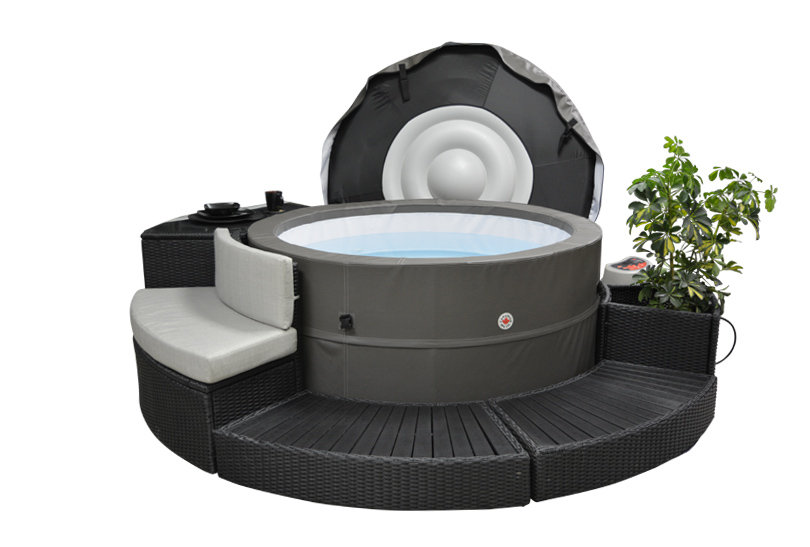 This gray hot tub can fit 5 people which is good as an inflatable spa. Its 125 air jets provide relaxation to your sore muscles. Moreover, it can be used in any season.
Best features:
It has a foam wall which is insulated, so the heat is retained well.
It can be used at any temperature even below freezing.
15A is the standard home outlet you can plug this tub in.
This product has a capacity of 1000 gallons, so you can put much water in it.
2. Yukon Waterfall Plug and Play Hot Tub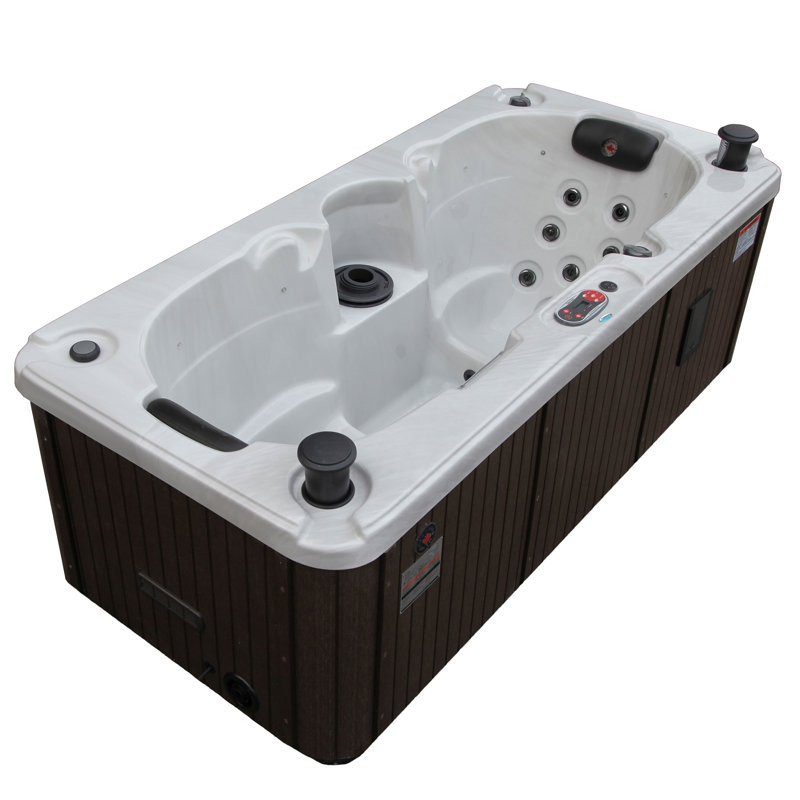 Having 2 seats and 16 jets, this product is probably your best choice if you want a hot tub for personal use. Its size is big enough to fit in your house or small backyard. Another great thing about it is its flowing waterfall feature.
Best features:
It has LED lights with various colors.
This product has its own audio system with LED speakers.
The aromatherapy feature provides ultimate relaxing experience.
Maintaining its cleanliness is easy due to the ozonator.
All the 16 hydrotherapy jets can be adjusted according to the pressure you prefer.
You can easily install it.
3. Halifax Waterfall Plug and Play Hot Tub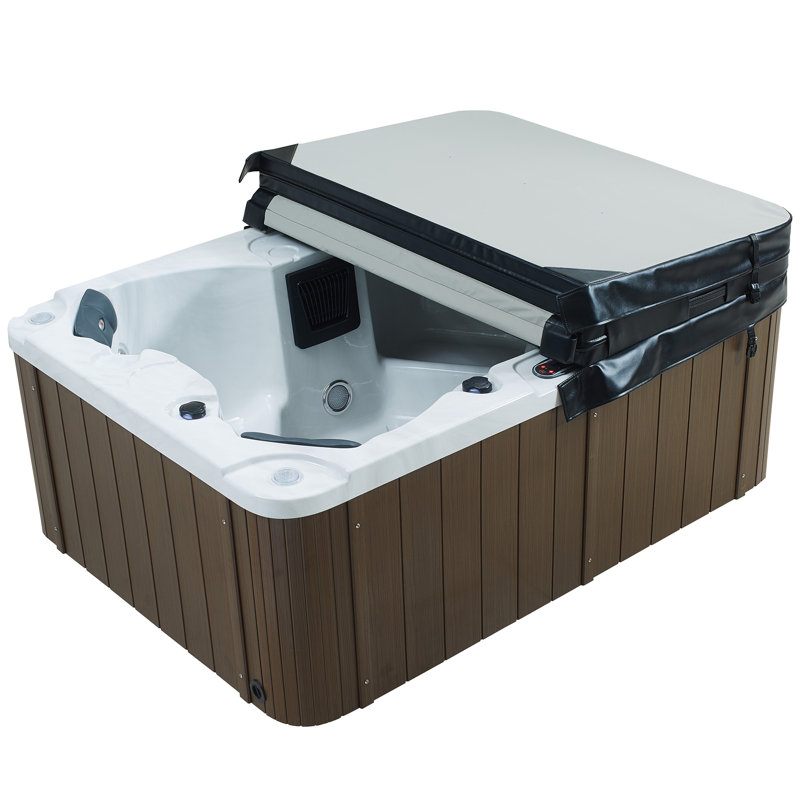 If you are looking for a hot tub that is big enough for 4 people without taking up too much space, you probably want to consider this hot tub. You can place this at any part of your home that has access to 120V 15A outlet. Thus, you do not need to call a professional in order to use this.
Best features:
This product has LED lighting in different hues to calm yourself.
It has 22 jets.
The cascades from the waterfall feature give a relaxing vibe.
Another interesting feature it has is the canister where you can put aromatics to relieve all the stress and pressure you feel.
Cleaning is easy because of its advanced filtration system.
4. Quebec 4-Person Waterfall Plug and Play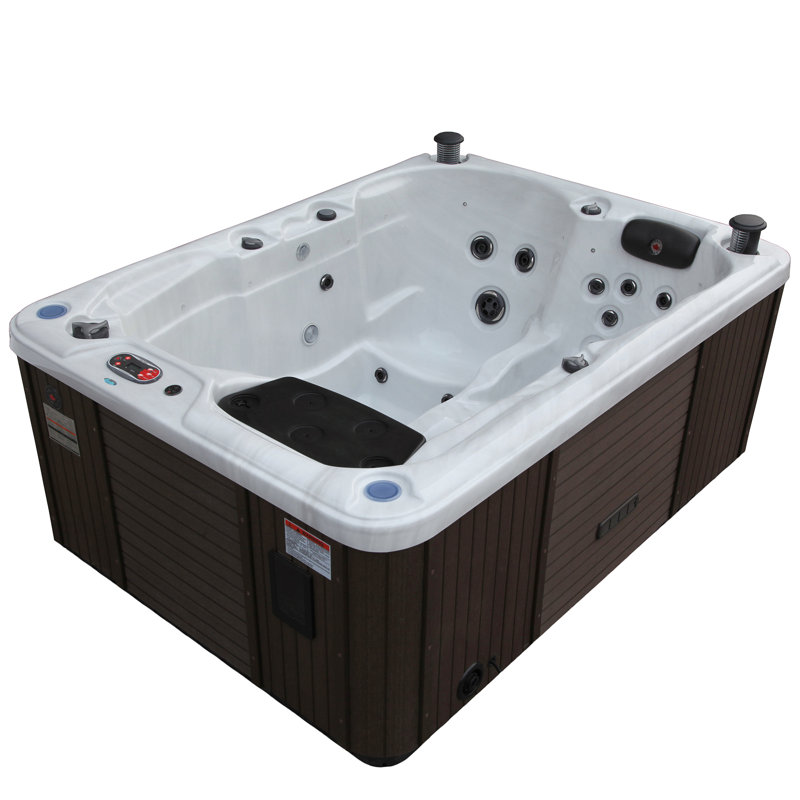 You can place this 4 seater and compact hot tub at almost any part of your house. Do not underestimate its size since it is at par with larger spas. The 29 jets that are rust free and adjustable can give a fun and relaxing feeling to different groups of people.
Best features:
One of its features is energy-saving. Thus, you can save more on electricity expenses.
You can use it after a couple of minutes because installation is as easy as a pie.
Its ozone generator keeps the water clean.
The LED lights, aromatherapy canister, cascading waterfall and sound system complete the relaxing experience.
5. Toronto 6-Person Waterfall Spa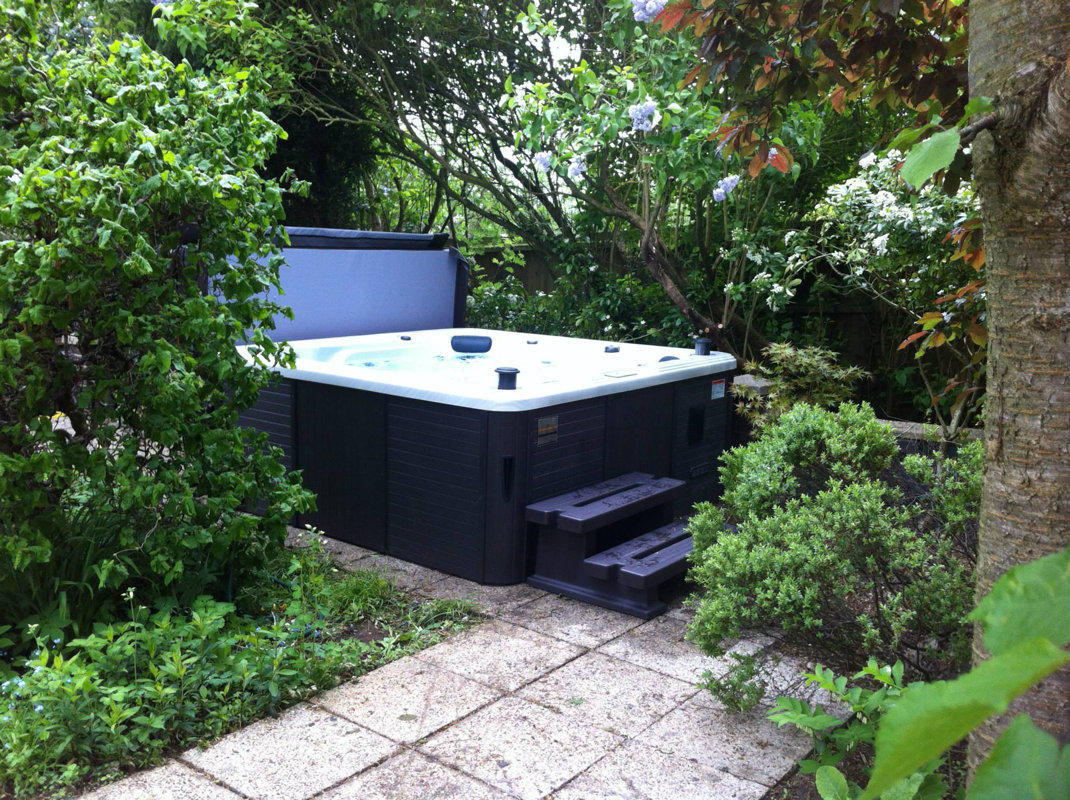 If you like inviting people over your home, you can avail of this hot tub spa. 5 to 6 people can sit here comfortably with an extra lounger, so it is also perfect for families. You can rest your tired muscles from the 44 jets that are made from stainless steel.
Best features:
It has a strong pump and alterable valves, which give equal water pressure to everyone who is in the tub.
Another feature it has the cabinet trap, which keeps the heat inside and a heater that works well even in the coldest season.
The waterproof speakers, the aromatherapy feature, and the LED lighting can help you calm yourself in this tub.
The vacuum system and hard top give protection to this tub.
6. Niagara 7-Person Backlit Waterfall Spa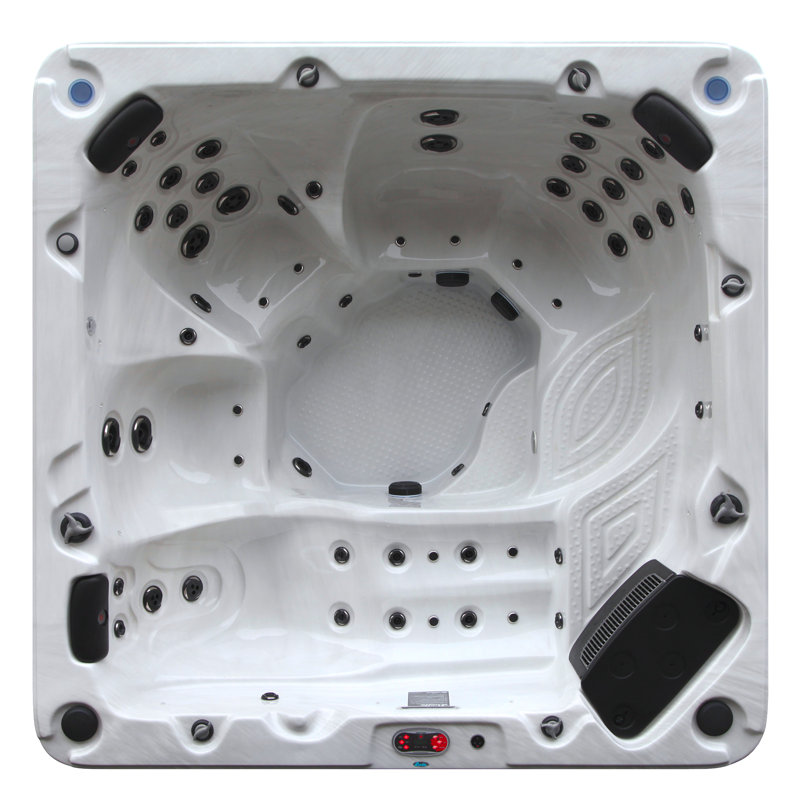 One of the best features of this 7 seater waterfall hot tub is its high-quality heat retention. Therefore, you can use it in winter. Tall people will not have a problem getting into this tub because it is deep.
Best features:
You can easily adjust the 60 jets to the pressure you and your visitors prefer.
You will not have a hard time maintaining it since it has its own purification and filtration system.
The add-ons such as the backlight and aromatherapy provide more refreshing feeling.
Choosing the Right Hot Tub
There are some features you need to check or research first before you purchase a hot tub. Here are some things you need to consider to find the best hot tubs:
The first thing you have to consider in buying a hot tub is the size. You should determine the maximum number of people who are going to use it. Buy a small tub if it is only for personal or family use. Get the largest one if you like inviting people over your place. Just remember that the size does not matter for the level of relaxation you will get. All you need to think about is the way you are going to use it.
Some hot tubs can be used for relaxation such as a foot spa. Thus, they come with jets that can be used in many different ways. In order to avoid feeling overwhelmed when you choose how many jets and what kind of jets you want, you better think of the function you want your hot tub to have. For instance, if you want to use your hot tub as a massager, you should consider where the jets are positioned.
If you want a soaking tub with bubbles, you do not need to buy a tub with intense jets. Once you have decided the purpose of your hot tub, you can ask a hot tub agent to help you pick one that suits your needs.
Because you immerse your body in the tub, you need to maintain the cleanliness of your hot tub. Therefore, you need to check how the filtration and purification of your hot tub works. Basically, the pump and filter system's size should be as big as the tub itself. For the cleaning solutions you will use, it is completely up to you. For instance, you can choose either bromine or chlorine to clean your tub. If you are not a big fan of chemicals, you can opt to add an ozonator. It will lessen the need for using chemicals since it will improve the effectivity of bromine or chlorine. You better consult a hot tub expert to learn more about it.
Read more: Hot Tub Water Care Guide
This is important since most hot tubs have a heating system, which can cost you more. You need to buy a hot tub that has an efficient heater. Though it is more expensive, you can save more money in the long run since you will not need to use much energy to warm your tub. Aside from energy, you also save on purification costs since you do not need to shell out much money for chemicals.  A hot tub cover is a good buy to provide protection for your tub.
Read more: The Cost to Owning and Maintaining a Hot Tub
Benefits of Having Your Own Hot Tub
Having a bath in a hot tub has been done for many years. However, in our current era, not all people appreciate the advantages it has for their health. Here are some health benefits you can reap from a hot tub:
Sleep- Many people experience insomnia and other sleeping difficulties. According to one study, immersing in a hot tub before hitting the sack can help people to have a deep and refreshing sleep. You can dip into one of the best bathtubs with water that has a temperature of 102 degrees for 2 to 3 hours before sleeping. It will help your body loosen up and give you a deep and long sleep.
Stress relieving- Getting yourself in a hot tub help release your happy hormones called endorphins. The warmth of the water gives you better blood circulation, and the jets hit the pressure points. It is sad to say that stress has been inevitable in our generation, so it usually gives rise to many health issues. Not only will you feel uplifted physically but also emotionally.
Energy Giving- One magazine mentions that dipping your body into a tub can improve how you play sports the next day. You can avoid having a sore body and painful joints since lactic acid that causes tiredness and soreness are washed away in a hot tub. If you want to do it outside, you can opt for the best inflatable hot tub.
Arthritis– If you or someone you know suffers from arthritis, you better get a hot tub or a walk-in tub. Having a bath daily in a hot tub can help your joints to move. Moreover, flexibility and strength of joints are retained, and protection for these bones is provided.
Read more: Hot Tub Health Benefits
Conclusion
Among these hot tubs from Canadian Spa Co, the winner is Quebec 4-Person Waterfall Plug and Play. The number of seats is just right for a small home or apartment. It will never be hard to find a location for it. Since size does not affect the effectivity of a hot tub spa, this is a clear winner. It also consumes less electricity, so you will never worry about paying more for electric bills, and the ozonator saves you money as well. In addition, its other features are present in other bulkier hot tub spas. It is compact but highly functional.