The best hot tub should be one that lets you relax and rejuvenate after an entire day of working. Fortunately, the best Futura Spas Hot Tub options are available to cater to your needs.
The Futura Spas Brand
Founded in 1988 in Virginia USA, Futura Spas is known to offer only the highest quality hot tub spas in the market. The company takes pride in using only the best materials and advanced technology for its spas' control panels.
In their website, Futura claimed to designed hot tub spas equipped with features that aim to give its users the most relaxing, rejuvenating, and refreshing spa experience.
And true to its word, Futura Spas hot tub users have been satisfied and new users have been raving bout how good the hot tubs are.
3 Best Futura Spas Hot Tub Options in the Market (A Thorough Review) 
Check out these 3 best Futura Spas Hot Tub reviews:
1.  Futura Spas 6-Person 88 Jets Hot Tub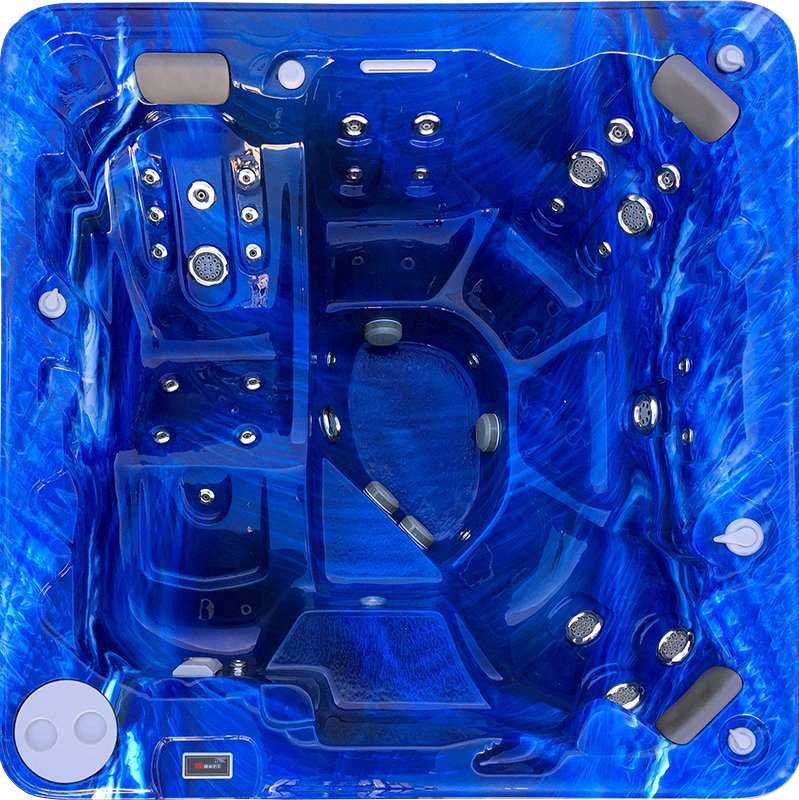 What makes Futura different from other hot tub brands out there is that the company is known to design luxury hot tub spas that a whole family can enjoy.
Take this 6-person hot tub spa for instance. This has a total of 88 jets placed in all sides and corners of the tub, making sure that all users can experienced its relaxing water massages.
What people love about this model is its waterfall and tri-zone hydrotherapy feature. If you want a spa-like hot tub experience in the comfort of your home, then Futura Spas
6-person 88 Jets Hot Tub is the one for you.
This is a luxurious jot tub spa that can fit a whole family inside.
Equipped with underwater lighting, adjustable jets, and the deluxe backlit waterfall, you will surely have an enjoyable and relaxing hot tub spa time.
You can fill it in with up to 375 gallons of water.
This comes with an insulated cover, locking cover, and ozonator.
It also has its own pressurized filtration, which helps get rid of contaminants in the hot tub water.
Hygiene and sanitation are not a problem with Futura Spas hot tubs since all its hot tub spas are equipped with DEL ozone generator, which is used to help keep the water clean and crisp.
With a total of 4 cup holders, you and your family or friends can drink refreshments while soaking in the tub.
Cleaning this tub is easy as well. Just wash the filters with a hose once a week.
This is also UL listed and is compatible to use for commercial and residential purpose.
Has a total of 25 years of shell structure warranty and another 15 years for the shell surface. For the electronics and plumbing parts, Futura offers a 2-year warranty program.
2.  Futura Spas 8-Person 88 Jets Hot Tub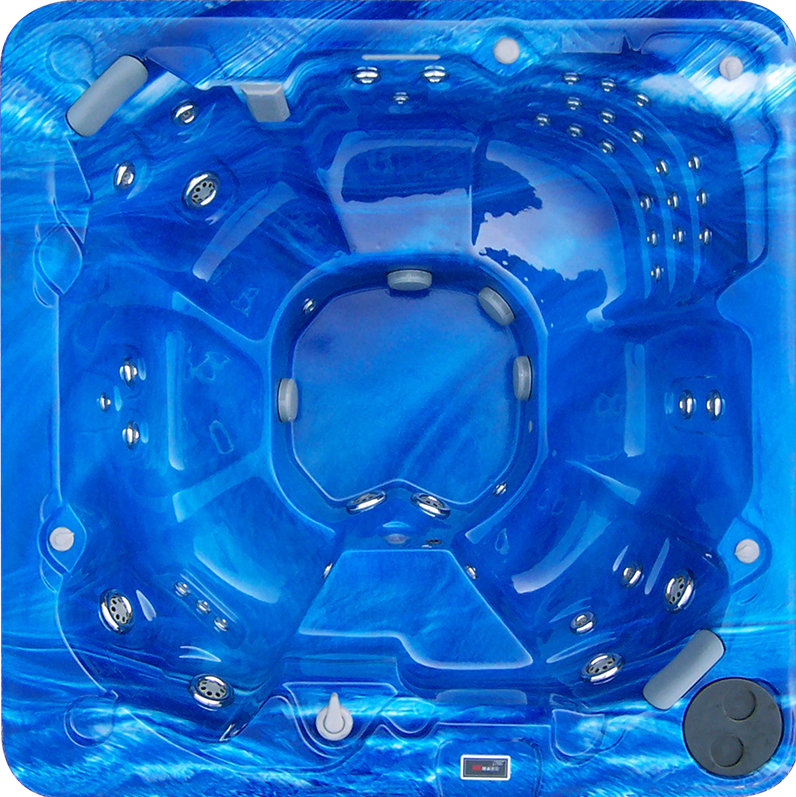 Another stunning and impressive masterpiece by Futura Spas is this 8-person 88 Jets Hot Tub with stainless jets and waterfalls. This particular hot tub is a fusion of luxury and practical hot tub.
This is a luxurious hot tub when it comes to advance features that make your hot tub experience top-notch and super relaxing. On the practical side, this one only includes systems and features that you need for a spa experience.
Similar with the 6-Person 88 Jets Hot Tub we introduced above, this too has amazing parts, controls, and features. You will love this model even more because of its bigger and more spacious tub.
This is a durable hot tub spa made from durable acrylic material with Lucite cast acrylic as its material details.
You can get this in two interior color: Sterling silver color or a summer sapphire color.
It also has 2 pumps, so constant filtration of the hot tub water is uninterrupted.
This holds up to 425 gallons of water with a maximum temperature of 104 Fahrenheit.
To give you a full and rejuvenating hot tub time, it is equipped with underwater lighting to set the ambiance. Plus, it has a waterfall jet with a backlit to complete the mood.
This is also a self-cleaning hot tub which filters out dirt and other contaminants, thanks to its pressurized filtration system.
Resting in the tub is super comfortable as it has an ergonomically-designed seating, which allows the jets to reach all parts of your body.
This offers 25 years of shell structure warranty, 15 years for shell surface, and another 2 years for the electronics.
3.  Futura Spas 3-Person 55 Jets Hot Tub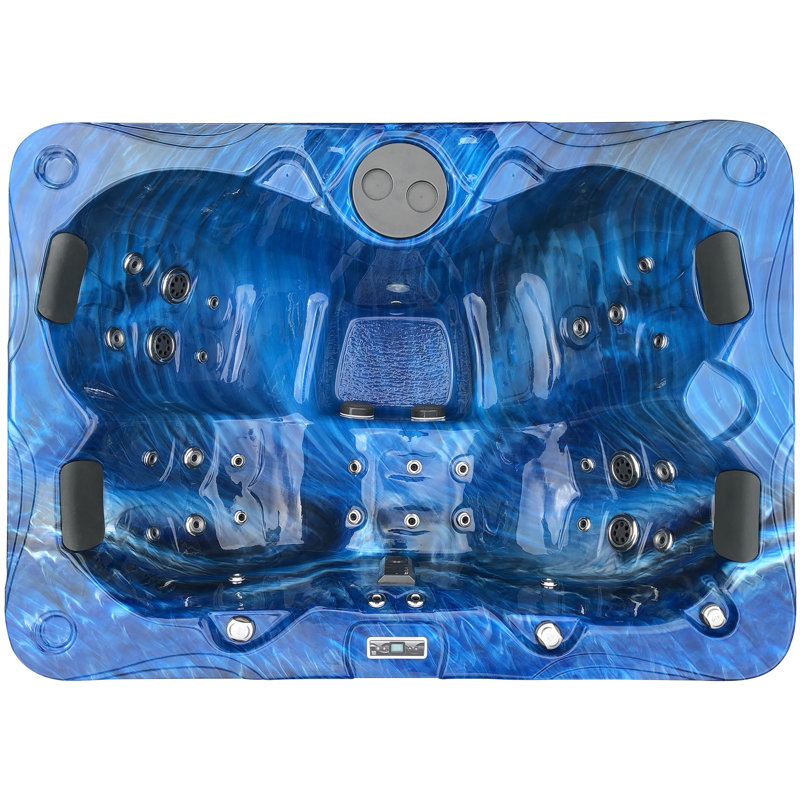 This is a classic, standard hot tub spa but armed with amazing features and controls. This can accommodate up to 3 people inside. The 55 jets are placed strategically in all sides to give you a satisfying and gentle water massage.
A lot of users of this hot tub are impressed with its performance and warranty service. It offers 20 years warranty on the shell while another 2 years warranty for its electronic parts.
It's a complete hot tub spa package with built-in seating, cover, light, and ozonator.
This holds up to 220 gallons of water, which is perfect for a deep soak.
If you fancy drinking something while taking your time in the hot tub, Futura made sure to include not just one but two cup holders in all its hot tubs.
Made from premium acrylic material, this hot tub is also built with stainless steel and polyester.
The jets are also adjustable, so you can control how much pressure you'd like.
To make it even more appealing to you, this Futura Spas 3-Person 55 Jets Hot Tub is also slip-resistant, UV-resistant, and freeze-resistant.
Maintaining this hot tub isn't a hard chore either as it is mildew-resistant and corrosion-resistant, too.
On top of that, this is UL listed, so its safety is guaranteed.
You can also use this both for residential and commercial purposes.
Moving Futura spa Hot Tub bought on Wayfair down steps and up steps
Conclusion
These 3 amazing Futura Spas Hot Tubs are carefully chosen and voted by users. A lot of people consider these as the best hot tub choice from the Futura Spas brand. More or less, the 3 hot tubs boast outstanding features that make every dollar spent on them worth it.