With Toto being one of the top rated toilet manufacturers worldwide, it's not surprising if this brand is the first you'd think of when you're searching for that perfect toilet for your bathroom. Of course, the moment you head to the store, you'll see that there are so many variations and types of Toto toilet brands.
The most difficult part is that each of them has their own unique set of features specific to their variation. That said, the million-dollar question is: which is the best Toto toilet for you? These comprehensive Toto toilet reviews can help you with that.
Toto Product Reviews
1. Toto Drake 1.6 CPF Toilet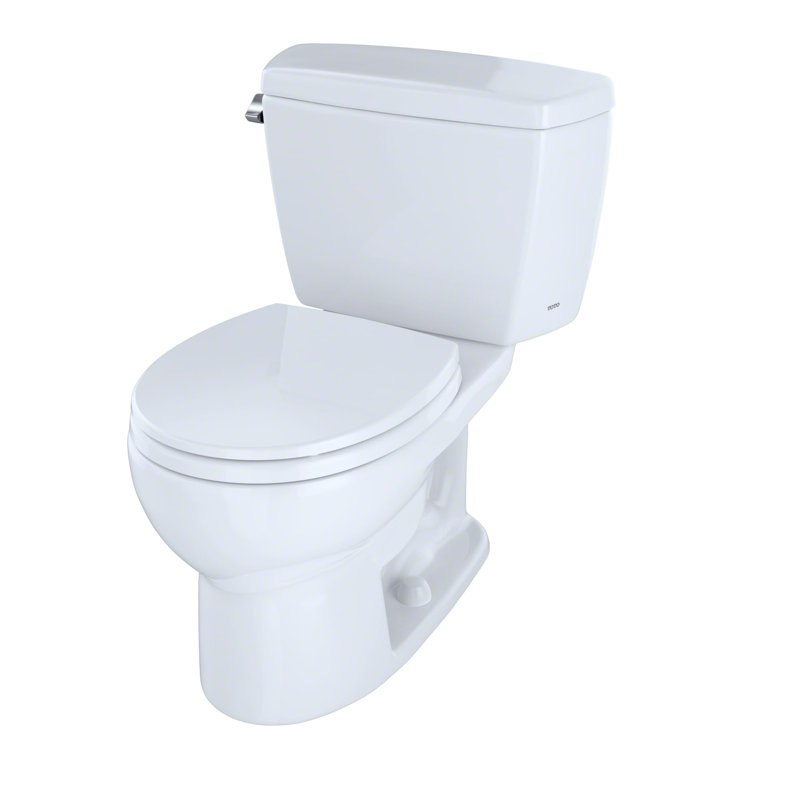 With a simple but contemporary design, this Toto toilet is perfect for any bathroom design. It goes very well with both simple toilet designs and luxury toilet designs. Other than its design, it is also a very powerful toilet that carries a lot of pressure so it won't get clogged very easily.
What customers have to say about the product:
Majority of the customers have very positive ratings when it comes to this toilet. One of the most common things that customers mentioned is that the toilet's flush is amazing. You only need to flush once and everything will go down the drain right away. Due to this, a lot of people buy this toilet in the first place. 
High powered G-max flush system
Allows 1.6 gallons of water per flush
Contemporary round design
2.  Toto Drake 1.6 GPF Elongated Toilet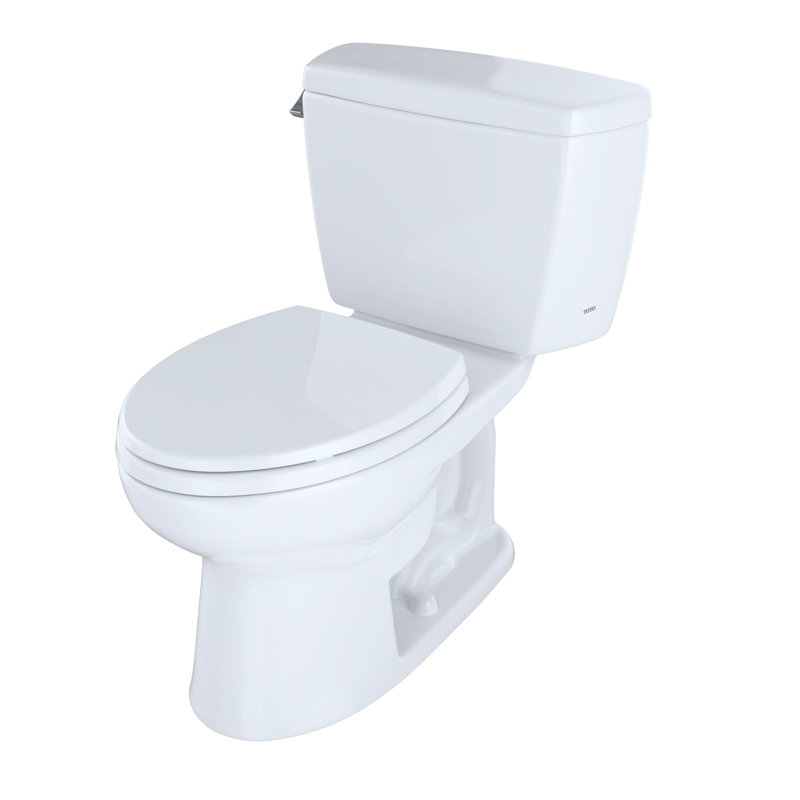 Similar to the variation that we mentioned above, this toilet has an elongated bowl and tank allowing for more efficient functions. Aside from that, it's quality is commercial-grade, which only means it can be used for more than just houses. Being part of the Drake collection, it also has a great luxury design that can be used on any toilet design.
What customers have to say about the product:
Customers loved the fact that the design is ergonomic and smaller than the previously mentioned one. However, it still doesn't lack in power and pressure. It is a high-powered toilet with two powerful flushing systems for an extra kick. This makes it one of the best Toto toilet brands for commercial purposes and heavy usage.
Has an elongated tank and bowl
Comes with a G-max flush system
Also comes with Power Gravity flush system
Has a chrome trip lever
Traditional but ergonomic design
3.  Toto Aquia Dual Flush
This one from the Aquia II Collection is known for its highly durable design. Aside from that, it also has a ton of features that homeowners can find very useful. These include features such as a dual flush, tank liquid push button, and many more.
What customers have to say about the product:
While many customers state that it is rather difficult to install, they also point out that the installation is worth it. With its powerful dual flush feature, it allows you to flush down everything without clogging. Customers also point out that it is very comfy to sit on and really long lasting.
Push button style flush
Dual flush capability
Brass material design
Comes with mounting hardware
Water saving feature allowing you to save up to 20% of water used in regular toilets
4.  Toto Aquia One Piece Dual Flush Toilet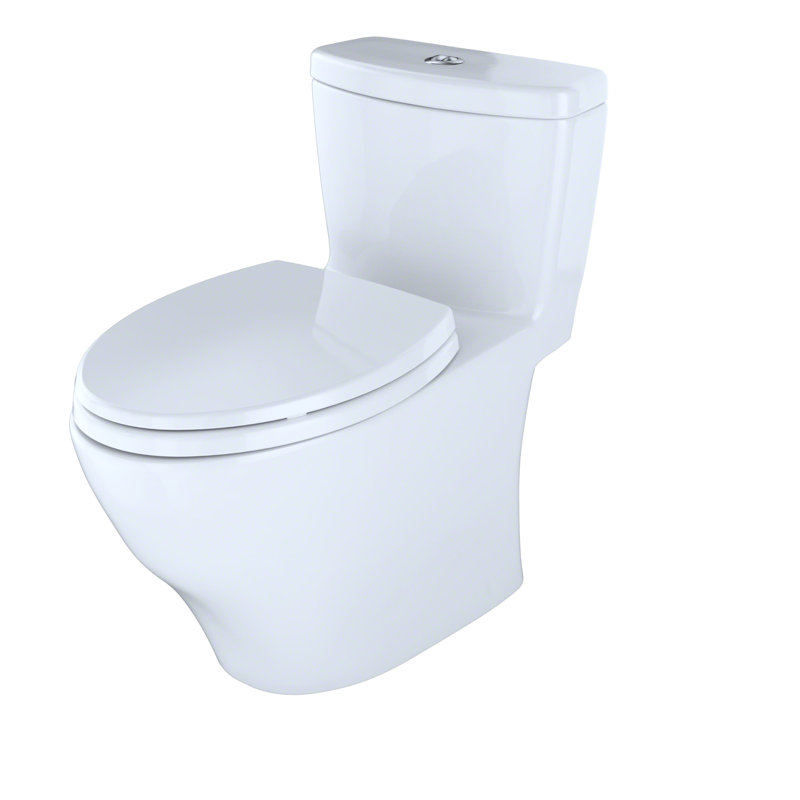 This Aquia II Collection Toto toilet is very similar to the previously mentioned one above. However, the difference is that it uses a different flushing system, not to mention it's a one-piece toilet. That said, it is smaller than the above mentioned toilet, making it ideal for those who have smaller bathrooms.
What customers have to say about the product:
Customers have complimented this toilet for being one of the sturdiest that they can find– even sturdier than the American Standard toilet. The only challenge is that it does have a hard time flushing everything due to it having a low flow which can be due to its one-piece design. Despite that, it has a very powerful flush, so problems are not that common.
Comes with a toilet seat
Comes with an efficient Dual Max flushing system
An E-Max flushing system
Trapway is concealed through design
An elongated bowl and tank
Water-saving feature
5.  Toto Drake II Elongated 2 Piece Toilet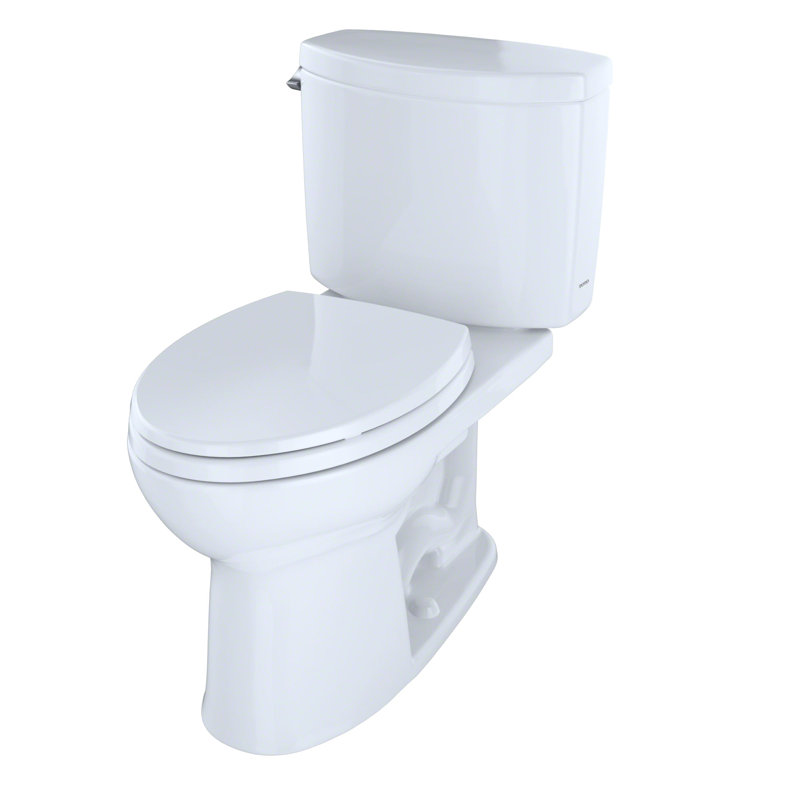 When it comes to design and finish, this is definitely one of the toilets that you should be looking for. It comes in 4 color finishes including traditional white, colonial white, beige, and bone. The type you choose will depend on your preference and bathroom design. It also has a chrome trip lever and a quiet operation.
What customers have to say about the product:
Customers were quick to point out how beautiful the design of the toilet is. Aside from design, they also mentioned how strong the flush is despite not rising or spraying water out. This makes the flush very efficient.
Classy 4 color design
Quiet and efficient flush
Compatible with supply lines and wax rings
Has a 1.28 GPF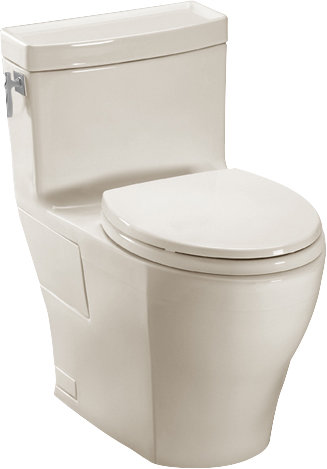 What makes this one pretty unique is its ceramic glaze finish –specifically a SanaGloss ceramic glaze finish. This is a special type of finish that prevents mold or dirt from sticking to the toilet bowl. This allows for an easier time to clean the toilet bowl as you won't need to use a lot of soap and water anymore.
What customers have to say about the product:
Two things that most of the customers would point out is its design and flush efficiency. Most customers love the look because it gives off a luxury European design vibe. Other than that, the flush is also very powerful but doesn't use that much water.
Double cyclone flush system
Low water consumption with flush
SanaGloss ceramic glaze
An elongated bowl
A chrome plated trip lever
Makes use of CeFIONtect
Makes use of 1.28 gallons of water per flush
7.  Toto Legato Water Efficient Flush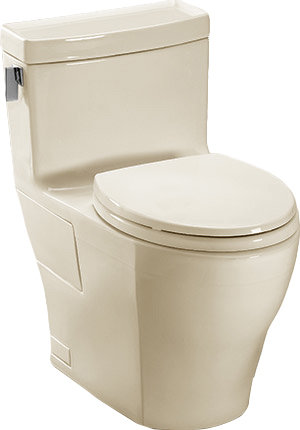 If you're the type of person who is very particular with how much water is being used, then this toilet is for you. Its flush is built for water efficiency and water saving. While it doesn't have a flush as powerful as the previously mentioned toilets, it is still efficient enough to take down waste properly.
What customers have to say about the product:
Customers all loved its quick and light flush feature. Due to its quick flush function, it can bring down waste pretty easily without having to use too much pressure. It's also known for its really nice color and design.
Light and quick flush
SanaGloss ceramic glaze material
A chrome finish lever
Only uses 1.28 gallons of water per flush
Has a Tornado flush system
8.  Toto Supreme One Piece Toilet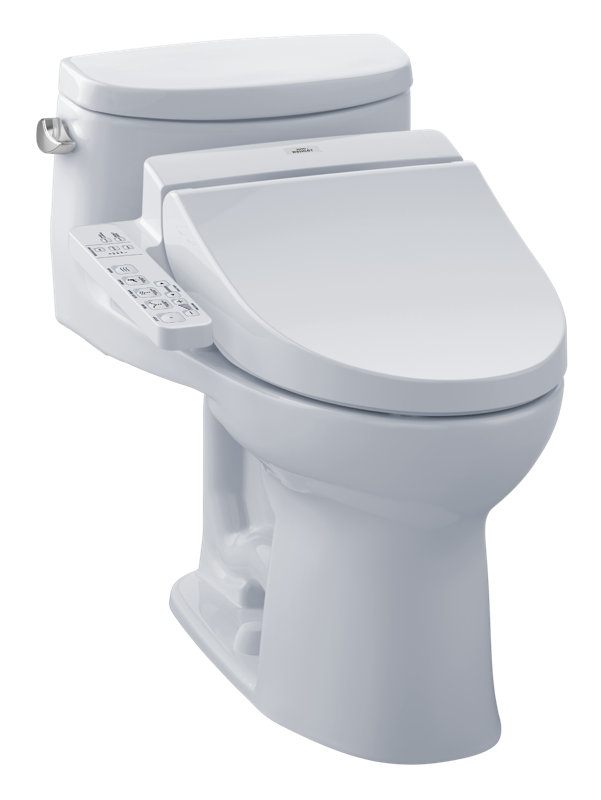 The Toto Supreme is a pretty interesting toilet that comes with a Washlet power cord and hose. This acts like a bidet toilet seat that comes with water streaming of five different pressures and three different temperatures.
What customers have to say about the product:
Customers who like their bathrooms to have more hi-tech features really appreciate this brand. Plus, it's quite affordable as compared to many other smart toilets with similar settings.
Comes with cleansing and oscillating stream
Spray stream comes with five pressure settings and three temperature settings
Has a self-cleaning wand
Uses only 1.28 GPF for flushing
A remote control panel on the side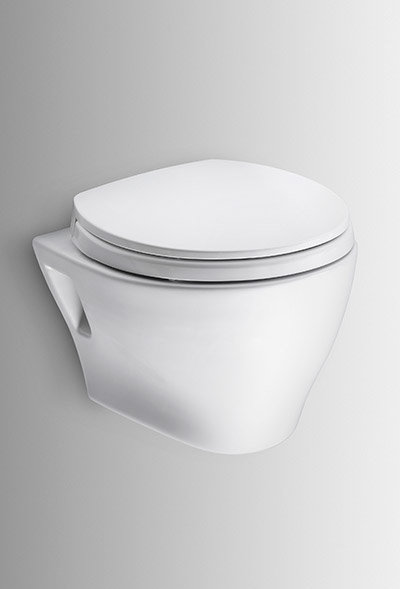 If you want to save space in your toilet, this is the toilet bowl for you. While it saves up plenty of space in your bathroom, it doesn't compromise on design. It looks very sleek and modern. In fact, this type of toilet is used a lot in hotel or resort bathrooms.
What customers have to say about the product:
Customers love the fact that they were able to save a lot of space with this toilet bowl. They also love the fact that it is affordable and has a great design.
Comes with a weight capacity of up to 880 pounds
Has a rectangle flush
Ergonomic design
Dual flush
Uses 1.6 gallons of water per flush
10.  Toto Washlet Elongated Floor Toilet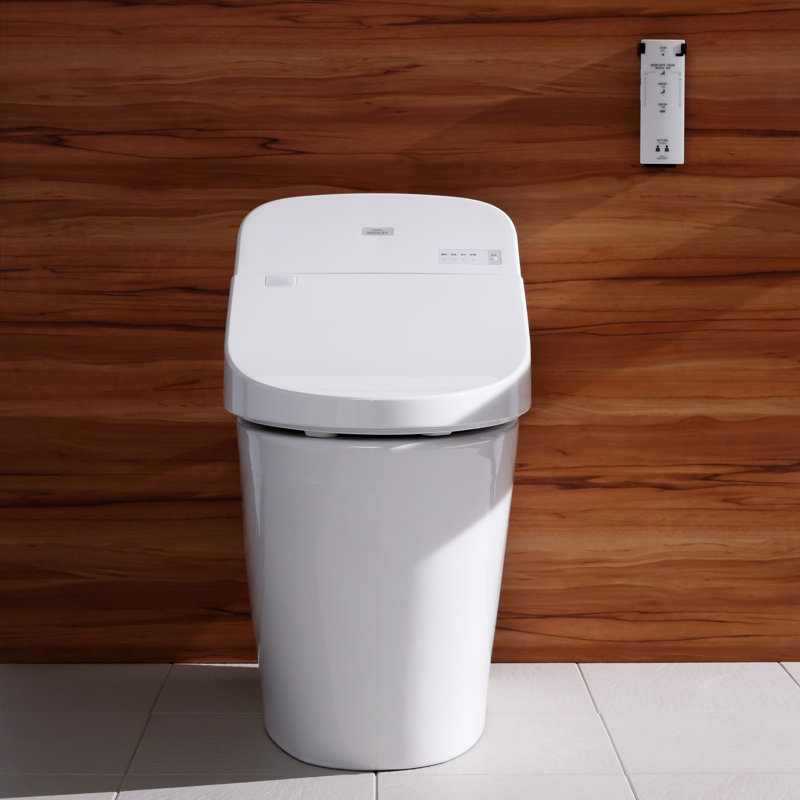 This toilet has a seat warming feature so that you'll still remain comfy even during winter or cold weather. Another great thing you'll love about this model is that it has an air deodorizer. Therefore, if any bad smell comes out from the toilet bowl, it can also automatically cancel the smell out.
What customers have to say about the product:
What customers mostly pointed out is that it was very affordable. Compared to other models with similar features, this is one of the cheapest that they have found, allowing them to enjoy luxury functions while spending less.
5-seat warming settings
Air deodorizer
Dual-max flush
Auto lid close
11.  Toto Neorest Dual Flush Elongated Toilet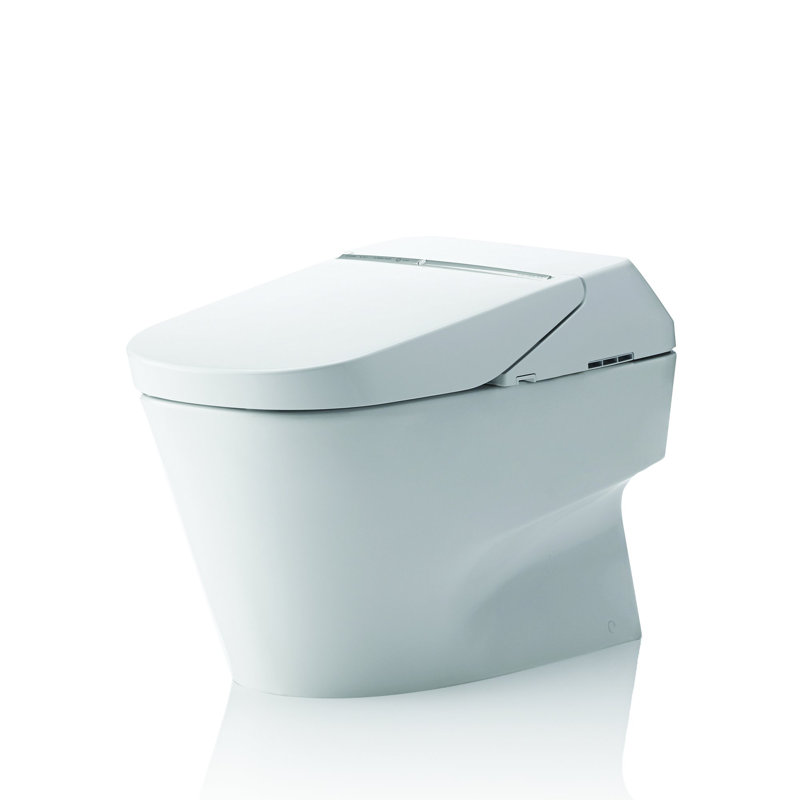 Like most Toto Neorest models, this one doesn't disappoint. It has a very efficient flush system, allowing you to choose from a pressure of 1 GPF or 0.8 GPF so that you can save water. It also has an auto flush sensor that will save you time and effort on manually flushing.
What customers have to say about the product:
Simply put, customers love the features and the quality this toilet has to offer. They enjoy having all these extra luxury features from their toilet bowl as it gives them more control and an overall better experience in their bathroom.
Cyclone Siphon jet flushing system
SanaGloss ceramic glaze material
Dual flush
Auto flush
Has Auto lid close
Comes with a seat heating feature
12.  Toto Neorest Dual Flush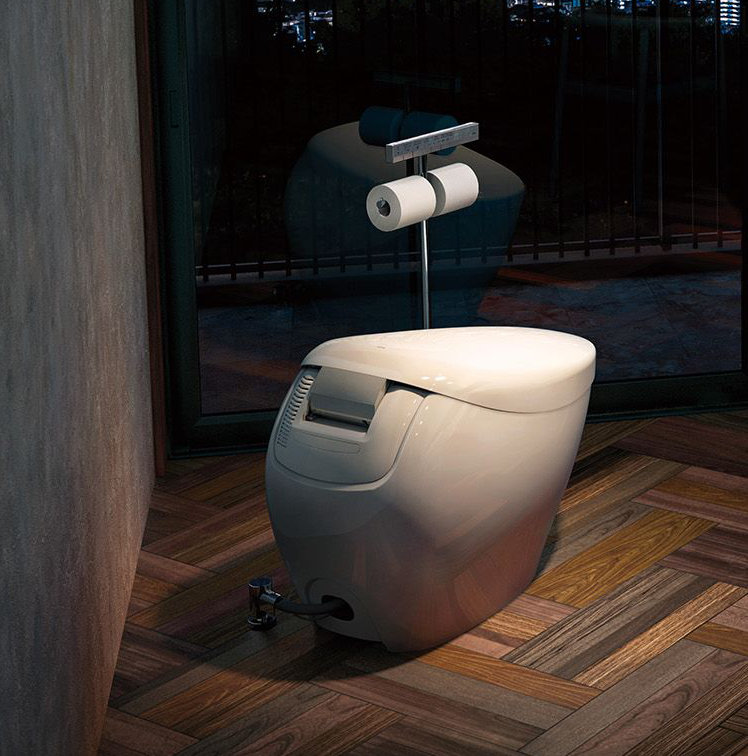 The first thing that you'll notice about this toilet bowl is its design. It's pretty unique as it looks very futuristic. It's not just the design that's futuristic though, but even the features too. It has an automatic spray, ceramic glazing architecture, heat settings, self-cleaning feature, air dryer, custom flush pressure settings, UV light capability, and 2 user memory settings. Overall, it is one of the best toilets that you can find on any Toto toilet reviews.
What customers have to say about the product:
Albeit very pricey, buyers have really enjoyed all the features of this toilet bowl. It is literally a smart toilet bowl that does everything for you. Customers loved the fact that you don't need to clean it that much. You just need to configure the cleaning settings the way you want and let it do everything by itself.
Uses a Tornado Flush system
Has oscillating and pulsing washing feature
Uses only 1 gallon per flush but with very efficient flushing power
Uses dual flush system
Has UV Actilight for cleaning
Allows custom flush pressure settings of either 1 GPF or 0.8 GPF
Has an air dryer function
Conclusion
The Toto Neorest Dual Flush toilet definitely gets the top spot in these Toto toilet reviews. While it may be quite expensive, it has all the features and the capabilities that you'd want in a toilet. It has an automatic closing function, a self-cleaning function, water streaming feature, and a flush that is very powerful but doesn't use that much water.
While you may spend a lot to buy it, you do save up money in the long run. Comparing its features to the features of the other toilets on the list, this one definitely has the most to offer to its customers.