The least we can do to keep our health and well-being is to maintain our cleanliness. However, we often have to choose between showers and bathtubs. Those who want a quick hygiene fix prefer to clean their body using the shower as it saves time and money by using fewer resources.
Those who are more relaxed, on the other hand, prefer to soak in a bathtub. If you choose bathtubs over showers, then you've probably heard of whirlpool bathtubs. Whirlpool bathtubs are becoming more popular among homeowners now. in fact, most people choose them because of their therapeutic properties.
They are also available in various styles and sizes to fit different bathroom types. This is why they are preferred by homeowners for their bathing needs. We'll talk about whirlpool bathtubs from Ariel Bath in this article, a company that makes some of the best bathtubs on the market.
Read on to learn more about Ariel whirlpool bathtub reviews. 
Why Ariel Bath?
Ariel Bath is no stranger to the bathing scene. If you look up "Ariel whirlpool bathtub reviews" on the internet, you'll find a lot of positive comments.  Ariel Bath's products are made with high-quality materials, and they also come with a bunch of useful features.
When you look through Ariel Bath's catalog, you'll see that most of its products are designed to fit in both modern and classic bathroom themes. The products are also said to be sleek and lovely, according to users.
Besides the beauty and durability aspects, users also claimed that the products were easy to use. This explains their satisfaction with Ariel Bath. On its website, Ariel Bath also offers bathroom design tips. You can use them to find out what products to buy and how to style them in your place.
Another great thing about Ariel Bath is that it offers free shipping. It ships outside of the United States too, so you can get products from Ariel Bath even if you don't live there.
You can also return or cancel your order from Ariel Bath. This way, if you receive a wrong model or a defective product, you can contact the customer service team. They will then walk you through the whole process.
Best Ariel Whirlpool Bathtub Reviews
Now that you've heard enough about Ariel Bath, we can just jump into the Ariel Bath reviews. We have three different Ariel Bath products here. Each of them comes from a different whirlpool bathtub type. 
1.  Ariel AM128 Whirlpool Bathtub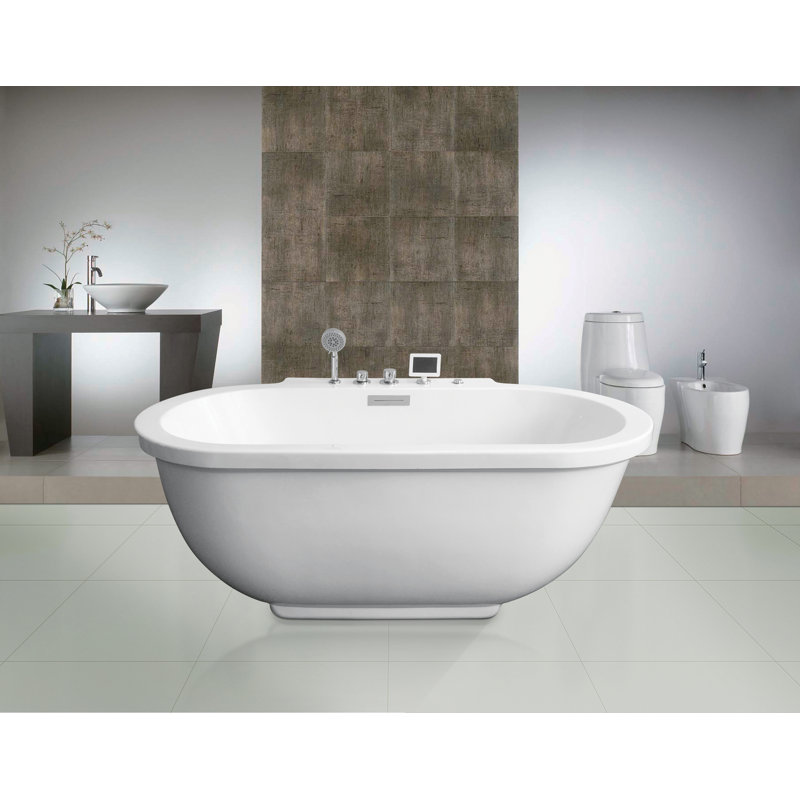 This bathtub is made from steel on the inside. It has a broken white porcelain finish on the outside. The combination between the steel and the porcelain making it both strong and charming at once.
At the side of the bathtub, you can see a chrome waterfall faucet. Besides the faucet, there is also a handheld shower there. By adding a handheld shower, Ariel Bath tries to provide a showering function to this bathtub.
For the bigger guys, do not worry about not being able to submerge yourself into this bathtub. It has a 91-gallon water capacity. This bathtub is also very easy to clean. The ozone disinfecting system and the pipe cleaning system on this thing will kill any germ and prevent mold growth.
The biggest plus you can get from this bathtub lies in its radio system. Yes, this bathtub comes with a radio so you can tune in to your favorite radio station while taking a bath. 
Highlighted Features:
A water massage system that is designed to calm your nerves senses
A built-in radio system so you listen to music while you relax inside the bathtub
A pipe cleaning system that keeps the hygiene of your bathtub
Pros of this Ariel Pedestal Whirlpool Bathtub
Large soaking area, suitable even for tall guys
Easy setup process
Cons of the Bathtub
2.  Ariel ARL-084 Whirlpool Bathtub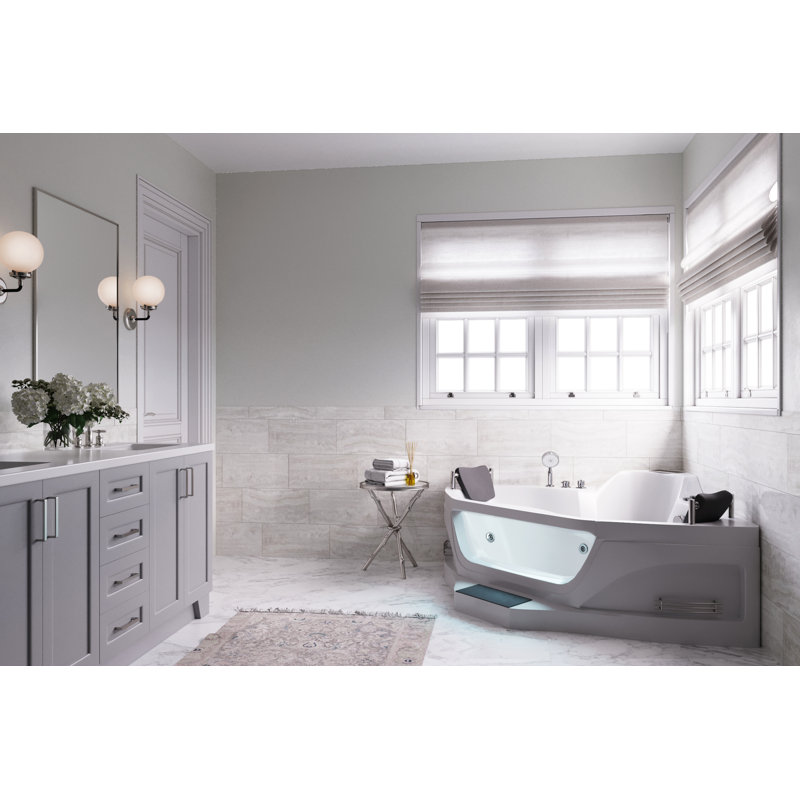 Now, let us move on to the Ariel ARL-084 Whirlpool Bathtub. This bathtub is made from fiberglass and acrylic, but it doesn't mean that it is made with cheap and flimsy stuff.
Ariel Bath has developed the materials used here so that it can still maintain its lightweight while keeping its strength. If you are still not sure about the quality of the materials, Ariel Bath provides a one-year warranty for this bathtub.
On the front side of this bathtub, you can see there's a clear panel. We must say this panel makes the difference. It enhances the modern look of this bathtub. Inside, you will find a 14-jet massage system that is ready to give you that soothing sensation. To use and adjust them, you just have to use the pneumatic button.
What's great about this bathtub is that you can fit two people inside it. It has two headrests too so you two can relax peacefully inside. If you love to share your bathing experience with your special one, you better get this whirlpool bathtub now. 
Highlighted Features:
Two-person capacity with two headrests
The material is sturdy and easy to maintain
Pros of this Corner Whirlpool Fiberglass Bathtub with Faucet Light Heater
Extra-large soaking area
Awesome massage feels on the back and shoulder area
Can be placed at any floor level because of its weight
Cons of the Bathtub
High demand from customers, making it hard to find it available anywhere
3.  Ariel Dual Walk-In Bathtub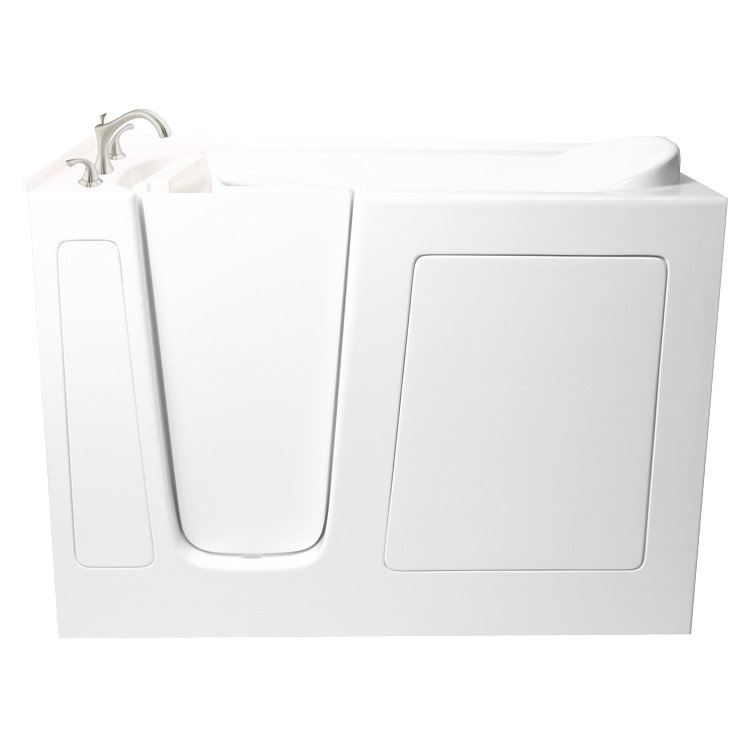 Unlike the two previous Ariel bathtub reviews, this whirlpool bathtub comes with a door on its side. This door is made for people with mobility issues and is designed so that water won't leak through it.
With the provided door, someone can easily get in and get out of this bathtub without having to jump over the bathtub's side. Unlike in a traditional bathtub, there is a seat inside this walk-in bathtub. In this bathtub, you take a bath in a sitting position instead of in a laying position.
With the easy getting in and getting out access and also the seat, this bathtub is perfect if you have an elder living inside your house as they will be able to take a bath with ease.
Moreover, Ariel Bath has equipped this bathtub with a 2HP heat pump. Since this bathtub has a 50-gallon water capacity, you'll need an extra heat pump to keep the water warm. Lastly, this bathtub comes with an-18 air jet system which surely will give you a pleasant massage and soothing effect.
Highlighted Features:
ADA compliant for people with movement issues
Sturdy stainless steel support frame
Pros of this Dual Air and Whirlpool Walk-In Bathtub
Works great for people with arthritis, especially those who need easy access and warm water features
Cons of the Walk-in Bathtub
The price is a little bit higher than other walk-in bathtubs on the market
Conclusion
With so many whirlpool bathtub models on the market, at times it can be tricky to pick the one that suits your needs.
You can use our Ariel bath bathtubs reviews above as a reference whenever you feel like you are having trouble finding a good whirlpool bathtub. If you finally have decided to get a whirlpool bathtub for your bathroom, don't forget to give it regular maintenance.
To avoid having buildups on your bathtub, especially on the jet parts, a weekly or monthly cleaning is a must. Lastly, always check for any leakage if you think something does not function properly and call a technician if you need any help.