More than just providing you with a way to relax and unwind, using a hot tub can have plenty of other benefits, especially when it comes to your health. However, installing one in your home can be expensive and might even need some special permits in some cases.
Fortunately, some brands of hot tubs like Evolution Spas provide you with high-quality home spas at an affordable price. They have a wide range of models available, each designed to cater to the different needs of their clients.
With that said, here are some reviews of the best hot tubs available in their product lineup, highlighting their features, pros, and cons. Also included is a comprehensive buying guide to help you make a more informed buying decision.
With that said, check them all out below.
Why Evolution Spas?
With all the other brands available on the market, why choose Evolution Spas for your home's hot tub?
Affordable – Compared to other hot tub brands, Evolution Spas ensure that their products are accessible even to those who are constrained by budget.
High-quality guaranteed – Evolution Spas only use high-quality components for their products, ensuring that you receive a relaxation experience like no other.
Durability and Longevity – Because of the aforementioned use of high-quality materials, this also ensures that any hot tub bought from them is incredibly durable and long-lasting, allowing you to enjoy your hot tub for a long time.
Environmentally-friendly – By using energy-efficient components, hot tubs from Evolution Spas ensure that you don't have to worry about the potential negative effects of your energy consumption on the environment.
You can never go wrong with one of Evolution Spas' hot tubs as their products ensure a superior quality relaxation experience at home and at a price tag you can afford.
Product Reviews – Top 7 Evolution Spas Hot Tubs
Take a closer look at some of their top products with this detailed Evolution hot tub review.
1.  Evolution Spas Rockport 27-Jet Plug-n-Play Spa
First on the list is the Rockport Plug-N-Play Spa which features 27 jets and is large enough to accommodate 5 to 6 people at once and requires around 300 gallons to be completely filled. It also comes with an energy-efficient pump with 2 choices when it comes to speed.
Aside from the speed choice, the Rockport Spa model also gives clients the choice between 2 types of seating upon purchase – a full-body lounger or a non-lounger unit.
Aside from this, this model features programmable underwater LED lighting whose color can be changed according to your preference, adding to the overall relaxing ambiance while in the tub. This, along with the overall functioning of the tub, requires around 120 Volts of power.
In terms of appearance, it features an exterior that mimics the look and feel of cobblestones, giving it a sophisticated and elegant look that blends well with any aesthetic.
What We Like:
Easy to operate due to its plug-n-play nature
Comes with a spa cover for protection
Affordable price for high-quality performance
What We Don't Like:
Can be a tight fit for several adults
Currently unavailable.
Check New Product: Evolution Spas Genesis 28 Jet, 5-6 Person Spa (New)
2.  Evolution Spas Monarch 90 Jet, 7-Person Spa
When it comes to top-notch relaxation, the Evolution Spas Monarch 90-Jet Spa is the product of choice. It comes in a stunning but realistic synthetic Provincial cabinet in Driftwood. Because of this, it enables one to enjoy the beauty of natural wood without the high maintenance.
Features of the Evolution Spas Monarch Spa
Has 91″ *91″ *36″ dimensions that allow for 6 to 7 adult seating
Has a premium three-pump system and 90 stainless steel jets located at strategic points for optimum relaxation
Provides a soothing atmosphere with clear sound from a Bluetooth system that includes a subwoofer and two topside speakers
Features multicolor, programmable LED lighting that enhances the spa's elegance and class
Comes with a UV/03 double sanitation system that provides water purification through ultraviolet light and ozone
Pros:
Has a three-pump system and 90 jets to provide maximum relaxation
Features a faster water purification system
Comes with four comfortable headrests
Has a manifold plumbing system ensuring equal pressure in each jet
Cons:
It is on the more expensive end of price points
Only has a 240V/50A electricity capacity that requires installation by qualified personnel
3.  Evolution Spas Key West 50-Jet Lounger Spa
Indulge in the ultimate relaxation experience and all at the comfort of your own home with the Key West Lounger Spa model from Evolution Spas. This square-shaped lounger spa requires around 400 gallons of water to be filled and is large enough to accommodate 6 persons at once.
It features 50 stainless-steel jets, each placed strategically such as near the neck and shoulders to help massage your sore muscles and joints, making it an effective way to relax and unwind after a long and hard day at work.
Further contributing to the relaxing ambiance, especially at night, are the multi-colored underwater LED lights which, along with the entirety of the tub, are powered by 240 Volts of power.
What makes this a great model is the inclusion of their Ozone Sanitation System which effectively eliminates any harmful germs and bacteria lingering in the water, keeping everything hygienic and safe for you and your loved ones.
What We Like:
Can accommodate up to 6 persons at once
Features 50 strategically-placed jets for the ultimate relaxation
Comes with a spa cover and steps for easy access and protection
Features both bench and lounge seats
What We Don't Like:
Can be difficult to move into position
Currently unavailable.
Check New Product: Evolution Spas Highlands 75 Jet, 5-Person Lounger Spa (New)
4.  Evolution Spas Impression 85-Jet Spa
What could make your hot tub better than by listening to some of your favorite tunes while you soak?
The Impression model from Evolution Spas doesn't just feature 3 pumps and 85 strategically-placed jets but it also has a built-in Bluetooth audio system that allows you to connect any Bluetooth-capable device and play your favorite music while soaking in the tub.
Its size and square shape are large enough to seat 6 persons at once and the built-in bench and lounge seats make it comfortable as well as relaxing inside. Compared to the previously reviewed models, it doesn't just feature underwater LED lighting but also exterior cabinet lighting that makes a sight to behold, especially at night.
What We Like:
Comes with a built-in Bluetooth-capable sound system
Included are the spa steps and cover
Features both interior and exterior lighting
What We Don't Like:
Can be a tight fit for some
Currently unavailable.
Check New Product: Evolution Spas Highlands 75 Jet, 5-Person Lounger Spa (New)
5.  Evolution Spas Hilton 120-Jet UV Spa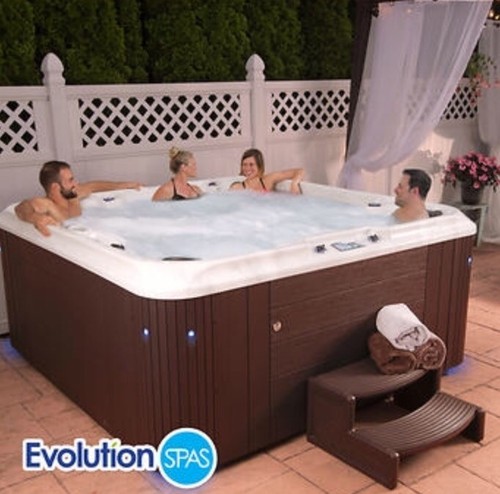 If you're looking for something a bit larger and more luxurious than the aforementioned models, then the Hilton UV Spa is the perfect upgrade for you. With its large space that's capable of accommodating up to 7 persons simultaneously, the Hilton UV Spa is definitely a hot tub that's meant to be enjoyed with some company.
It features 4 pumps and 120 strategically-located jets that gives its users a relaxing experience like no other. Each model gives you the option to choose between 2 colors and 2 types of seating – lounger or non-lounger.
For your added convenience and enhanced experience, the Hilton model also features not just underwater lighting but also lighted cup holders for your drinks as well as a Bluetooth-capable sound system that will allow you to listen to some music while chilling and chatting with your family and/or friends.
What We Like:
Comes with cup holders for convenience
Has a built-in Bluetooth-capable sound system
Provides more options when it comes to seating and color
What We Don't Like:
Access panel can be difficult to access
Currently unavailable.
6.  Evolution Spas Latitude 110-Jet Spa
Focusing on function without sacrificing luxury, the Latitude hot tub model from Evolution Spas features enough space to accommodate 7 persons at once by installing bench seats instead of lounger ones, giving enough room for the aforementioned number of people.
Although it features fewer jets than the Hilton model, this hot tub chose to put its focus instead on crucial areas of the body to make the most out of your hot tub experience. This includes loungers with wrap-around leg jets along with 4 pumps that effectively massage your sore leg muscles after a long day.
However, despite its increased focus on functionality, it still doesn't leave behind the concepts of luxury and pampering as it also has a built-in Bluetooth sound system that allows you to relax and enjoy your time in the tub. You can even enjoy it at night with its exterior and interior LED lighting, making it highly visible and adding to the relaxing ambiance.
What We Like:
Features wrap-around leg jets for focused messages
Comes with a built-in sound system with Bluetooth connectivity
Increased visibility at night with multiple LED lights
What We Don't Like:
More about function than luxury
Currently unavailable.
7.  Evolution Spas Oxford 121-Jet Spa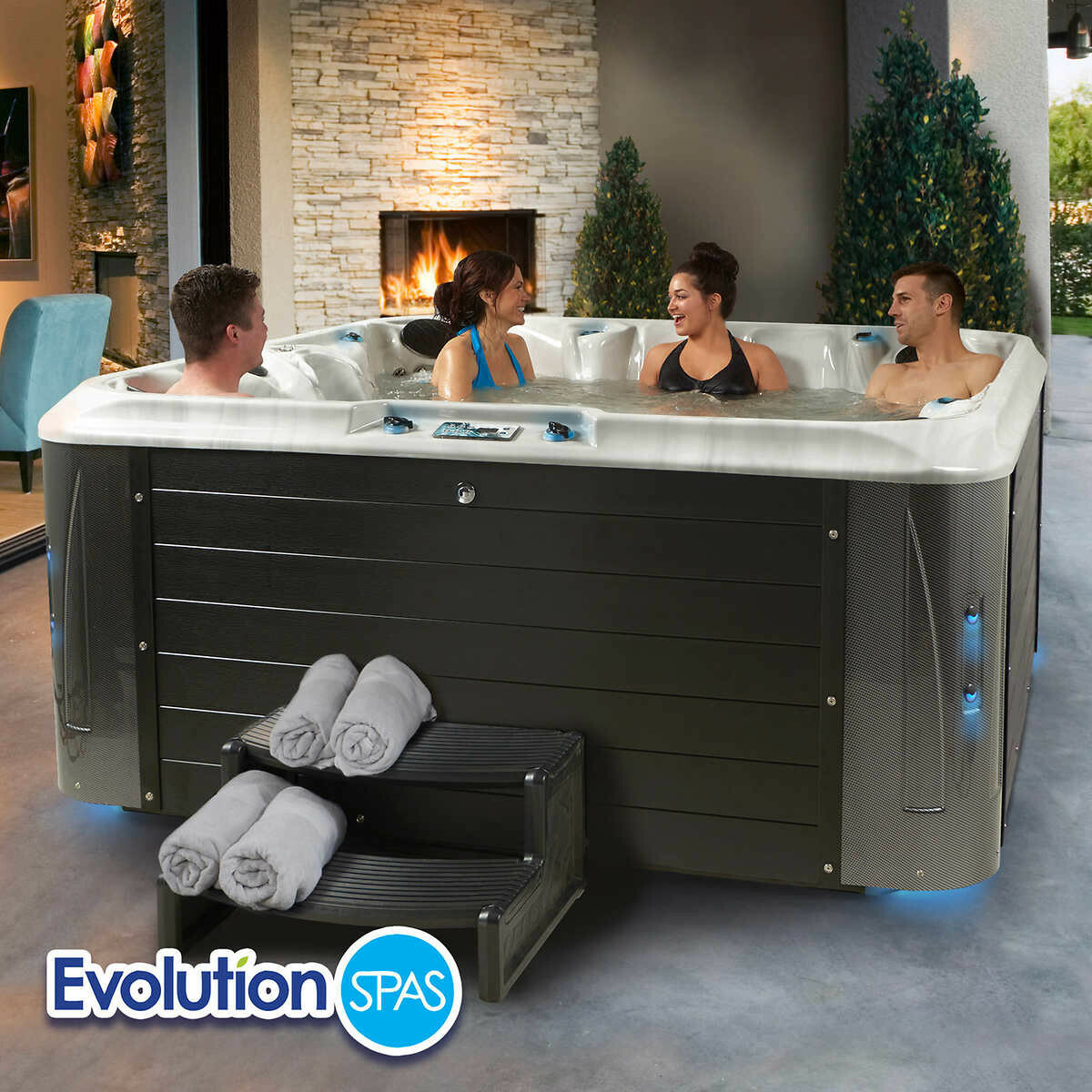 With its 121 jets, 4 pumps, and 7-person capacity, the Oxford hot tub model definitely more than enough to provide you with an amazing hot tub experience. However, Evolution Spas really steps up their game by adding more impressive features that made it the epitome of luxury and relaxation without going beyond the comfort of your home.
Aside from featuring a high-gloss cabinet exterior, the Oxford model comes with full-body loungers and 3 captain chairs that allow you to make the most out of the neck and shoulder jets in the tub.
Moreover, the highly efficient heater system allows you to use it even in colder months while the UV dual purification system enables it to keep the tub clean and hygienic by killing off the harmful disease-causing germs and bacteria.
What We Like:
Energy-efficient heating system for the colder months
Has additional luxurious features that provide the ultimate comfort and relaxation
Comes with an effective water purification system
What We Don't Like:
Currently unavailable.
Choosing the Best Evolution Spas Hot Tub
With the abundance of choices, it can be difficult to find the best model for your needs which is why you must consider several factors when choosing among all the available models
When buying a hot tub, you first need to consider who will be using it and how many of you will be using it regularly. That way, you're not wasting electricity by powering a large hot tub which will only be used regularly by 2 persons or squeeze in too many people in a tub that's meant for only a couple of persons.
The next thing you need to consider is the purpose of your buying a hot tub. Is it simply to help you relax and unwind? Is it for massaging your sore muscles after a long day? Or is it because you want something additional to your home?
Determining the purpose of your hot tub will allow you to consider the other factors more properly and allow you to find the best hot tub for your needs.
It's important to consider the number and kind of jets your hot tub will have as they tend to vary, depending on your needs. If you're hoping to massage specific areas of your body, then get a tub that has jets that focus on those areas.
Sanitizing your hot tub and keeping it clean and hygienic is important so you can enjoy your tub with no problems. When shopping for a hot tub, check out what kind of purification system it has and if it needs to use chemicals like chlorine to effectively work.
Of course, one of the primary purposes of hot tubs is relaxation so you should also consider the added features like sound systems, cup holders, and lighting that will help add and enhance the experience.
Frequently Asked Questions
What is the warranty?
The hot tubs from Evolution Spas have different lengths of coverage for each part.
Spa Cabinets have a 5-year structural coverage.
Spa Surface also has a 5-year coverage.
Ozonators and LED Lighting have 1-year coverage.
Plumbing and Equipment have 2-year coverage.
Spa Cover has a 1-year coverage.
Of course, the warranty only covers factory defects and doesn't cover damages caused by misuse or neglect on the part of the owner. Moreover, you will need to register your product within 30 days after purchase for the warranty to apply.
For a more detailed explanation of their policies, check out their warranty manual.
Do you have service technicians?
Yes, we do. If you need repairs done on your Evolutions Spas hot tub model, we have highly skilled and qualified Evolution Spas agents that can do it for you.
Can I order replacement parts?
As of now, there are no available replacement parts at the Costco website – the exclusive dealer of Evolution Spas hot tubs.
Final Thoughts
Hot tubs are a great way to relax and unwind after a long day at work. Aside from this, they also provide plenty of health benefits such as improving your blood circulation and alleviating the pain from various health conditions. However, they can be hard on the pocket, especially if you have budget constraints.
Evolution Spas provide their clients with high-quality hot tubs at an affordable price, making them more accessible to those with budget concerns. However, with their range of products, it can be difficult to choose the right one for your needs.
With these Evolution Spas reviews, you can take a closer look at their product lineup and make a more informed decision when buying your Evolution Spas hot tub.