Are you looking for the best low EMF infrared sauna? It's good that you're researching your options because the sauna will have effects on your health. This article will be giving some ideas on which saunas to buy. You'll also learn about what EMF and ELF are and how they could affect you.
Before going on to the details of electromagnetic frequencies, here is a list of the best infrared saunas on Amazon and Wayfair.
7 Best-Value Low EMF Infrared Sauna for the Money
1.  Durherm Infrared Sauna, Low EMF Negative Ion Portable Indoor Sauna.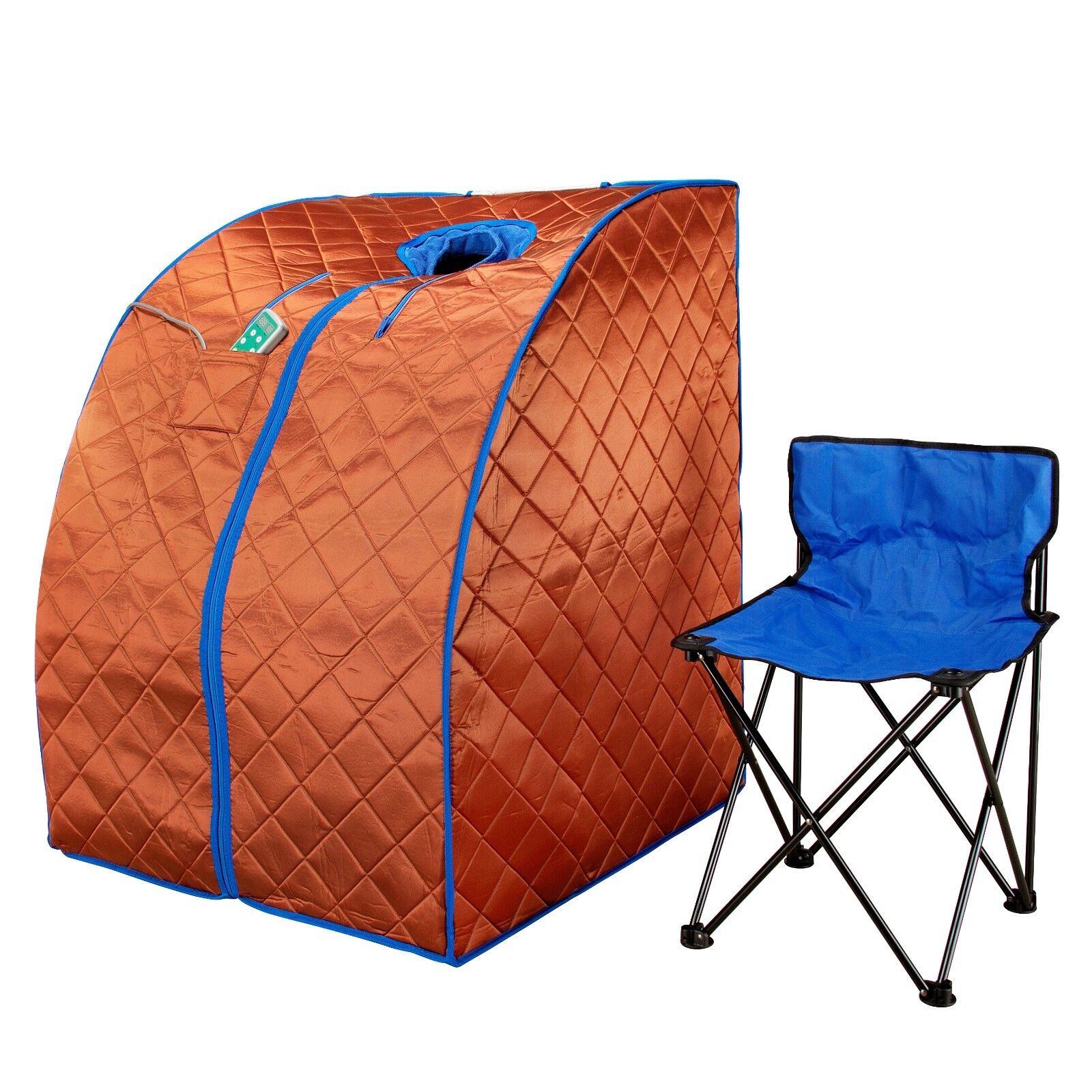 The Durherm Infrared Sauna is one of the best portable infrared sauna devices around. It's larger than the average portable sauna, so it provides extra leg room but is still compact enough to make storage easy. Those who have tested the product claim that it does have low EMF levels.
Best Features:
Heats up quickly
Large size
Foldable comfortable chair
Neck collars
Hand held timer and temperature controller
2.  JNH Lifestyles Ensi 1 Person NO EMF Far Infrared Sauna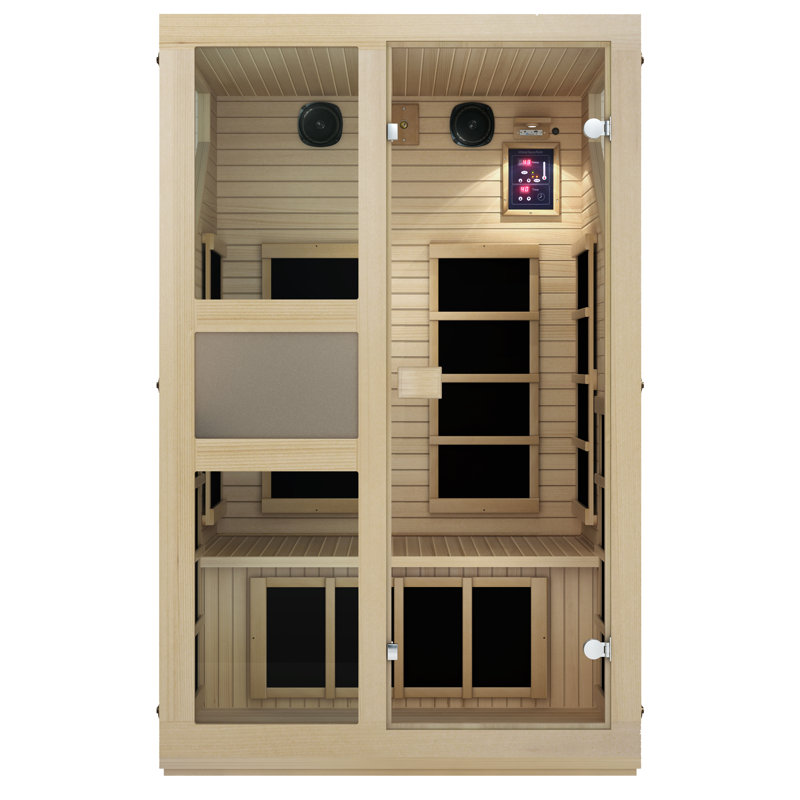 The JNH Lifestyles sauna is made of solid Canadian hemlock wood with no harmful chemicals. It has dual walls and safety glass to insulate heat more effectively. Thanks to its design, anyone can assemble it without using tool. All you have to do is to connect the panels.
Best Features:
Easy-to-use control panel
Long-lasting red LED lights
Solid wooden structure
Tools-free design
Greater spa visibility
Comes with remote-controlled two Bluetooth speakers
3 year warranty and tech support for life
3.  JNH Lifestyles NE2HB1 NE2HB Far Infrared Sauna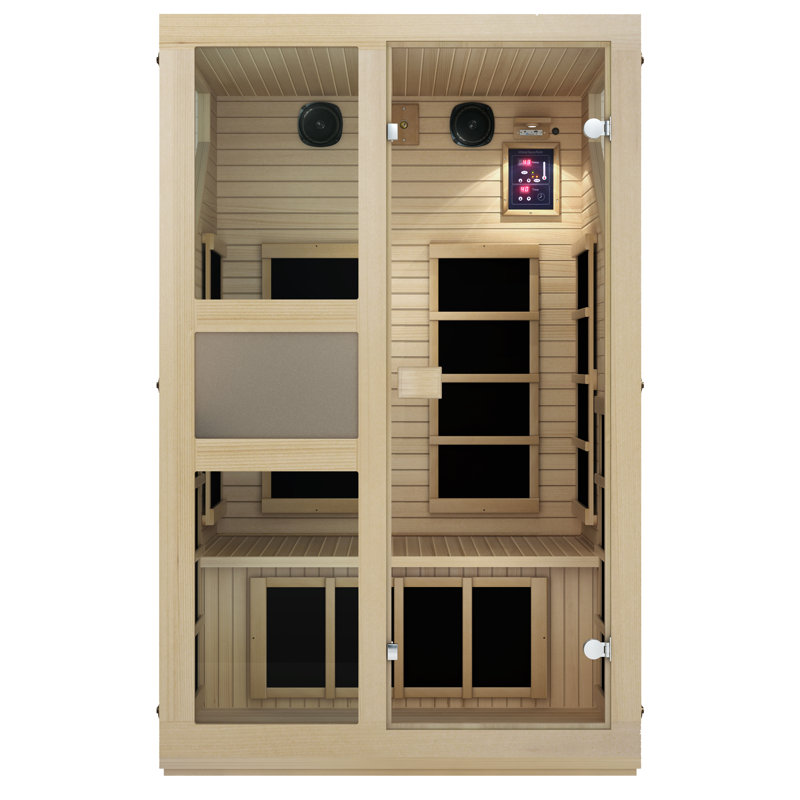 The NE2HB1 NE2HB Far Infrared Sauna is similar to the ENSI collection 1 but it can accommodate two or more people. It has heaters at the calf, side, and back areas to distribute heat more broadly. It also has a warranty of three years and lifetime technical support.
Best Features:
Same as with the ENSI Collection 1 person sauna
Can be squeezed into tight spaces
Warranty:  3 years and support
4.  Dynamic Andora 2-person Low EMF Far Infrared Sauna
The Dynamic Andora is a two-person infrared sauna that is made from natural Hemlock wood. It has clear glass doors and side windows. The manufacturer claims that it has heating panels that are 30% bigger than ceramic tube heaters. Because of this, the heat penetrates skin at depths that are 40% more than what other saunas achieve.
Best Features:
Has 6 infrared heating panels (2 on the back, 1 on each wall, 1 underneath the bench, and 1 on the floor)
Tempered glass windows and doors
"Soft-touch" panels with LED display
With music system
How To Assemble Your Dynamic Far Infrared Sauna
Check out: 2020 Model Dynamic 1-2 Person Near Zero EMF FAR Infrared Sauna 6 Heaters NEW!
5.  Dynamic Saunas Maxxus 3 Per Low EMF FAR Infrared Carbon
The Maxxus three person sauna measures 5 feet by 5 feet by 6 feet. It's advertised to help remove toxins and improve blood circulation. It can also soothe aching muscles and joints, burn fats, and enhance skin tone. Like with the other saunas on the list, it is made of reforested hemlock.
Best Features:
Extra large size that can fit three people or more
Relaxing spacious design
Sturdy structure
LED colors can be changed
Has radio with CD player and auxiliary port
Tempered glass with bronze tint on door and windows
6.  Sunray Sequoia 4 Person Infrared  Sauna with Carbon Heaters
The Sunray Sequoia can fit 4 people at the same time. It has 10 infrared heaters that disperse the heat evenly. It is built from red cedar wood that has a natural scent. The product meets electrical safety standards, has a 7 year warranty and is guaranteed to be free of defects.
Best Features:
Measures 69 x 53 x 75 inches
Simple yet stylish
Fragrant wood
Quality guarantee
Long warranty period (7 Year Structural Warranty)
7.  Dynamic Saunas Monaco 6-person Near Zero EMF Far Infrared Sauna
Golden Design's Monaco is a 6-person portable sauna with a wooden structure. It has 15 heating panels. Its thick interior and exterior walls ensure warmth despite the space being large. Unlike water and rock saunas that use 200 degrees Fahrenheit heat that doesn't penetrate skin, the Monaco operates at 130 degrees Fahrenheit with the heat reaching more deeply into the body.
Best Features:
Can accommodate 6 people at the same time
Reclined beds
5 inch monitor to watch movies
Assembly can be done in an hour or less
Take note that these are just some examples of portable saunas. An online search for the "best infrared sauna" will yield more results.
Although you may have some ideas on what to buy, you can benefit more by learning more about EMF and ELF. EMF and ELF are all around us, and although they are invisible, they can affect us a lot.
What are EMF and ELF?
EMF is short for electromagnetic fields, which are unseen forces that surround electrical devices. They are produced by electric currents, which are created by the motions of electrons within a wire. Electromagnetic fields have electric and magnetic components.
Electrical equipment, electrical wiring, motors, and power lines produce EMF. Electrical substations, antenna, microwave, and radar towers also produce EMF.
Common household sources of EMF are fluorescent lights, dimmer switches, cellphones, computers, blue-tooth devices, Wi-Fi networks, TVs, microwave ovens, and electric blankets and heaters. If you use metal pipes for your plumbing, it can conduct EMF from a nearby electrical source as well.
Most electrical items such as the ones mentioned above give off a kind of EMF called ELF. ELF is an acronym for extremely low frequency and it describes a type of radiation. To explain, radiation is the emission of energy from a source, and it can involve very low to very high bursts or frequencies. ELF in particular is at the low range of the spectrum.
ELF is non-ionizing radiation. It can make atoms vibrate slightly but they do not contain enough power to move electrons or damage DNA. Thus, it's considered as mostly harmless.
In contrast, ionizing radiation such as ultraviolet rays and x-rays can remove electrons from an atom and destroy cells and the DNA inside them. When the DNA gets affected, the cells may mutate and turn into cancer.
Ionizing radiation sources are sunlight (which has ultraviolet rays), X-rays, and gamma rays. These belong to the middle to higher range of the electromagnetic spectrum. You can protect yourself from these rays by using sunblock, or in the case of the more powerful rays, shielding yourself with thick lead, steel or concrete.
Radiofrequency radiation includes television and radio signals, cordless phones, computer, laptop, and TV screens, microwave ovens, wireless local area networks, cellphone base stations, and smart meters (devices that measure gas and electricity).
You can check the amount of EMF in your environment by using an EMF meter or a gaussmeter. If you want a professional to do it for you, call your local electric company.
According to NIEHS, these are ways to estimate EMF exposure:
Considering the power lines' characteristics (wire configuration, thickness, etc.)
Measuring EMF for short periods of time at a location
Monitoring the EMF in a location during different time periods and getting the average
Wearing an EMF-measuring instrument
Making mathematical calculations using the historical load of the power lines
The Effect of EMF/ELF on the Body
The potential effects of EMF/ELF vary depending on the intensity (strength) and frequency (speed) of the fields.
Harmful EMF levels may produce immediate burns. On the other hand, low level EMF levels may have observable effects only after long periods of time.
ELF can cause a tingling sensation. The currents can go through the body through a point of contact such as the hands or feet.
According to the National Institute for Occupational Safety and Health (NIOSH), the link between ELF and certain harmful effects to human health has yet to be established. But there are others who say that it carries some risks.
The United States Department of Labor states some possible side effects of ELF:
Cancer
Reproductive changes
Neurological damages
Cardiovascular problems
Brain and behavior abnormalities
Hormonal changes
Immune system issues
Other symptoms that may have been caused by EMF are the following:
Stress
Headaches
Memory Loss
Chronic fatigue
Muscle pains
Depression
Distractibility
Irritability
Sleeping difficulties
Skin prickling
Rashes
Burning sensations
Electromagnetic hypersensitivity (EHS) is a theoretical sensitivity to electromagnetic fields. It does not have a scientific basis yet, but some individuals think that EMF is causing their problems. According to a survey, EHS sufferers link their symptoms to cellphone base stations, cellphones, cordless phones, and power lines.
Early studies done during the 90's failed to confirm a link between EMF exposure and breast cancer, brain cancer, and leukemia. But the National Institute of Environmental Health Sciences (NIEHS) says that more studies are needed and people should find ways to reduce their exposure to EMF, especially because these fields have become more widespread than ever.
The International Agency for Research on Cancer (IARC) considers radiofrequency EMF as a potential cancer-causing agent. According to a study, people who used their cellphone a lot increased their risk for developing gliomas (brain cancer) by 40%.
The National Cancer Institute lists several studies that show an increase of childhood leukemia among those who have experienced high levels of EMF. It also mentions that there is one study that showed a relationship between ELF exposure and breast cancer.
Infrared rays, a form of EMF, can cause heat injuries in the eyes. Fortunately, the effect diminishes as the distance to the infrared sources increases. This is why welders cover their eyes with tinted glasses while others don't have to.
The lower range of infrared will not have the harmful effects of higher range infrared. That is why saunas use the far infrared frequencies and they keep the source of the infrared away from plain view.
Shortwave diathermy (SWD) is on a higher frequency than infrared but has similar effects. It is used for warming up muscles for relaxation and pain relief. Shortwave frequencies are from 1.6 to 30 megahertz (MHz). But the Federal Communications Commission (FCC) has given three safe frequencies for use – 13.56, 27.12, and 40.68 megahertz (MHz).
Ultraviolet light causes sunburns, skin problems such as freckles, moles, liver spots, and wrinkles, and skin cancer. It can cause eye problems like cataracts and blindness. Fluorescent light may leak UV rays when it does not have appropriate coating.
Note that the higher range of EMF is more dangerous and more likely to cause the problems listed above. As an example, lasers are a form of EMF that can cause fires. But you don't have to worry about high EMF with saunas, especially with a no EMF far infrared sauna.
Static electric fields associated with EMF can cause electric shocks. Static magnetic fields can cause magnetic items to move rapidly and cause injuries. Although these fields may be harmful, the National Cancer Institute says that their ability to cause cancers can't be determined. These risks are irrelevant if you purchase a good quality product.
Conclusion
Infrared in general is a safe kind of EMF for as long as you don't view the heat source directly. Its main purpose is to create a warming effect for therapeutic purposes. Short wave diathermy is similar to infrared therapy. However, it uses higher frequency wavelengths that aren't as safe as infrared.
The best low EMF infrared sauna products will have mostly positive feedback. Some manufacturers will also provide thorough explanations about how their devices work. To help you decide which to buy, consider whether the sauna has a warranty and is covered.