You may have already heard about the benefits of bathing in a steam sauna. That's why you are here. How it burns fat and removes toxins from your body makes you want to do it more often. Luckily, a portable steam sauna is up for grabs on the market. It is easy to carry on a trip or stow away at home in a snap.
As an investment on your health, you have to call dibs in the best portable steam sauna. There are various kinds of home sauna only to confuse you. Get clarity by knowing more. Read below.
Reviews of Top 7 Portable Steam Saunas
Let's compare the hottest lightweight saunas on the market. Hopefully, these reviews will help you find the best portable steam sauna for you.
1.    Durherm Silver and Blue Portable Home Steam Sauna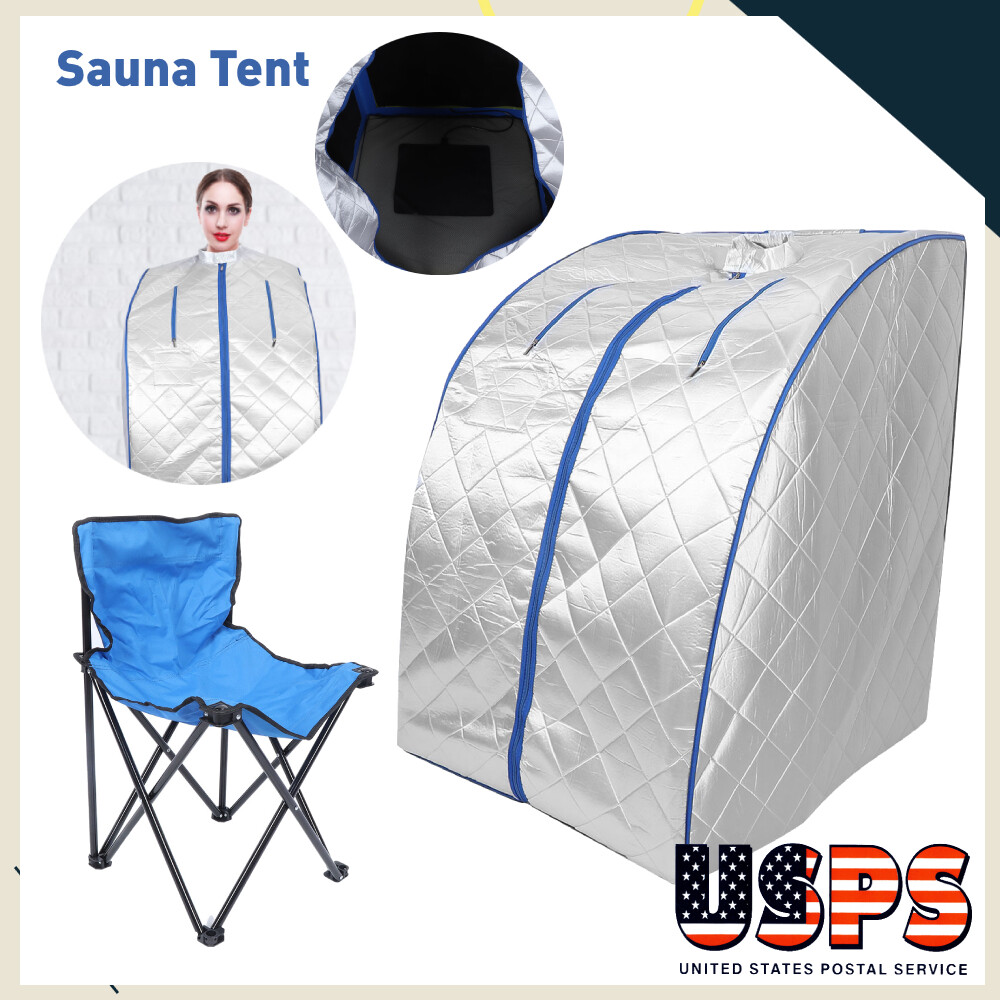 This silver portable steam sauna with blue outlines stand 28-inches long, 33-inches wide, and 43-inches tall. It is equipped with an 800-watt external steam generator. The steam heats up to 113 degrees Fahn. It is easy to set up.
You will need plain tap water, a garden seat, a towel, and a power source of 110 volts. Condensed water build-up can easily be wiped with a towel.
The external steam generator makes the sauna safe for the user.
The lightweight design makes it easy to carry around.
The steam generator is energy-efficient.
2.     Durasage Lightweight Personal Pink Steam Sauna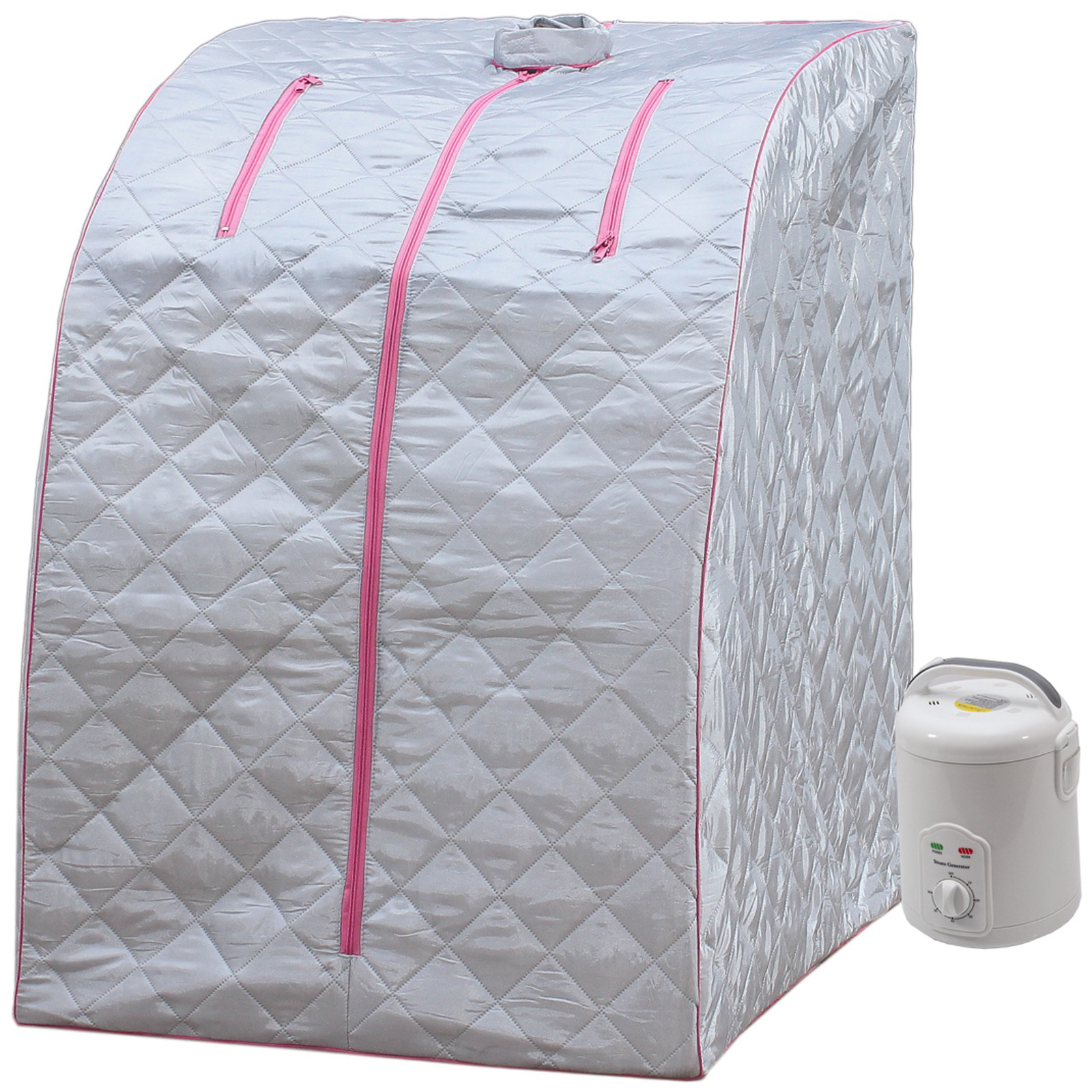 Durasage's foldable sauna tent uses steam to about 113 degrees Fahrenheit. You can set the timer up to 60 minutes. To enjoy a steamy bath in this sauna, you will need a seat, towel, and plain water.
The steam generator sits outside of the unit, so you are safe from the possibility of being burned. You can add essential oils to the water to enhance your bathing experience.
A separate steam generator lessens risks of burning.
The sauna can be easily wiped clean with a towel.
Weighs only about 10.85 pounds
3.     Portable Therapeutic Steam Sauna by AW
Purchase of this pretty blue and pink portable sauna comes with a chair, steam pot, and foot massager. The large-sized folding chair is packed in a bag, which makes it easy to carry around.
The frame is detachable for storage ease. You can set up the sauna tent in 10 minutes. For a soothing experience that fits your needs, you can adjust the temperature in nine levels. A timer can also be set in six levels.
The unit already includes chair and foot massager.
The detachable frame makes it easy to assemble and dismantle.
The 2-liter steam pot is equipped with a digital display and can be remotely controlled.
The product is Currently unavailable.
4.     WYZworks Portable Spa Room
This neon blue-colored portable steam sauna is designed with a head cover that is perfect for a facial sauna. The tent stands 33x29x39 inches. It includes a chair that has dimensions of 11x12x24 inches.
Powering the unit requires a voltage of 110. The timer can be set from 10-100 minutes. You are allowed to set two power levels: 750 and 1050 watts. The water reservoir can be filled up to two liters. An herb box is also provided to enhance sauna experience.
The unit includes a head cover for those who want a facial sauna.
Auto turn-off setting when the water level is low will keep you safe.
The sauna's cover is waterproof.
The product is Currently unavailable.
5.     Coffee-Colored Portable Steam Sauna by Giantex
Power level and time can be adjusted using a remote control that is included in every purchase of the Giantex sauna. Temperature can be controlled up to nine levels. The unit includes a chair and a foot massager. It can accommodate up to 220 pounds.
The tent is 40.5 inches tall. The steam can heat up to 116.6 degrees Fahn. The unit requires 120 volts and uses 25-900 watts.
Settings can be remotely controlled.
The unit includes a chair and foot massager.
Inside frame can be easily set up.
The product is Currently unavailable.
6.     Portable Therapeutic and Slimming Steam Sauna Room
This portable steam sauna stands 38-inches tall and 29-inches wide. It is equipped with a two-liter 800-watt steam generator. The unit includes a foldable chair, a wooden massager, a steam pot with an herbal box, and a remote control.
The steamer has an auto turn-off setting when the water is low. Its frame simply unfolds when opened. You do not need to deal with corner connectors to set it up.
The steam pot includes an herbal box for experience-enhancing fragrances and herbs.
The auto turn-off setting assures your safety.
Frame design eases the burden of unfolding the tent.
7.     GC Global Direct Portable Detox Steam Sauna Tent
The tent of this portable steam sauna is made of cotton and plastic trestle. These make up a waterproof covering. The unit comes with a folding chair and a foot massager that enhances sweating.
Voltage requirement is 110. Power can be adjusted from 100-1000 watts. The timer can also be remotely controlled up to 60 minutes with an interval of 10. The steam pot is designed with a digital display.
The power level and timer can be easily adjusted with a remote control.
The digital display on the steam pot allows you to keep track of its settings.
The foot massager enhances sweating and removal of toxins.
The product is Currently unavailable.
Portable Steam Sauna FAQs
First, let's answer your questions and get them out of your head once and for all.
1. Will I get the benefits of a traditional steam sauna in a portable one?
Like the best traditional steam sauna, the smaller portable one can deliver the same benefits. It can make you sweat in the same way to improve blood circulation and remove toxins. While a portable sauna is cheaper, the traditional set-up may last longer, even up to 10-20 years.
However, that does not mean a portable sauna will wear out in less than a year. The best ones will still work for you for a long time.
2. How is a portable steam sauna different from a portable infrared sauna?
A steam and infrared sauna offer almost the same benefits. The main difference is in the way they warm up your body.  Steam saunas employ large amounts of heated steam, which creates a humid experience. Infrared saunas, on the other hand, rely on infrared heaters. These types have a milder temperature environment.
Portable steam saunas look similar to its infrared counterpart. They are enclosed in the same fabric and locked with a zipper. They both have cutouts for your arms and head. Infrared heating units are inside the unit. In a portable steam set-up, the steam generator sits outside the enclosure.
3. How does a portable steam sauna work?
Portable steam saunas are usually plugged into a conventional electric outlet. Then, steam is produced via a water reservoir. The sauna is equipped with a steam generator that sits outside the unit. It pumps steam through a pipe that goes from a side hole. To make it work, all you need to do is add water and plug it in.
4. Where can I set up my portable steam sauna?
Any surface is fitting for a portable sauna. It is safe to stand on tiles, laminate, or any concrete. However, be wary of the possible minor flooding it could cause. That is why a carpeted floor is not the best option.
When steam is used for sauna bathing, condensed air may build up and wet the floor. This situation can easily be remedied though. Just place a towel under the pipe to absorb moisture.
5. How do I stow away my portable steam sauna?
Different models may vary slightly, but the process of folding them is very similar. Bending it over on itself is almost like folding a collapsible laundry basket. Push inward on a corner and then press it flat. Next, start folding on one corner until it is small enough to fit the case. Do not worry; specific instructions are surely provided in the manual.
6. How do I maintain my portable steam sauna?
It is best to consult the manual to know how to wash the sauna. Generally, portable saunas are washable by a machine. Often, they are recommended to be air-dried. Some manufacturers suggest wiping the canopy with a rubbing-alcohol mixture.
Antibacterial and antifungal solutions are also recommended. Steam generators and water reservoirs can also be sanitized using these mixtures. Do not forget to clean the stool you sit on, too.
How often you clean your sauna depends on the frequency of use. If used daily, clean it every couple of weeks. It is advisable to clean it once a month if you use the sauna twice or thrice a week.
Conclusion
The best portable steam sauna is one that is durable, safe, and convenient. Saunas that have external steam generators are designed such to prevent risks of burning. The saunas reviewed all have the same design. They aren't among the top buys for nothing.
To pick the best among the best is only a matter of voting for extra comfort and safety. This is why the WYZworks Portable Spa Room is worth your investment. It does not only ensure the best spa experience; the auto turn-off setting guarantees safety as well. As a plus, its cover is waterproof. For its price, you are truly getting a good deal with this model.