Soaking in a hot tub is good for your health and wellness. However, it can get too expensive if you must go to a spa too often. It is good to go to spas occasionally, but have you ever considered getting your own hot tub at home? Truth be told, it is much cheaper and just as beneficial.
Finding the best inflatable hot tub is not an easy task because of all the options available in the market. You must have looked up so many products and its features that you are even more confused about which one would be the best to purchase.
This article will cover the top 6 Coleman hot tub reviews to help you make a wise decision so that your money will not go to waste.
Why Choose Coleman Hot Tub over Other Brands
Coleman is a popular brand that sells products for outdoor activities. It has been around for more than 100 years.
You have probably read several reviews about Coleman hot tub units already before reading this article. But in case you do not know yet, all Coleman's products are taken through the quality control to ensure that they are of good quality and in the right working condition.
Lastly, the brand is best known for its reasonable pricing, well-thought-out product design and functionality, and long-lasting products.
Best Coleman Hot Tub Reviews
1.  Coleman Palm Springs AirJet Inflatable Hot Tub Spa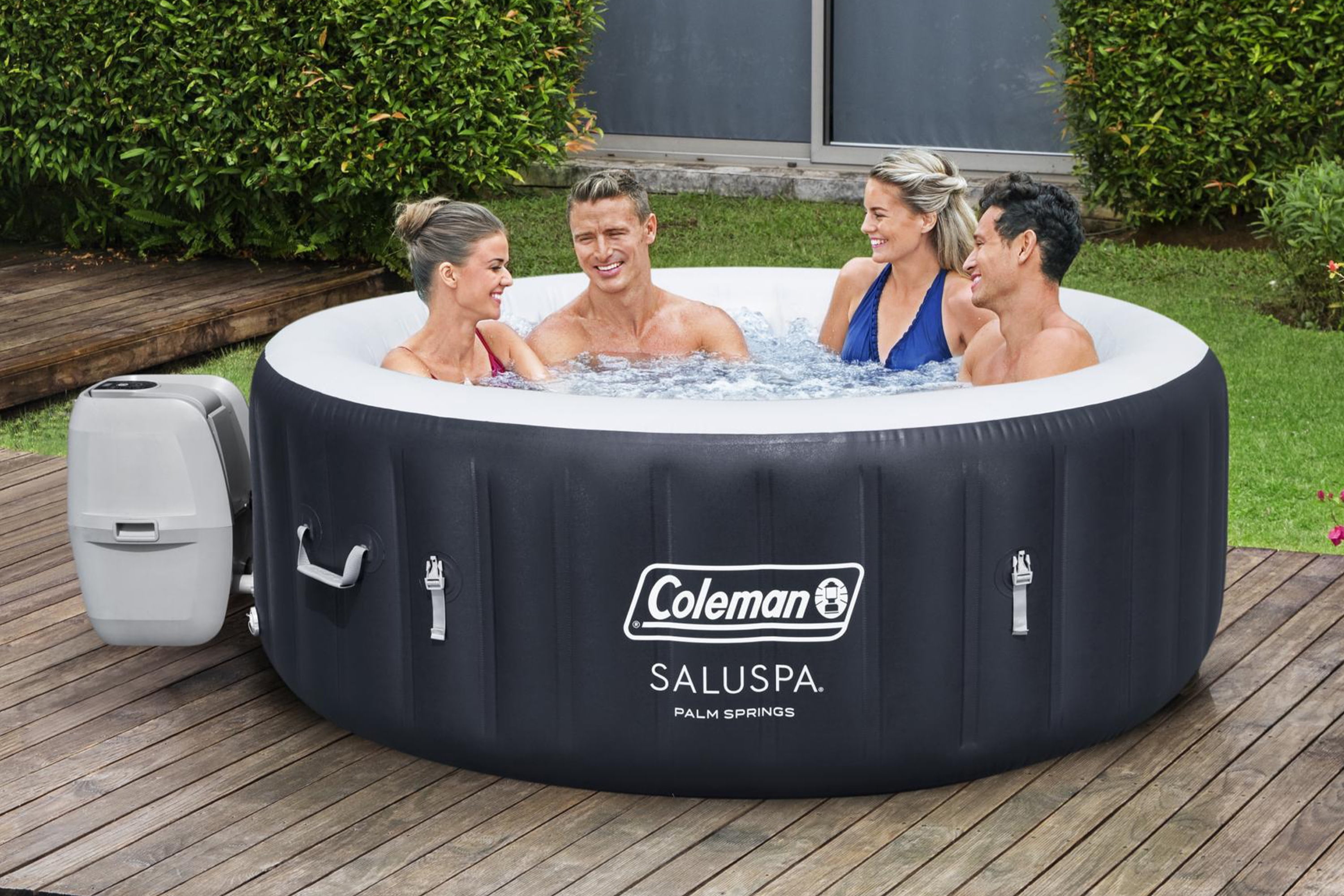 The Coleman Palm Springs Airjet Inflatable Hot Tub is a soothing spa unit you can install right in your backyard. It is a durable, easy-to-set-up, massage-equipped hot tub you can enjoy with your friends and family.
Coleman is a company that offers camping gear and backyard equipment that caters to your comfort needs. They offer a variety of products that take you on an adventure inside your own area. Their inflatable hot tub does just that as well.
Pros:
This air jet tub offers everything you could ask for in a backyard spa, with important features so you can get your relaxation on.
Durability: The Coleman hot tub is made with puncture-resistant DuraPlus material that protects it from stretching and expanding so it can maintain its shape no matter how many times you inflate and deflate it. This material is used on the inflatable walls and internal beams of the spa.
Capacity: Its 77 by 28-inch size lets it hold up to 6 adults at a time, with enough space for each person, and it can be filled to about 80% with water.
Inclusions: The tub is not only good for relaxing and fun, but it also comes with other items that will take away the hassle of maintaining and storing it.
Cons:
Even with its great features, this unit still comes with some disadvantages.
Hardware: There has been feedback on the filter and pump being a little faulty. You might need to change your filter often and the pump tends to leak.
Space: The tub is big, so you need ample space to cater to it, and since it is inflatable you need to place it in an area where it is away from any sharp objects.
Level Ground: You want to make sure that your tub is placed on a level surface so it doesn't tip over, putting it on unlevel ground might expose it to the risk of damage.
Verdict
The Coleman air jet hot tub has a lot of great features and it offers you relaxation and massage therapy in your backyard, it might be one of the best inflatable hot tubs on the market. It is not only a great product, but it will also give you the best bang for your buck.
Who is this product for?
The hot tub is perfect for family gatherings or relaxing with your friends, maybe you just want to relax by yourself. Whatever you need it for, this spa unit is just right for anyone.
Key Features
The Coleman Palm Springs air jet hot tub offers you a lot of benefits to give you the full spa experience, here are the key features that make it the best choice for you:
Airjet System: The spa is equipped with a massage system that blows bubbles from the bottom of the spa which releases from 140 jets. This bubbling effect will help you relax and unwind.
Set up: The tub is inflated using an air pump which also comes packaged with it. The pump also heats, runs the filter, and controls the massage system. So, it is both easy and convenient.
Water Maintenance: A dispenser that evenly disperses the proper amount of chlorine to maintain clean and healthy water is also included. It also has a reinforced cover that locks in the heat and keeps debris and dust out when it is not in use.
Unboxing And Setting-up The Coleman Saluspa Palm Springs Spa
Customer reviews
Drema, Walmart: This is my 4th inflatable Hot Tub. The price has been comparable on all four. I do have to say that the quality of this Coleman is superior to all the others I have had in the past. The size is also larger. I set it up in spare room with concrete floors. It was very easy and so far, maintenance has been very easy. Highly recommend.
Olivia, Walmart: had it up for one week before the pump started leaking bad. There was also a giant air bubble in the liner which was annoying when sitting in it. I love the hot tub but it sucks waiting on the warranty after only having it a week.
FAQs
How do I set it up? You just need to hook it up to the air pump and watch it inflate, it is quick and easy.
Do I need to buy anything else? Every purchase of the item comes with an air pump, filter, chemical dispenser, and cover.
How much water does it need? With its size and capacity, the tub needs about 242 gallons of water.
Read more: The Ultimate Coleman Palm Springs Airjet Hot Tub Review
2.  Coleman Miami 4-Person 60-Jet Inflatable Hot Tub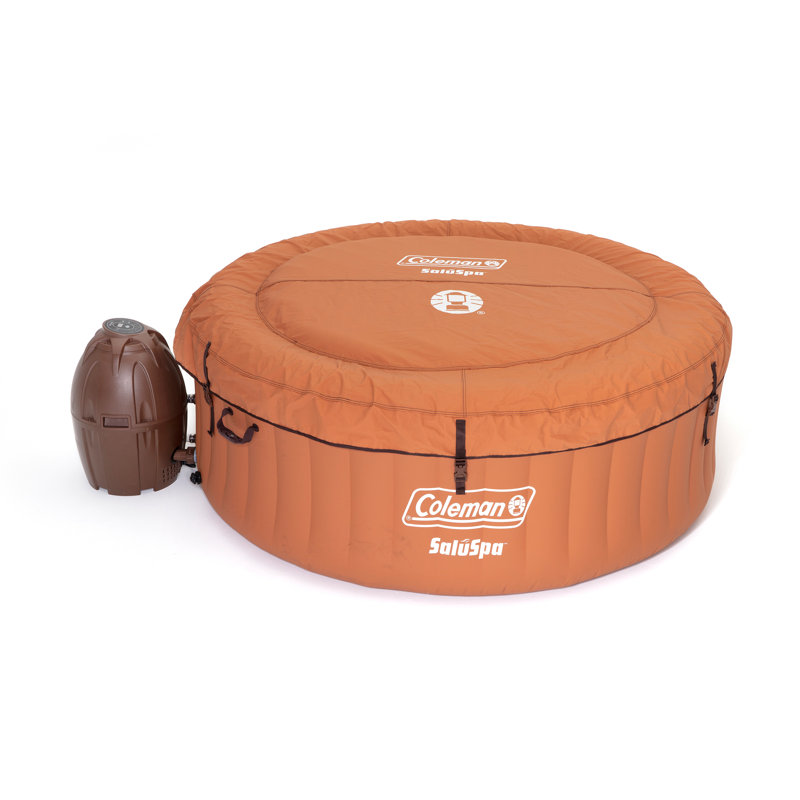 Coleman Miami 4-person is an outdoor hot tub spa that offers maximum relaxation for its users. This incredibly hot tub spa is manufactured and branded by Coleman.
Things We Liked:
Rapid heating system
Easy to assemble
Portable hot tub
Lightweight
Easy to use pump interface
Easy to drain and refill
Things We Disliked:
Not well-insulated top
In the cold, it will not heat with the top off
This product is suitable for small families because it has a maximum capacity of 4 people. Coleman Miami 4 person hot tubs measure 71 inches *26 inches.
Features
Button control- It is easy to control because everything works at the touch of a button. The fast heating system (heat from a range of 40-104 degrees Fahrenheit), massage system, and water filtration system all work when you press the button. Pressing a button is not a strenuous activity.
Cushioned floor- the floor offers maximum comfortability to the user. You sure would not want to be in a hot tub that makes you uncomfortable. The cushioned floor has a drain valve that is used to drain water from the water tub.
The aluminum cover-the cover is made of aluminum foil coating that is an insulator. It prevents heat loss to the environment. This is convenient because it saves you the time you would waste for reheating instead of just hoping in hot water. The cover has lock clips and an in-built air chamber for insulation, ensuring heat conservation.
Inflates and Deflates- The Coleman 4 person hot tub spa has a pump used to inflate and deflate. You will not have to waste your time trying to look for a pump because it is offered with the package.
Construction-The hot tub spa is constructed in such a way that it is comfortable and durable. The walls are three plies ultraviolet TriTech inflated. The walls are designed to withstand the pressure of water. They also prevent damage and help the tub secure its shape. It has two lift handles that make it easier to move the Coleman Miami, 4 person, when empty. It can carry a maximum capacity of 177 gallons of water. The total number of jets is 120.
Heating and bubbling- the heating and bubbling feature provides a Zen feeling. This combination is also helpful for massage, and it offers an impressive hydrotherapy experience. If you are looking to relax your muscles, this product might be the one you are looking for.
Setting Up A Coleman Saluspa Miami Air Jet 4 Person Hot Tub
Customer reviews
The Coleman Miami reviews from online websites can help you decide on this product. They are as follows:
"If you have money to buy this, then do it. I will probably carry this anywhere and use it in the summer. It is good for 2-3 people and you can fit it anywhere. The hot bathtub will occupy all your deck space so be sure to buy this product because it will come in handy."
"Perfect choice for my wife and I. Perfect temperature, easy to assemble, and powerful bubbles. The cover was a good bonus. I had not enough money to install a hot bathtub in my house but this product is a lifesaver."
"The packaging says it is a 120 jet but the product itself has 60 jets."
Read more: Coleman Miami 4 Person Product Review
3.  Coleman Portable Outdoor 4-person Inflatable Hot Tub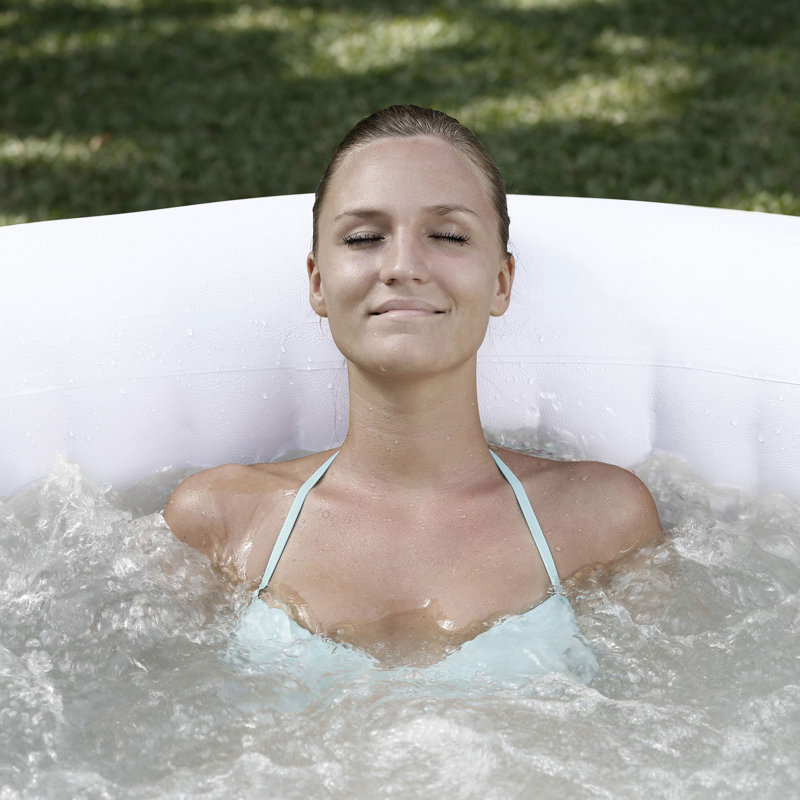 The portable outdoor 4-person inflatable hot tub is manufactured by Coleman which is the leader in outdoor recreation products since 1900. Aside from camping gear, they also make small boats, lighting, and other camping essentials. Their brand stands for toughness and durability for outdoor use.
This is translated on how the Coleman portable outdoor 4-person hot tub is structured and what materials are used. Let's see what makes it stand out and what it lacks.
Amazing Features:
Save on energy with the timer-controlled heating system
Durable tub cover with safety lock clips and built-in air chamber
Cushioned floor with a drain valve
Weak Points:
Can't be used when the temperature is less than 39 degrees Fahrenheit
The timer for the heat pump and filter must be reset every day
Key Features:
Inflatable and large enough for multiple people – The Coleman portable outdoor 4-person inflatable hot tub comes with a travel-friendly spa pump that will inflate the tub in minutes! It's portable, easy to set up, and can comfortably seat 4 adults.
Airjet System and Rapid Heating System – The AirJet system has 114 air jets surrounding the tub while the rapid heating system quickly warms up the water up to 104 degrees.
Durable materials and good build – Coleman's portable outdoor 4-person hot tub is made of puncture-resistant Tritech material. It works great with the superior I beam construction that bears the pool's weight.
Besides, it's one of the best portable hot tubs right now. It is packed with features and very convenient to set up. However, if you live in a state with heavy winter snow, it can be frustrating since it can't be used in extremely cold temperatures.
Who is it for?
Coleman portable outdoor reviews say that it's best for people who don't want to commit to a large tub yet. It can be deflated and stored during winter and can be rolled out from summer to fall. You can also change locations within the house or carry them when traveling to another place.
Customer Feedback
Most of the Coleman SaluSpa 4 Person Square Portable Inflatable Hot Tub reviews have rated it 5 stars. Here are some of them:
"I have fibromyalgia and this hot tub lets me exercise without pain!" – Donald, ND
"It's a sturdy and easy to set up a tub at a great price." – Jack, MN
When checking online, some of the negative reviews are about product quality and customer service:
"I tried to inflate the tub and found holes in them." – Brenda, NY
"Have spent weeks contacting their customer service to ask about a spare part but no reply" – Gen, MA
FAQs
What are the product's dimensions and weight? It measures 2′ 4" H x 5′ 11" W x 5′ 11" L and weighs 1,938 lbs. when filled.
How long before the pool gets inflated? It takes about 10-15 minutes for the pool to be ready and inflated.
What is included in the product package? It comes with a pool liner, reinforced pool cover, Airjet system, chemical floater, portable spa pump, and repair kit.
Additional Tips
The spa must be filled with water before operating the pump to avoid damage
Always put on the spa cover when not in use. Exposure to direct sunlight will damage the spa's surface.
The safe temperature range for healthy adults is 100°F (38°C) and 104°F (40°C).
Read more: Coleman Portable Outdoor 4-person Inflatable Hot Tub Review
4.  Coleman SaluSpa 4 Person Square Portable Inflatable Outdoor Hot Tub Spa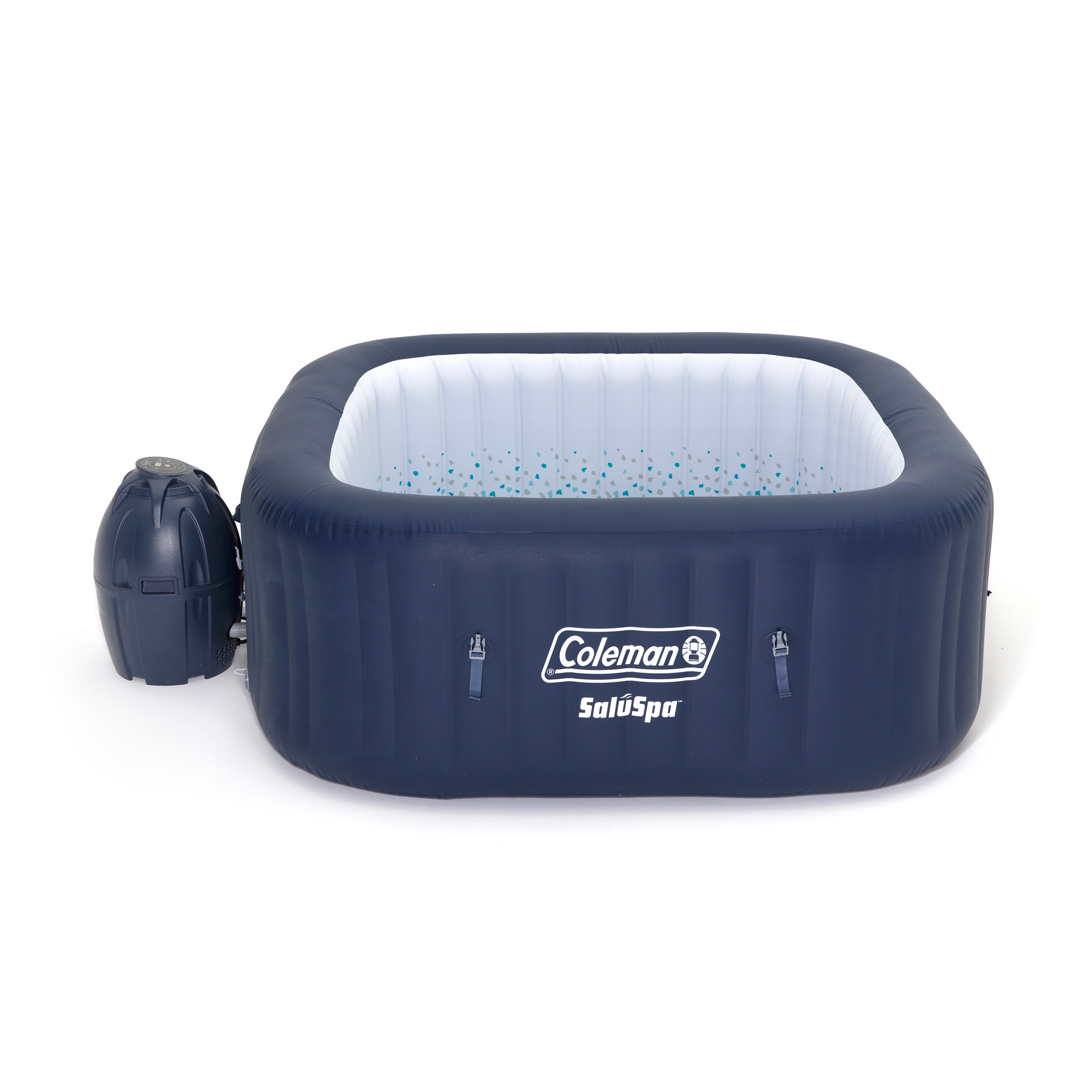 This model is one of the most popular models from the SaluSpa line. It may not be a traditional granite hot tub, but it gets the job done. It can do massages with the bubbling system, and the heating system makes you feel like you are in a spa resort or club. It can calm you down, and it gives you a good excuse to jump in the tub after a long day.
When you unbox it, you can tell that the materials are not cheap. You can feel confident that the product will last for a long time. It comes along with Coleman saluspa replacement parts as well as several maintenance and repair accessories. This helps to ensure that you will get maximum utility out of this hot tub.
As to the setup, it is easy because all you need to do is inflate it. If you want to keep it during winter, then deflate it with the help of the exhaust fittings. What won me over was the quality, comfort, and convenience for an affordable price.
Highlighted Features
Water filtration
Heats water in a short amount of time
Maximum temperature of 104 degrees Fahrenheit
Power saving timer
Soothing Air Jet system with 114 air jets
Can fit four persons
Tri-tech material
Comes with a pool liner, pool cover, spa pump, chemical floater, filter cartridges, air pod protector, and repair patch
Pros:
Easy to set up, maintain, and store
Durable
Spacious yet portable
Easy to control
Can do a massage well
Filters kept the water clean
Can be used indoors and outdoors
Cons:
Cannot be used outdoors during winter
Water gets cold fast
5.  Coleman 90427E SaluSpa Tahiti Air Jet Inflatable Portable Hot Tub Jacuzzi Pool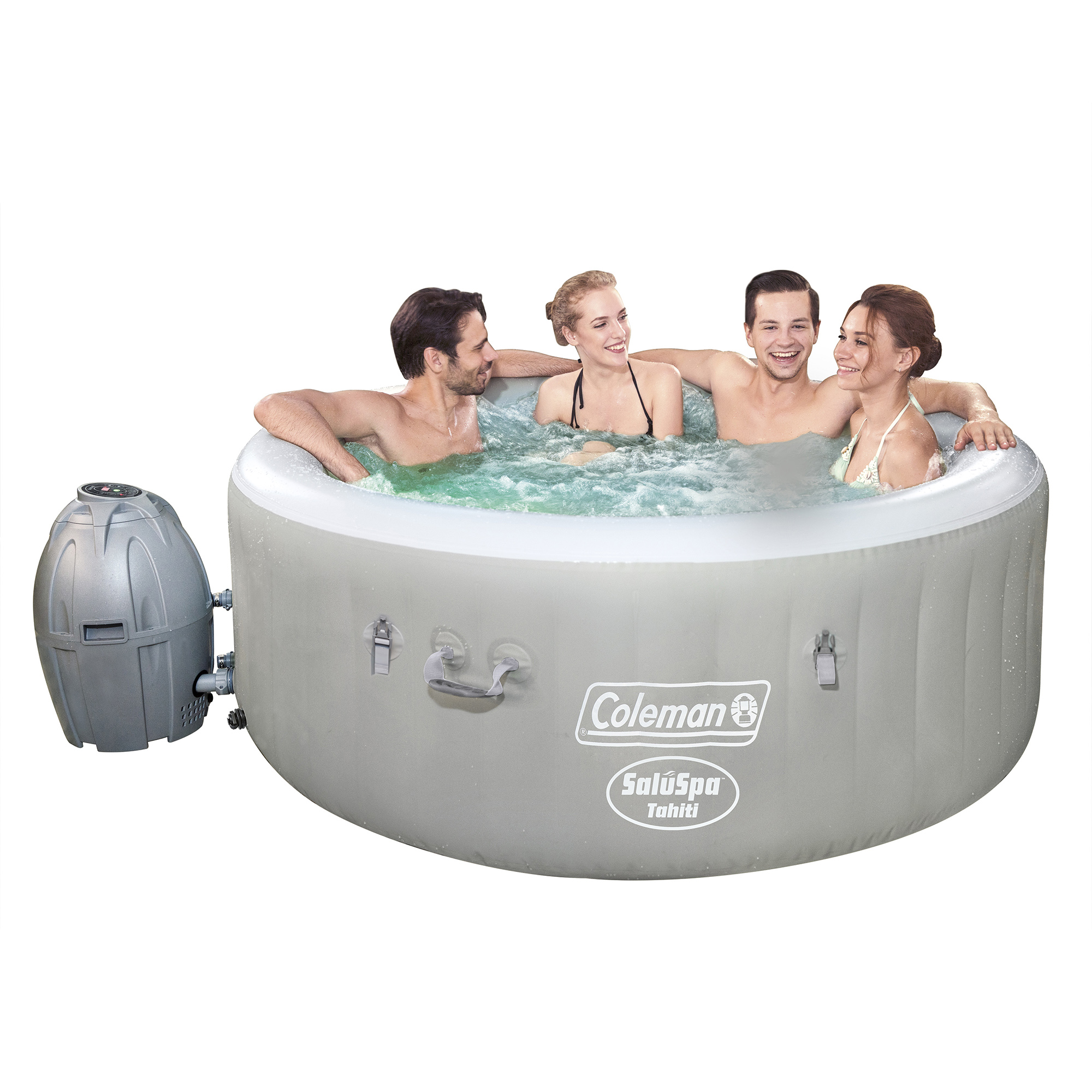 You might have read from Coleman Tahiti spa reviews that this model is one of the cheaper options. It is indeed low-priced than most Coleman models, but it does not mean that it is not a top product.
This model is best for those who would want a hot tub at home but would not want to spend a lot. This model has all the features of a basic hot tub.
Compared to other models, this unit omits the rapid heating system. It also does not include many air jets and accompanying accessories. However, it still stands out for those who are merely looking for a simple hot tub that can do the work.
Highlighted Features
Water filtration
ChemConnect chemical dispenser
SaluSpa massage
Heating system
Maximum temperature of 104 degrees Fahrenheit
Power saving timer
Soothing Air Jet system with 60 bubble slots
Can fit four persons
Tri-Tech material
Comes with a pool liner, pool cover, spa pump, filter cartridges, and repair patch
Pros:
Easy to set up, maintain, and store
Durable
Portable
Easy to control
Massage feels good
Filters kept the water clean
Cons:
It takes time to heat the water
Water gets cold fast
6.  Coleman 90443E SaluSpa Havana Air Jet Inflatable Hot Tub with Remote Control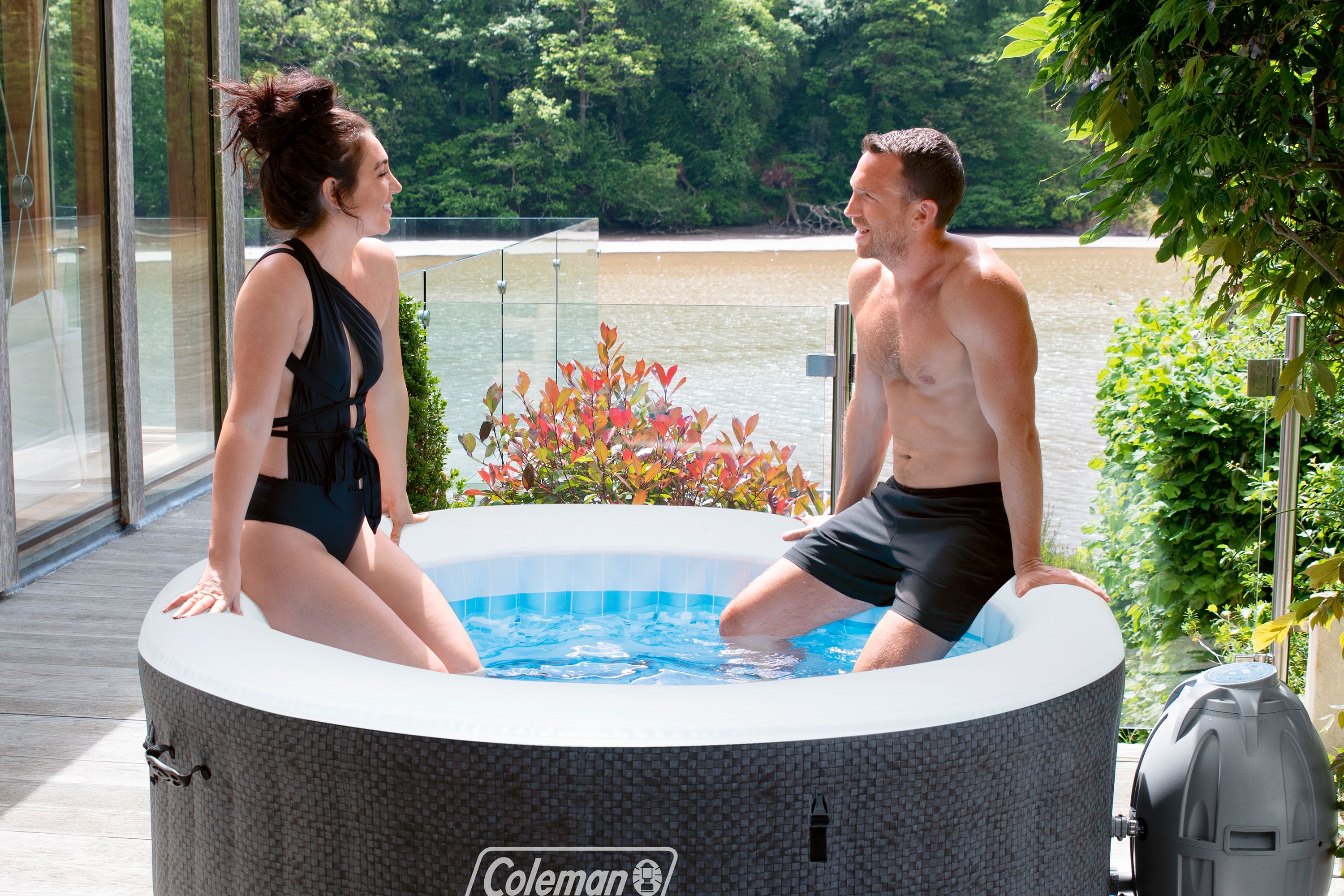 You have probably read a lot of Coleman Spa reviews, but still do not get what is different about this SaluSpa. This model is the same as the SaluSpa Tahiti Air Jet. The features are the same except for the fact that this model comes with a remote control.
It gets easier to do things without having to struggle to get close to the digital panel just to adjust the settings.
Highlighted Features
Water filtration
Heating system
Maximum temperature of 104 degrees Fahrenheit
Power saving timer
Soothing Air Jet system with 60 bubble slots
Can fit four persons
Tri-tech material
Comes with a pool liner, pool cover, remote control, spa pump, chemical floater, filter cartridges, air pod protector, and repair patch
Pros:
Comes with a remote control
Easy to set up, maintain, and store
Durable
Massage is relaxing
Easy to control
Filters kept the water clean
Cons:
It takes a long time for water to heat up
Water gets cold fast
7.  Coleman SaluSpa 6 Person Inflatable Outdoor Spa Bubble Massage Hot Tub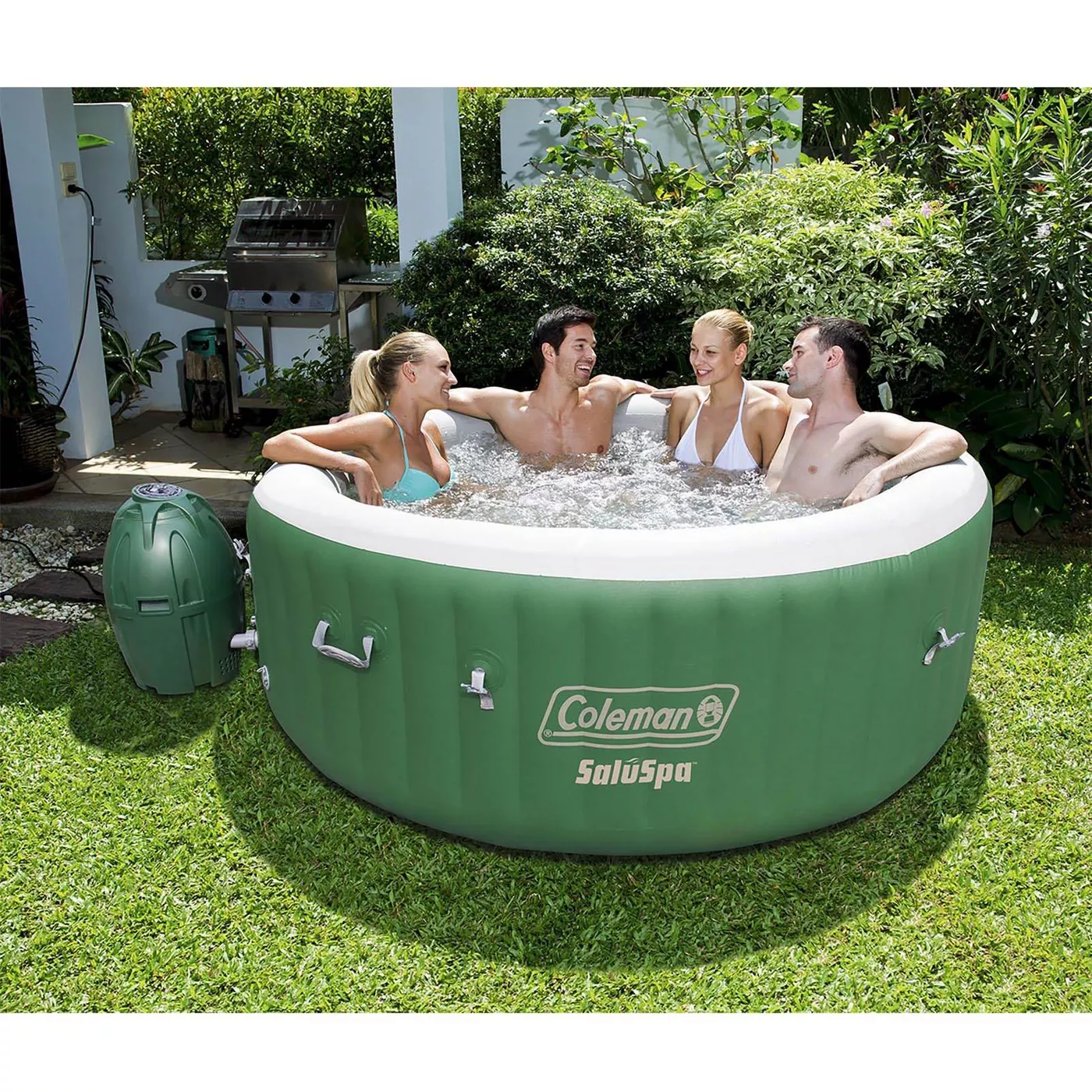 Coleman Lazy Spa reviews will tell you that this 6-person inflatable outdoor spa is of great value.
It costs more, but there are a lot of added features compared to the other Coleman SaluSpa models. The three features that stood out the most are the Lay Z massage system, the Leisure Time Chlorine Starter Kit, and its capacity.
The Lay Z massage system is a step up from the rest of the models, and this alone will make you tempted to go for this model instead of the others.
The Leisure Time Chlorine Starter Kit is the key to maintaining your tub in a condition as if it is brand new. It ensures that there will not be oxidation and stain issues with the tub.
Lastly, the capacity is at its best. Up to 6 adults can fit in the tub, and if kids want to join, then there is still plenty of legroom to accommodate them.
Highlighted Features
Water filtration
Heats water in a short amount of time
Maximum temperature of 104 degrees Fahrenheit
Soothing Air Jet System with 114 air jets
Lay Z Massage system
Power saving timer
Leisure Time Chlorine Starter Kit
Can fit up to 6 persons
Tri-tech material
Comes with a pool liner, pool cover, spa pump, chemical floater, filter cartridges, air pod protector, and repair kit
Pros:
Easy to set up, maintain, and store
Durable
More spacious than other models
Massage is strong yet calming
Easy to control
Filters kept the water clean
Can be used indoors and outdoors
Cons:
A Few Tips For Buying a Coleman SaluSpa Inflatable Hot Tub
Now that we've gotten all those out of the way, you might be itching to type in and search where you can get one of these lovely hot tubs right about now. Before doing so, allow us to give you a few things to consider.
Size
This may not sound too important but take note that you might actually not have space for what you had planned on purchasing. With that in mind, plan ahead on where you're going to be placing your hot tub and make sure it's close to an electric socket.
Storage
In case you need to wrap up your inflatable hot tub, make sure you know where you can safely store it.
Longevity
We all know how quality is important when buying something like this. This luxury will cost you a bit of money, so it would be wise to research on how long they actually last.
Customer Reviews
Reviews are golden when you're looking into buying something you've been wanting for so long. What's great for others may actually not be what you're looking for, so take the time to sift through customer reviews. That way, you can be sure to find the best lazy spa that's a right fit for you.
Coleman Hot Tub FAQs
What is the warranty?
The product comes with a limited warranty depending on the part. You will have to inform Coleman about the defects within one year if the problem is with the pump and 90 days if the liner is the problem. The time is counted from the date of purchase.
Note that the warranty only covers damages from the parts used or causes due to Coleman's fault. Also, you must be the original purchaser as written in the receipt if you want to file a claim.
Do you have service technicians?
Yes. Coleman has service technicians. There are a lot of service centers all over the world to help you in solving your problems regarding the products you bought. They can provide repairs and maintenance services as well as replacement parts like the Coleman saluspa replacement parts. Be sure to call them before going.
Conclusion
If you are in the market for the best inflatable hot tub, then you should consider Coleman. The brand's products have features that do well compared to others in the market. If you will look at the price and its features, Coleman is worth it.
Do note that what we are talking about is a portable and inflatable hot tub and not a built-in tub. It may not be as good as the built-in tub, but it is the best alternative you can find out there for a lower price.
Hopefully, these Coleman hot tub reviews have been of help to you in your buying journey to owning an inflatable hot tub.