A walk-in tub is a fairly new invention, but it is one worth the investment if you value the comfort and safety of every household member. This type is easily one of the best bathtubs as it minimizes the risk of injury. Thanks to the additional material precautions, it gives the elderly and the handicapped more independence when it comes to bathing. Additional features, such as massage options, make the bathing experience more fun and luxurious for the able-bodied as well!
After all, who doesn't deserve some relaxation after an exhausting day? It would be a great addition to any bathroom, but it can, understandably, be an overwhelming thing to shop for.
Well, look no further because Ella Walk-In Tubs integrate style and comfort with a variety of therapeutic features to ensure you get the treatment you deserve. Within the brand, there are many excellent products to choose from, but this guide narrows it down to guarantee you find the best walk-in tub the brand has to offer.
7 Best Ella Walk-In Tubs Recommended for Homeowners
1. Ella Deluxe Air and Hydro Massage Bathtub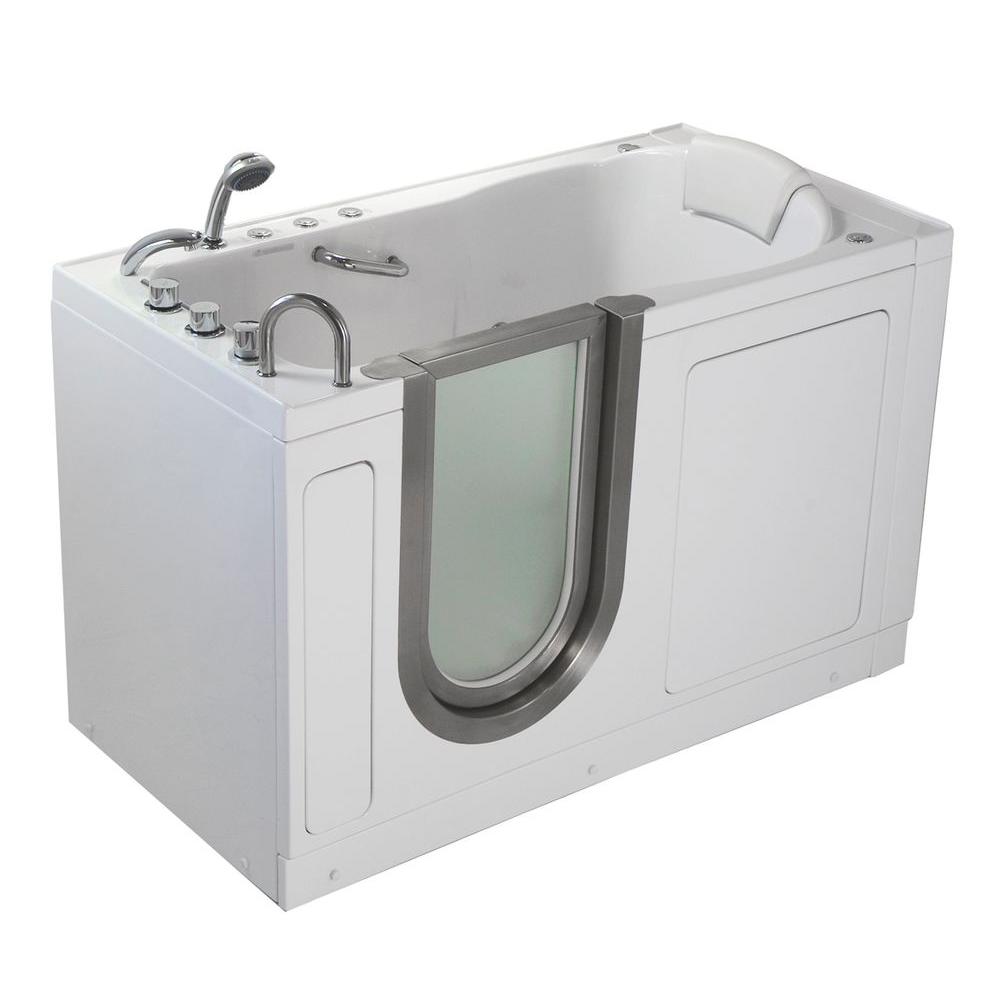 The original of the brand's design, it remains a perfectly capable piece to soothe all your bathing woes. The product ensures a safe bathing experience by providing features that will make accessibility and convenience issues non-existent.
What Did the Customers Have to Say:
The product satisfied the customers, claiming that it met their expectations of the product. However, some complain that the water temperature tends to be either too hot or too cold for their liking, noting that it would be better if it could be manipulated.
Textured floor guarantees less slipping
Two safety bars provide easy access getting in and out of the tub
Surface is easy to clean but also resistant to scratch and mold
Water easily drained in 80 seconds for easy exit
Massage options offer a variety of settings for relaxation
No space to place your belongings
Shower head not mobile
Water temperature not the most versatile
2. Ella Companion Two Seat Air and Hydro Massage Bathtub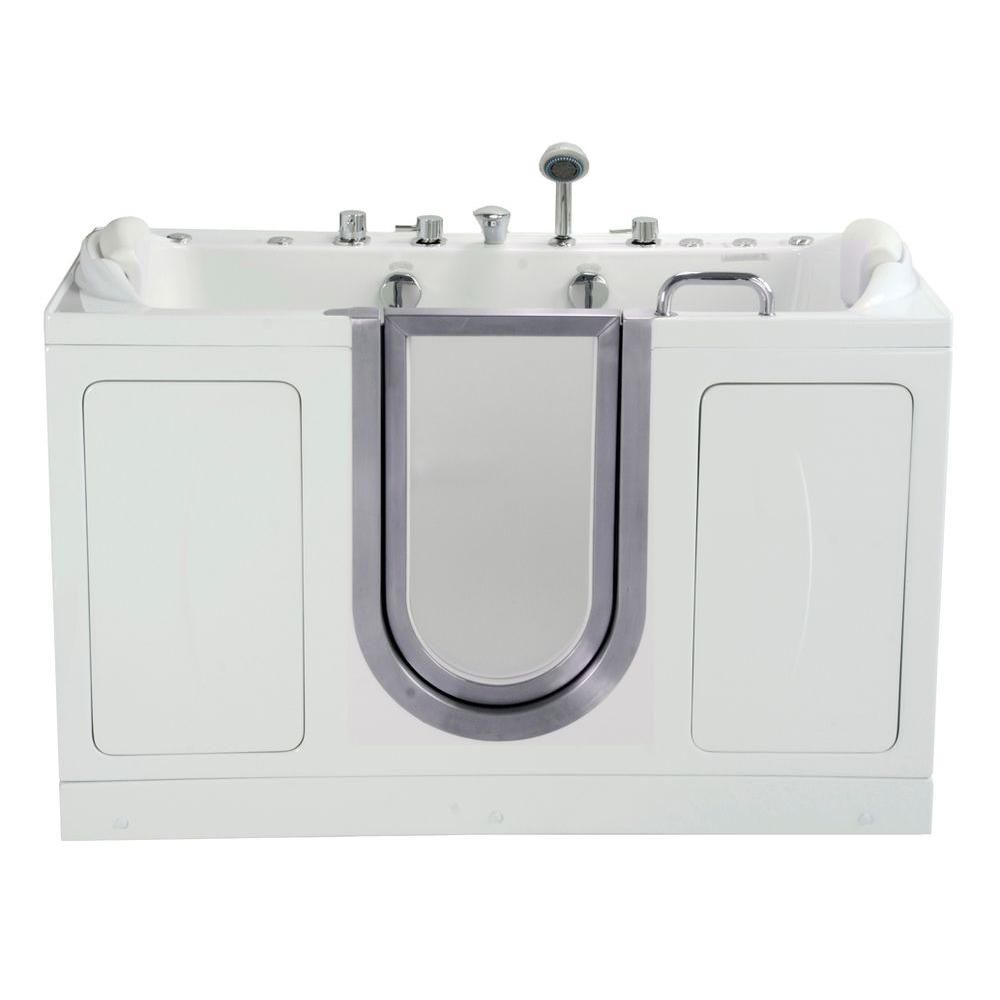 It is similar to the Ella Deluxe Dual Massage bathtub in terms of features, but there is one significant difference between them. This one is bigger in size to accommodate two seats, making it a great way to relax with a significant other.
What Did the Customers Have to Say:
Customers who bought it agree that it is a great way for couples to spend some time together. The idea of it appeals to partners but some find it odd that the design does not take additional precautions more than the usual tub, considering that it is a tub meant to be enjoyed by two.
Size and design conducive for two-person bathing
Slip-proof due to textured flooring
Provided safety bars ensure fewer accidents
Highly efficient drainage system
Massage and therapy options add relief to the bathing experience
Not ideal if not bathing with a partner
Takes up more space compared to regular-sized tubs
No surface upon which to place a book or a glass of wine
Grab bar only available on one side
3. Ella Petite Air and Hydro Massage Bathtub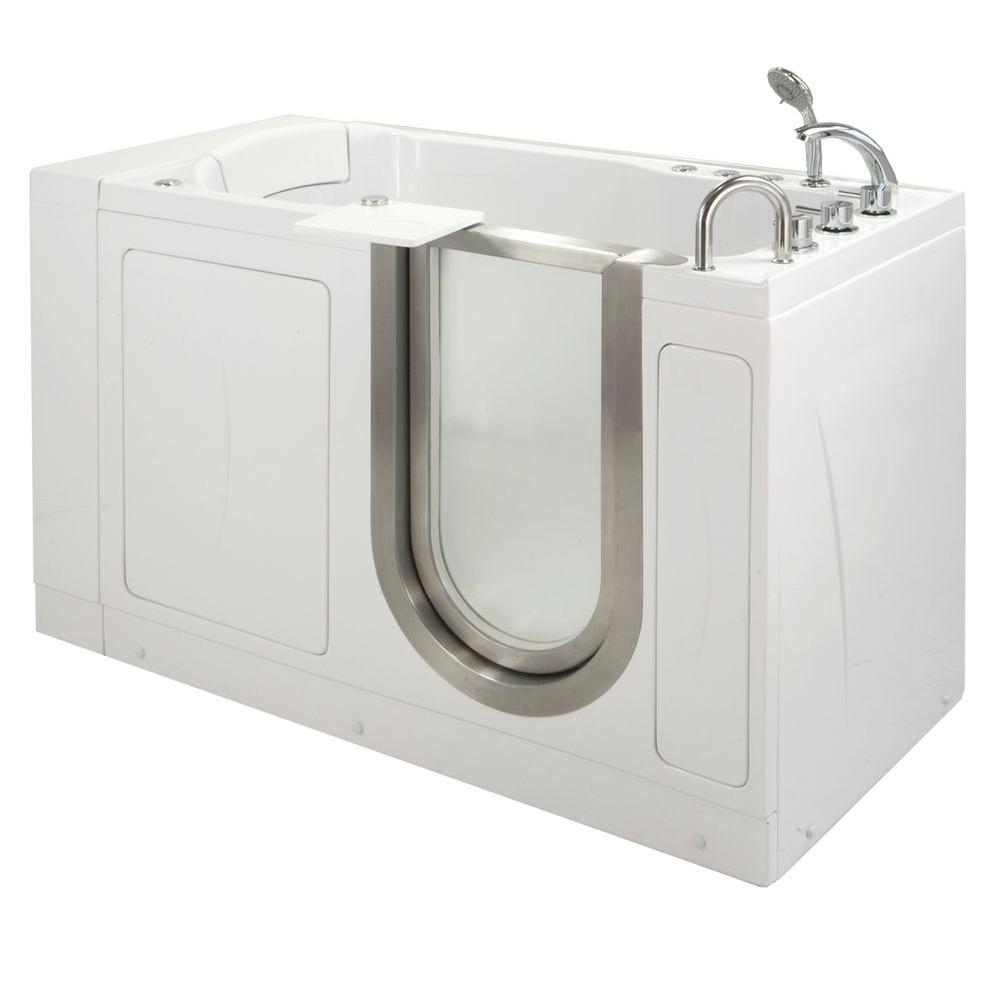 This model's sleeker design allows you to have the same experience you can get from bigger tubs but without sacrificing any of the features that make the Royal and Elite so great!
What Did the Customers Have to Say:
The narrower tub is highly appreciated by customers who live in smaller spaces or those who live in older houses with cramped doorways. The general reception is highly positive and many agree that its design made it possible for them to get one despite initially being hesitant due to the size. It has been noted that the warranty for parts is only 5 years, but this applies to all of the products in this review.
Perfect for bathrooms with smaller door ways
Easier to move around the space
Accident-free thanks to its textured flooring and safety bars
Water drainage system is as effective as ever
Relaxation comes easy with its updated array of therapeutic options
Swivel tray lets you multi-task while in the bath
Not ideal for people who prefer more space to move around in
4. Ella Elite (Air and Hydro) Massage Bathtub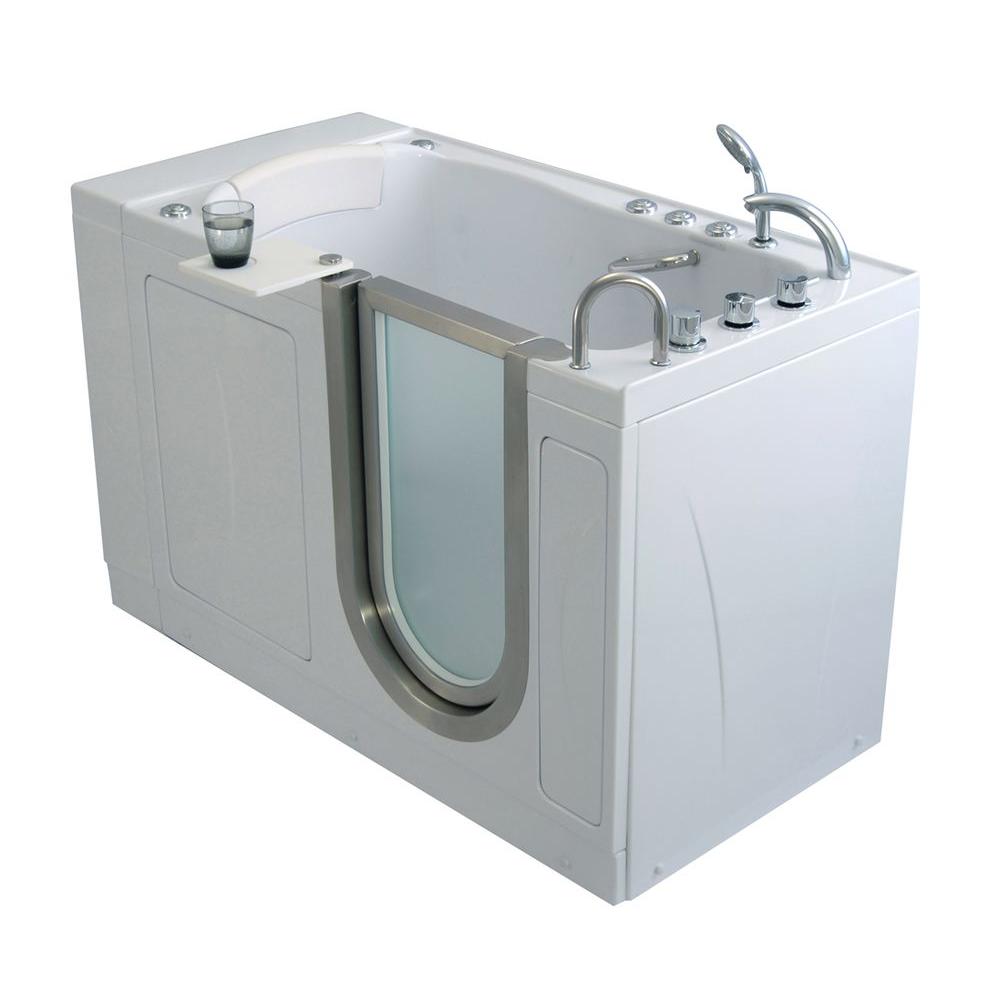 This product gives an update to the features of the older Ella models without compromising the quality the brand is well-known for. Thus, it guarantees an even more soothing and relaxing bathing experience.
What Did the Customers Have to Say:
Buyers generally enjoyed the product. Some claiming that the change that came with it helped ease their lives in general. The swivel tray, which was one of the additional features, received positive feedback. The efficiency of the drainage system also impressed several customers.
Wide seat and backrest for additional comfort
Tub is slip-resistant and material used is ideal for long-term use
Swivel tray provided allows for a more personalized bathe
Pull-out shower makes bathing easier
Excellent drainage system promises a worry-free exit
Less leg room as compared to the Deluxe line
5. Ella Bariatric Air and Hydrotherapy Massage Bathtub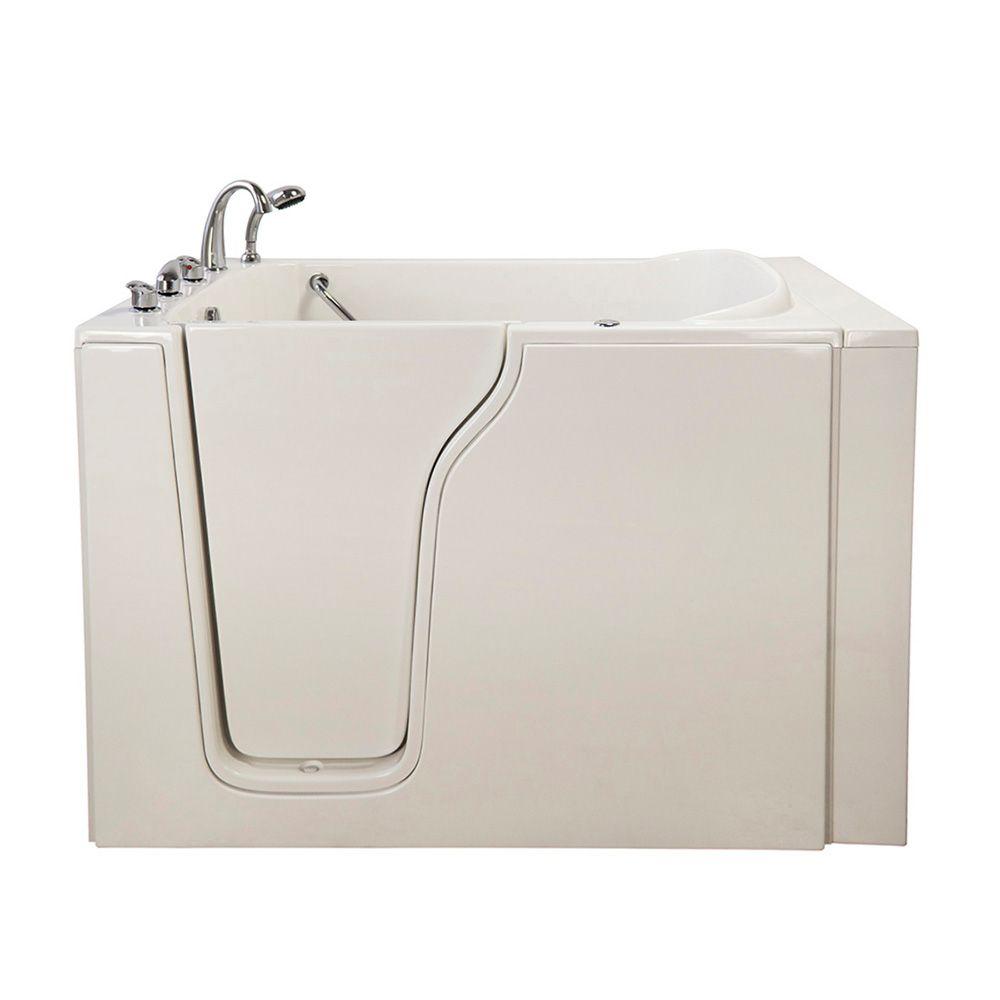 The Bariatric line has the widest tubs available in the brand's repertoire, proving that accessibility and luxury are not mutually exclusive when it comes to relaxation.
What Did the Customers Have to Say:
Elderly patrons of the product rated it positively. They claim that the purchase soothed their pains, such as arthritis and various body pains— thanks to its massage and therapy features.
Largest seat available on the walk-in bath market
Ideal for bigger-sized people or those with accessibility issues
Elegant design
Pull-out shower makes cleaning oneself an easy task
Hard to install for narrow doorways
Not as many options for massage settings compared to other models
The white color may give impression of dirtiness with use over time
6. Ella Royal Air and Hydro Massage Bathtub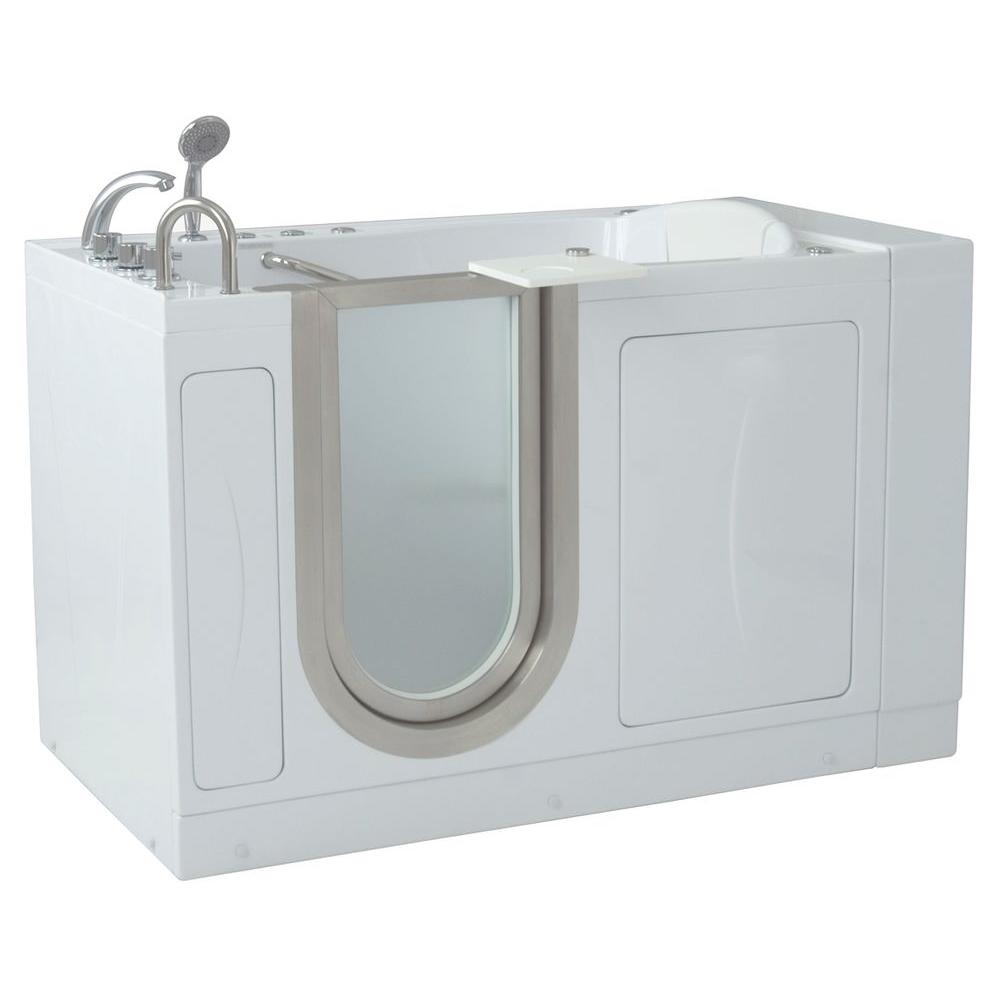 Whereas the Ella Petite is often thought to be a smaller Ella Elite, this model can be considered as its king-sized version. Sharing the same upgraded features but in a wider shell, the Ella Royal spells out luxury without having to sacrifice ease of use and comfort.
What Did the Customers Have to Say:
This product has generated good feedback from a variety of users. It was highly appreciated by the elders and those with disabilities. They appreciated the thought and research that went into the design of the tub.
Bigger size lends more space for a wider seat
Swivel tray allows for multitasking while in bath
Massage and therapy options allow for further relaxation
Drainage system is fuss-free and highly efficient
Safety is not an issue
Not ideal for people with smaller bathroom doors
Less leg room than Ella Elite
7. Ella Ultimate Air and Whirlpool Bathtub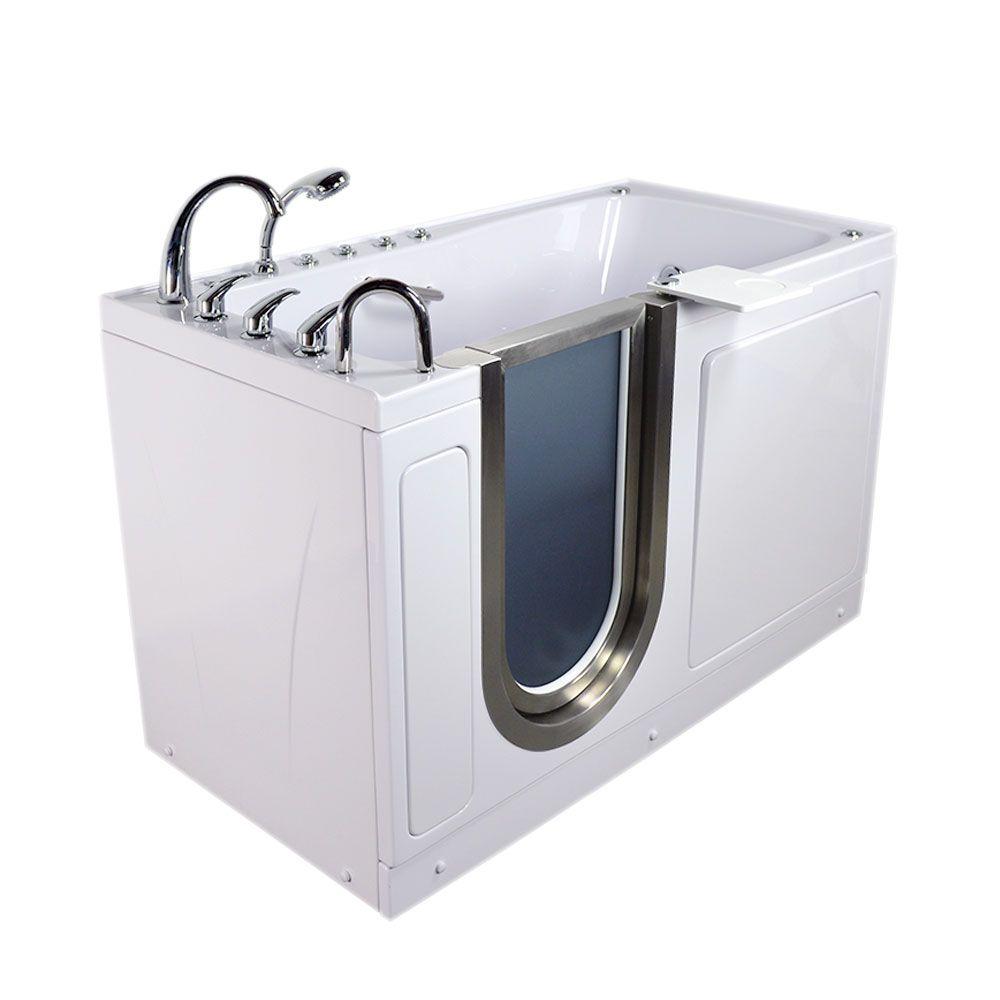 This model lives up to its name by being the ultimate massage walk-in tub. With its variety of options to choose from, it's not an exaggeration to say that it feels just like having your own spa at home.
What Did the Customers Have to Say:
The product did not fail to impress those who purchased it. The addition of the foot spa option without having to prepare the entire bath was also seen to be a great feature. Its ability to fill up quickly has also been regarded positively by those who bought it. However, some complain that the air massage is too strong and would have made usage better if it were possible to change its strength.
Fast fill faucet ensures that you don't have to wait long to enjoy a bath
Hand bars and textured floor allow for an accident-free bathroom
Efficient drainage system promises a hassle-free exit
Foot massage option that doesn't require a full bath!
Swivel tray provides a convenient place to keep your things
Wide seat and backrest
Full array of massage and therapy options on hand
Air massage setting not customizable
Considerably longer than most tubs the brand offers
Conclusion:
Choosing the perfect walk-in bathtub requires a lot of research, considering how big of an investment it is. There are many factors to take into account before making the purchase, and while Ella Walk-In Tubs provide a big selection to choose from, it is always wiser to get a product with more features than one with less. After all, these tubs are meant to last long. Who knows, your preferences might change over the course of that time, and it is best to be prepared for that eventuality.
It is for this reason that the Ella Ultimate Air and Whirlpool Bathtub has been hailed the best of the lot. Its features are a step-up from the older models, drawing from their strengths but learning from their weaknesses. All you need now is someone to install the tub and a shower curtain to go with it for the ultimate relaxation session.