A bathroom is one of the main areas of a house. Apart from our bedroom, it is a place that can provide us a tranquil atmosphere and a place where we can pamper ourselves through having a relaxing bath. With that, the best hot tubs can be a great addition to your bathroom. Thus, we are bringing you our Home and Garden spa reviews to make your search for a quality hot tub easier.
Home and Garden Spa Reviews – The Top 5 Hot Tubs that Are Worth the Money!
1. Home and Garden Spas 38-Jet Spa for 3 Persons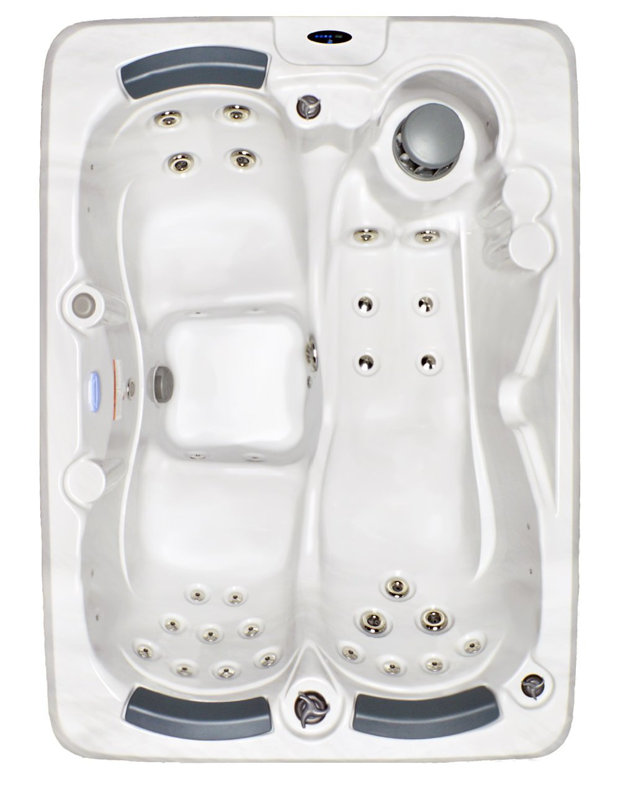 This spa does not only feature one but 38 therapeutic jets. These jets can be adjusted to allow you to attain an ultimate spa experience without leaving your home. Safety is also assured when using this tub as it has a slip-resistant surface. It is also energy efficient.
Best features:
The jets are made of stainless steel; hence, it will not rust after use.
It has an acrylic construction, allowing you to use it effectively and efficiently for years.
It has a redwood cabinetry that ensures that the water inside the tub would remain warm for a long time.
It has a 9-color LED light, making soaking in hot water more relaxing and fun.
It can fit 3 people and can hold water up to 210 gal.
2. Home and Garden Spas 51-Jet Spa for 5 Persons
This spa has a total of 51 jets including two 7-jet inserts. With the Digital Balboa control, you can set this spa to turn the heat on once a day. The construction of this spa is also durable as it has an acrylic construction together with a multi-layer fiberglass.
Best features:
It has an ozone system that destroys viruses and bacteria in the water.
Energy Rite pump, ensuring low consumption of energy and at the same time, high performance.
It has a synthetic cabinet that is capable of retaining heat.
It has jets that target the foot, calf, back, and shoulder area, providing a good body massage experience.
It has 7 LED lights that change colors.
3. Home and Garden Spas 32-Jet Spa for 5 Persons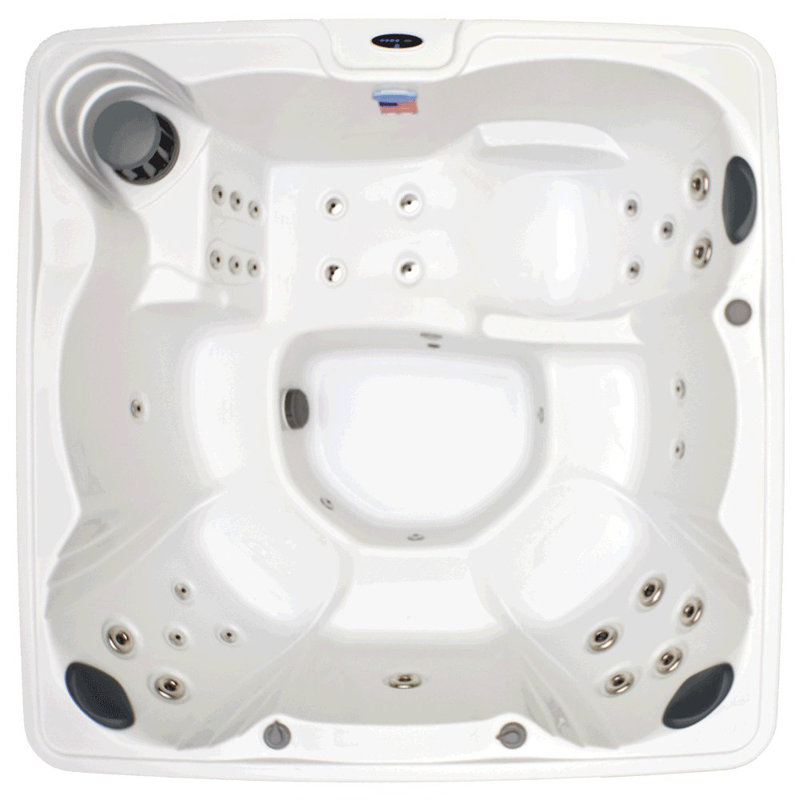 This 32-jet spa not only has an ozone system but LED lights that change colors as well. It has a water capacity of 300 gallons and can accommodate 5 people. It runs on a 220 Volt power source. It also features a waterfall.
Best features:
It comes with an ozonator that keeps the water fresh, clear, and sanitized for a longer period of time.
The heater can be set to a temperature as low as 65°.
A hot tub cover is included, which has a strap on both sides that can be locked.
It is made of acrylic, making it quite sturdy.
The Jets offer great pressure while the spa is able to hold in heat well.
4. Home and Garden Spas 71-Jet Spa for 6 Persons
Having a total of 71 jets including two 7-jets inserts made of stainless steel and one 12-jet inserts for massaging, this spa can accommodate 6 people. This spa also features mahogany cabinets that make them look classy while its controller is located on the top side, which is convenient.
Best features:
It comes with a subwoofer and 2 speakers that allow you to listen to your favorite songs while submerging yourself in a warm bath.
It has 7 LED lights that change color.
The Lucite acrylic and multi-layer fiberglass make this spa slip resistant.
It has a safety cover that is lockable.
It has a water capacity of 350 gallons with a built-in waterfall.
5. Home and Garden Spas 90-Jet Spa for 6 Persons
For a family of 6, this spa is quite an ideal choice, especially since it has an mp3 auxiliary output. The jets that this spa has includes two 7-jet inserts and one 12-jet inserts just like the 71-jet spa that Home and Garden Spas offer. The only difference is that it has more – 90-jets to be exact.
Best features:
It has two energy rite pumps that make it energy efficient.
It has a beautiful sterling shell color (interior).
It has one LED light underwater and 8 on the perimeter.
Just like the other products in our Home and Garden spa reviews, this one also has a built-in waterfall.
It has powerful jets that make using it more relaxing.
The Benefits of Buying a Hot Tub & Spa
Soaking in a hot tubs or bathtubs is not only pleasurable but also provides you a lot of benefits including the ones listed below. These are the reasons why bathtubs have remained popular throughout the years.
Have you been suffering pain in your muscles and joints lately? Are your feet tired from standing all day? If so, then you might not need to go to a massage therapist for the best foot spa can provide you a good massage. They have jets that are positioned to target your feet and all the other aching parts of your body. Hence, you can receive in hydrotherapy at home.
We are surrounded by different stressors in our everyday lives, and soaking our body in hot/warm water may be just what we need to de-stress ourselves. Hot tubs have whirlpool jets and aromatherapy that can provide a built-in massage, making your bathing experience an extraordinary one. Having a hot bath can also calm down your nervous system, so you get to have both your body and your mind relaxed, especially as there are quieter models available on the market today.
When we soak ourselves in hot water, the temperature of our body rises, hence we sweat, which is one way to get rid of the toxins inside our body. Furthermore, submerging your body in a bathtub can improve your metabolism and blood circulation. It also helps release endorphins that make you feel refreshed after your bath. After a warm bath, you would also have better sleep, and as we all know, sleeping is our body's way of recharging itself.
Read more: Reviews of the Best Foot Massager, Plus Astounding Benefits!
Things to Consider When Buying a Hot Tub
Finding the best hot tubs and spas is never an easy task. We have listed down the things that you need to consider and keep in mind whenever you are buying one. Here they are:
Hot tubs come in different styles. While they are modern styles that can stand-alone, there are also some that require platform installations. The latter one is not an ideal choice since you would need to spend more money just to have it installed in your bathroom. There are also ones that come with a shower head.
There are two main types of jets – water and air. For those who are looking for a hot tub that can provide them a powerful massage, then the water jet is the most suitable for them. On the other hand, for those who are looking for a gentle massage, then the air jet would be a better choice for them.
The hot tub alone is not the only thing that you need to spend your money on because you also need to pay the electricity bills. You need to know that models, which has a self-heating feature often cost more as it keeps the water hot but nevertheless, there are now models on the market that are energy efficient.
Read more: The Cost to Owning and Maintaining a Hot Tub
Before even buying a hot tub or a bathtub, you should consider its size. Ask yourself, how many people would be using it? Will your entire family fit in it? Also, how big is your bathroom? You need to make sure that after a hot tub has been installed; your bathroom would not be too crowded and feel suffocating. Consider also whether the tub is too shallow or too deep for you.
Do you have an elderly at home who would be using the bathtub? If you do, then it would be better for you to consider buying a walk in tub so that they would not have a problem getting in and out of it.
What type of materials is the hot tub made of? If possible, look for hot tubs that are made from high-quality and durable materials. It would also be better if it is slip-resistant to reduce the risk of accidents while using it. On the other hand, we have a safety tip for you and that is to use a hot tub chemical to sanitize the water in your tub.
Read more: Hot Tub Water Care Guide
Conclusion
See more: Home and Garden Spas Hot Tubs on Wayfair
To end our Home and Garden spa reviews, we would like to declare the Home and Garden Spas 32-Jet Spa for 5 Persons that is good for 5 people as the winner. It has an ozone layer and a light that changes color. Aside from that, it also features a waterfall and air blower that can make your bathing time more relaxing. Also, its white interior color and mahogany exterior color will add elegance to your bathroom. Even its jets can be adjusted to suit your taste and preferences when it comes to using bathtubs. Now, when it comes to the cover, it is both insulated and lockable. It is not lacking in any way, may it be when it comes to style, energy efficiency, and functionality.
What about you? Which Home and Garden Spa is your favorite?