A bathroom is one of the main areas of a house. Apart from our bedroom, it is a place that can provide us a tranquil atmosphere and a place where we can pamper ourselves through having a relaxing bath. With that, the best hot tubs can be a great addition to your bathroom. Thus, we are bringing you our Home and Garden spa reviews to make your search for a quality hot tub easier.
Home and Garden Spa Reviews – The Top 6 Hot Tubs that Are Worth the Money!
1.  3-Person 38-Jet Hot Tub LPI31RB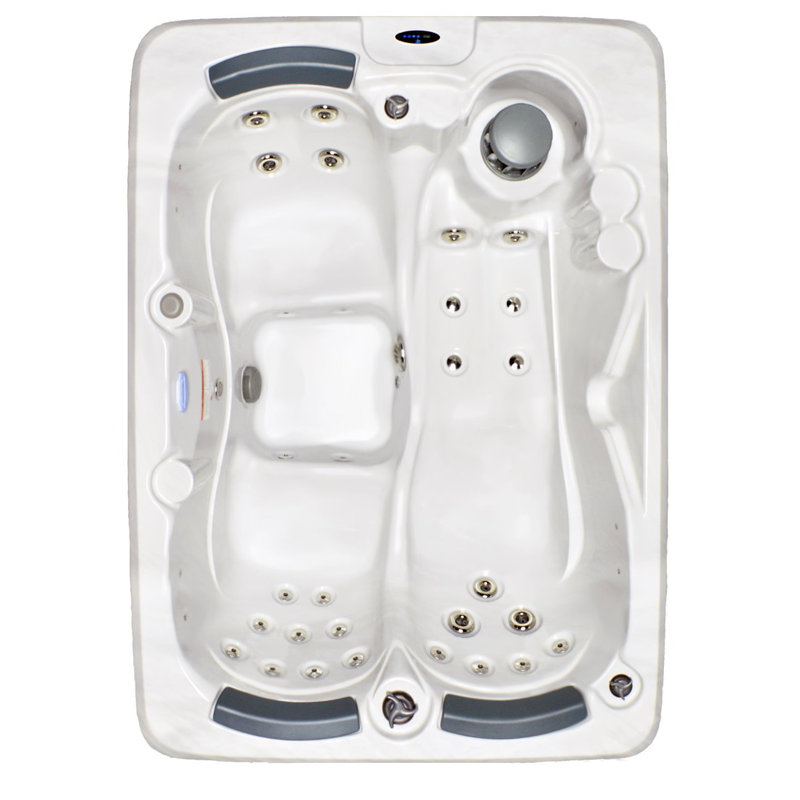 This 3-Person 38-Jet Spa offers an exquisite spa experience in your own home. It is one of the great products that have the best home and garden hot tub reviews. The 38 health-giving adjustable jets are made from stainless steel that prevents itself from being tarnished.
It is included with acrylic material that ensures durability to be useful and efficient for long time use. It has a temperature management system to maintain the heat level inside the hot tub. This tremendous hot tub product can accommodate three people and can handle a maximum volume of 210 gallons of water.
Also, it has an easy to control system found at the top side of the tub is what many costumers like the most. It has LED lighting that enhances your bath time experience that makes it better than any other.
Features:
Size: 82" x 60" x 33"
Weight: 500 lbs
Voltage: 220 V
It is included with the cover
It has a waterfall effect function
A perfect fit for three person's use to enjoy your bond
Waterfall provides aesthetics
The tub is skid-resistant for safety measures
A rectangular shape might not have comfortable use for three people
Expensive
2.  5-Person 30-Jet Plug and Play Hot Tub LPIC5000P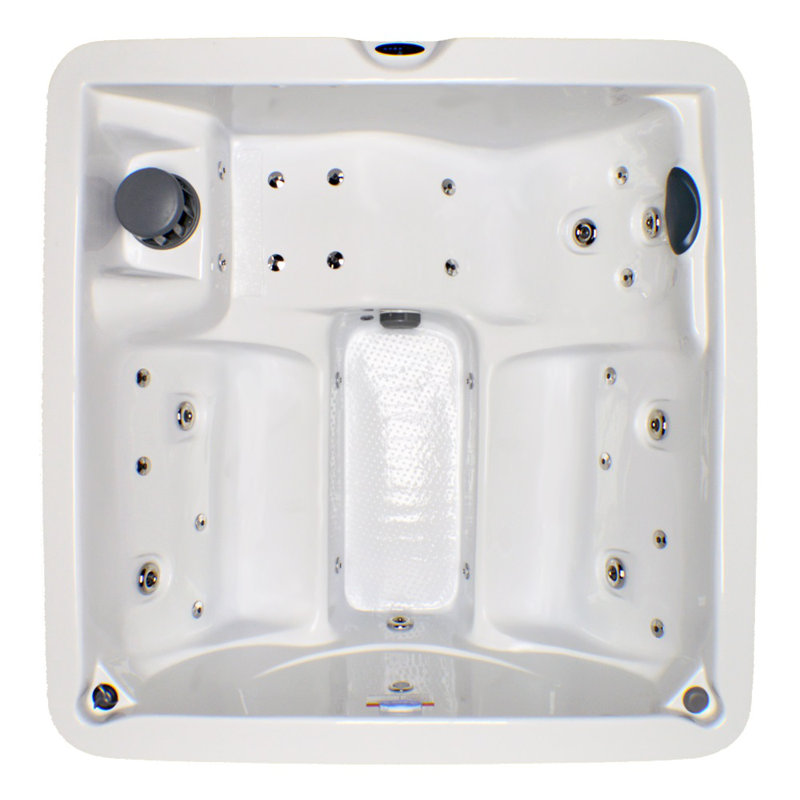 Many costumers commented that this tub is perfect for a house party because it fits five people. It has a square shape that allows better positioning of a group of five to be able to interact effectively.
Its plain white design is perfect for those who have a minimalist taste when it comes to their home. You can enjoy the greatness of the relaxation that this product provides with its stainless steel jets.
You would not have to worry about the warm temperature going off because it can maintain its heat for a better experience. It is one of the best hot tubs that have the best home and garden spas reviews.
Features:
Size: 73" x 73" x 30"
Weight: 600 lbs
Voltage: 110 V
Water Volume Capacity: 225 gallons
Saltwater can be used
It has a lid to cover your tub to maintain its cleanliness
With built-in LED lights
You can save water by using saltwater as an alternative
The slip-resistant feature prevents the users from slipping that could cause injury
Using saltwater can cause salt formation on some parts of your skin after you use the tub
3.  5-Person 32-Jet Hot Tub LPI51PE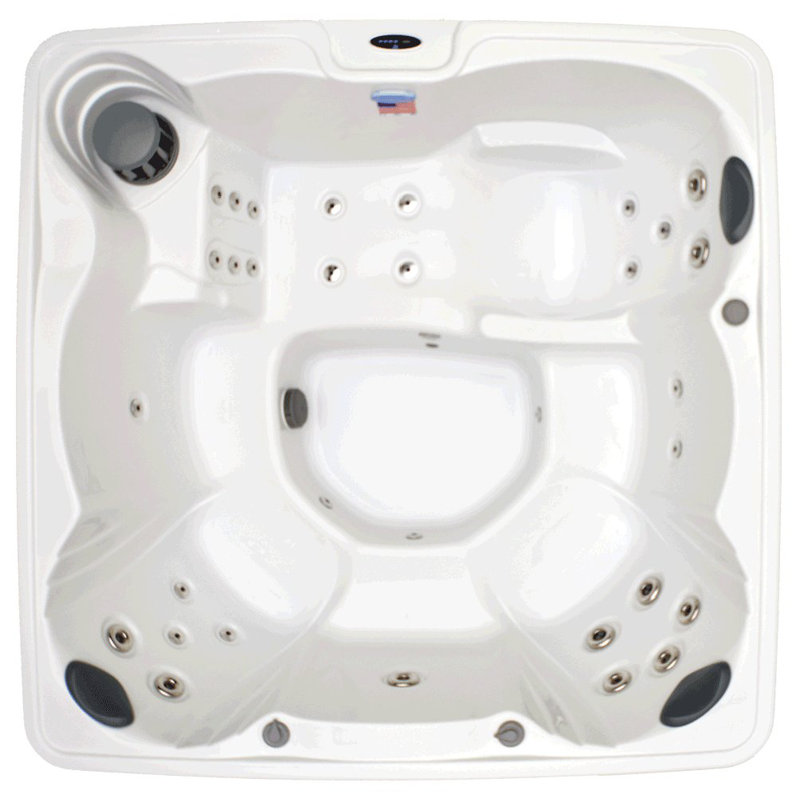 This lovely product is one of the most fabulous hot tubs that have the best home and garden spa reviews that you can have in your own home.
Its durable acrylic, watertight LED lights, and curved sides and edges make the usage of this product safe – you may add its skid-resistant ability for that.
This is perfect for five people because of its square shape that allows the users to interact well in equal distances from each other. However, some customers say that if average-sized people use the hot tub, its space can hold up to 6 people.
Features:
Size: 75" x 75" x 34"
Weight: 700 lbs
Voltage: 220 V
Water Volume Capacity: 300 gallons
LED light changes color
Heat Regulating System
Your water's heat will not become cold
It can consider holding up six people with its given interior space
Guaranteed to last long
Space may be able to hold up six people, but it does not guarantee that it can withstand their total weight
This can be expensive
4.  5-Person 51-Jet Hot Tub HG51T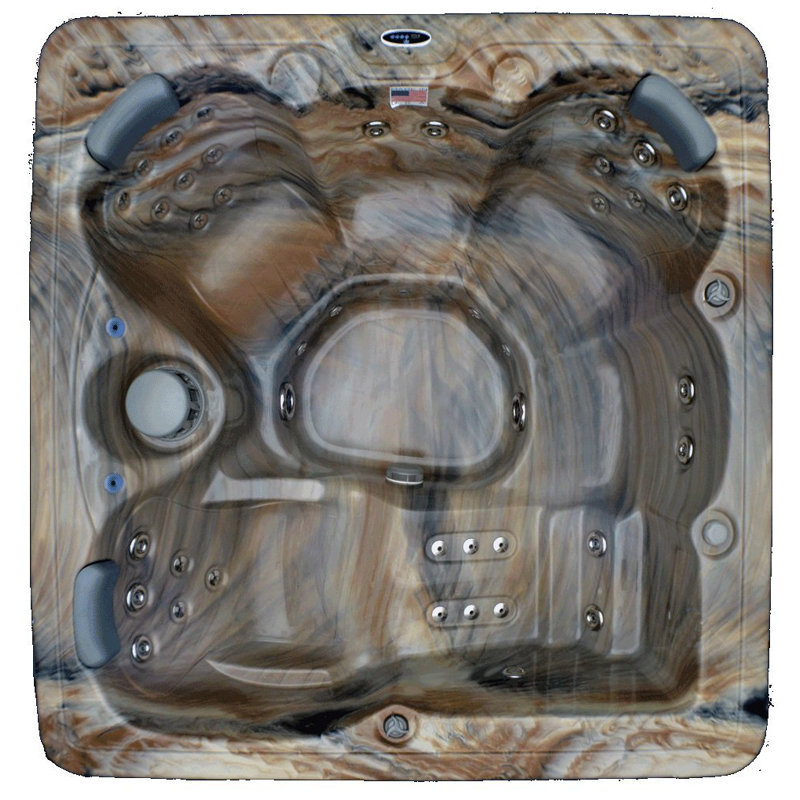 Indulge yourself in a beautiful hot tub experience with your friends in this 5-Person 51-Jet Hot Tub that is filled with an exquisite feature that is worth buying.
To bring up a better vibe, it has multicolored LED lighting that you and your friends will adore because of the aesthetic mood it provides. It has guaranteed safety features that make it not just a comfortable hot tub, but safe for use as well.
Plenty of customers noted that it is durable and will last long because of its acrylic material. Its chassis has a color with strokes that make it look like a luxurious monolithic tub.
Features:
Size: 84" x 84" x 34"
Weight: 750 lbs
Voltage: 220 V
Water Volume Capacity: 310 gallons
High-quality temperature maintenance system
51 Stainless Steel Jets
Included with the waterfall system
The artistic design of its interior casing makes the product elegant and exquisite
It has a lot of stainless steel jets compared to other products, which makes provide a more relaxing and therapeutic effect to the five users
Chassis color design might not fit for minimalists who prefer plain color
5.  6-Person 71-Jet Hot Tub LPILAG46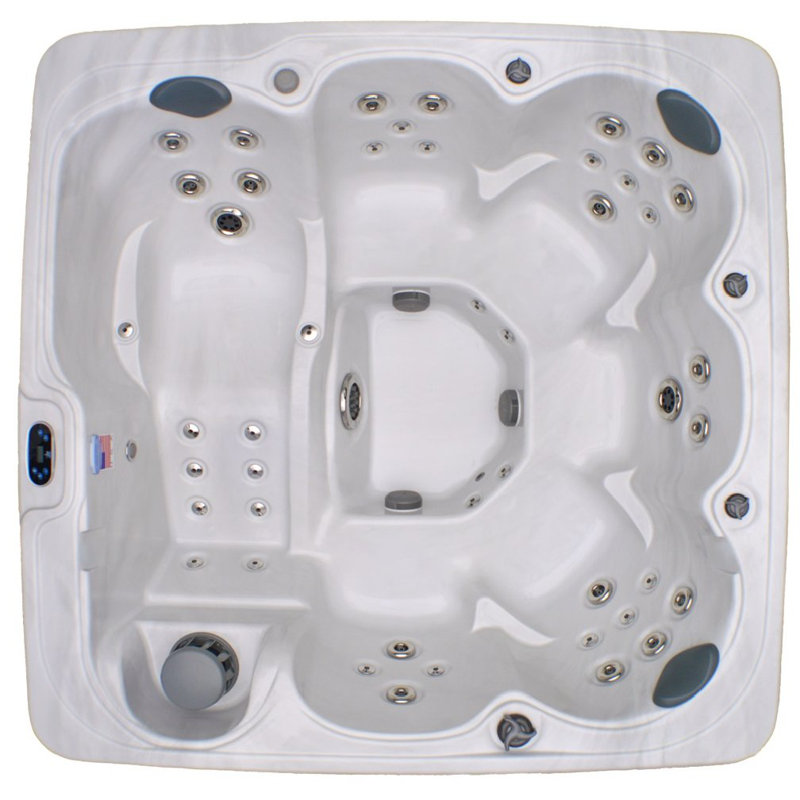 This product is full of great features that make it worth the purchase. It can provide a comfortable hot tub experience for not just two, three, or four, but a maximum of six people.
You are ensured that you will not obtain any bruises if you accidentally bump on its side or corners when your step in because they are made to be curved for safety purposes.
Its maximum temperature can reach up to 104° Fahrenheit, which is maintained via heat regulation feature, so you wouldn't have to worry about your water cooling off. Alternatively, salt water can be used for this, especially if you live by the beach.
Features:
Size: 82" x 82" x 35"
Weight: 800 lbs
Voltage: 220 V
Water Volume Capacity: 350 gallons
71 Stainless Steel Jets (14-Jet Massage and two 7-Jet Stainless Inserts)
Excellent heat management system
Two pumps
Its cover can be locked
A perfect tub for six people for a more amusing and luxurious bath experience
It can resist stain so that you can use it for a longer time
Its cover lock makes it more secure from children who play with it, thus preventing accidents from happening
6.  6-Person 78-Jet Hot Tub HG78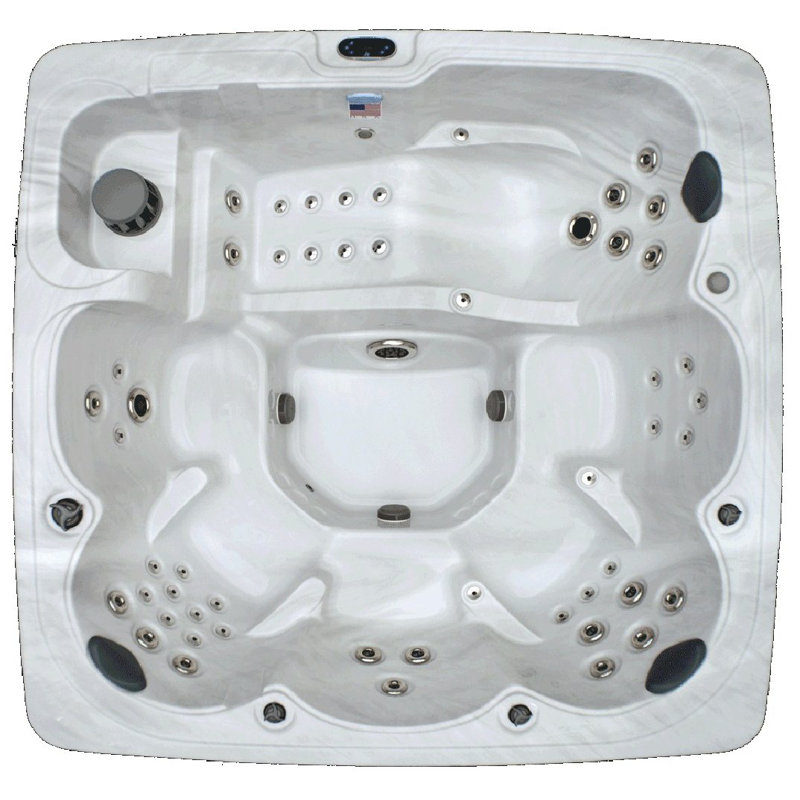 Many costumers raised a brow for its high price, but they later then discovered that it is worth every penny. This product will make you realize that an awe-inspiring and relaxing serenity is just a dip away.
This hot tub can handle six people in maximum so that you can enjoy it with your family or friends with its 78 power stainless jets for a more stress-relieving experience. It does not feel tight inside, and it has lounge seating designs that make it more comfortable as you immerse yourself in that warm, effervescent water.
Features:
Size: 92" x 92" x 37"
Weight: 900 lbs
Voltage: 220 V
Water Volume Capacity: 425 gallons
Changing colors of LED light for better mood
High-quality heat-retention system
UV Resistant
Jets directed to the users' feet, calf, back, and shoulder
Best quality for its capacity and power from 78 stainless jets
Luxurious lounge seating
Comfortable because it does not feel tight in the tub
Jet direction ensures full-body relaxation
All seats do not have an equal number of jets for the back
The product is expensive
The Benefits of Buying a Hot Tub & Spa
Soaking in a hot tubs or bathtubs is not only pleasurable but also provides you a lot of benefits including the ones listed below. These are the reasons why bathtubs have remained popular throughout the years.
Relieve pain
Have you been suffering pain in your muscles and joints lately? Are your feet tired from standing all day? If so, then you might not need to go to a massage therapist for the best foot spa can provide you a good massage. They have jets that are positioned to target your feet and all the other aching parts of your body. Hence, you can receive in hydrotherapy at home.
Relaxation
We are surrounded by different stressors in our everyday lives, and soaking our body in hot/warm water may be just what we need to de-stress ourselves. Hot tubs have whirlpool jets and aromatherapy that can provide a built-in massage, making your bathing experience an extraordinary one. Having a hot bath can also calm down your nervous system, so you get to have both your body and your mind relaxed, especially as there are quieter models available on the market today.
Health benefits
When we soak ourselves in hot water, the temperature of our body rises, hence we sweat, which is one way to get rid of the toxins inside our body. Furthermore, submerging your body in a bathtub can improve your metabolism and blood circulation. It also helps release endorphins that make you feel refreshed after your bath. After a warm bath, you would also have better sleep, and as we all know, sleeping is our body's way of recharging itself.
Things to Consider When Buying a Hot Tub
Finding the best hot tubs and spas is never an easy task. We have listed down the things that you need to consider and keep in mind whenever you are buying one. Here they are:
Style
Hot tubs come in different styles. While they are modern styles that can stand-alone, there are also some that require platform installations. The latter one is not an ideal choice since you would need to spend more money just to have it installed in your bathroom. There are also ones that come with a shower head.
Jet type
There are two main types of jets – water and air. For those who are looking for a hot tub that can provide them a powerful massage, then the water jet is the most suitable for them. On the other hand, for those who are looking for a gentle massage, then the air jet would be a better choice for them.
Energy-efficiency
The hot tub alone is not the only thing that you need to spend your money on because you also need to pay the electricity bills. You need to know that models, which has a self-heating feature often cost more as it keeps the water hot but nevertheless, there are now models on the market that are energy efficient.
Size
Before even buying a hot tub or a bathtub, you should consider its size. Ask yourself, how many people would be using it? Will your entire family fit in it? Also, how big is your bathroom? You need to make sure that after a hot tub has been installed; your bathroom would not be too crowded and feel suffocating. Consider also whether the tub is too shallow or too deep for you.
Ease of access
Do you have an elderly at home who would be using the bathtub? If you do, then it would be better for you to consider buying a walk in tub so that they would not have a problem getting in and out of it.
Safety
What type of materials is the hot tub made of? If possible, look for hot tubs that are made from high-quality and durable materials. It would also be better if it is slip-resistant to reduce the risk of accidents while using it. On the other hand, we have a safety tip for you and that is to use a hot tub chemical to sanitize the water in your tub.
Conclusion
To end our Home and Garden spa reviews, we would like to declare the Home and Garden Spas 32-Jet Spa for 5 Persons that is good for 5 people as the winner. It has an ozone layer and a light that changes color. Aside from that, it also features a waterfall and air blower that can make your bathing time more relaxing. Also, its white interior color and mahogany exterior color will add elegance to your bathroom. Even its jets can be adjusted to suit your taste and preferences when it comes to using bathtubs. Now, when it comes to the cover, it is both insulated and lockable. It is not lacking in any way, may it be when it comes to style, energy efficiency, and functionality.
What about you? Which Home and Garden Spa is your favorite?