Have you ever just wanted to soak in a nice warm bath after a hard day in the office? It is possible to do that if you have your own Spa Escape bathtub.
The best Spa Escapes tub can help you calm your nerves and overall relax your body so that you can have a nice sleep. It'll also help you be more recharged for the next day. Of course, you may be asking which products are the best Spa Escapes bathtubs?
We'll list down some of the best products to buy so that you don't need to spend too much time with research. Here is a list of detailed Spa Escapes Bathtub reviews that you can use in order to make your choice.
7 Amazing Spa Escapes Bathtubs Review
1.  Spa Escapes Salina 67.18 x 33.43 Inch Tub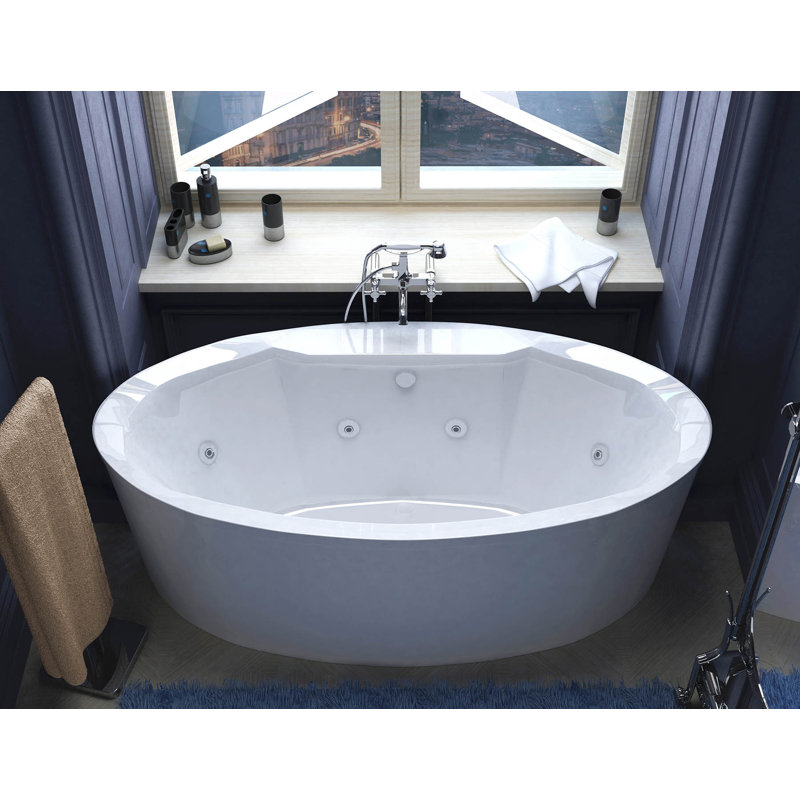 One of the more aesthetically appealing tubs, this tub has the luxury, contemporary look to it. It goes well with many bathroom interior designs whether modern, vintage, or luxury designs.
Aside from just looks, it also has a lot of other cool features to brag about such as really efficient in-line heaters, adjustable jets, and a center drain placement.
Finally, it is just the right size for anyone to relax inside. It has dimensions of 67.18 x 33.43 inches, which is good enough to fit one user.
Best Features:
Acrylic fiberglass tub material
Adjustable jets
Modern design
Freestanding design
In-line heating
2.  Spa Escapes Cayman Drop-In Air Bathtub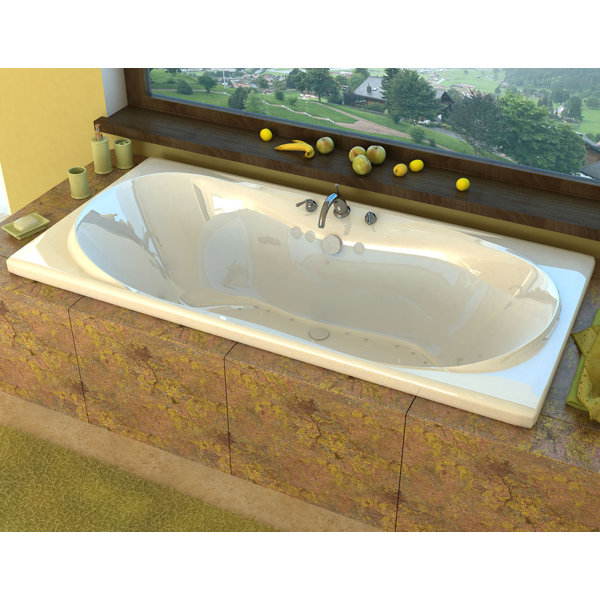 If you're not that much into freestanding, then maybe you'd prefer Spa Escapes tub instead. This one is a built-in type that's more solid and has a longer shape. This allows you to be able to lie down with your body fully stretched out for a more comfortable position.
What makes this tub pretty unique is that it includes aromatherapy. This aromatherapy feature will further enhance your whole spa experience, giving you an extremely relaxing experience. For those into aromatherapy while bathing, this is probably the most recommended choice.
Best Features:
Long, oval shape
Glossy finish
Non-porous surface
Aromatherapy inclusive
Acrylic material
Side pump placement
3.  Spa Escapes Capricia Freestanding Whirlpool Bathtub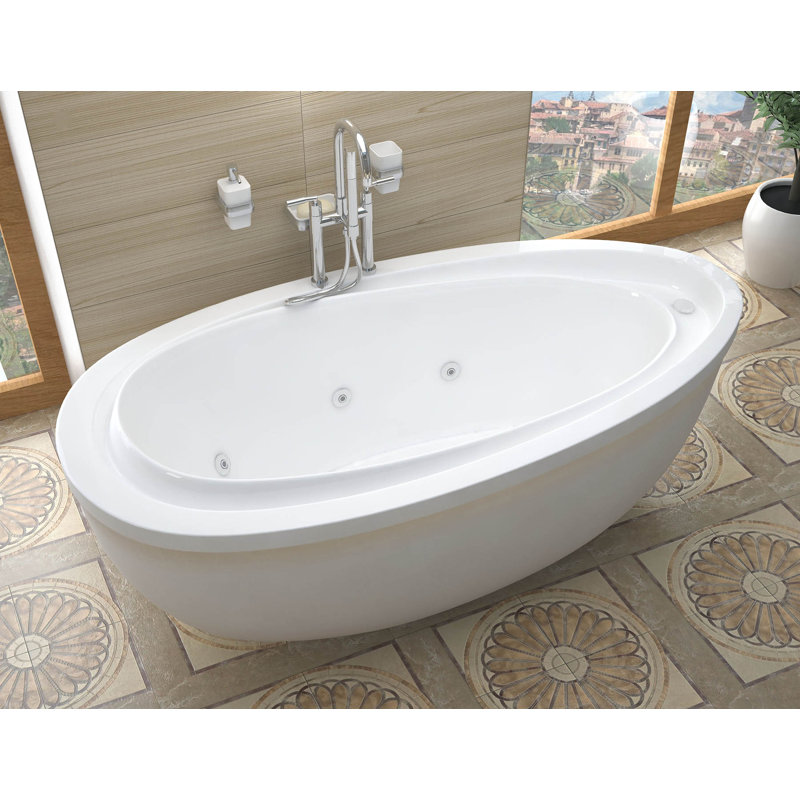 Have you ever been so annoyed with whirlpool tubs that are really noisy? Some people can't seem to relax if they keep on hearing the continuous whirring noises that the motor of a whirlpool tub produces.
Fortunately,the Capricia Freestanding Bathtub model fixes this little problem by introducing a silent operation feature. With this, the motor of the whirlpool tub makes very minimal noise, allowing you to fully relax in your tub in beautiful silence.
Best Features:
Very quiet motor operation
Free standing design
Acrylic structure
Glossy, white finish
Integral overflow compatible
Oval shape
4.  Spa Escapes Dhoni Soaking Bathtub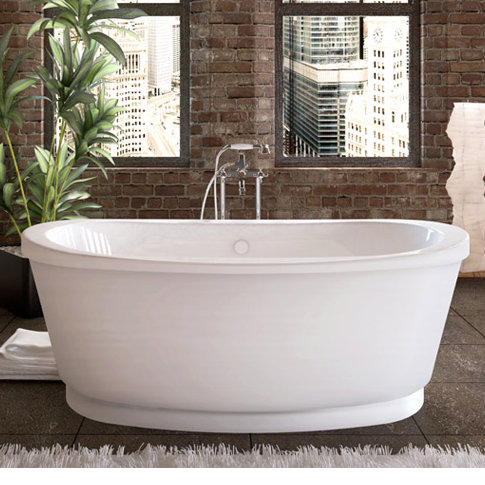 This soaking bathtub is pretty known for both its style and depth. Just like most of the tubs on this list, it has a high glossy finish, making it very shiny and easy to clean.
What makes it rather unique would be its depth. It is known to be deeper than most tubs so when you get in, you'll really feel the water covering you. It's also very safe for bathing salts which a lot of people use for health purposes.
It can also work with aromatic oils to further contribute to the whole therapeutic experience.
Best Features:
Easy to clean gloss finishing
Beautiful design
More depth than most tubs
Modern tub design
5.  Spa Escapes Royal Air and Whirlpool Water Jetted Bathtub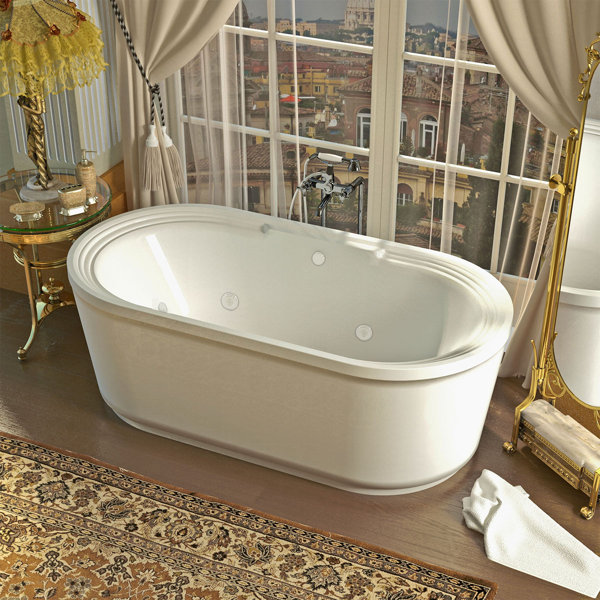 The ultimate Spa Escape tub when it comes to design is the Spa Escapes Royal Air and Whirlpool Jetted Bathtub. This tub literally looks like it came from the Victorian era. It's great for those who have an eye for luxury bathtubs that come from the old world.
The glossy finish adds to its overall charm and the lines surrounding the top part of the tub further adds to the sophisticated look. It is sure to add a touch of class to your bathroom along with the other luxury accessories.
If you're into luxury designs, then this is a good pick.
Best Features:
Classy design
Overflow drain
Acrylic material
Beautiful three-layer lining on the top of the tub
Center drain placement
6.  Spa Escape Vivara Oval Freestanding Air & Whirlpool Water Bathtub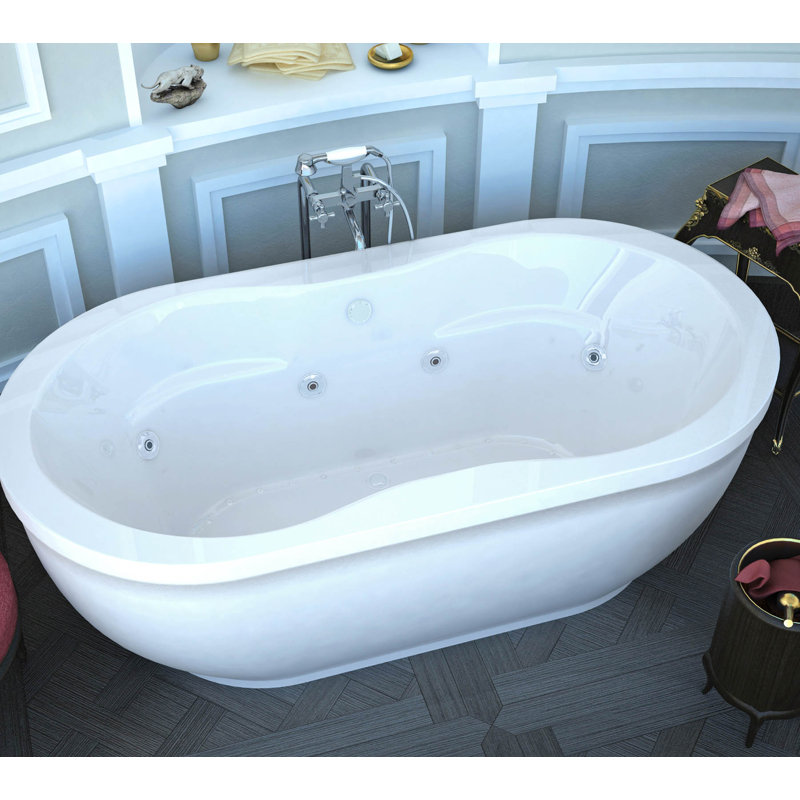 The Spa Escape Vivara Oval Air and Whirlpool Water Bathtub has some of the strongest jets that you can find in any bathtub. It has 24 air bubble massagers each having 1 HP (horsepower). It also comes with 8 adjustable water jets also having 1 HP of power.
Other than just jet power, it also has its own built in aromatherapy system. That way, you don't need to manually create the aroma for your bath. Other cool features include a friction heater to keep the water temperature consistent the whole time you take a bath, plus a hydro massage system.
Best Features:
Powerful bubble and hydro massagers
Adjustable water jets
Aromatherapy system
Button control system
Non-porous surface
7.  Spa Escapes Blanc Artificial Stone Bathtub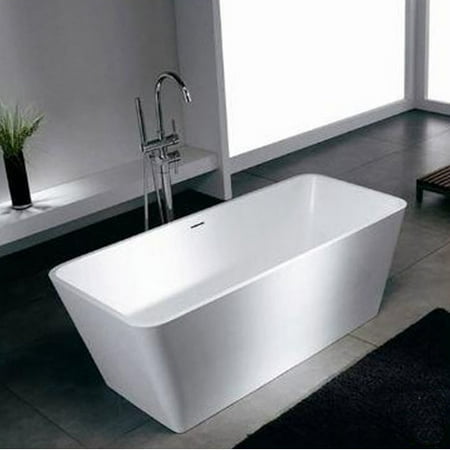 If you want something outside of the traditional oval, acrylic bathtub, then this one is most likely a pretty good choice.
This bathtub has a rectangular shape adding a new dimension to your bathroom. If your bathroom uses contemporary interior design, then this one is a probably a perfect fit.
Also, the rectangle shape allows you to have more room to move around as compared to an oval bathtub. Other than that, it also has a matte white finish which makes it a little less glossy than the traditional glossy white finish but much classier to look at.
Best Features:
Center drain
Ergonomic rectangle design
Simple installation
Man-made stone surface
Matte white and chrome finish
Conclusion
Spa Escape is known to be one of the most well-known brands of bathtubs and Jacuzzis in the market, so it's no surprise that they can come up with really good products.
If you're looking for the best Spa Escape tub for your own home, consider the brands that we've listed above.