Finding the best hot tub is crucial. Since it's a piece of huge equipment, you're going to need to buy the right one for you. If you're looking to get the best out of your money, it's wise to buy when it's on sale. The reviewed products here will help you choose the best hot tubs for sale and when to look out for them.
How to Select the Best Hot Tub
Hot tubs are a part of almost everyone's wish list. It's a great way to wind down after a long day and you can even share it with your friends and family. But, like with many types of home equipment, hot tubs can be considered an investment.
The best hot tub for you will be based on your budget range, how much space you have, and the functions you are looking for.
When you decide on a budget range, you also need to consider your heating and maintenance costs, which are determined by the material and size of your hot tub. Typically, the cheapest ones are portable and made of light materials. The most expensive tubs, on the other hand, takes up a lot of space and needs to be installed but comes with fancier features.
Best Hot Tubs For Sale Reviews
With so many products on the market, finding the best hot tubs for sale to choose from can be overwhelming. Here are 5 reviews to help you decide which one is right for you.
1.  AquaRest Spas Premium 300 Spa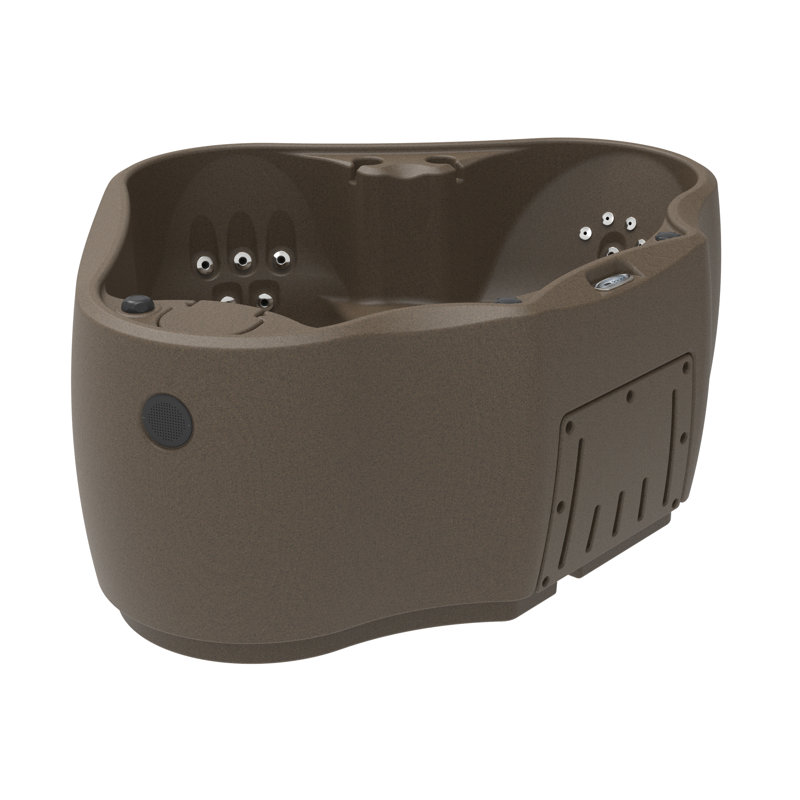 The AquaRest Spas Premium 300 is a compact at-home spa that has 20 hydrotherapy jets installed. This tub can fit 2 people at most. It's made of a polyethylene shell so you know it's built for the long-run. It has an EZ Kleen Filtration System to filter water and comes with an Ozone Purification System that can eliminate up to 75% of chlorine and bromine.
What did customers have to say?
Customers are happy that it can be converted from 120V to 240V. It's also easy to set up and use. For a small tub, it brings in therapeutic features at a low budget.
Pros of this AquaRest Premium 300 2-Person 20-Jet Plug and Play Hot Tub
Has 20 Stainless Steel Jets
Made of a sturdy polyethylene shell
Has a built-in Ozonator and water filter
Easy to install
Cons of the AquaRest Hot Tub
Doesn't have drill holes to attach the cover anchors
Has only 1 available color
2.  AquaRest Spas Elite 600 Spa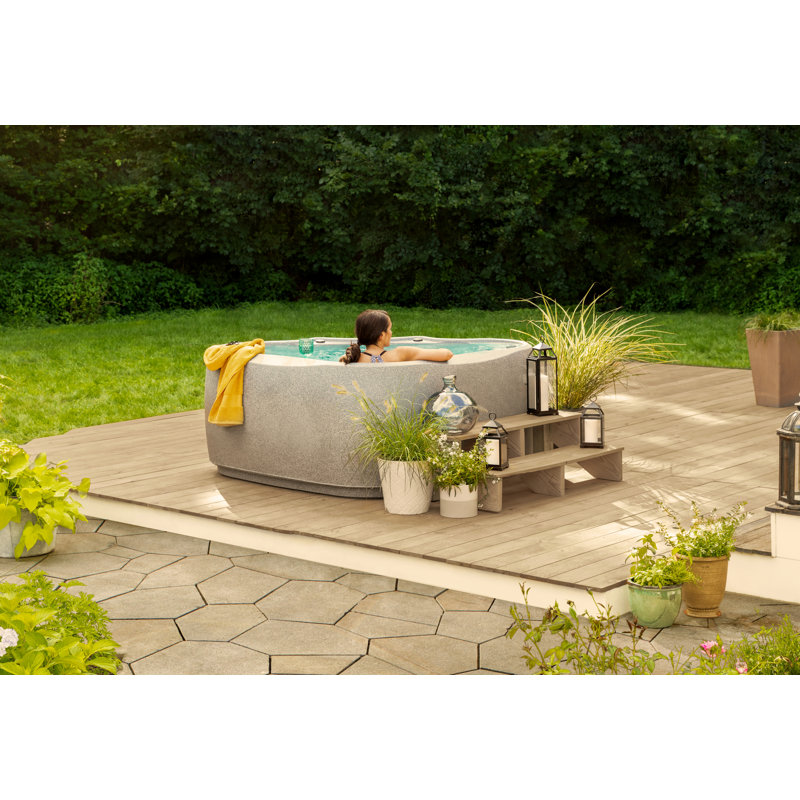 If you're looking for a durable tub that can accommodate 6 people, then the AquaRest Spas Elite 600 Spa is a great option. It has an ASTM certified locking safety feature and it needs less energy to make full foam insulation. It comes with 29 hydrotherapy jets and dual side air controls to relax every muscle. Like the Premium 300 Spa, it also has an EZ Kleen Filtration System with an Ozonator.
What did customers have to say?
Setting up the tub is simple and using it is easy. Each seat has a different number of jets in different arrangements so if you want a specific message, just switch to a different seat.
Pros of this AquaRest Spas Elite 600 Spa
Has 29 Stainless Steel Jets
Has dual side air controls
Made of durable polyethylene
Easy to use
Has a pre-installed Ozonator and water filter.
Cons of the AquaRest Hot Tub
Heating the tub can take more than 20 hours
Has to leave the jets on while the tub is heating
3.  Cyanna Valley Spas 31-Jet Hot Tub
This 31-jet spa is fully customizable. Customers can opt to have additional insulation when they buy this tub so the manufacturer can add it to their order. The built-in chairs can fit up to 6 people, but if you and your friends are over 6 ft., it might be able to accommodate only 4 people in the tub.
What did customers have to say?
With a 5.5 KW heater, this tub is efficient at heating. It's also slip-resistant and offers a lifetime shell warranty.
Pros of This Cyanna Valley Spas 6-Person 31-Jet Hot Tub with LED Lights and Lounger
Has 31 jets
Has a customizable insulation
Slip-resistant
Has a lifetime shell warranty
Cons of the Cyanna Valley Spas Hot Tub
Can be heavier to move around
No drainage holes
Jets and waterfall need to be turned on at the same time
4.  Lifesmart Spas LS600DX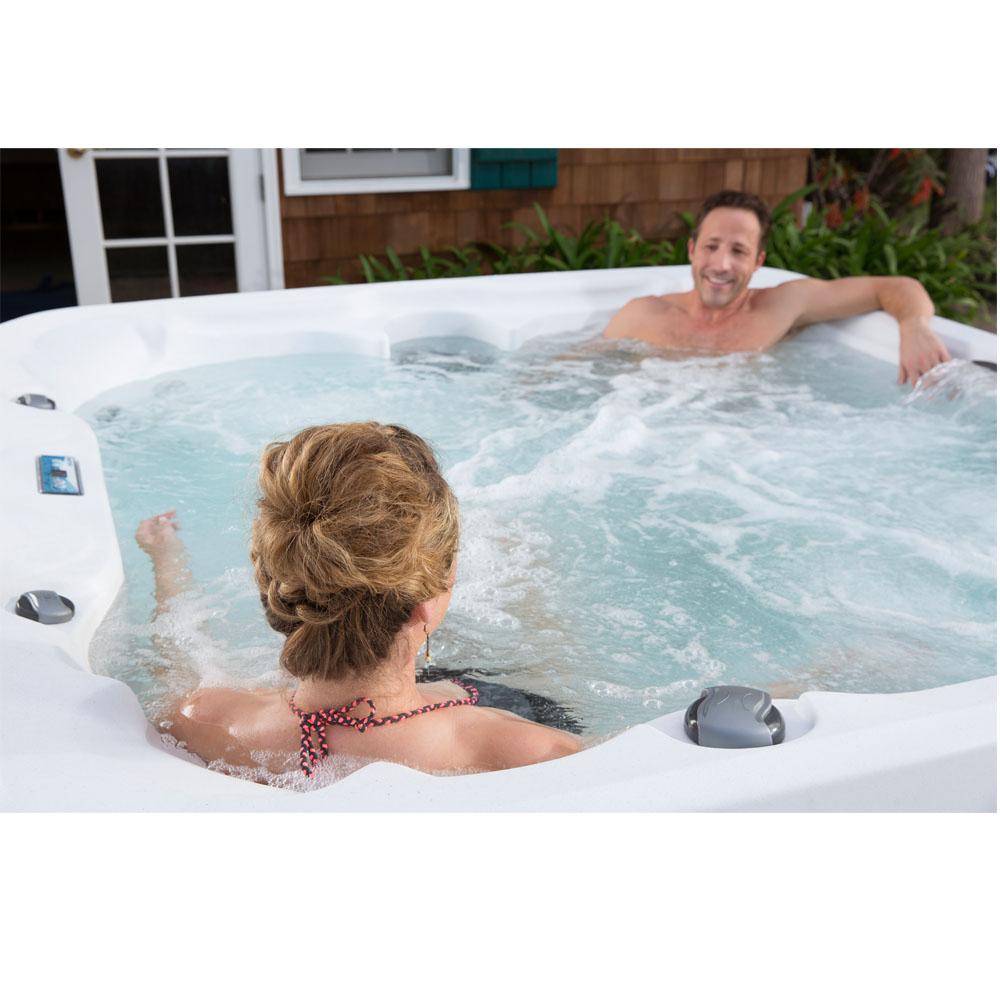 The next hot tub is the Lifesmart Spas LS600DX. It has 65 adjustable jets, where 14 nozzles are for massaging your back. It also has 4 jets to massage your feet. It can accommodate up to 7 people and it also has an ozone water care system so you won't need a lot of chemicals in your water. It has full foam insulation and a cover with thermal locking and it has an APSP 14 National Standard certification.
What did customers have to say?
This 230V tub has a built-in user-friendly digital control to adjust the temperature and other features. It also has a 3.0 HP dual-speed pump and an air control valve and an option for a soothing foot massage.
Pros of this Lifesmart Spas LS600DX 7-Person 65-Jet
Has 65 adjustable jets
Has a foot massage feature
Has an efficient insulation
Cons of the Lifesmart Spas Hot Tub
Steps are sold separately
No drill holes to attach the cover
5.  Bestway 54190E SaluSpa Helsinki AirJet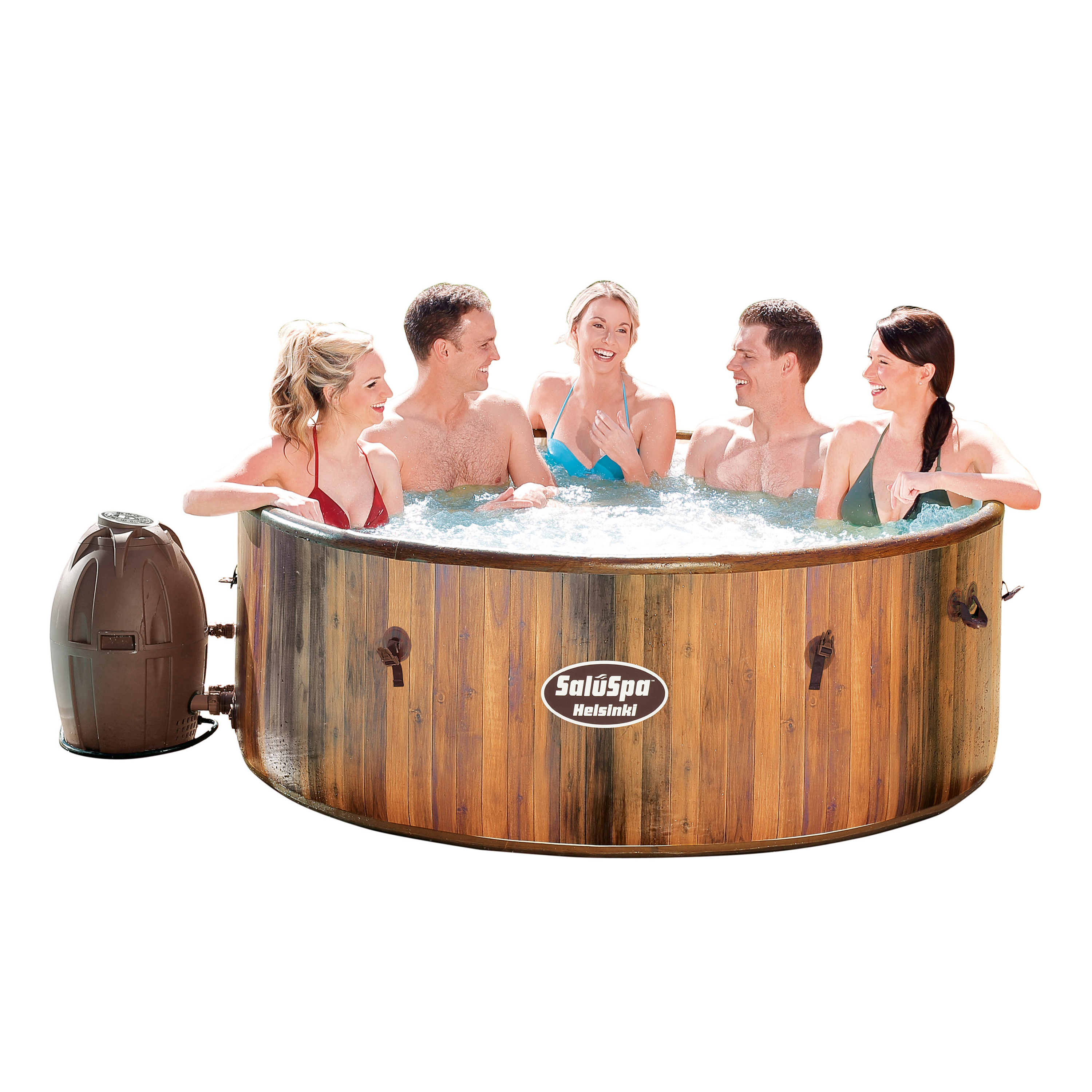 If you're looking for functionality with style, then the Helsinki Airjet Hot Tub Spa might be your best choice. This wooden printed inflatable hot tub has 83 air jets that can be controlled using a digital control pad.  Although the walls are made of fabric, the material is drop stitched so it's pretty durable and sturdy. It comes with a mat to cushion the flooring. It also includes a cover with safety clips and insulation to keep the tub heated even when not in use.
What did customers have to say?
Despite the reinforced cover for insulation, it is not recommended to be used when temperatures are freezing. It's a great product that can be used by kids as a pool during summer.
Pros of this Bestway 54190E SaluSpa Helsinki AirJet 7 Person Inflatable Hot Tub Spa with Pump
Drop-stitch inflatable hot tub
Has 83 air jets
Has a digital control panel
Cons of the Bestway Inflatable Hot Tub
Not recommended to be used in freezing temperatures
Made out of fabric material
Where to buy the best hot tubs for sale
Wayfair
One of the best stores to buy from is Wayfair. They are an e-commerce company that has many home products and furniture to offer you. All you need to do is type what you're looking for on their search bar and they'll show you the best hot tubs on their website. If you're wary of buying on the internet, they have a list of product specifications and reviews from other customers.
Home Depot
Specializing in home improvements, Home Depot is your one-stop-shop for anything you need at home. If you're buying a hot tub, make sure to chat with their customer service to check if there are any added installation fees.
Costco
Costco is one of the best places to find the best hot tubs for sale. This membership-based shop offers many great deals. Check out their website as well because they have exclusive online deals from time to time.
Walmart
Walmart is also a great place where you can get the best hot tubs for sale. With their wide range of products and brands, you'll surely be able to find the best deals within your budget.
When do hot tubs go on sale – The best time of year to buy a hot tub
Like most products, buying hot tubs during a big sale is a huge win. You get the same thing but at a lower cost. But when do hot tubs go on sale? Usually, hot tubs are also on sale during holiday promotions like during Memorial Day or Labor Day. Also, watch out for the Black Friday sale in stores during Thanksgiving.
Holiday sales are just the beginning though. Take note of the seasons as well. Since hot tubs are usually used during the colder months, keep an eye out during summer and spring for any sale. These are the months where there's lower demand so companies will offer discounts and a huge deal to sell their inventory.
Also, keep in mind that companies and manufacturers often have their anniversary sale or other quarterly promotional events. Keep track of the company's and manufacturer's annual sales promotions. Follow them on their social media accounts or even sign up for their newsletter so you know which dates they give huge discounts. This also helps you save up on money by buying during those dates instead.
Conclusion
Having a hot tub at your house is a great way to de-stress without leaving the comfort of your home. It's also great to use during the colder months and it's one of the best investments you can buy for you or your family. The reviewed products above can be used as your guide in finding the best hot tubs for sale that are right for your budget and needs.
Inspecting each product specification can be overwhelming, so make sure you know what you want and how much space you have available. Make sure to add to your budget the heating and maintenance costs as well and keep an eye on company promotions and holiday sales so you get the best out of your money.