Many customers can argue that Woodbridge provides some of the best toilets that they've come across. While not as mainstream as other brands like Kohler or American Standard, Woodbridge has its own customer base: the ones who like delicate and high-quality luxury toilets.
What Woodbridge puts a lot of emphasis on are luxury features that make the whole toilet experience very comfy. This is why Woodbridge has a more targeted customer base. Now, the thing about choosing the best Woodbridge toilet is that it's not very easy. There are so many models to consider. To give you an easier time, we've created these Woodbridge toilet reviews of some of the best models on the market.
We also took the liberty to research some of the best features of these toilets and the overall sentiment of customers for each product. This will, at the very least, narrow down your choices so that you won't have such a hard time picking one. Let's get started!
Woodbridge Toilet Reviews
1.  Woodbridge T-0001 Dual Flush One Piece Toilet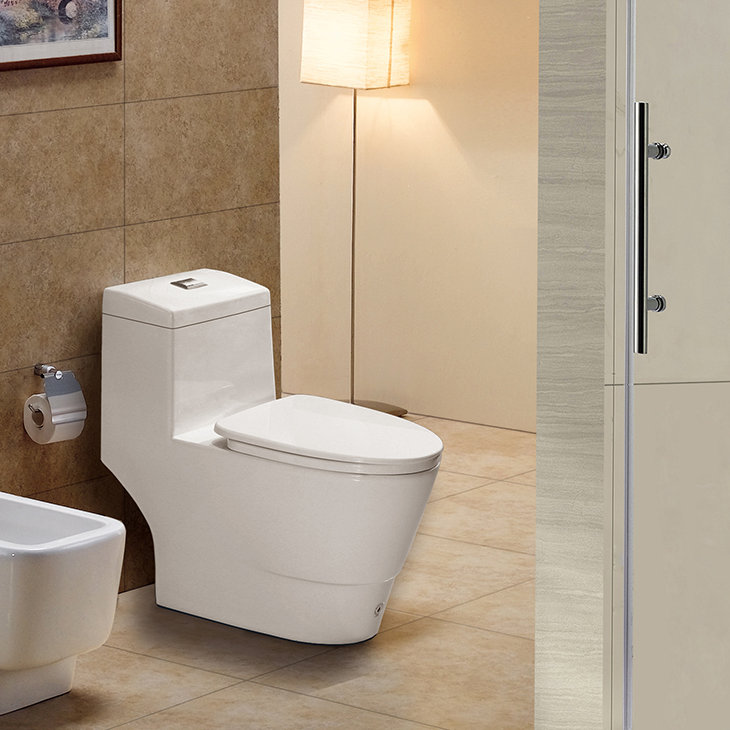 If you're looking for a strong dual flush one-piece toilet, this is a good bet. The first flush uses 1 gallon per flush, while the second uses 1.6 gallons per flush, giving you a choice of how you're going to save water. You can either choose a stronger one that uses more water or a weaker one that uses less water but still pretty strong nevertheless.

What Customers Had to Say
If you look at most customer reviews, you'll see that they have about two things: the design and the dual flush. Many comments on the comfortable universal height of the toilet which makes it very comfy to sit on. Other than that, they commend the powerful and practical flush that comes with it. Overall, the sentiment for the model is really good with a 4.5 rating on average.
Includes a toilet seat and lid
Includes wax ring kit
Comes with a dual flush with 1.0 gallons per flush for the first and 1.6 gallons per flush for the second
Elongated shape
One-piece toilet design
2.  Woodbridge B0500 Dual Flush Round One Piece Toilet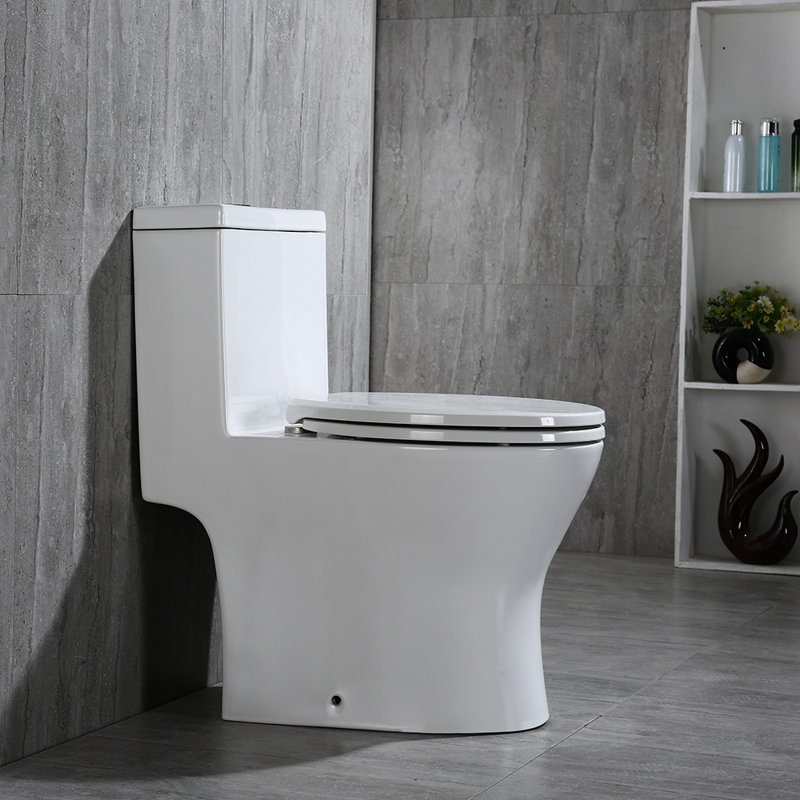 This model is more suited for the smaller bathrooms due to its very compact size. Unlike other Woodbridge toilets, this one has a sleek design but doesn't scrimp on power. It's also known for having a soft closing seat to let you sit more comfortably on the toilet. Overall, this toilet targets comfort and practicality for those who have smaller bathroom sizes.
What Customers Had to Say
When customers made comments about this product, one common thing that you'll see would be the size. As mentioned above, this is one of the sleekest toilets on the list. This makes it very easy to fit into smaller bathrooms.
As not everyone can have a big bathroom, this became a very popular product for customers who needed a powerful toilet that wouldn't cramp up their bathrooms. This was the answer to their needs. Other comments would include great design, powerful flush, and a very comfortable build.
Sleek and compact built
High-end soft closing seat
Stainless steel seat hinges
Universal comfortable height
Powerful flushing system
3.  Woodbridge B0920 Dual Flush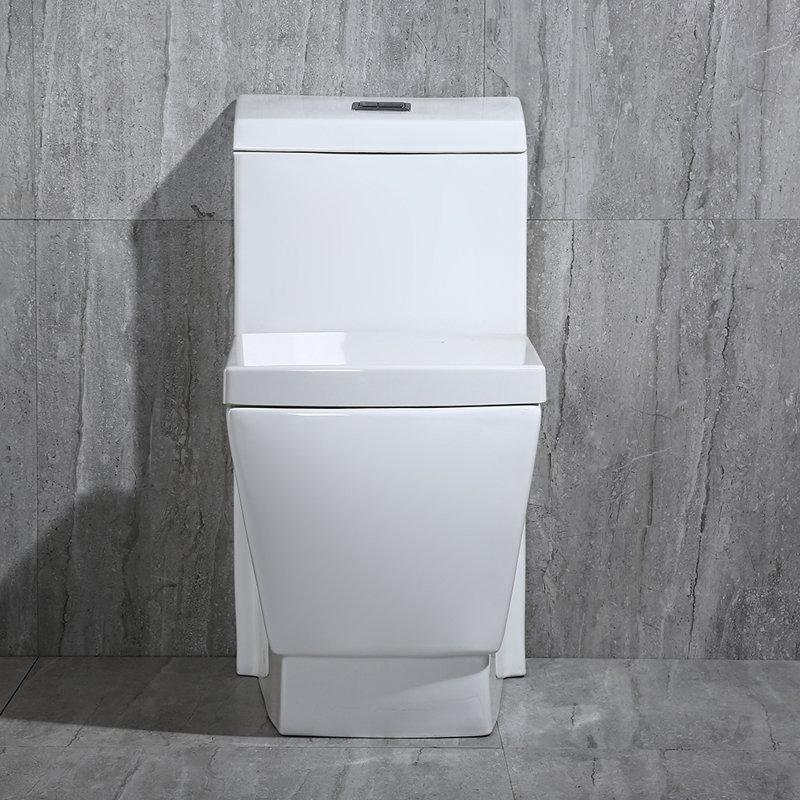 When you look at this toilet, you'll immediately notice it for its unique and contemporary design. The square-shaped design of this toilet is not something very common that you'll see in houses. Rather, these can usually be found in hotels and offices that have modern interior or architecture.
What Customers Had to Say
The first thing that customers would usually comment about on this toilet would be its design. These days, a lot of people are more into modern architecture and interior design for their homes. This is why many customers state that this toilet fits perfectly into their home's overall look.
Also, a few customers claim that the toilet is really easy to clean. It's a perfectly square-shaped toilet that doesn't have too many crevices. Due to that, there's no need to dig deep and look for hidden places to scrub off dirt.
Sleek and modern square design
Very easy to clean because of its shape
High-end soft closing seat
Universal height
28 gallons per flush
Elongated bowl shape
Includes a toilet seat
4.  Woodbridge B0750 One Piece Dual Power Flush Toilet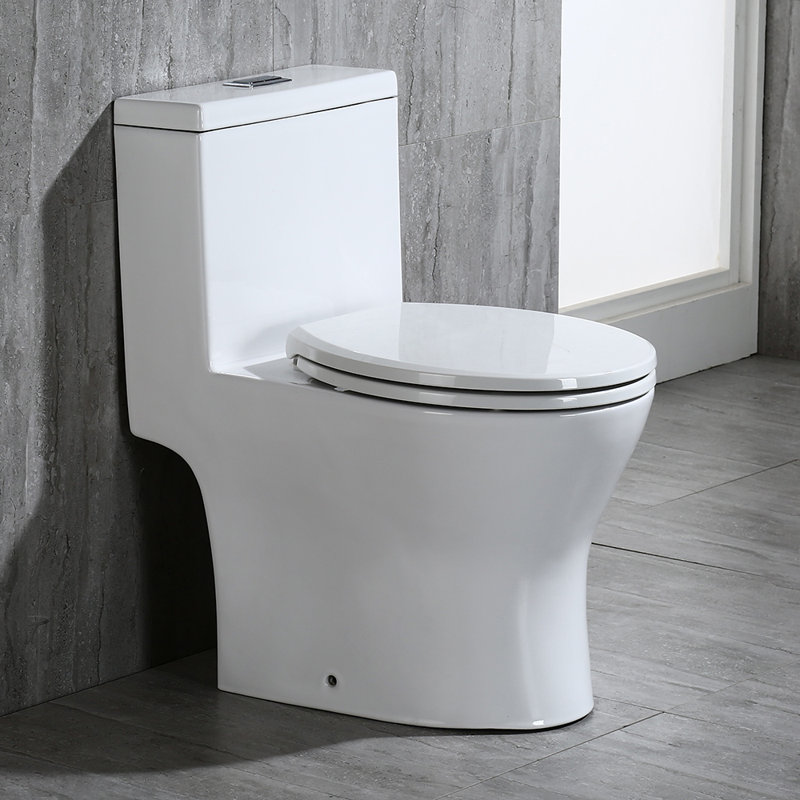 Out of all the regular toilets in this list (not including smart toilets), this one has the most powerful flush, sporting a flush power of 1.6 gallons per flush. While this toilet is known for its powerful dual flush feature, it also doesn't use up too much water to make the toilet's water rise.
When you flush, it will just bring everything down the drain quietly. It has power but also a high water saving capacity.
What Customers Had to Say
Most of the customers love the simplicity of its design. It is a very versatile toilet with regard to design, not to mention it can fit in any bathroom. Due to this, a lot of customers love this product. Combine that with the fact that the flush is very powerful.
Customers claim that they have no problem when it comes to flushing down anything. They rarely even need to flush more than once.
Includes a toilet seat
Includes wax ring kit
Powerful flush allowing 1.6 gallons per flush
Dual flush feature
Elongated design
5.  Woodbridge B0940S Dual Flush Smart Toilet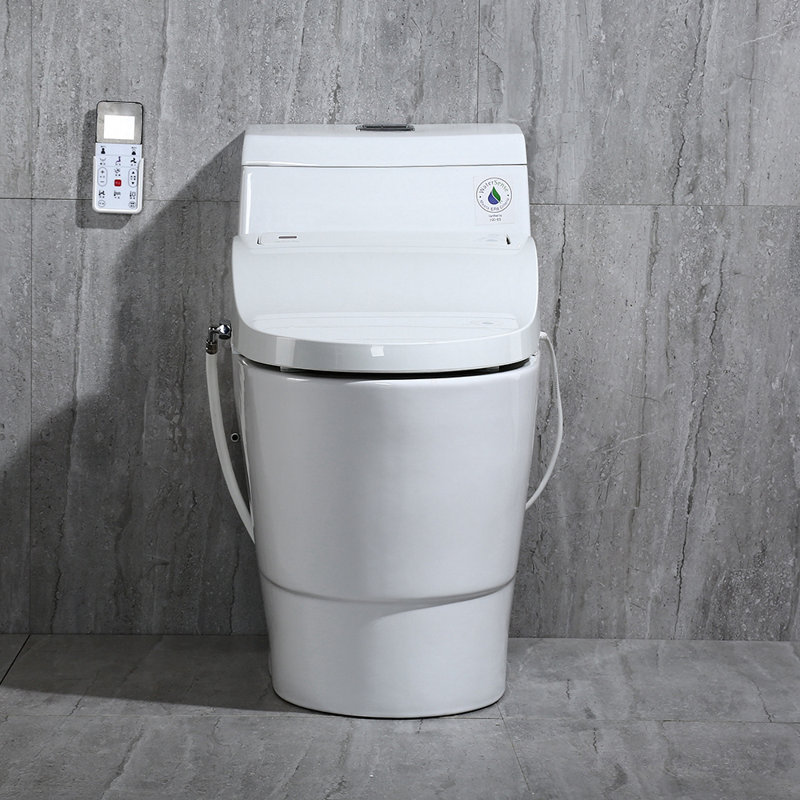 This is the only smart toilet in the list and a really good one to boot. It has a range of features that allow you to have a very comfortable and luxurious experience when you go to the toilet.
Three of the main features are the temperature control function, air dryer, and the advanced washing functions to help you wash while you are still sitting on the toilet. If you're into luxury toilets, then this is definitely what you're looking for.
What Customers Had to Say
The thing about this toilet is that it is quite pricey, which is why there are not too many customers who have bought it. However, the existing customers who did have nothing but praises for the toilet.
They state that they had no problems with using the toilet because the flush is very powerful. They also state that the luxury features work great and save them a lot of effort while they are doing their bathroom business.
6 gallons per flush power
Toilet seat heater
Built-in washing functions
Warm water function
Air dryer
Built-in bidet
Massage pulse water washer
Includes a toilet seat
Conclusion
Of all the models that we have discussed in our Woodbridge toilet reviews, the best is definitely the Woodbridge B0940S Dual Flush Smart Toilet. This is the obvious choice because it does what Woodbridge is best known for – providing luxury features. However, the luxury features aren't too extravagant (like a toilet with an mp3 player).
This model provides luxury toilet features to make the experience more comfortable as a whole. Aside from that, it's also known for a very powerful flush, the strongest one in the list actually. Comparing it with the features of the other models, this is definitely unique. Of course, you better be ready to shell out quite a bit of money. You do get what you pay for.