Akdy is a provider of home comfort and improvement appliances designed to meet their customer's needs and personal style. Their distinguished customer service and top quality products have been established after a series of research, design, and development.
Their team has been spread out to different departments around the globe in order to meet the necessary requirements for customer satisfaction. The departments of Akdy are divided into the quality assurance department, laboratory technology centers, and integrated manufacturing system and department.
The main mission of Akdy is to help the customers in making their home a better place to live in.
They manufacture a wide variety of home improvement appliances including bathtubs and fillers, shower panels, electric fireplaces, kitchen sinks and faucets, wine coolers, and shower heads.
See all AKDY shower heads on Wayfair
Here, top 5 of the best Akdy Shower Head Reviews will be presented in order to help you decide the right shower equipment for your bathroom.
Reviews on 5 Best AKDY Shower Heads
1. Jet Shower Head and Handheld Shower Set in Rainfall Style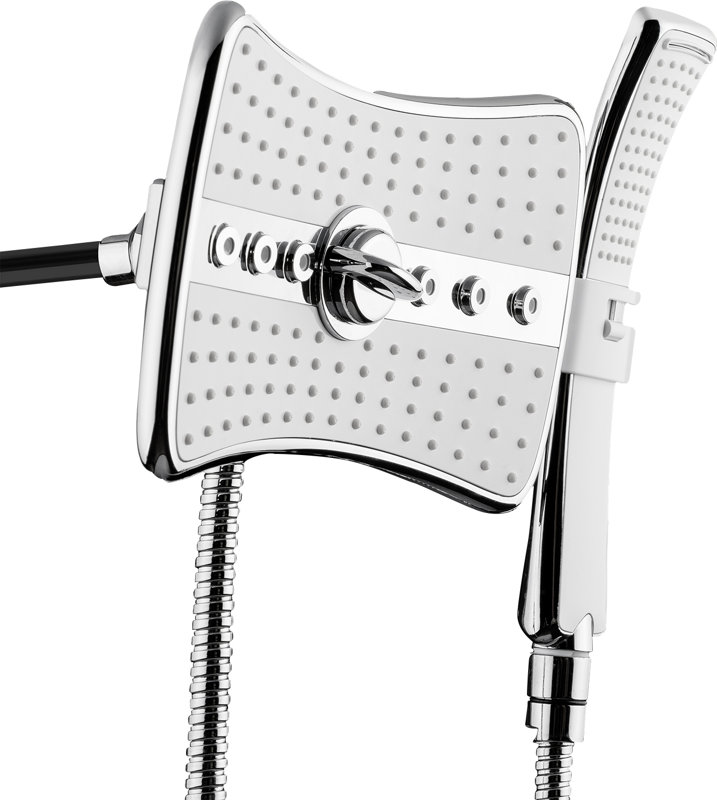 This item from Akdy is a combo of the handheld showerhead and the main shower head. The removable handheld shower wand produces a rainfall effect to make you feel as if you are taking a bath in the rain. On the other hand, the main shower head is coupled with massage jets to provide a relaxing feeling. Both shower modes are accessible with just a turn of the knob.
What Did Customers Have To Say:
Most customer reviews about these shower heads talk about its easy installment features. Customers are happy since they do not have the professional skills to install a shower head, yet they are able to pull it off.
Among the two shower heads, the handheld shower wand has appealed to them the most. They are contented with the pressure of the shower head and are satisfied with the idea that they can use it to bathe their dogs with ease.
On the other hand, the main shower head has received one common criticism. The users think that the water pressure is not enough and that they haven't felt its massaging function. However, most people have found a solution to this problem by taking out the pressure reducer or diverter.
Overall, it is still considered as one of the best Akdy shower heads.
It comes in two pieces, so users can choose which works best for them.
The handheld showerhead functions perfectly.
It gives a rainfall effect for improved relaxation.
It has three full water flow pattern with three-way water diverter.
The water flow and pressure of the main shower head do not function too well.
2. Pressure Balance Shower Head in Waterfall Style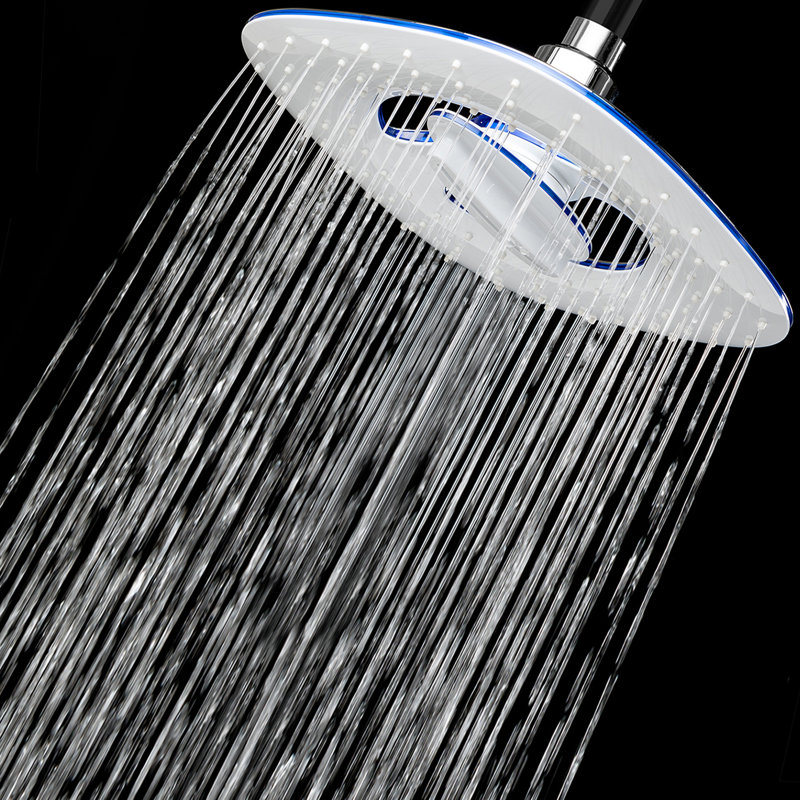 It combines waterfall shower patterns and 112 shower nozzles to ensure a balance water pressure. Both function independently and can be accessed through its rotating-locking mechanism. Shifting between two modes has been made simple and easy.
The shower head is also aesthetically appealing with its unique framework and blue highlights on each side. It is designed to fit in any standard shower arms.
What Did Customers Have To Say:
Customers give this best shower head a 4.5 rating out of 5. Most of the comments are about the water pressure and that they appreciate the balance and the uniformity of the flow. They like that the water flow works well and feels great to the skin.
The easy-to-install function of this shower head is another factor why customers like it. Therefore, it instantly provides relaxation and comfort to the users.
It can function as a waterfall or rainfall style for different preferences.
The shower head has a 360° swivel adapter and adjustable angle.
Its installation is easy and tools-free.
It has high-power precision nozzles function for good water flow patterns.
The water pressure may not be acceptable for everyone.
3. Square Shaped Shower Head in Luxury Rainfall Style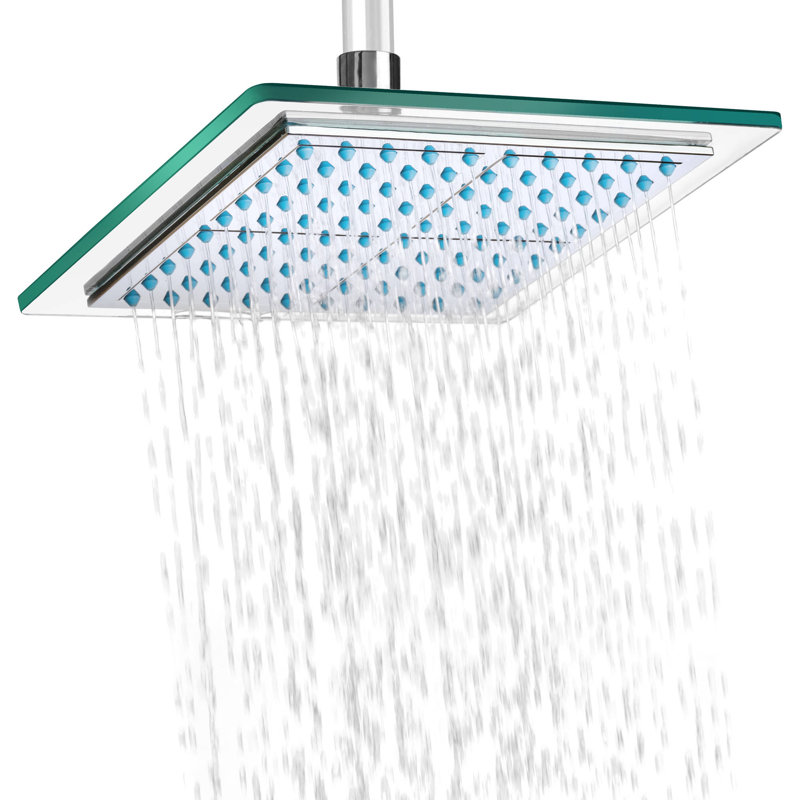 This rain shower head gives out a soothing rainfall effect for better relaxation. Its chrome layer has a mirror-like finish. Thus, it provides easy cleaning procedure, surface hardness, and corrosion resistance. The shower head is fabricated in a square shape and ultra-thin construction in order to fit in with any bathroom plan or design.
What Did Customers Have To Say:
Based on the customer reviews, the shower head is extremely appealing in terms of aesthetics. The glass-like surface is preferred by many buyers since it provides an elegant look and adds sophistication to their bathroom. They think it looks durable and expensive at an affordable price.
In general, the overflow of the reviews states that all of the promised features of the shower head are accurate and thereby appreciated.
It features a ball joint connection that provides adjustment options.
The rainfall effects and water pressure work perfectly.
It allows easy rub-clean method.
The head provides an extra wide coverage of shower.
Other connection parts or assembly is not included in the package, so it needs to be purchased differently e.g. water tube.
4. Corrosion Resistant Shower Head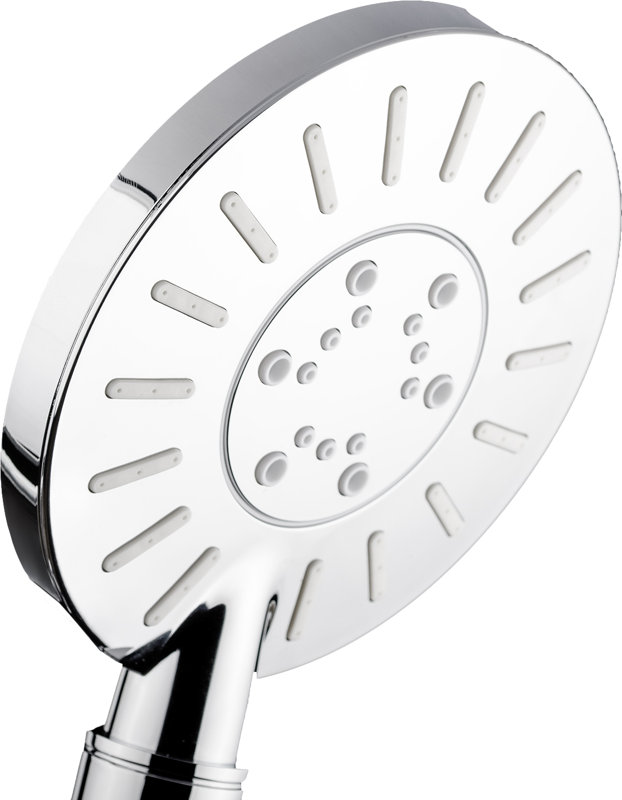 With just a twist of a knob, you can activate three different settings. These allow you to choose between massage jets, rainfalls, and misters. The 66 nozzles of this handheld shower head disperse the water efficiently. Utilizing a 0.5'' standard sizing, it is designed to be easy-to-use.
What Did Customers Have To Say:
What the customers instantly noticed is its aesthetics. The design of the shower head is kept in a minimalist style which a lot of users adore. The price and functionality that it offers also give them satisfaction.
Apparently, customers are pleased with the product and can say that it offers the best value for money.
It is easy to install; no tools required.
It provides three settings for water flow pattern.
The shower head is compatible with any standard shower arm.
It has a stainless steel hose that can withstand corrosion.
Its total build is slightly heavy.
5. Round Shaped Shower Head with Two Programmable Settings
Combining stark contrast and white gloss on its chrome, this shower head provides maximum relaxation. It has a total of 94 nozzles which provides a deluge of rain style showers. Another eight nozzles are available and located between the head which offers a stream-style spray. To activate any of the modes, an easy twist on the knob will allow you to select the right options that are ideal for you. It is manufactured from ABS thermo material, making it capable of providing proper hot showers.
What Did Customers Have To Say:
Customers like this shower head for its simplicity and easy-to-install feature. Since it has two water flow pattern settings, it has provided options for the different preferences of the customers.
Majority of the reviews talk about the eight nozzles function as the spray provides a comforting feeling to the body. Customers can say that it gives the best bang for the buck.
The nozzles of the shower head are easy to clean.
It provides a high-power precision of spray and shower.
The angle of the shower head is adjustable.
The level of pressure may not be preferable to everyone.
Conclusion
While all of the products listed above are considered as the best shower heads, there is a single product that is considered as the most popular customer's choice. Out of all the best Akdy shower head reviews, the Square Shaped Shower Head in Luxury Rainfall Style is the most favored among the customers. It's a total package all in all. Functionality, price, quality, features, and customer's ratings are just among the few factors considered.
With an elegant and minimalist design, rainfall style function, and angle adjustable features, it has the quality of a complete package offer. Apparently, the top chosen shower head has its distinguished allure that appeals to the customers.