Washing hot tubs can be quite a chore because of the dirt that can hide in between the parts of the tub. If you really want to clean even the deepest parts of the tub, you'll need a vacuum cleaner– the best hot tub cleaner that you can find in the market.
The Benefits of Using a Hot Tub Vacuum Cleaner
It Can Clean Thoroughly– As stated above, it is able to completely suck in all kinds of dirt and debris or other objects (such as leaves, branches, or soil) that have fallen into the tub.
It Sucks Out Debris In The Deeper Parts of the Tub– The best part about using a vacuum for your inflatable hot tub or above ground pool is that it is able to suck out even the dirt in some of the deep parts of the tub. For example, if you'd like to take out any mold or debris from the areas near your hot tub pump or hot tub filter, you may just open that part up and start sucking up the dirt there.
It Saves a Lot of Time in Cleaning– If you're to clean your hot tub manually with a cleaning cloth or a mop, that'll take too much time and energy on your part. If you use a vacuum cleaner, not only will you save time but a lot of energy as well.
It Has Other Functions Because of Available Attachments– With just one vacuum cleaner, you can have a multitude of functions by adding accessories and attachments such as a brush nozzle, absorbing sponge, and many others. We'll discuss more about that later in the article.
How a Hot Tub Cleaner Works
Just like any vacuum cleaner, the hot tub vacuum cleaner uses the power of suction to clean up all the dirt in the hot tub. Unlike normal vacuum cleaners, hot tub cleaners are sleek and long so that they are able to reach hard-to-reach parts of the tub. Even the head of the vacuum is quite small so that it can reach even the insides of the tub. Not only will it be able to suck out debris on the surface but even in the drain areas.
Factors When Choosing the Best Hot Tub Cleaner
Power
First of all, you may want to consider the power. Obviously, the bigger ones would have a bit more power in them. Depending on the size of your hot tub, you may want to get the more powerful one if you have a big one.
Cord or Cordless
With regard to size, there is the handheld type (cordless) or the type with a cord which would be attached to a storage compartment. The type that you will choose would also depend on the size of your hot tub. If you have a big tub or even small pool, you'll need the one with the cord. If it's small, you can get a handheld one.
Cost
Lastly, you have to take into consideration the cost. You have to buy the one that fits into your budget. You won't want to go over budget when you buy your vacuum cleaner. Accessories that Go Along with the Vacuum Cleaner
Attachable Brush
One of the coolest attachable would be the brush. If there are grime and dirt that cannot be taken out, then the attachable brush can easily scrub out the grime.
Absorbing Sponge
Another that you can use would be an absorbing sponge. This one is able to take out liquid and thick components like lotion or pollen that is stuck to the tub.
Attachable Skimmer
We've also got the skimmer which is used to rake out the dust balls and leaves or branches that fall into the tub.
Other Shaped Nozzles
Aside from that, there are also many different nozzle shapes that can be used. There would be the flat heat nozzles, big nozzles, and many more you can choose from.
Review of  The Best Hot Tub and Spa Cleaner Products
Here are some hot tub and spa cleaners that you may choose from.
1.  Water Tech Pool Blaster Catfish Li Pool and Spa Cleaner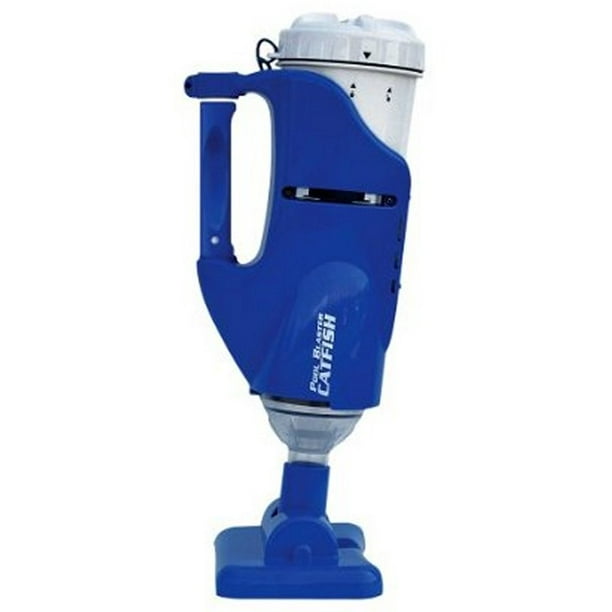 The Water Tech Pool Blaster is able to keep your hot tub and swimming pool debris by being able to clean 33 gallons per minute. It is battery operated and also very lightweight which allows for easier cleaning.
Pros:
It is very light and easy to handle
It comes with rechargeable batteries that can last very long
It is cordless which makes it more practical to bring around
It has strong suction which enables for quick removal of dirt and all kinds of substances
It also comes with a reusable filter bag
It is able to clean 33 gallons of dirt in a minute
Cons:
It is one of the more expensive cleaners
The maintenance or fixing of the machine is quite expensive
2.  Polaris Spa Wand Swimming Pool Spa Cleaner OEM Vacuum, Blue | 5-100-00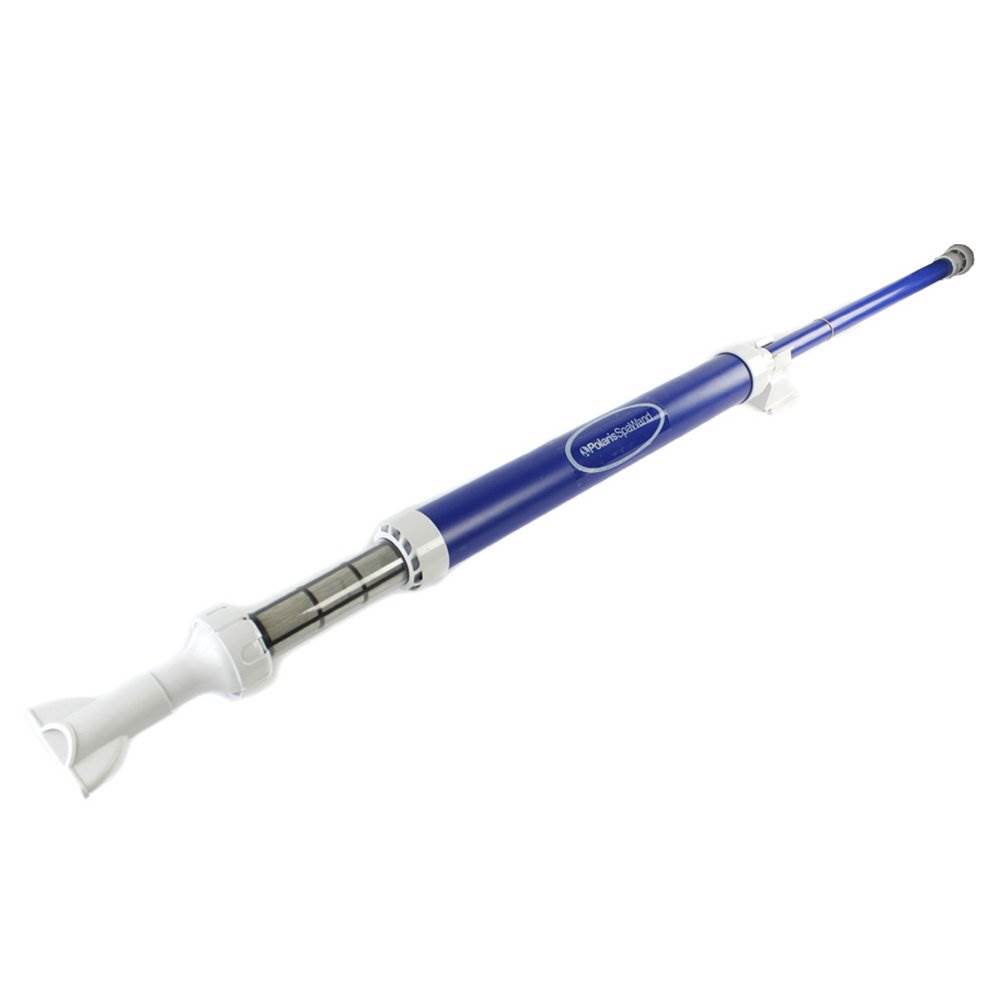 It is able to suck up a lot of debris or sand as well as other unwanted substances found there. The great thing about it is that it does not need electricity or batteries to run. A simple mechanism already allows it to clean properly.
Pros:
It comes with a spa wand that can be used for cleaning even small pools
It also has a lot of nozzle attachments that can be interchanged
It is the most effective one for small pools and medium sized tubs
It does not require any electricity or batteries
It is quite affordable as compared to others in the market
Cons:
It is made out of plastic that is not as durable as other brands
3.  GAME 4855 Spa and Pool Vacuum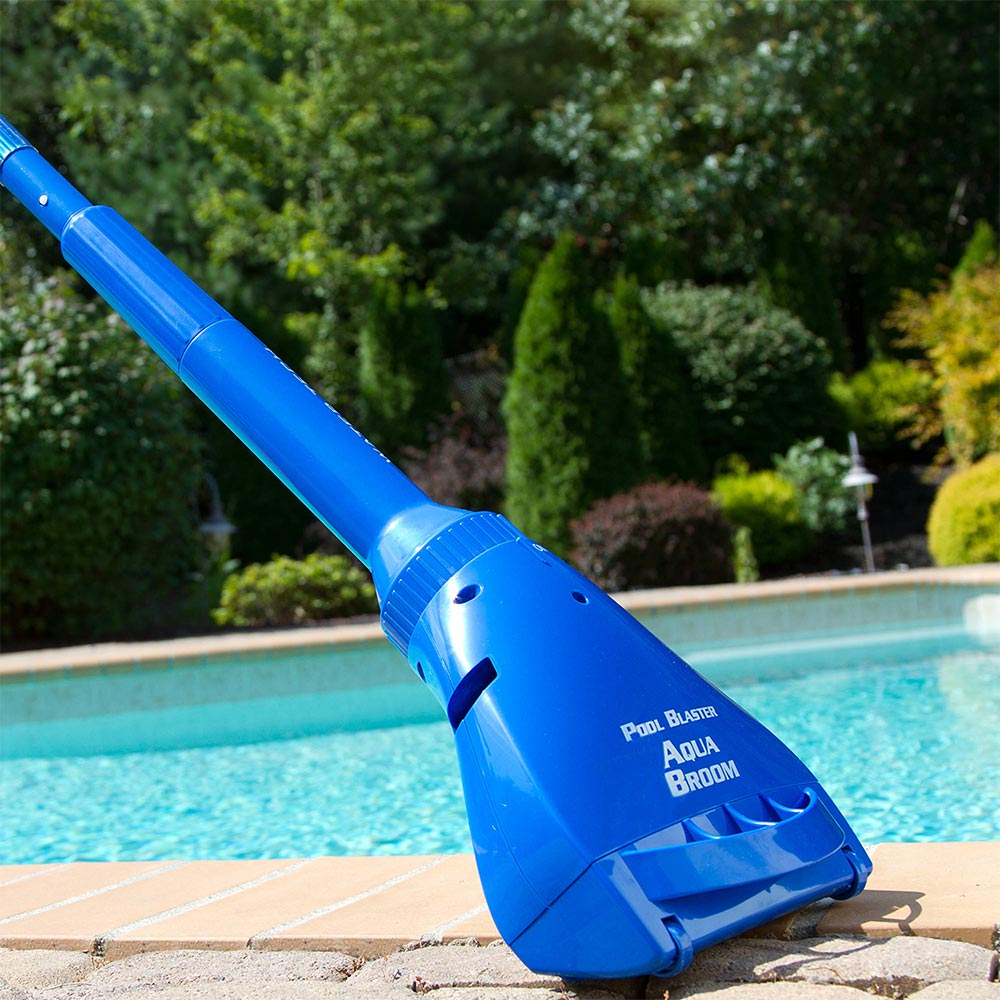 This spa and pool vacuum cleaner can clean even the bigger hot tubs and pools. It makes use of a specialized pump mechanism that creates the vacuum suction effect. It does not need any battery and hose.
Pros:
It is easy to use for cleaning up debris and dirt
It has a simple and easy pump mechanism for the vacuuming effect
It does not require any assembling and does not require any hose
It also comes with other slide-on nozzles like a brush, leaf rake, and others
It can work well for bigger spas and small pools
It comes with an easy to use filter basket
Cons:
The plunger head is made of plastic which is not as effective as rubber
4.  Aura 6250 Paradise Power Spa Vacuum
The Aura spa vacuum is one of the simplest spa vacuums to use. It can work without batteries and electricity as it uses a very simple siphon mechanism. This is probably the simplest spa vacuum that can be found in the market.
Pros:
The spa vacuum comes with a simple siphon mechanism feature
It does not make use of any complicated mechanism
It comes with an aluminum pole that is used for stretching out to the deeper parts of the tub or pool
It is very efficient in picking up even the small substances such as pennies or small debris
It is very affordable as compared to other brands in the market
Cons:
Vacuum suction is not as strong as others in the market
5.  Intex Rechargeable HandHeld Vacuum Cleaner with Telescoping Aluminum Shaft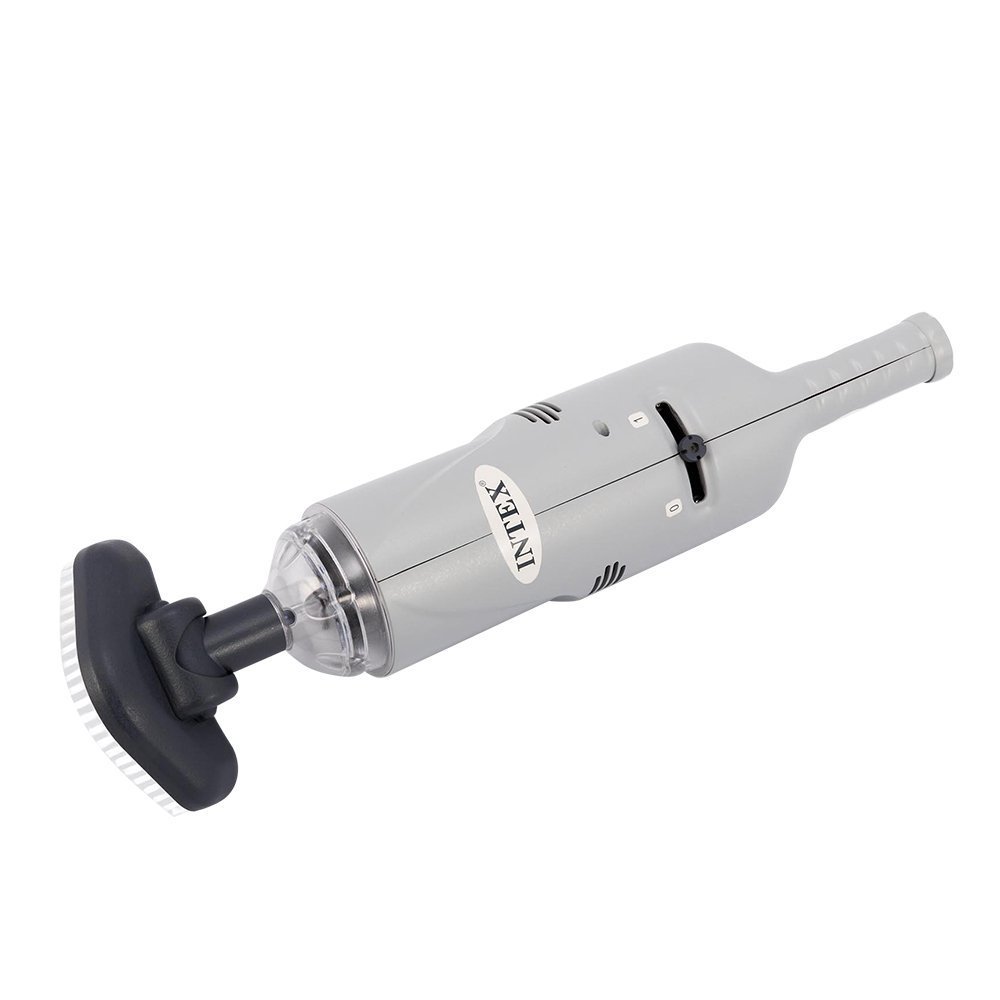 This little handheld rechargeable vacuum is great for regular hot tub cleaning. The vacuum has a strong built in vacuum which runs on rechargeable batteries. The suction of this is so strong that it is able to suck in even dirt that sticks. It also comes with an aluminum shaft that can be attached onto it so that you can reach further places.
Pros:
It has a strong built in Ni-MH battery for high powered vacuum suction
It includes two attachable brush heads that can be attached and detached any time
Its suction power is able to make cleaning very easy
It is able to shut off automatically when the vacuum is not underwater
It is waterproof
Must be submerged to operate properly.
Cons:
It is not built for more heavy duty cleaning
It has to be underwater for it to work
Conclusion
Along with a hot tub cover and other accessories, the hot tub cleaner is an essential part for your hot tub. In fact, you'll need it for maintaining your hot tub. Maintenance is a must even if you have the best of the best hot tubs in the market. Now, when you buy one of these cleaners, it is best to choose a few before you select the one you want, so you can have more options. Out of the five options above, the best out of the five that were mentioned earlier would definitely be the first one, the Water Tech Pool Blaster Catfish Li Pool and Spa Cleaner. This is because it has all the ideal features of a hot tub cleaner and has the least cons. It can get the cleaning done easily, it is able to attach accessories to it, it is simple to use, and it is powerful. The only con is that it is known to be expensive and also not cheap to maintain. However, the beauty of this brand is that it is very durable, so you don't need much maintenance for it.